A lot of us can't get through the day without coffee. And for us, the best cuppa comes with some sort of cream. When we discovered nutpods coffee creamers, we just had to try the dairy-free selection. So of course, that meant we got to review nutpod's most popular creamer flavors.
For those of you who drink your coffee black, we respect you. But we also ask: what, were you all out of battery acid?
Nutpods are a promising creamer option for vegans or those who are dairy-free. We sampled seven of the offerings, and we are happy to report that we haven't needed Lactaid once. Our bellies are too busy being upset at the seven cups of coffee.
The creamers we chose were crafted with a combo of almond and coconut milk (they also carry those made with oat milk), in flavors from caramel to cookie butter (yes, really). Bean water, meet nut milk. What a world.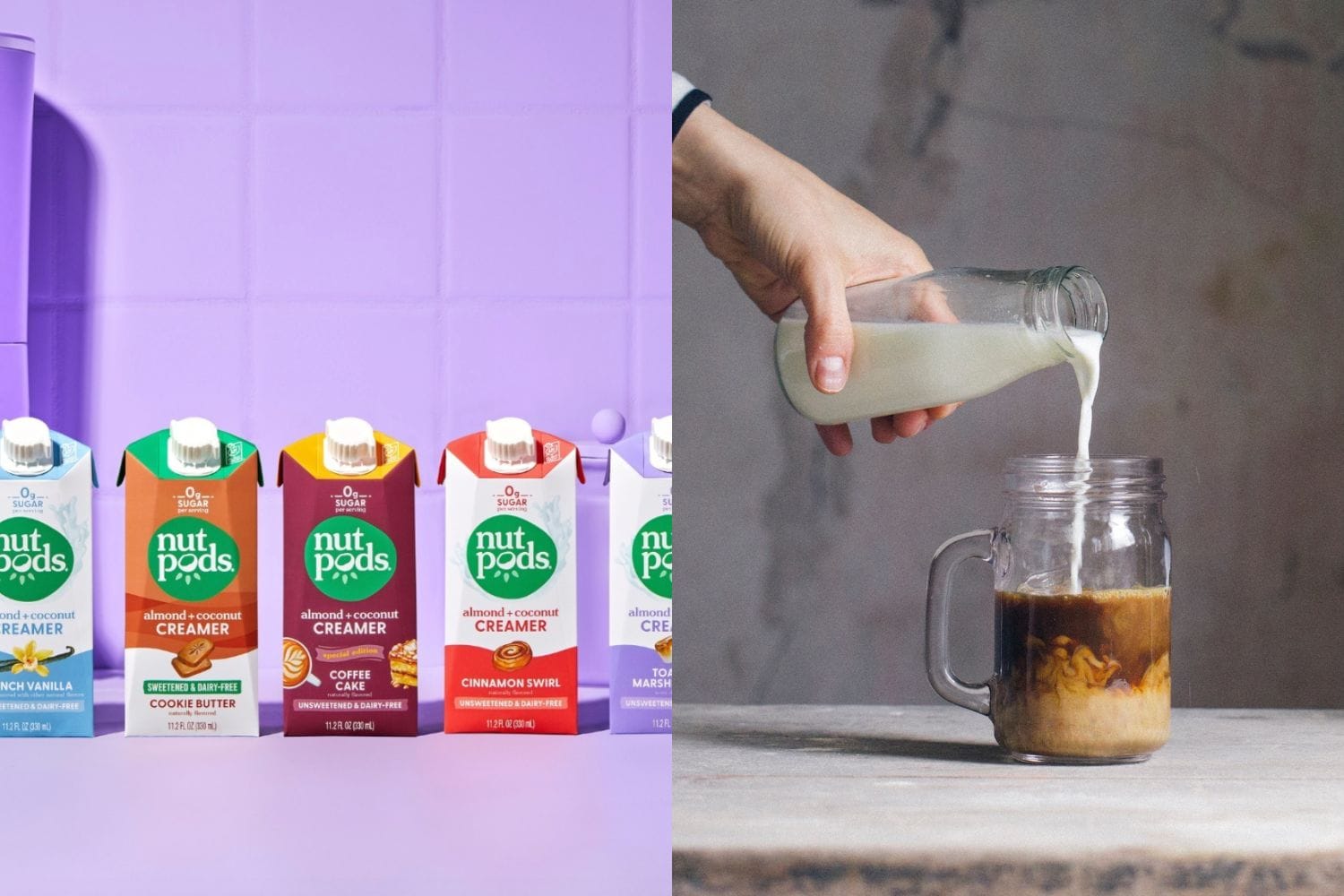 Nutpod Creamer Review: 7 Flavors Ranked From "Eh" to "Just Give Us a Straw"
7. Toasted Marshmallow (Unsweetened)
We love a toasted marshmallow: a crispy outside with nutty caramelization and a gooey, sweet inside. But since marshmallows are basically just sugar, we were skeptical as to how this would taste as an unsweetened flavor.
While this flavor smelled the best of the bunch, taste-wise, it fell flat. The bitterness of a burnt marshmallow worked well to offset the sweetness. But as we drank, we could strongly smell the delicious notes of marshmallow, but we couldn't taste it. We kept sipping, chasing the sweetness, but we were met with more bitterness.
There's probably a life lesson in there that we'll unpack with our therapist as we sip on a Stanley Cup of coffee that's flavored with any of the other options on this list.
Available on Amazon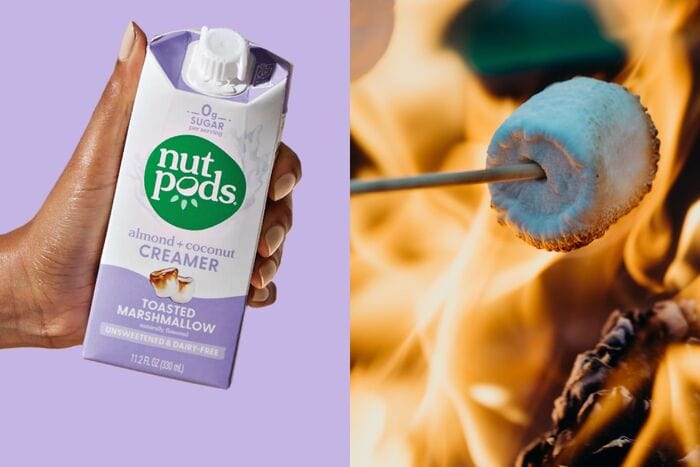 6. Caramel (Unsweetened)
Another bold move by nutpods to craft a second unsweetened offering based on a flavor that is literally cooked sugar.
This one doesn't have too strong of a smell, which we learned can be a good thing. We'll say outright that this one isn't bad, but we kept drinking it more out of curiosity than enjoyment. It's a little like a Tinder date where you know already it's not love, but there's a lot of information to unpack and now you're invested for the sake of data. How romantic.
The flavor is familiar, but it's not caramel. It's not complex, but it's also not easily identifiable. It's something that keeps us up at night, but it's not necessarily a welcomed relief in our much-needed insomnia coffee the next morning.
Available on Amazon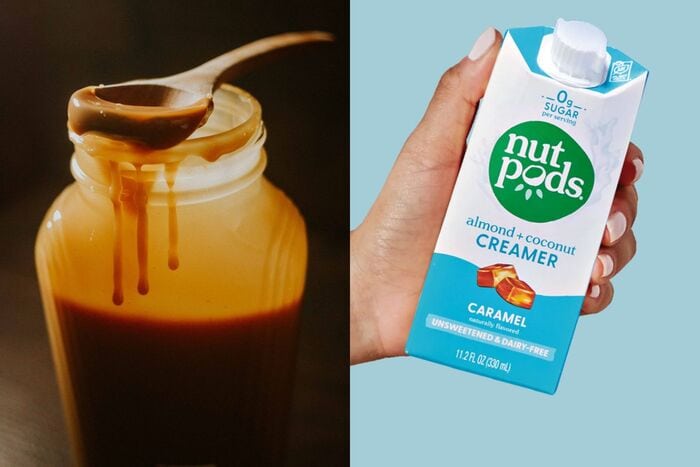 5. French Vanilla (Unsweetened)
A classic we've loved as a coffee partner in the past, we had high hopes that nutpods' French Vanilla would be a solid choice.
It smells like a vanilla protein shake. The flavor wasn't particularly pronounced, so our mouths weren't tasting what our noses were smelling. Overall? Underwhelming,
Available on Amazon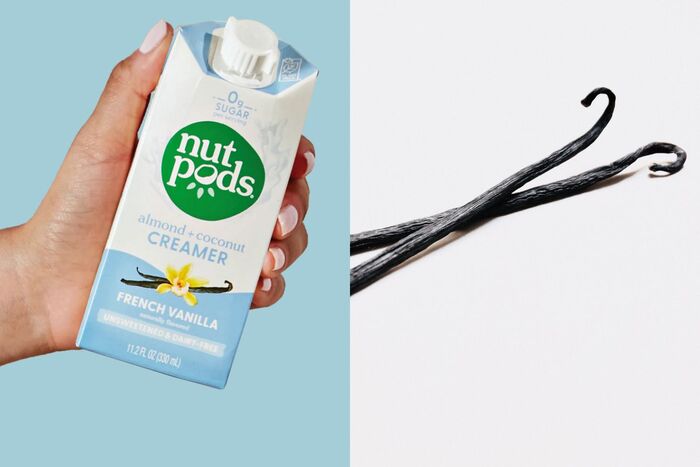 4. Original (Unsweetened)
Plain Jane. Baseline. Run of the mill. Fine. James Cameron's Avatar, despite what everybody says about it. The original nutpod flavor comes squarely in the middle of our ranking.
It smells like nothing. It has a subtle flavor, which makes sense considering it smells like nothing.
The taste is a bit like the leftover cereal milk after you finish a bowl of plain corn flakes. And even that flavor is faint. Bottom line, the Original will literally lighten your coffee. It will add a hint of flavor intrigue. If you're looking for pow flavor, what are you doing getting original unsweetened?
Available on Amazon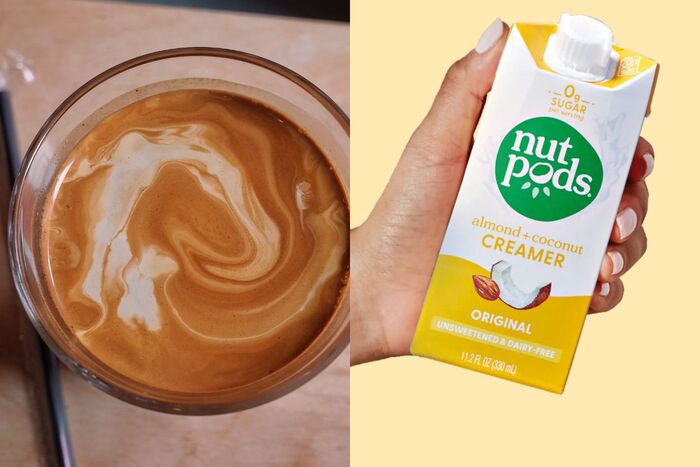 3. Hazelnut (Unsweetened)
Our most intimate knowledge of hazelnuts comes from Nutella, so we have a lot of respect for this nut finally stepping out of that shadow. First things first, the smell was pleasant. It wasn't necessarily nutty, but it was far from offensive. So, you can be nutty and inoffensive. Take notes, Andrew Tate.
As it seems to be the pattern, we were alarmed by the disconnect between smell and taste. It tasted much more coconut-forward than it did of hazelnut. It was even more coconut-ty than "original," which was not supposed to have any other flavor besides coconut and almond milk. Maybe we should learn to expect the unexpected at this point.
It was also a little thicker than the original. This wasn't an issue in hot coffee, but it stuck around when we took a swig of it straight from the bottle. Yes, we know that's not a normal thing to do. Ok, next!
Available on Amazon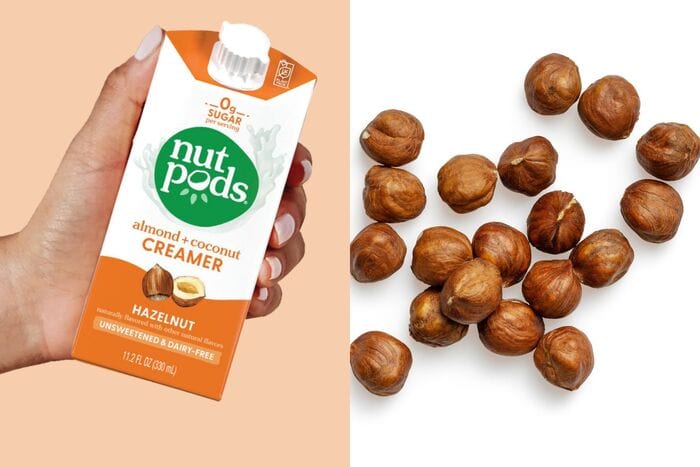 2. Cookie Butter (Sweetened)
Cookie Butter was the only sweetened flavor of the bunch. So, being sugar fiends, we expected this to blow the others out of the water. Er, coffee. And we can confirm it's sweetened! So much so that a little will go a long way in your coffee.
The smell was candle-esque in that forbidden "I want to drink you but I know I shouldn't" way. Flavor-wise, it's pretty delicious, but should probably be called "sugar cookie" instead of "cookie butter." It lacks the spices and complexity that we've come to love in cookie butter, but it does deliver on a sugar cookie's promise of sugar. And, probably, like, some vanilla or something.
Available on Amazon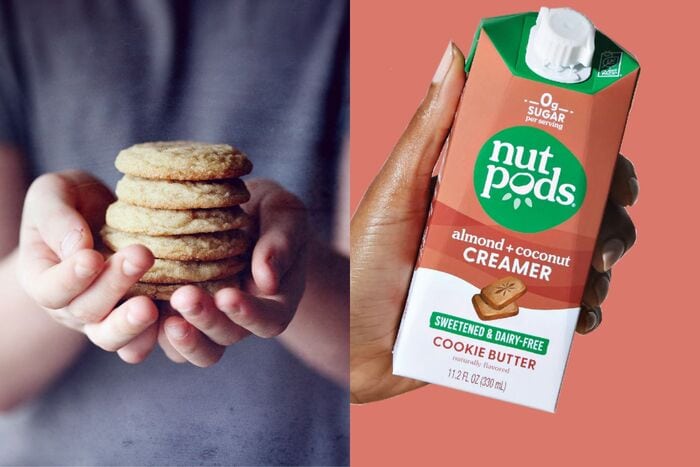 1. Cinnamon Swirl (Unsweetened)
In almost any situation, cinnamon is just a good move. It smells and tastes delicious and identifiable, and it doesn't necessarily need to be sweet. The smell of the nutpods Cinnamon Swirl creamer isn't particularly strong, but it is wonderful when you get a whiff.
We don't know the science behind manufacturing flavors, but this one is somehow the creamiest despite being made up of the same coconut and almond milk base as all of the others. It also delivers on the cinnamon promise. Maybe it had a leg up over marshmallow and caramel because unlike those, cinnamon doesn't need to be sweet to be identifiable.
Let this be a lesson. You don't need to be sweet to be likable. Or enjoyable when stirred into a coffee beverage. Humans are non-dairy, right?
Available on Amazon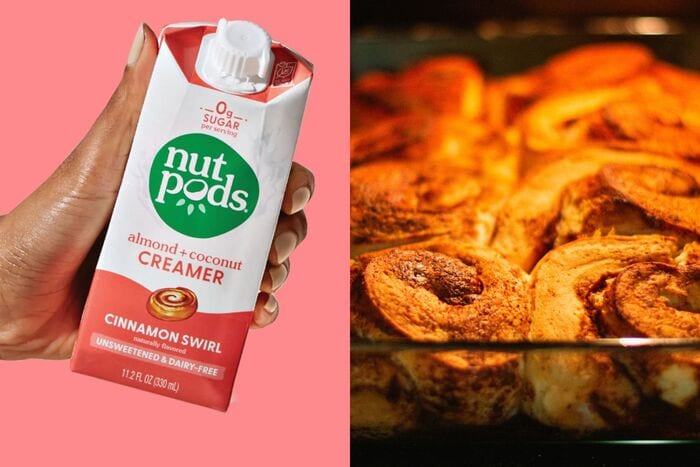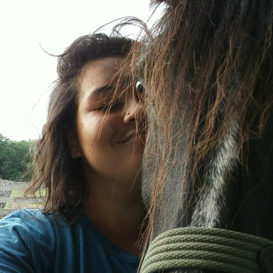 Latest posts by Hebba Gouda
(see all)