Nutella was *the* breakfast food of the millenium. Kids loved it, you could put it on anything, and it had a fancy European flair. But although that chocolaty hazelnut spread is delicious, it's not exactly healthy or good for the environment (more on that later). So Noah Schnapp took it upon himself to create the better, more sustainable tbh hazelnut cocoa spread. Oh, and it's vegan.
Yes, your pop culture knowledge is that good – that's the Noah Schnapp of Stranger Things fame. Or TikTok, depending on which screen you look at more.
The actor behind Will Byers founded tbh in between shots of vanishing to the Upside Down and making the most of that really unfortunate haircut.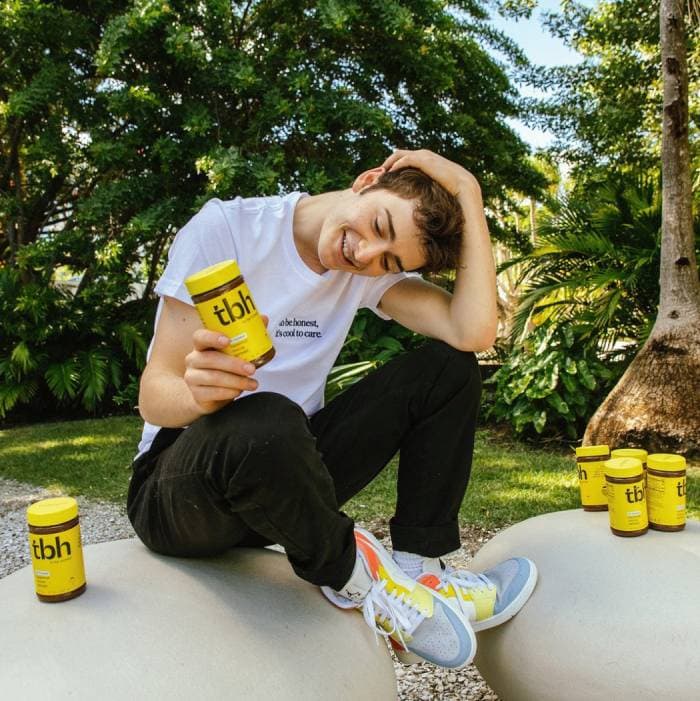 "Growing up, I absolutely loved Nutella, so I was shocked to learn that its first ingredient was sugar and the second ingredient was palm oil," Schnapp told us. So after years of testing, he launched tbh, a new and improved hazelnut cocoa spread.
Now, we love a feel good story. But how does tbh stand up against the beloved Nutella? Is this just another celebrity product that brings a ton of hype and a lot of disappointment?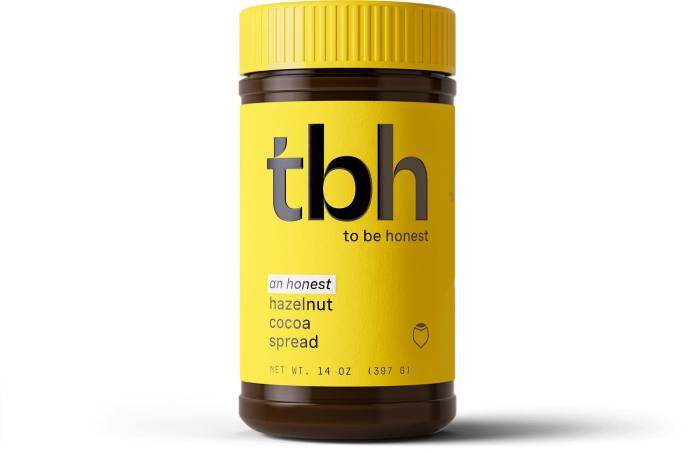 As the skeptics we are, we took the task upon ourselves to taste and review tbh. And we tested it multiple times. Like a lot of times. Possibly a concerning amount of times. So yeah…this is a pretty honest review.
How Does tbh Compare to Nutella?
1. Ingredients
Every time we eat Cheetos we're reminded that you really are what you eat. While neither of these nutty, chocolatey spreads will give you orange fingers, they are made from different ingredients.
Nutella's ingredients are: sugar, palm oil, hazelnuts, milk, cocoa, lecithin, and vanillin (a synthetic vanilla).

tbh' s ingredients are: hazelnuts, organic sugar, pea protein, sunflower oil, soluble corn fiber, organic cocoa powder, cocoa butter, cocoa liquor, sunflower lecithin, natural flavors, and monk fruit.

Both of these spreads have ingredients that would make a Santa Monica Rich Mom squirm. But when it comes to the planet, the lack of palm oil in tbh makes a difference.
"For those that might not know, harvesting palm oil is a leading cause of deforestation and habitat destruction, bringing negative consequences for wildlife and our planet in general,"Schnapp says.
"As conscious consumers, it's crucial that we make smart choices for our planet by changing what's in our pantry – which is why tbh uses only the highest quality ingredients."
One of the already endangered animals that this deforestation is affecting is the pygmy elephant. So if not for your own body, do it for the cute elephants!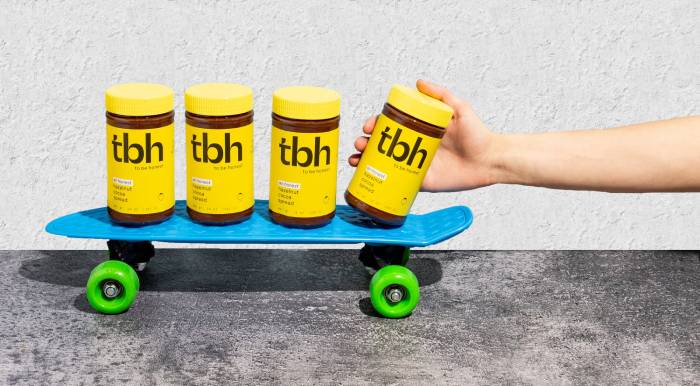 2. Nutrition Facts
Speaking of your body, another major difference between Nutella and Schnapp's spread is the ingredients. And if you ask us, tbh really missed out that alliteration opportunity when coming up with their name.
Nutella (30 grams): 160 calories, 9.2g fat, 17.2g carbs, 16.8g sugar, and 1.8 g protein.
tbh (37 grams): 200 calories, 13g fat, 14g carbs, 10g sugar, and 6g protein.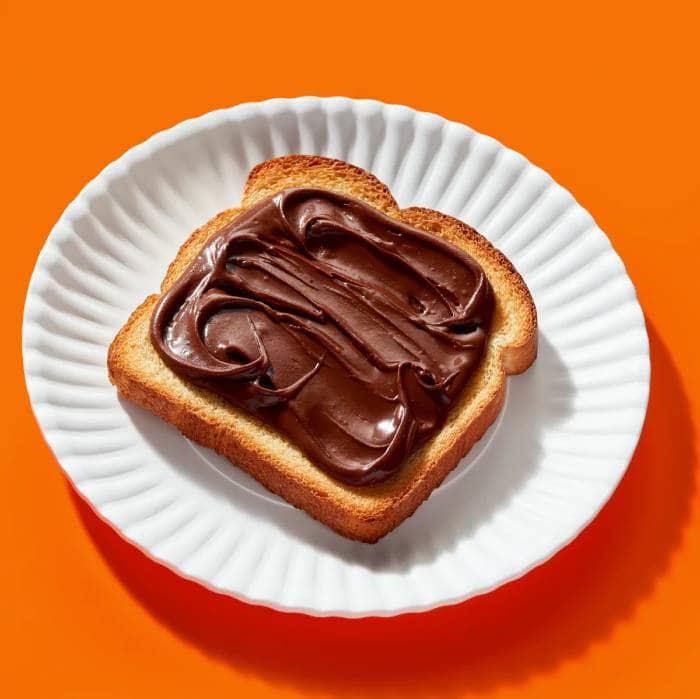 Even without doing basic math to make up for those seven grams of variation, it's easy to see the difference between the amounts of sugar and protein. tbh clearly is the winner in these categories, and we're once again shocked that our parents let us eat this sugar bomb before sending us off to school.
Another example of how teachers really deserve to get paid more.
3. Taste
Finally, we get to the meat of the review! But not really meat, because tbh is vegan! Isn't that clever how we snuck in that fact?
Our first spoonful of tbh was honestly a little shocking. After years of training our taste buds to expect one thing with Nutella, tbh was pretty different.
It was less saccharine. It didn't coat our mouths in a heavy sweetness. And after we realized we weren't shoveling a sugar paste onto our tongue, it really tasted amazing.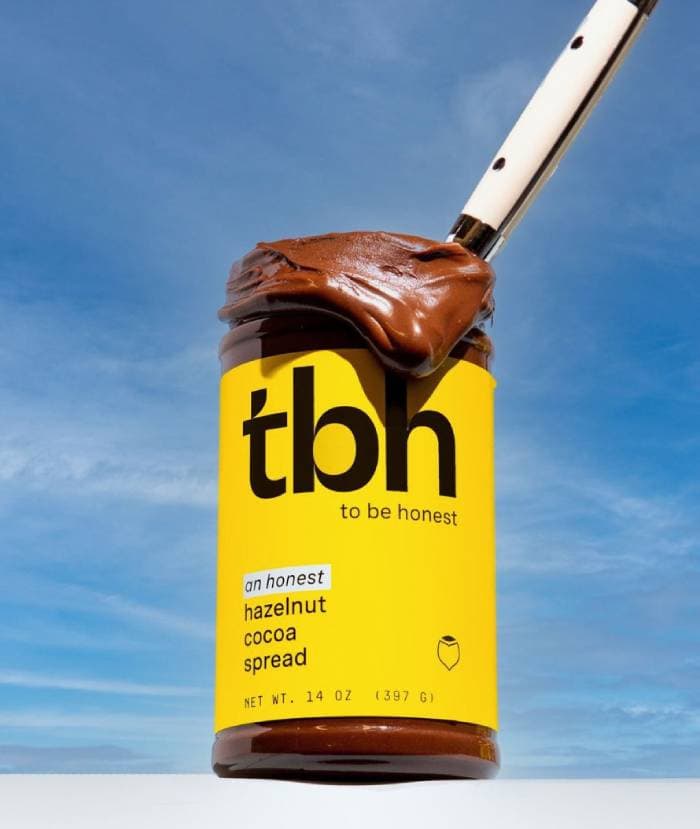 tbh tastes like a more refined and elegant version of the hazelnut spread we once called a friend. It doesn't have an abrasive hazelnut flavor, but the chocolate is definitely elevated by something nutty.
And don't get us wrong, it is sweet! But the blend of sugar and monk fruit (an alternative sweetener) makes the sweetness less overpowering. It's more nuanced…unlike the Bath and Body Works body spray we used to bathe in.
4. Texture
The texture of tbh is just what you would hope for is smooth and velvety, versus chalky or chunky. It's easy to spread onto a piece of toast, and it scoops out onto a spoon almost too easily.
Call it a flaw that it's too easy to eat. Or we'll just grab another jar.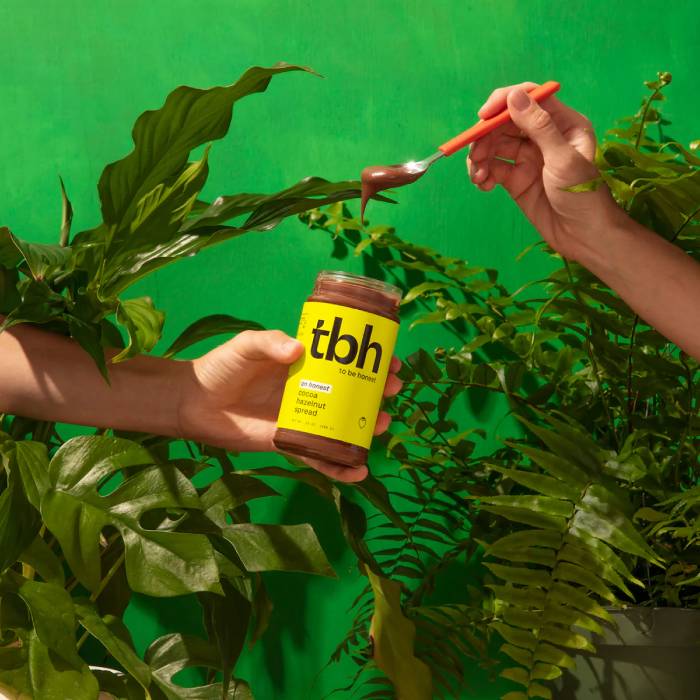 5. Price and Availability
At the moment, tbh comes in 14 oz. containers, and you can buy them online in packs of two or four. You can do a one-time buy, or join their subscription. Because of course there's a subscription.
Depending on which option you choose, tbh will set you back $11.24 per jar to $12.99 per jar.


As for Nutella, the price varies based on where you buy it from. You can get a 7.7 oz jar for $2.49 from Target or a 26.5 oz jar from Amazon for $6.87. Or if you have decision fatigue, one from each place.
The Final Review of TBH
Despite the fact that tbh is more expensive than Nutella, we think that Noah Schnapp is really onto something here. Palm oil is terrible for the planet. And, foods that are excessively sugary don't make our bodies feel great.
We're pretty proud of our gym routine, our trainer is going to be excited that we're eating something with slightly more nutritional value, and tbh still tastes really, really good. So our honest review of tbh? Go out and get yourself a jar, and get ready for it to be your new favorite subscription.
And, please don't put us in a retirement home yet – we still have a few fun years left.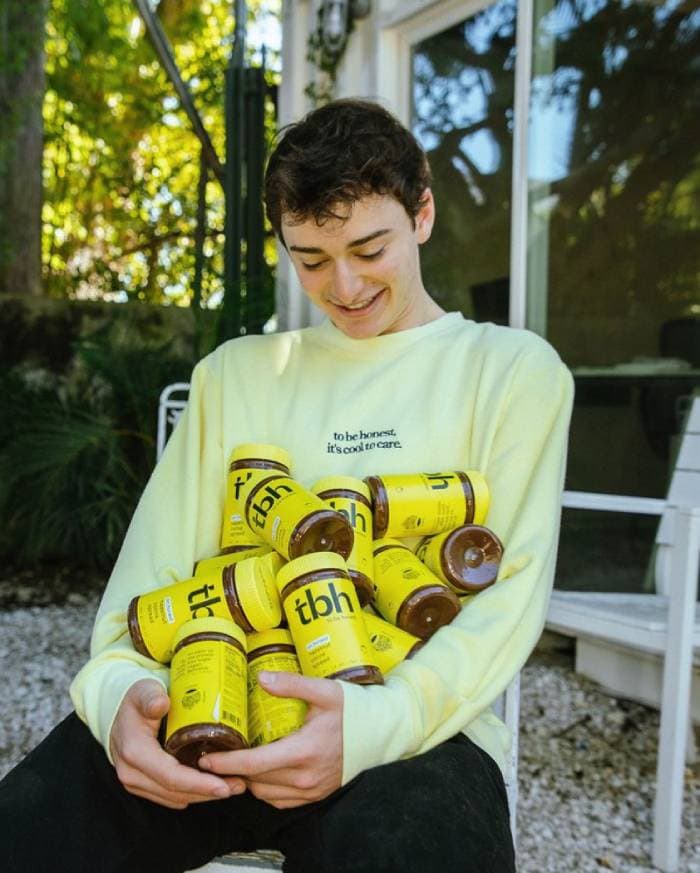 As for the future of tbh? "Right now, our focus is expansion with the hazelnut cocoa spread we've spent years working on," Schnapp says. "But, we are experimenting with research and development for new products. Listening to our customers has been interesting, to see what they're craving. Stay tuned early next year for some announcements!"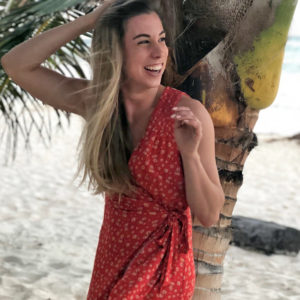 Latest posts by Hannah Rex
(see all)