Gone are the days of everyone thinking you're a new wave hippie for ordering a milk alternative in your coffee. At this point, you're a weirdo if you get the kind that's squeezed from a cow. Coffee shops let you choose between oat, almond, and now…pistachio milk. But is pistachio milk good for you?
Before you order your next double-shot vanilla bean cappuccino, we'll guide you through the hierarchy of milk alternatives and how their nutritional stats line up. This should help you decide if the additional pricing is worth it.
As for that chocolate croissant? That's always worth it.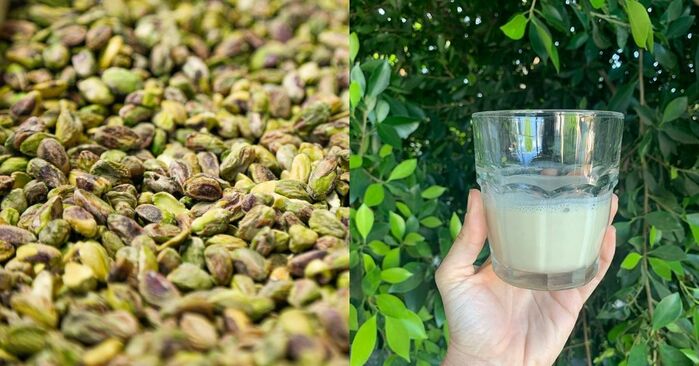 How Healthy Is Pistachio Milk?
One might assume that a nut milk would contain similar nutrients as their source ingredient. The nut can't fall too far from the carton, right?
But when it's milked, the pistachio nut looks a lot different on the nutrition chart. For example, one 8-oz serving of plain, unsweetened pistachio milk from the leading producer, Táche, has 50 calories, 3.5 grams of total fat, 2 grams of protein, and 1 gram of fiber.
In contrast, just one ounce of pistachio nuts has 159 calories, 12.8 grams of total fat, 5.73 grams of protein, and 3 grams of fiber. And you get the sanctification of cracking them open! Or the hassle. We've heard it both ways.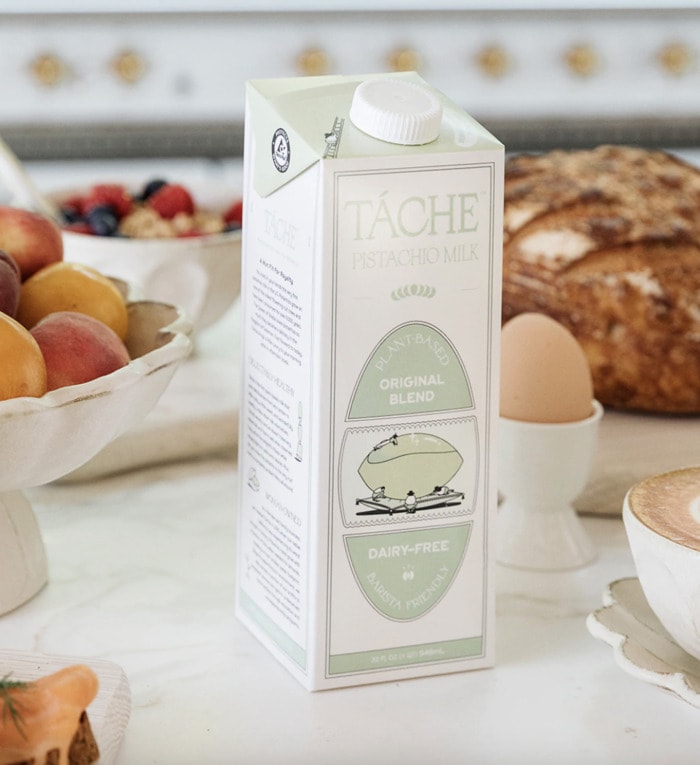 Available at Tache.
Of course, different brands of pistachio milk, and even different blends, will give you varying stats. And when you add in homemade pistachio milk recipes to the mix, you'll find wider variation still.
So does that make it unhealthy? It depends on how it fits into your diet overall. Homemade or store bought, we wouldn't recommend guzzling it by the gallon.
Save that for your water with the motivational phrases on it.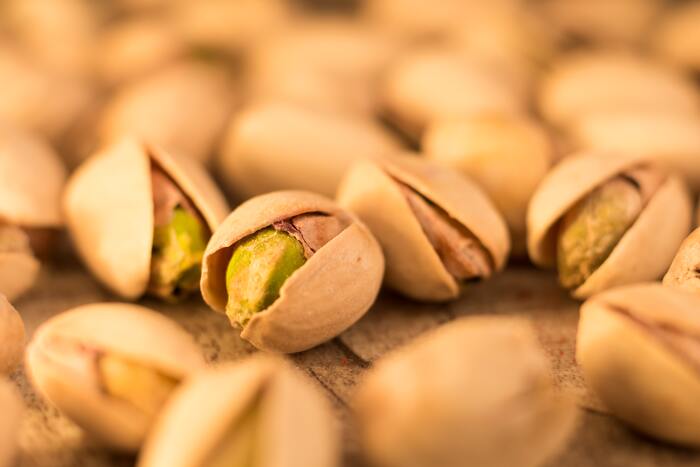 Pistachio Milk vs. Other Plant-Based Milks
If you're a die-hard oat milk latte drinker, is it worth it to switch up your routine? And we don't just mean in a way that would actually help you be on time for work.
From a nutritional standpoint, here's how pistachio milk compares to three other common milk alternatives:
Calories: 50
Fat: 3.5g
Carbohydrates: 3g
Protein: 2g
Total Sugar: <1g
Calories: 45
Fat: 3g
Carbohydrates: 5g
Protein: 1g
Total Sugar: 0g
Calories: 30
Fat: 2.5g
Carbohydrates: 1g
Protein: 1g
Total Sugar: 0g
Calories: 80
Fat: 4g
Carbohydrates: 3g
Protein: 7g
Total Sugar: 1g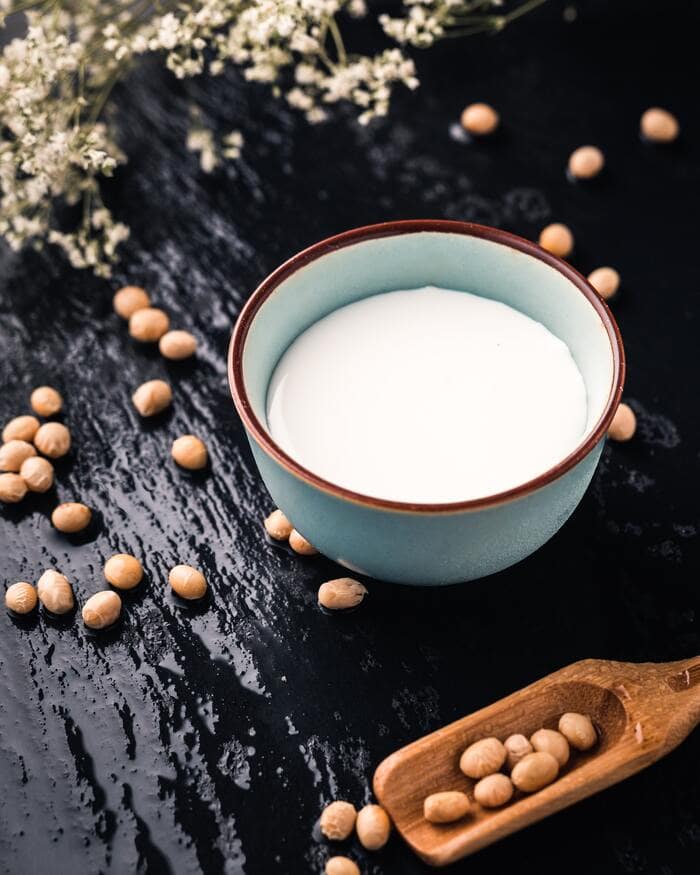 When it comes to calories, fat, carbs, and sugar, all of these plant-based milks are pretty similar. Soy milk definitely wins in the protein department (for a few extra calories), which is why it's often a beloved choice for vegans. Second only to Oreos.
But the milk alternatives don't end there! We also have pea milk and sesame milk which pump up the protein like your resident gym rat. They contain eight and four grams of protein respectively, per cup.
So again – which is healthiest? It depends on what you're looking for in your milk. If you want protein, reach for soy, pea, or sesame. If you want fewer calories, try pistachio, almond, or oat.
If you want the winning numbers to next week's lotto, we hear coconut milk has that inside scoop. But don't tell her we sent you.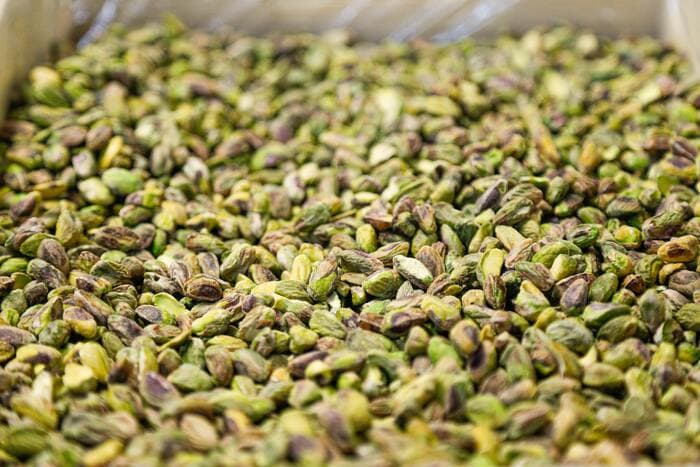 Pistachio Milk vs. Cow's Milk
One of the biggest differences between pistachio and cow's milk is their protein content. Oh, and that one comes from a nut instead of an animal. But we knew that already, right?
Here are the stats plugged into the chart:
Cow Milk, 1 cup (2%)
Calories: 122
Fat: 4.6g
Carbohydrates: 12g
Protein: 8.2g
Total Sugar: 12g
Comparing dairy-free milk to dairy milk will naturally hold both pros and cons. While pistachio milk is saturated fat-free, has fiber, and has fewer calories and carbs, dairy milk has more calcium and protein.
And this should go without saying, but if you're allergic to pistachios, then cow's milk is the better alternative. But if that's the case…why did you make it this far down in the article? Never mind – reading is good for you!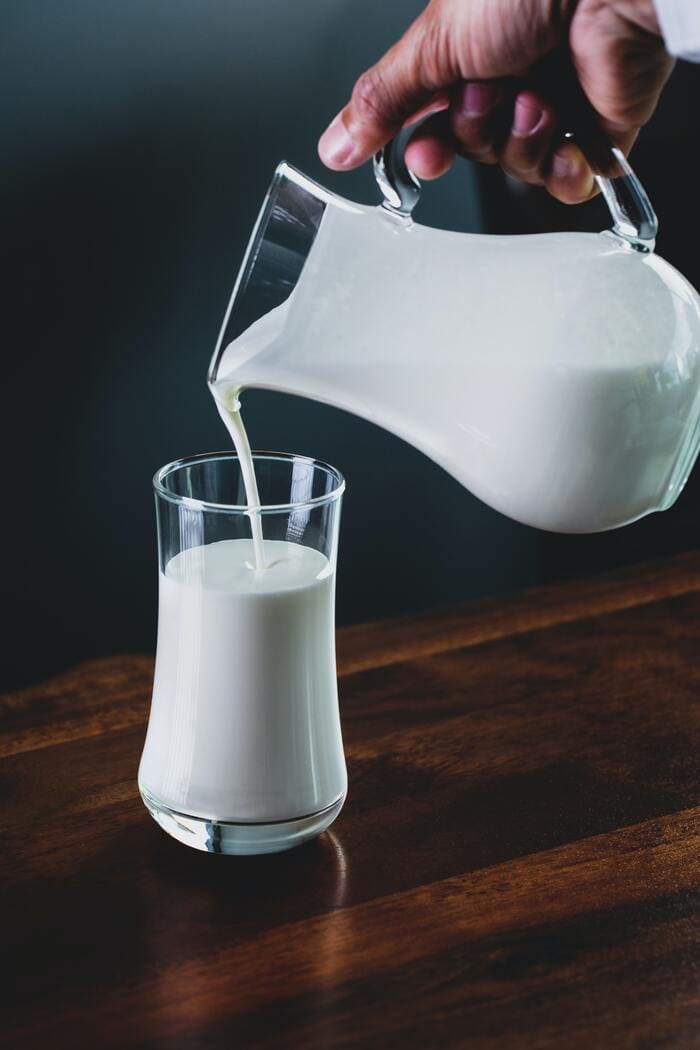 With this info at hand, hopefully you now have the confidence to walk into your local coffee shop knowing which milk you want in your extra-dry upside-down macchiato with a shot and a half.
Honestly, adding "pistachio milk" to that order would be the least confusing thing about it.
And if you still don't have decision overload, we hear that potato milk is in the works. Is there nothing she can't do?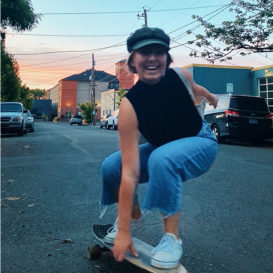 Latest posts by Emma Laurion
(see all)