Dunkin' is always rolling out "trendy" new menu items that aren't too over the top (ahem, Starbucks' Unicorn Frappuccino) but are still kinda in the zeitgeist of what people are into. Truthfully, the donuts and coffee chain is like your almost-cool aunt who is a year late on trends but tries really hard so you forgive her for it.
Case in point, the exclusive Dunkin's Brownie Batter Signature Latte that they've debuted for Valentine's Day. It's not quite setting the trends but following them. That would be OK if the drink was exceptional, but, spoiler alert, it's not.
We grabbed this Dunkin' drink on a brisk New York City morning, and our short answer for how it tastes is that it's aggressively OK. But let's get into the details before you decide if you want to try your own.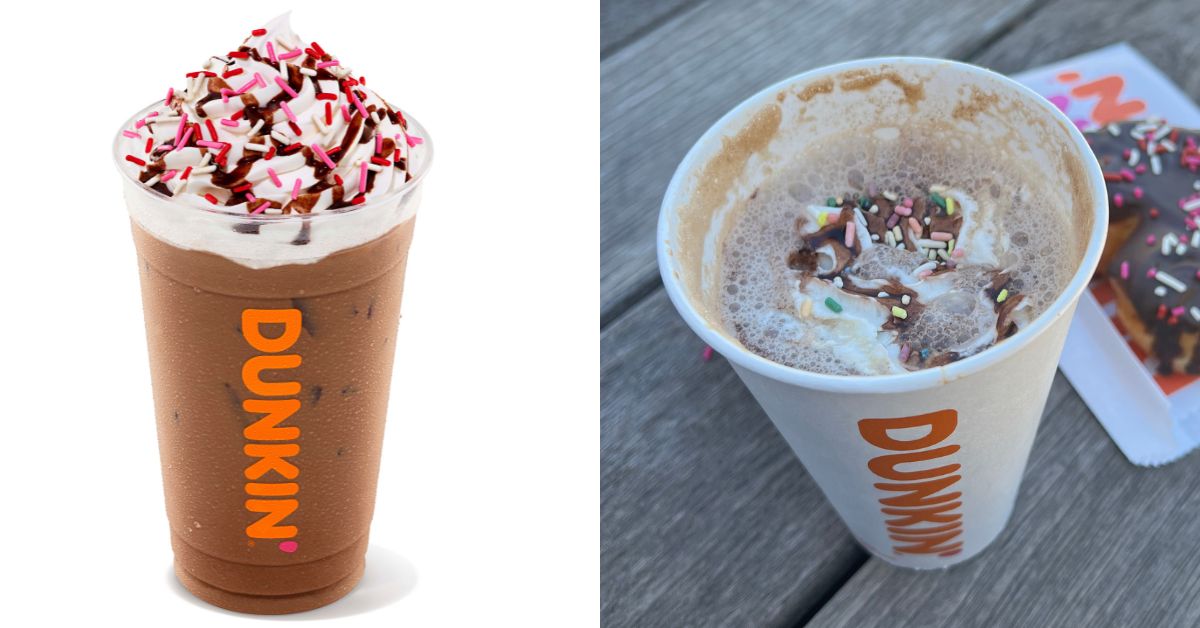 What Is the Dunkin Brownie Batter Signature Latte?
The Member Exclusive Brownie Batter Signature Latte is a Valentine's Day sugar explosion in a cup. It starts with a latte flavored with brownie batter flavor, then is topped with whipped cream, mocha drizzle, and sprinkles.
If you want to be a member, you can sign up here for free.
Dunkin' claims the chocolatey drink inspired by their Brownie Batter donut gives you a "lick-the-bowl brownie experience," but, well, maybe they should slow down the hype train. Reading this description before trying the drink, we were all in. Because even though brownie batter, cake batter, cake frosting, and all its derivatives are a little tired, we're down for anything sugary that we will regret later.
You can also order it an iced latte or you can order a Brownie Batter Swirl Coffee which is a standard coffee with the brownie batter flavoring.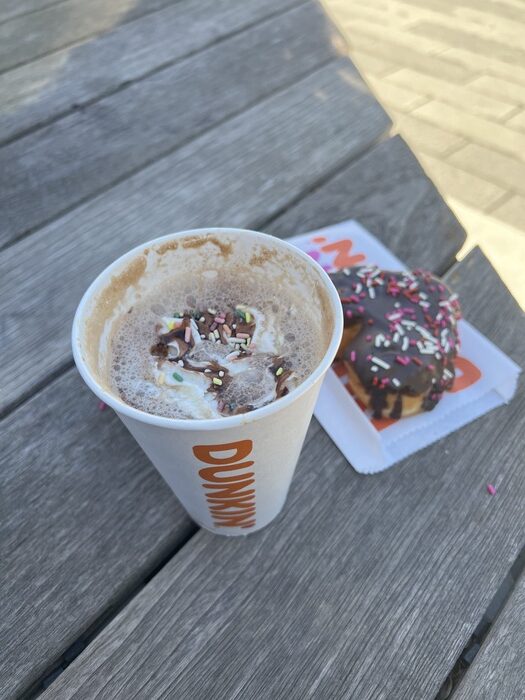 Our Review of the Dunkin' Brownie Batter Signature Latte
Let's start with what it looked like. Listen, we love New York City, but no one at a place like Dunkin' gives a f**k about making a pretty drink. You have to go to, like, Cha Cha Matcha and pay $15 for your drink if you want to Instagram it.
We have never gotten a drink at Dunkin' that looks anything like the advertisements — they always look incredibly sad and like our cat made it with his eyes closed. But the staff at the store is nice, so we forgive them.
The Dunkin' Brownie Batte Signature Latte wasn't even filled to the top of the cup, the whipped cream had sunk down in, and the mocha drizzle and sprinkles had floated to the bottom. This was literally right after I picked the drink up off the counter.
Dunkin', you tried, and for that you get a gold star.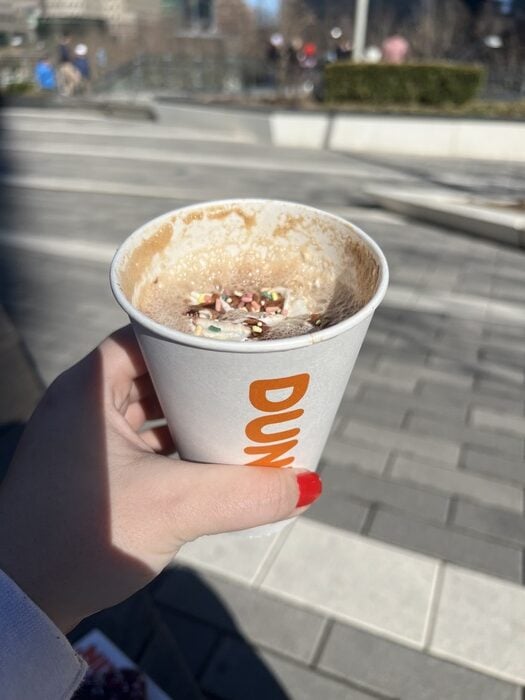 What Does the Brownie Batter Signature Latte Taste Like?
Where do we begin? We have vivid memories of licking many — and we mean many — brownie bowls and spoons as a child. And we can confidently say there are no brownie memories in this drink.
The drink really just tasted like a mocha, and we're low-key convinced they just used mocha sauce and called it brownie batter.
Brownie batter has a distinctly sickeningly sweet flavor with a touch of salt, and this drink just tasted like a really sad watery mocha with some sprinkles on it. And a peek at their ingredient list suggests we aren't far off.
The ingredients in the Brownie Batter Swirl Syrup are:
High Fructose Corn Syrup
Water
Sugar
Cocoa processed with alkali (also known as Dutch-processed cocoa)
Natural and Artificial Flavors
Potassium Sorbate (a preservative)
Salt
Citric Acid
For comparison's sake, we got the Brownie Batter Donut, which is filled with brownie batter buttercream.
The donut actually tastes like brownie batter.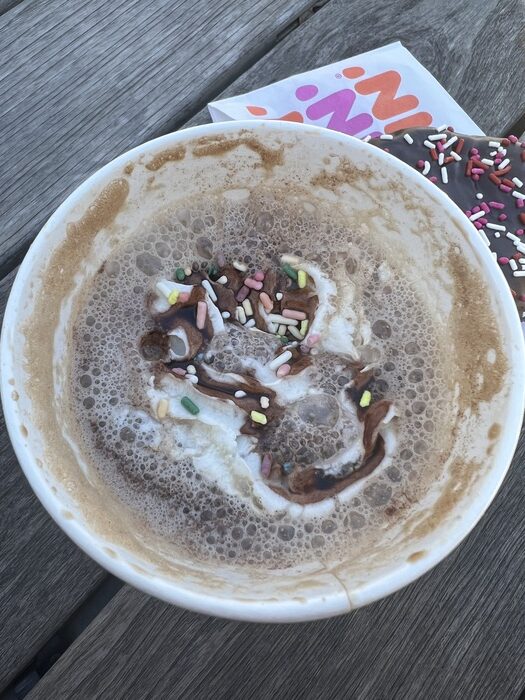 The filling is too sweet in just the right way and there's a teeny-tiny-miniscule pinch of salt to make you think you're illicitly licking a brownie bowl while your mom's not looking.
If Dunkin' took that filling and stirred it into the latte, it would have tasted 10 times better. (Dunkin, if you need some help in research and development, we can clear our schedule.)
Latest posts by Hedy Phillips
(see all)