"Why are donut boxes pink?" It's a question that's bothered us since…well, since someone else asked. When presented with a box of donuts, we tend to ask more pressing questions, like "Who do we have to kill to get the last Boston cream?" and "How do we make it look like an accident?"
If you've wondered about the origins of the pink box, allow us to take you on a brief educational tour of the treat we all know and love, and the rosy rectangle that has kept it safe for years. Or, rather, "safe for the walk from the store to the car." Maybe.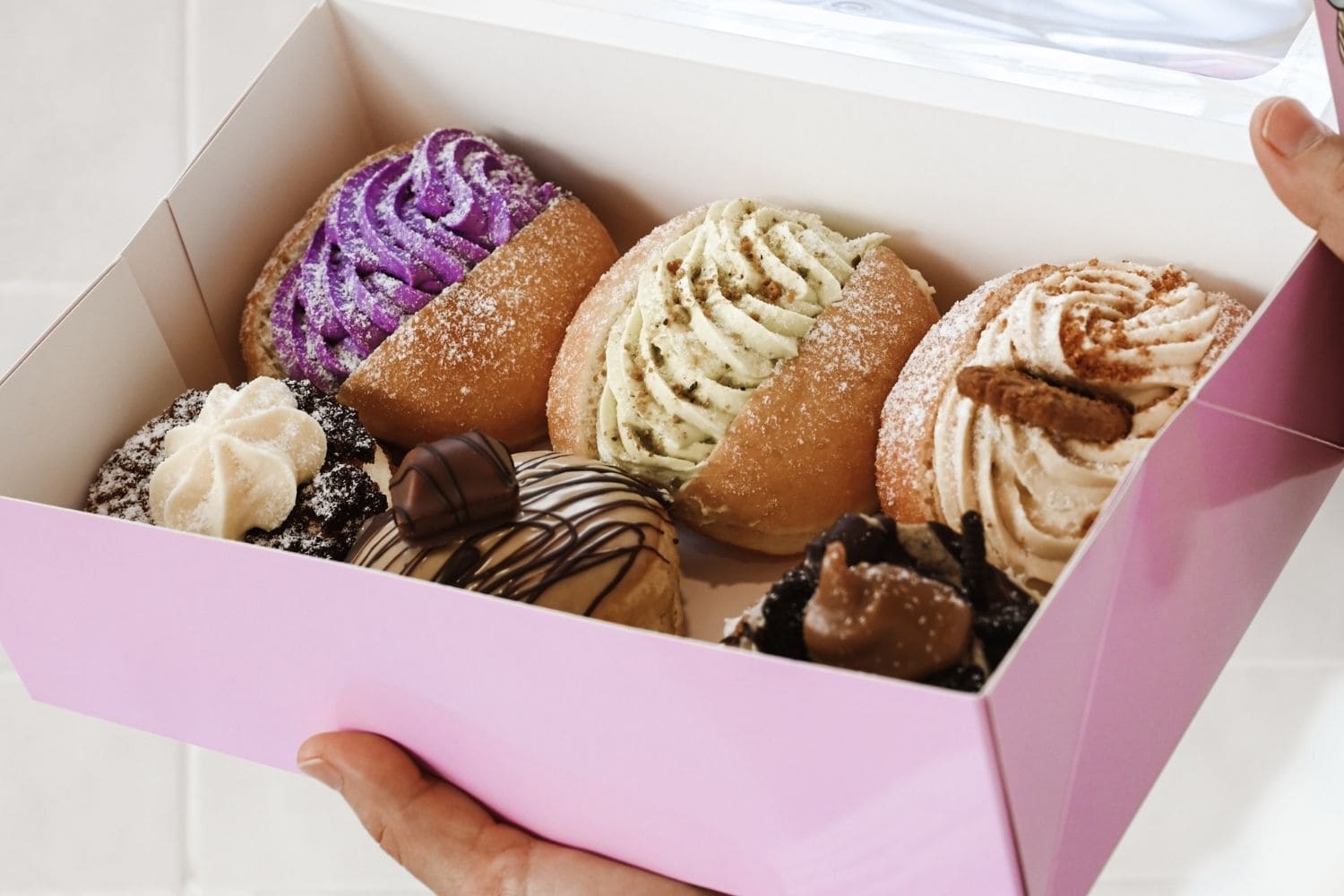 The History of the Pink Donut Box
While donuts are adored all 'round the world, the pink box is mainly associated with Southern California, which has a glorious abundance of donut shops.
Aside from being a reprieve from green juice and avocado toast, LA's donut biz is also culturally significant. A good chunk of these shops are small mom-and-pop operations. Many of the shops are run by Cambodian American immigrants who came to the United States as refugees in the mid-1970s to escape the brutal Khmer Rouge, including Donut King Ted Ngoy who opened Christy's in La Habra.
For years, donut makers got their ingredients and supplies from a company called Westco (now owned by Bakemark). One day, someone called and asked the supply company if there were boxes cheaper than the white cardboard ones. Remember phone calls? That thing before texting?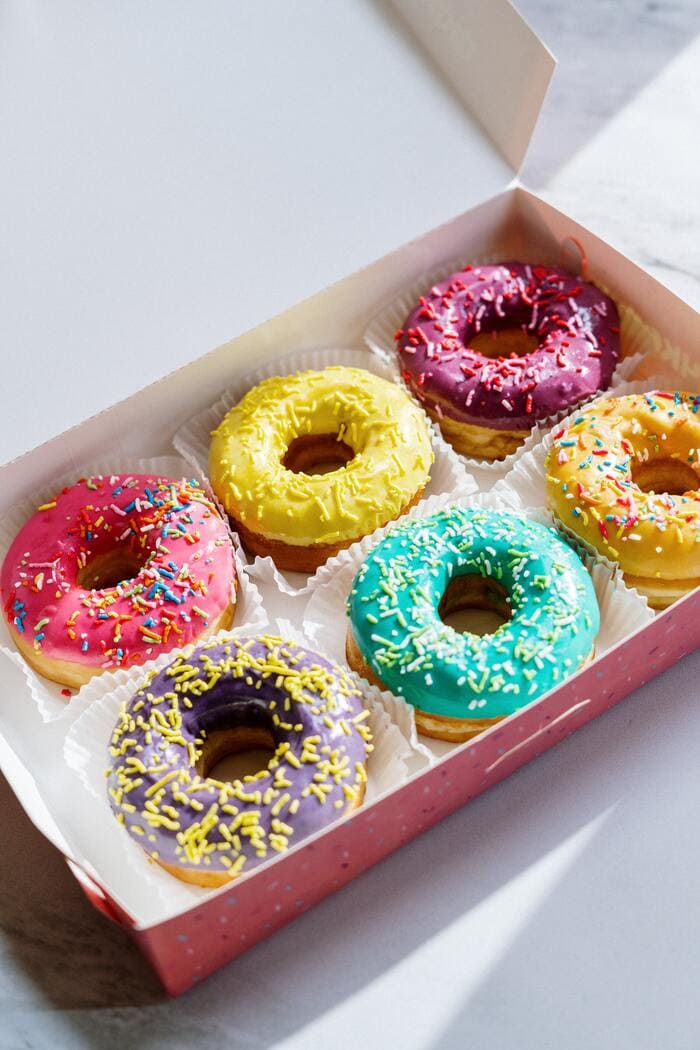 Who first braved the telephone and called Westco has been lost to time. It could have been Ngoy. Or as Susan Wahid, Ngoy's niece and owner of Rose Cafe, told the LA Times, "it may have been Ning Yen, a protege of Ngoy." Yen later opened donuts shops and packaging distribution companies. Or, perhaps both called and asked.
Yen's son Peter told the Times that they had actually wanted red boxes. But, they ended up with pink boxes. "I know they wanted to do red boxes, but the mills kept sending it back pink."
Either way, the pink 9-9-4 boxes (which are nine-by-nine inch by four-inch containers) were a few cents cheaper than the standard white ones. That doesn't make much of a difference per box, but when you're buying thousands of them, it really adds up. Or so the Google calculator says.
The Pink Donut Box Today
Your Pavlovian salivation might be triggered by the polka dots of Krispy Kreme or the highlighters-gone-rogue energy of Dunkin's color scheme. But pink boxes have crept out of California, perhaps most notably due to Voodoo Doughnut's memorable flavors.
With locations in Oregon, Colorado, California, Washington, and Texas, Voodoo's kooky creations have earned them notoriety across states, doling out sweets in boxes that read "good things come in pink boxes." Not to be confused with small packages, which we still question after one too many underwhelming keychains.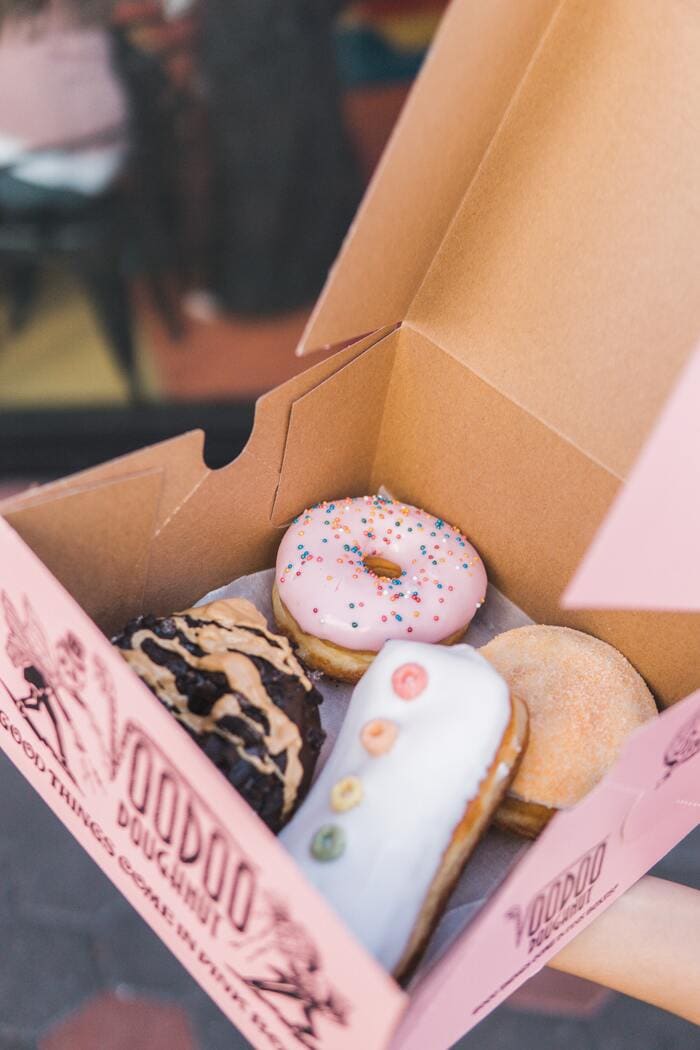 And, recently, artist Phung Huynh used the pink donut box as the centerpiece of her exhibition Donut (W)hole. The collection featured portraits and silkscreens of vintage family photographs printed on the iconic boxes.
Huynh told NPR her intention was to "represent a cultural space where refugees and immigrants reshape their lives in the process of negotiating, assimilating, and becoming American."
Art and donuts? Now that's something we can get behind.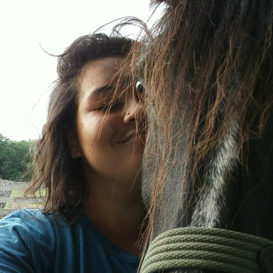 Latest posts by Hebba Gouda
(see all)