Donuts – or doughnuts, for the long-winded – are the people pleasers of the dessert world. They come in an endless number of flavors, can be enjoyed at any time of day, and are often topped with sprinkles, which always look good on an Insta feed.
But how much do you really know about this fried (or baked) treat? There are a few donut facts that make excellent trivia knowledge, and are a good way to impress your local donunteria. That's like a barista, but for donuts. We're sure it'll catch on soon. It just sounds so fetch!
While we wait for that to happen, enjoy this list of tasty tidbits and donut facts.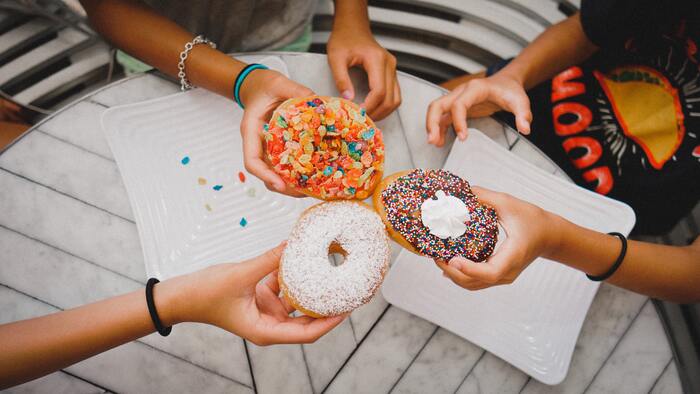 5 Donut Facts
1. Over 10 billion donuts are made in the US every year.
Despite Canada having the most donut shops in the world per capita, they only produce approximately 1 billion donuts each year. The US, on the other hand, may have less donut shops but we produce 10 times more donuts every year.
We can only assume that means we also eat more donuts per person. Or, some raccoons are very, very happy when they find the dumpster full of all that excess.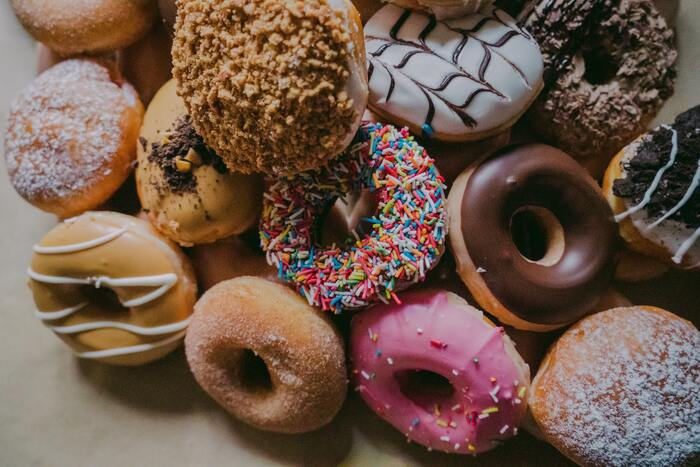 2. Voodoo Doughnut used to sell "medicinal" donuts.
This Portland-based donut shop is well-known for its quirkiness, from their wild donut flavors to the ability to get married at their OG location.
But take things a bit further, Voodoo Doughnut used to offer NyQuil- and Pepto Bismol-coated donuts. We're unsure how, or if, these concoctions actually worked to treat maladies, but some officials eventually stepped in and put a stop to it. You'll have to drink your Pepto on the side like every other hot girl with IBS, we suppose.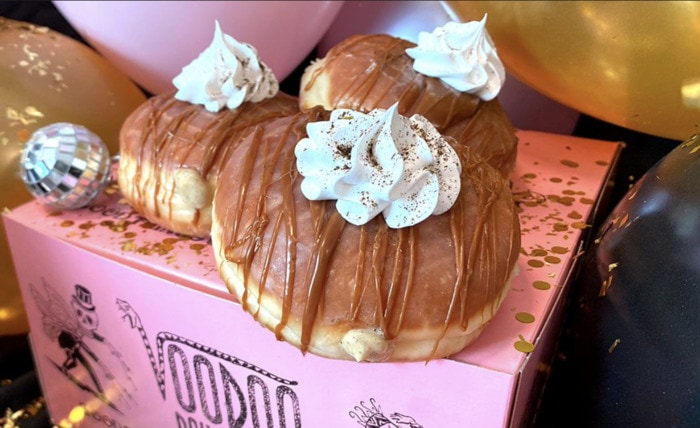 3. Donuts used to be doughnuts, which used to be…oily cakes?
Donuts may have existed all the way back to prehistoric times, although they wouldn't have looked or tasted the same as they do today. Fred and Wilma apparently wouldn't have had easy access to a deep fryer.
But the donuts we now know and love were brought to present-day Manhattan via the Dutch, and were known as olykoeks or "oily cakes." ​​Interestingly, that's also what we call our face when our skin is breaking out.
In regards to its modern name, the term "doughnut" existed first. The the spelling "donut" was invented by the New York-based Display Doughnut Machine Corporation to make it "more pronounceable." Now if only we could get a new spelling of the word "colonel."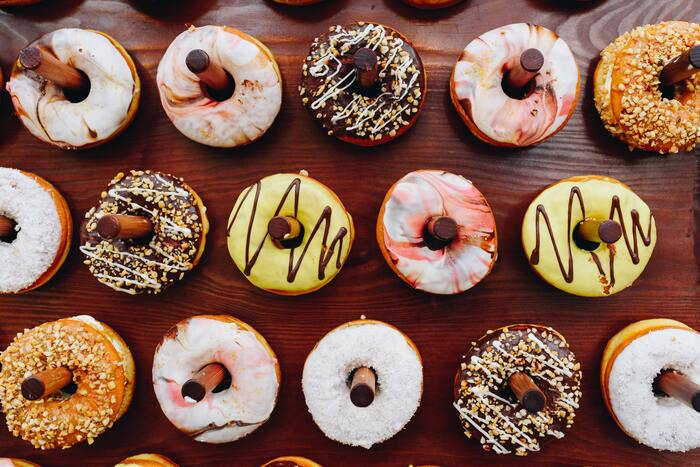 4. National Doughnut Day was started by the Salvation Army.
The holiday, established in 1938, was not created to sell more donuts, but rather to honor the "Doughnut Dollies." These were female volunteers who served doughnuts to soldiers in France during WWI. During WWII, Red Cross volunteers provided this same service.
These women found the tastiest way to serve their country, and the soldiers were probably very glad that they didn't choose to make green smoothies, instead.

5. Donuts are an acceptable measuring form.
Tired of the American imperial measuring system, but not quite sold on the metric system? We vote to change all measuring over to donuts. And not only because Reddit says it's okay.
Here are a few tasty ways to view measurements:
To climb up to the top of the Statue of Liberty, it would take 3,660 donuts. This sounds much better than looking at it in terms of stairs.
More than 55 million donuts would be needed to reach across the US – from Long Beach, California to Long Island, New York. No road snacks needed here!
The Grand Canyon's narrowest point is roughly four miles wide. You would need 253,440 donuts on a string to reach the other side. We hope these donuts aren't afraid of heights.
What's one thing can't donuts measure? Time. They're still learning to read a clock.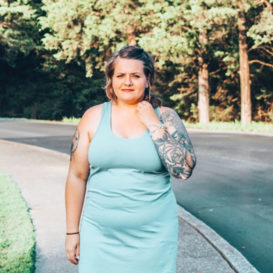 Latest posts by Ashley Hubbard
(see all)