After the chaos of the last few months, we could all use some good news right about now. So consider us the fairy Godmother whispering sweet rumors into your ear. And if the rumors about Dunkin's menu for Fall 2022 turn out to be false, blame Adele.
Though rumor has it that the fall menu is coming to Dunkin on August 17th, all of this is just speculation…for now.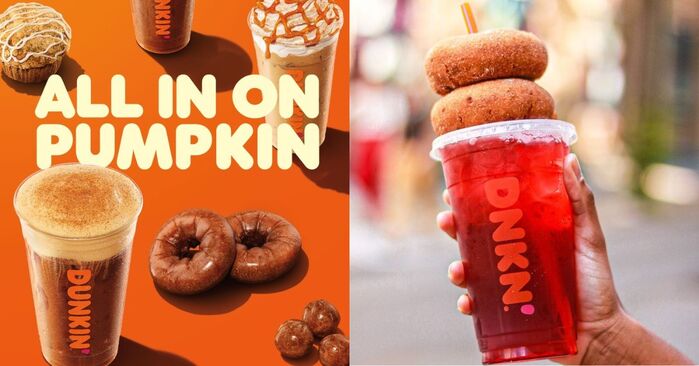 When is Dunkin's Fall Menu Coming Out?
We're nothing if not nosy, so here's the deal. The summer menu at Dunkin' is slated to end on August 16. That leads us to speculate that the rollout of the new fall menu — aka Dunkin' Pumpkin — will happen the following day, on August 17. We think that's how calendars work.
Last year, Dunkin's debuted their first fall drinks and donuts on August 18. So if we're correct, we can expect to enjoy pumpkin spice everything before there's even a chill in the air. Thanks to capitalism for making this dream possible!
According to Markie Devo, the following items will return for Fall 2022:
Pumpkin Munchkins
Pumpkin Donut
Pumpkin Muffin
Maple Sugar Bacon Sandwich
Maple Sugar Snackin' Bacon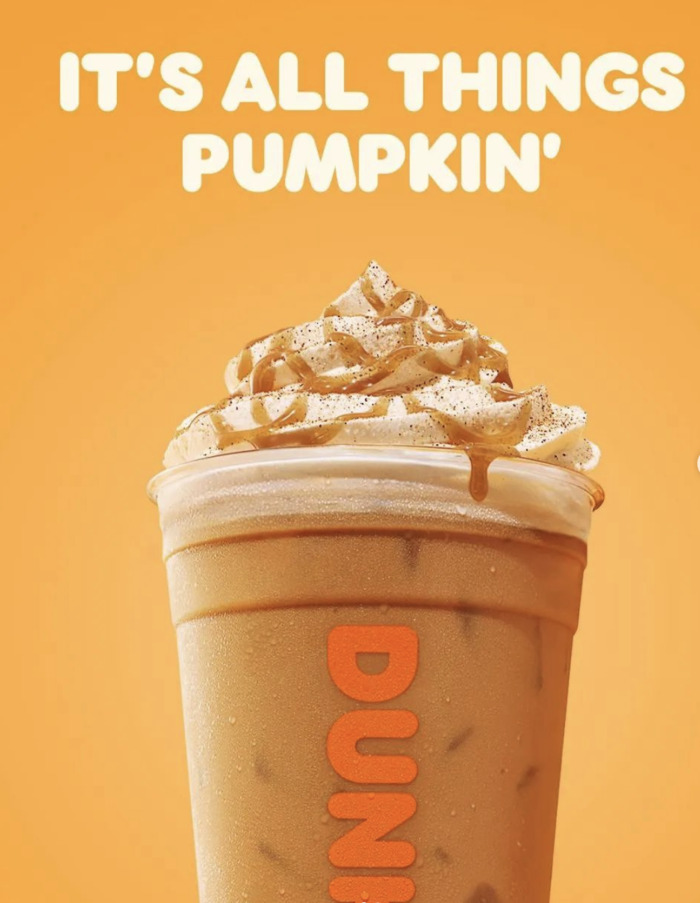 Rumor has it that two months later, on October 12th, their Halloween lineup — featuring a spider donut and a black-and-orange ombre Peanut Butter Cup Macchiato — will emerge.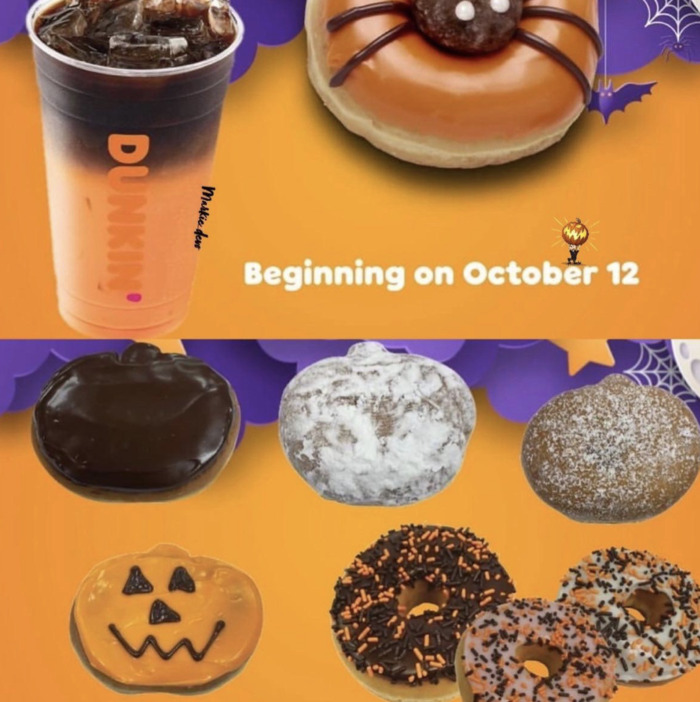 Dunkin's Fall Menu 2022
1. Blood Orange Refresher
We realize Dunkin' isn't the farmer's market, but this fall, they're introducing a Blood Orange Refresher. And, last we checked, blood oranges are in season from December to April. Which makes us think… hey Dunkin' where did you get your time machine and can we borrow it real quick?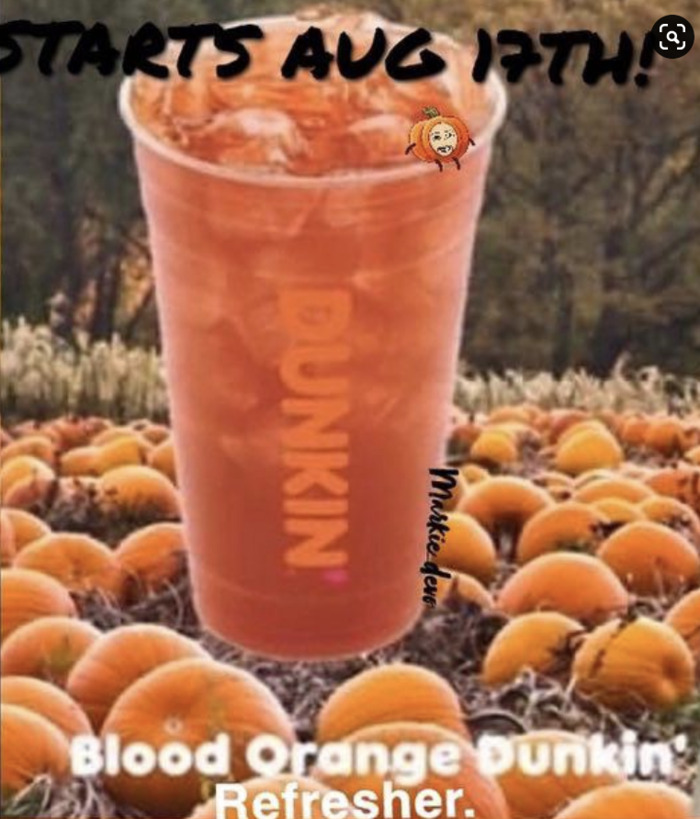 2. Nutty Pumpkin
Pumpkin Spice? Old and boring. Pumpkin with a shot of hazelnut syrup? Hot and delicious. Or iced. Your choice.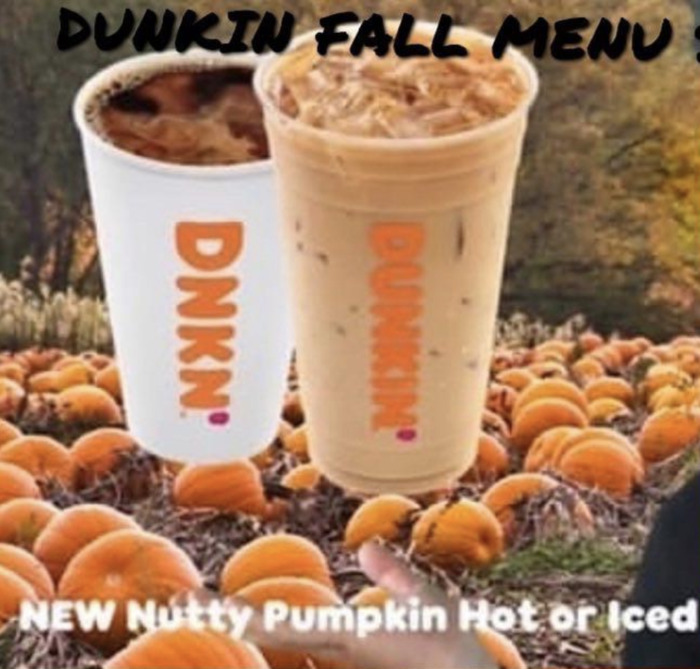 We know, it's short. But, we just chatted with blogger and Dunkin' expert Markie Devo, and well, looks like the Apple Crisp, Caramel Apple Cream Cold Brew, and Orchard Blend were just rumors… at least for the time being.
Hey Adele…
What was on Dunkin's 2021 Fall Menu?
It's also possible that Dunkin' will bring back other fan favorites from last year's menu, including the Pumpkin Cream Cold Brew, Pumpkin Spice Signature Latte, and more delicious drinks and food. Here's what was on the docket last year, in case you missed it. We're sorry for your loss.
Pumpkin Cream Cold Brew – Cold brew coffee with pumpkin flavor swirl, topped with Pumpkin Cream Cold Foam and cinnamon sugar. Great if you love pumpkin. Obviously.
Pumpkin Spice Signature Latte – An iced latte mixed with pumpkin and vanilla flavor swirls, topped with whipped cream, caramel drizzle, and cinnamon sugar. Basic, classic, awesome.
Apple Cranberry Dunkin' Refresher – Green Tea drink made with Honeycrisp apple and cranberry fruit flavors with energy-boosting vitamin B.
Apple Cranberry Dunkin' Coconut Refresher – Same as the above refresher, plus coconut milk. Basically a smoothie.
100% Guatemalan Coffee – A new addition to the Limited Batch Series, this blend is smooth and rich with notes of chocolate flavor.
Pumpkin Flavored Coffees – The pumpkin flavor swirl can be added to any hot or cold drinks, teas, or really anything if you're feeling experimental and have a bathroom nearby.
Pumpkin Donut – A donut that tastes like pumpkins, in the best possible way.
MUNCHKINS Donut Hole Treats – Get the other donut offerings in mini form. Perfect if you're not that hungry, or are only nine inches tall.
Dunkin's Pumpkin Muffin– A pumpkin-flavored muffin topped with icing and sweet streusel crumbs.
Apple Cider Donut – Really it's an apple cider cake ring (we're donut purists. But we'd still eat it). Finished with a cinnamon sugar coating.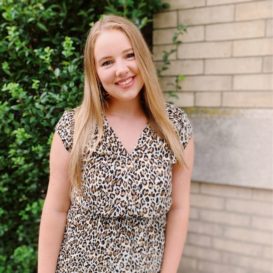 Latest posts by Laura Davis
(see all)