Looking for a healthy snack? These baked Cinnamon Apple Chips will hit the spot. They're sweet, crunchy, and totally guilt-free. Unlike pears, which are always reminding you to call your mother.
Oh, and they just require two ingredients!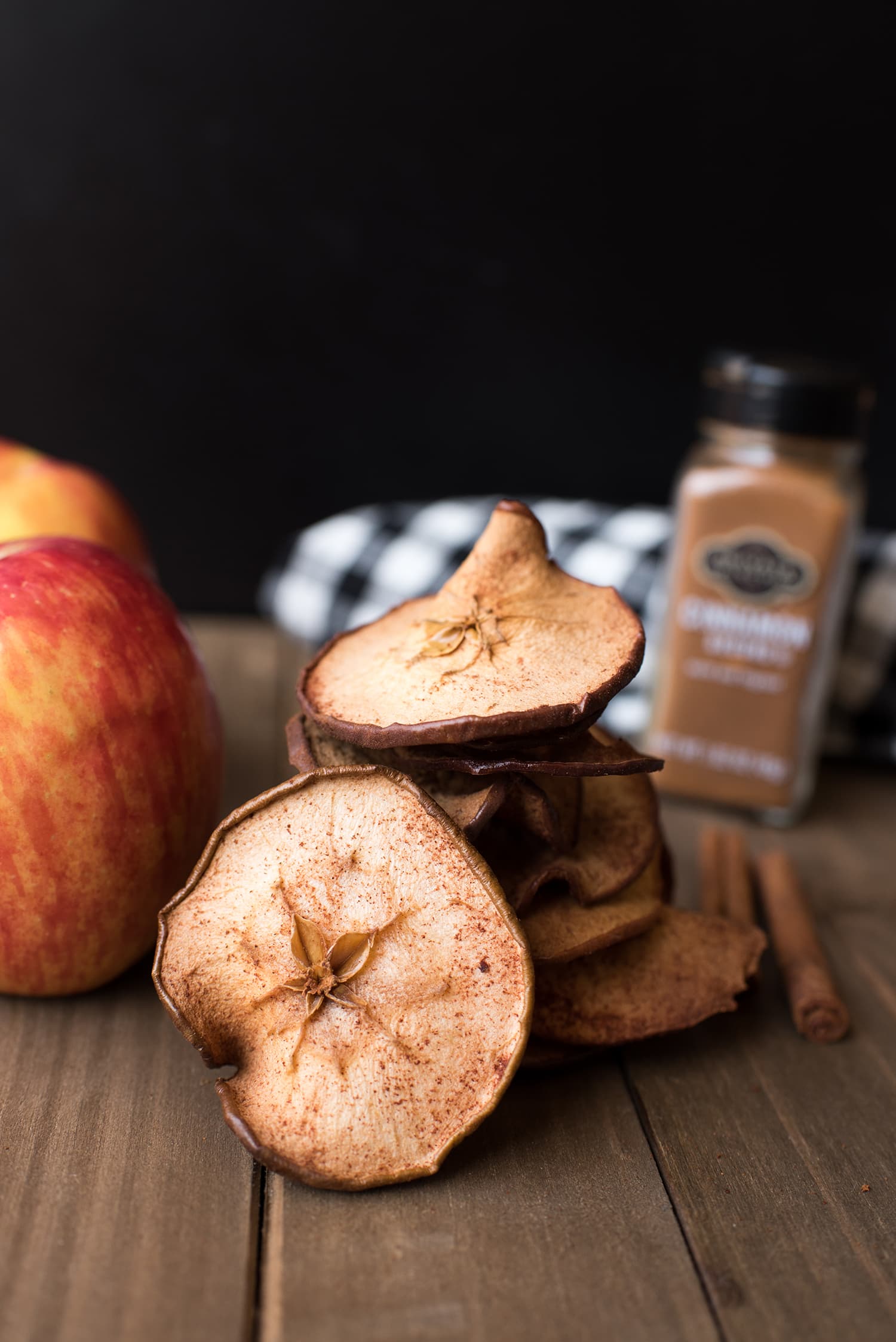 At first, when I made these Cinnamon Apple Chips, I was like, OK, yeah they're baked apples. Not super exciting. And then I went back to the tray for another. And another. And before I realized it, I had eaten two full apples worth of apple chips!
I don't know about you, but there's no way I would just have accidentally housed two apples, so this is officially my new sneaky way of getting more fiber into my diet.
However, after managing to scorch the first batch, I feel it's imperative that I share some tips with you so you can enjoy these and learn from my mistakes!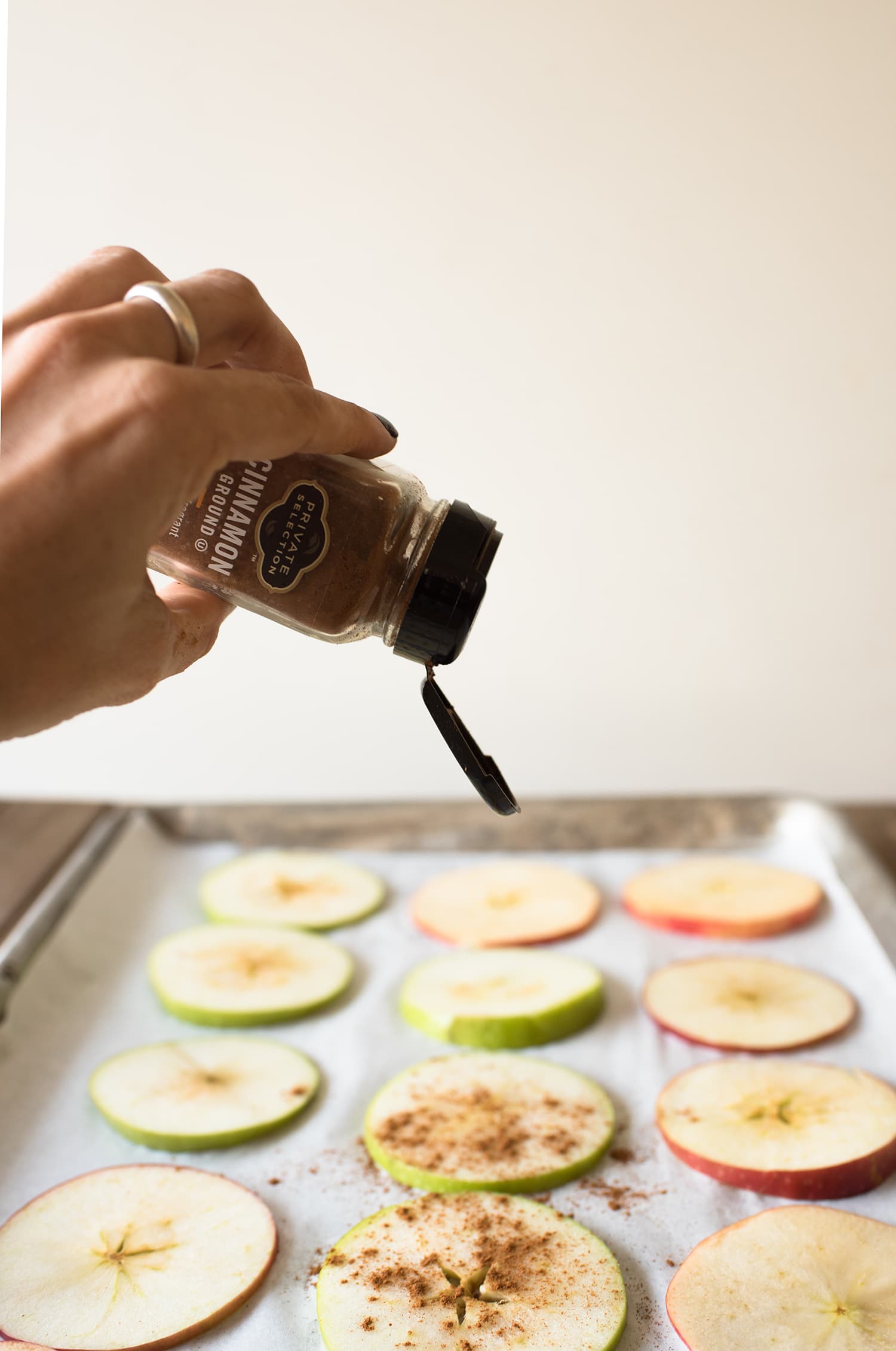 Tips for the Best Baked Cinnamon Apple Chips
Set your oven to 200°F. Any higher and you risk burning your chips.
Buy sweet or tart apples. I recommend Gala, Fuji, Pink Lady, or Honeycrisp. My local Ralphs, part of the Kroger Family of Stores, carries all of these varieties which is fun because I got to mix and match the apples for a variety of flavors! Yours might have the elusive Jonagold, which I've heard tastes like candy. If they do, absolutely pick up some of those.
Don't be shy with spice! This is a two-ingredient recipe, so you'll want to use a quality spice here. I used the Private Selection ground cinnamon because it's super flavorful and less than $4 for a jar which will probably last you the whole fall season, depending on how many Apple Pie Babkas you make. I used 1/4 teaspoon per apple.
Slice the apples evenly. I don't have a mandolin, so I hand sliced these. Hold on to the end of the apple and make 1/8-inch to 1/4-inch slices all the way down the apple. Don't worry about the seeds. These will fall out as you slice (if they don't, simply tap the slice on the cutting board). When you get near the end, flip the apple around and hold it on the wide side. Enjoy any leftover apple pieces with some peanut butter.
Reuse the bag. To coat the apples evenly with cinnamon, place your apple slices back in the bag you brought them home in, add the cinnamon, and swing it wildly around your head toss gently so not to break the slices. This is not the time to test your bolo whip skills, Tygra.
Check on your apples! The apple chips bake for about an hour on each side. But, as every oven is different, they may take slightly longer or slightly shorter. I recommend checking on your apples after 40 minutes into each side. If they're starting to brown and crisp a little on the first side, flip them and restart the timer. They're done when you can pull one out of the oven, let it cool, and it's dry and crisp. For super crispy chips, turn off the heat when they're done baking and leave them in the oven for twenty minutes.
Use parchment paper. This helps prevent them from sticking to the tray. They'll still stick a little when you go to flip them, but you shouldn't have to scrape them off. Don't spray the parchment.
That's a lot of tips, but they should help you make the tastiest Cinnamon Apple Chips!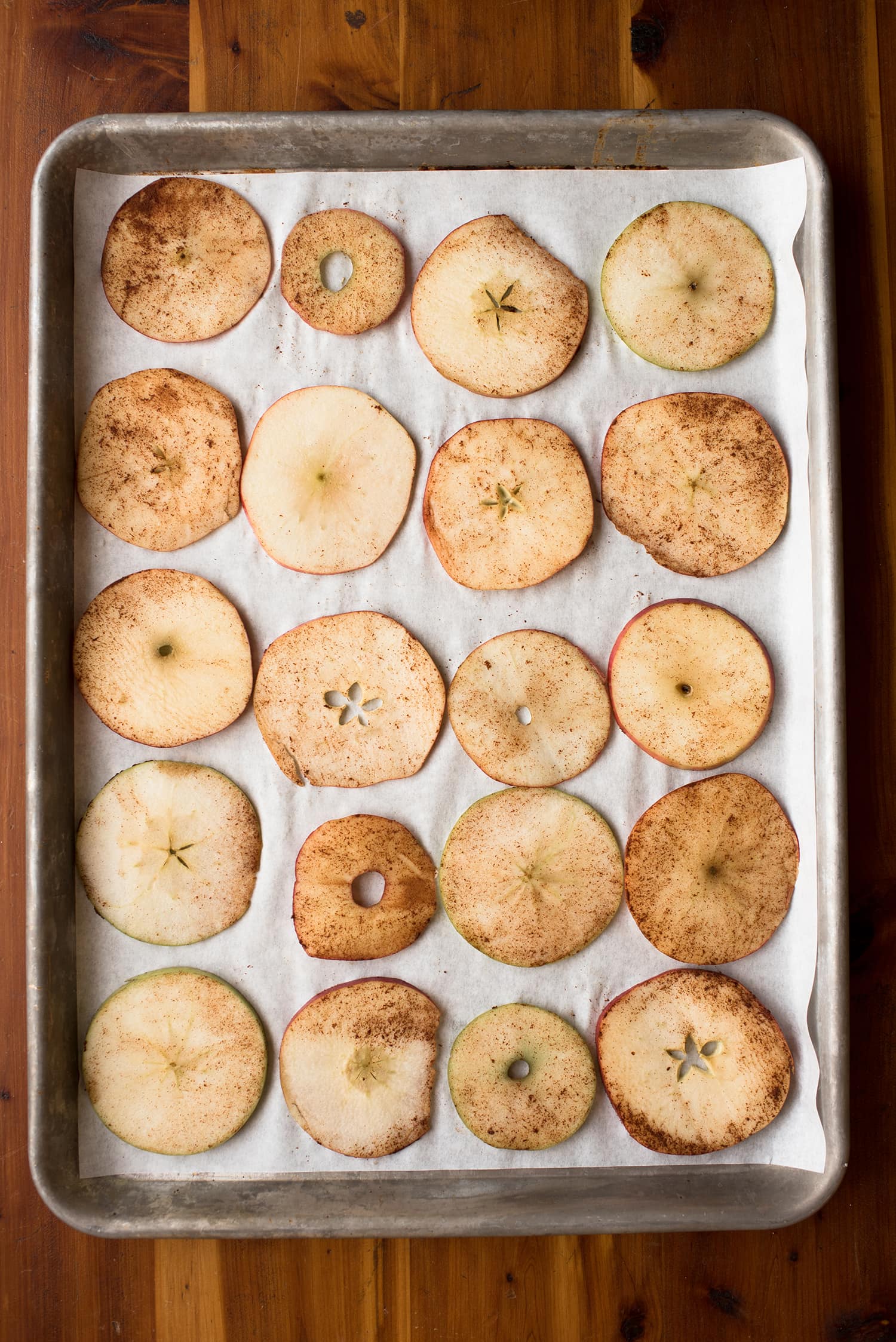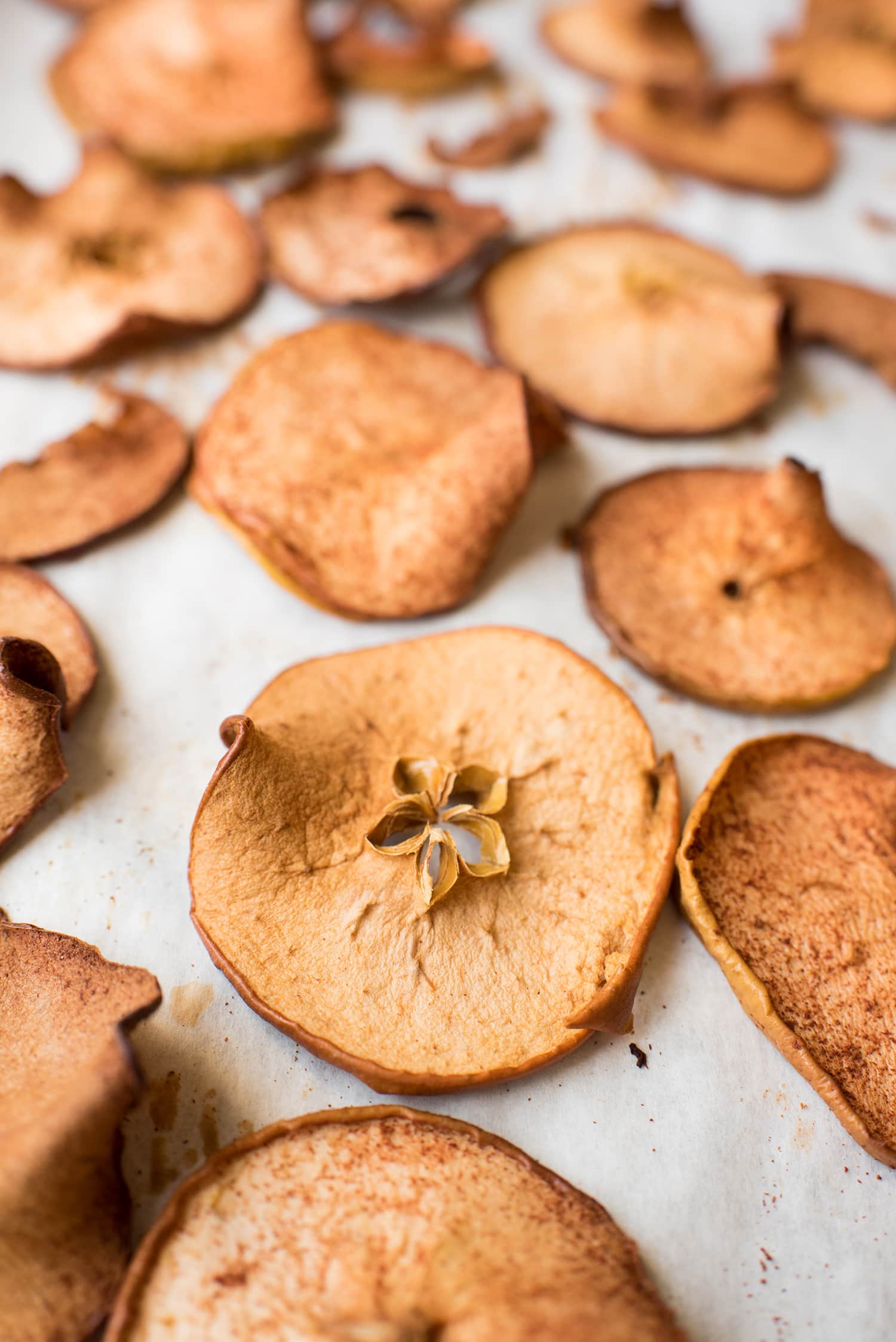 And, if you've got kids, toss a bag of these into their Thundercats lunchbox. I swear they won't trade them for Flaming Hot Cheetos. Well, they've got more of a fighting chance than those baby carrots, that's for sure.
Cinnamon Apple Chips
Print Recipe
These cinnamon apple chips are low in calories, high in fiber, and actually taste good!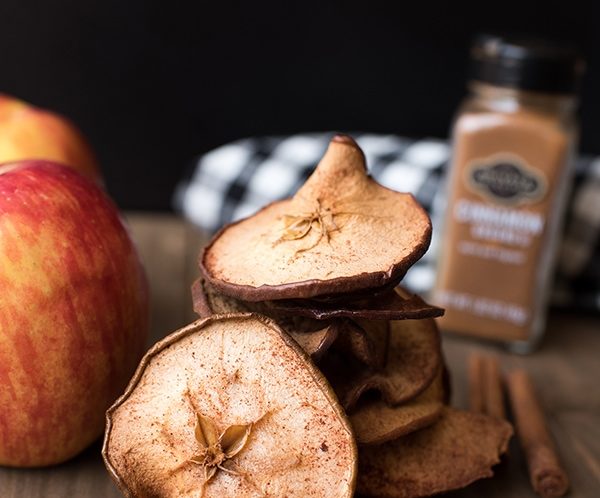 Servings: 3 servings
Ingredients
3 medium apples (sliced to 1/8" to 1/4")
Instructions
Preheat oven to 200° F.


Slice apples to 1/8" to 1/4" thickness with knife or mandolin. Even slices preferred for even baking.


Place in bag and sprinkle cinnamon on top. Toss gently.


Place slices on parchment-lined baking sheet. Do not overlap.


Bake for 40 minutes. If beginning to brown after 40 minutes, flip slices over. If not, continue baking for 20 additional minutes, then flip slices.


Bake for 40 minutes on second side or until medium-dark brown.


Turn off oven. Remove baking sheets after 20 minutes.

Notes
Store in airtight container for one week to keep them crisp. Every oven is different - make sure to test your chips to make sure they are crispy before you stop cooking them.
Nutrition Facts
Cinnamon Apple Chips
Amount Per Serving (1 serving)
Calories 99
% Daily Value*
Carbohydrates 27g9%
Fiber 4.4g18%
Protein 1g2%
* Percent Daily Values are based on a 2000 calorie diet.
Did you make this recipe?
Leave a review below, then take a photo and tag @letseatcakeblog on Instagram so we can see it!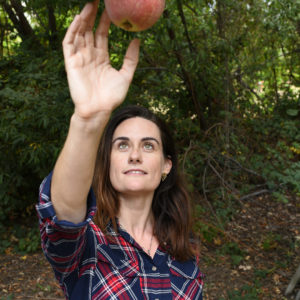 Latest posts by Rebecca Swanner
(see all)