"Food is so much more than sustenance. Food is love," The Great British Bake Off season six winner Nadiya Hussain professed to Love Productions. Funny enough, that is also what we tell our DoorDash driver when they judge us for our third delivery in one weekend.
The star baker has released a dozen cookbooks, including two centered on baking: Nadiya Bakes and Nadiya's Everyday Baking.
Some of Hussain's recipes are a labor of love and others are more comfort baking, but once you start trying her recipes, you'll see why she won the beloved show. Want to try some of her recipes? Check out her cookbooks or try making one of the scrumptious recipes below.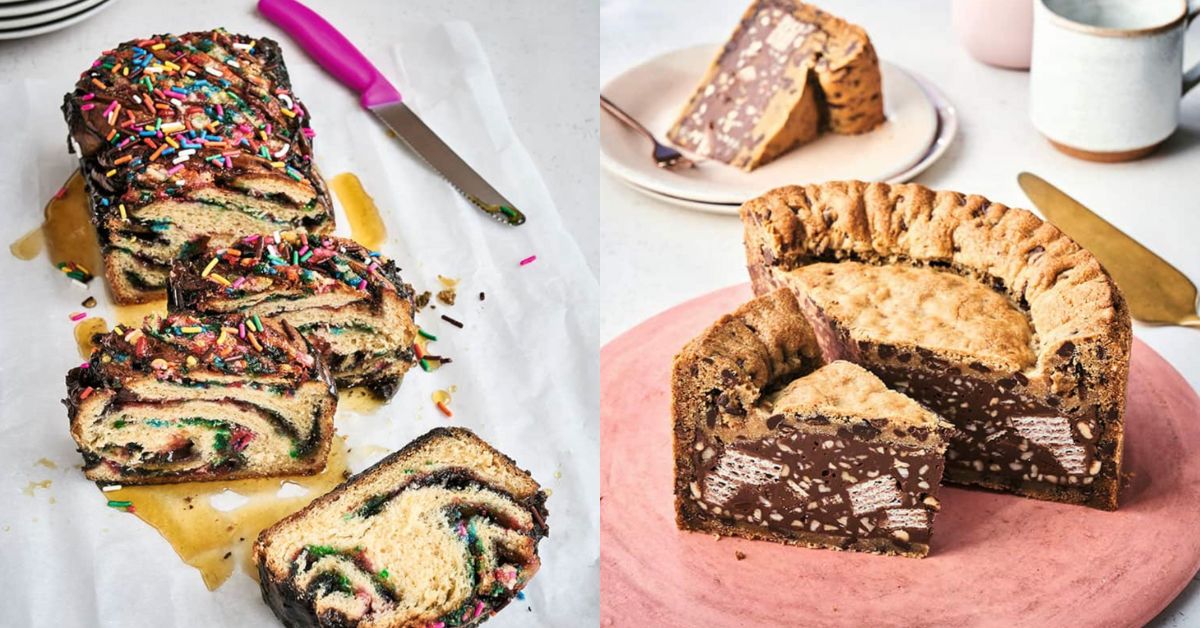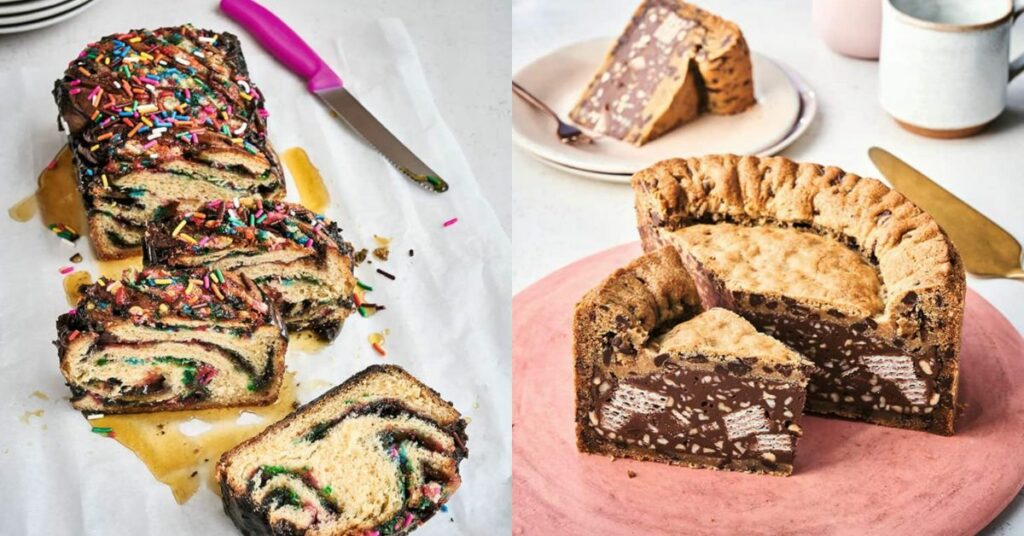 In her acceptance speech, Hussain declared, "I'm never gonna put boundaries on myself ever again. I'm never gonna say I can't do it. I'm never gonna say 'maybe.' I'm never gonna say, 'I don't think I can.' I can and I will."
And that may just be the attitude we needed to get through some of these recipes. Making them, we mean. Eating them will be easy.
20 Nadiya Hussain Recipes
1. Banana Thyme Loaf
Who doesn't constantly have a bunch of squishy brown bananas on their counter? Take the time to smash them into something different than a traditional banana bread with Hussain's banana thyme loaf.
This banana loaf is sure to become a sticky staple with its salted caramel glaze and hints of thyme. And now you don't have to choke down a banana and pretend it's good on it's own.
Get the Recipe: Banana Thyme Loaf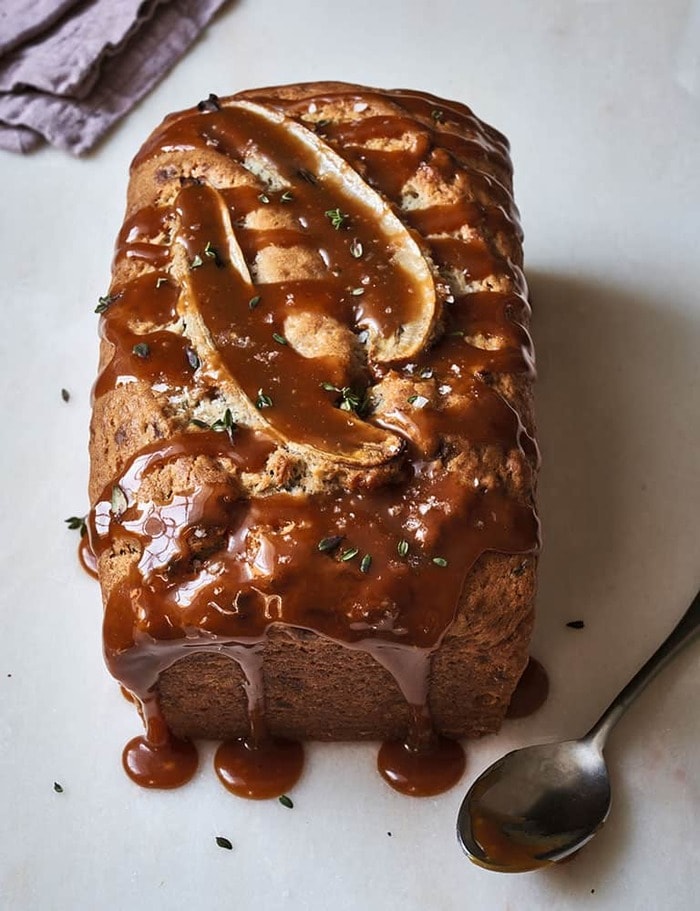 2. Eclair Roll
Ooh la la! The eclair roll will have you feeling fancy and French without putting the pain in "pain à la Duchesse." Google that if you think we just cussed. Surprisingly, we didn't.
Keeping the elements of the traditional eclair – the cream, chocolate, and pastry – this recipe takes way less time but is just as delicious. Which leaves more time for eating them. And for laying on the couch contemplating your existence. You know, whichever comes first.
Get the Recipe: Eclair Roll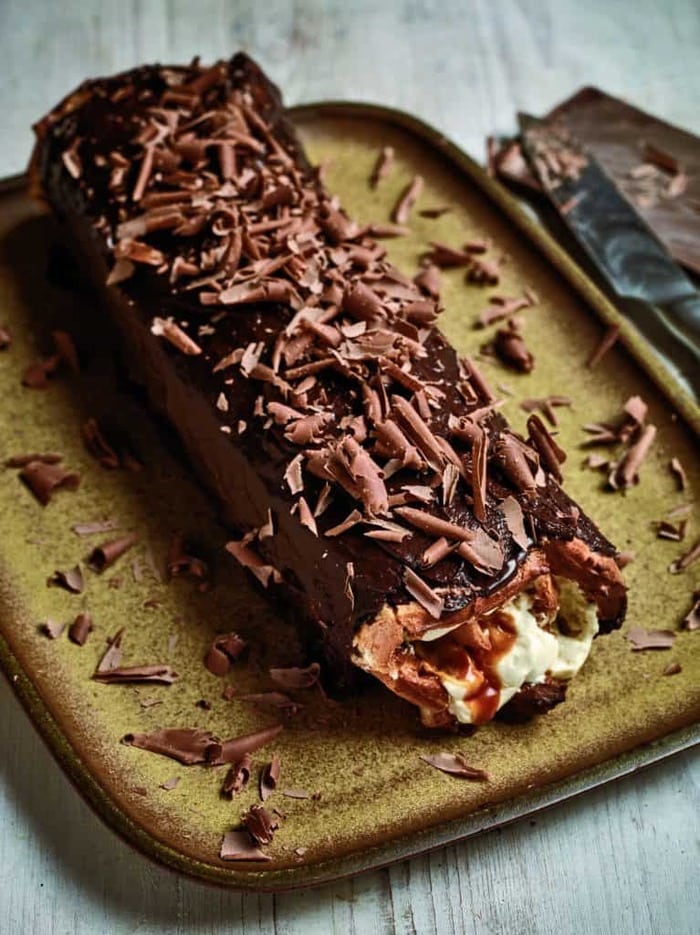 3. Spiced Biscotti with an Orange Syllabub Dip
You may be asking yourself: What the heck is an orange syllabub dip? Honestly, we have no idea. But the creamy, sugary dip adds the perfect amount of sweetness to the spiced biscotti.
Like a child powering through a Dunkaroo, we found the spiced biscotti the perfect tool to shovel syllabub into our mouths.
Get the Recipe: Spiced Biscotti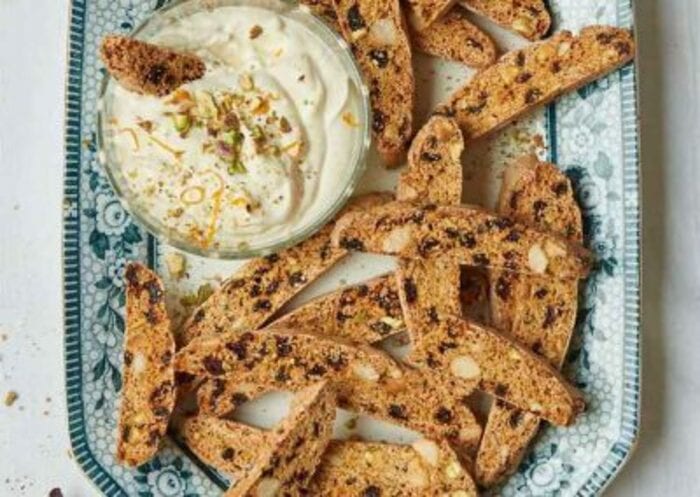 4. Cinnamon Palmiers
Looking for something that requires less work? These sweet and slightly crunchy cinnamon palmiers use store-bought puff pastry but sound way fancier than a traditional cinnamon roll.
Save these for those days you want cinnamon rolls that don't come from that tube that goes, "Pop!" Those days don't occur very often for us, but you do you.
Get the Recipe: Cinnamon Palmiers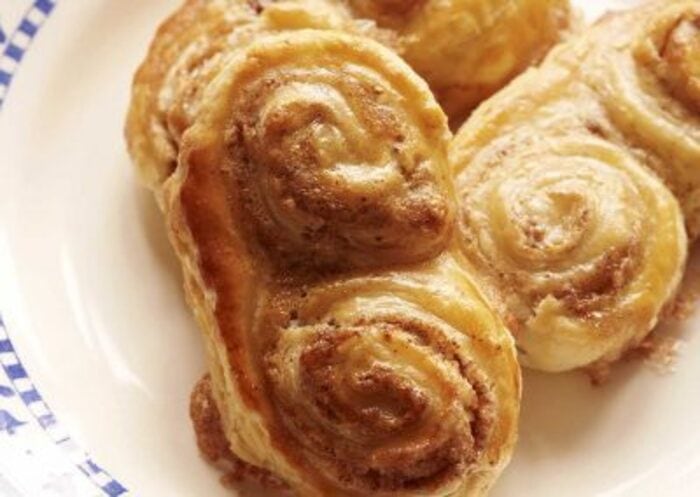 5. Chocolate Cookie Pie
Why haven't we been making all of our pie crusts out of cookie dough? Using a chocolate hazelnut filling, this chocolate cookie pie combines all the best baked goods into one. It is almost too good to eat. Almost.
Get the Recipe: Chocolate Cookie Pie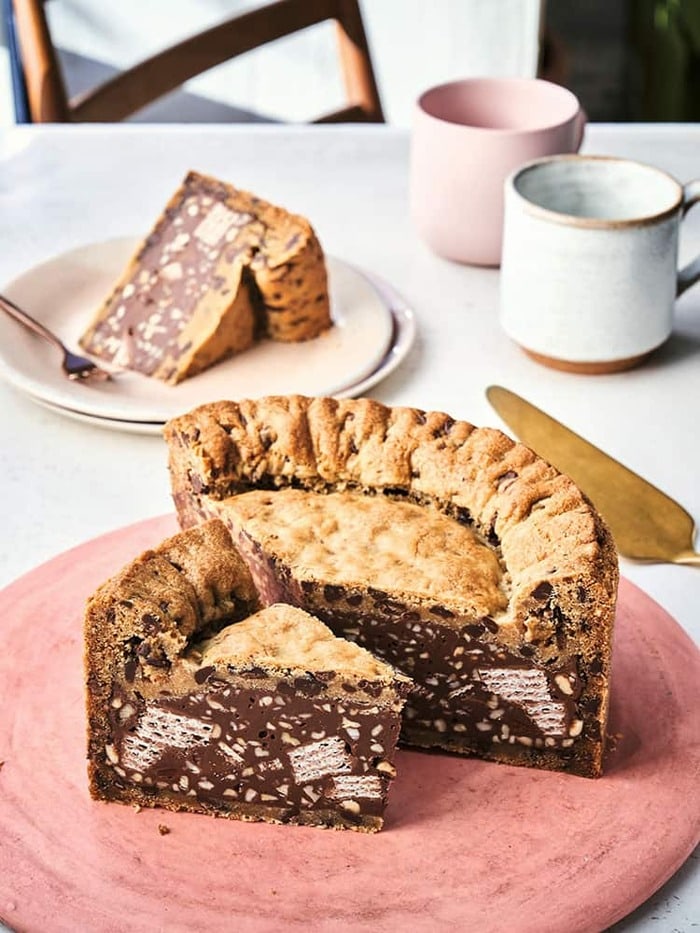 6. Sprinkle Butter Babka Loaf
The sprinkles are the real bread and butter of this babka recipe. Although the babka recipe calls for 160g of rainbow sprinkles, nobody is stopping you from "accidentally" pouring the whole container in.
Plus, Americans don't know anything about grams, so you have a great excuse for going rogue.
Get the Recipe: Sprinkle Butter Babka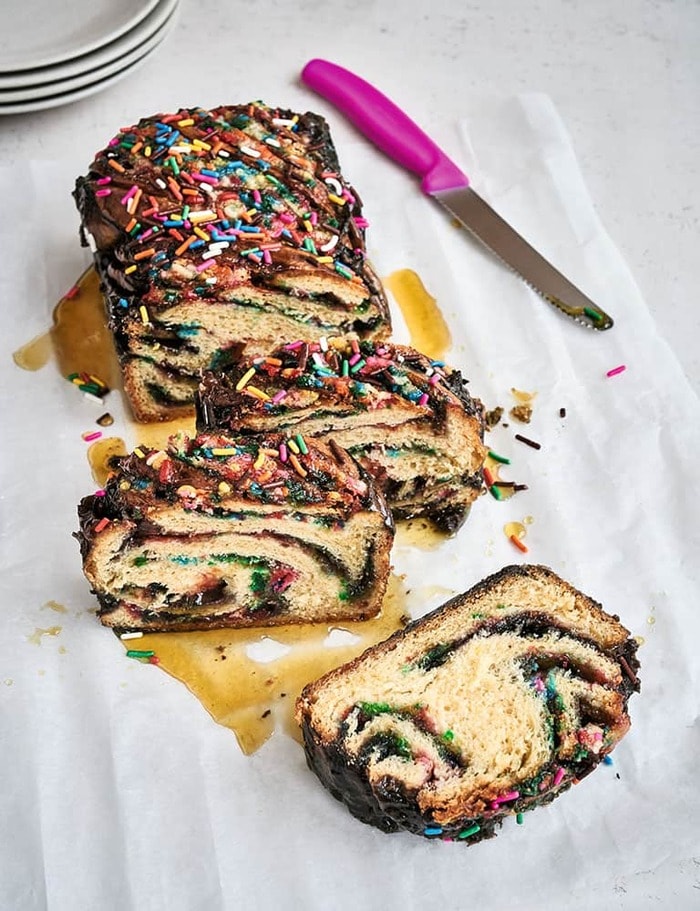 7. Feta and Dill Savory Muffins
Sick of sweets? Can't relate. Are you also sick of puppies and Saturdays?
Anyway, these savory muffins use cheese and spices to create a dill-icious breakfast you can eat on the go.
Get the Recipe: Feta and Dill Muffins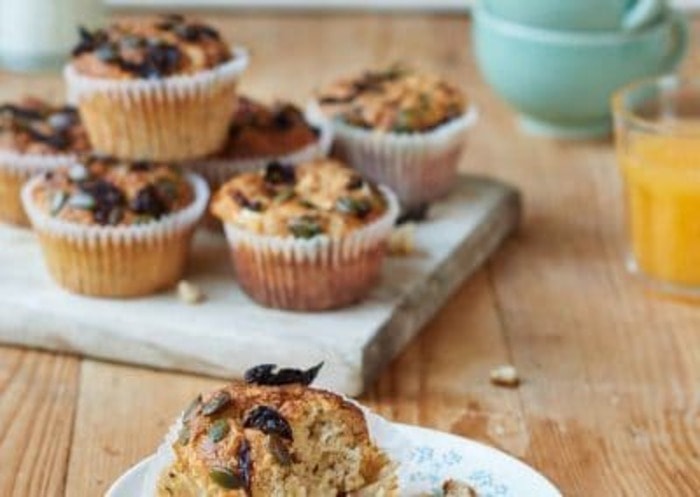 8. Caramel Crunch Rocky Road
Rocky road isn't just for ice cream and breakups. This no-bake recipe contains everything from breadsticks to pistachios and dried apricots. Which, coincidentally, are for breakups.
Get the Recipe: Caramel Crunch Rocky Road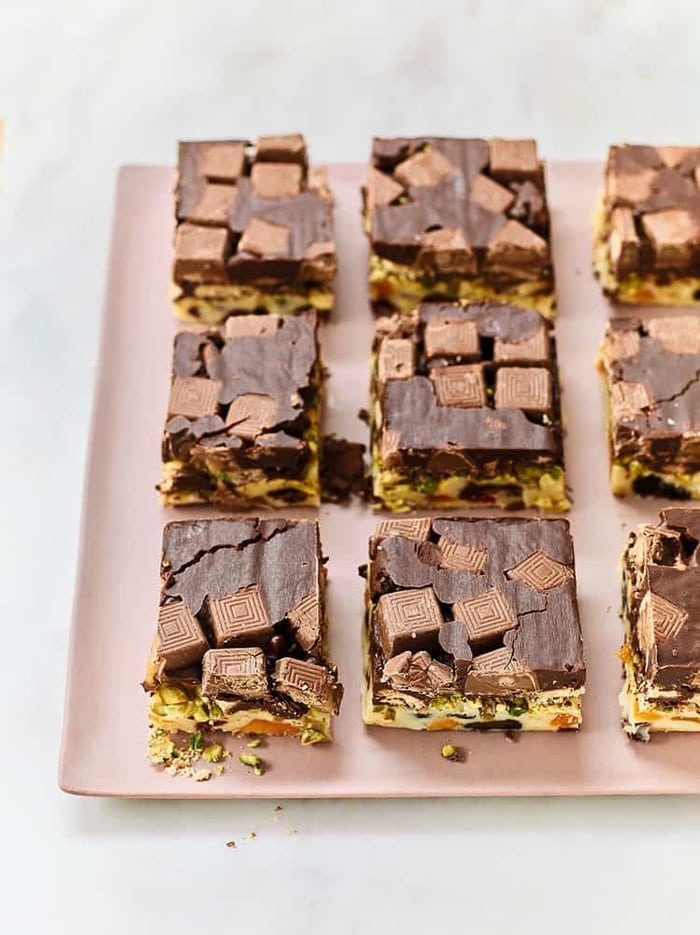 9. Peanut, Black Sesame, and Ginger Brittle
This recipe, with the unexpected combination of peanut, black sesame, and ginger, add a salty spice to this sugary treat. Enjoy it on its own or add it as a topping to ice cream or yogurt.
Get the Recipe: Peanut, Black Sesame, and Ginger Brittle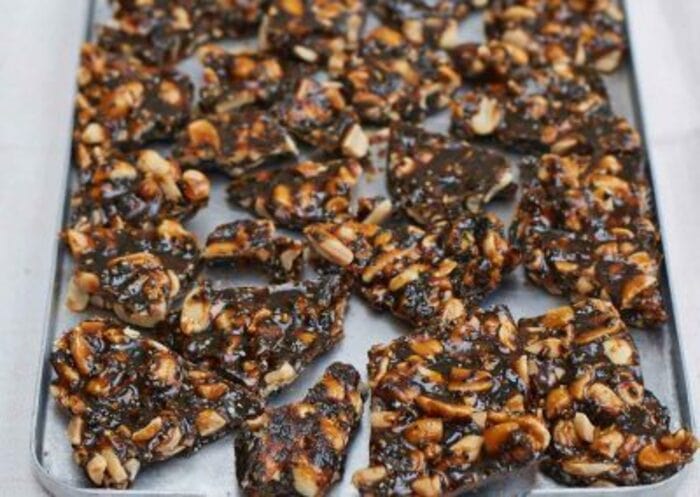 10. Goat Cheese and Caramelized Onion Tart
We're not trying to get your goat with this savory goat cheese and caramelized onion tart recipe. Another recipe using a pre-made puff pastry, this tart is super easy to make. Oh also, we were kidding about the whole goat thing. We would actually like him, please.
Get the Recipe: Goat Cheese and Caramelized Onion Tart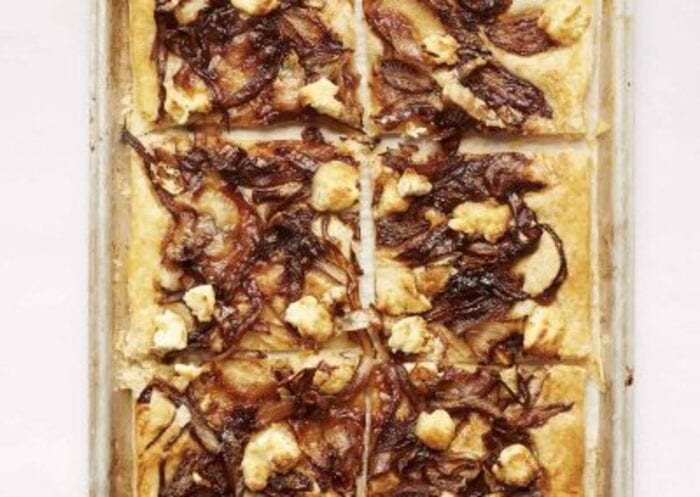 11. Black Forest Brownies
Dark chocolate brownies? Pretty please with a cherry on top.
The cherry in this recipe adds a tangy twist to a classic favorite. Bonus? The recipe calls for coffee which definitely classifies these treats as a breakfast food. We'll have a second cup, thanks.
Get the Recipe: Black Forest Brownies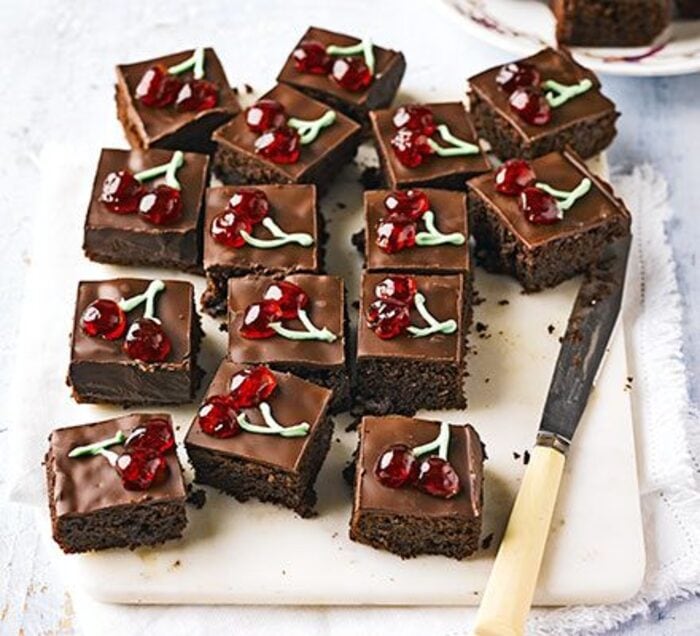 12. Coconut Bundt Cake
If we can ever find our bundt cake pan, we are making this coconut bundt cake. Layering coconut bread on top of a zesty lime and cinnamon cake elevates this to a pure cakewalk. Unlike a pie walk, which is very very difficult.
Get the Recipe: Coconut Bundt Cake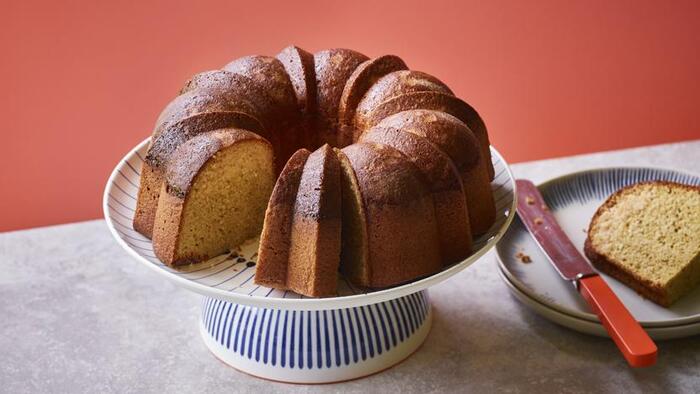 13. Pretzel Nut Brûlée
We're suckers for any dessert recipe that requires a blow torch. The classic brûlée gets a twist with this pretzel crust recipe. Fire, fire! Settle down, Beavis. (It's us. We're Beavis.)
Get the Recipe: Pretzel Brulee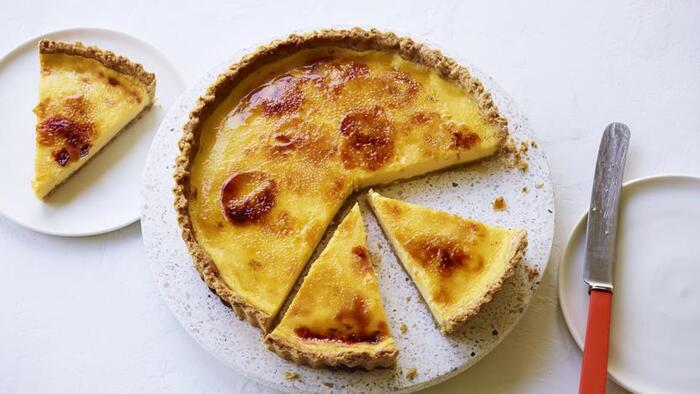 14. Sweet Scones
It's all about the scones with this sweet scone recipe. Hussain sets out to prove there is no wrong way to eat a scone by pairing these sweet treats with a homemade coconut cream and pink peppercorn pineapple jam. OK, she wins.
Get the Recipes: Scones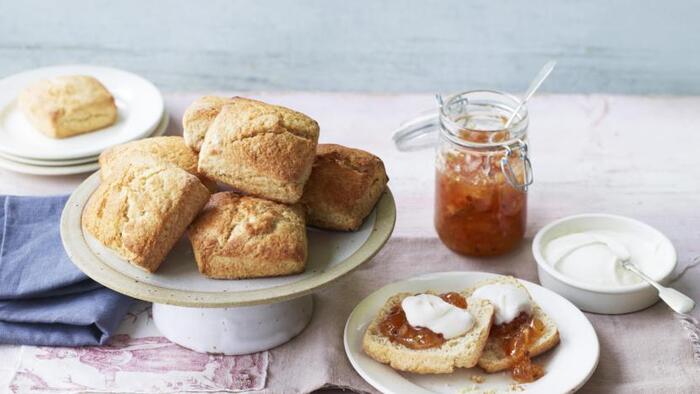 15. Chocolate Chip Pan Cookie
Chocolate chip cookies, but make them even simpler. This chocolate chip pan cookie recipe chips some time off your baking process by using one cookie pan instead of individual cookies.
Sometimes, simple is best. This rule doesn't apply to Eras Tour outfits.
Get the Recipe: Chocolate Chip Pan Cookie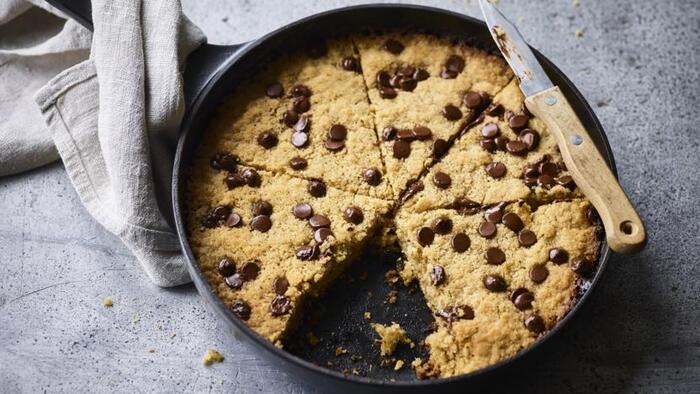 16. Peanut Butter and Jelly Traybake
Some pairings just make sense. Like peanut butter and jelly. Or baked goods and our mouths. Don't get too sticky with the name because this PB&J traybake is essentially a cake with jelly icing.
And we thought Traybake was that new kid in our nephew's class. His name is Snowdrop, so we're not judging. Him, at least.
Get the Recipe: Peanut Butter and Jelly Cake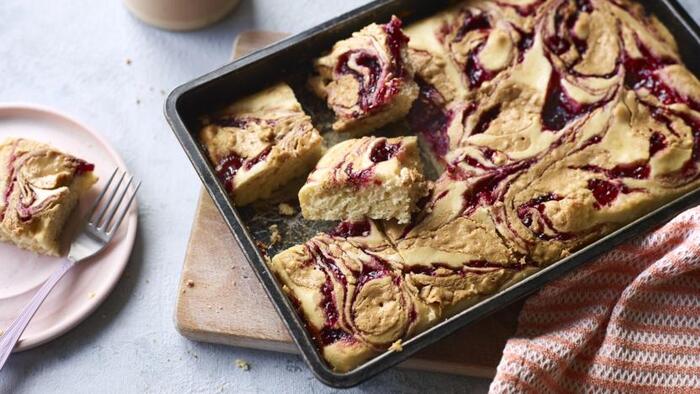 17. Strawberry Milkshake Funnel Cake
You had me at strawberry. And milkshake. And funnel cake. We're not hard to get is the point.
This quick fried recipe is sure to give you boardwalk nostalgia without having to shake sand from your clothes.
Get the Recipe: Strawberry Milkshake Funnel Cake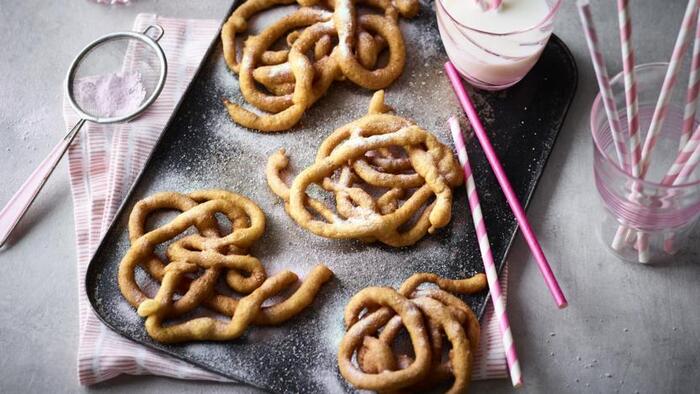 18. Spotted Dick Bread
No, we did not pick this recipe because of its name. We swear to Richard. But we wouldn't swear on anyone we love's life, so…take that as you will.
Combining the tart sweetness of currants with the zesty freshness of citrus, it's sure to taste just as memorable as its name.
Get the Recipe: Spotted Dick Bread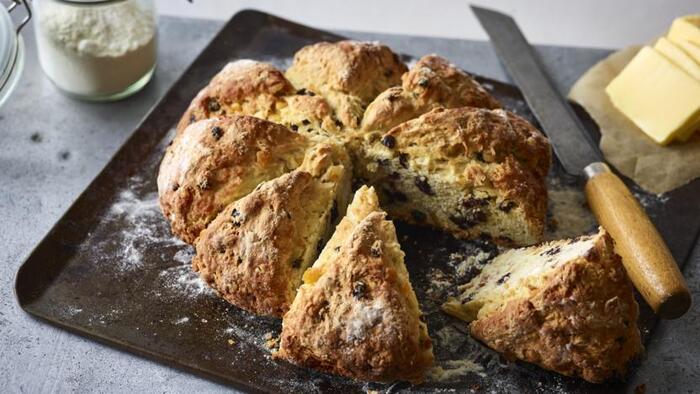 19. Apple Palm Pies
Simple and sweet, these palm pies will be the apples of your eye. It takes the fuss out of peeling and chopping, by calling for applesauce. We think she's run off with traybake somewhere.
Get the Recipe: Apple Palm Pie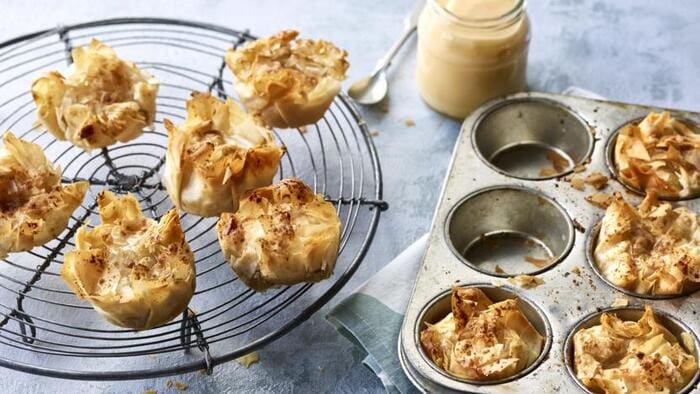 20. Chocolate Hazelnut Mousse
This mousse chocks a lot of Nutella into each spoonful. Naturally gluten-free, the chocolate hazelnut dessert will have you licking the bowl clean. If not you, us. Uh…sorry about that.
Get the Recipe: Chocolate Hazelnut Mousse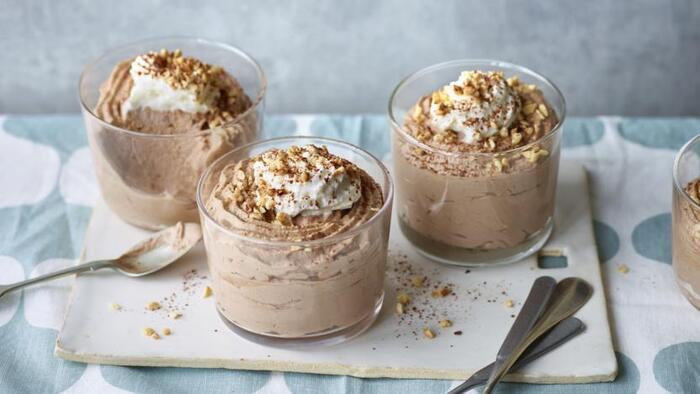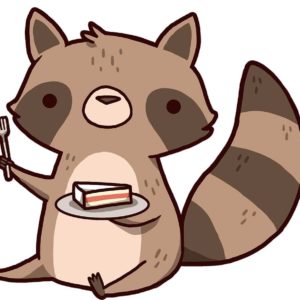 Latest posts by Whitney Sandoval
(see all)