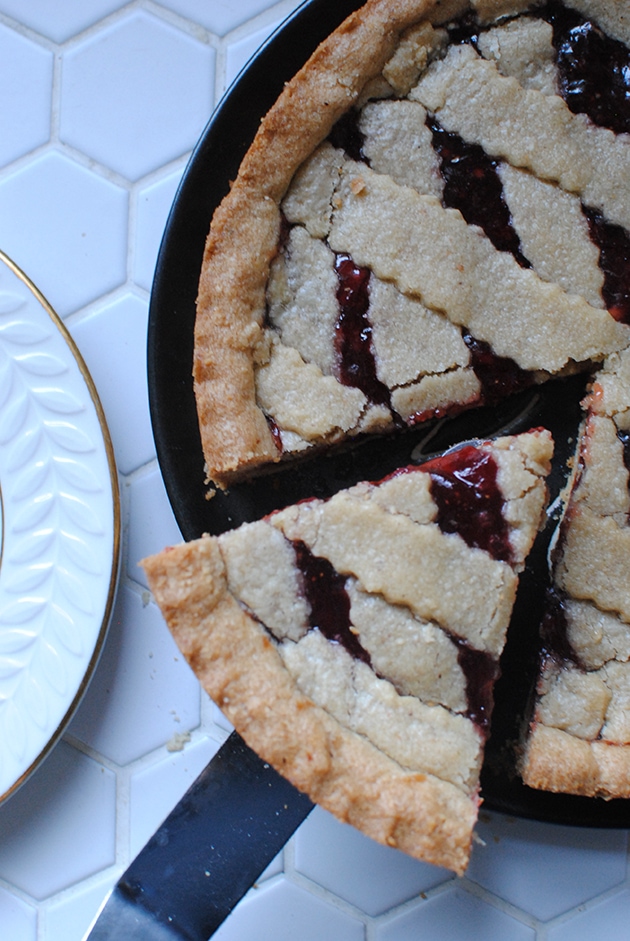 His cologne still hangs on my skin. We had been fighting last night, and as I read through the latest issue of Esquire, I could smell it. He was teaching me Pok Sao (or palmed block) as we sparred in class last night. I do not know Kung Fu…yet.
When it was my turn to work on the Pok Sao movement, he approached me gently, slowly throwing punches I could block and then swiftly step in to counter strike. When it was his turn, I came at him throwing rapid punches he had to quickly defend. I have a feeling I will look back on this and laugh as a classic new kid on the block move, someone trying to prove how tough and "merciless" they are. It was after all, my second day in class, and he was in his second year. This morning, my forearms ache from his blocks, but the pain is worth it.
I was learning. A lot. Not just to block, not just to turn my body towards whatever object I am squaring off with and not just to keep my punches vertical to give them more power. During one of those moments where I had to pause and catch my breath, he said to me, "You know, if you relax and breathe, you'll be able to punch faster."
That concept of getting in the flow and breathing – instead of doggedly going at something until things just have to work out – isn't new, but the one that seems to be the lesson I have next to master.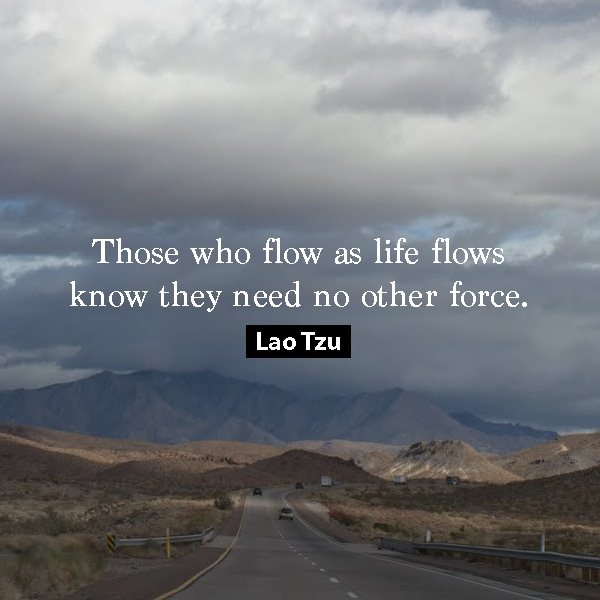 I find it the same with baking. There are techniques that I struggle with that in the moment I just try and "make" work. I think all of you know what happens when you try to "make" something work in the kitchen! #cakefail. Recently, I made the raspberry linzer torte from Martha Stewart's Baking Handbook. Decorating the top of a pie or a torte has never been exactly my forte. On the first go around with this torte, I rolled out too-thick lattice strips and when I tried placing any of them on the torte, they broke or cracked in the process. Argh! Let's just jam them in there, shall we? And here's a small broken part that will fit just fine… ::squish squish squish:: And, into the oven you go.
The final flavor of the linzer torte? Oh my goodness. The look? Yikes.
For round two, I tweaked the recipe and made a Peanut Butter and Jelly Linzer Torte, using Big Spoon Roasters' Peanut Pecan butter for the "peanut butter." This stuff is seriously incredible, and nope, this isn't a sponsored post. I just really love it. Peanut butter is my number one weakness and I got into the butters by Big Spoon Roasters a few years back when I came across their Peanut Pecan at one of LA's specialty food stores. Made with peanuts, pecans, wildflower honey, and sea salt, it's simply and seriously crave-worthy. I have eaten this stuff with a spoon. Many times. It seemed the perfect accompaniment to give Martha's pie a little extra oomph. A little more umami, if you will.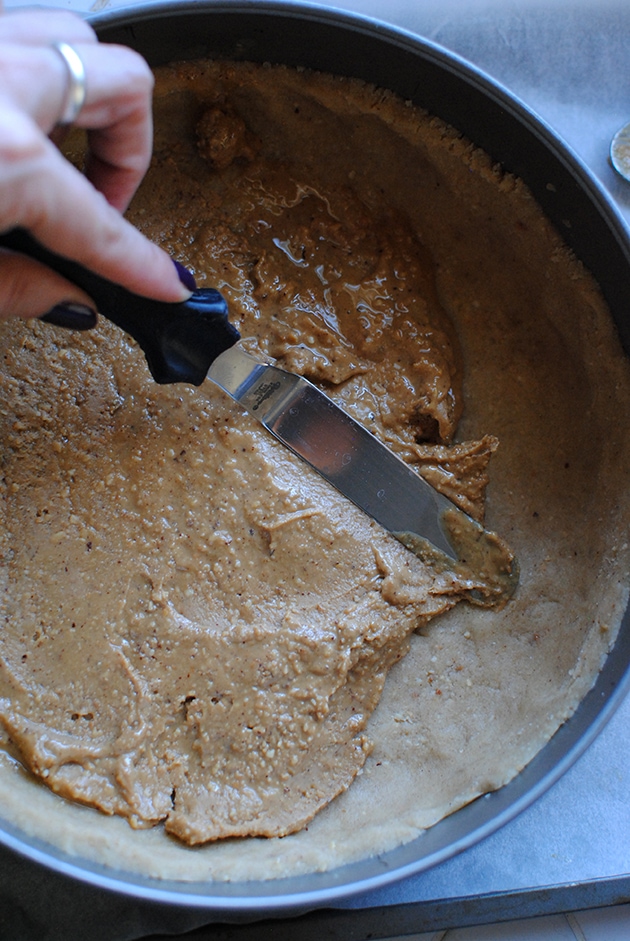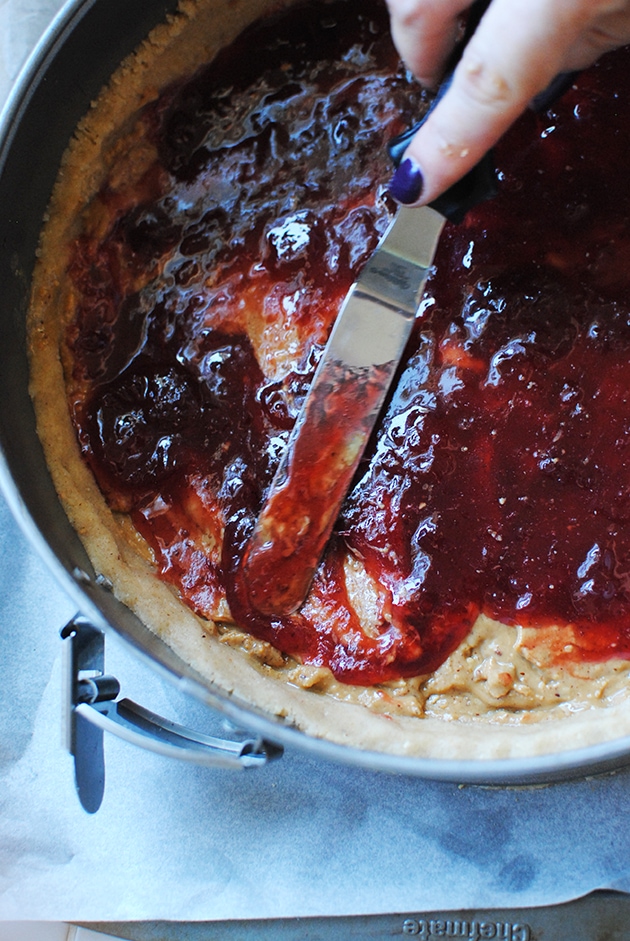 The base for the Peanut Butter and Jelly Linzer Torte is made using blanched hazelnuts and almonds. It's easier to blanch your own nuts than you think. To blanch almonds, I turn to Tori Avey's simple technique. It's also pretty fun, though you do need to be careful not to wing your almonds across the room. That may have happened once or twice.
To remove hazelnut skins, set the oven to 350° F and place the nuts on a baking sheet in a single layer. Roast them for 15-20 minutes and then immediately remove from the oven and drop into the middle of a kitchen towel. Wrap the towel around the hazelnuts and rub them as fast as possible for about a minute. When you open the towel back up, you'll see most of the skins have been removed.
Once both nuts are blanched, you'll blend them together in a food processor with a touch of cinnamon and salt and create your own nut meal/flour. Pretty cool, huh? This nut flour, when mixed with egg, baking soda, and butter, will become the base (and lattice top) for the Peanut Butter and Jelly Linzer Torte.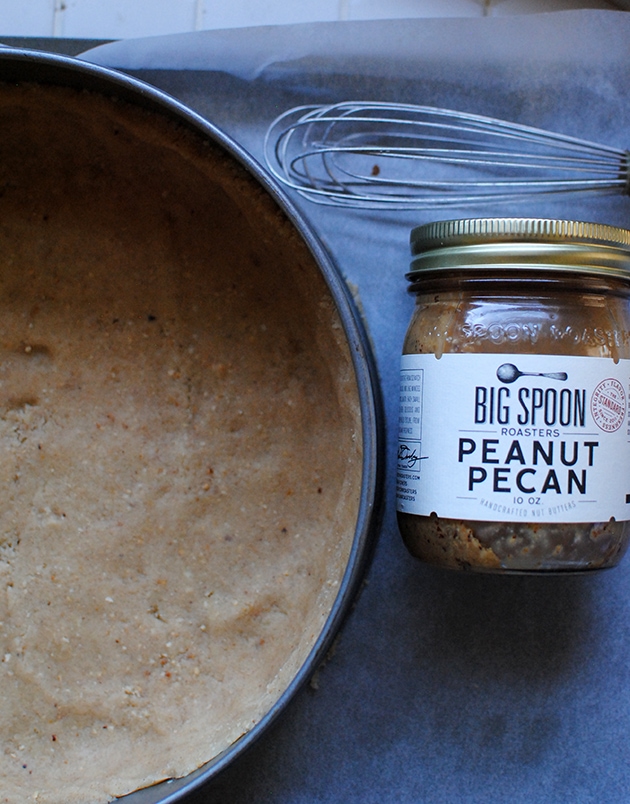 To create the base, place a 10″ tart ring onto a parchment-lined baking pan and press half of the dough into the base, and up the side, working it until it's about an inch high all around. I was super meticulous with this part (perhaps a little too much so), but you do want it to be as even as possible, and the edges need to come up high enough to accommodate the layer of peanut butter and the layer of jelly (I used Bonne Maman's Raspberry Preserves for the first linzer torte and their Strawberry Preservers for the second).
Pop this in the fridge and roll out the other half of the dough. Martha's recipe recommends rolling it out into a circle — you know, to match the linzer torte base — but I just rolled it out into a rectangle and it seemed to work fine. Then, cut thin strips with a pastry cutter. A fluted one, if possible. The first go around, mine strips were about 1/2″ thick and when they baked, covered most of the finished linzer torte. Sad. So, this time, I made them much thinner, aiming for around 1/4″ thick for each. Put these in the freezer.
That's my trick to making this recipe infinitely easier. Remember how way back near the beginning of this post I talked about how I struggled with the lattice pieces breaking? That's because they were too soft, even though they had been in the fridge. Putting them in the freezer makes them much easier to work with and move from the parchment to the top of the torte. It also makes them stiff enough to trim without them losing their shape.
After you've filled the torte with peanut butter and jelly, decorate the top with the lattice and then freeze the whole torte for about 30 minutes, while the oven is preheating. Pop it in the oven, and let it bake for about 40 minutes or until golden brown.
Try not to devour in one sitting.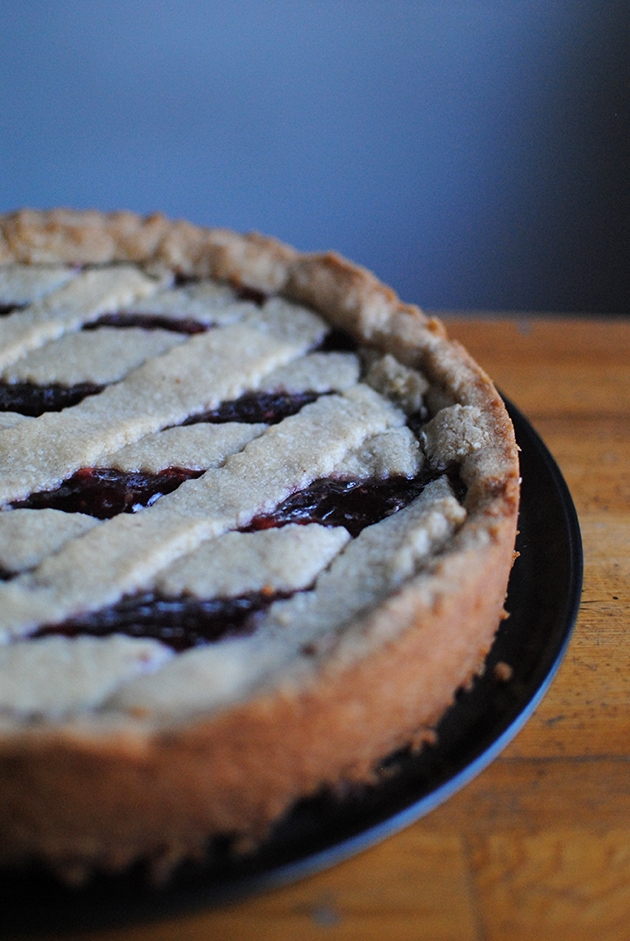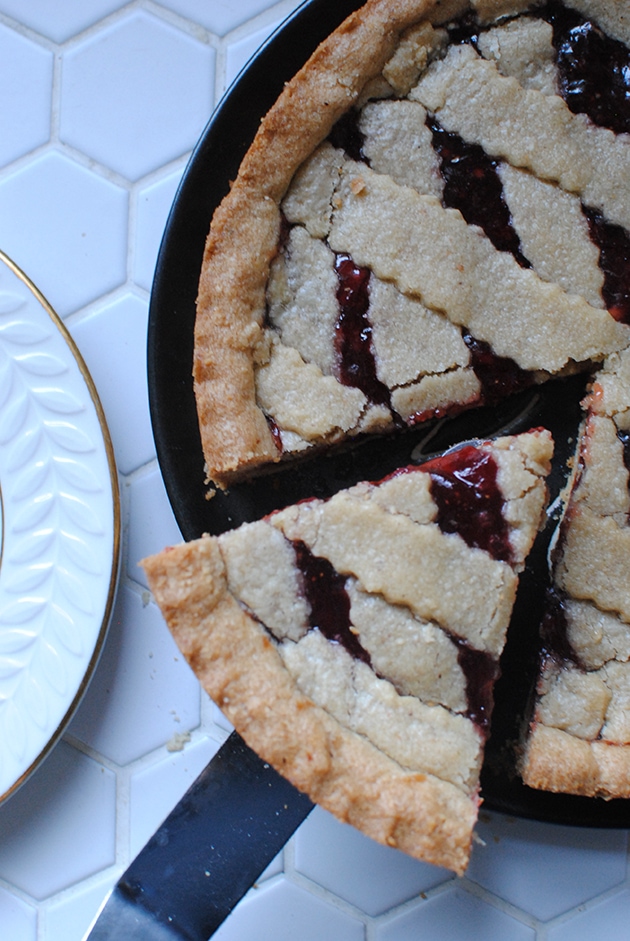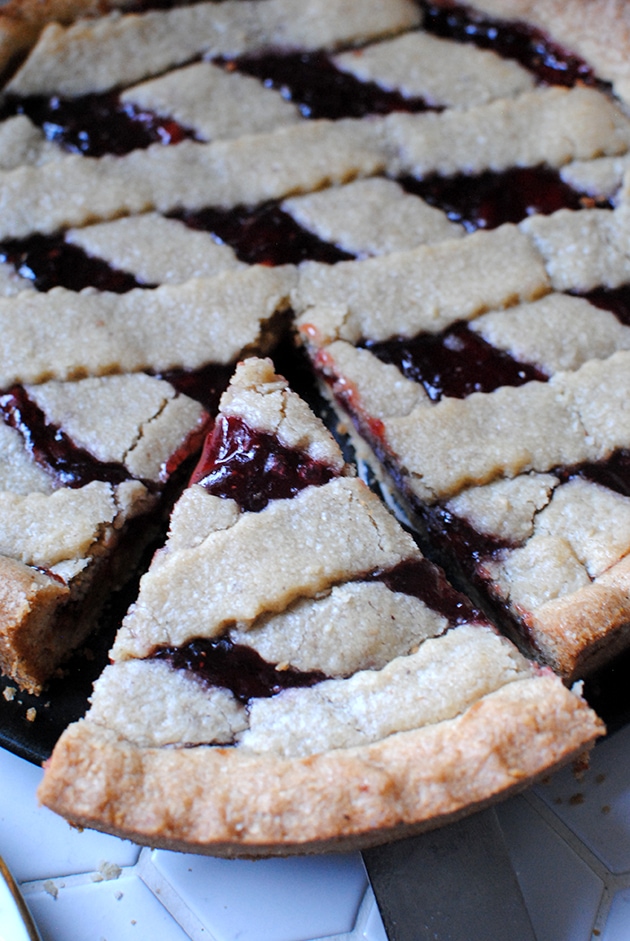 Peanut Butter and Jelly Linzer Torte
Print Recipe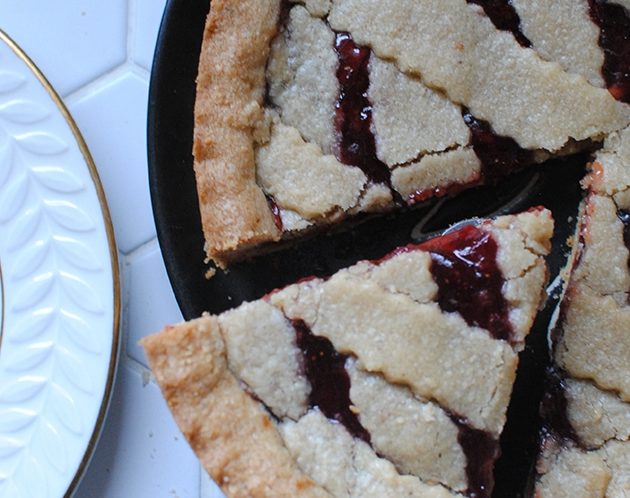 Ingredients
2½ oz. raw hazelnuts
5 oz. raw almonds
1 1/3 cups all-purpose flour
¾ tsp. baking powder
¾ tsp. ground cinnamon
¾ tsp. salt
¾ cup unsalted butter (room temperature)
1 cup granulated sugar
1 large egg yolk
1¼ cups jelly (or preserves)
1¼ cups creamy peanut butter
Instructions
Blanch hazelnuts and almonds (see details of how to in post)

Put hazelnuts and almonds in food processor and grind until finely ground.

Pour mixture into medium bowl and add flour, baking powder, cinnamon, and salt.

Using an electric mixer, beat butter and sugar together on medium speed for 3 minutes or until fluffy.

Add egg yolk. Beat for 1 minute to combine.

Turn mixer to low and add nut mixture. Mix until combined.

Divide dough in half. Place 10" tart or cheesecake ring onto parchment-lined baking sheet. Press half the dough into the ring until the base is even and goes up about 1" on the sides. Place in fridge for 30 minutes.

On a piece of parchment, roll out remaining dough into 12" circle or a rectangle about the size of a baking sheet. Place dough-covered parchment on baking sheet and cut 1/4" strips into dough using fluted pastry wheel. Place in freezer for 30 minutes.

Remove tart base from fridge and spread peanut butter on base using an offset spatula. Repeat with jelly.

Remove lattice strips from freezer and create one layer of lattice top of jelly, placing strips 1/2" apart from the next. Cut lattice strips as needed to fit. Repeat with a second layer, working to create a diagonal pattern.

Freeze for 30 minutes and preheat oven to 350°F.

Bake linzer torte for 40 minutes, rotating halfway through. Transfer to a wire rack and let cool for 30 minutes. Remove ring and let cool completely.
Did you make this recipe?
Leave a review below, then take a photo and tag @letseatcakeblog on Instagram so we can see it!
Save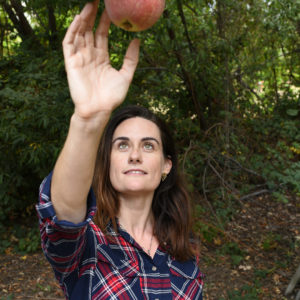 Latest posts by Rebecca Swanner
(see all)