We're proud of ourselves when we're able to throw together some spooky cupcakes, but these Halloween gingerbread houses are next level. From spiderweb piping to tiny tombstones and bones, and even broken glass windows—we're ready to call Zak Bagans to investigate these sweet haunted houses.
And when he's done, he should investigate us, the giants who are eating all the residents. Really, after so much effort and talent to construct them, is breaking off chunks of gingerbread just plain disrespectful? All's fair if we're wearing our Godzilla Halloween costume, we suppose.
Until then, we'll gaze longingly at these incredible Halloween gingerbread houses and then pat ourselves on the back for being able to scrawl "RIP" on a frosted tombstone.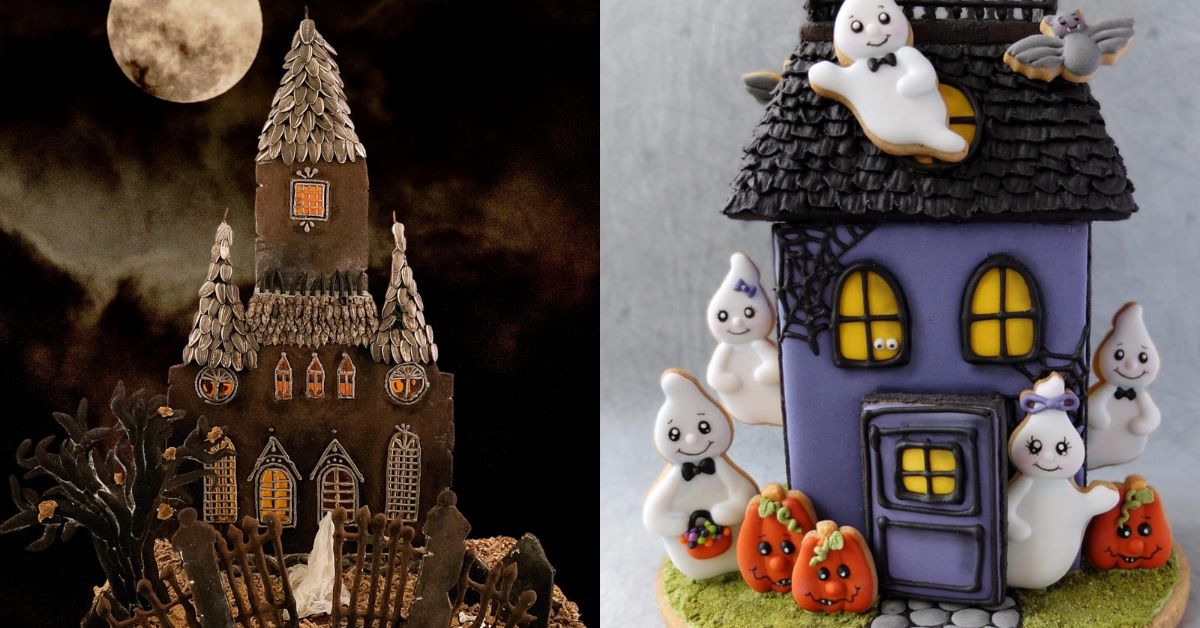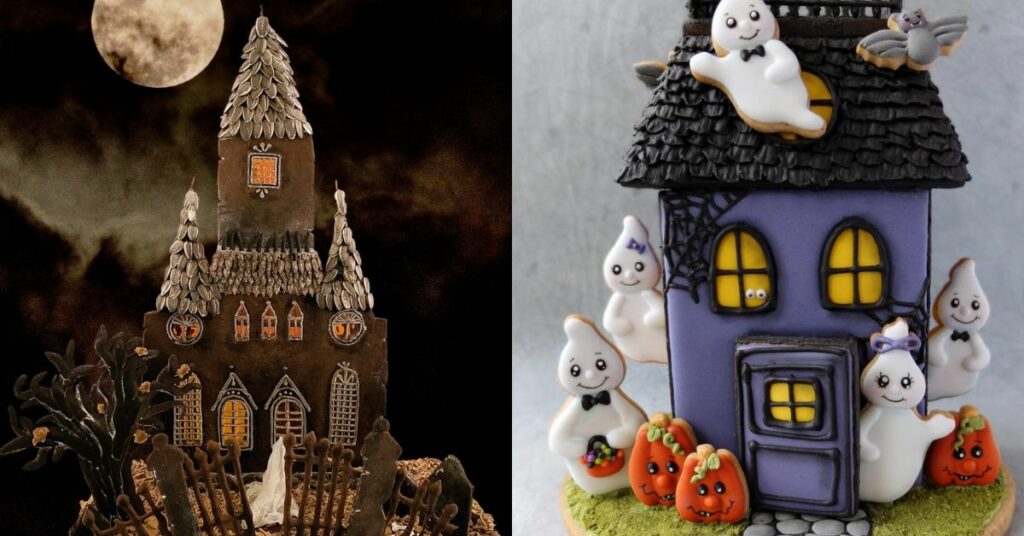 If you're impressed by the ones below but want to decorate a Haunted Gingerbread House kit that makes the whole process a bit easier, we recommend picking up one these:
Pre-Baked Halloween Gingerbread House Kits
1. Haunted Dog House
Four woofs of approval for this orange-and-black Halloween kit. It loses one woof for the fact that it's only edible for dogs. Get it here.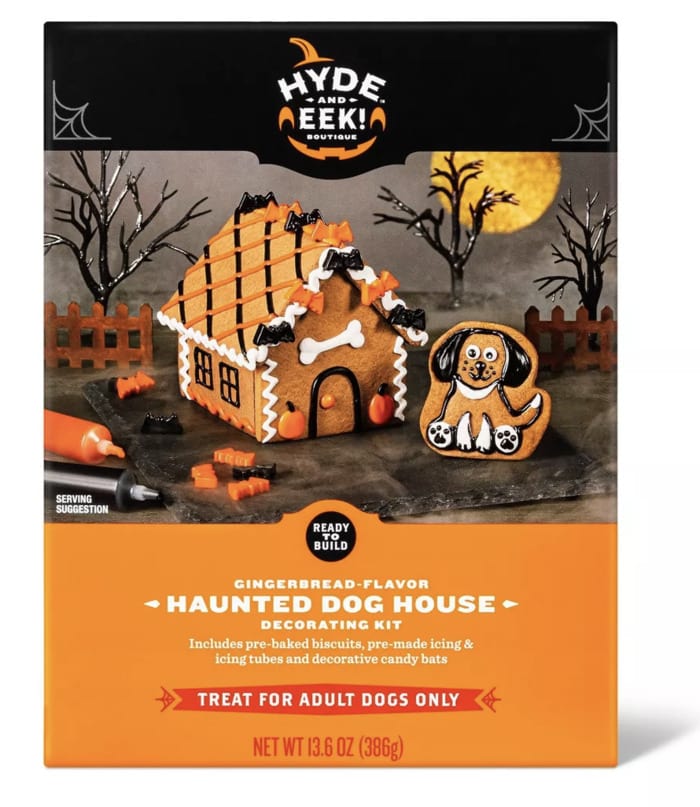 2. Spooky Witch House
The reviews are not great for this gingerbread kit, but would it really be a witch's house without a few bits falling off? Get it here.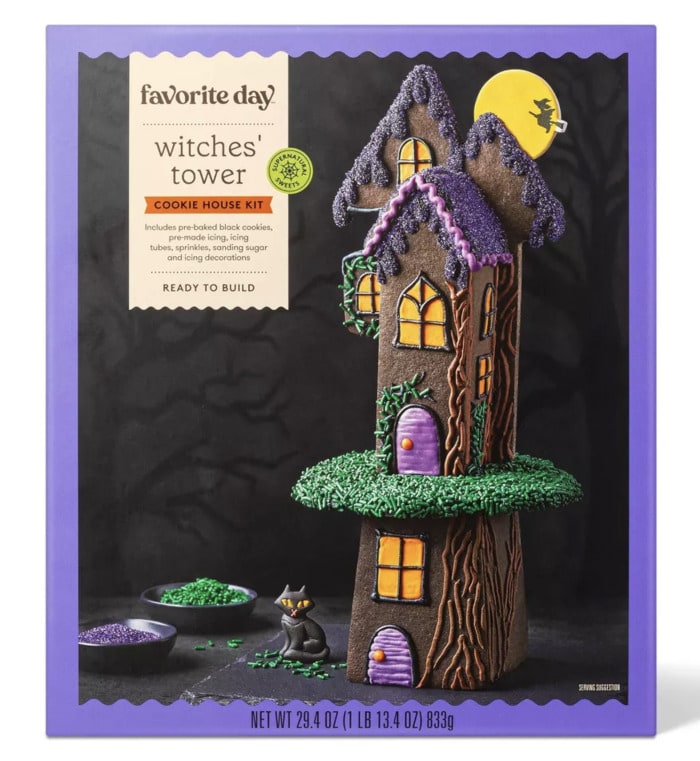 3. Personalized Halloween Gingerbread House
The folks at Williams Sonoma are so sweet. We really love how much they believe in our piping skills. Get it here.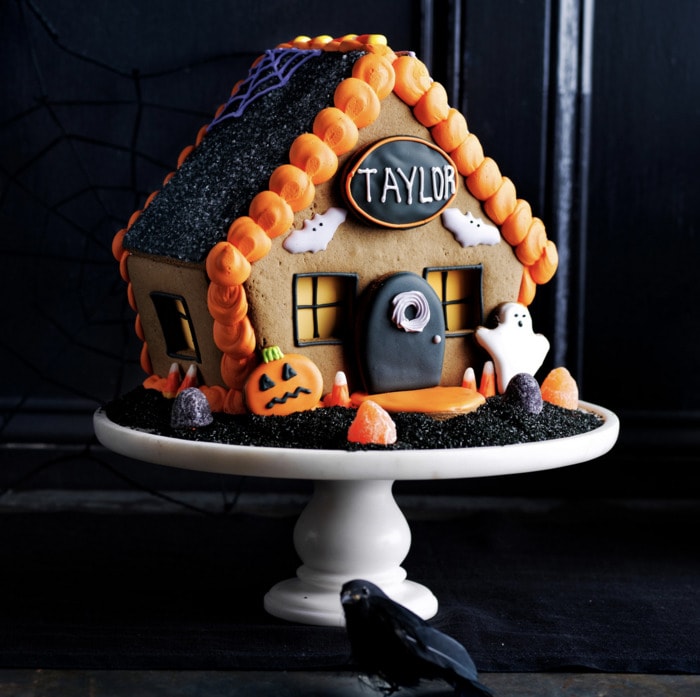 4. Haunted Cookie House
Technically every gingerbread house is a cookie house, but we're not here to burst their bubble. We might eat their roof, though. Get it here.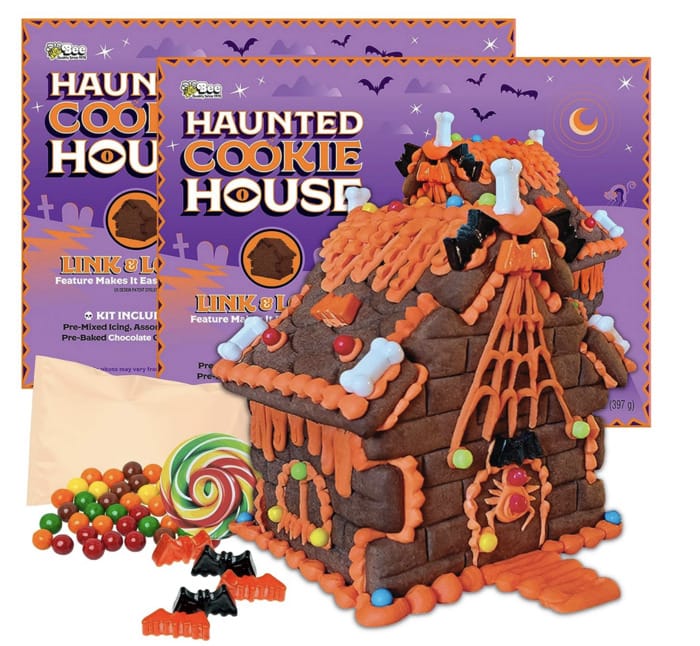 17 Halloween Gingerbread Houses to Inspire Yours
1. Haunted Victorian Gingerbread House
We love the delicate black scroll work on this creepy gingerbread home, which gives it that Victorian vibe over just a random haunted townhouse. Hey, we don't call your home "random." We do call it cozy, though. Movie night?
2. Classic Halloween Gingerbread House
This is like the gingerbread version of the tiny house trend. We love that tiny house dwellers aren't being left out of Halloween desserts. Especially since desserts can't actually fit in their minuscule kitchens.
3. Nightmare Before Christmas Gingerbread House
This Nightmare Before Christmas Halloween gingerbread house is blowing our minds. Literally and figuratively. Anyone else feel a draft between their ears?
4. Ghost Family Gingerbread House
These adorable specters are perfect for a Halloween gingerbread house fan who is not really into being frightened, or too young for real monsters. The scariest part will be the aftermath. Crumbs everywhere, and not a Roomba in sight.
5. Pumpkin Orange Gingerbread House
This Halloween gingerbread house goes hard with the pumpkin orange. The candy bat border on the door makes us want to get one for our own house. Can you believe the pet store was sold out of bats again?
6. Halloween Ghosts Gingerbread House
This gingerbread house has all the bells and whistles—even "glass" windows that have been strategically broken for that abandoned and haunted feel. Just don't tell the insurance company.
7. Haunted Halloween Gingerbread House
Marshmallow ghosts bring a bit more of that ethereal quality than cookie ghosts. Oh geez, we're getting haunted by cookie ghosts again tonight, aren't we?
8. Spooky Scene Gingerbread House
This house gives off a Tim Burton vibe thanks to the black Starlite mints. And the black Twizzlers twisted into creepy trees is brilliant. Albeit, inedible. No offense, licorice fans.
9. Black and White Halloween Gingerbread House
When you've looked at dozens of Halloween gingerbread houses (ahem), they can start to blend together. This stark black-and-white version stands out, and not just because it's on a purple backdrop. See, high school art teacher? We totally get color theory.
10. Haunted Castle Gingerbread House
Are thosesunflower seeds used as shingles? Hey, that makes this the healthiest Halloween house we've seen all year. And it's also the most attractive to neighborhood squirrels. So we'll take 10.
11. Spooky Graveyard Gingerbread House
Is it cake? Is it a gingerbread house? Is it a gingerbread house that looks like cake and also kind of looks like a real house? Is everything either cake or reality? Most importantly, can you pass the potato chips?
12. White Icing Halloween Gingerbread House
Keep it simple by using only white icing, but still get an amazing and spooky result. Who are we kidding, this is still way above our pay grade. And talent level. And patience level. Okay, someone say something nice about us now.
13. Webs Everywhere Halloween Gingerbread House
Even the skeleton is running for its life from this haunted house, that's howterrifying it is. And, uh, clearly he was not a marathoner. RIP.
14. Candy Galore Halloween Gingerbread House
If our house had giant eyeballs on it, we'd be scared, too. No need for a Ring camera, though, so that's a perk. Just ask Sophie Turner.
15. Barbiecore Halloween Gingerbread House
We're not done with Barbenheimer vibes yet. This Halloween gingerbread house is the perfect addition to the party where you know everyone's gonna be dressed up as Barbies or Kens anyway. Oh, except Carl. Carl's such an Allan.
16. Crazy Eyes Halloween Gingerbread House
Remember in The Amityville Horror when the black sludge dripped down the walls? Yeah, nom nom. Wait, is it weird that that scene made us super hungry?
17. Purple and Green Halloween Gingerbread House
Anyone else mesmerized by how perfect this creator's straight lines are? We can't even do that with a pen, let alone icing. No no, we totally passed first grade. What are you telling people?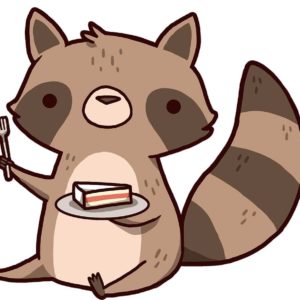 Latest posts by Christine Colby
(see all)