Chocolate is a beautiful thing, plain and simple. But now, chocolatiers have made confections that are as visually appealing as they are delicious. So of course, we decided to scour the web for the prettiest chocolate bars, and to say we're jealous of their natural good looks is…well, totally valid.
It's kind of unfair, really. We'd eat even the chocolate that looks like dirt (hey, truffles), so pretty chocolate doesn't leave other food much of a chance.
Between the fancy wrapping and the bars themselves, these gorgeous treats are decorative, colorful, detailed, and downright impressive. Maybe you're looking for a Valentine's gift for a special someone, maybe you just want to treat yourself to something besides a classic Hershey's.
In any case, these bars will have you taking an extra moment or two to admire before scarfing down the whole thing.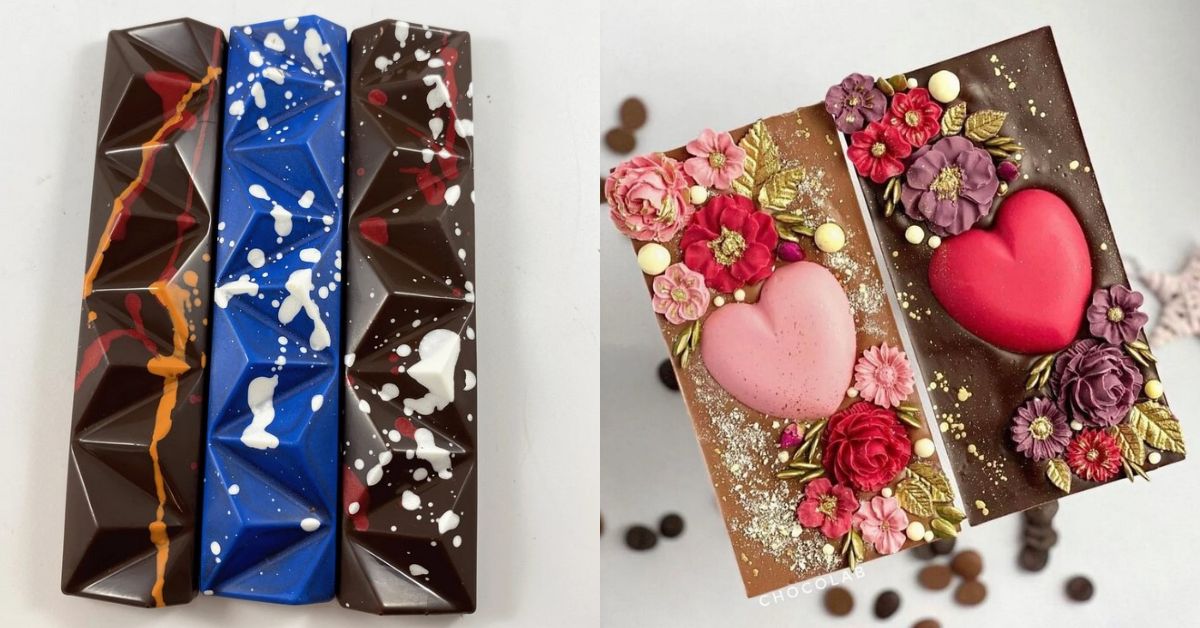 The 19 Prettiest Chocolate Bars
1. Milky and Sweet 3 Pack, $13.84
This trio of chocolate bars contains one of each flavor and design: strawberry and coconut pink white chocolate; dried fruits and hibiscus white chocolate; and lemon and rose white chocolate. And they're all vegan!
Between the flowers, fruit, and wood grain pattern, you'll think you've been transported to an enchanted cottage in the woods. Except you won't have to keep swatting bugs away and those darned Keebler Elves who are always nosing around.
Available on Etsy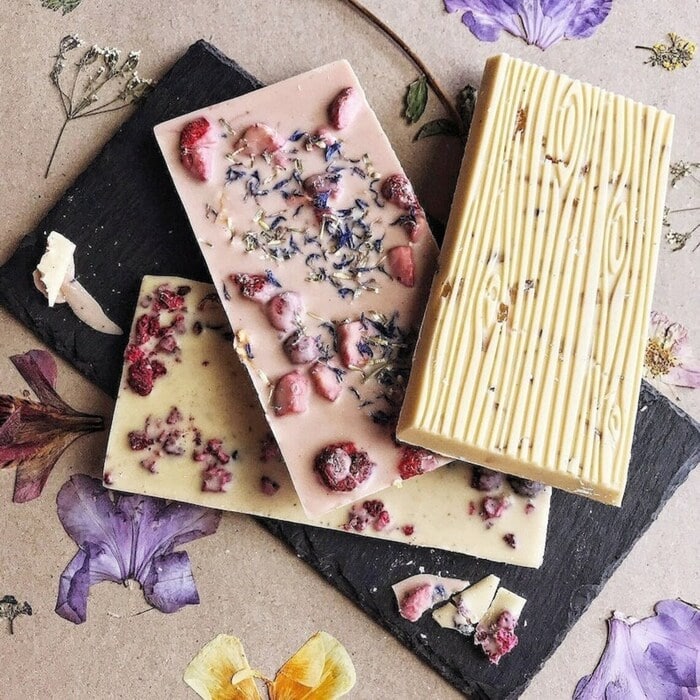 2. Belgian Chocolate with Gold Flakes
A big slab of Belgian chocolate is good enough for us. But when you add in the flecks of gold that contrast with the dark of the chocolate? It makes us feel like it's New Year's all over again.
You know, without the hangover, empty resolutions, and constantly asking yourself, "Has it always been this hard to stay up until midnight?"
Available at Brilliant Promos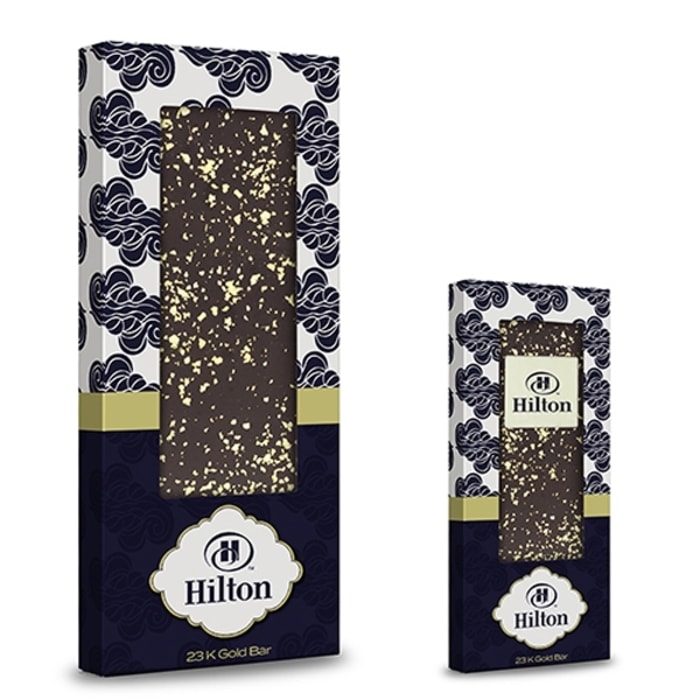 3. Fantasy Chocolate Bars with Flowers, $13.79+
These bars – flower decorations and all – are made entirely out of chocolate. 100% Belgian chocolate, to be exact.
Now, they do look a little bit like soap. But in a good way! We've all seen those cupcake-shaped soaps and thought about how delicious they've looked. Now the intersection of sugar and soap has come full circle.
Available on Etsy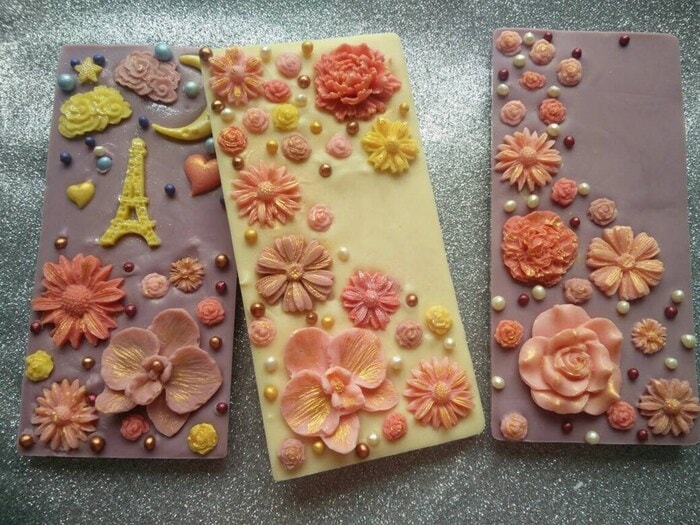 4. It's Nuts or Never Mini Chocolate Bars, $5
Available in milk, white, or dark chocolate, these bars are studded with whole nuts. Are they meant to be decorative? Not exclusively. Do they zhuzh up the presentation? Absolutely.
With this sweet and savory treat, you can really kill two birds with one stone. Or a couple of people with one chocolate bar, if there's a severe nut allergy.
Available at Top This Chocolate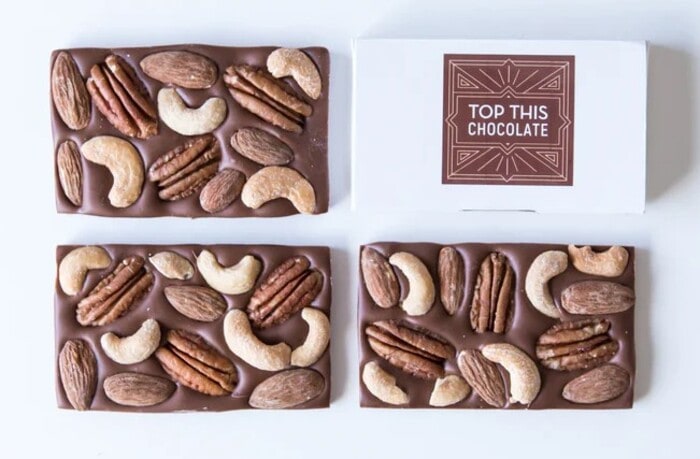 5. Valentine's Chocolate Bars, $8
While there's no explicit mention of Valentine's Day, the color scheme and plentiful hearts scream "naked flying baby with arrow" loud and clear. Whenever we do that, we're asked to leave the library.
The bars are available in white or milk chocolate, and customers can choose to add pretzels, roses and edible pearls, or frosted animal crackers. Read that again: you can add frosted animal crackers. Just when you thought chocolate couldn't get any better.
Available on Etsy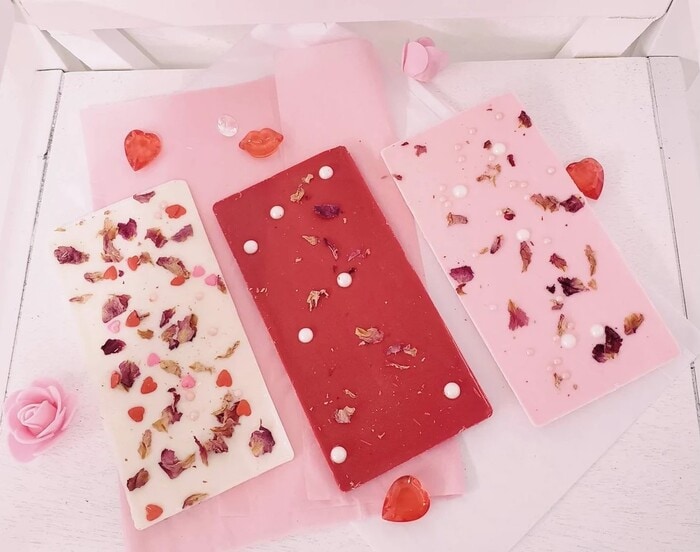 6. California Berries Chocolate Bar, $9.95
Sure, California girls may be unforgettable, but they are not a great topping for chocolate. California fruit, on the other hand, is a delicious and gorgeous option.
This dark chocolate bar is brightened up with dried strawberries, raspberries, blueberries, and Katy Perries. Wait, no, we had to scrap the last one.
Available at Compartes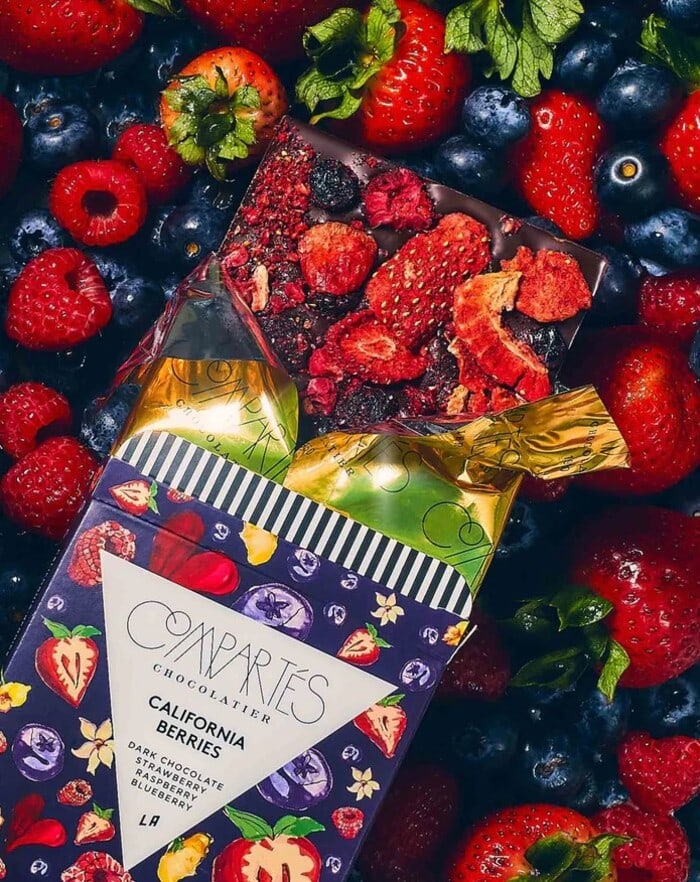 7. Blue Bar, $7
Bluetooth, Blue Ivy, Blue's Clues. Now, the list of powerhouse Blues is joined by the Blue Bar. The dark chocolate is rustic, yet appealing, sprinkled with pistachios, hazelnuts, and organic blueberries.
Bring it with you on the fanciest hiking trip ever and make everyone else cry into their CLIF bars.
Available at Grocer's Daughter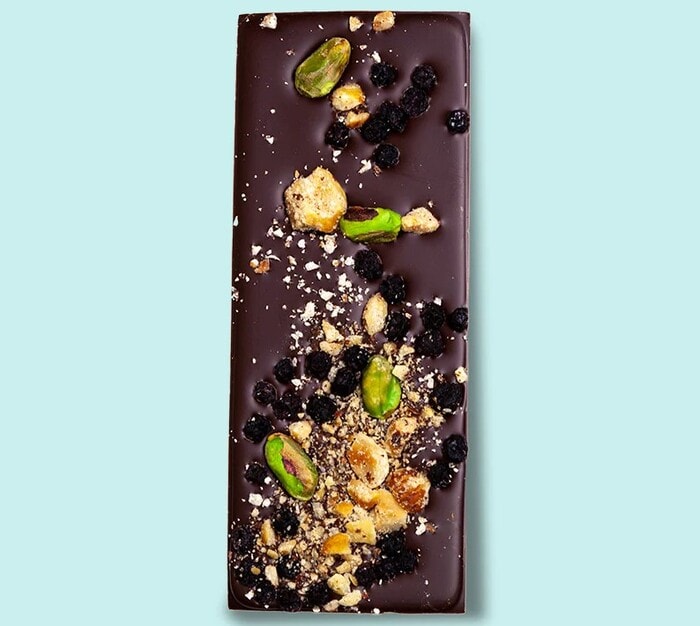 8. Fall-Themed Dark Chocolate, $15
If a nymph from an enchanted forest left home to become a chocolatier, this is what they would produce. The detailed chocolate work, shimmering finish, and whole nuts combine to create a bar that's nothing short of magic.
That nymph should be proud of themselves for following their dreams, even if their parents "aren't mad, just disappointed."
Available on Etsy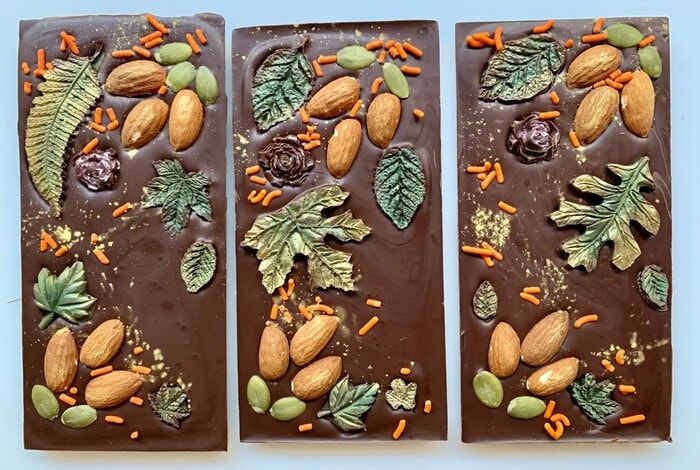 9. I Heart Hibiscus Chocolate Bar, $12
This flower-studded bar is available in dark, milk, or white chocolate, and is studded with sweetened hibiscus flowers. It gets its pops of red from the natural vibrancy of the hibiscus, but is also sprinkled with red hearts for good measure.
It's a beautiful marriage of nature's offerings and processed sugar. Opposites attract?
Available at Top This Chocolate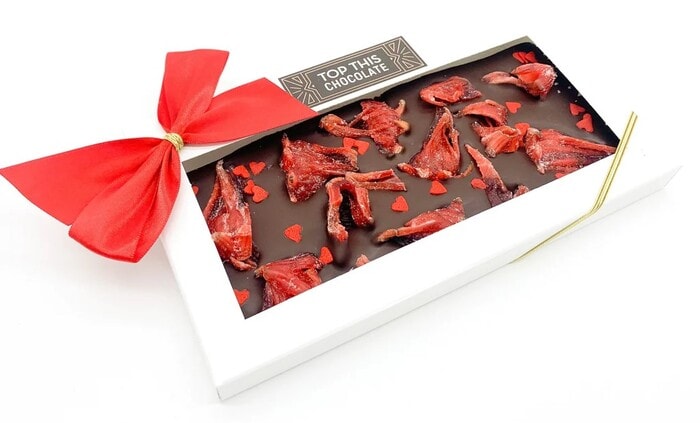 10. Custom Hand-painted Chocolate Bar, $35
It's difficult to sum up this offering with a more specific name, because each candy is unique and designed to order for each customer. All artwork is done on Belgian chocolate bonbons and made with the highest quality products from Valrhona, Callebaut, and Cacao Barry.
It all equates to a considerably fancier option than our go-to chocolate: Halloween leftovers we stashed under the pillow. But we're sure that's a close second.
Available on Etsy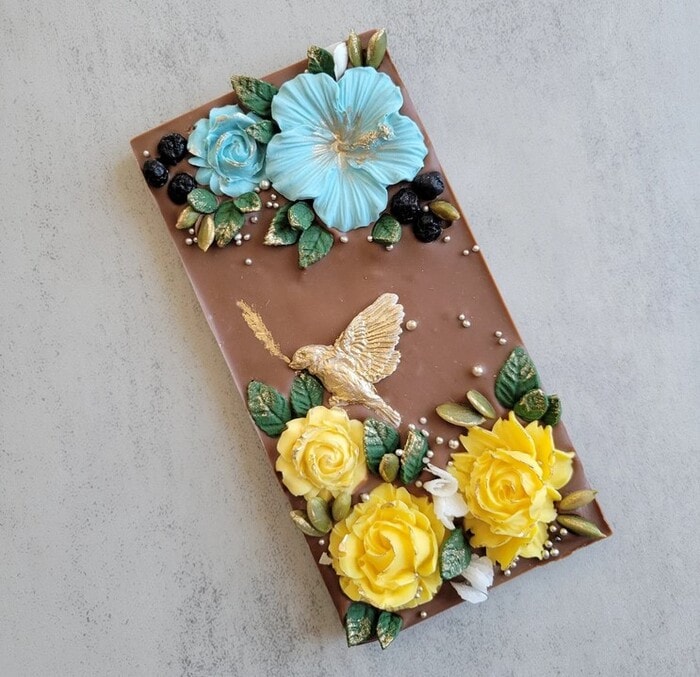 11. S'more and More Chocolate Bar, $7.98
Nothing says "2023 trendy" like "rustic." Nothing says "rustic" like cast iron. And nothing says "cast iron" like s'mores. And nothing says, "what in God's name are you talking about?" like anyone who just finished reading that.
The bottom line is that this chocolate bar brings all of the chic appeal and delicious flavors of s'mores into a convenient package dotted with inviting mini marshmallows and graham cracker crumbs. No kindling necessary.
Available at World Market

12. Dark Chocolate Bars with Bon Bon Fillings (3 Pack), $15
If our high school math teachers had told us that we could use geometry to make chocolate, we would have paid more attention.
These funky candies come in a three pack containing salted caramel, chocolate caramel, cinnamon roll, and sextuple espresso. Actually, the flavor is double espresso, but we got three sets. At least we paid attention in algebra?
Available on Etsy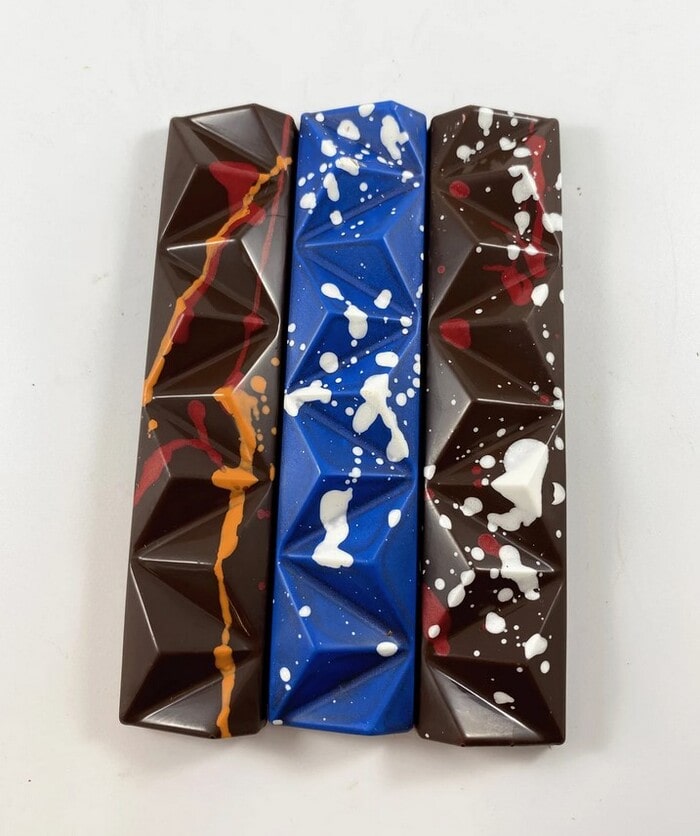 13. Oreo Chocolate Bars (2 Pack), $15
Beyoncé says to put a ring on it, but we say put an Oreo on it instead. We're not working with Beyoncé's budget, so we're happy with our strategy.
Our mantra of "when in doubt, add Oreos" is pretty fail safe. (We don't talk about that time we tried to change the oil in our car.) But it works even better when you're starting with chocolate.
Available on Etsy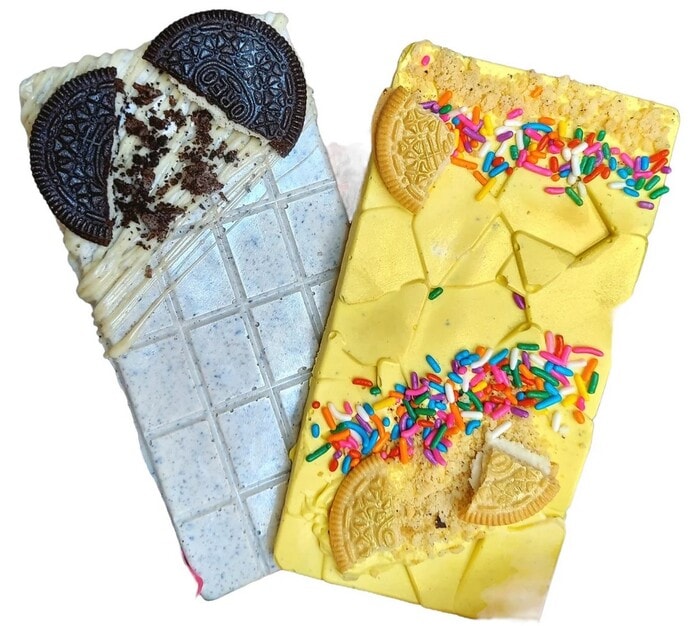 14. "I Love You" Chocolate Bars, $7
We've been saying this to chocolate for so long, but we were starting to think chocolate would never say it back. Whew, that would have been embarrassing. Right, saltwater taffy? Hello?
Available on Etsy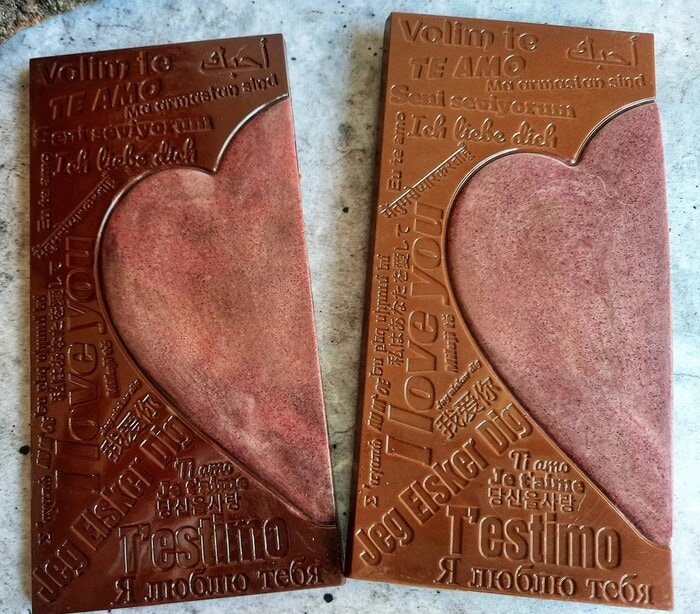 15. Maple Walnut Fudge, $11.95
The promo picture may be reminiscent of massage oil being poured in a cheap "video" (and we won't even talk about the walnuts on the wrapper). But let's be real. This chocolate bar is much sexier.
Available at Compartes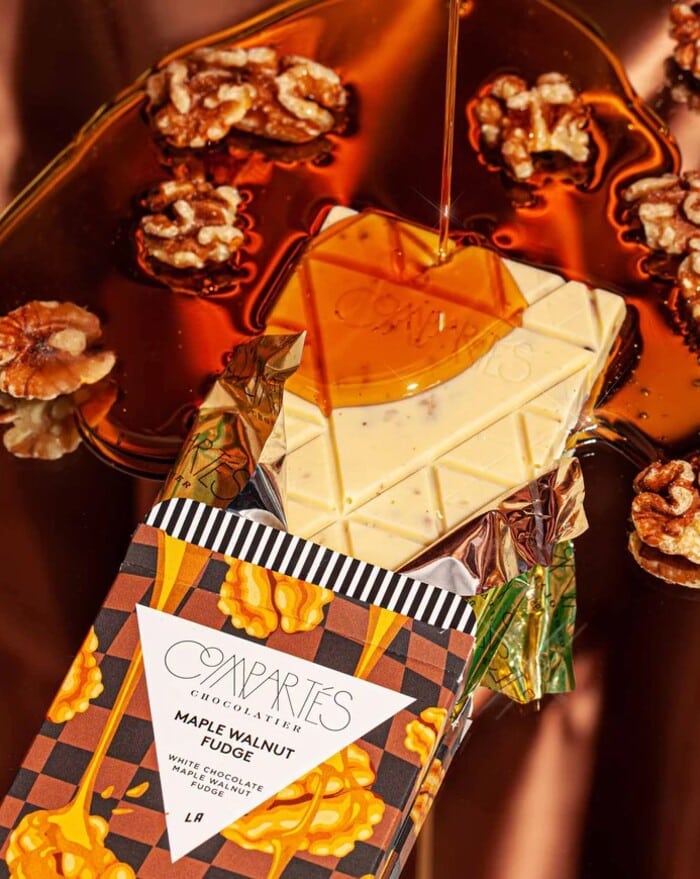 16. The Lover Avant Garde, $9.95
This white chocolate bar is filled with a passion fruit caramel center and brushed with vibrant oranges, reds, and yellows. We may not know a lot about Avant Garde theater, but we do know we want to Garde this chocolate bar with our lives.
Available at Savory Pantry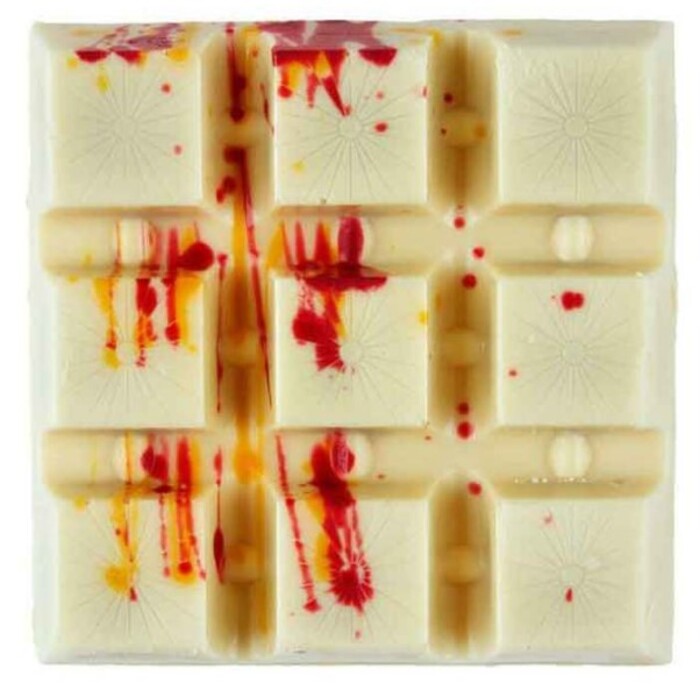 17. Cartoon Designed Chocolate Bae, $75
We already thought that chocolate was like art, but this chocolate bar takes that idea literally. Choose between eight cute and creative designs. And then remember that you can actually eat this creation, not just stare at it with tears in your eyes.
Available on Etsy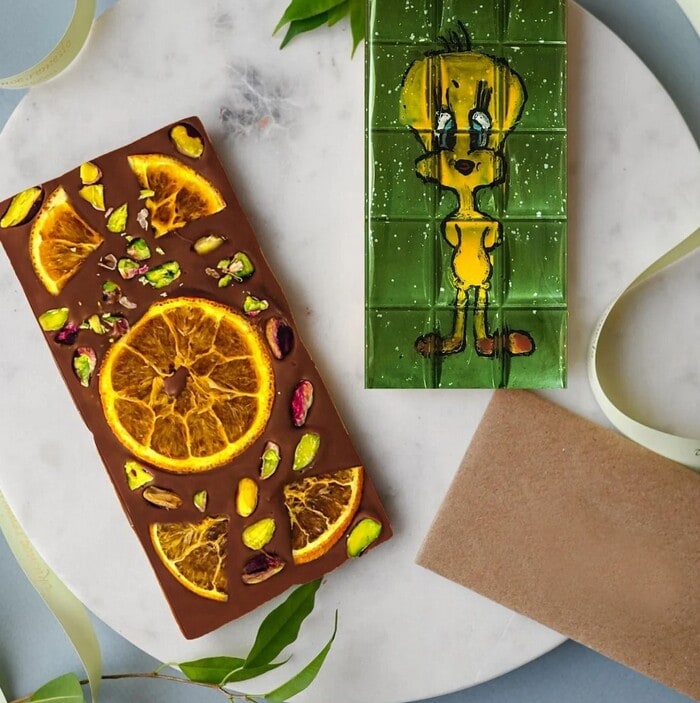 18. Handmade Belgian Chocolate Bar, $12.00+
These bars come in a variety of flavors (dark, milk, white, and ruby chocolate), with sizes from 60 to 145g. You can choose how you want to decorate each bar, with toppings like nuts, dried fruit, and, well…more chocolate.
The only way you can go wrong is by choosing the small size.
Available on Etsy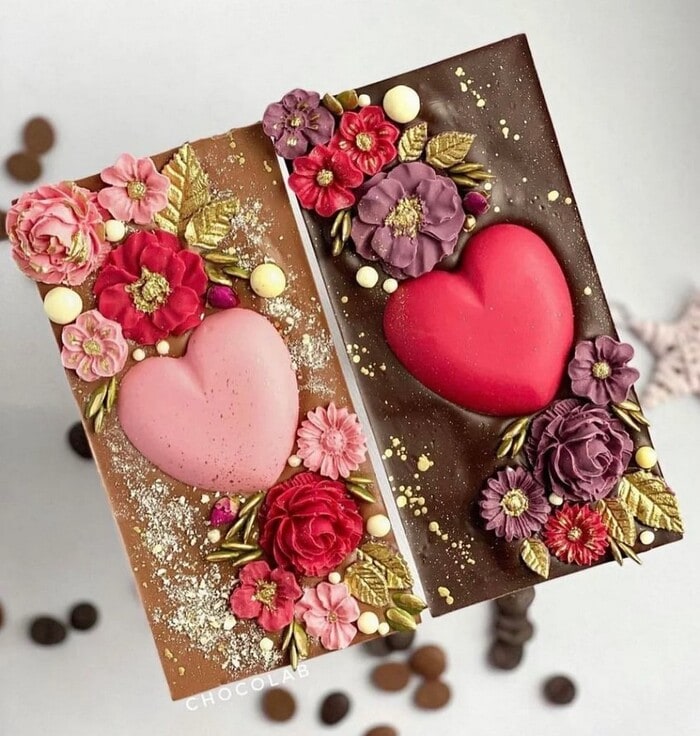 19. Flavored Chocolate Bars
Do you love chocolate covered strawberries, but wish the ratio of chocolate to strawberry was higher? Your prayers have been heard, and they have been answered. Oooh, let's check our bank accounts next!
Available on Etsy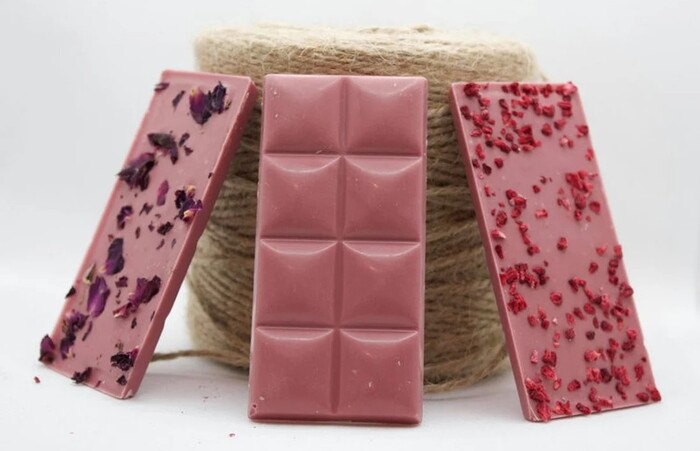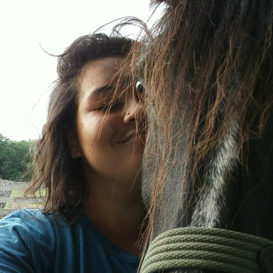 Latest posts by Hebba Gouda
(see all)