The first signs of Spring include birds chirping, flowers blooming, and Easter chocolates hitting the shelves. You've seen the standard cute bunnies and chocolate eggs, but confectionery creatives have taken it upon themselves to create more creative Easter treats.
From zombie rabbits to enchanted dinosaur eggs, here's a garden of chocolatey delights to fill your basket.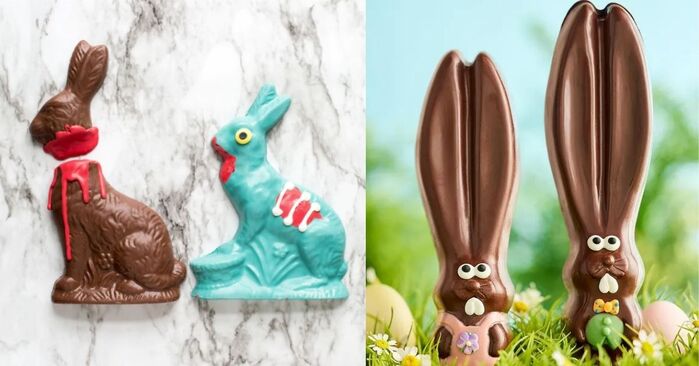 Unique Easter Chocolates
1. Geometric Chocolate Easter Bunny, $15
At 7" tall and available in an assortment of colors, this hollow chocolate bunny is ready to be filled with jelly beans (or Peeps if you're giving it to your enemy). The geometric take on a woodland creature is here to challenge the preconceptions with which we've saddled rabbits for years.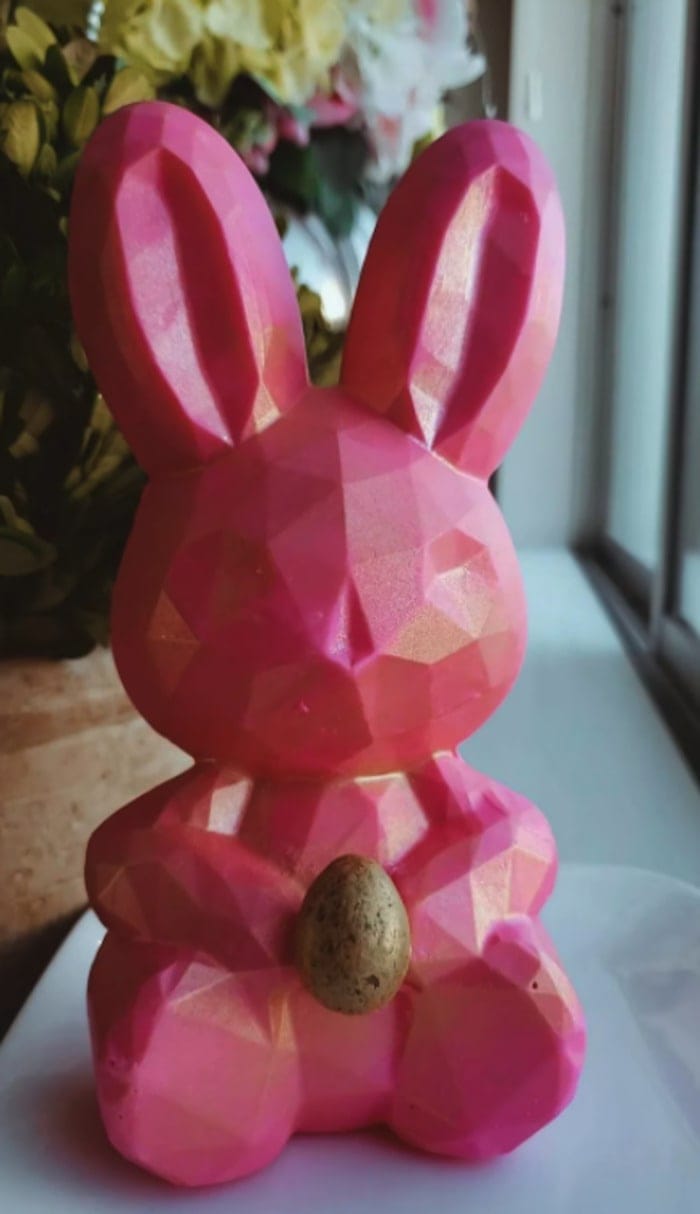 Available on Etsy.
2. Easter Chocolate Breakable Bunny, $15
This breakable chocolate kit includes one 6.5″ chocolate bunny, candy, one Peep, and a small mallet. They say that the mallet is to smash the bunny, but did you ever stop to think it could be because the bunny is an aspiring lawyer? No? Shame on you.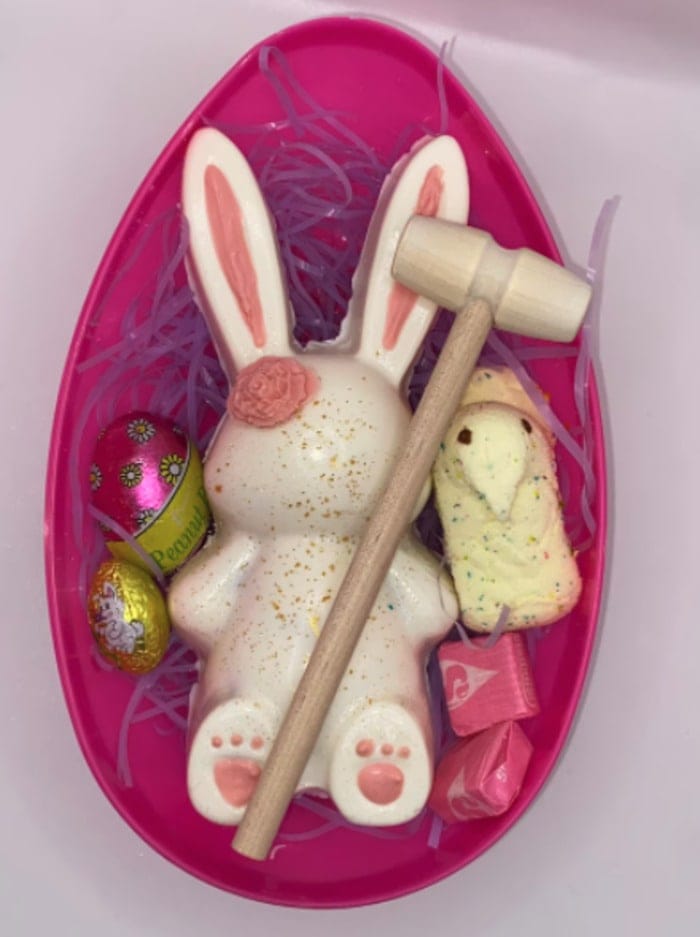 Available on Etsy.
3. Chocolate Zombie Bunny and Victim Set, $50
Sugar Plum regularly offers a 7.5 oz chocolate zombie bunny. Decorated with beady eyes and candy blood, it is a humbling product for those who got a little comfortable with their high-up position on the food chain. Recently, the company has supplemented the popular killer with a beheaded chocolate bunny victim.
The decapitated creature has apparently been requested "so many times [they've] literally lost count." Are you all okay? Does Santa need therapy after reading your Christmas lists?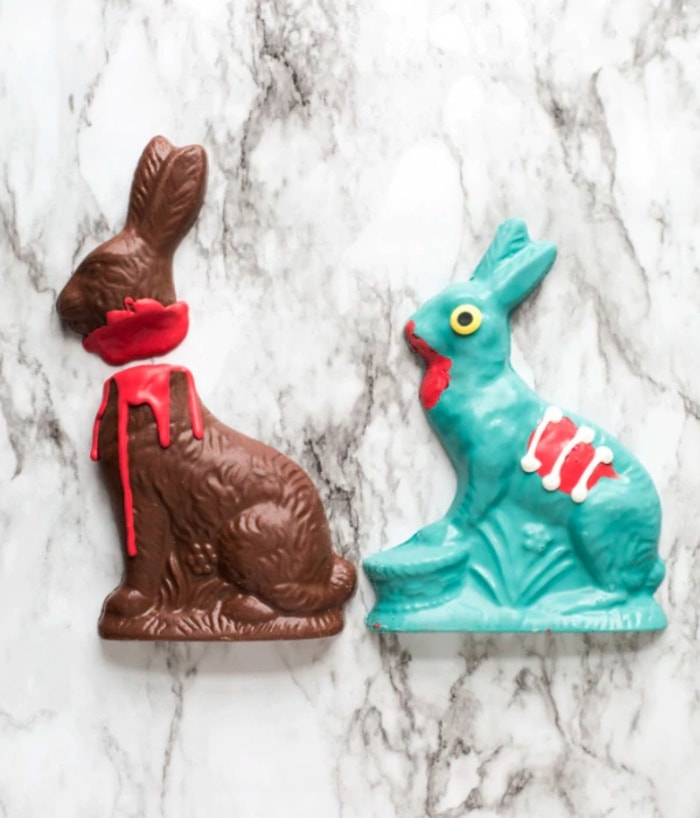 Available at Sugar Plum Chocolate.
4. Carrot-Shaped Box with Chocolate Bunnies Inside, $14.95
This milk chocolate carrot houses mini chocolate bunnies. We won't think about how closely the bottom half resembles a coffin.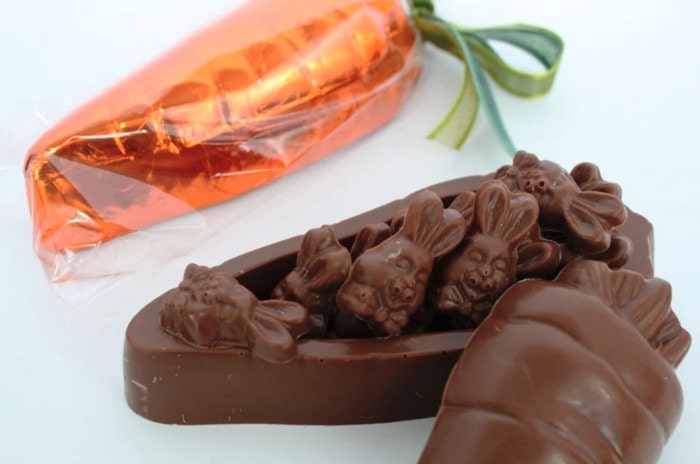 Available on Etsy.
5. Naughty Chocolate Easter Bunny (Adult Easter Gift), $6.99
This is a chocolate bunny holding a dildo. No point in not giving it to you straight. Or, more realistically, a little curved. These raunchy bunnies are a solid 3.5 ounces of fair trade, non-GMO dark, milk, white, or pink chocolate. Whatever your pleasure.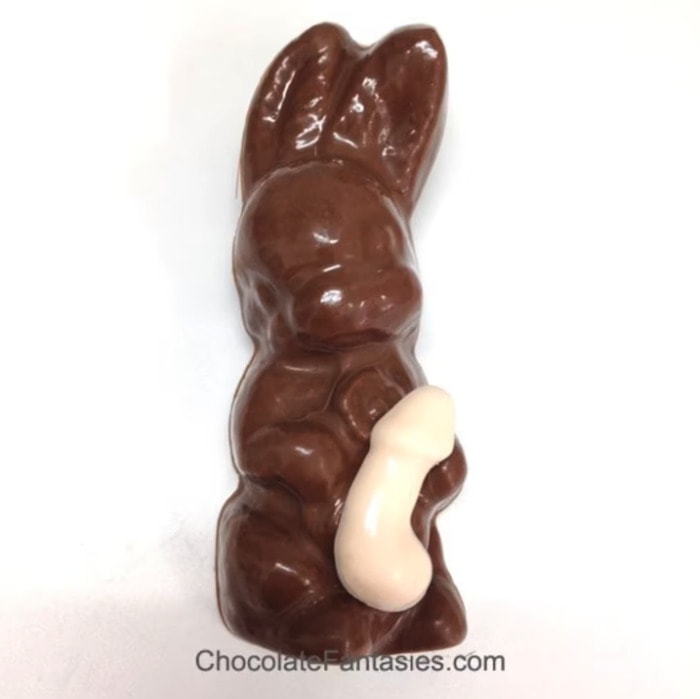 Available at Chocolate Fantasies.
6. Iridescent Chocolate Easter Bunny, $150
A color lover's dream, this iridescent bunny from Compartes is 2 feet tall and filled with marshmallows and sprinkles.
We won't know the nitty gritty of the development process, but we figure it was something like when you're out foraging and realize you don't actually know how to forage but man that mushroom was delicious and hey does that bunny look iridescent and two feet tall to you?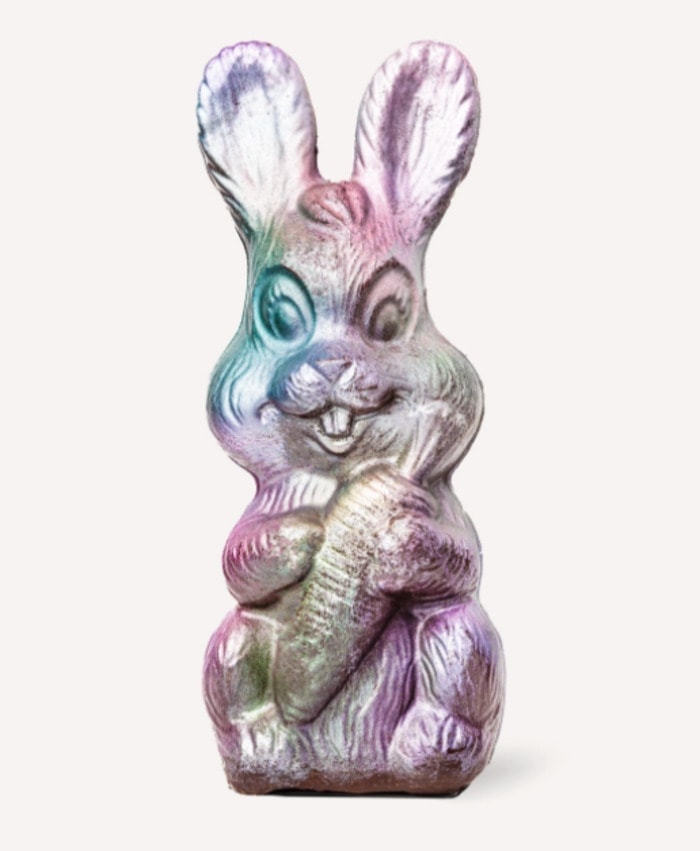 Available at Compartes.
7. Chocolate Bunnies Carrying Backpack, $10.35
These backpacking chocolate bunnies are 6.5″ of ready-to-adventure deliciousness. Perhaps they're running away from home, embarking on a journey of self discovery to Mt.Kilimanjaro, or simply trying to reduce their carbon footprint by commuting on foot.
We suspect that, being tree nut and peanut-free, they're off to find out if this "peanut butter" was as good a match for them as everybody said.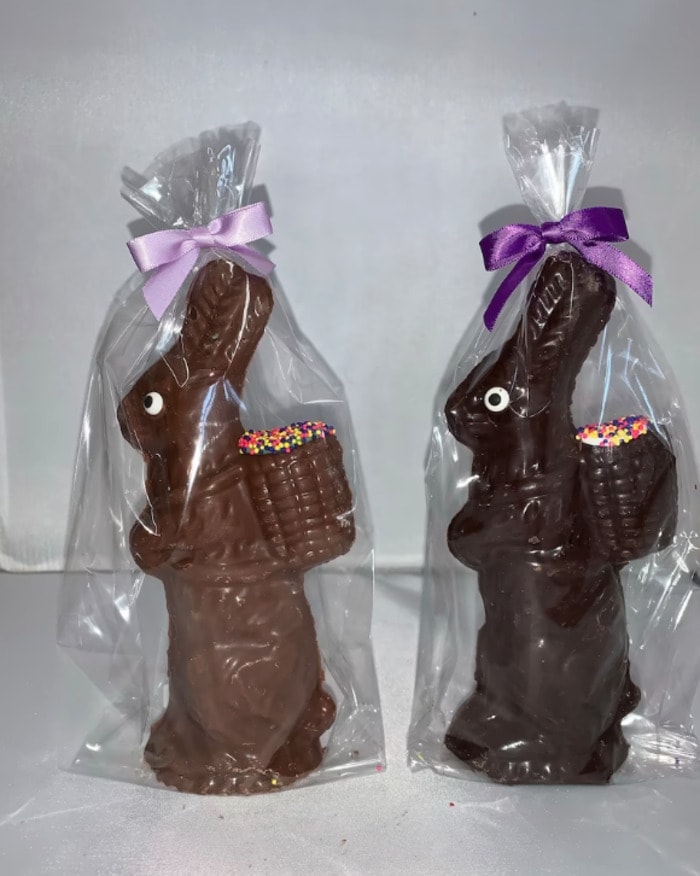 Available on Etsy.
8. Chocolate Easter Bunny Holding Flowers, $18.23
This adorable little figure is just over 4.75 ounces and just under 5″ of Natural Belgian chocolate. Available in dark, milk, and white chocolate, these creatures are shockingly detailed for something that's meant to be eaten. Welp, down the hatch!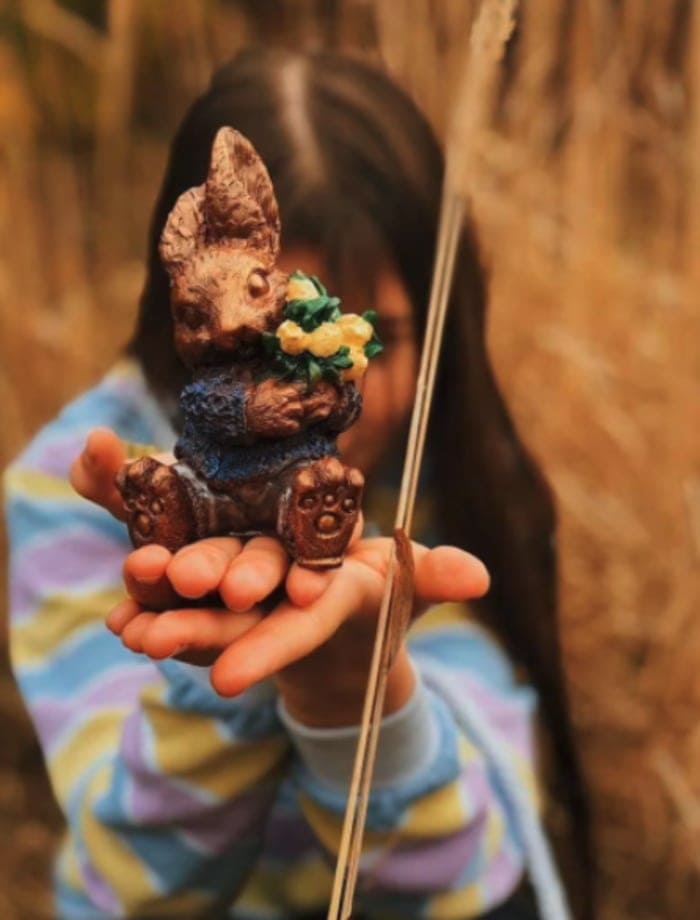 Available on Etsy.
9. Chocolate Rabbit Filled with Chocolate Fish, $32
Just shy of 3 ounces and 6.5″ tall, this lop-eared chocolate Easter bunny is available in dark and milk chocolate. We like this one a lot. We like bunnies. We like propellers. And, as an additional bonus, it's filled with chocolate fish to appease those who were worried about bunnies not getting sufficient Omega-3.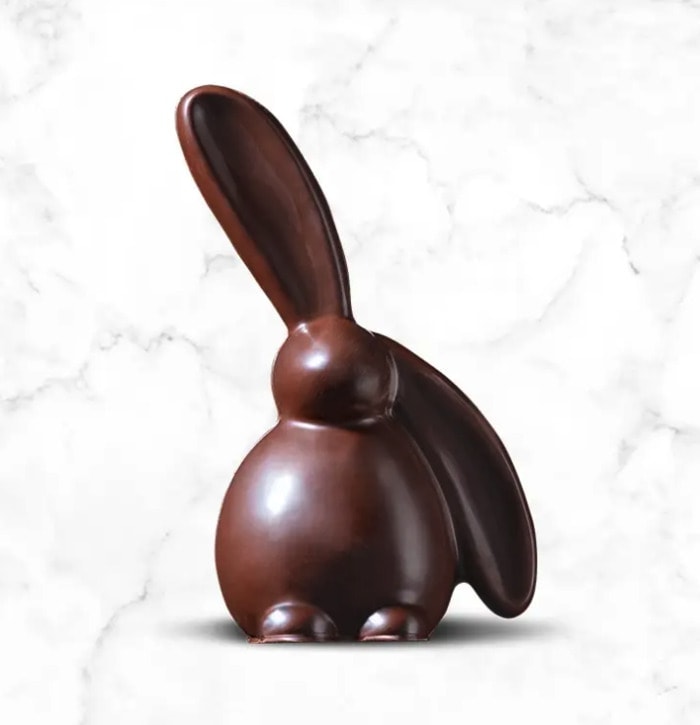 Available at La Maison Du Chocolat.
10. Speckled Indigo Chocolate Eggs, $48
You can get a set of 6 speckled indigo chocolate eggs, each filled with whipped hazelnut ganache. The distinctive eggs are little bit galaxy, a little bit Jackson Pollock, a little bit "is…is that a sperm?" They are also a lot gorgeous and a lot tasty.


Available on Etsy.
11. Foil Wrapped Chocolate Egg, $29.99
This jumbo half-pound milk chocolate egg gives buyers an option between the inside contents of four milk chocolate dinosaurs or four little chicks.
It's all made of the same delicious chocolate, so it all comes down to whether you want to suspend your belief with dinosaurs that can fit in the palm of your hand or try and figure out whether the chicken or the egg did come first.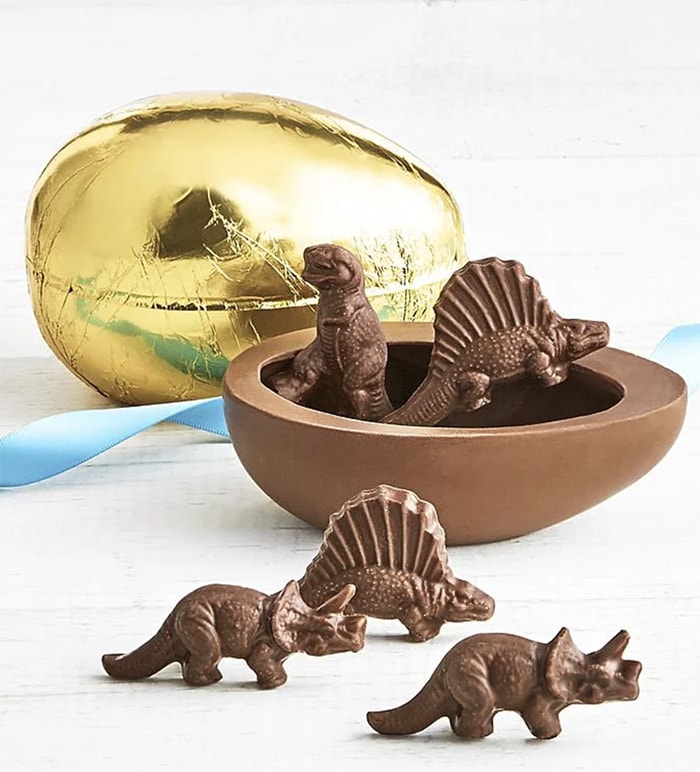 Available at Simply Chocolate.
12. Extra Thick Easter Egg, $49.95
There is a delicious array of flavors in this fun take on an egg. One side of the shell features 40% milk chocolate, the other a creamy caramel-white chocolate. Inside are mini bunnies and eggs filled with hazelnut praline, more caramel, and some googly-eyed chocolates that look like they're coming to terms with being eggs inside of eggs.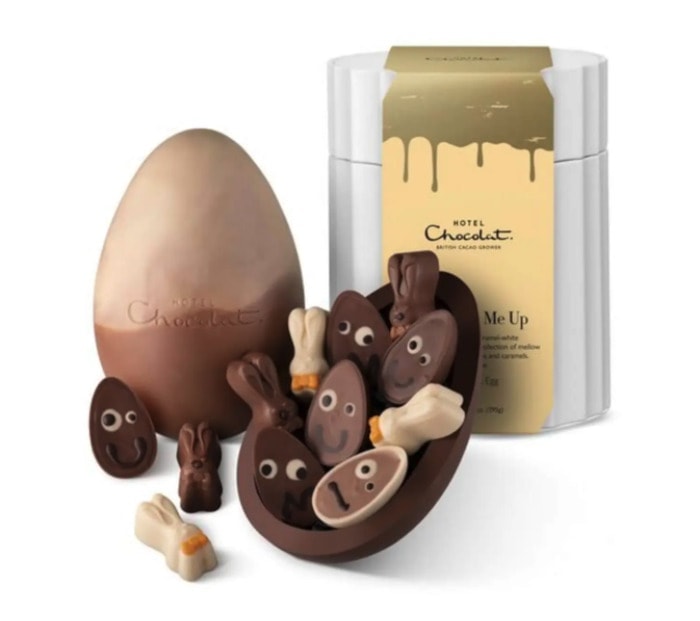 Available at Hotel Chocolat.
13. Easter Cocoa Bombs, $5+
These 2" cocoa bombs come in an assortment of chocolate and vanilla. Easter drizzle and vanilla bunny butts are filled with hot cocoa mix and mini marshmallows. Few things scream "holidays with the family" like watching a butt dissolve to release brown powder. Wait…what are holidays with your family like?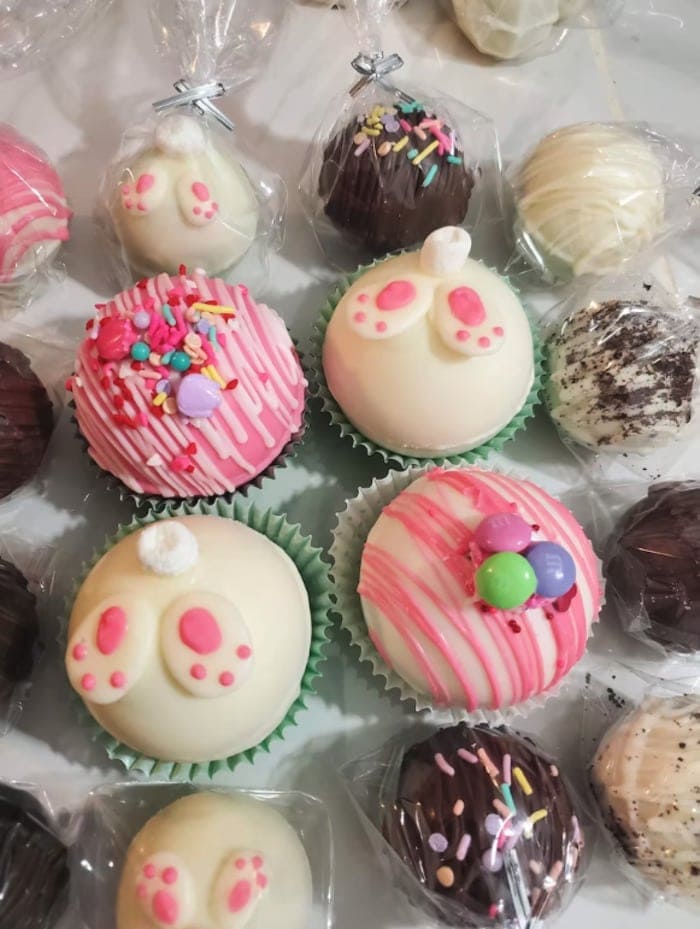 Available on Etsy.
14. Dark Forest Chocolate Egg, $32.75
Just under a pound of 58% dark chocolate, each of these 6″ eggs features hand-painted floral masterpiece. Certainly pleasing to the eye, we can also make the argument that it's got plants on it so it's healthy.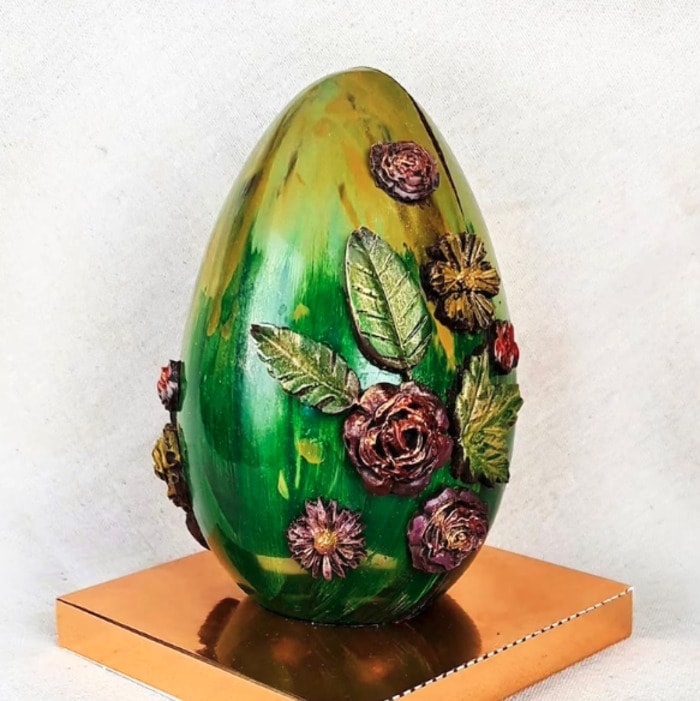 Available on Etsy.
15. Mr. and Mrs. Ears Milk Chocolate Easter Bunnies, $39.99
You get a pair of two solid milk chocolate bunnies, 10 oz each. Described as a Mr. and Mrs. set, the large ears are both reflective of the healthy communication necessary for a good relationship. And perfect for those whose favorite part of the bunny is the ears.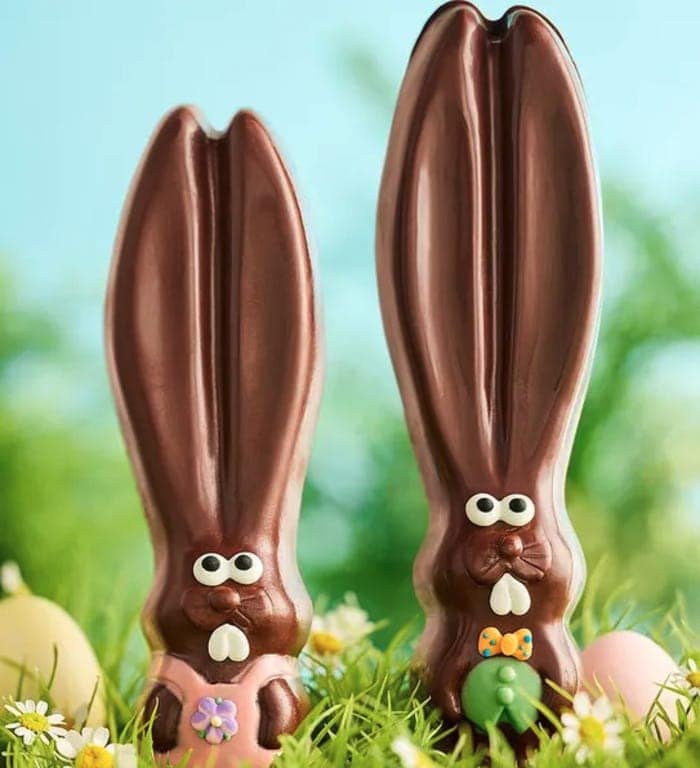 Available at Harry & David.
16. Paint Your Own Bunny Kit, $25
This "paint your own chocolate bunny kit" includes one milk chocolate bunny, natural chocolate "paint kit" with four spring colors, and paint brushes. You know, so you can sink time and effort into your buddy before eating it.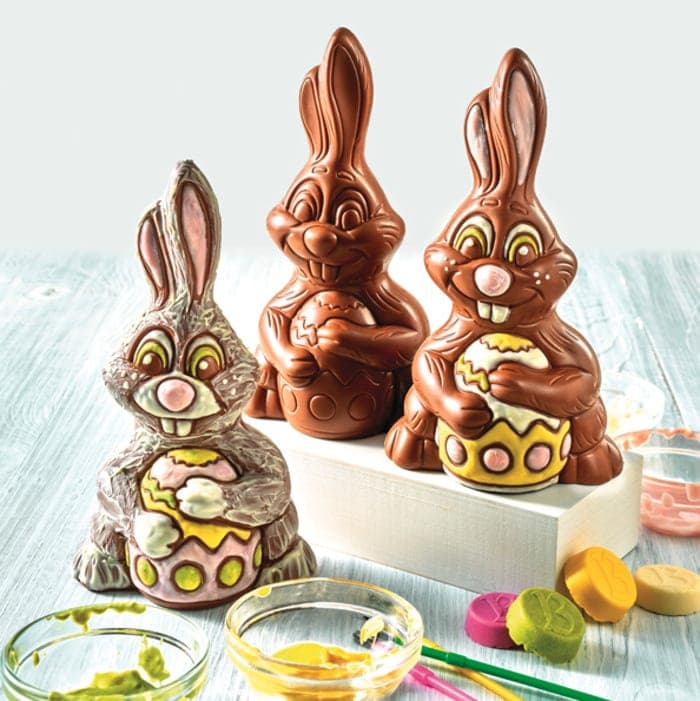 Available at Bissinger's.
17. Dark Chocolate Big City Easter Bunny, $15.95
This classy dark chocolate of 70% fair-trade cocoa is what you get when you smash together a classic with the Oscars trophy and some lava lamps.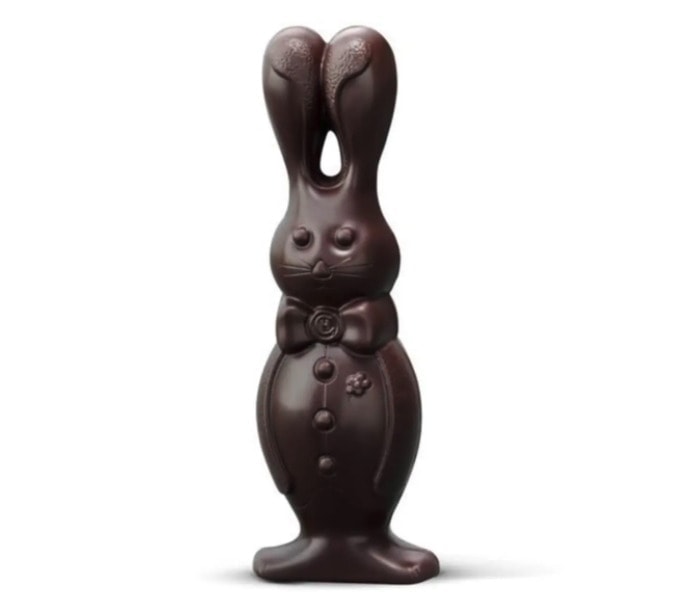 Available at Hotel Chocolat.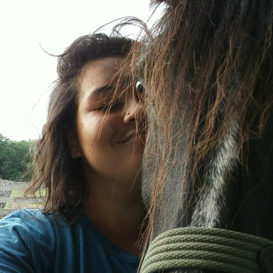 Latest posts by Hebba Gouda
(see all)