Snakes get a bad reputation in pop culture. But these snake cakes have a lot going for them, and their rhyming name is only one such advantage. Albeit, quite a satisfying one.
But not all snakes are bad, especially when they're made with sugar and icing. From Slytherin-themed cakes to cool nature designs, and even a Medusa-inspired confection, these snake cakes will bring your gathering to the next level.
Be warned: once you finish this list, you may be inspired to bake one yourself. We swear it will be easier than learning Python.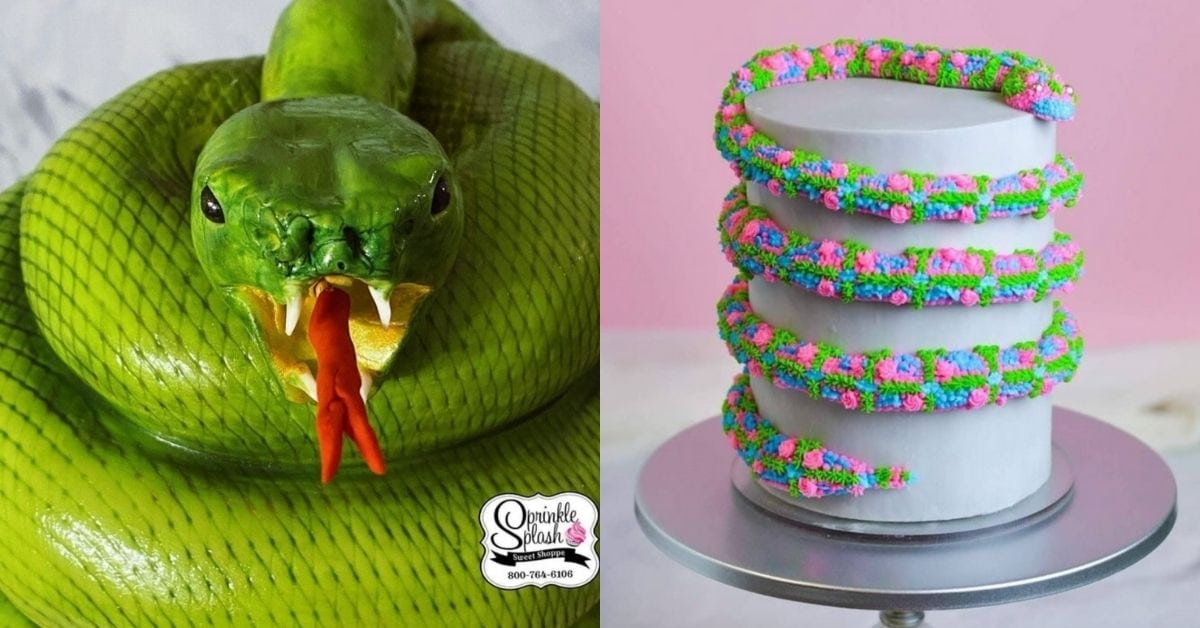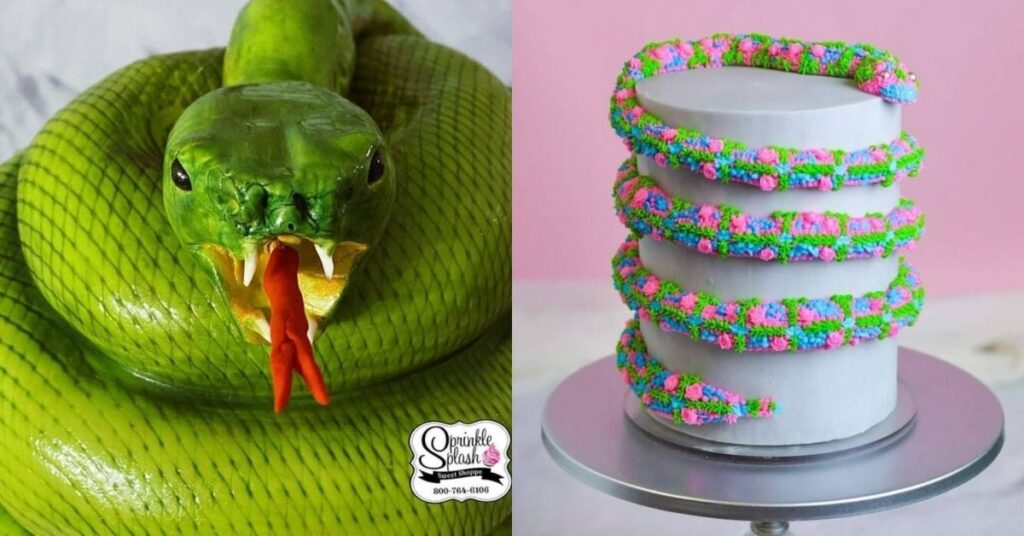 26 Snake Cakes
1. Tropical Forest Snake Cake
Even snakes need a spa day. They'll shed their skin and return home renewed. You know, ready to be baked and eaten. Uh, we admittedly sort of lost the plot there.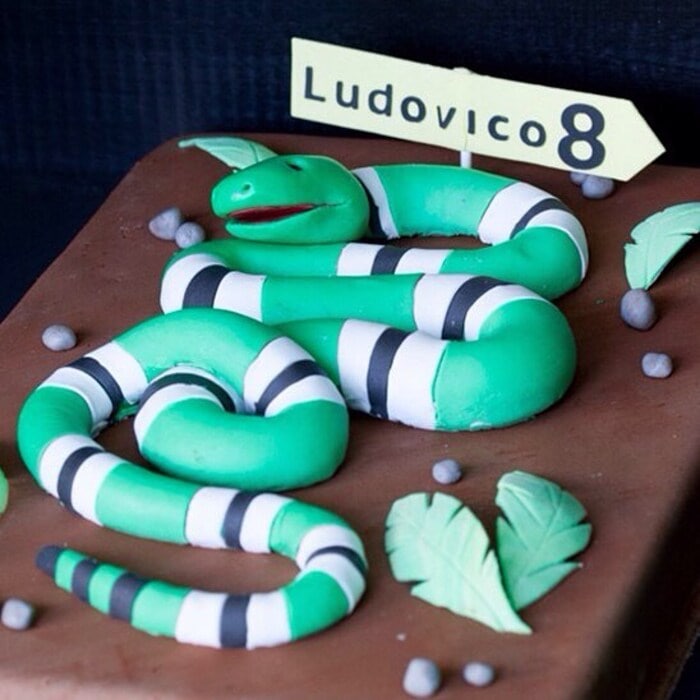 2. Black Snake Cake
This is one staring contest we wouldn't win. But if the grand prize was cake, we could be persuaded to try.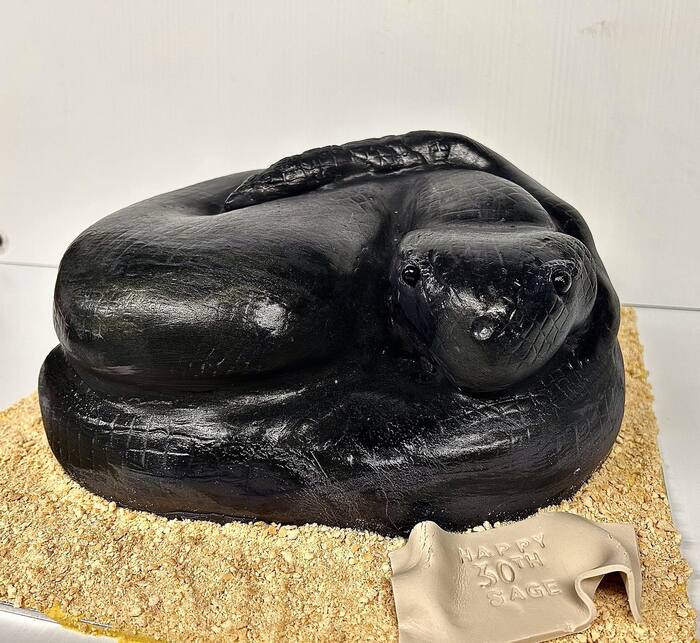 3. Bright Snake Cake
Some snakes catch the eye with their brightly coordinated color palette. It's a lot easier to avoid stepping on them, at least.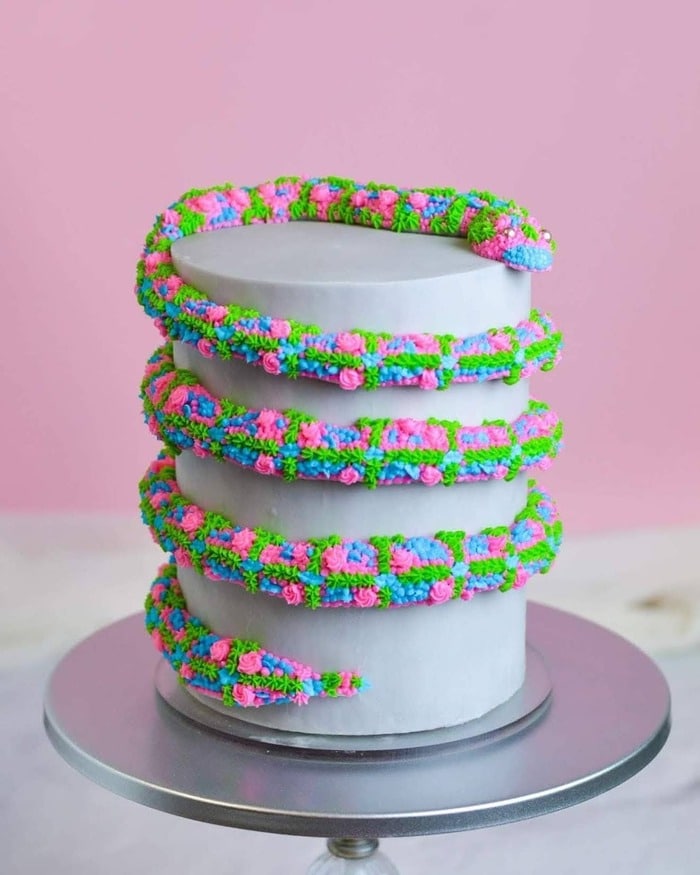 4. Snake Face Cake
Have you ever wondered why snakes have forked tongues? They use them to sniff out their surroundings. Imagine the benefit of those bad boys at a Yankee Candle sale.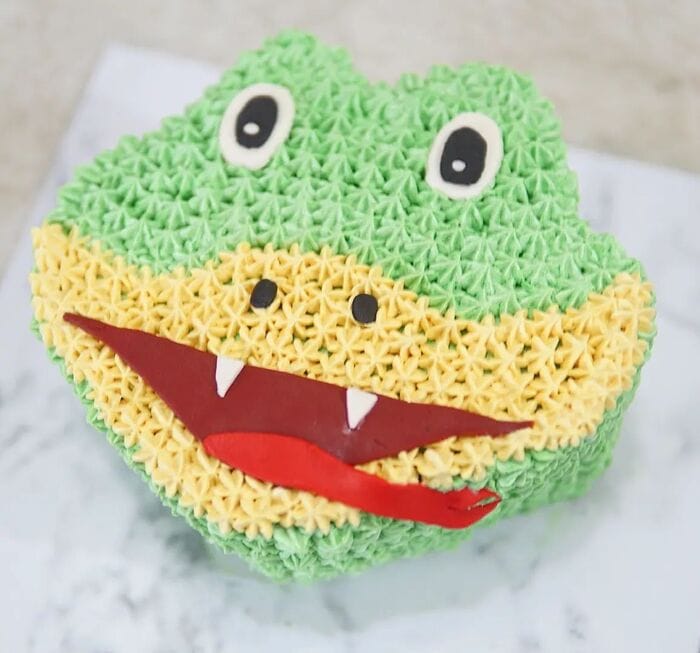 5. Snake Habitat Cake
It's a snake party on this kid's birthday cake. Now we know why the butterflies flew away. Hope they're safely in a taxi cab, listening to that Britney song.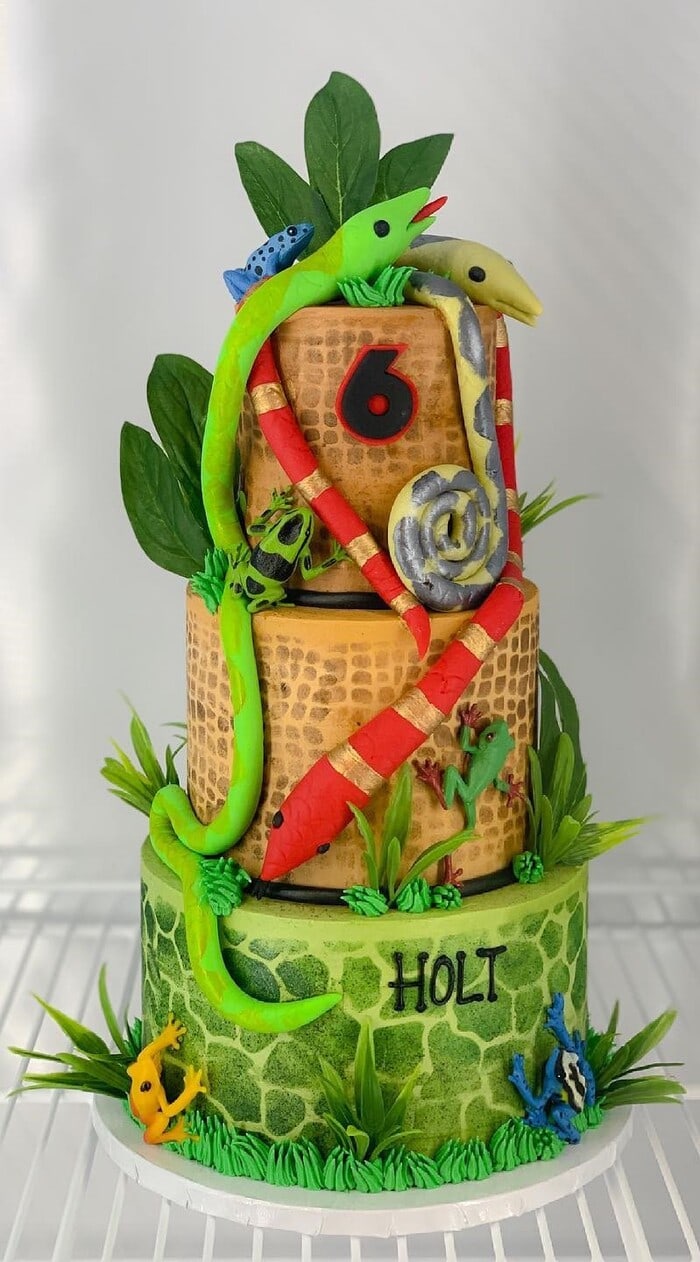 6. Snake on a Tree Stump Cake
Snakes protect their territory at all costs. See, they're just like us. Particularly when it comes to the frozen food aisle at Trader Joe's. Look, the demand for cauliflower gnocchi is just too high this time of year.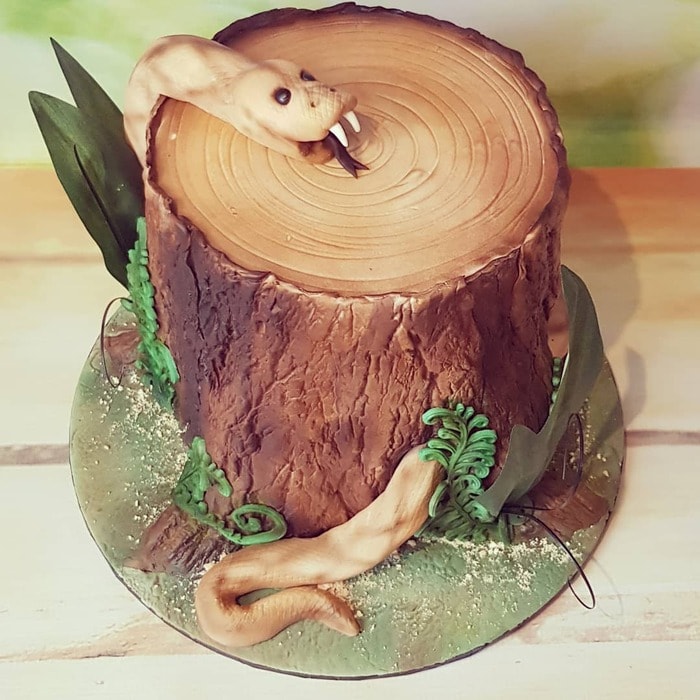 7. Western Snake Cake
When a cowboy meets a rattlesnake, you know it's about to go down. Just like this when this piece of cake enters our mouth.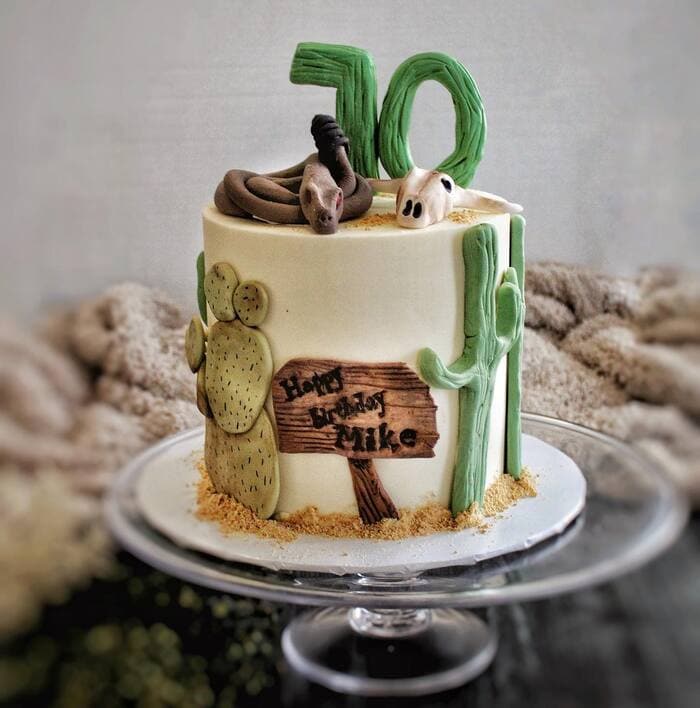 8. Birthday Hisses Cake
A cake that doubles as home decor? Hey, as long as no one eats it, we suppose.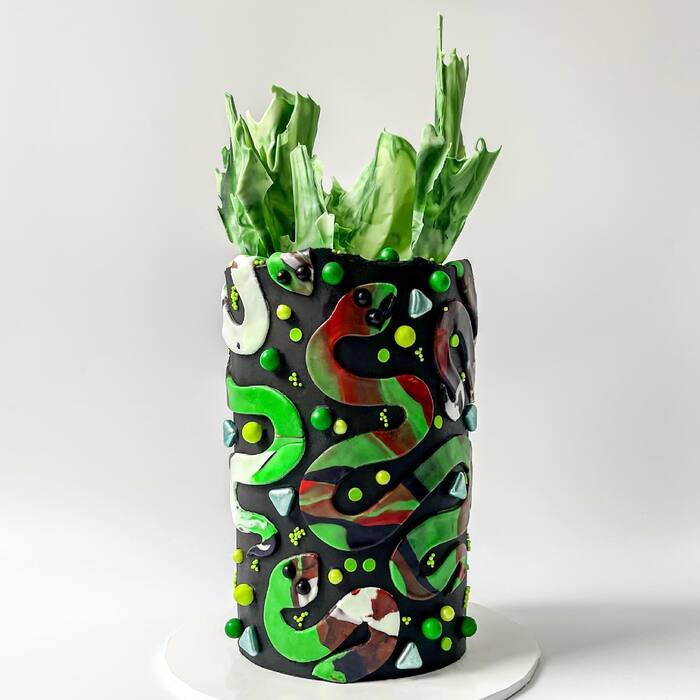 9. Candy Snake Cake
This cake merges the best parts about Halloween and your birthday — unlimited candy and cake. You can have your cake and eat it too…without having to share with your little brother.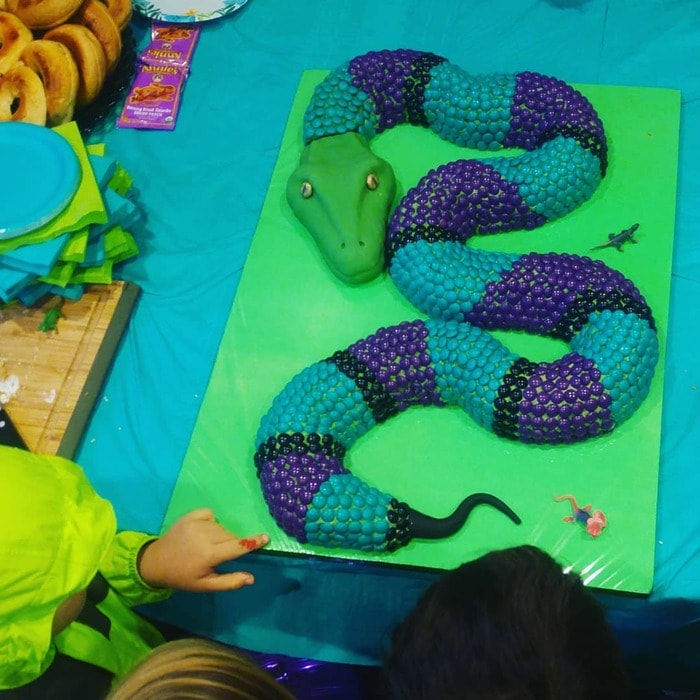 10. Flower Snake Cake
Roses are red, this snake is yellow. Its fangs may be sharp, but it's totally mellow. We forgot to add the venom after the baking soda.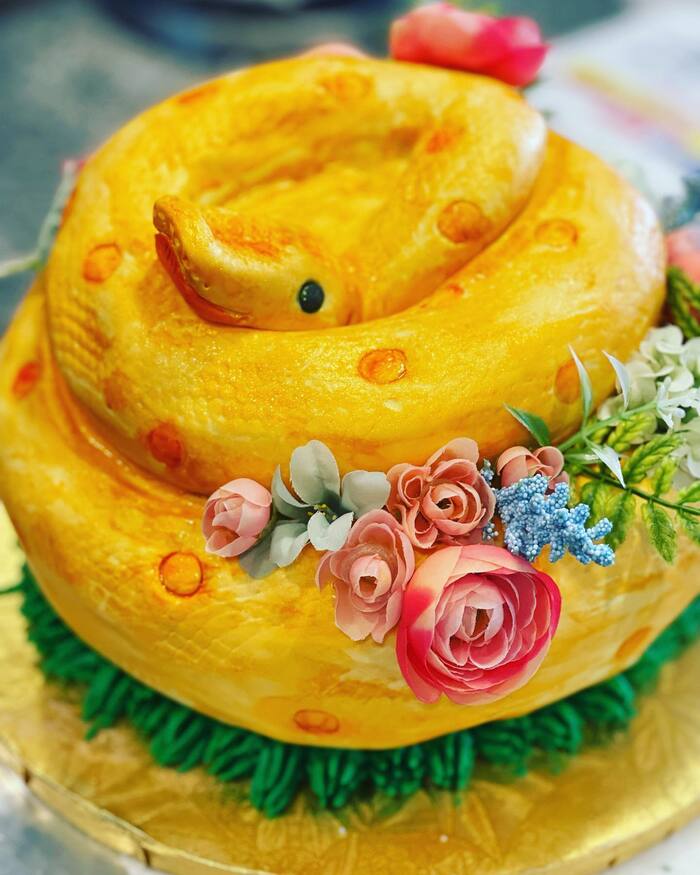 11. Gold & Geode Encrusted Snake Cake
No need to activate these crystals under a full moon. Their magic is so potent, they'll tip the scales.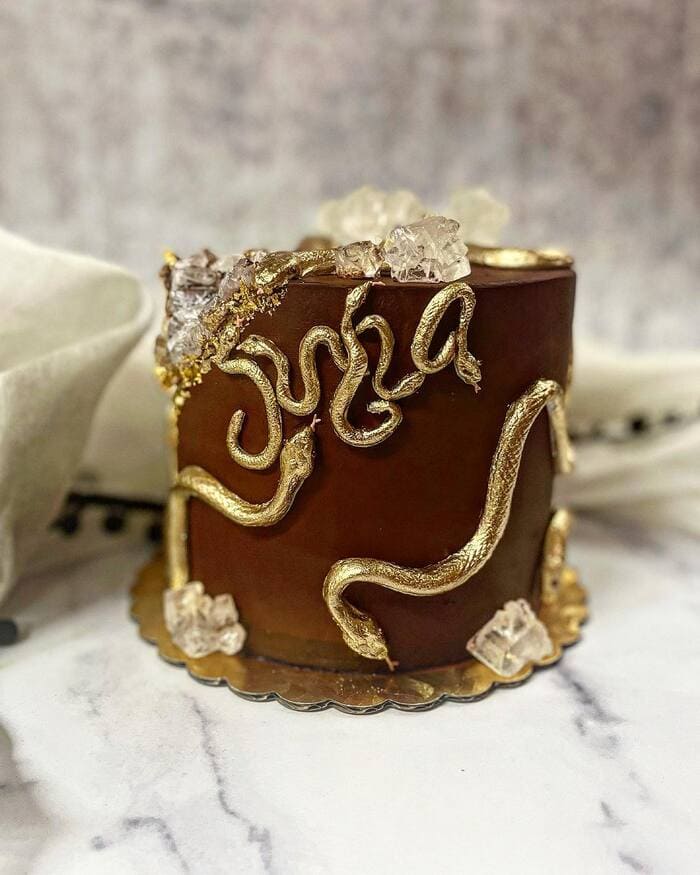 12. Yellow Snake Cake
Britney Spears' 2001 VMA snake performance can't hold a candle to this. But if any snake asks us, "Do you want a piece of me?" we will not be responding with, "Gimme more."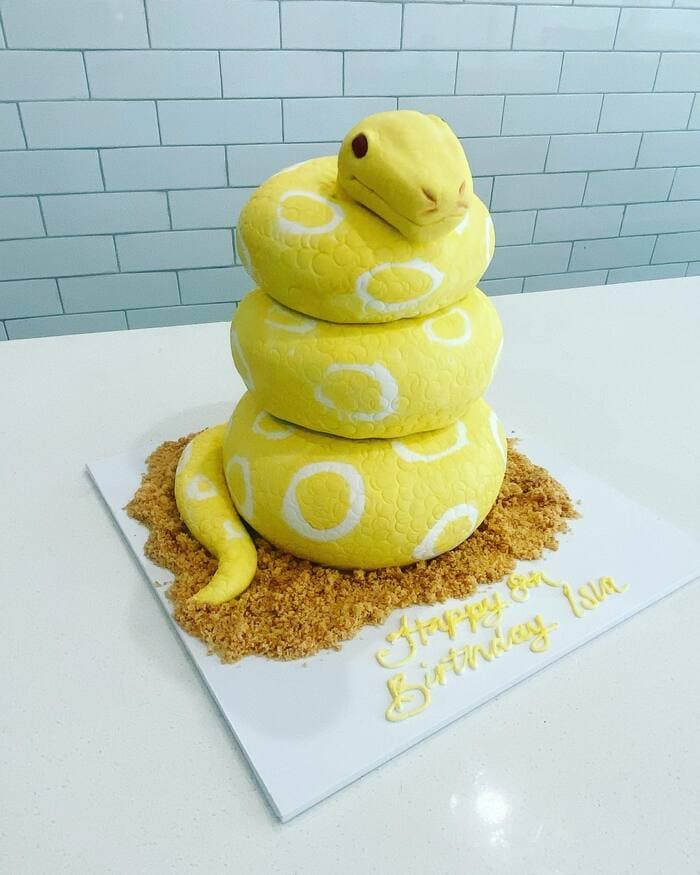 13. Gold Studded Snake Cake
This studded cake aims high, like the heel of a well-established fashion designer. Coincidentally, it was also Donatella Versace's birthday cake. As if we needed more of a reason to dig in. Oh yeah, we were totally invited to the party.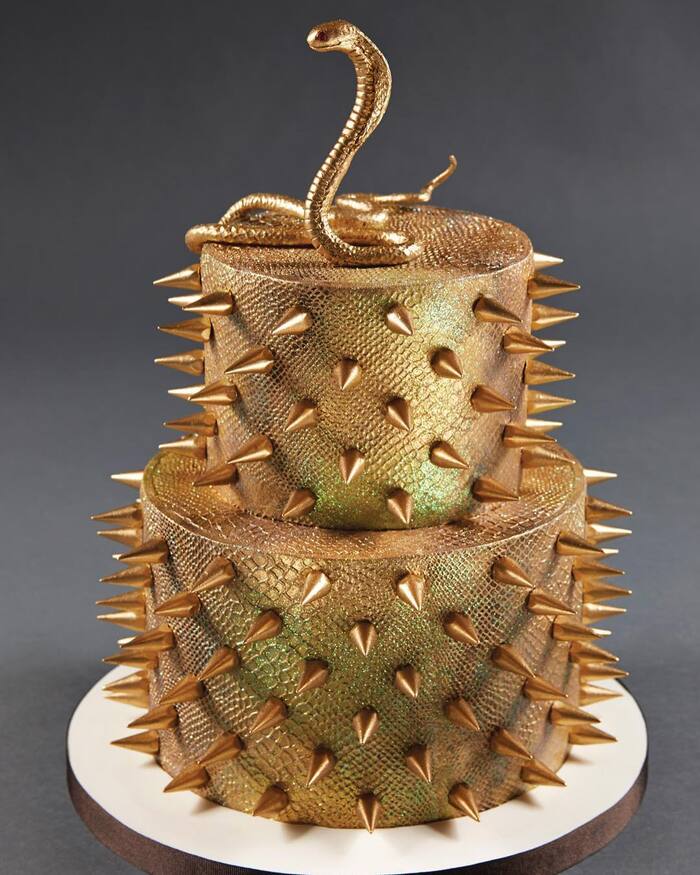 14. Snake and Spider Cake
If the itsy-bitsy spider climbed up the spout again, and then met a snake along the way, this is what we imagine it would look like. So itsy-bitsy might have been an understatement.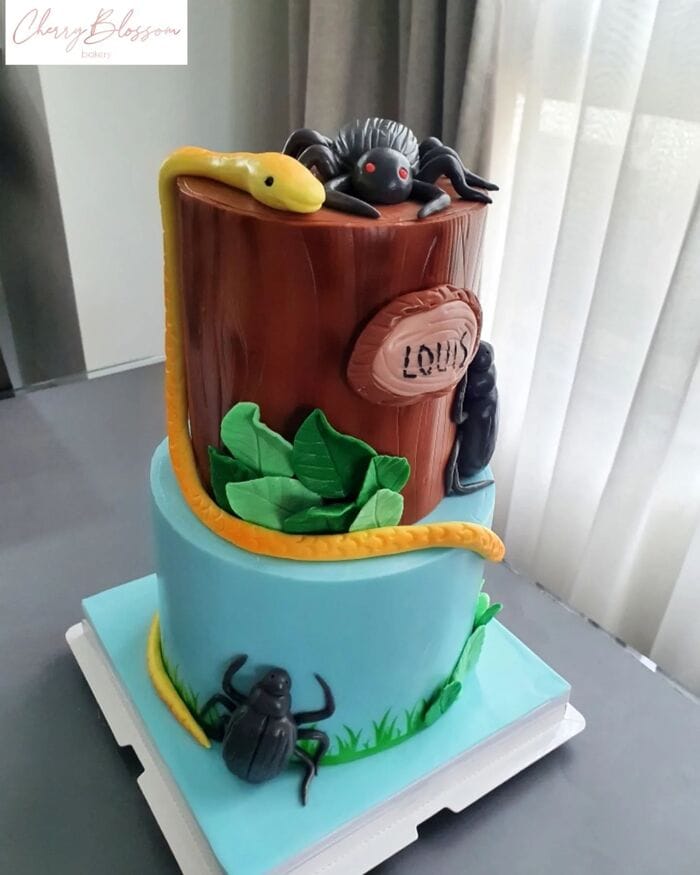 15. Cobra Kai Cake
Cake is the best dessert around. Nothing's ever gonna keep it down. Unless you forgot to flour and grease the pan. Then that cake is staying put.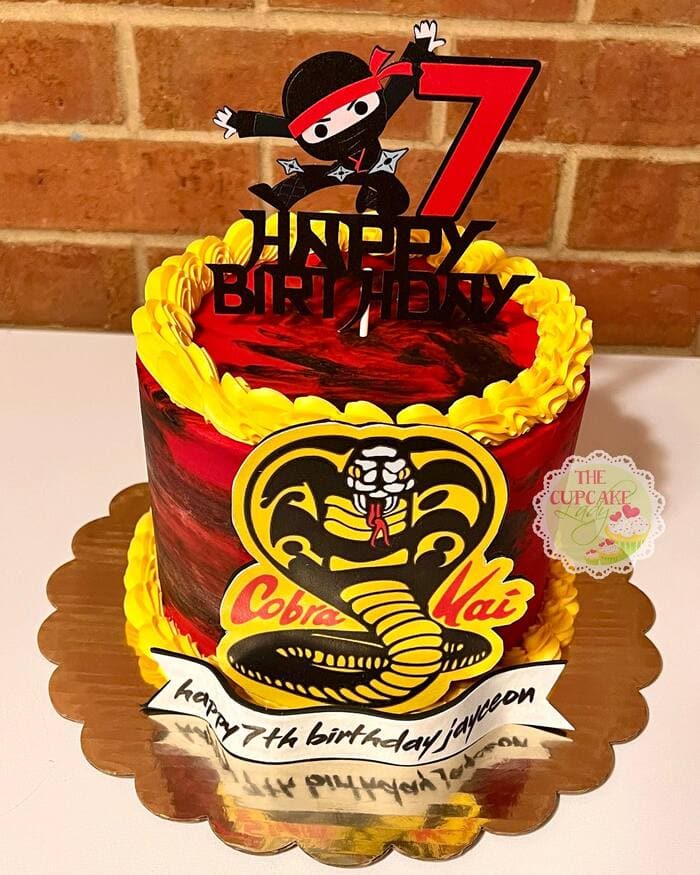 16. Serpent Cake
We're not sure how Draco would feel about Harry's initials on a Slytherin cake, but you know what they say. Parseltongues eat first. Or something like that. We couldn't tell, they were speaking Parseltongue.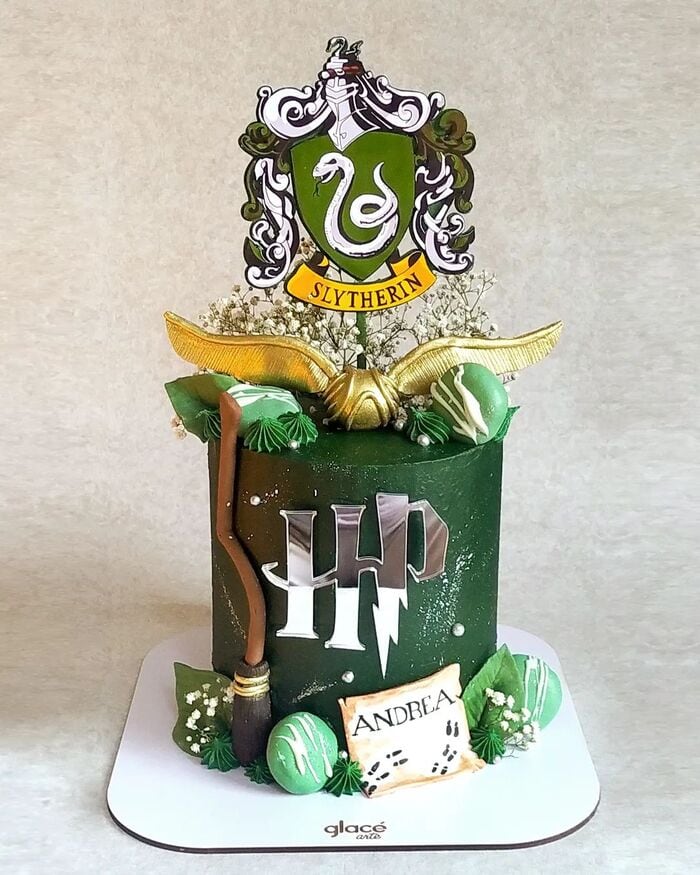 17. Wild Snake Cake
While a snake in the grass can mean a hidden enemy, it can also mean there's literally a snake in your grass. Tough luck.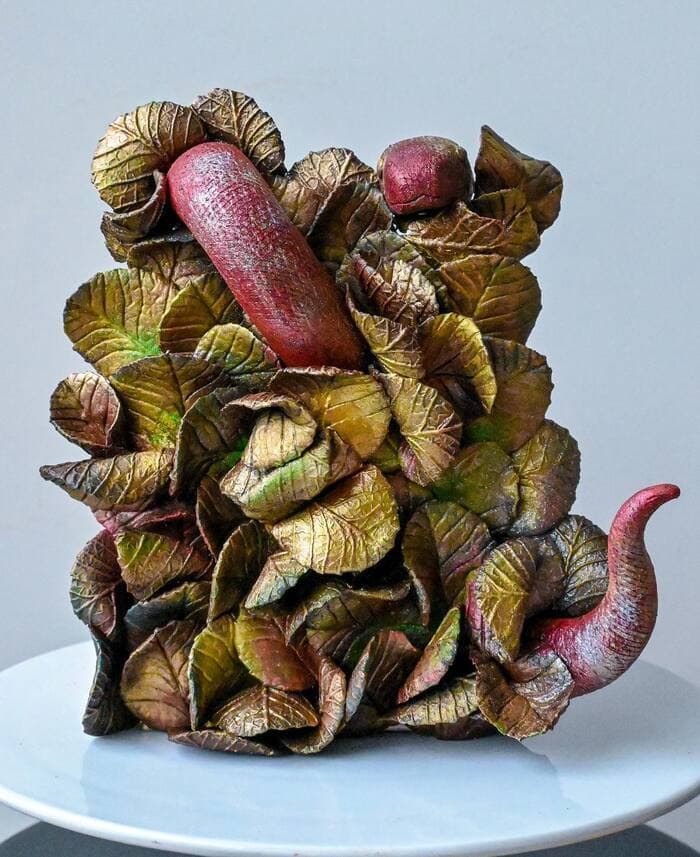 18. Tiered Snake Cake
It's time to talk tiered cakes. That's a mouthful, alliteratively. Speaking of mouthfuls, we never knew snake heads could taste so good.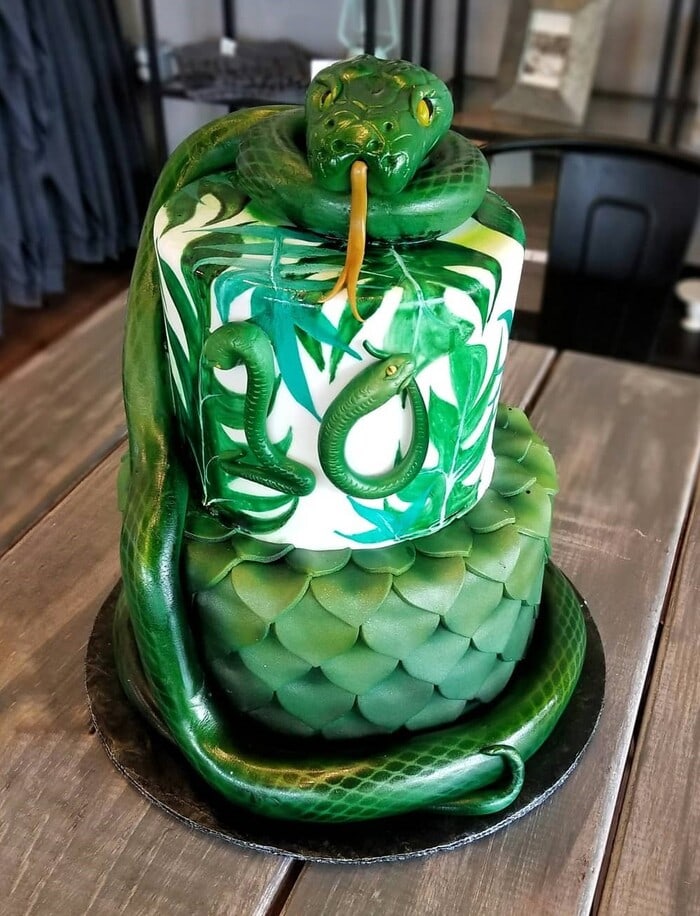 19. Cupcake Snake
Like string cheese, cinnamon rolls, and monkey bread, the best things in life can be pulled apart. As for putting them back together again, that's a task not even the king's horses and king's men are up to. They're too full.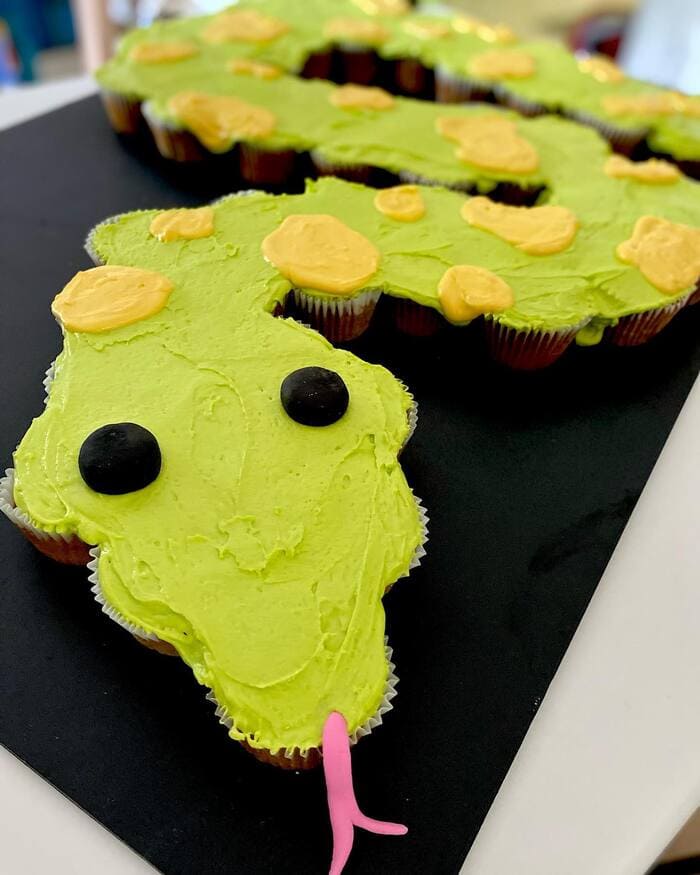 20. Tattoo-Style Snake Cake
This snake has some serious ink. So bust out your Hello Kitty planners and start writing out those manifestations, you ambitious Slytherins. Uhh, snakes don't eat kitties, do they?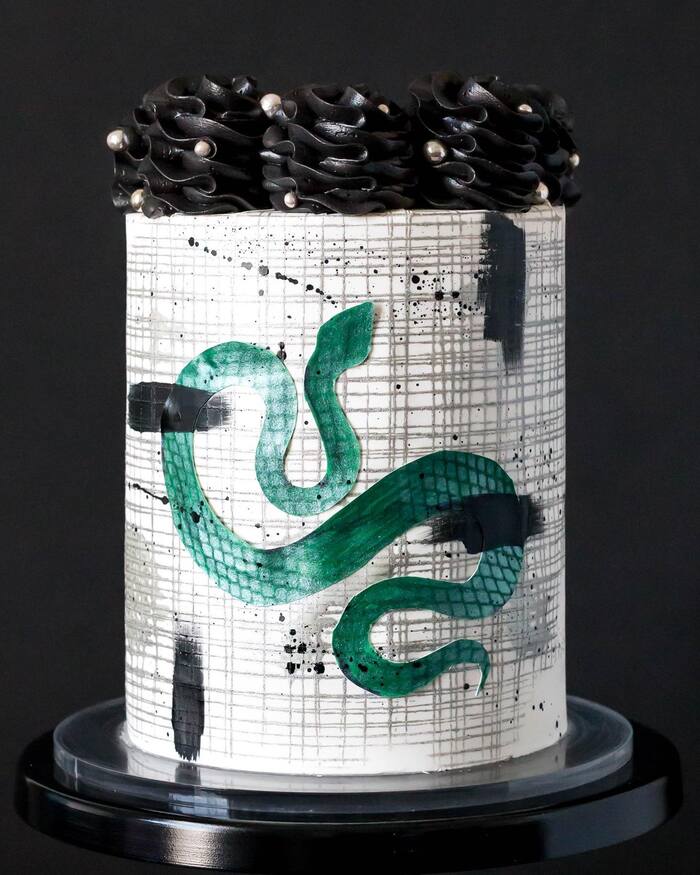 21. Slytherin Snake Cake
If you've ever gotten a slitted side-eye for wearing a Slytherin shirt, we see you. Through our slitted side-eyes.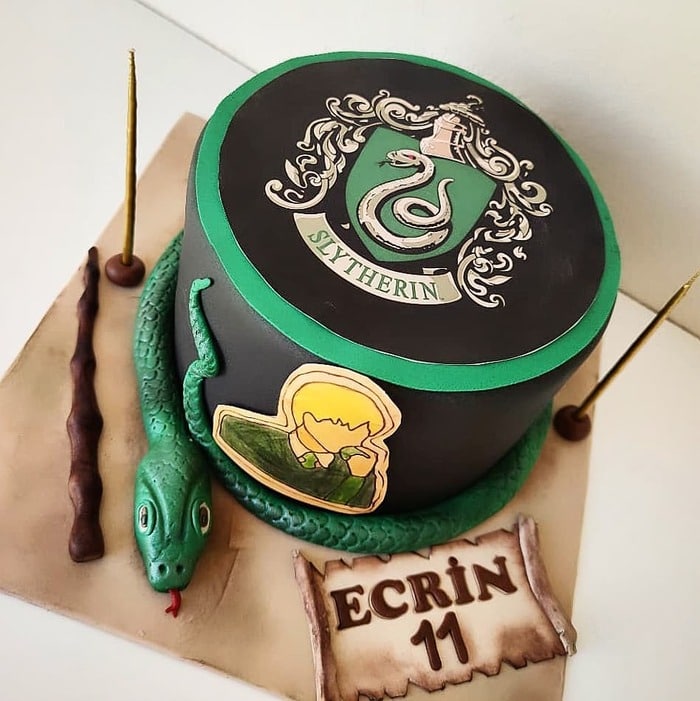 22. Anaconda Cake
Pop culture is rife with anacondas. They're Sir Mix-a-lot and Nicki Minaj approved. Our anacondas do want some of this cake, though. Seriously. You try subsisting on a diet of raw mouse.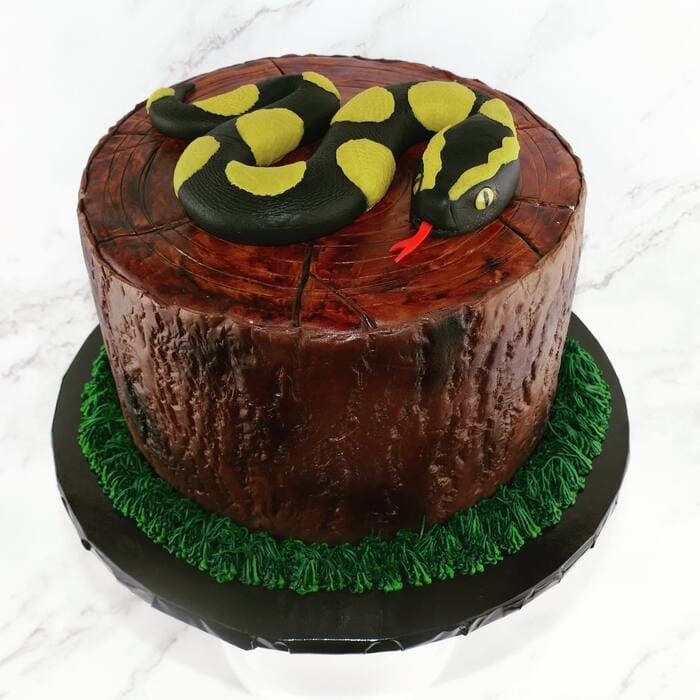 23. Medusa Cake
Have you ever heard the saying, "When life gives you a bad hair day, eat some gummy snakes?" We haven't either, but that doesn't mean it isn't good advice. As a bonus, they won't turn you to stone on sight.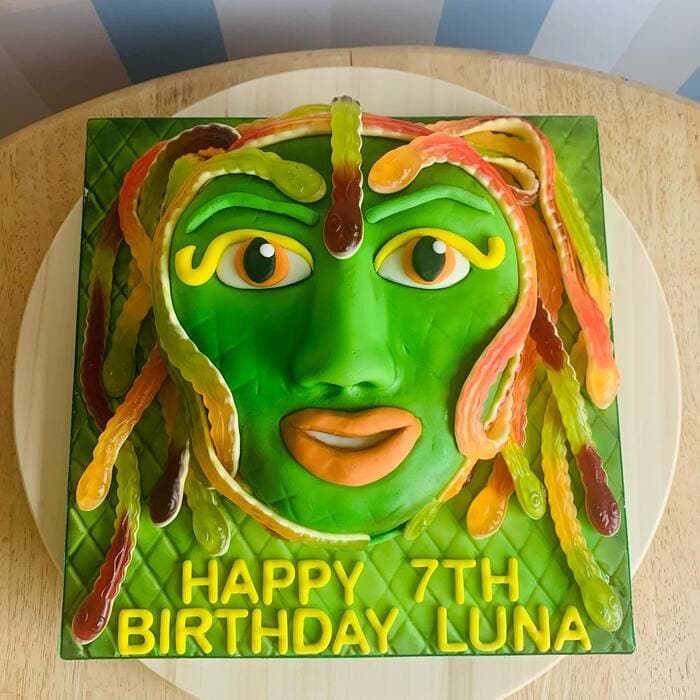 24. Holiday Snake Cake
Forget the milk and cookies on Christmas Eve, as this Moroccan-inspired snake cake will leave Santa clamoring for more. If the candied clementines mysteriously go missing, check with the reindeer. No wonder their dental insurance is so high.
25. Medusa Cake
These snakes rock. Just don't ask them to rock a scrunchie.
26. Hissing Snake Cake
Somehow we don't think this snake would find our jokes hiss-terical. Ahem. Okay, time to run now.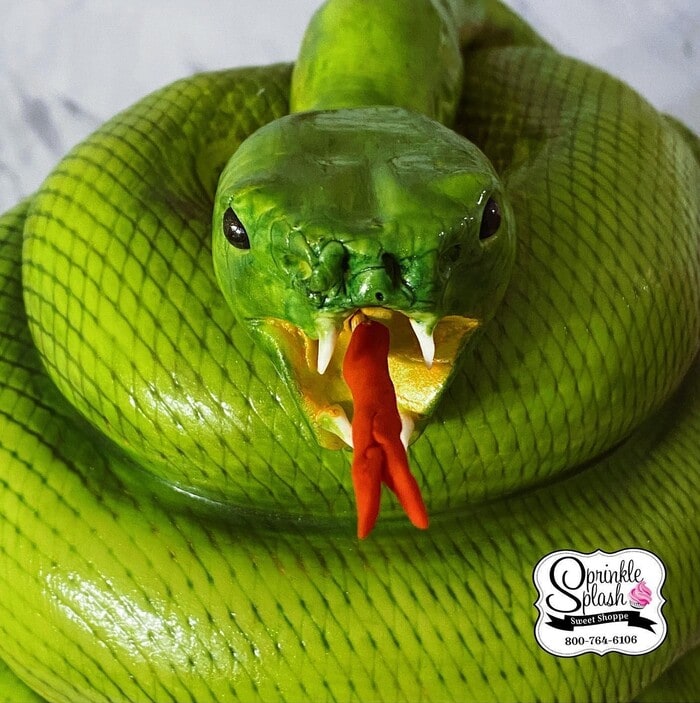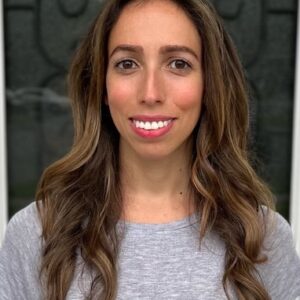 Latest posts by Danielle Cappolla
(see all)