Time is a social construct, which is why we're perfectly happy to anchor our reality to the Trader Joe's calendar. Heck, we didn't even realize it was August until the new Fearless Flyer dropped. And with it, tons of new August Trader Joe's items!
As the TJ's product rotation would suggest, we are in the last hurrah of the summer months, just before Pumpkin Spice season takes over. And it's clear that your local grocery is going to go down swinging.
Lining the shelves this month are new additions and the return of old favorites. These items feature bright and zesty flavors, including dill pickle, jalapeno, lime, dill pickle, peach, dill pickle, berry, and dill pickle. Now where'd we put our blender?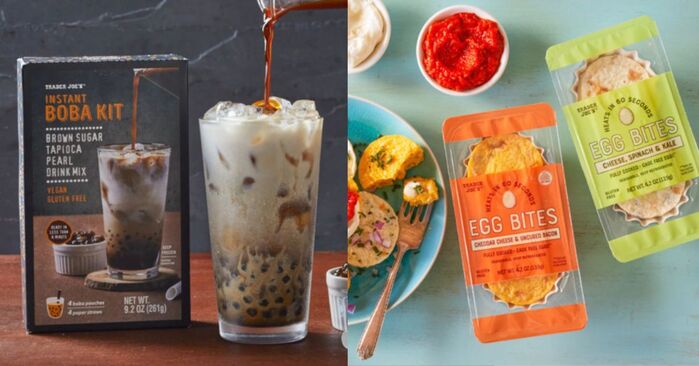 Whether they are new-comers or classics that have made a triumphant return, we've gathered a few choice items you can find this month at your local store.
20 New Trader Joe's Products For August
1. Instant Boba Kit
Trader Joe's is nothing if not attuned to the desires of the masses. They took our love for bubble tea and added the beloved tapioca balls to coffee and black tea desserts.
And now, they're giving us the tools to fly on our own with these (almost) ready-made tapioca balls. We don't know about you, but we're ready to get creative with what we can put them in. Don't try to cage us!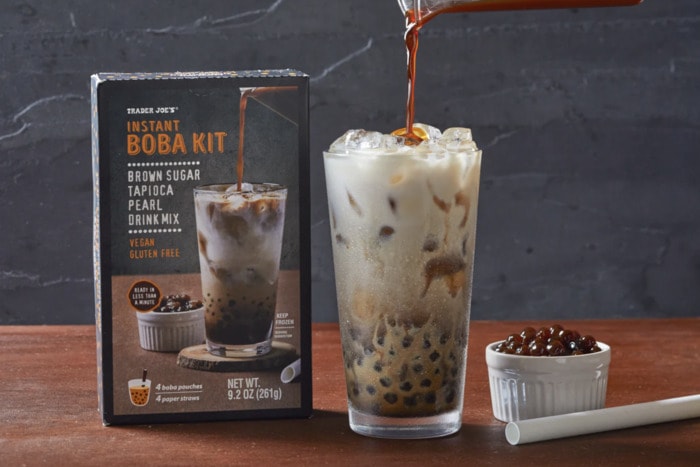 Available at Trader Joe's.
2. Egg Bites (spinach, cheese, and kale; cheddar and bacon)
Breakfast is the most important meal of the day, so why not do it right? And how else do you do something right other than adding cheese to it?
It's a moot point, because both the veggie and the bacon option of these egg bites include cheese goodness. They'll have you waiting on tenterhooks in front of the warming device as you get ready to fuel like a champion.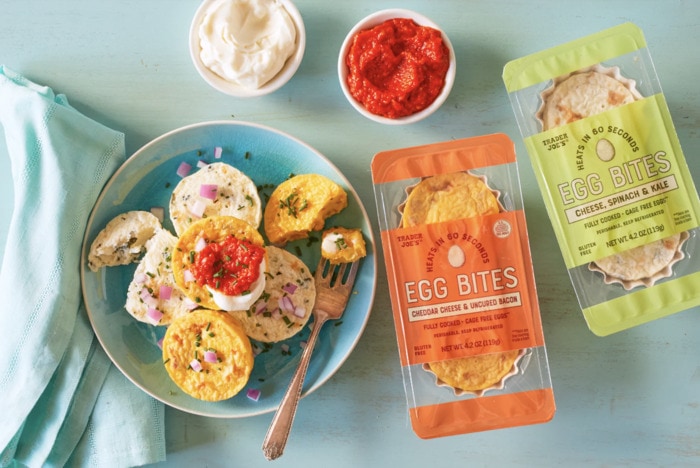 Available at Trader Joe's.
3. Chili Pineapple Kettle Corn
We're suckers for kettle corn products, especially when they keep on our toes by including something that offsets the sweetness. Enter: the spicy chili, struttin' its stuff all over that sugary pineapple.
The chili adds enough heat to remind you that it's there and it's ready to party. But it's not so much of a kick that you need to stop and gasp for non spicy air.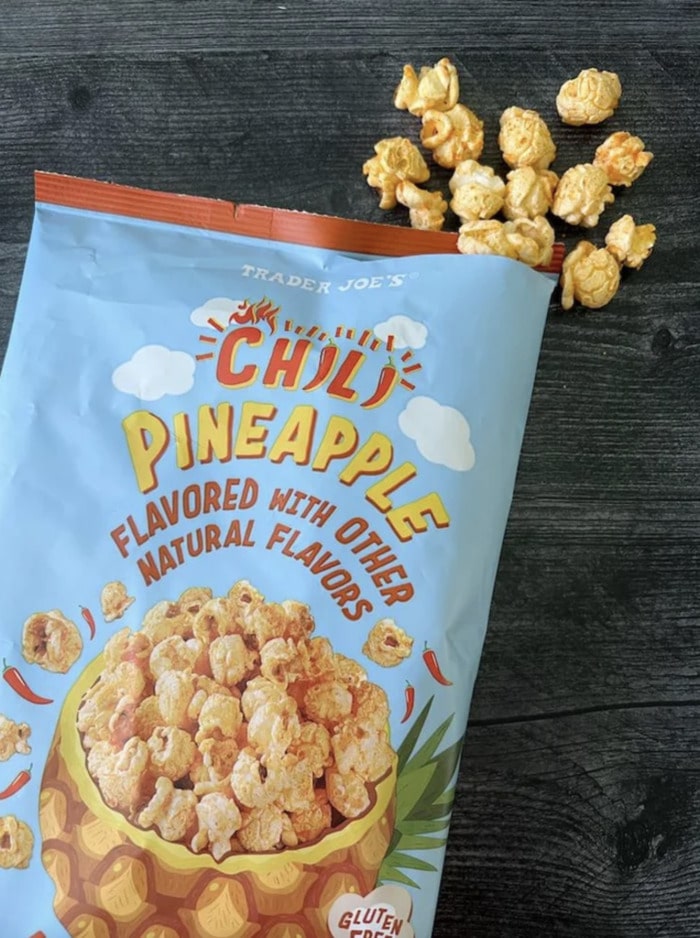 4. Horchata Ice Cream
Horchata is already creamy, dreamy, and sweet, so it was a natural evolution to ice cream. Cinnamon, brown rice flour, and sea salt round out the ice cream base, which is only made better than the horchata cookie inclusions. Yeah, they went there.
If you're missing the sippability of horchata you could A) just get horchata, or B) make a milkshake and enjoy the beverage circle of life. Option A is fine. But Option B is that kind of above-and-beyond attitude that you've put on all of your resumes. Now's your chance to prove yourself.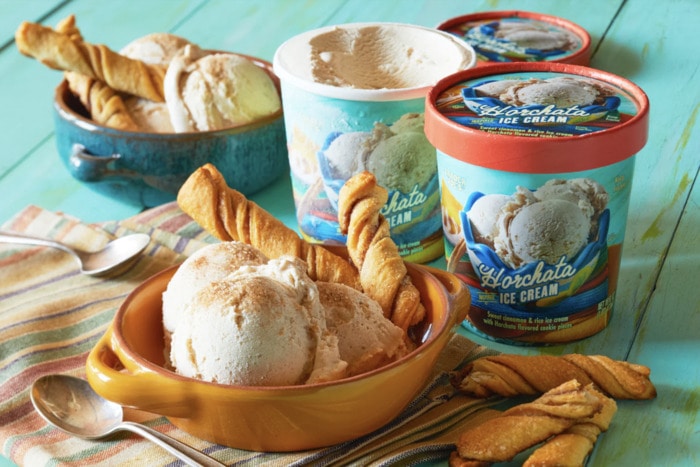 Available at Trader Joe's.
5. Peanuts In a Pickle
One of the most impressive things about Trader Joe's is the sheer number of ways they've offered people the flavor of a dill pickle…without actually having to eat a dill pickle.
A testament to creativity, and the perfect defense if anybody ever accuses TJ's for having a hand in the cucumber shortage.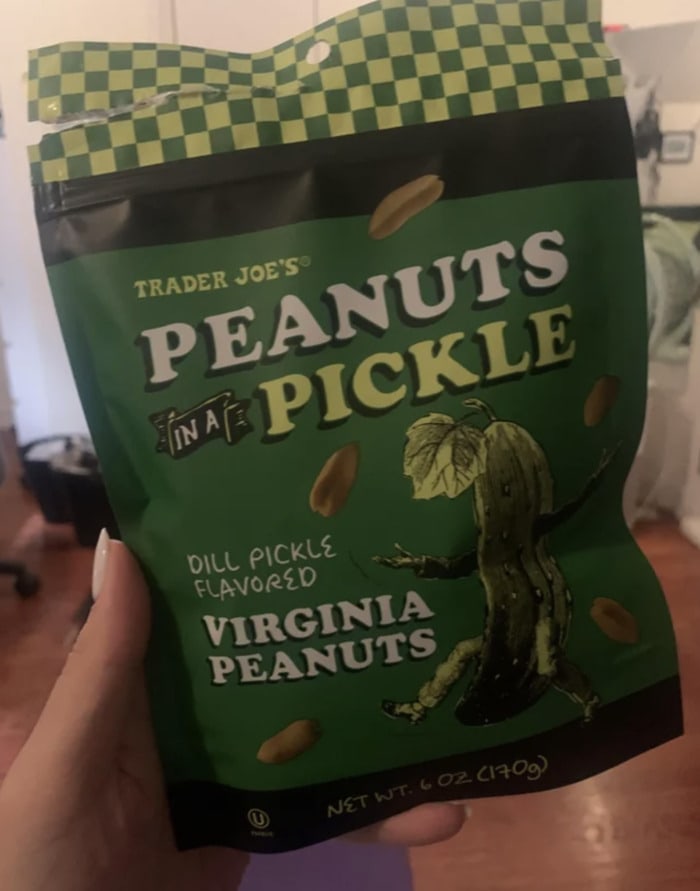 6. Hula Cruncha
Is it a delicious popcorn and rice cracker snack, or a terrible pun? Don't worry, it's the first one! Definitely not the second. Never the second.
7. Blueberry Dream Frozen Dessert Bars
Plain blueberries are great. The sweet little fruit jewels are enough to make us forgive the blistering temperatures of summer, and all of the cute clothes it makes us sweat through.
But Trader Joe's has transformed the bloobs into an extra special frozen treat that'll cool you off while you're eating it. And, it'll equip you to build a sweet house of tongue depressors after you're done, where you can live while thinking about how the economy will never allow you to buy a real house.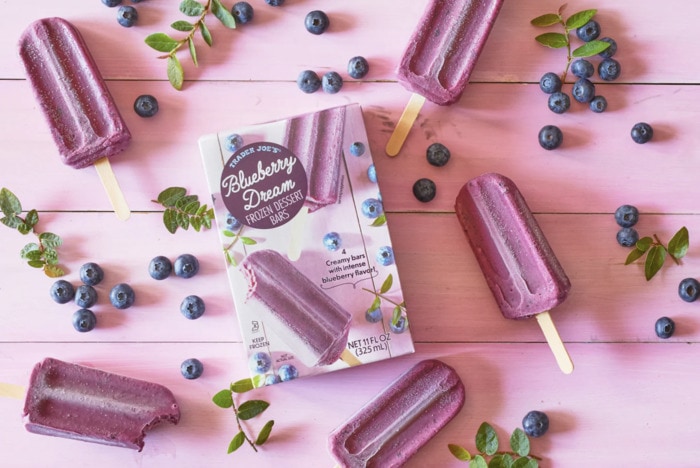 Available at Trader Joe's.
8. Strawberry Waffles
What better way to celebrate having binge-watched season 4 of Stranger Things than with waffles?
They may not be Eggos, but the delicious addition of strawberries inspires forgiveness everywhere. And makes it summer AF. (Technical term, we're sure.)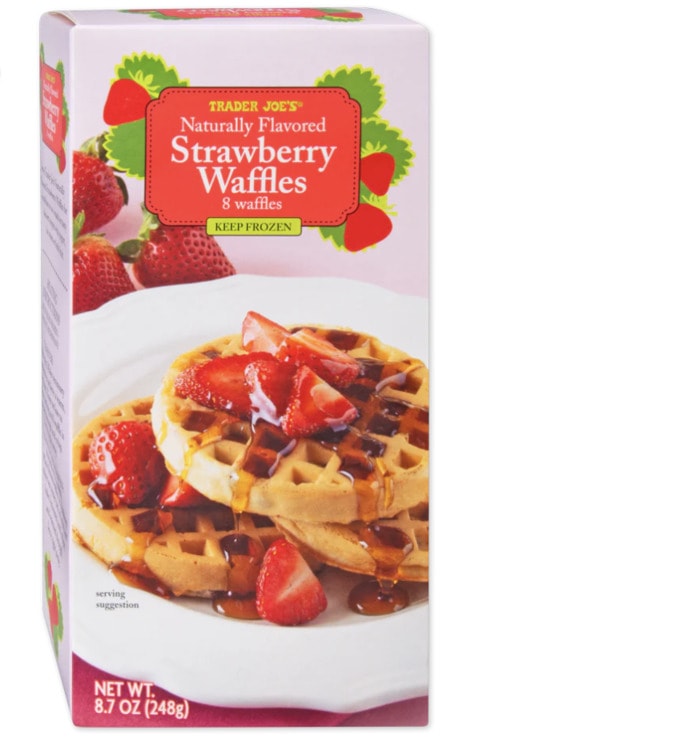 Available at Trader Joe's.
9. Watermelon and Peach Macarons
We reviewed these as part of our Trader Joe's macaron taste test, which may or may not have been the highlight of our very exciting summer. We're happy to report that they're a classy way of getting the bright, sweet flavor of peach and watermelon gummy candies.
Confusing? A little. Addicting? Very.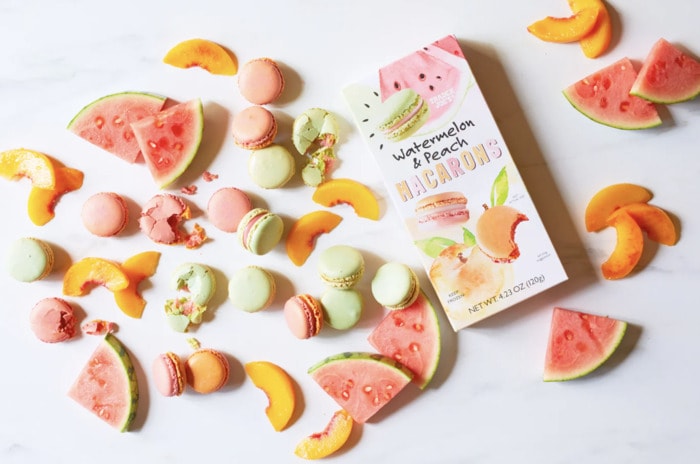 Available at Trader Joe's.
10. Layered Beef Tostadas
We all know the age old adage – ogres have layers. So, too, do Trader Joe's frozen tostadas. But the tostadas don't come with nearly as much emotional baggage.
The toasted tortilla is topped with seasoned ground beef, cheese, and your standard taco fixings. This lets you enjoy all of the flavors of a taco without awkwardly trying to angle your head to fit the folded tortilla into your mouth.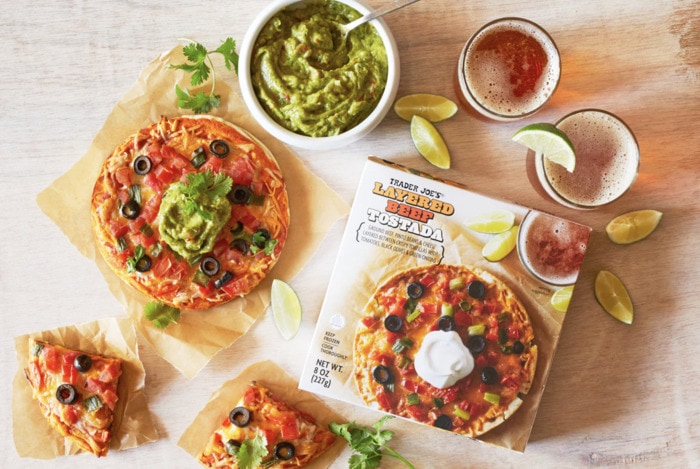 Available at Trader Joe's.
11. Garlic and Jalapeno Stuffed Olives
These olives make a martini so stellar you won't even be mad about shelling out extra bucks for a pack of breath mints after.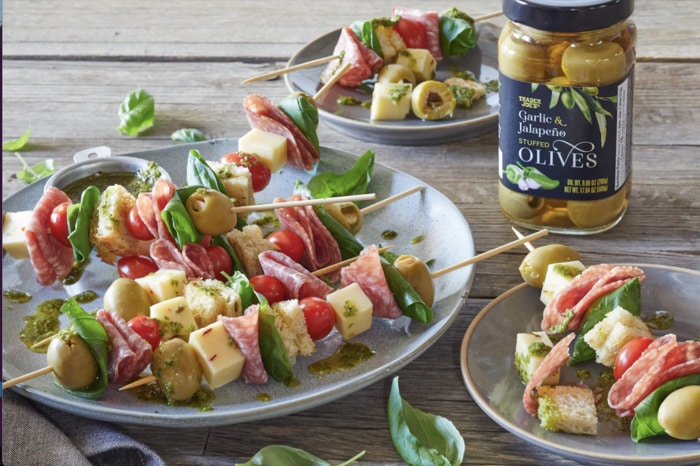 Available at Trader Joe's.
12. Crunchy Jalapeno Lime and Onion
This is just listed as "Crunchy Jalapeno Lime and Onion," so it might be hard to know what you're getting yourself into. Is it the ingredient list? Is it a sauce? A spread? A paste? The answer: It's whatever you want it to be. It's a way of life.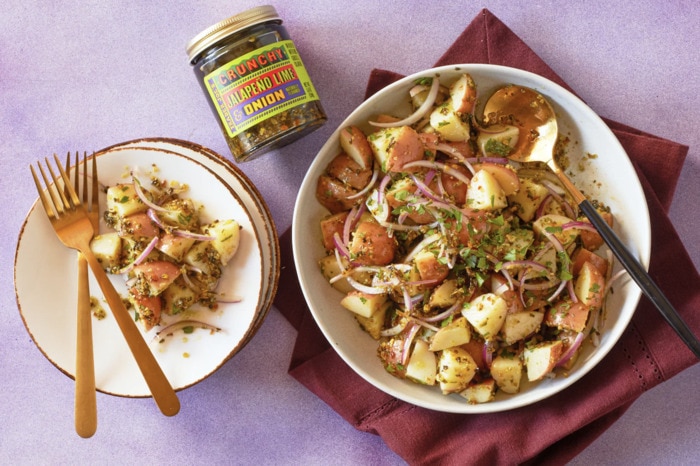 Available at Trader Joe's.
13. Red Bell Pepper, Garlic, and Parmesan Cream Cheese Spread
We used to sit thoughtfully with our bagels, thinking about how we both had an unfillable void.
Our void, thankfully, has finally been filled with this savory spread. The bagels still have a hole, but now it's covered with this delicious topping. And bagels don't have feelings anyway so hush up and eat your breakfast.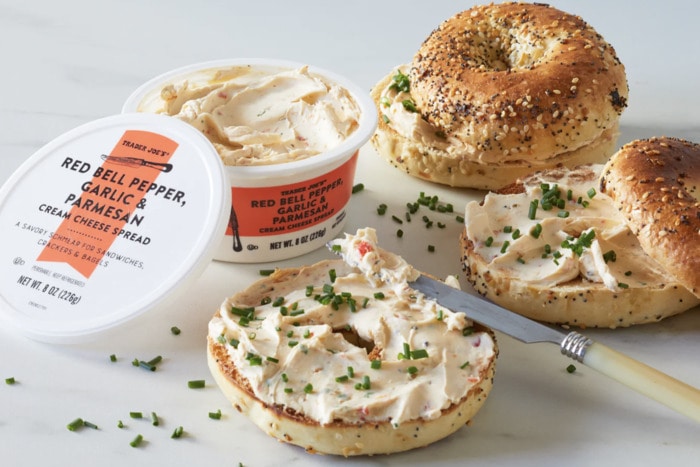 Available at Trader Joe's.
14. Cauliflower Crisps
These past few years, cauliflower has been carrying the weight of the trendy culinary world on its back. And it seems it has no plans of stopping.
Now, let cauliflower carry the weight of delicious dips and spreads on its back. Enjoy these crispy rounds as you contemplate just how you might thank cauliflower for all its done for us.
And, if you're doing okay…considering you're treating cauliflower as sentient (but still eating it, nonetheless). Nom nom.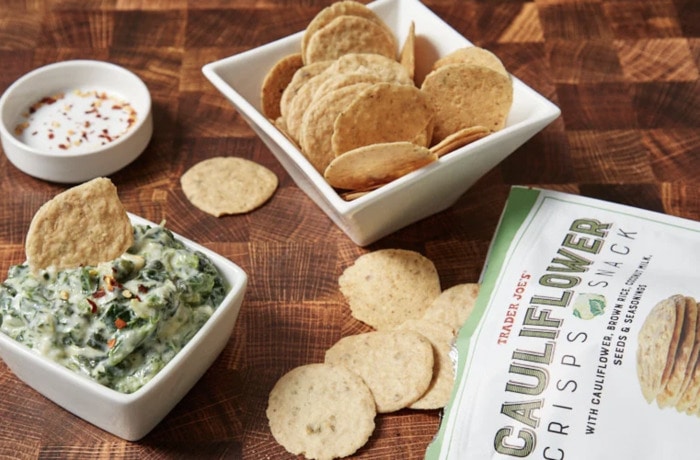 Available at Trader Joe's.
15. Whole Milk Made With Fair Trade Cocoa
Our inner child was so excited to see chocolate milk, and our ethical adult was so excited to see fair trade. Grab a crazy straw and re-watch Arthur. Then get grounded for talking for more than an hour on the phone.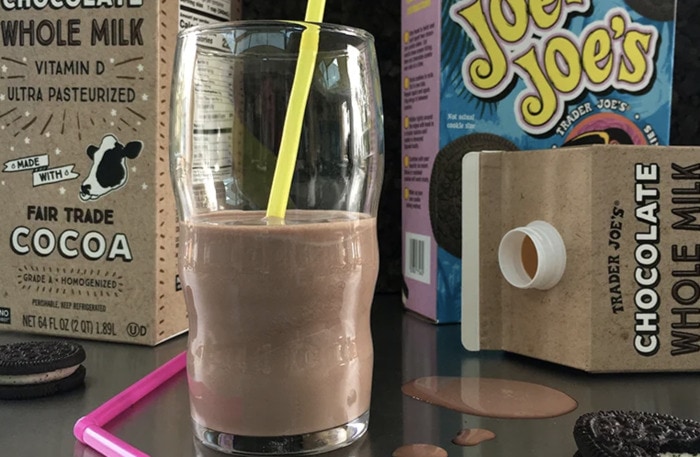 Available at Trader Joe's.
16. Sparkling Coconut Water with Yuzu
*Description for this item not found. It's off on a tropical vacation*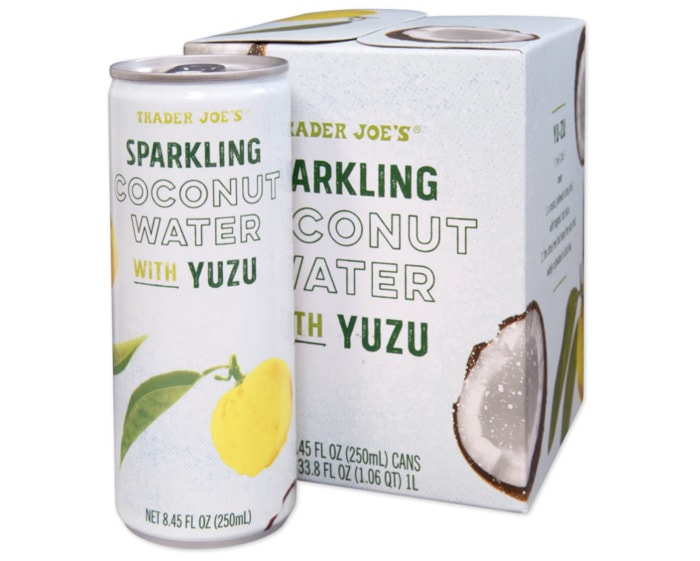 Available at Trader Joe's.
17. Crunchy Chili Onion Peanuts
It's been a while since the crunchy chili onion spread has first graced our TJ's shelves, and we've been putting in and on everything ever since. A lot of us thought it couldn't get any better, but the marketing geniuses decided to ask "what if we made it even crunchier?"
Now the pantry staple we've come to love tenderly hugs the crevasses of peanuts. Man, we wish we were peanuts.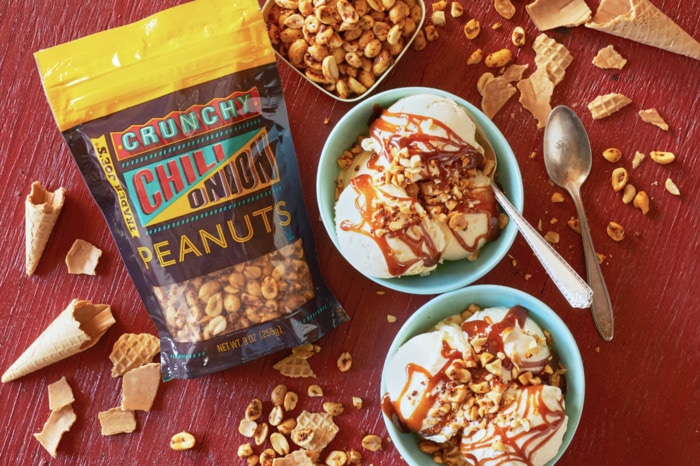 Available at Trader Joe's.
18. Strawberry and Rhubarb Hand Pies
These are a perfect mobile snack for when you want to walk around the produce section pretending to look for rhubarb so you can make your own pie…before sneaking a few more of these pre-made ones into your basket.
Take them out of the package and put them on a pretty platter. Grandma will never know you totally ignored her secret family rhubarb pie recipe. Or ours.
19. Seasoned Waffle Cut Fries
Waffle fries are brilliant because yes, they're delicious. But they also get free advertising on social media! #Right? That hashtag look familiar? Oh, you're getting hungry? Funny how that works.
20. Peach Mango Scented Foaming Hand Soap
Peach mango juice is one of our favorites, and now we don't have to dunk our hands in a carton of Dole juice to get that sweet scent on our hands! What a waste of juice.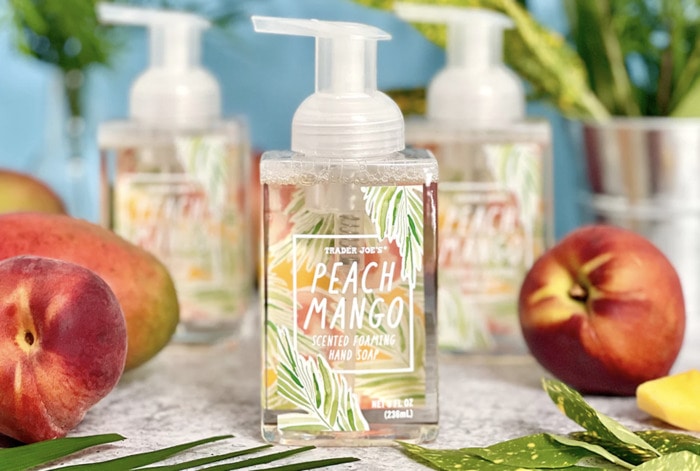 Available at Trader Joe's.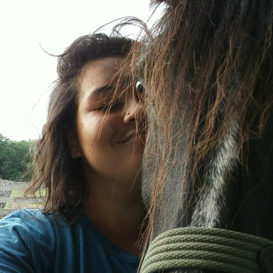 Latest posts by Hebba Gouda
(see all)