Growing up, I (like, most kids) was a fan of cereal. I was, however, not a fan of milk in my cereal. The minute my cereal got the least bit soggy, I would spend the rest of breakfast trying to see how much of it I could glue to the sides of the bowl before I could deposit it in the sink.
So, when my business partner alerted me to the new Tropicana Crunch breakfast cereal this morning, my initial response was: "Ew."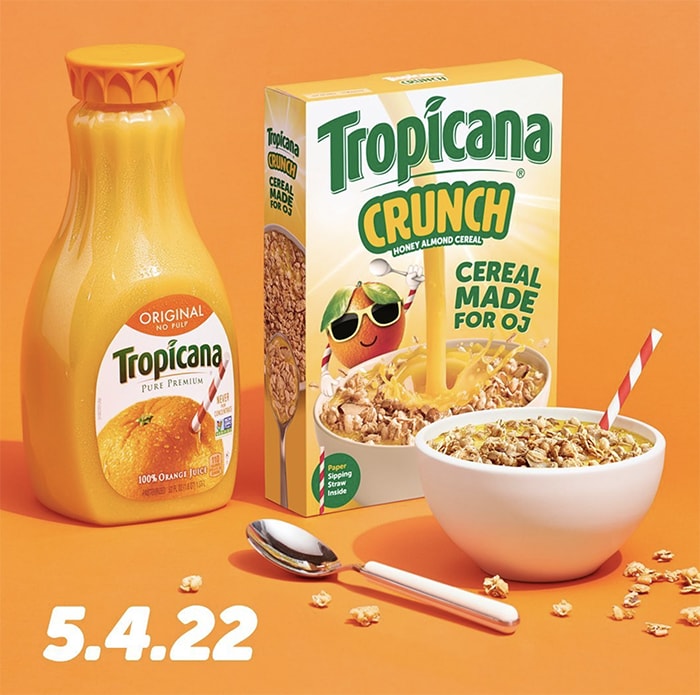 Tropicana Made Cereal?
Yes. It seems there's an ongoing flavor pairing competition to see how weird stuff can get. I thought we had see it all with Oreo wine and candy-flavored Mac and Cheese, but no.
There's since been mac and cheese-flavored ice cream and gummies (seriously, someone go check on the folks at Kraft).
And now, Tropicana has thrown their hat in with Tropicana Crunch, a cereal meant to be "enjoyed" with orange juice. It comes complete with a paper sipping straw to enjoy your cereal-flavored orange juice at the end.
They're launching it for Star Wars Day National Orange Juice Day on May 4th.
— Albert ジェローム Foxx 🥱 (@rockym494) April 25, 2022
Anyway, look, I get it, cow's milk is bad. But, when it comes to dairy alternatives for your morning meal, I feel like you've got to find something that works between almond milk, oat milk, and the newest milk on the block: pistachio.
Going all the way to orange juice feels like either you're eating breakfast still high from the night before (in which case, carry on) or have thrown every ounce of common sense and dignity to the wind. You're also wearing Crocs, aren't you?
Where Can I Get This Cursed Breakfast Cereal?
Well technically you could try this beastly concoction with any breakfast cereal. And, according to Tropicana, 15 million people have combined orange juice and cereal before. On May 4th, the OJ company will be giving away boxes of the crunchy honey almond cluster cereal here.
If you do want to try it, a Tropicana spokesperson told Food & Wine that "after testing multiple flavors and textures, the company opted for a granola-based cereal because it can withstand the acidity in OJ better than things like flakes, which would go soggy more quickly. And the honey almond flavor was chosen to balance against the orange juice's tartness."
I'll be reserving my orange juice for mimosas. That's a complete breakfast, right?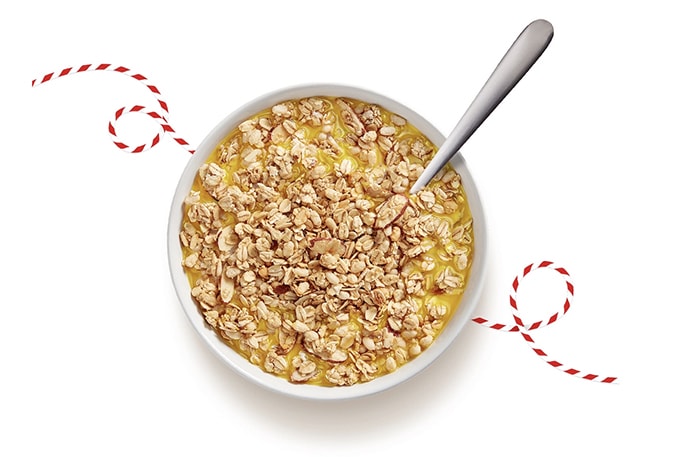 We Should Mention There's Also a Poem.
Better than some of the stuff I wrote in high school. Worse than e.e. cummings.
Orange juice on cereal.
Some call it weird. Some call it breakfast.
We… didn't even know it was a thing.
But turns out, there are totally normal people
amongst us juicing up their cereal bowls.
You might be one of them!
So for those who are cereal curious like us,
we made Tropicana Crunch.
Cereal that's down to be drowned in OJ.
Honey almond clusters that are
made to be spooned and sipped.
A breakfast taste test we can all take together.
Because whether you hate it or love it,
you won't know until you try it.
Tropicana Crunch
It may not be for everyone
(but it could be for you!)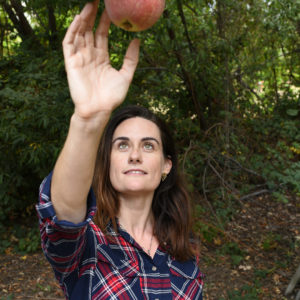 Latest posts by Rebecca Swanner
(see all)