If you're anything like us, you're the first to put your tree up and don your fancy sweater after Thanksgiving. After the holiday movie Elf came out in 2003, watching it became our favorite way to start the Christmas celebrations. And while we never wanted to remake Buddy the Elf's maple syrup-laced spaghetti breakfast, the new General Mills movie-inspired Elf cereal sounds pretty tasty.
The Elf cereal features snowball-shaped corn puffs, green and red tree marshmallows, and a sweet maple flavor that would win over even the grumpiest elf, especially if enjoyed over oat milk.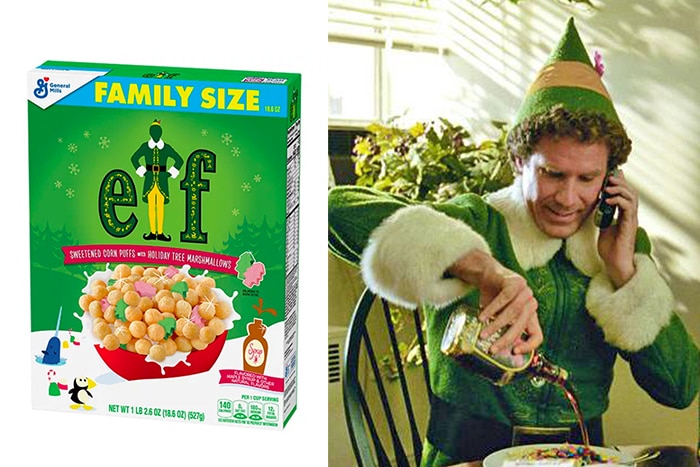 You might even think about leaving Santa a bowl of breakfast-friendly holiday cheer with a bowl of this cereal on Christmas Eve along with some cookies. Or, bribe that annoying elf on a shelf with a bowl or two or twelve since maple syrup is one of the four food groups elves love. (Along with candy, candy corn, and candy canes.
General Mills hasn't said exactly when we can start packing our pantries with Elf cereal, but it told People it's already available in some location and will sell for $2.50 for a medium box and $3.99 for a large box.
If it hasn't reached a store near you yet, try to be patient. This cereal will take a trip through the seven levels of the Candy Cane forest, through the sea of swirly twirly gum drops, and through the Lincoln Tunnel before it lands on the shelves of your local grocery store. In the meantime, we'll be watching Elf on repeat and polishing our favorite spoon.
And, if that's not sweet enough for you… they're also bringing back Sugar Cookie Toast Crunch.
This holiday season, General Mills is bringing back a Ho-Ho-G.O.A.T., and debuting a new maple Elf Cereal, too (spaghetti flavor not included). pic.twitter.com/xXHOsjSrIQ

— Cerealously 🥛🥣 (@cerealouslynet) September 26, 2020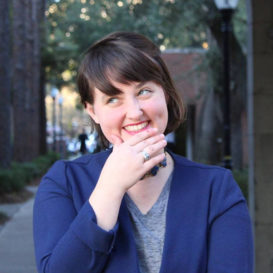 Latest posts by Laken Brooks
(see all)