Some people look forward to summer for the sunshine and warmth. We look forward to this cheery season for the new Trader Joe's summer items.
Of course, we love the year-round staples (hello, orange mandarin chicken) and we're unashamed of our love for the fall and winter seasonal items. But there's just something about the way Trader Joe's does bright, summer flavors that has us waving our hands about in celebration.
And not just to fend off mosquitos.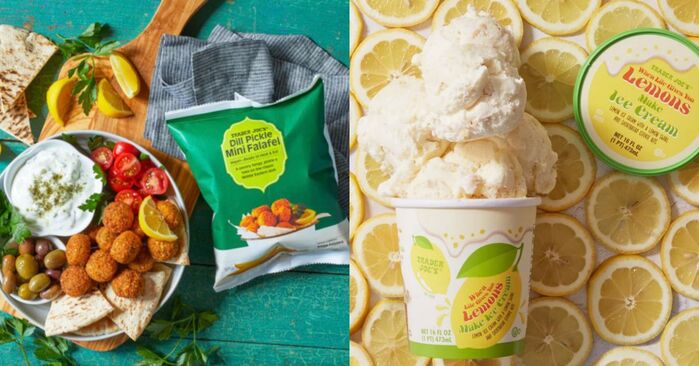 Many of these 2022 summer items are making their first appearance on the trendy-yet-reasonably-priced-shelves. So head to the store and snag these 17 summer Trader Joe's items as fast as the beach traffic lets you. And remember that waking up sweaty every night is at least a little worth it.
What's New at Trader Joe's This Summer (2022)
1. Beef Birria
You know what sounds delicious? Tender beef slow-cooked in a savory sauce of tomato and chile. You know what does not sound delicious? Having your oven on in the dead of summer long enough to slow cook that beef.
Luckily, Trader Joe's has got us covered! We can now enjoy the fruits of the trader's labor simply by reheating and eating this beef birria. Enjoy it with tortillas, rice, a fork, your hands…all is fair in love and slow cooked beef.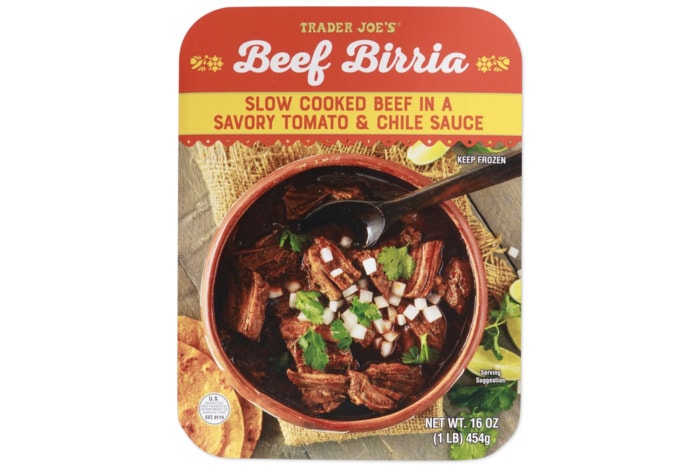 Available at Trader Joe's.
2. Truffle Aioli
We know it's summer, but here's a pop quiz: What's a surefire way to make anything taste fancy? Did you guess truffles? Congratulations, you get an A+!
You're the smartest person in the world and should celebrate by getting yourself a jar of Trader Joe's truffle aioli. Aioli is a creamy condiment translated to "garlic and oil," so already it's a winner. Add in some truffles and you've got your new favorite fancy dip.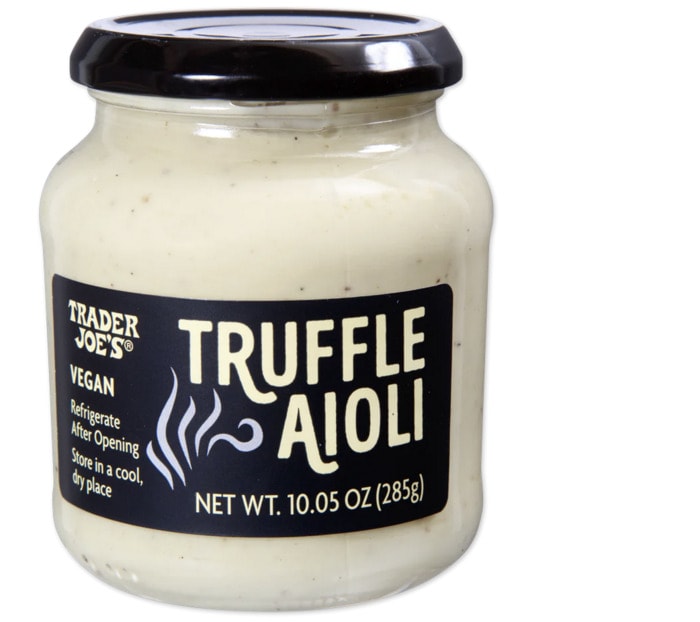 Available at Trader Joe's.
3. Strawberry Lemonade Joe-Joe's
Few things say summer like the combination of strawberry and lemonade. So, it pleases us greatly that Trader Joe's has taken it upon themselves to translate that into a Joe-Joe. These may be too sweet for some, but they definitely lean into the sweet, citrusy flavors.
In a way, they might remind you of patronizing your neighborhood child's lemonade stand. You know, that one where they didn't really make the lemonade right and they were charging $0.25 cents a cup and you didn't have the heart to tell them that they would absolutely get Chopped first and they'd never be able to hack it with inflation where it is these days.
But anyway, the cookies are good.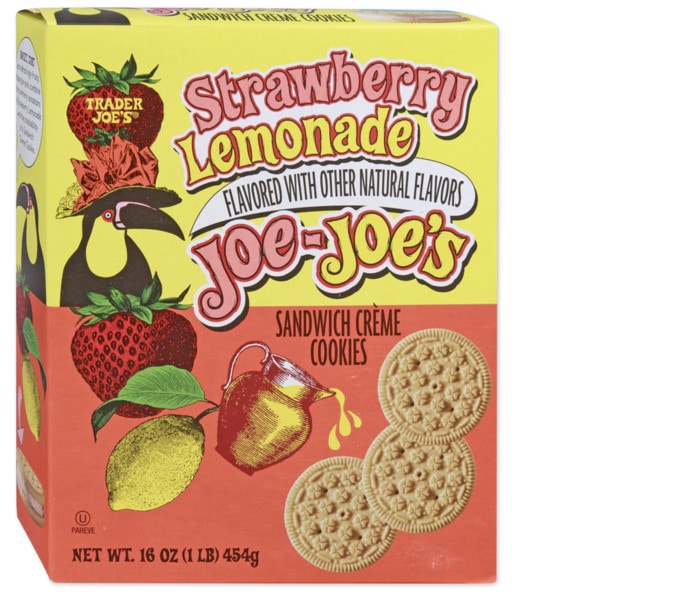 Available at Trader Joe's.
4. When Life Gives You Lemons, Make Ice Cream
While there's no bad time for ice cream, it really thrives in the summer. Especially when it combines its creaminess with a zip of lemon.
This little diddy is a lemon ice cream that features a lemon swirl and shortbread cookie bits. The combination of the bright flavors and the texture of the cookie will make you feel like you're walking through the lemon trees of Italy. Grab a glass of limoncello to go with it. Pair it with a lemon pie. The yellow fruit now runs your life.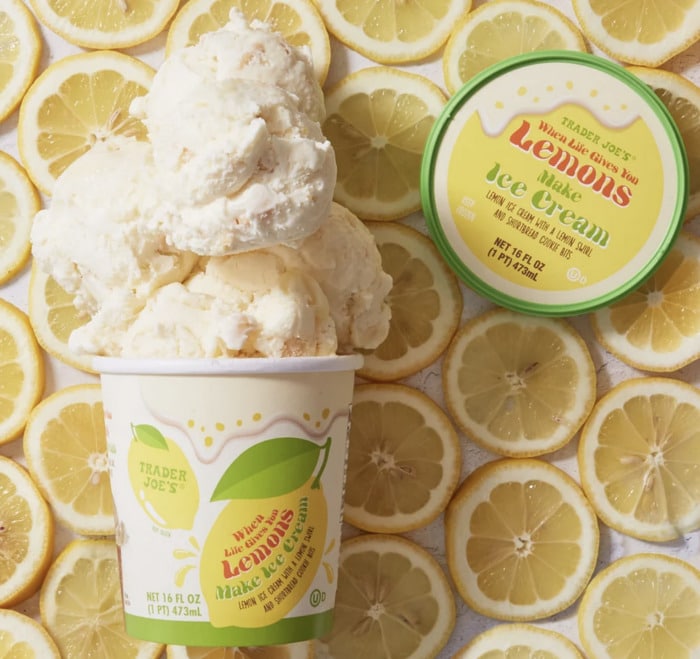 Available at Trader Joe's.
5. Ube Pretzels
Sweet, salty, twisted, and trendy. Is this the description of American Horror Story? Yes. But also of these tiny pretzels covered in ube yogurt candy coating.
Trader Joe's has a ton of sweet pretzel flavors, but the addition of ube into these provides a subtle and distinct flavor, as well as a cute purple hue. Because flavor is important, but style is where a snack can really shine.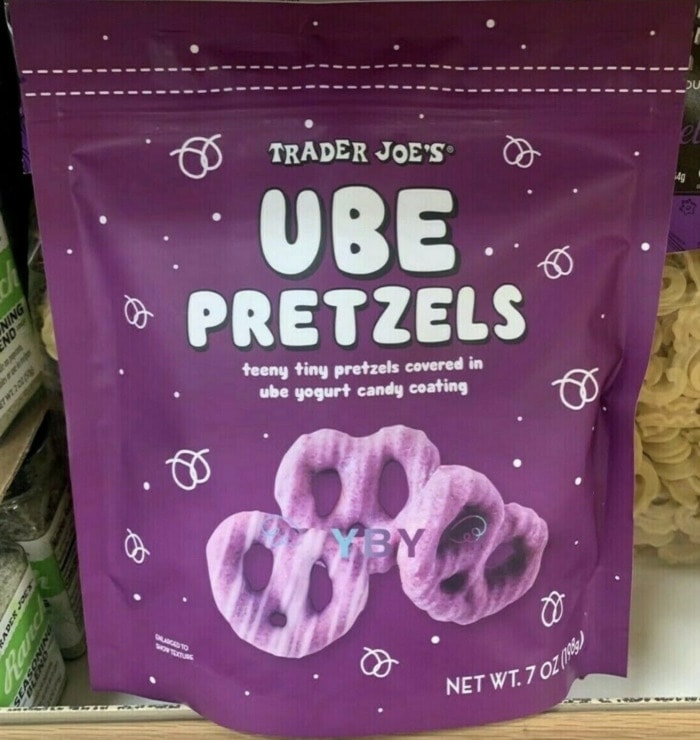 Available on eBay.
6. Seasoning in a Pickle
TJ's Everything But the Bagel Seasoning needs to watch out. Because this new blend is all the flavor of a dill pickle without the traditional cucumber vessel.
The mixture of dill, garlic, onion, and vinegar might not make your breath terribly inviting. But who really cares when you can spruce anything and everything up at the shake of a bottle? It's much cheaper than any sort of serious relationship, but may very well involve the same level of emotional attachment. Win-win.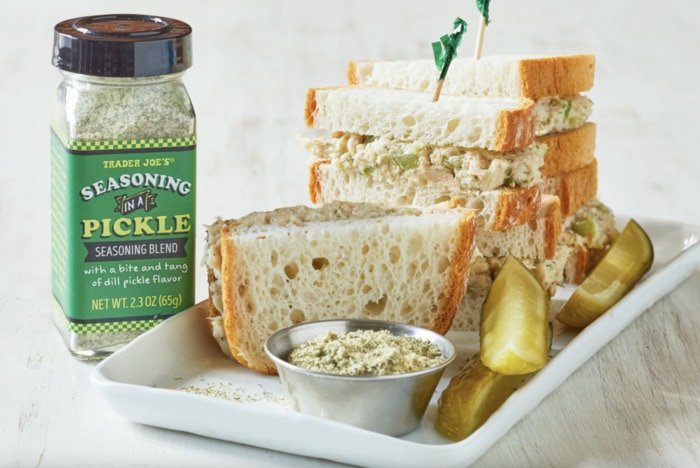 Available at Trader Joe's.
7. Cashew Butter Cashews
Is there such a thing as too much of a good thing? Yes. Fortunately, cashews are a great thing so there's no issue with this new Trader Joe's summer item. These are honey roasted cashews covered in cashew butter that are dotted with crushed cashews.
They're a great way to elevate your trail mix game, eat by the handful, or really sabotage that friend with a nut allergy. Leave it to Joe to play to the range of human desires.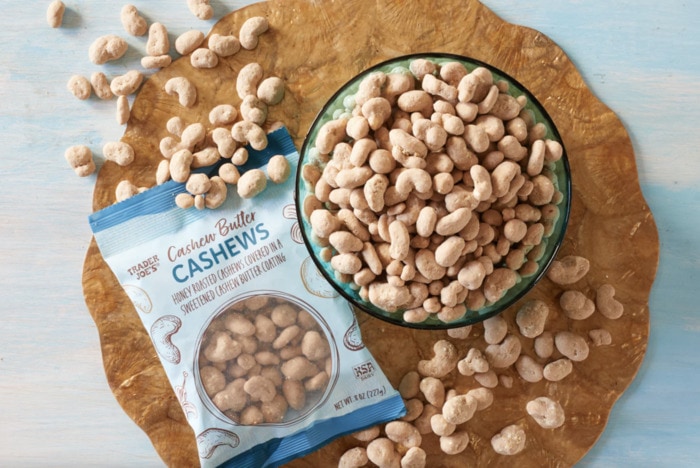 Available at Trader Joe's.
8. Jalapeno Mango Chicken Sausage
"Nobody loves me when it's not the Superbowl!" said the jalapeno. "We've got you, friend," said Trader Joe's.
A little bit sweet and a little bit spicy, you can add these into a pasta salad or eat them as a hot dog. You can braise them in beer or throw them onto a grill. A great summer bonfire might be as simple as sticking your weenie into the campfire. Cue: the giggles of middle school boys everywhere.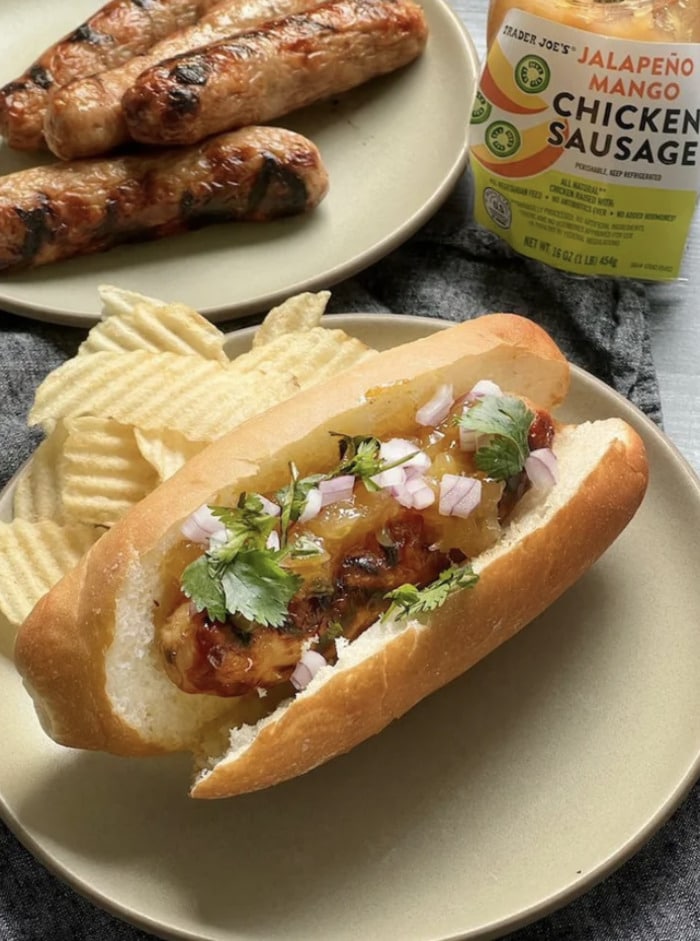 9. Creamy Cauliflower Mash
We can't think of a situation where anyone would be tired of potatoes. But for arguments' sake, let's say your burgers and hot dogs are craving a new buddy. Enter: Creamy Cauliflower Mash. A creamy side made of mashed cauliflower, butter, cream cheese, and sour cream.
This doesn't taste as tired as cauliflower must be from carrying the entire culinary world on its back these days. Rice? Pizza crust? Steaks? Cauliflower needs a summer vacation more than we do
10. Peanut Butter Caramel Coated Popcorn
Part of the magic of popcorn is how impossibly fluffy and crunchy it is. And rest assured, that quality is not lost even under two layers of delicious coating. In this Trader Joe's delicacy, each piece of popcorn is first covered in caramel, and then in salted peanut butter.
It's crispy, yet soft. Decadent, yet light. Sweet, yet salty. This snack transcends what we all might have mistaken for the boundaries of human possibilities. Now that we know this is possible, who knows what else we could achieve? World peace? Don't be ridiculous.
11. Fancy Cheese Crunchies
Unfortunately, eating Flaming Hot Cheetos out of a champagne glass with a salad fork does not make them fancy. At least according to that yacht club we got banned from. But we dare them to call us uncultured swine when we roll up with these cheese and truffle flavored crunchies!
They're flavored with cheddar (respectable), parmesan (fancy), and black truffle salt (platinum status). But they maintain all the fun of eating crunchy cheese sticks. We really can have it all.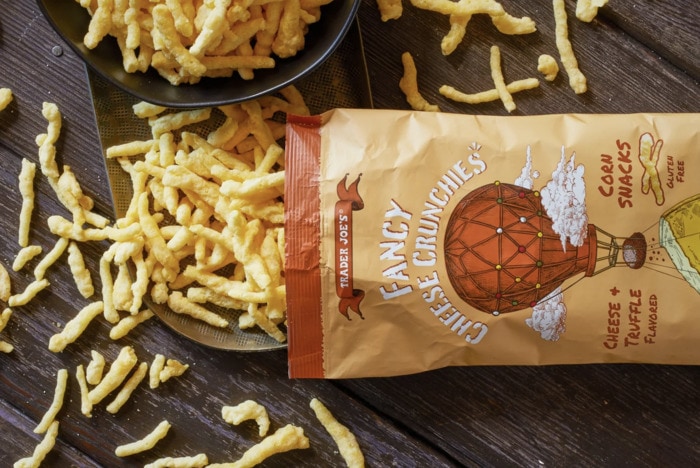 Available at Trader Joe's.
12. Thai Banana Fritters
Bananas may just be the MVP of fruit, but even the MVP can get upgraded. By getting deep fried, of course! *Note: Upgrade does not work on human MVPs.*
These slices of Namwa bananas are first dipped in a batter made with shredded coconut, coconut milk, rice flour, and sesame seed. Then, they're fried into a tropical treat that's crispy on the outside and gooey on the inside. They're great with ice cream, custard, or one million other pieces of thai banana fritters.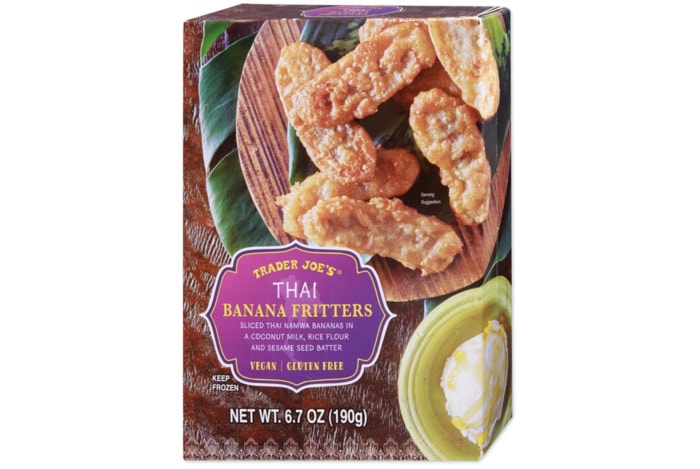 Available at Trader Joe's.
13. Dill Pickle Mini Falafel
Trader Joe's is just inches away from dethroning Nicholas Sparks as the great romance writer of our time, as proven in this marriage between dill pickle and falafel.
This snack is vegan and ready to heat and eat. It's a savory, tangy, pickle-y take on the classic middle eastern dish. And, they're a bargain at 40 pieces in each bag, so you only need to get a few hundred bags!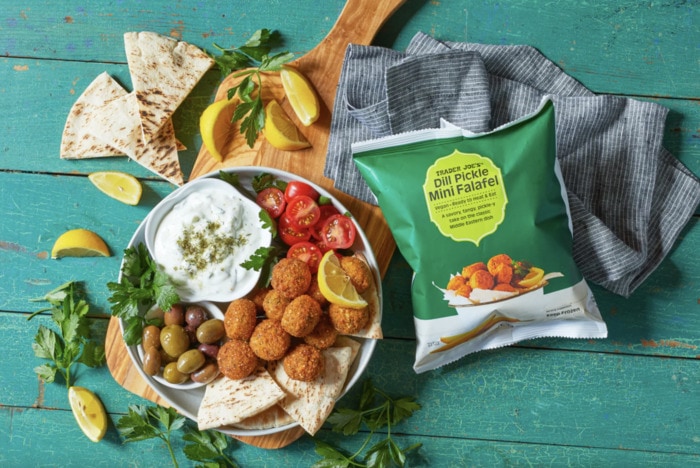 Available at Trader Joe's.
14. Sparkling White Tea with Pomegranate Juice
Yes, it's as refreshing as it sounds. This drink is bold, but not overly carbonated, and as bubbly as a manic pixie dream girl. You might pop the tab on this can and immediately feel like an influencer who's discovered the hottest new drink. But who can focus on your sun-kissed skin and flowy hair when you have such a delicious beverage in hand?
With its sweet pomegranate flavor and the subtle lightness of the white tea, it's as ethereal as a Lana Del Rey song. But instead of Summertime Sadness, it's giving us Summertime Sparkle.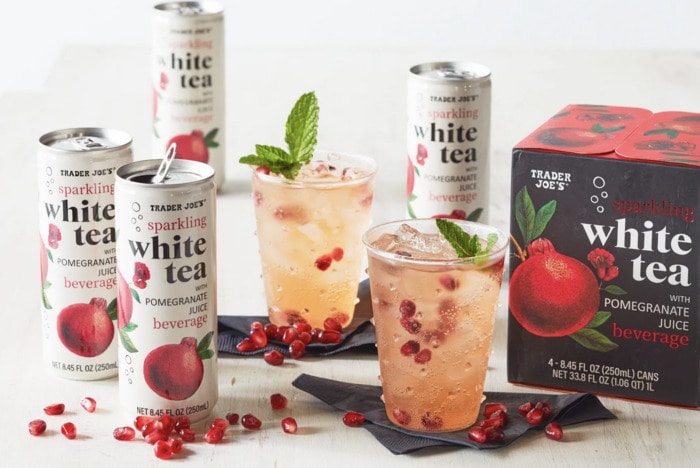 Available at Trader Joe's.
15. Blueberry Fields Hard Cheese
Nothing says summer like fresh blueberries, and this cheese understands that. This dairy dream is a nutty cheese that's upgraded by a blueberry puree, which adds sweetness and tartness, as well as a blue hue. Take notes, bleu cheese – you can add color without being mold.
You can melt it in your sandwich, shave it onto your salad, or add it to your cheeseboard after admitting to yourself that you're not above jumping on the bandwagon.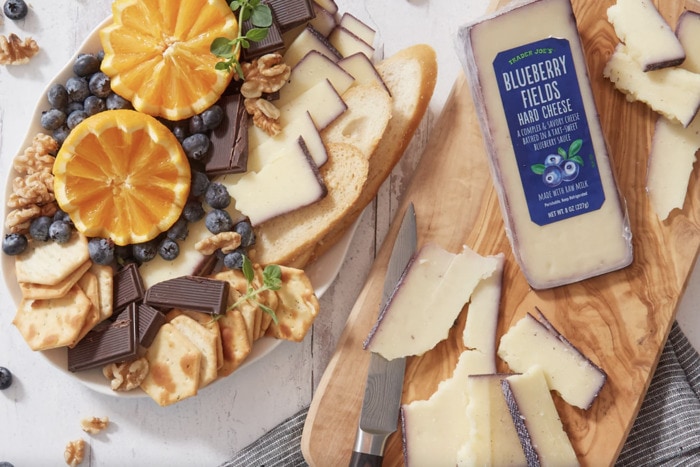 Available at Trader Joe's.
16. Ube Spread
Trader Joe's has plenty of ube offerings, but none of them spread the ube love quite like this ube spread.
You're free to add this sweetened ube puree to whatever your heart desires. Spread it on toast! Eat it with a spoon! Slather it on a raw ube and take a chunk out of it with your bare teeth! Maybe not the last one, but maybe you're a monster that can't be stopped? The entrancing purple color will do that to you.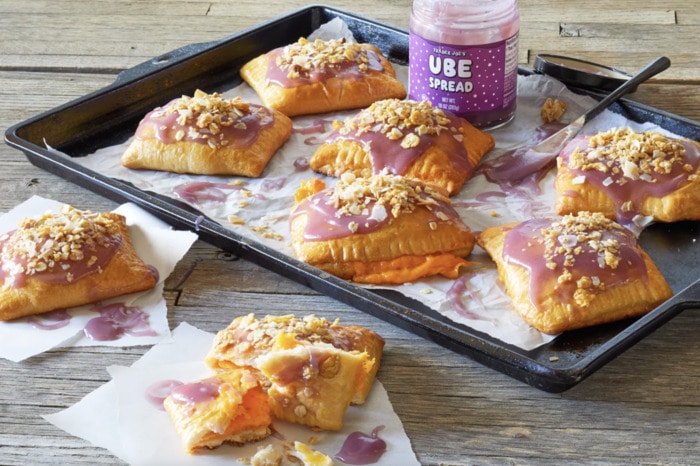 Available at Trader Joe's.
17. Artichoke Timbales
Ignore the urge to read it as "artichoke Timberlands" and picture this instead of vegetable shoes: a bowl of spinach artichoke dip and chips. Now, instead of the bowl, it's spinach artichoke dip. And instead of the chips, it's spinach artichoke dip. And instead of anything else that's ever caused you pain or suffering, it's spinach artichoke dip.
These timbales are made up of artichoke hearts baked with mozzarella and grana padano cheeses, essentially making them pucks of self contained artichoke dip, frozen and ready to reheat at your leisure. Can you think of anything better than one of these? You're right. Two of them.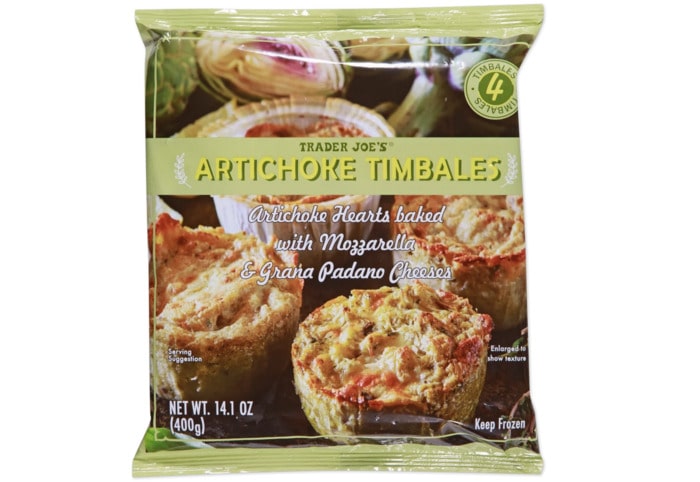 Available at Trader Joe's.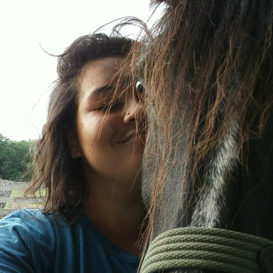 Latest posts by Hebba Gouda
(see all)