Trader Joe's deserves a prize for its ability to get people excited about August. Temperatures are so hot we're wishing it was Fall, yet feeling like it's too early for pumpkin spice everything. This year is no different, so here are the best new products arriving at Trader Joe's this August 2023. Ok, and some old favorites too.
We imagine additional fall products will be hitting shelves all month long. Just like us! We really need to take that cart driving course again.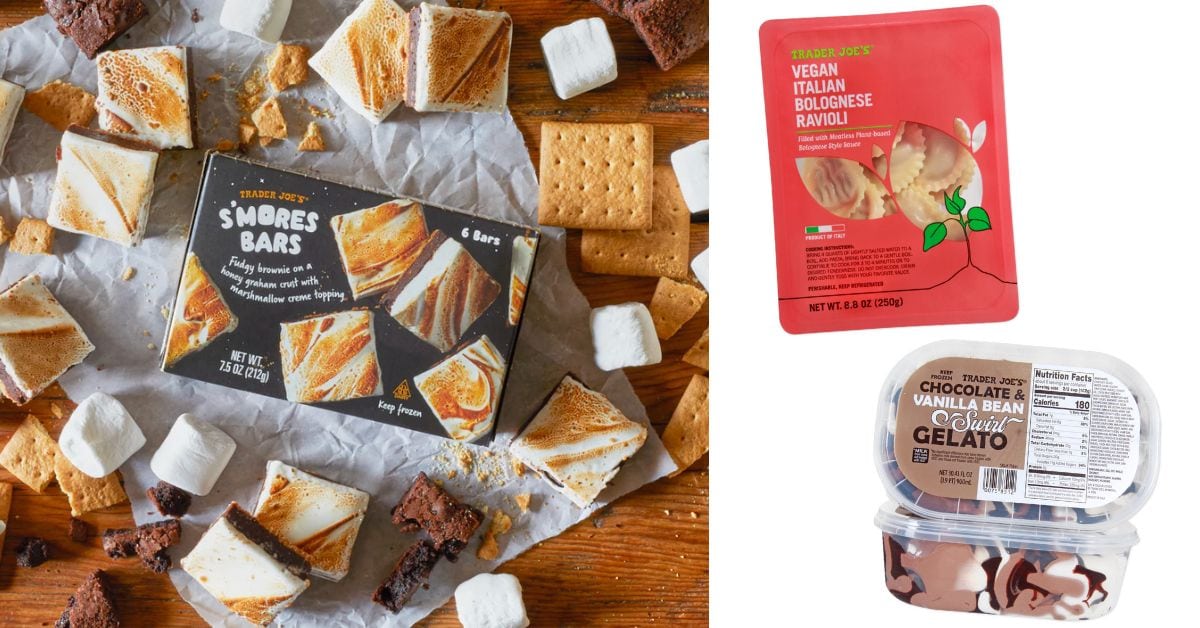 19 TJ's Products To Look For in August
1. S'mores Bars
Trader Joe's consistently crushes the s'mores game (pour one out for Smashing S'mores) and these bars are no different.
The graham cracker crust is generous, the chocolate comes in brownie form, and the marshmallows are pre-toasted so you don't have to watch your life flash before your eyes as your marshmallow is engulfed in flames, hoping to get that perfect toast. Unless you live for that danger, you rebel, you.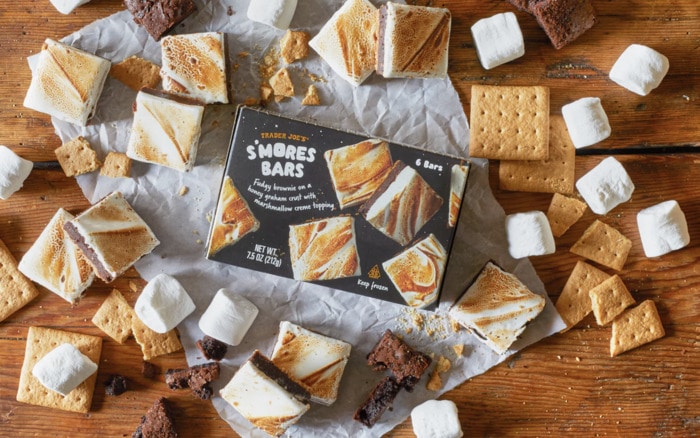 2. Dairy-Free Shredded Mexican Style Blend Cheese Alternative
No longer will your vegan or lactose intolerant friends have to feel left out of taco night! This dairy-free cheese blend has rave reviews, so now you'll have to come up with other reasons not to invite them.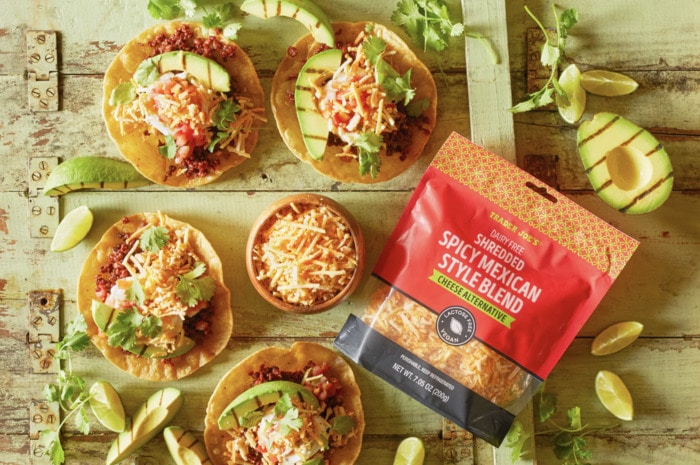 3. Tiny Fruity Cuties Cereal
Nothing says "blast from the past" like fruity cereal. This cereal has the look of a familiar childhood favorite, but doesn't involve ostracizing a poor rabbit who is just trying to get his nostalgic breakfast fix.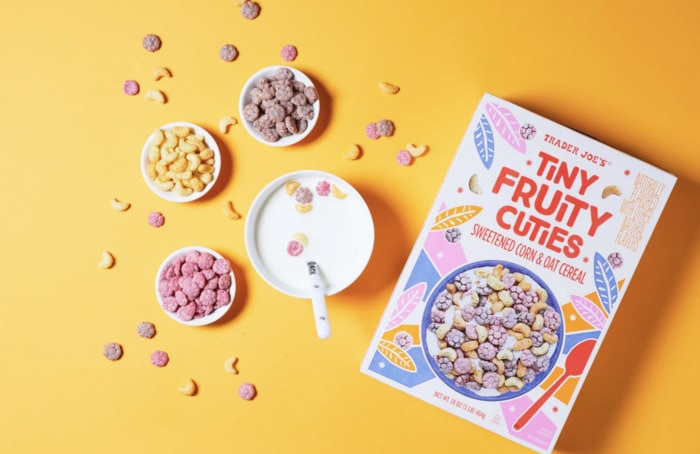 4. Egg Omelets with Cheddar Cheese
These aren't as fancy as the omelet from The Bear, but it's ready after only 20 seconds in the microwave, so the preparation probably involves considerably fewer years of formal culinary training and a whole lot less swearing. Unless you're really, really bad at using the microwave.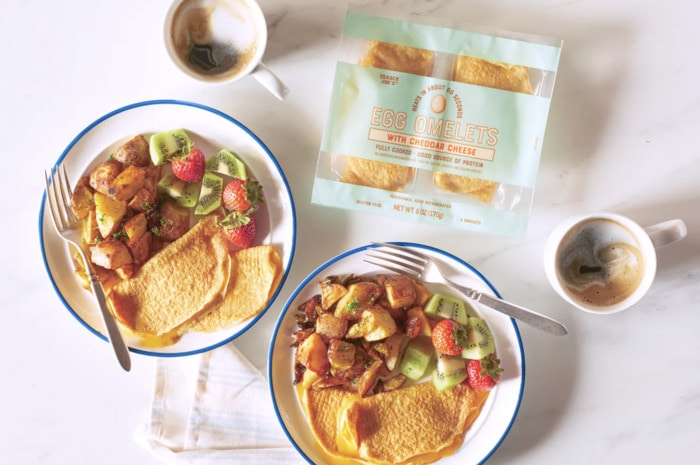 5. Dark Chocolate Pineapple Sticks
Since these aren't actual spears of pineapple but rather pineapple-flavored jelly covered in chocolate, customers should know going into this that they won't be getting true, fresh pineapple flavor. We're guessing you probably also figured that out from the fact that it's in a bag.
6. Chicken Breakfast Sausage Patties
Step aside, turkey bacon, there's a new poultry-based breakfast meat in town. Seasoned generously with all the flavors we love from regular breakfast sausage, these chicken patties can make themselves at home on our sausage, egg, and cheese any time. No that doesn't mean you get to help yourself to all our snacks.
7. Gluten Free Madeleines
We don't really understand how regular Madeleines can be so light and so moist at the same time, but to achieve this and keep them gluten free? We'd tell you but then we'd have to use the word moist again.
8. Pretzel Sticks
We love a crunchy snack, and these pretzel sticks are a great option for people that love their savory things just a little sweet. Please stop chewing on us. We need to type.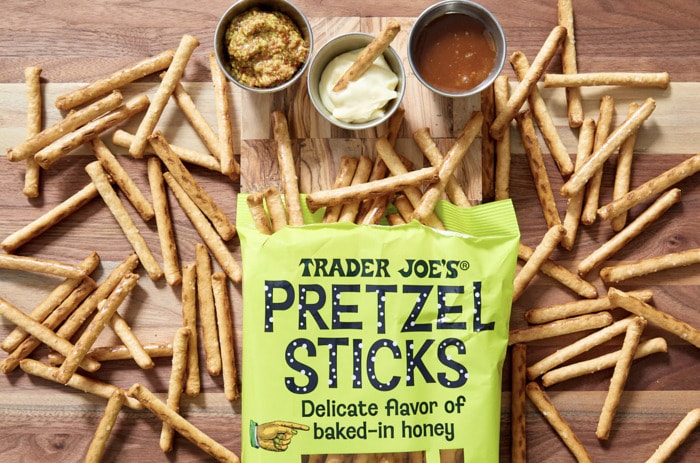 9. Chocolate and Vanilla Bean Swirl Gelato
Tired of trying to choose between chocolate and vanilla, and then just buying and eating both containers of ice cream, er, gelato because that's only fair? Thanks to this new August item, think of the freezer space and money you'll save now that you don't have to decide.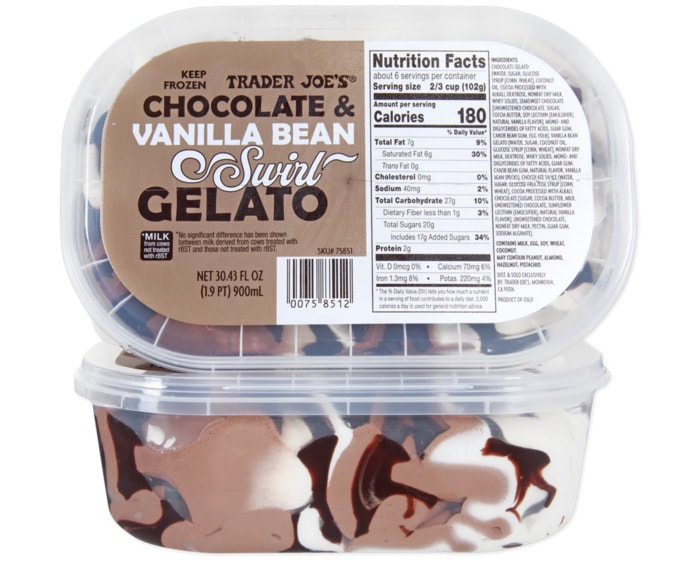 10. Passion Fruit Rounds
Unless you live in the tropics, passion fruit might be one of those flavors you see a lot of in fancy cooking competitions, but feel like you rarely encounter in real life outside of a Starbucks Refresher. Probably because it looks like the inside of an alien. But, here's Trader Joe's with these sweet, tart snacks to convince you it's delicious.
11. Celebration Cake Gelato
This is the most efficient product at Trader Joe's. It's ice cream and funfetti cake at once. 10/10 for the thought process, TJ's. And for not making one of those a VCR.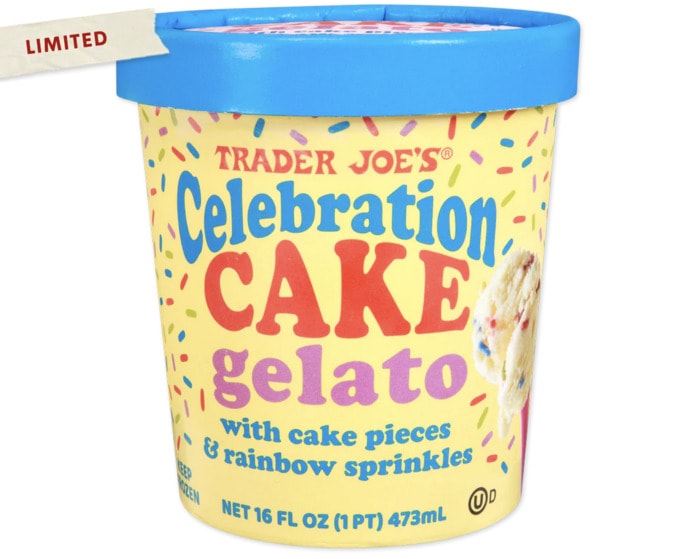 12. Chicken Karaage
If you haven't ordered karaage as an appetizer before, you're about to realize what you've been missing out on. Karaage is a Japanese appetizer made from fried dark chicken meat and best enjoyed with a side of slightly spicy mayo.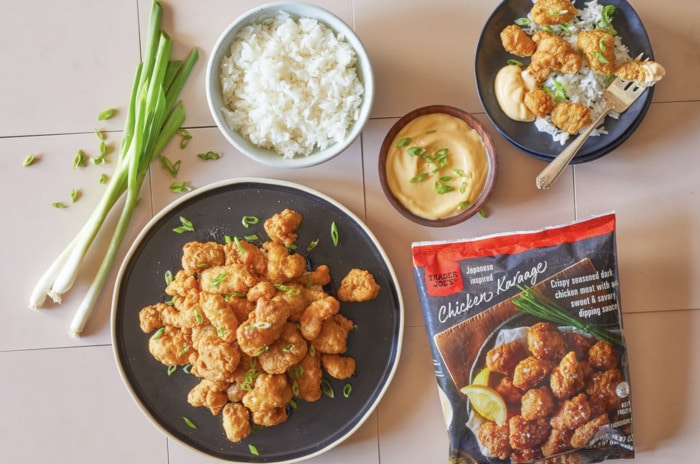 13. Hold the Dairy Salted Caramel Dessert Cones
We haven't found a Hold The Cone variation we don't like, and Trader Joe's is keeping up the streak with this dairy-free version of the handheld treat. We love that TJ's has chosen to hold the dairy, so we have both hands free to hold 50 of these cones. You won't believe how hard it is to find gloves.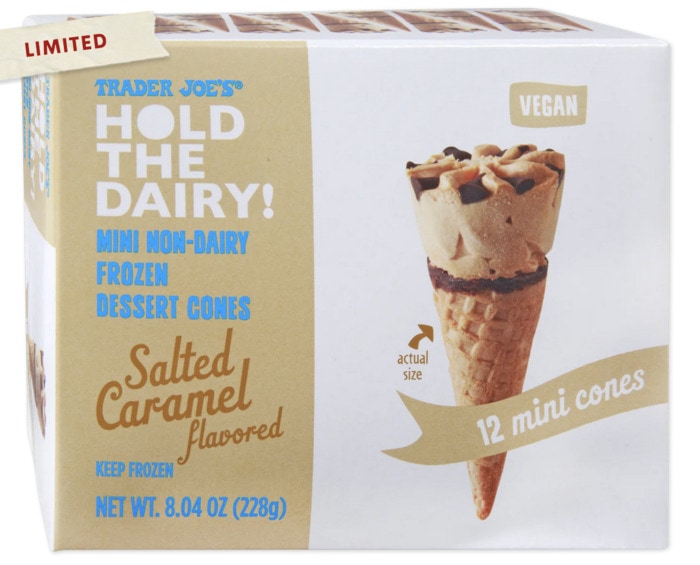 14. Root Beer Float Bars
Root beer floats are a true flavor of summer but honestly, who can finish one before the ice cream melts? Before the root beer goes flat? Depending on the size of your float and your brain freeze threshold, it can get difficult. Thankfully, that's all fixed thanks to these all-in-one bars.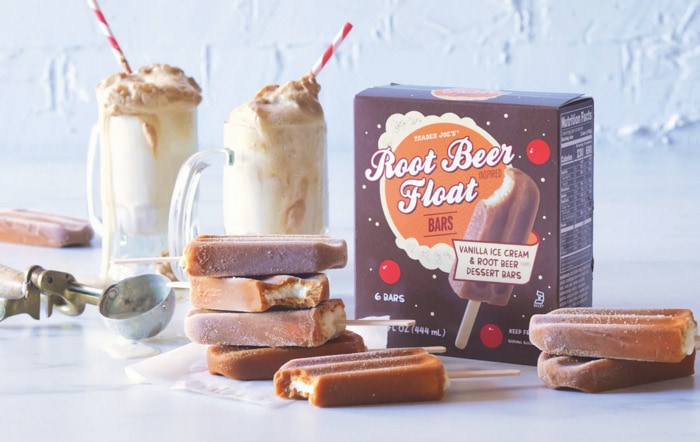 15. Eucalyptus Scented Candle
A lovely aroma, the option to burn it in an air conditioned room, and no bugs? These candles are a great option for when you want to feel like you're outside. Not edible. Not even if you are part koala.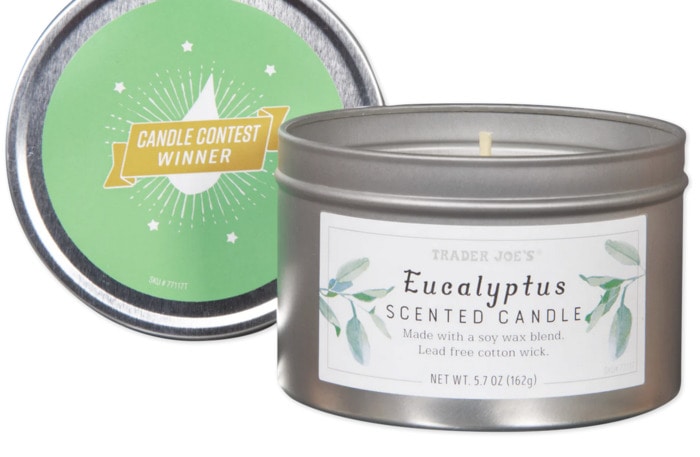 16. Organic Dried Ataulfo Mango Slices
Mangoes offer a burst of bright tropical flavor, but are a pain to prepare. Dried mango slices will save you the sticky fingers, and are perfect for your summertime hikes. Yes, walks to the fridge count.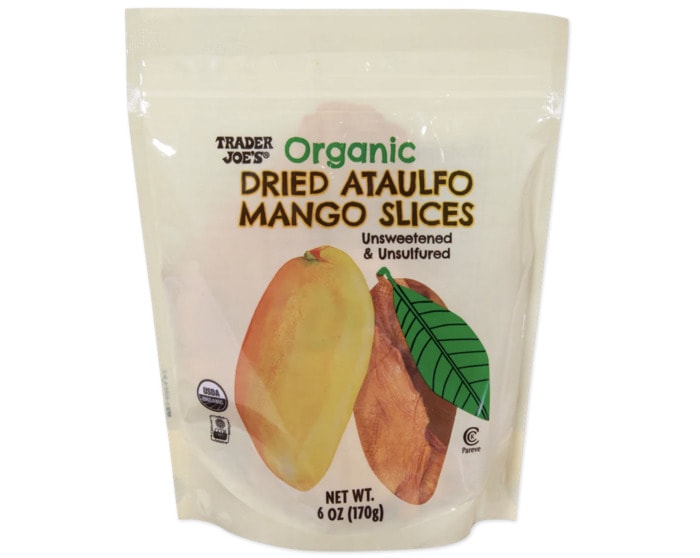 17. Vegan Italian Bolognese Ravioli
The vegan bolognese of tomato, lentil, and mushroom will have you so immersed in umami-induced bliss that you won't miss the meat. Plus they only take a little longer to prepare than it does to microwaving a can of Chef Boyardee.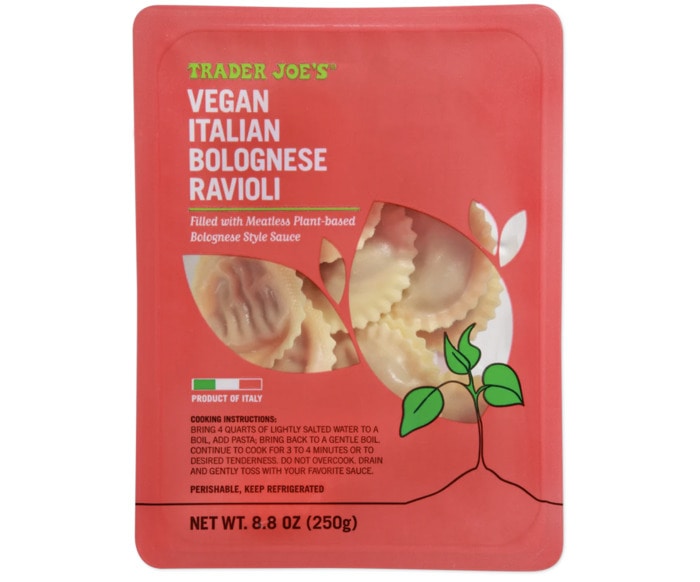 18. Basil Pesto Sauce
Trader Joe's kale, cashew, and basil pesto is wildly popular, so we love that there's now another pesto option for people that will always kind of feel in their hearts like kale tastes like trees. And not in a good way. Mmm, sap.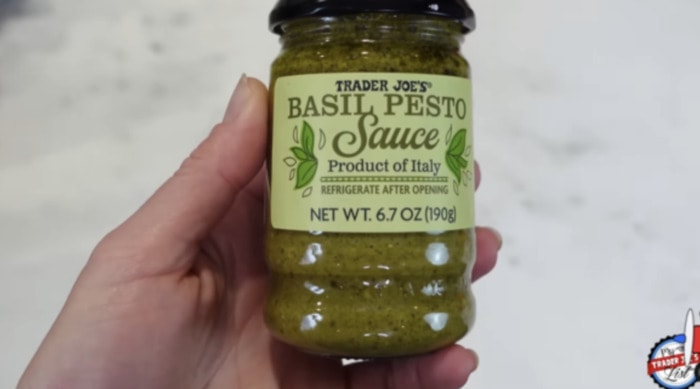 19. Pickle Curds
Every time we think Trader Joe's has exhausted the list of items they can dill pickle-ify, they prove us wrong. We have to say, we might just love being wrong. If we felt this way in high school, AP History would have been a lot more fun.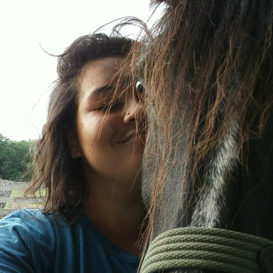 Latest posts by Hebba Gouda
(see all)