We've got 99 problems, and they're all the Trader Joe's desserts we can't fit into our freezer. And coming to terms with the reality that our references are dated. But if you're also short on space, we're here to help with our definitive ranking of the best Trader Joe's ice cream flavors.
Truthfully, the frozen section of Trader Joe's is a real haven that doesn't do much wrong. And the frozen desserts section is in a league of its own, mandarin orange chicken be darned. (We didn't really mean that. We'll see you tonight, babe.)
When it comes to ice cream, TJ's has everything from classic flavors to loaded pints that'll have Ben and Jerry shaking in their boots. Whatever your preference is, they have something that'll get you screaming for ice cream, and then promptly removed from the store for creating a disturbance.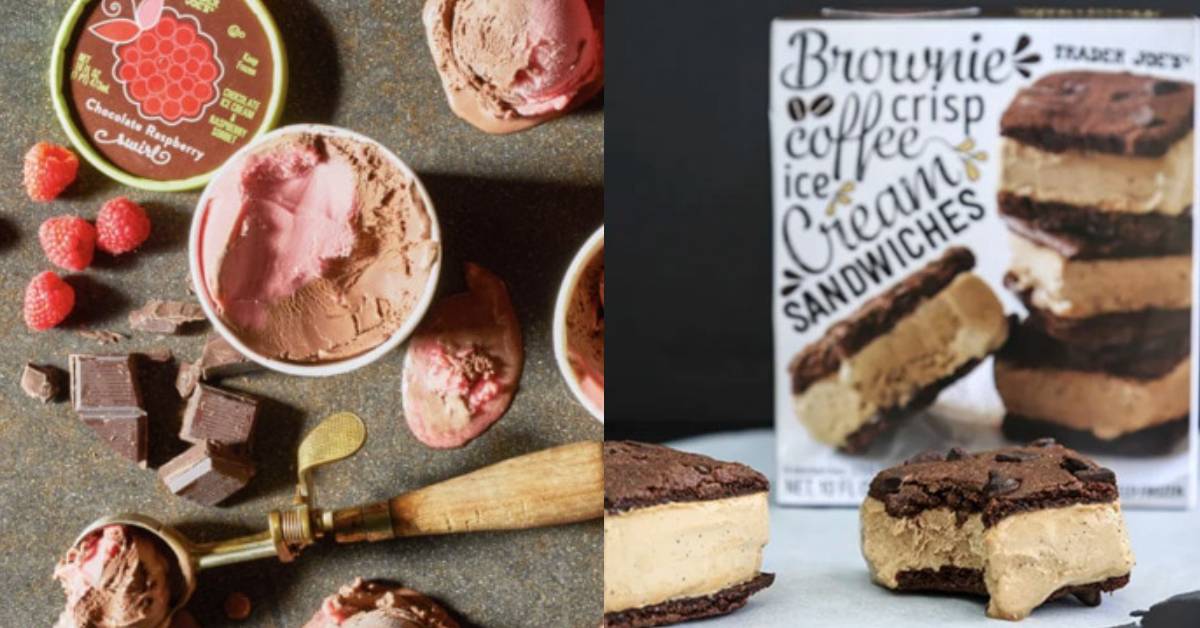 The Best Trader Joe's Ice Cream Flavors Ranked
17. Banana Pudding Flavored Ice Cream
We wanted to love it. We so badly wanted to love it. Banana pudding is a dessert from the gods, but this rendition falls short. Even as certified stans of the ever-controversial artificial banana flavor, we can't get behind this.
We missed the fresh bananas and distinct texture of pudding. As a frozen dessert, it just didn't satisfy. We will happily take your banana Laffy Taffys, but please leave this ice cream on the shelves.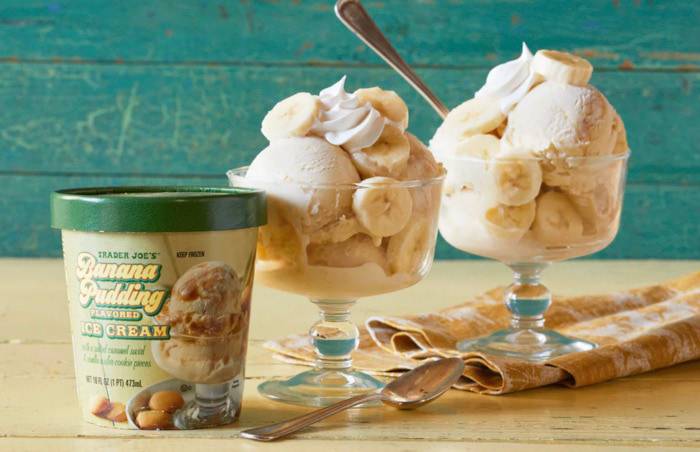 16. Strawberry Non-Dairy Oat Frozen Dessert
It's okay. Certainly not revolting by any means, but it doesn't taste convincingly like strawberry ice cream. And we say "strawberry ice cream" and not "strawberries" because we know better than to expect this flavor to actually taste like strawberries. So this one even missed the mark on missing the mark.
The addition of candied strawberries was a failed attempt to drive home the flavor, and the almond brittle sounded nice in theory, but didn't add much value. Save $3.99, and just stand next to someone eating it – you'll get about as much flavor.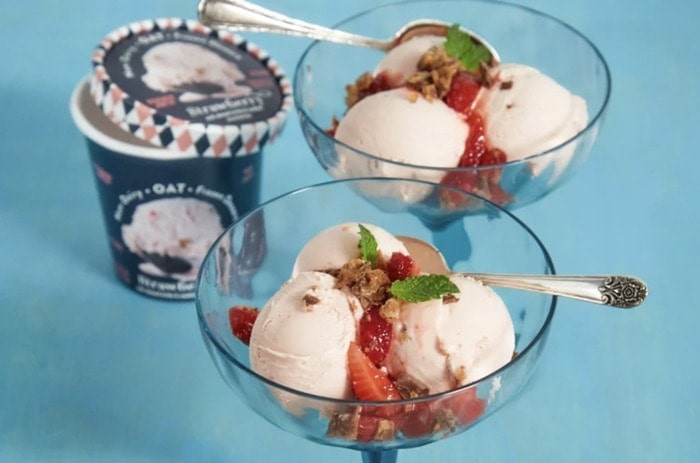 15. Brownie Crisp Coffee Ice Cream Sandwiches
Are we going to turn our nose up at coffee and chocolate? Yes, but only to look at the heavens and give thanks for this glorious combination. When we look back down to devour our brownie crisp coffee ice cream sandwiches, we'll be mostly satisfied.
But we'll also think that yeah, the brownie is nice. But you know what would be nicer? A bigger, fudgier brownie. Warmed up. Served with a more contrasting flavored ice cream than coffee.
These sandwiches are good, but they ultimately only remind us of how much more there is out there.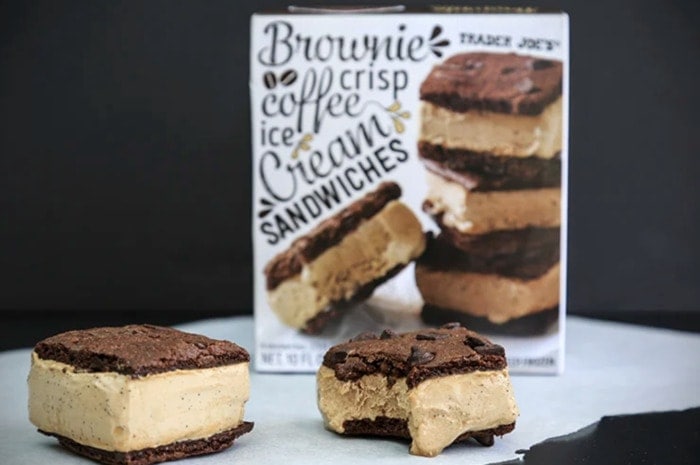 14. Ube Ice Cream
It doesn't take an expert to see that Trader Joe's loves ube. But if it did, what would that expert be called, and how can we apply for the PhD program?
While this ice cream is sweet and tasty, Trader Joe's and whatever marketing deal they have with the ube overlords should be grateful that we eat with our eyes first. The light purple color is lovely, but we wouldn't be able to identify this as anything more than a sweet vanilla ice cream without the visual cue.
We're okay with it not being "whack-us-over-the-head-with-ube" – a surprisingly dangerous game to play in the produce section – but we'd like more flavor.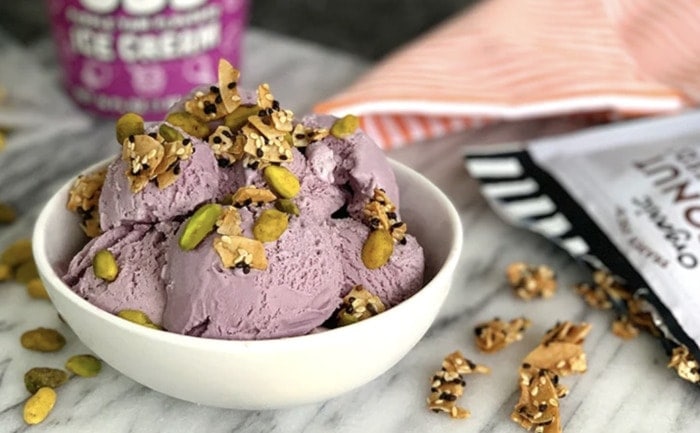 13. Chocolate Raspberry Swirl
We'll admit it. We weren't expecting to like this ice cream flavor as much as we did, and were worried about the rich chocolate ice cream clashing with a tarter, brighter sorbet.
For once, though, we were happy to be proven wrong. The two dance in a lovely yin-yang, much more gracefully than we can after the sugar rush hit us like a ton of bricks.
We wish there were some chunks of raspberry – or a better swirling action – instead of just blobs of chocolate and raspberry next to each other. But overall, we're happy with this one.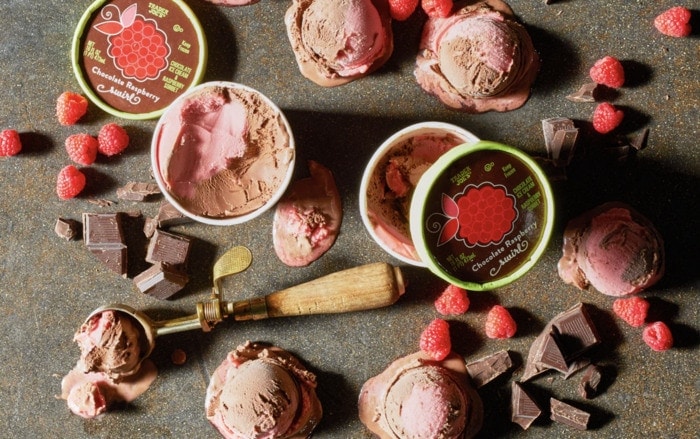 12. Horchata Ice Cream
When we were growing up, brown rice was something Atkins-obsessed parents tried to push, so naturally we weren't interested. We're so sorry, brown rice. How we misjudged you!
This ice cream brings the flavors of brown rice back into our good graces as it pairs with cinnamon to make a lovely ice cream. It even has us thinking that maybe the key to making things taste really good is putting them in ice cream. Should we call it rice cream? Who can we talk to about sushi ice cream?
Our only beef with this ice cream flavor is that we wish the horchata cookies were both a little bit better and more present.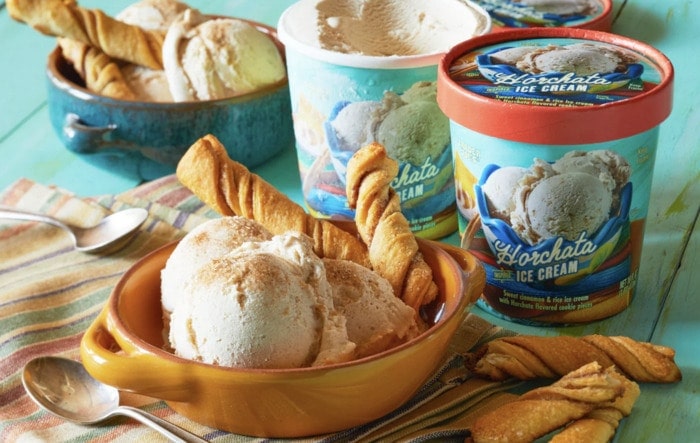 11. French Vanilla Ice Cream
This is an excellent vanilla ice cream. It's luscious, creamy, smooth, and sweet.
That being said, it's vanilla ice cream. It's absolutely going to level up a warm slice of apple pie, and it'll be a fantastic base for hot fudge. But it's just not exciting enough to rank any higher. This ice cream may be seeing Robin in therapy for sidekicks.
10. Cold Brew Coffee and Boba
We give Trader Joe's serious props for creativity with this flavor. A way to eat boba without slurping the tapioca balls so fast that one of them flies into the back of our throat, bruising our uvula before rocketing down our esophagus? Think of all the Heimlich's we can avoid.
The coconut non-dairy coffee dessert is good on its own. It's not as creamy as the vanilla ice cream, and coffee lovers might yearn for stronger flavor. But it's nothing near criminal.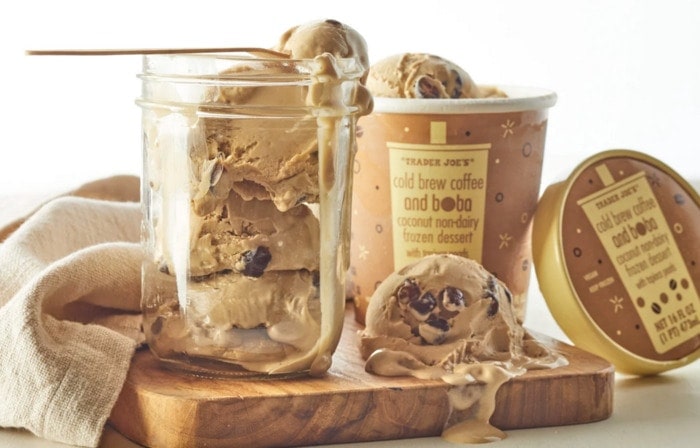 9. Vanilla Mini Hold the Cone! Ice Cream Cones
These little handheld treats are solidly middle-of-the-road. With vanilla ice cream for the classic lovers, and a chocolate shell for the chocolate fans, this cone is fun for all. It's a peacemaker that surely nobody will be upset with.
Maybe we won't daydream about coming home to these in our freezer, but we'll never be disappointed to find them there. Plus, it's always fun to have an assembled ice cream cone ready to go. Look at us, meal prepping.
8. Wildberry Cheesecake
When it comes to ice cream flavors, berry is a solid choice. Well, it's not solid. It's a perfectly firm yet smooth consistency, and has generous amounts of wildberry mix-ins and cheesecake bits. Both of these add the perfect amount of tang and brightness to the sweet cream base.
If this had a graham cracker swirl, it'd be lights-out. Thankfully, the lights are still on and we can still see what we're eating. Hey, who put that broccoli there?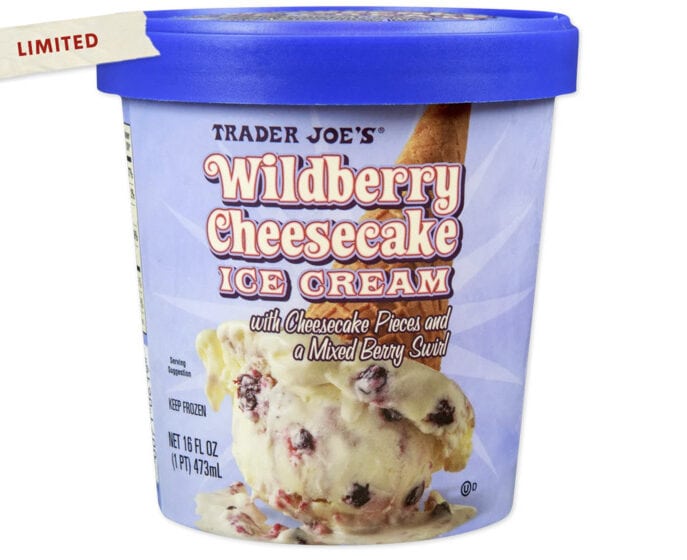 7. Black Tea and Boba
This is what we're talking about, TJ's. This flavor has of the pros of cold brew coffee and boba ice cream, without the identity crisis of manually combining coffee and boba.
The non-dairy dessert base was surprisingly not lacking in black tea flavor, but still left space for the brown sugar orbs that we love so much. We wanted more boba, but we always want more boba. Seriously. Always.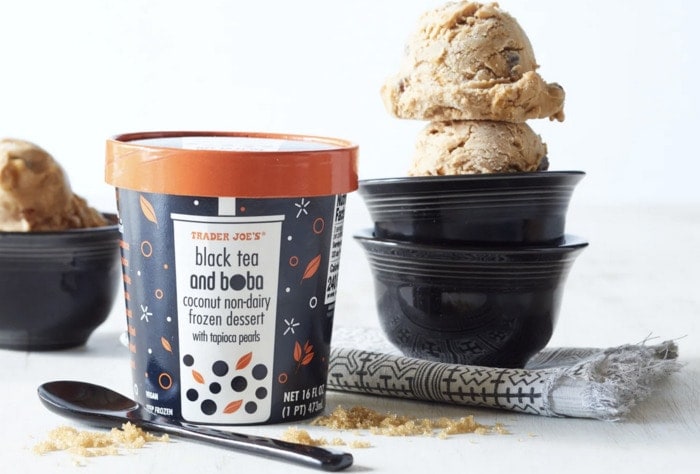 6. Golden Caramel Swirl
When we go to an ice cream store and someone asks us "chocolate or vanilla?" we just say "Yes." And Trader Joe's gets us.
We were thinking that amidst all of the more exciting choices, a simple chocolate and vanilla would feel pedestrian, but we were pleasantly surprised by how good this is. Maybe it's that ribbon of caramel that takes it from good to great? We don't know the science, we just know it's delicious.
5. Peanuts for Chocolate! Ice Cream
The only complaints we've ever heard about this ice cream is that it's heavy on the peanut butter, and that's exactly what we love about it. TJ's is absolutely not kidding around with that peanut butter ribbon that's thicc with two capital C's.
Running through the chocolate ice cream is a road of sweet and salty peanutty goodness that we will follow until the ends of the earth. Or rather, the bottom of the pint. And they even threw in peanut butter Joe-Joe's? Reese's could never.
4. Candy Cane Joe-Joe's Ice Cream
We already think that people who hate on mint ice cream can go sit down. Especially if they're tired. Everyone's entitled to their opinions and resting their gams.
We love mint – pepper and otherwise – in our ice cream, and we are absolutely thrilled with this take on it. The sharp peppermint ice cream is tempered by vanilla, but kept exciting with a fudge swirl. And of course, we cannot forget about the generous peppermint Joe-Joe's.
This is on our Christmas list every year. It's never too early to buy us presents!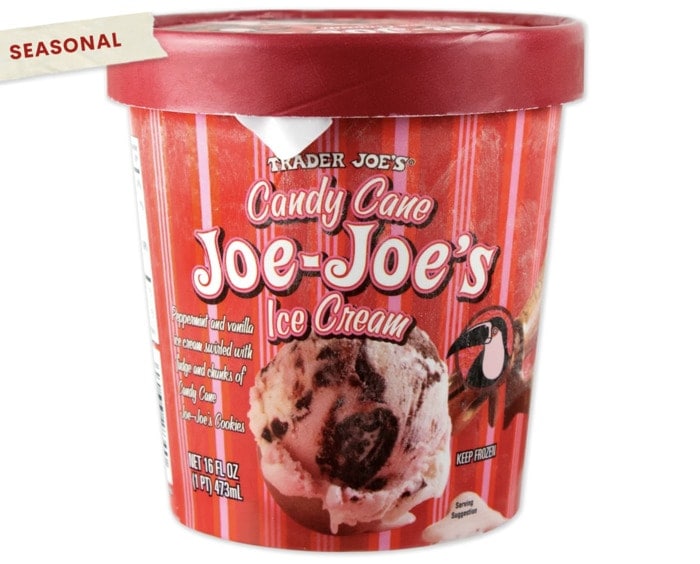 3. Speculoos Cookie Butter Ice Cream
Cookie butter is such a wonderful flavor, but we've often found ourselves thinking it's just a little too much. A little too strong. We wish we had some cream to tone it down with.
So Trader Joe's swooped in with a "say less" and gave us this masterpiece. We love you, Joe. And we can tell from this treat that feeling is mutual.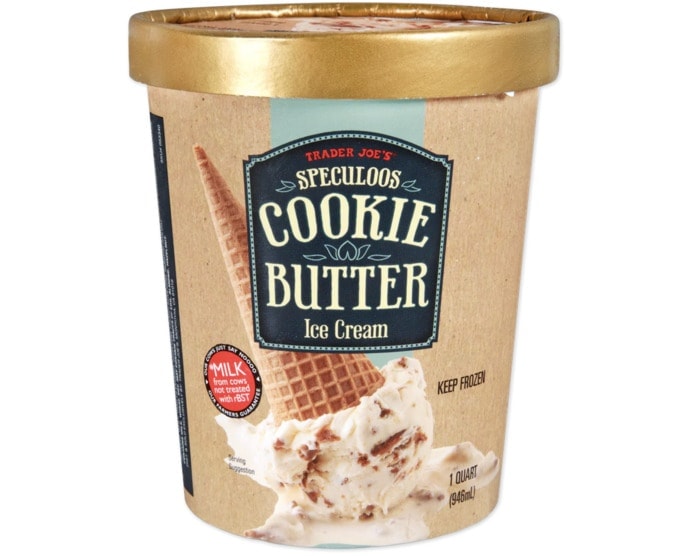 3. S'mores Ice Cream
Actual s'mores are delicious, but graham crackers are always given the short end of the stick. Even though the marshmallow is the one on the stick…but you know what we mean.
But seriously, how many times have you had something "s'mores flavored" and it's just chocolate and marshmallow with a few graham cracker crumbs on top? Trader Joe's said, "suffer no more!" and made the base of their s'mores ice cream graham cracker-flavored.
It's the perfect way to satisfy your s'mores craving without having to constantly swat away bugs that are attracted to sweat, because for some reason, summer is when people have bonfires even though it's 95 degrees out. TJ's, you fixed ice cream. Now please fix summer.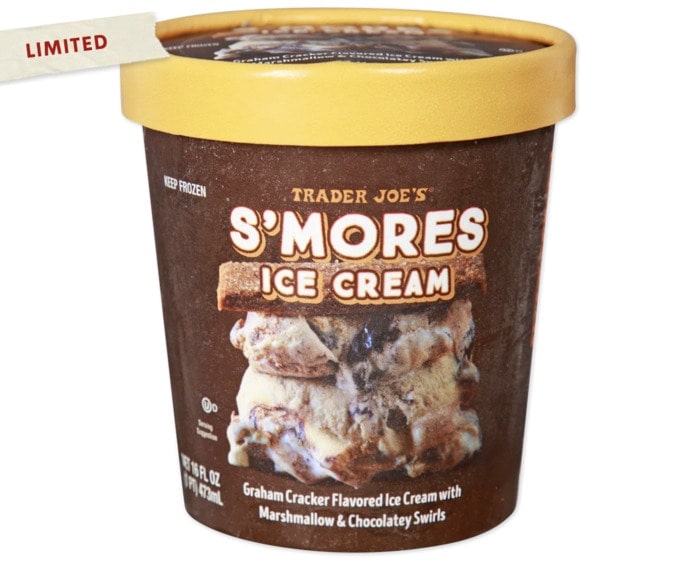 1. Pumpkin Ginger Hold the Cone
Whether it's the dead of winter or the heat of summer, we will eat these whenever we possibly can.
The pumpkin ice cream is impossibly creamy, perfectly spiced, and covered in a sweet-yet-not off-puttingly-so candy coating.
Maybe it's because the delicate spice of the ginger cone balances everything out. Maybe it's because the magicians at TJ's have made it the perfect size, so every bite is a good one, leaving you wanting more. Maybe it's Maybelline. Call us basic if you must, but these pumpkin spice treats are our number one.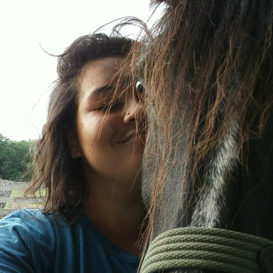 Latest posts by Hebba Gouda
(see all)