Summer means three months of going back and forth between craving time in the warm sunshine and hugging the air conditioning. And to add a third obsession into the mix, we also found the best Trader Joe's summer products for 2023 to satisfy your every mood.
When the air feels like sticky soup, Trader Joe's welcomes us with open doors and central air into a land of seasonal produce, refreshing drinks, and delicious frozen desserts. And, whatever delicacy they've managed to make ube flavored this time.
So get to Trader Joe's, grab a basket, and gaze at the glory that is the summer selection. Then turn around and get a cart because who are you kidding with that handbasket? You'll want all of these summer items, and no amount of bicep curls can prepare you for holding this haul.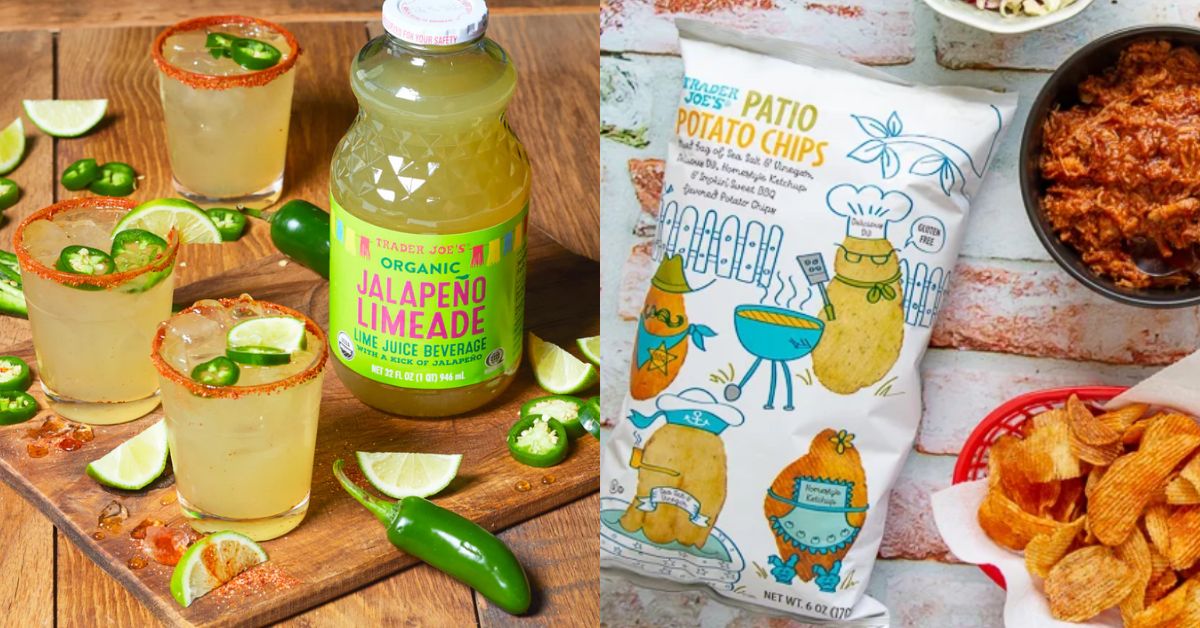 The Best Trader Joe's Summer Products To Stock Up On
1. Patio Potato Chips
Each bag of these chips has a mix of flavors, including salt and vinegar, dill, ketchup, and BBQ. So, we imagine it's what became of Bertie Botts' Every Flavored Beans after it got tired of not being welcome at the cookout. Thankfully, we haven't found a vomit chip flavor. Yet.
Available at Trader Joe's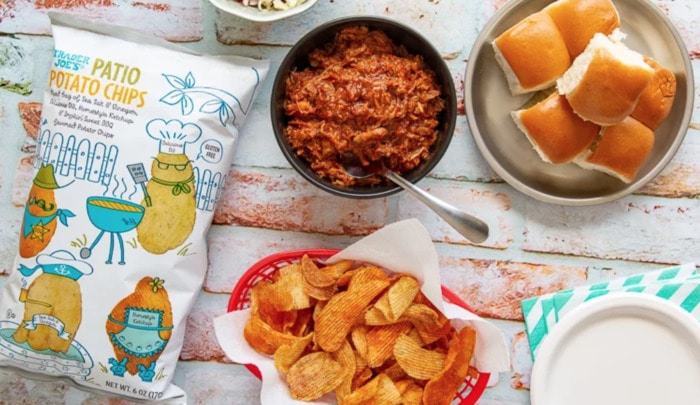 2. Jalapeño Limeade
Delicious in cocktails, mocktails, or straight up, jalapeno limeade is the zingy addition to any family party. And, it works great for when your bratty, spice-averse nephew rudely demands a cold beverage and you want to teach him a lesson. Not that we'd ever do that…
Available at Trader Joe's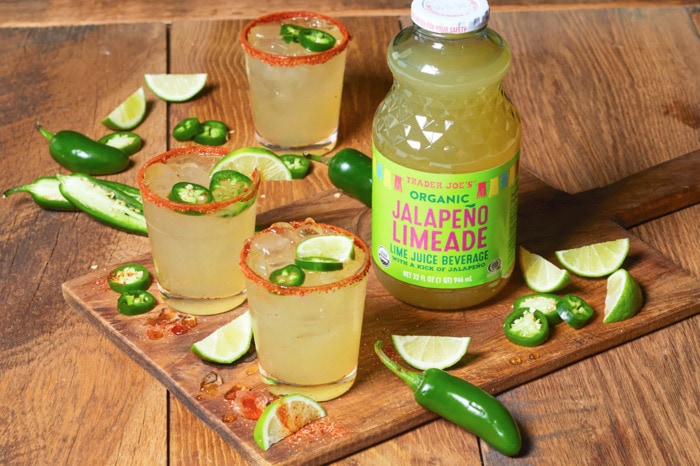 3. Wildberry Cheesecake Ice Cream
This ice cream has a vanilla base and a wildberry swirl, which is a mix of blueberry, elderberry, raspberry, strawberry, and blackberry. As tasty as it sounds, a small part of us will always hope that "wildberry" is what happens when Mary Berry has just a little bit too much booze.
Available at Trader Joe's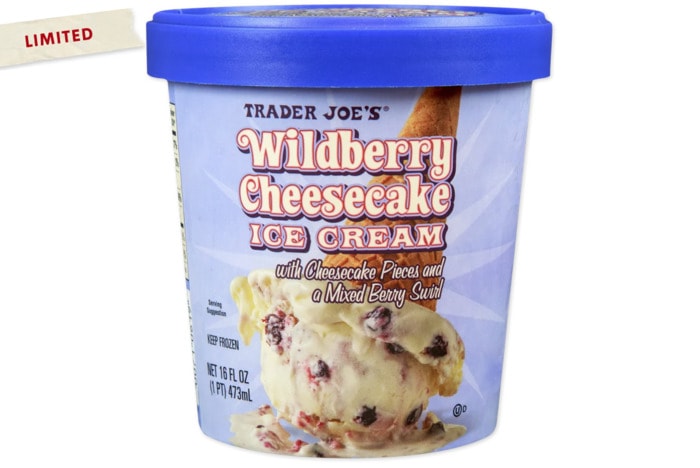 4. Horchata Ice Cream
Not only does the ice cream itself feature the signature horchata flavors of cinnamon and brown rice, but it also includes horchata cookies. Safe to say this creamy and delicious horchata makes us want to horcha-cha-cha. (We'll be here all summer.)
Available at Trader Joe's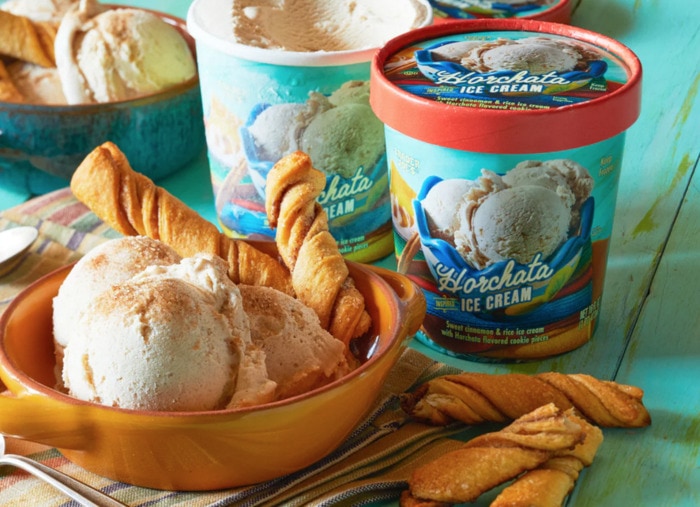 5. Carolina Gold Style BBQ Ridge Cut Potato Chips
Look at this bold packaging. See that in-your-face font? Notice those confident colors? We bet you did. "Carolina Gold Style BBQ Ridge Cut Potato Chips" is a mouthful, but we don't mind a mouthful when they taste like this.
Available at Trader Joe's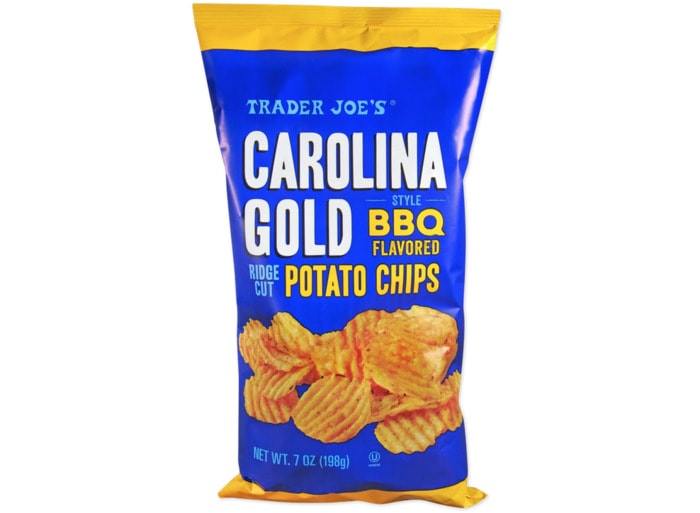 6. Frozen Tres Leches Cakes
Summer is for covering things in various forms of cooled cream. Tres leches cake takes that concept and runs with it, giving us – as the name suggests – three different rich dairies to accompany a sponge cake, to make for an impossibly moist and wonderfully sweet dessert. And, a reminder that we still know at least some of our high school Spanish words.
Available at Trader Joe's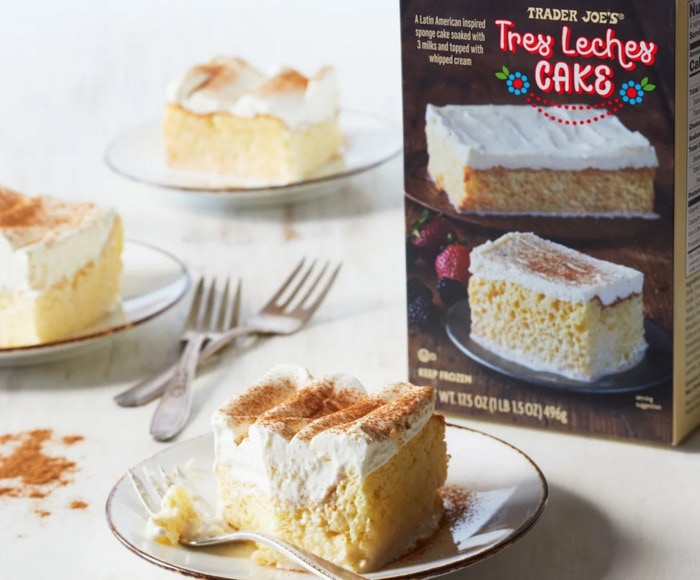 7. Popcorn in a Pickle
Popcorn is a blank canvas, and dill pickle is a hot summer flavor. Together, these make for the perfect snack for a backyard movie night. And then a normal movie night after you realize it's actually kind of humid and buggy out, and maybe you should move this party to the couch.
Available at Trader Joe's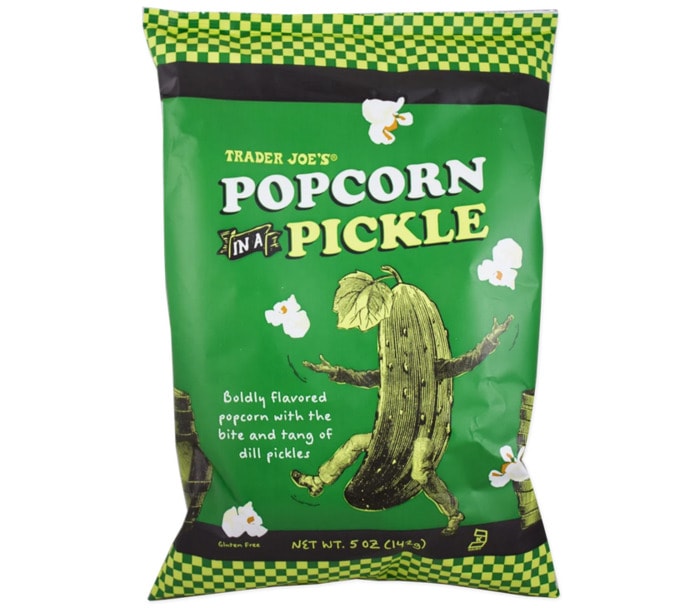 8. Lemony Arugula Basil Salad Kit
Complete with arugula, shredded Parmesan cheese, carrots, almonds, and a basil lemon vinaigrette, this salad kit will have everyone at the cookout seething with jealousy and disbelief as you flip your hair and claim, "Oh, this? I just threw this together."
Available at Trader Joe's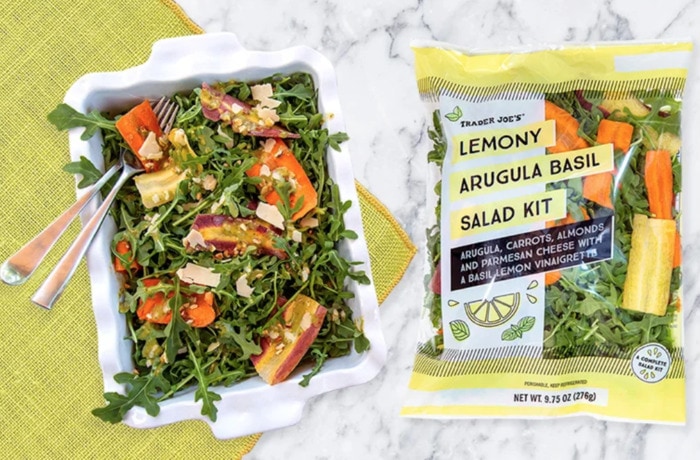 9. Coconut Cold Brew Coffee Concentrate
Summer seems simply super for spelling in alliterations at all available apportunities. It's called creative license, and as artists, we love to see it. Have we had too much of this coconut cold brew coffee concentrate? We'll let you decide.
Available at Trader Joe's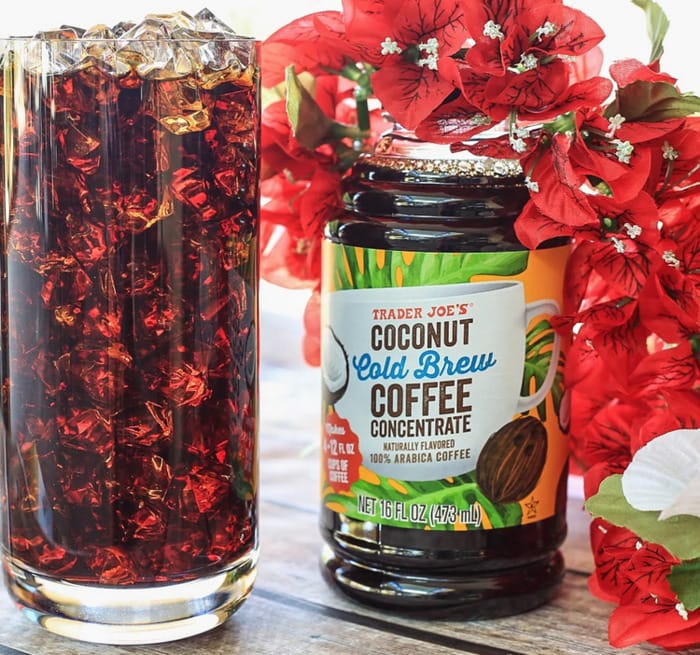 10. Frozen Dessert Chocolate Fudge Oat Bars
These are a wonderful way to bring you back to your childhood when you got that fudgesicle from the ice cream truck. Except now if you have dairy then your tummy hurts. And your knees hurt. But that's unrelated. Everything hurts now. Weeeeeeeee.
Available at Trader Joe's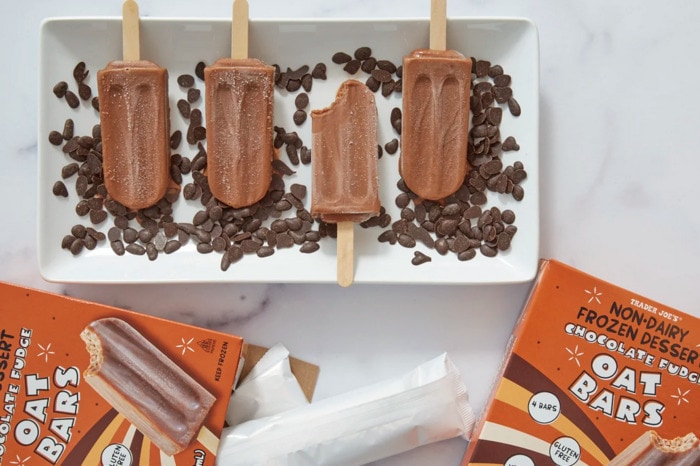 11. Daily Facial Sunscreen
We're thrilled to hear so many people love this product. We stan taking care of that skin. Not in a Hannibal Lecter way, we promise.
Available at Trader Joe's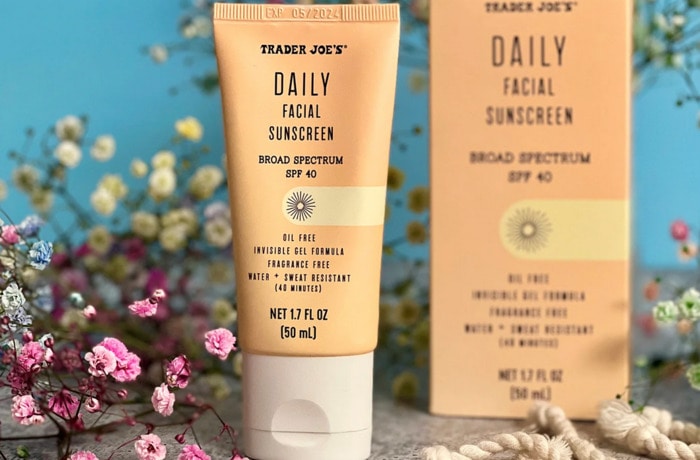 12. S'mores Ice Cream
We're tired of "s'mores flavored" meaning chocolate-flavored, and only topped with a marshmallow and graham cracker crumbs. Trader Joe's heard our cries, and gave us graham cracker flavored ice cream with a full swirl of chocolate and marshmallow. Thank you, TJ's for preserving the magic of the s'mores ratio. The graham has suffered long enough.
Available at Trader Joe's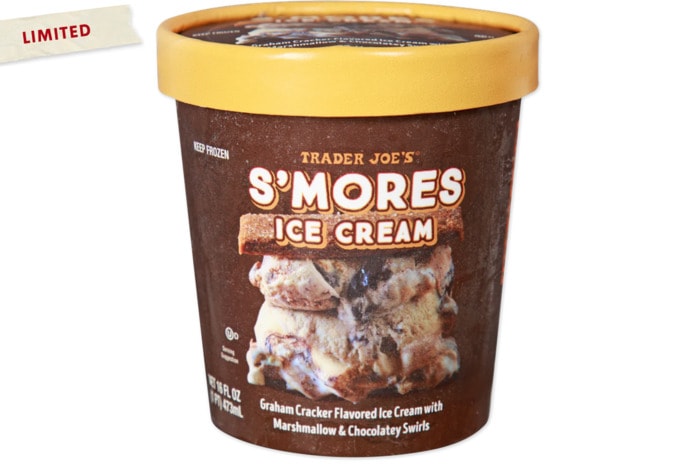 13. Beach Day Gummies
Realistically, you should probably eat these before getting to the beach so they don't all melt. But that shouldn't be a problem, should it?
Available at Trader Joe's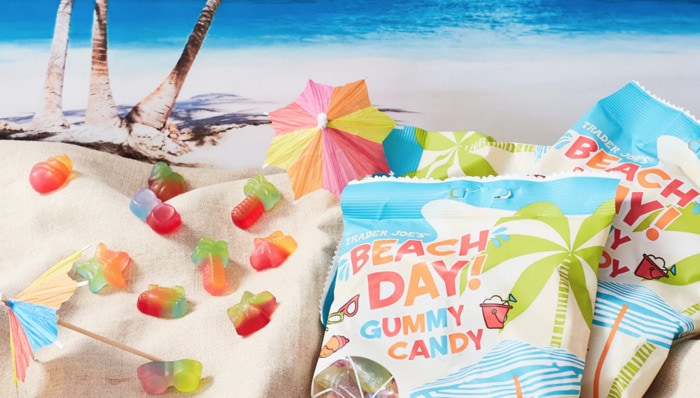 14. Chunky Garlic and Jalapeno Hot Sauce
Hot sauce and garlic are both staples in our diet, so this product is a home run for anyone that wants to add some heat to their fresh summer dishes. This is what they meant by hot girl summer, right?
Available at Trader Joe's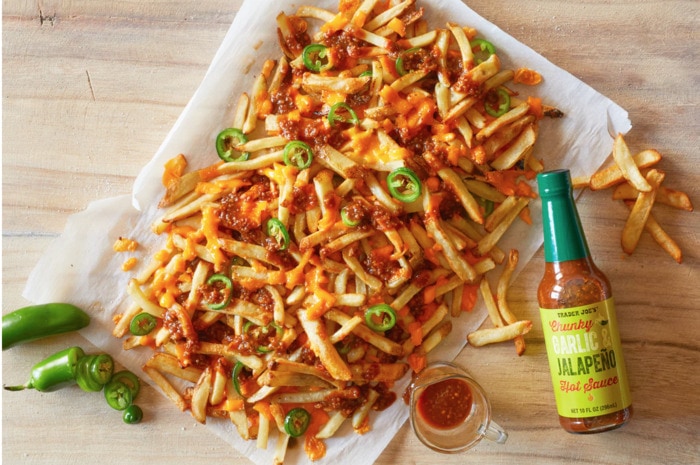 15. Roasted Red Pepper Hummus
Be the trendy friend that brings pita chips to the party. Then be the trendy friend that brings a leveled-up hummus. Then be the trendy friend that hoards it all for themselves. It's every man for themselves at our parties.
Available at Trader Joe's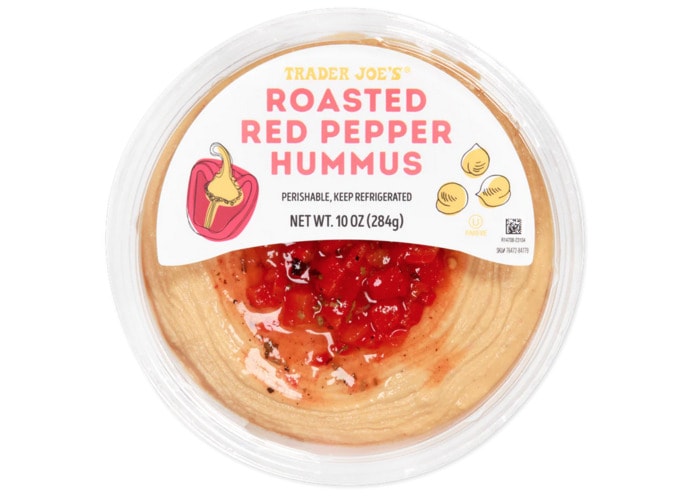 16. Cold Brew Iced Tea, Black Tea and Lemon
Black tea and lemon are a match made in heaven. We'd know, we saw them both after we had to expand our Tinder radius all the way up there.
Available at Trader Joe's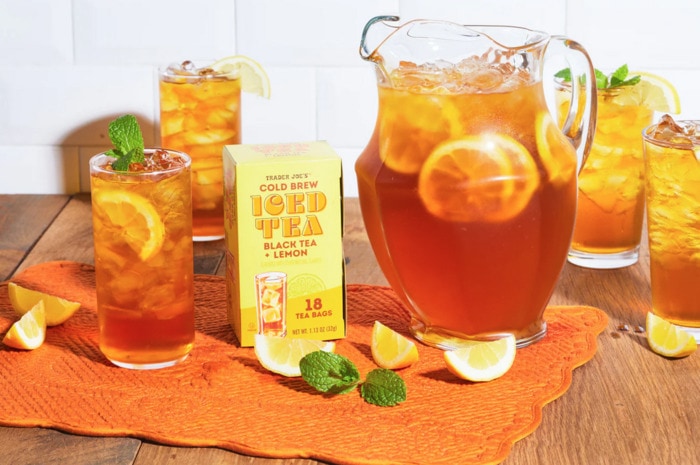 17. Ube Mochi Ice Cream
There's no bad time for the delightful chew of mochi or a creamy ice cream. But it hits different in the middle of a hot summer day. Pair it with the sweet, nutty ube flavoring? Break out the Sensodyne, you'll be munching through these at warp speed.
Available at Trader Joe's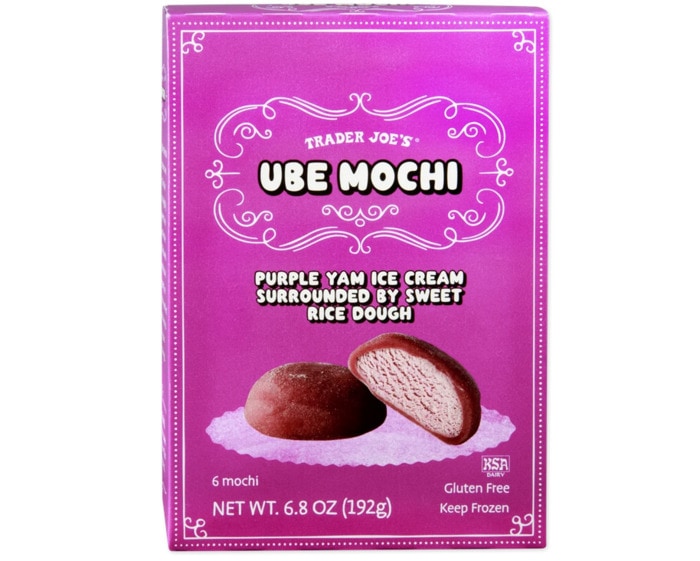 18. Grilled Chimichurri Chicken Skewers
Want the taste of enjoying a skewer off the grill without the experience of sweating over the flame, scraping the burnt residue off of the grates, and smelling like smoke for three days? Us too. That's why we buy these bad boys, and then use all the time we saved to set up our photoshoot to capture that candid photo of us laughing in sunglasses at the grill to post on the 'gram.
19. Blueberry Dream Frozen Dessert Bars
This is one of the most frozen purple berry treats out there. We don't care if it's your birthday – get wrecked, Grimace.
Available at Trader Joe's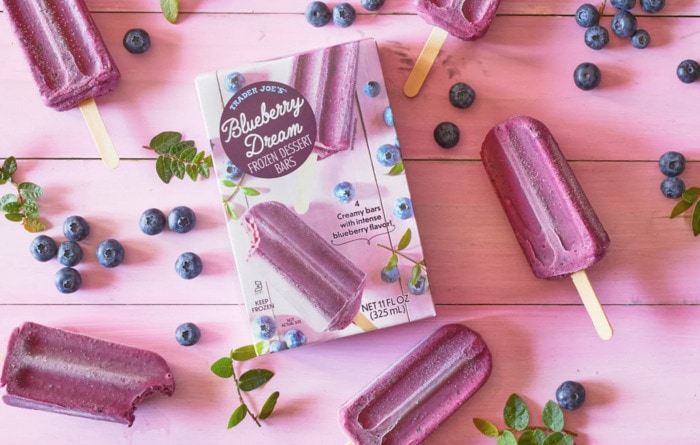 20. Snacky Clusters
There's no shortage of salty-sweet options at Trader Joe's. But you know what they say: too much of a good thing is a Trader Joe's snack aisle. This addictive mixture contains corn chip crumbles, pretzels, and potato chips covered in milk chocolate, and it makes us feel alive again.
Available at Trader Joe's

21. Watermelon and Peach Macarons
This is for those who love the taste of watermelon sour patch and peach rings, but not the texture. For those who love the chew of a macaron, but crave a distinctly artificial fruit flavor, in the best way possible.
These macarons are the answer. Probably not to, like, anything on The Bar or something, but to that one very specific intersection of cravings.
Available at Trader Joe's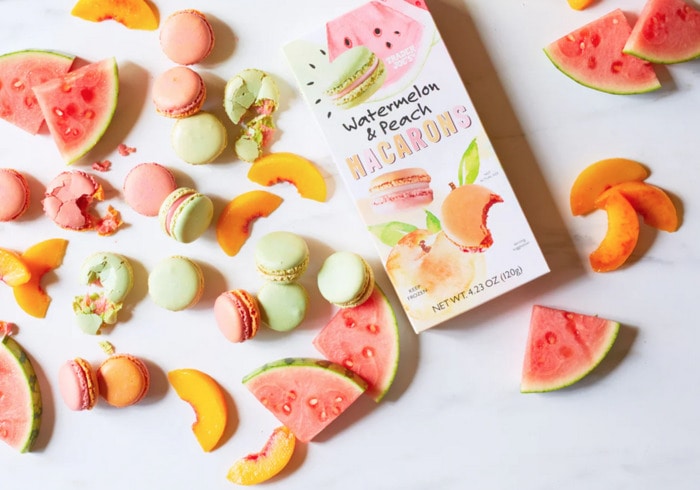 22. Strawberry Lemonade Joe-Joe's
Were you ever judged for dipping your Oreos into your strawberry lemonade? Good. You monster. But we kind of get where you were coming from, so we thank Trader Joe's for executing the concept in a way that's crunchy, creamy, sweet, and tangy all at once.
Available at Trader Joe's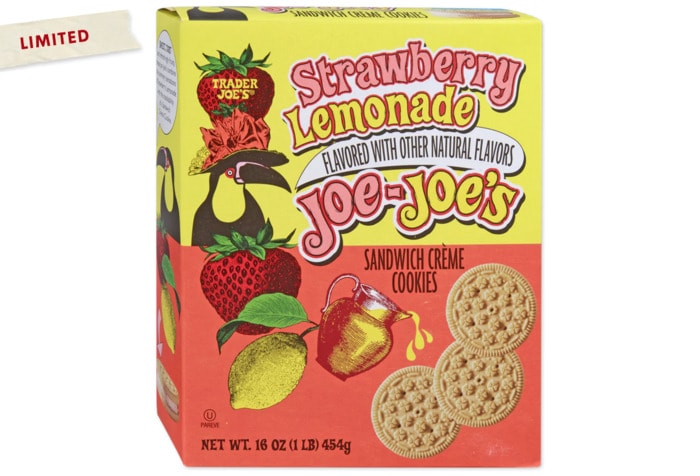 23. Midnight Moo Chocolate Syrup
No summer is complete without sundaes, and no sundae is complete without chocolate syrup. We're sorry, we don't make the rules.
Available at Trader Joe's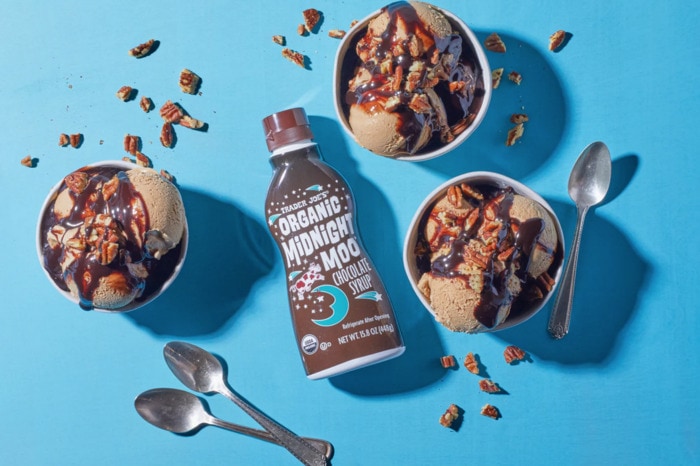 24. Green Chili Chicken Bowl
This item may be new, but it's a huge hit. Shredded dark chicken over cilantro rice with cheddar cheese and green chile sauce is hearty enough to satisfy you but bright enough to be the go-to meal of your summer. And you don't even have to turn on the oven!
25. Sparkling Juices (Watermelon, Strawberry, and Pineapple)
Trader Joe's has two of our favorite sparkling things: juices, and the personalities of every employee there. We appreciate both equally, but feel much more comfortable taking the juices home with us.
Available at Trader Joe's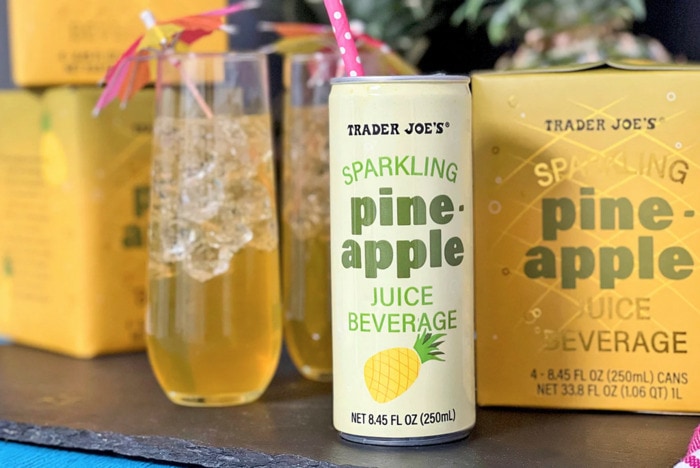 26. Golden Caramel Swirl Ice Cream
The base of this ice cream is a mix of chocolate and vanilla, joined together with swirls of salted caramel. With something for everyone, could this ice cream do the heavy lifting of bringing together opposing minds? No, but that's because realistically, you won't be sharing.
27. Blueberry Fields Hard Cheese
Get the picnic basket, this cheese is begging for a night out on the town. Okay, a day out in the park. And maybe not a full day. But definitely in a cooler, if the temperature calls for that. In any case, it's worth it because this hard cheese will have you cheesin' hard.
Available at Trader Joe's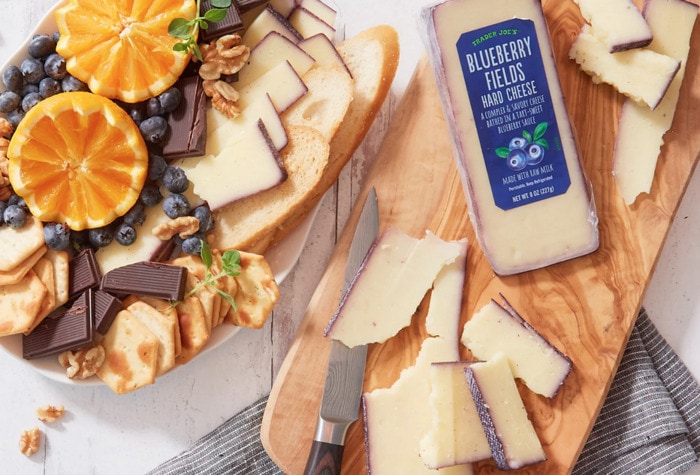 28. S'mores Clusters
Want to indulge in the quintessential camping experience of a s'more, but know in your heart that it's too darn hot to start a fire? Say no more, say s'more. And then say "please." What, did you leave your manners at home?
Available at Trader Joe's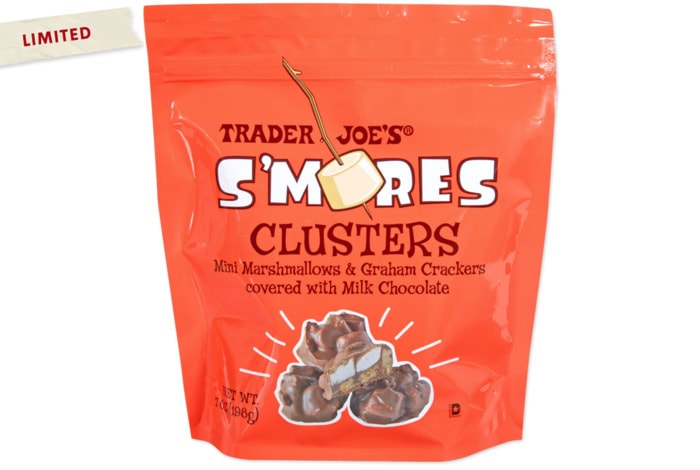 29. Shrimp Seafood Burgers
Life is short, and sometimes you just don't have time to go to the beach and go to the cookout. Thank goodness you can have the best of both worlds, and combine your seafood craving with your burger craving. Blend it into your milkshake to shave even more time off, because who can have dessert when you've gotta get back to punching that timeclock! The American dream!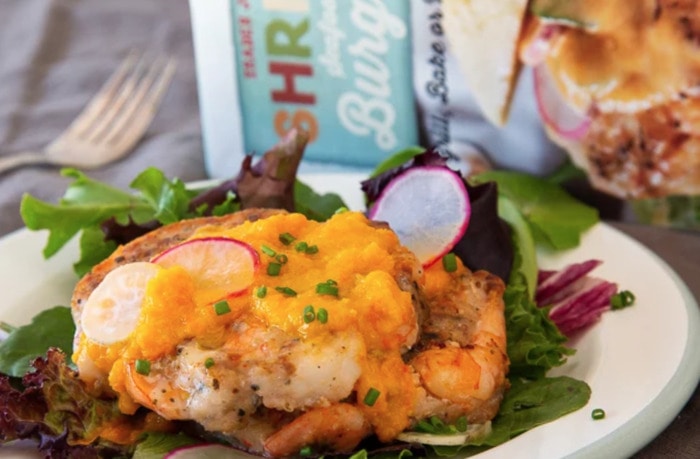 30. Organic Acai Bowl
Grab this when you're craving some good acai but the neighborhood Playa Bowl is full of youngins that keep throwing around terms that make you feel dated, and the cashier looks at you funny every time you try to pronounce "acai." Rest easy knowing that you can still enjoy the refreshing snack from the safety of your home.
Available at Trader Joe's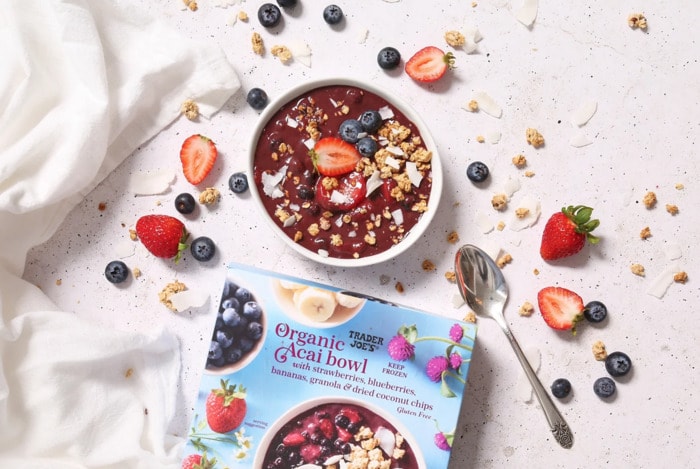 31. Truffle Flavored BBQ Sauce
Truffles are a surefire way to class up anything. So having this all over your face and hands from slathering it onto your ribs must be a one-way ticket to high society.
Available at Trader Joe's

32. Fruit Frenzy Bars
The three sections – raspberry, lemon, and strawberry – are pretty neatly layered, so we don't know if we're sold on the "frenzy" part. But they're delicious nonetheless.
33. Sweet Corn, Burrata, and Basil Ravioli
Ravioli are pockets of pasta. Sweet corn is basically edible sunshine. Natasha Bedingfield, is this what you were getting at the whole time?
Available at Trader Joe's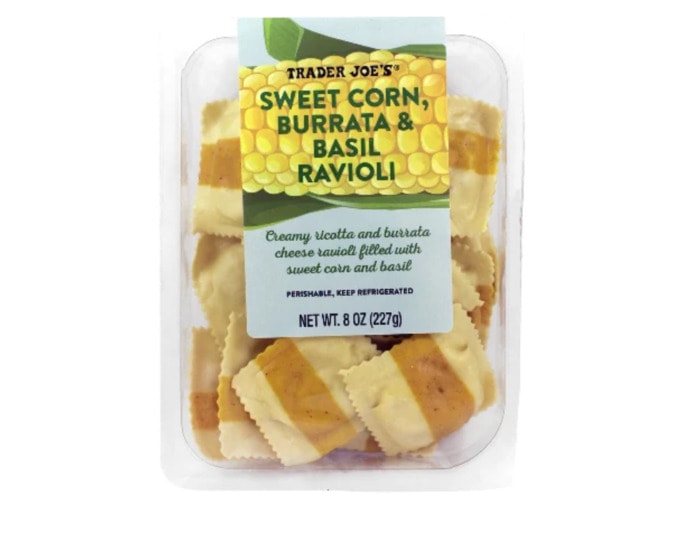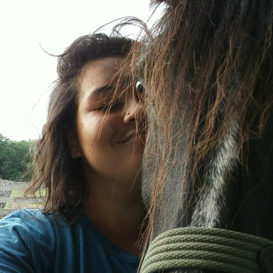 Latest posts by Hebba Gouda
(see all)