Hot dogs are the crux of many modern day arguments. Is it superior to the burger? Is it a sandwich? What are the best hot dog toppings? And how can gravity and the quantum exist in the same theory?
Okay, maybe dogs don't directly relate to that last one, but we'll think about anything to distract us from what went into that hot dog casing.
Now when it comes to toppings, there are a few camps. Some are ketchup purists. Others are a notch more adventurous, going for a chili cheese dog. Some are too busy wondering why weiners are sold in packs of 10 while buns are sold in packs of eight, horror-struck with the realization that the only way to have an even number is to buy 80 of each.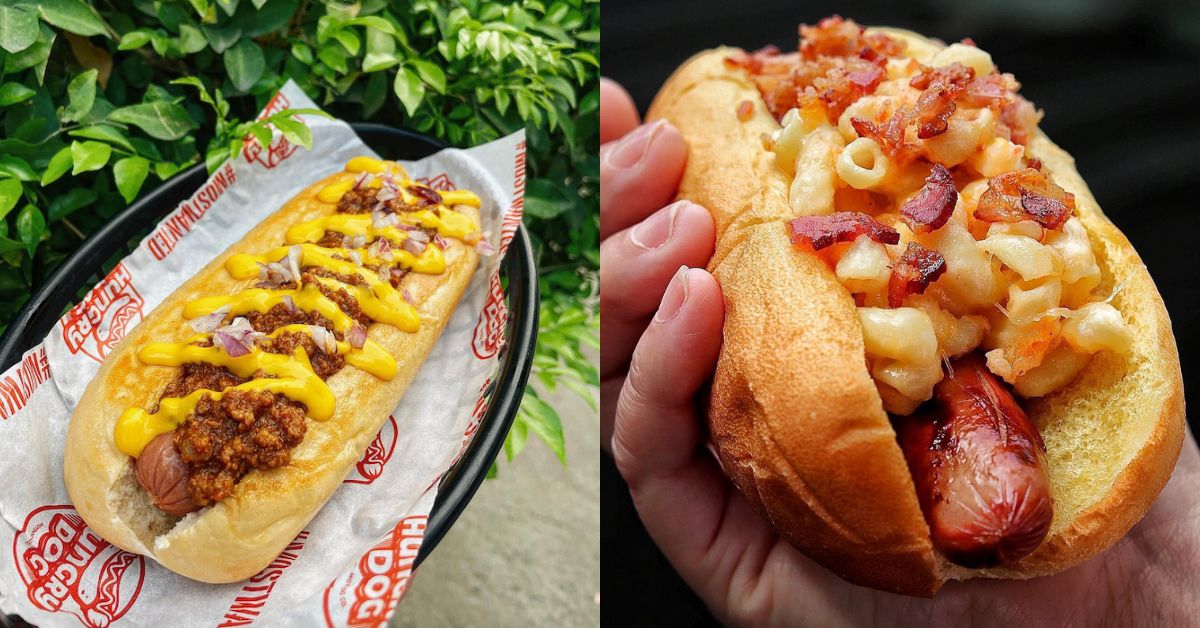 While some folks have a regional allegiance to one type of hot dog, – or glizzy, if you're on the Internet – others form a preference for certain toppings just because they think they taste good. But no matter where you stand, one thing's clear: hot dogs are a great vessel for creative flavors, textures, and the American freedom to put unreasonable things together, just because we can.
25 Hot Dog Toppings That Are Not Ketchup (And One That Is)
1. Ketchup
A classic for a reason, ketchup is as good on a hot dog as it is on burgers, french fries, or used as fake blood in low-budget horror movies. Dogs may be man's best friend, but ketchup is a (hot) dog's best friend.
For regular dogs, we recommend shampoo.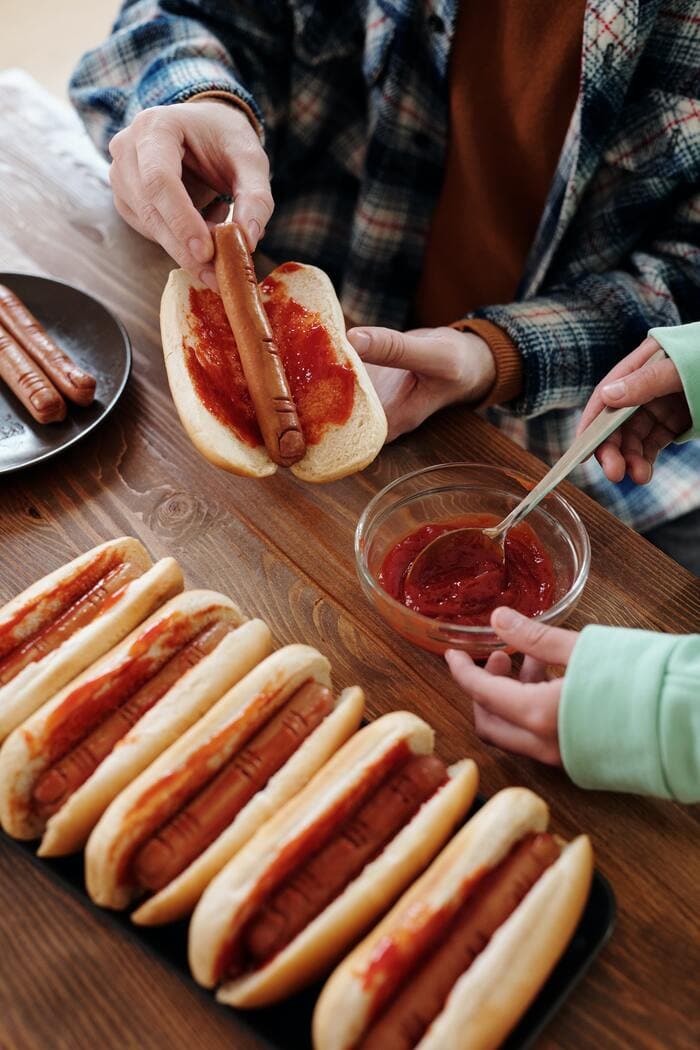 2. Mustard
Mustard is great, whether it's neon yellow, spicy, brown, or grainy. We cannot say the same about our bowel movements. Too many hot dogs takes a toll.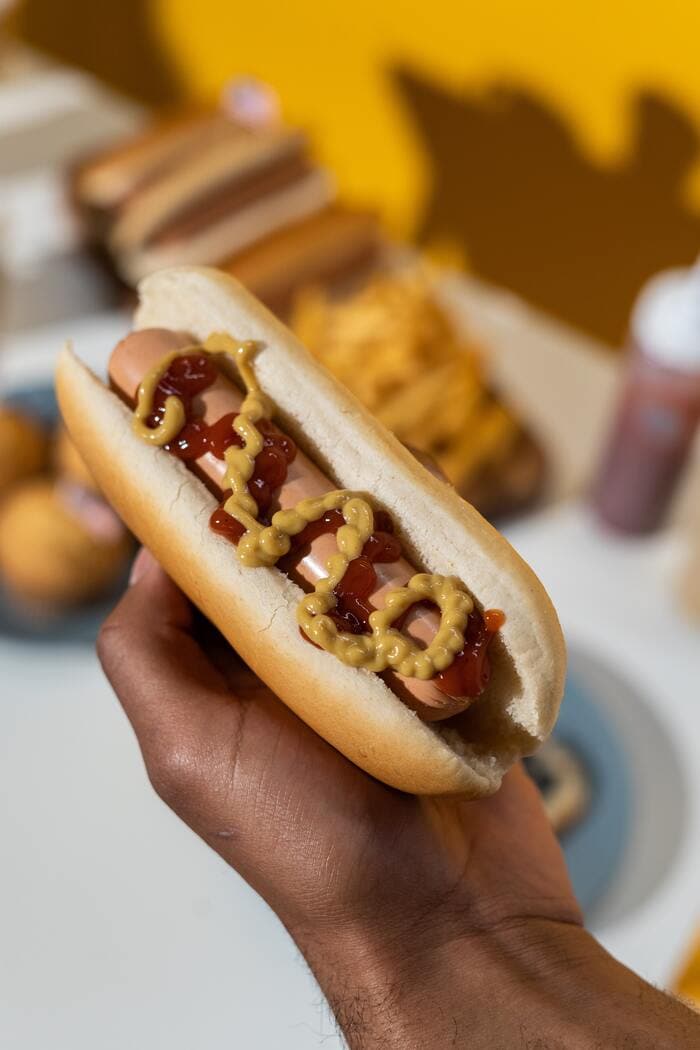 3. Relish
Burgers have pickle chips, so why shouldn't hot dogs have their own pickled vegetable counterpart? Oh, because life isn't fair and a friend to one thing doesn't necessitate a similar companionship be extended to anything else?
What was your childhood like, and have you talked to a therapist about being a middle child yet? Here, have a relish dog.

4. Coleslaw
You'd be hard pressed to find a BBQ without coleslaw, so it's totally reasonable to slap it onto your wiener straight off the grill. Right after you finish cringing at the thought of biting into a blazing hot dog. Err…blazing hot hot dog. A hot dog that is blazing hot. We got there!
5. Onions
A wise man once said "onions have layers." While they do have physical layers, they also have layers of flavor. Whether they're chopped raw, grilled until golden and caramelized, or fried crispy, onions make great hot dog toppings in every form.
Tha'll do, donkeh. (The wise man also said that.)
6. Cheese
Half the pictures of us only exist because people think that when we smile and say "cheese," it's an invitation to be photographed. But we're really just happy to be ordering cheese. Just try a hot dog with cheese and then try not to be giddy about it.
7. Chili
Chili dogs are so quintessentially American that nobody really cares about the inevitable smear of chili on their shirts halfway through. Wear it as a battle scar and let the smell of chili perfume every room you're in for the rest of the day. Or scrape it off for a snack later. Just don't let the fear of striking out keep you from playing the game.
8. Chili Cheese Dogs
Amateur hour is done now. Life is too short for just one topping. Pairing hearty chili with gooey cheese is so wrong it's right. Unlike that right turn you took back there. That was actually wrong.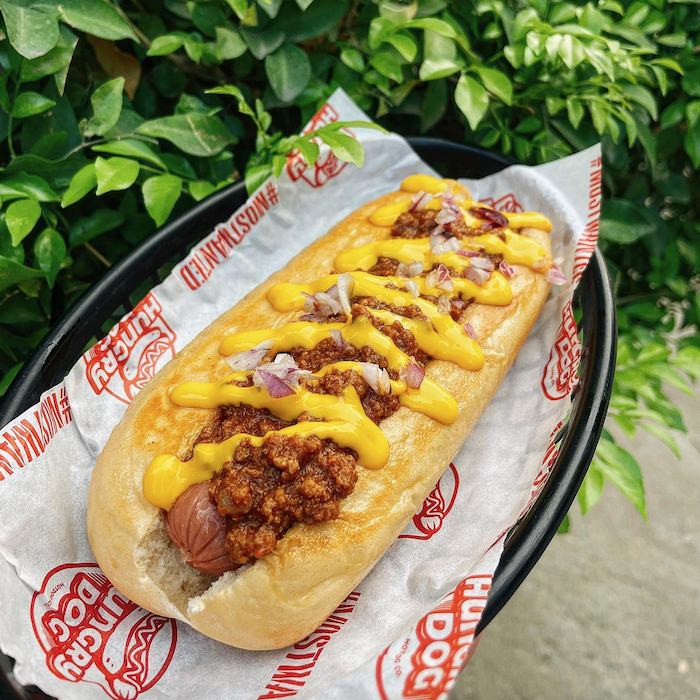 9. Baked Beans
Topping a hot dog with baked beans is an easy way to make your childhood favorite, Beans and Franks, into a handheld snack. The not-so-easy way is cupping your hand and eating the standard version, but that's not recommended. Especially during a job interview. Ask us how we know.
10. Mac and Cheese
Picture it: it's the '90s again. You've busted open that blue box of Kraft and you're cutting up the hot dogs. The Amanda Show is coming on soon. You've got a Cosmic Brownie waiting for you for dessert.
The mac and cheese-covered hot dog has all the delicious nostalgia of those decades-ago Friday nights, but none of the unspoken tension between Amanda Bynes and Drake Bell. We all have our flaws.
11. Cranberry sauce and stuffing
Miss Thanksgiving? We do, too. That's why we're putting the flavors of the holiday onto a hot dog, which serves as a tunnel straight to Flavortown. Aunt Norma only wishes her tofurkey was this good.
12. New York Hot Dogs
Not all hot dogs from New York are New York Hot Dogs, and not all New York Hot Dogs are from New York. Still with us?
As a concept, the "New York Hot Dog" is characterized by sauerkraut, onion sauce, and spicy brown mustard. And paying astronomical rates for rent. Not even inanimate food objects are safe.
13. Coney Island Hot Dog
Somewhat similar to a chili dog, the Coney Island hot dog is topped with savory meat chili, generally without beans. They do often have diced white onion, mustard, or cheese, though, so you'd be hard-pressed to find someone missing the beans. Marbles, on the other hand, are a different story.
14. Nacho Hot Dogs
Turn your hot dogs nacho-style by adding pico de gallo, cheese, or avocado. Add crushed tortilla chips for textural intrigue, and the adrenaline rush that comes from maybe stabbing your mouth every time you take a bite.
15. Cowboy Candy
Cowboy candy is another great hot dog topping. Don't know what that is? Well it's otherwise known as candied jalapenos, but that's if you're all work and no play. And we all know that makes Jack a dull boy and a hot dog a dull dish.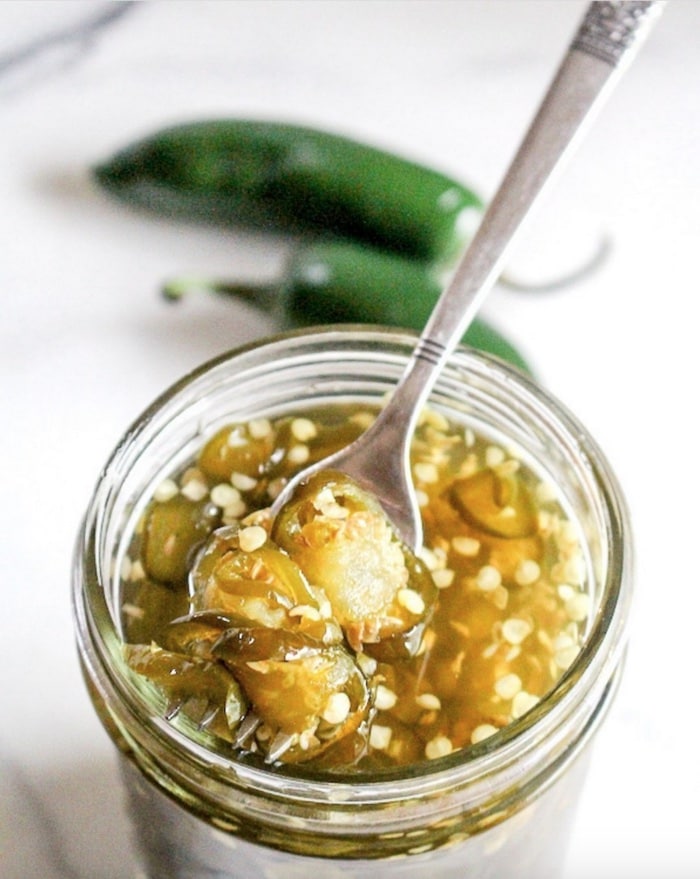 16. Spinach Artichoke Dip
Spinach artichoke is great straight out of the jar or warmed up and surrounded with a ring of toasted bread, but why limit such a delectable dip? Let the mix of spinach, artichoke, cheese, and spices spread its wings on your hot dog. Prepare to instantly be regarded as the genius of the cookout.
17. Chicago Style Hot Dog
The Chicago hot dog comes on a poppy seed bun with yellow mustard, relish, fresh chopped onions, tomato wedges, a kosher-style pickle spear, spicy peppers, and a dash of celery salt. There's room for variation, but there's no budging on one rule: no ketchup. You heard us, purists. Geddouttahere!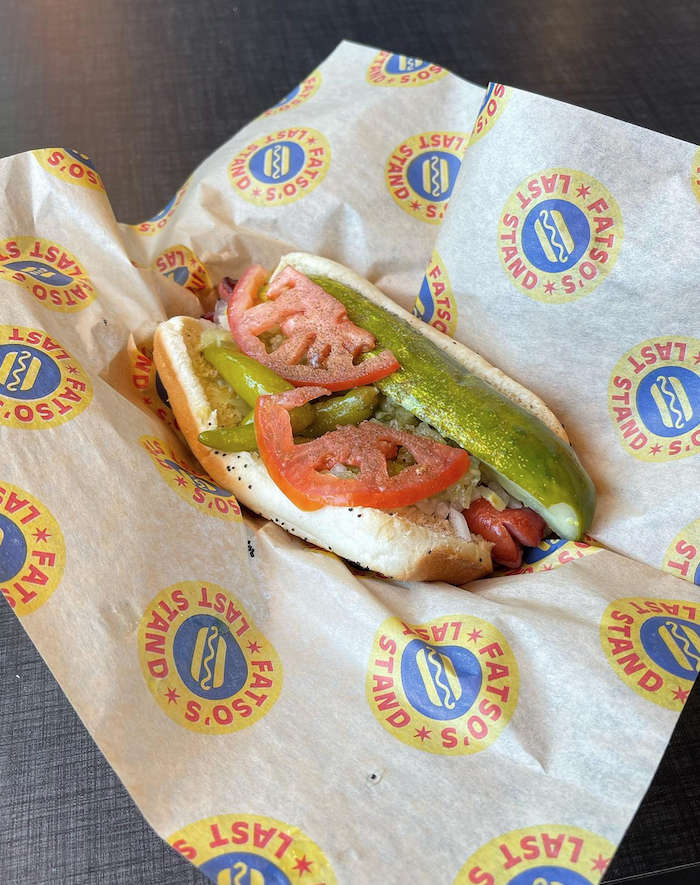 18. Brazilian Hot Dog
Brazilian hot dogs are done up with all sorts of things that often include (but are not limited to): potato sticks, diced ham, tomato sauce, corn, and peppers. We're sure it's delicious, but it's weird to think about "Brazilian" meaning piling stuff on instead of, well, ripping it off. IYKYK.
19. Breakfast Dogs
Bacon, eggs, cheese, and hash browns are normally breakfast foods. Hot dogs are normally lunch. Combining breakfast and lunch gives you brunch, which automatically feels fancy. So, clearly, breakfast dogs are classy. Mimosa, anyone?
20. Memphis Hot Dog
Sure, Memphis hot dogs have fun toppings like BBQ sauce, green onions, and cheese. But the real kicker is that the dogs are wrapped in bacon. Whoever came up with that "Ten I See" pick-up line was probably talking to these hot dogs.
21. Philly Cheese Steak Hot Dogs
Philly cheese steaks start out great. Grilled peppers and onions, gooey cheese, thin shaved steak? We're into it. But nestling that into a bun that's already equipped with the extra flavor of hot dog? This truly must be the city that loves us back.
22. Buffalo Hot Dog
Some people want to enjoy buffalo sauce, but aren't huge fans of chicken. These buffalo hot dogs are a great way to enjoy the flavor without the wings. Or the bones. Or the sauce in your hair. Just us?
Top your hot dogs with buffalo mayo, diced celery, and crumbled bleu cheese. It's probably not much cleaner than eating wings, but sure is darn tasty.
23. Montreal Hot Dog
Also known as a "steamie," the steamed hot dog is a lot more appealing than the name led us to believe. Ordering it with all the fixins would give you mustard, relish, coleslaw, and chopped onions. In Montreal, you'd say you want it "all dressed." Which is ironic, because it sounds like it'd be in our jammies watching a good show.
24. New Jersey Italian Hot Dog
New Jersey may be known as the armpit of America, but there's a reason people still live there, and that reason is mostly the food. The New Jersey Italian hot dog is topped with fried potatoes, peppers and onions, and served with deli mustard.
It'll give New Jerseyans all the energy they need to get through the day of convincing people that "seriously, it's not all like Jersey Shore."
25. Colombian Hot Dogs
For those that are more adventurous, the Colombian Hot Dog takes the sweet dog to the next level with pineapple sauce that's offset by tangy coleslaw and salty crushed potato chips. Some people go bungee jumping for their daring activity. We prefer this tasty approach to adventure.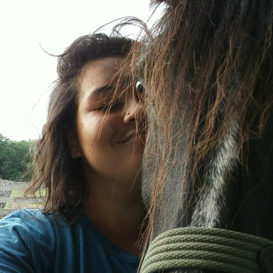 Latest posts by Hebba Gouda
(see all)