A waffle iron and a bag of tater tots are all you'll need to make Tater Tot Waffles, the breakfast comfort food you didn't know you needed.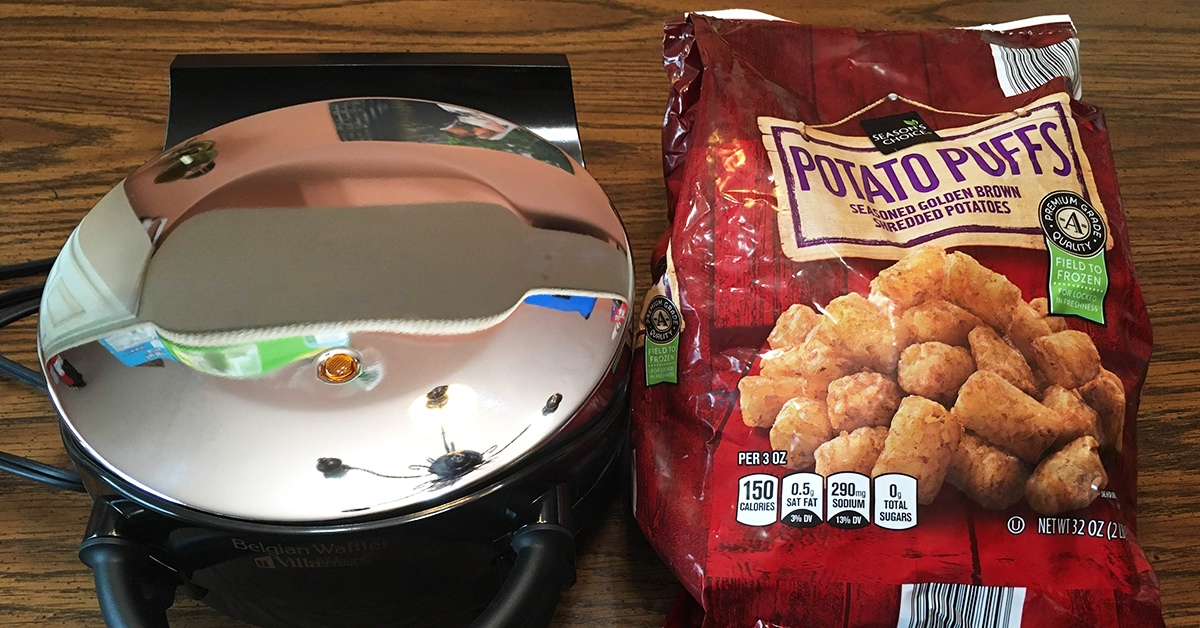 Right now, many of us are stuck at home and coping with boredom and the lockdown munchies. So what should we do? "Let's potato about it," says writer and designer Ada Powers. In her Twitter thread that went… viral (we're gonna get a new term for this soon, right?), Powers shared what she believes is the ideal food for these trying times: the totwaffle.
I get it: you're on lockdown. You're trying to do a lot with a little. It's hard to find joy in the midst of fear, depression, and austerity.

That's why it's time to learn about totwaffles. (thread) pic.twitter.com/F6zIaBLsql

— Ada Powers //☁️ @powe.rs (@unknownmetric) March 19, 2020
The totwaffle — or tater tot waffle, if you don't want it to sound like you're delivering a British insult — is a Frankenstein's monster of breakfast foods made by cooking tater tots in a waffle iron. Even if you didn't learn how to cook until now, this is a breakfast recipe you can handle.
"Tots are cheap, many of us have waffle irons languishing in our cupboards, and the convenience of an electric appliance allows us to make a plate of potatoes feel like home-cooked comfort food," explains Powers.
"It's also seemingly just the right amount of irreverence to speak to us in these strange times. Nothing matters anymore, but everything matters harder."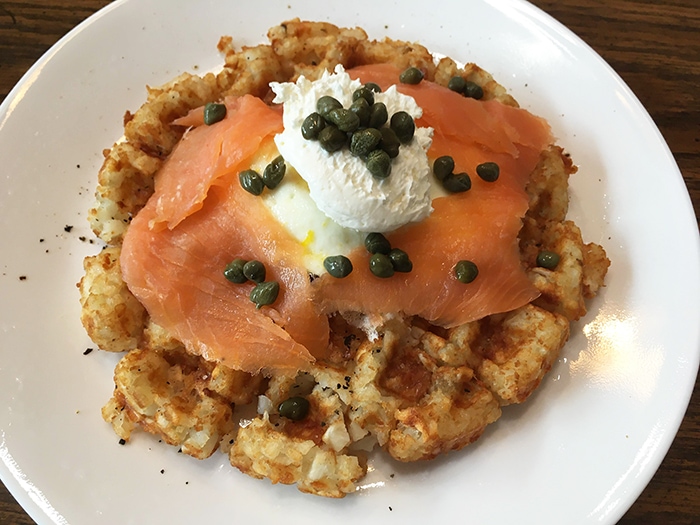 How to Make Tater Tot Waffles
When making your tater tot waffles, pay attention to the depth of your waffle iron. "Belgian waffles are made with yeast, so Belgian waffle irons have deeper grooves to accommodate the rising batter," says Powers. "If you're packing a single layer of tots in the bottom of your iron and your totwaffles are coming out with holes in them, that's probably what's going on. You might have to double-layer your tots to get them to fill both sides."
Defrost your tater tots. You can put them in the microwave for 1 minute and 30 seconds or leave them out to defrost.
Follow your waffle iron's instructions for pre-heating and greasing the waffle iron.
Line the tater tots in the waffle iron. Be careful not to burn yourself on the iron. Waffle iron are designed for pouring batter, so there's not much protection from burning your fingers. You want to really pack the tots in there so they will squish together into a waffle-like patty when closed. I used about 30 tots for each waffle.

Close the waffle iron to cook. You'll need to force it closed, but don't be so intense about it that you break it.
Cook the tots until they're crisp and golden brown. You need to cook it longer than a normal waffle, so you'll need to ignore any automatic timers on your waffle. My waffle iron took about 6-8 minutes per waffle.

While it's cooking, make Powers's recommended Syrupchup sauce. Stir 1 cup of ketchup and 1 cup of maple syrup together in a small saucepan and heat on low. Do not let it boil or reduce.
Once crisp, carefully remove the tater tot waffle from the waffle maker. I recommend cutting it in half or quarters before removal and then reassembling it on the plate.
Salt and pepper to taste. Drizzle with Syrupchup. Consider adding a poached or fried egg on top. Or maybe some chicken.
What's Syrupchup? It's a mix of ketchup and maple syrup. Could it cause a rift among your breakfast crew? (Even if that's a breakfast crew of one?) Yes. But Powers stands firm that it is the ideal topping for this breakfast mutation. "Let's be real: when you're at IHOP and the syrup puddle from your pancakes winds up on your eggs, do you still eat the eggs? You sure do, and you pretend not to love it. I see you. Be free."
Waffle Variation Ideas
Use the totwaffle as a canvas upon which to paint your breakfast masterpiece. Here are some recipe variations. But, let's be honest, whatever pantry ingredients you have, they're your waffle batter now.
Diner Style: Top yours with fried egg, soy chorizo and shredded cheddar cheese, and hot sauce or salsa. (My meat-eating husband would recommend using actual chorizo instead of soy chorizo.)
Lox and Tots: I'm from Jersey, so I needed to see if how it tasted with smoked salmon, whipped cream cheese, and capers (or caviar). The answer is yes.
Grilled Cheese: Can't find bread, but can find tots? Use it as a cheese delivery system.
The Powers Hour: Powers's favorite variation doesn't include tots at all. She makes polenta from cornmeal and veggie broth, throws it the fridge overnight, then puts in the waffle maker for breakfast.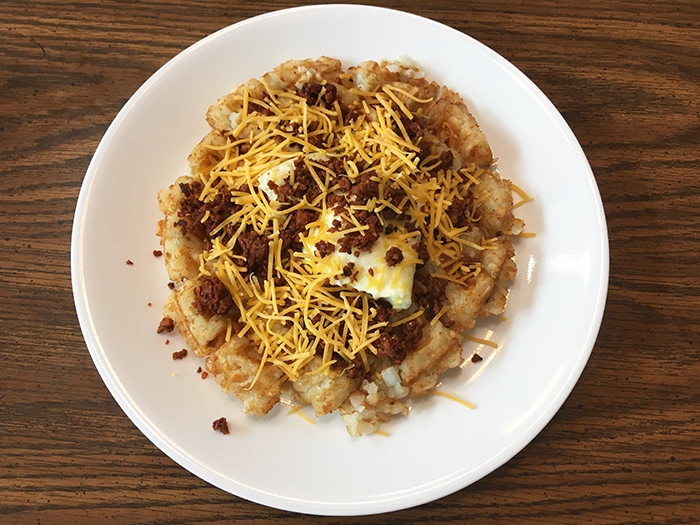 Tater Tot Waffles
Print Recipe
A waffle iron and a bag of tater tots are all you'll need to make Tater Tot Waffles, the breakfast comfort food you didn't know you needed.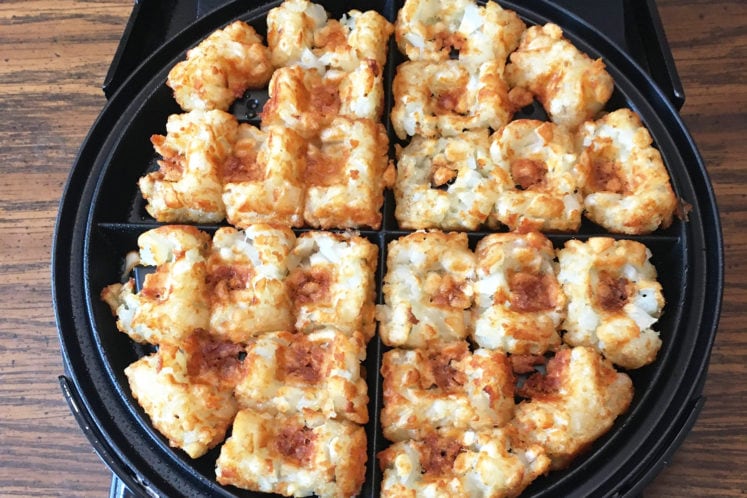 Servings: 3 waffles
Ingredients
Tater Tot Waffles
1 bag tater tots
1 nonstick spray
Syrupchup
1 cup ketchup (optional)
1 cup maple syrup (optional)
Instructions
Tater Tot Waffles
Defrost frozen tater tots.

Preheat and grease waffle iron with nonstick spray.

Carefully line up tater tots in waffle iron. The tater tots should be tightly packed.

Close the waffle iron and set to medium high. Cook tots until they are crisp and golden brown. This will take 6-8 minutes, depending on your waffle iron.

Carefully remove the totwaffle from the waffle iron. Add salt and pepper to taste. Drizzle with syrupchup. Serve.

Repeat with remaining tots.
Syrupchup
Place ketchup and maple syrup in a small saucepan. Heat on low.
Notes
It takes about 30 tater tots to make one waffle.
Extra totwaffles can be frozen and reheated in the stove or microwave.
Calorie count does not include syrupchup.
Nutrition Facts
Tater Tot Waffles
Amount Per Serving (1 waffle)
Calories 650
* Percent Daily Values are based on a 2000 calorie diet.
Did you make this recipe?
Leave a review below, then take a photo and tag @letseatcakeblog on Instagram so we can see it!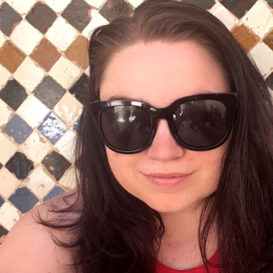 Latest posts by Madison Higgins Hwang
(see all)