June marks the summer solstice and the longest day of the year. And that translates pretty directly to having more daylight hours to enjoy these new Trader Joe's products for June 2023. Not that darkness ever stops us from munching.
We actually abide by the USPS unofficial motto: "Neither snow nor rain nor heat nor gloom of night stays these couriers from the swift completion of their appointed rounds." So long as "appointed rounds" refers to the Trader Joe's aisles.
So as spring turns to summer and our air conditioning bills turn into devastating reminders of financial and environmental responsibility, check out these new TJ items filled with bright flavors, fruit-forward products, and everything refreshing under the sun.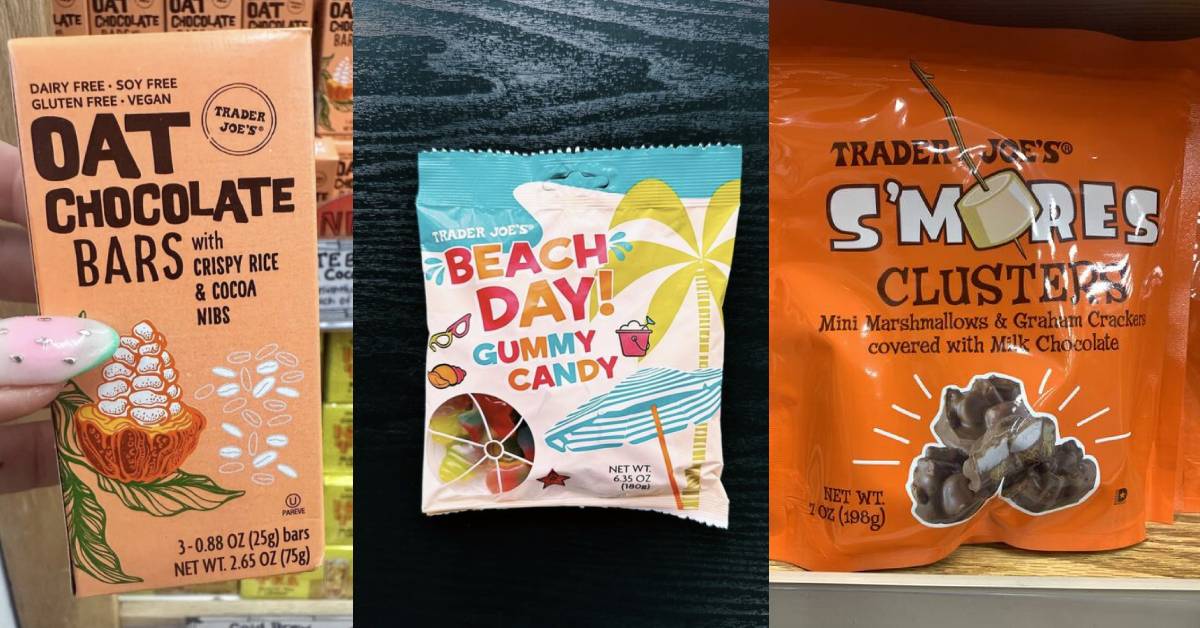 The Best New Trader Joe's Products for June 2023
1. Milk Chocolate Bar with Corn Flakes
This one's for everybody that put chocolate milk in their breakfast cereal growing up. What? Just us?
Anyway, a chocolate bar with puffed rice is so last year. Corn is the a-maize-ing upgrade that your desserts deserve, and the one our pun game desperately needs.
Available at Trader Joes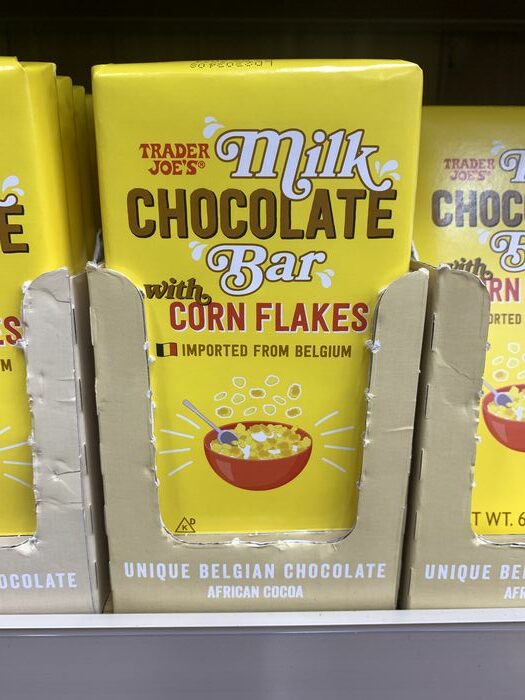 2. Gluten Free Strawberry Muffins
Strawberry season is in full swing, so Trader Joe's is making sure that its gluten free consumers never have to miss out on the experience of enjoying that crispy yet soft muffin top. And then whistling innocently when someone asks "who pulled just the tops off of the two dozen muffins I bought for the potluck brunch?!"
Available at Trader Joe's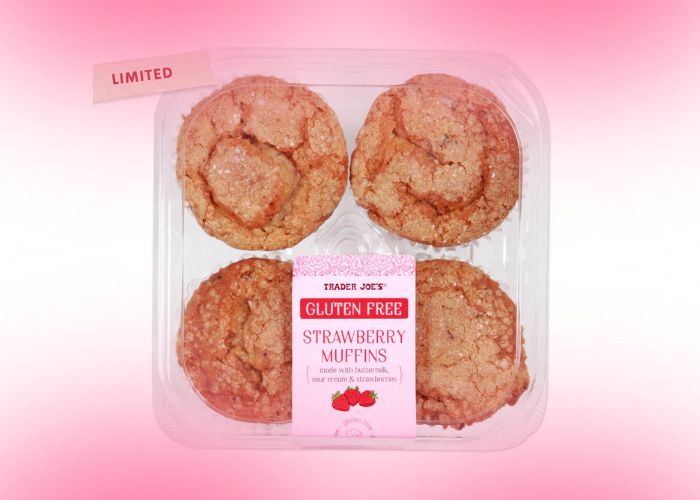 3. Breaded Cheddar Cheese Curds
They had us at "breaded." Then they had us again at "cheddar cheese." Then they lost us at "curds" but only because we were so excited that we misunderstood it as something gross that rhymes with turds. But they have us again! And we'll gladly have all of these.
Available at Trader Joe's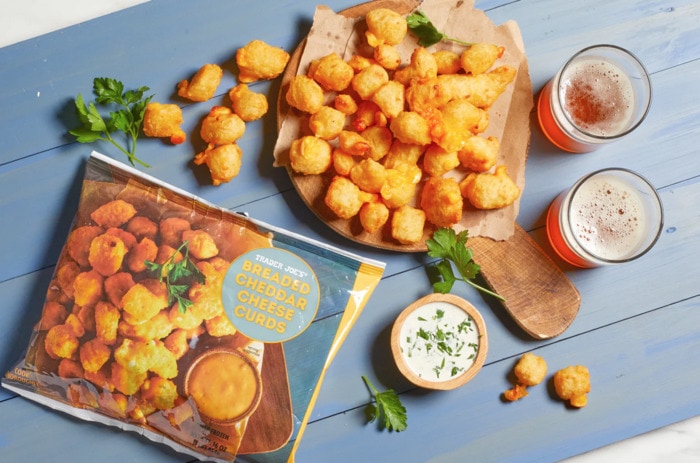 4. Organic Mafalda Corta Pasta
As far as pasta goes,"Mafalda Corta" might not be a household name. But Taylor Swift was once unknown and look at her now. Oh wait, you can't, because nobody on Earth could get tickets.
But that's okay, because you can still enjoy pasta, which is really what Saturday nights are for anyway.
Available at Trader Joe's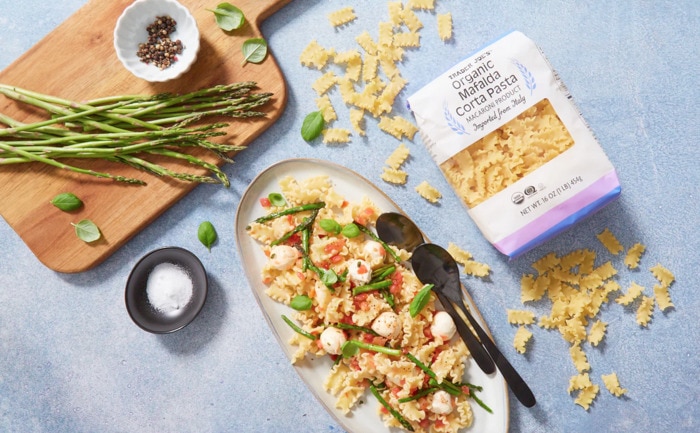 5. Mini (Almost) Everything Bagel Sandwich Crackers
"Almost everything" might sound like the sure-to-fall-flat prequel of Everything Everywhere All At Once, but it's an accurate descriptor of these sandwich cookies.
These sesame-less treats are filled with cream cheese filling and are perfect for tricking you into thinking you're a giant, or for people that love to love to rebel against the phrase "open sesame."
Available at Trader Joe's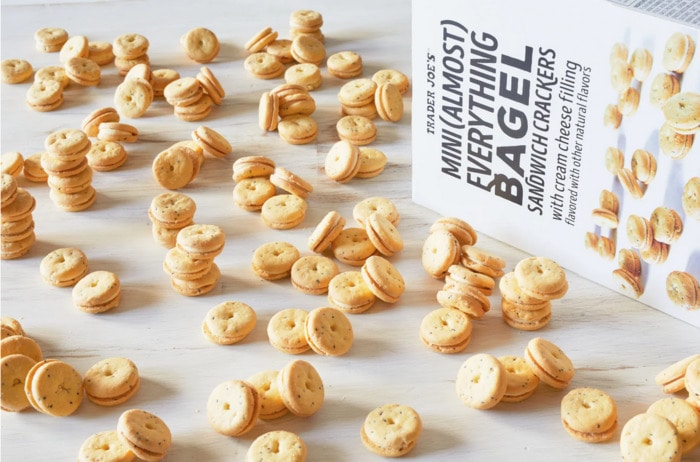 6. Salted Caramel and Pistachio Scented Candle
Pro-tip: If you burn the candle for a bit, your teeth marks will melt off right away.
Available at Trader Joe's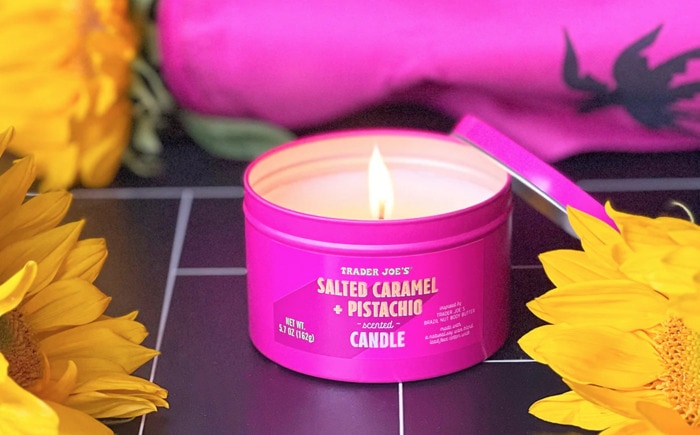 7. Blueberry Fields Hard Cheese
Blueberry is in the house! "Strawberry fields forever"? Bet those Beatles feel like idiots now.
Available at Trader Joe's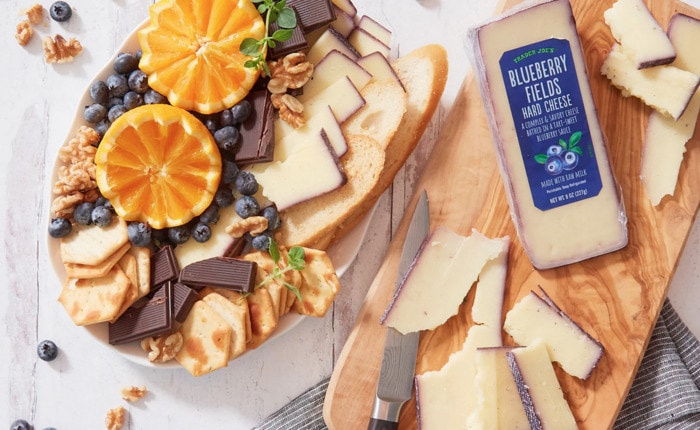 8. French Heritage Saint Paulin Cheese
If there's anything the French know, it's cheese. And also probably, like, French. But can you melt the French language on crispy bread and eat it? Honestly, we wouldn't put it past them. But we'll stick with the cheese.
Available at Trader Joe's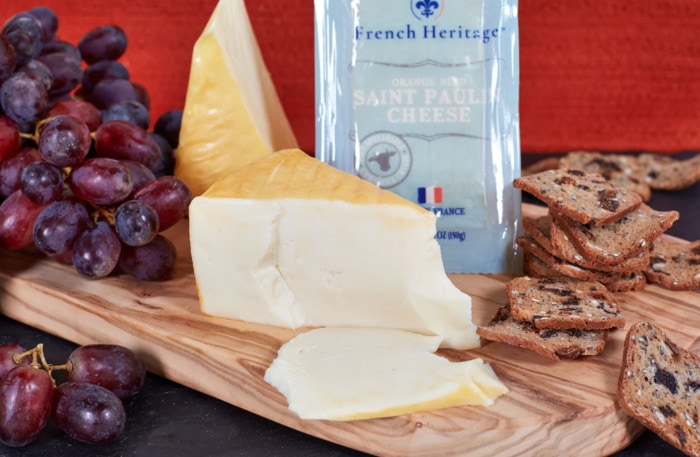 9. Oat Chocolate Bars with Crispy Rice and Cocoa Nibs
We know we talked up the corn flake chocolate. But this crispy rice chocolate has oats and puffed rice, so it's 100% a breakfast item. And totally not TJs take on a Crunch Bar.
10. Trio of Soft Licorice Twists
This candy trio includes flavors of mango, raspberry, and green apple. We're generally happy campers as long as it's not black licorice, so shout-out to TJ's for going above and beyond to give us fun flavors that scream summer. Yes, outside voices are now allowed!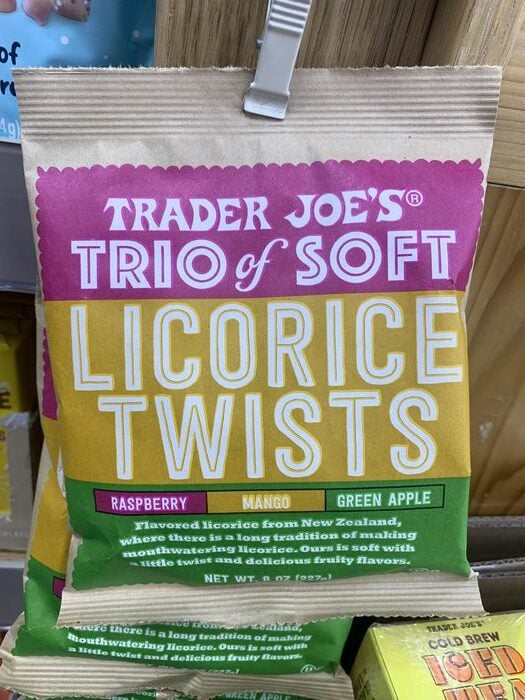 11. Ube Spread
All 90's kids have the rent-free tenant of Heinz EZ Squirt Ketchup in their brains, and maybe they'd be less traumatized if this was the purple condiment of their childhood. Or if they weren't neck deep in student loans. Nah, probably the purple ketchup thing.
12.Strawberry And Vanilla Yogurt Pretzels
Take the sweetness of strawberry, the slight tanginess of yogurt, and the saltiness of pretzels and what do you get? Crumbs in the bed, an empty bag, Netflix asking if you're still there after 10 consecutive episodes of Bake-Off. Oh, and a very satisfied customer.
13. Enchanted Jangle
TJ's moved from Jingle Jangle to Springle Jangle to Enchanted Jangle. They may have given up on the rhyme scheme, but they didn't give up on flavor.
This mix contains lemon-coated animal crackers, pretzels, strawberry yogurt-covered mini marshmallows, confectionery chips, and chocolate-covered pretzel nuggets so they have full permission to leave the rhyming to Dr. Seuss and just give us the snacks.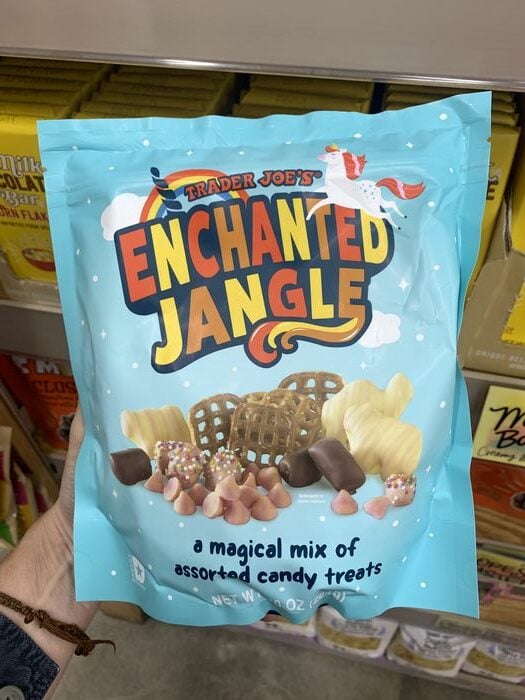 14. Donuts Forever
When others were writing "friends forever" in yearbooks and on cards, we were writing "donuts forever." It confused a lot of people, but we cannot tell lies.
These are actually donut shaped truffles, and biting into a donut to find a chocolate truffle would just be like opening a case that was supposed to have diamonds and finding cash. A win-win!
15. Beach Day Gummies
Gummies could be just the thing we need to change our association with "beach day" to "excitement and anticipation" from "sand where sand should never be."
16. S'mores Clusters
We're never going to be mad about any combination of chocolate, graham cracker, and marshmallows, but these have some big shoes to fill considering TJ's is s'mashing s'mores' popularity.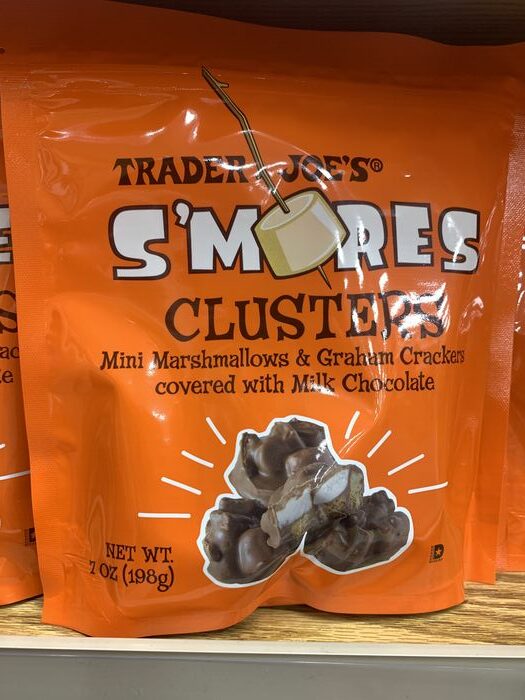 17. Tikka Masala Curry Sauce
We're big curry fans. It's flavorful, comforting, and gets better the longer it sits, so it's a great excuse to cook once for the week and use the extra time to re-watch Abbott Elementary. You're doing the lord's work, curry!
18. Tangy Turtles
Tangy, tart, and sweet. These aren't words we're used to using as descriptors for turtles, but we're happy to branch out from teenage, mutant, and ninja.
Available at Trader Joe's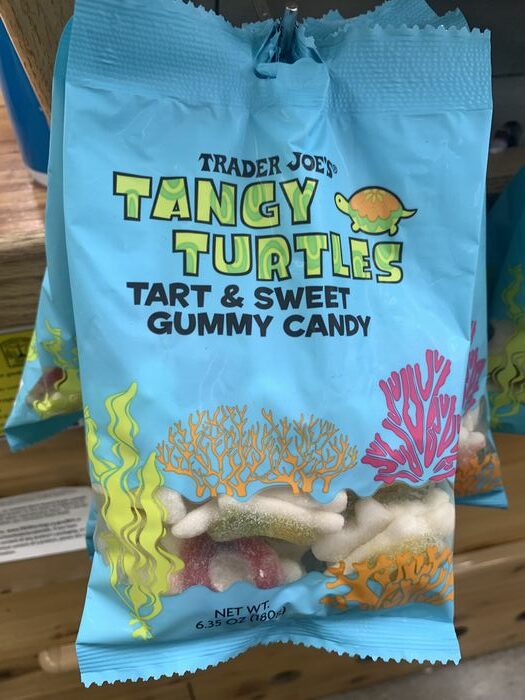 19. Panama Rum
This smooth rum has got notes of brown sugar and baking spice. So what we're hearing is that drinking this will make us feel like a pirate baking cookies, and that just sounds really fun. Chips Ahoy, indeed.
Available at Trader Joe's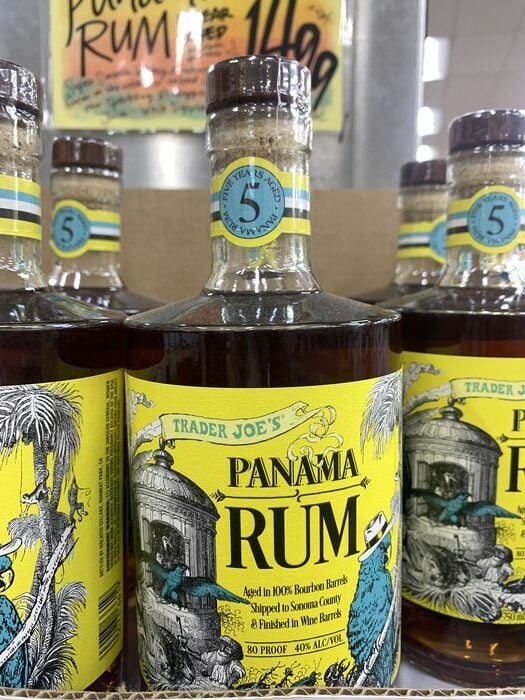 20. Brazil Nut Body Wash
Summer is the season of sweating through shirts and a thousand daily showers, so the silver lining of a great body wash makes all the difference like this one that smells of caramel and pistachio. That being said, we wouldn't be mad if Mother Nature turned the thermostat down just a touch.
Available at Trader Joe's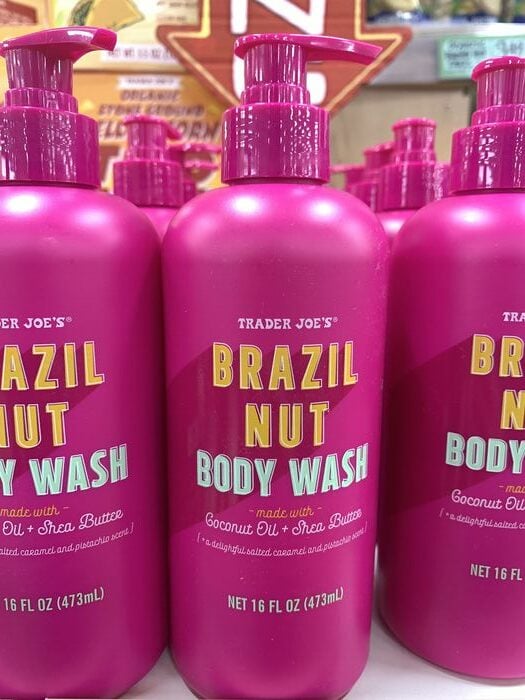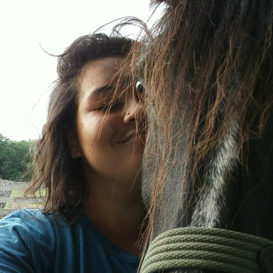 Latest posts by Hebba Gouda
(see all)