It's appropriate that Mother's Day is in May, because this batch of new Trader Joe's products for May 2023 is pretty much the motherlode. Well, who are we kidding? TJ's rarely misses. But that doesn't make us any less excited for these new finds, like ube cookies, coconut cold brew, and a ranch dressing we would happily drink by the gallon.
This assortment of goods is perfect if you want to whip together Mother's Day brunch, need something to hold you over until the Memorial Day BBQ, or want to think about anything other than the fact we're already five months into the year, time is fleeting, and the end is inevitable. We're fine, why do you ask?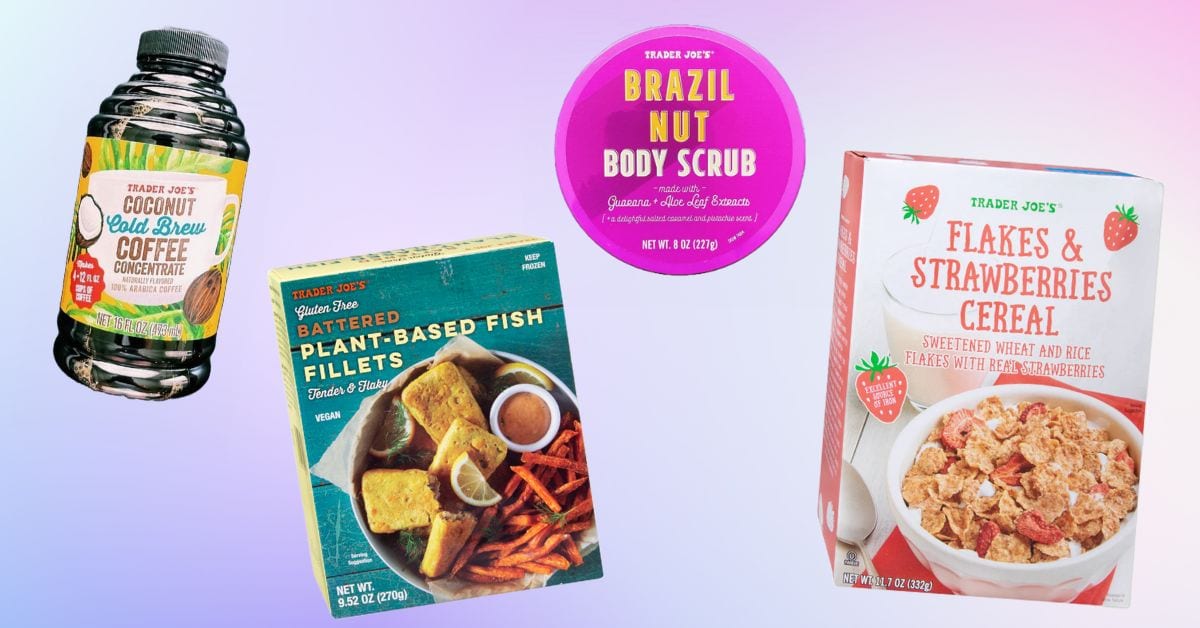 We're honestly amazed at how TJ's keeps coming up with new products, but man are we glad they do. We don't know if these new ideas are coming from ayahuasca, really solid bullet journaling prompts, or just experience in the industry and listening to customer feedback. But we won't question the masterminds that have fed us for years.
So this May, we will be braving the metaphorical sea to get our hands on these new and returning Trader Joe's products, despite having seen Jaws. Meaning the movie, and not just the mean nickname we got after trying to shove the entire sleeve of Joe-Joe's in our mouth at once.
20 New Trader Joe's Products for May 2023
1. Gluten-Free Battered Plant-Based Fish Fillet
Trader Joe's heard the cries of gluten-free vegetarian anglophiles everywhere and said, "Wow, what a specific niche." But then, they said that everyone should be able to enjoy fish and chips, and gifted us with this gluten-free battered plant-based fish filet.
Thanks for the inspiration, England! Not so much for King Charles. You can keep him.
Available at Trader Joe's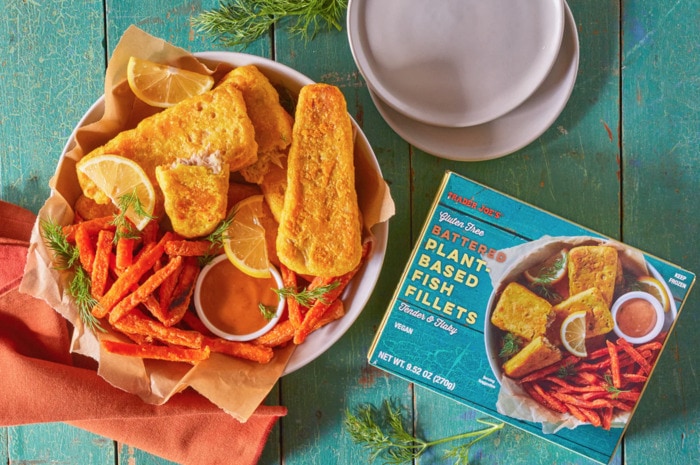 2. Cold Brew Iced Tea (Black Tea and Lemon)
Nothing says "Summer is coming," like sipping sweet tea. Except for the people that verbally say "Summer is coming." But iced tea has the lead in the "implications by inanimate objects" category.
A great way for non-coffee drinkers to get on the cold brew train, this Trader Joe's tea is sure to be so tasty you won't miss the Snapple fact.
Available at Trader Joe's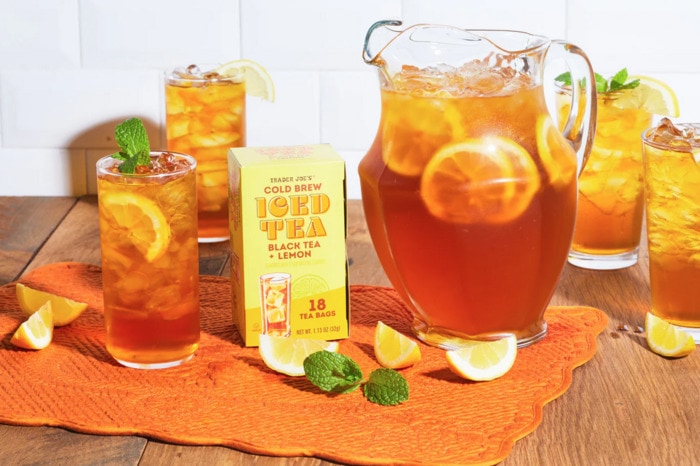 3. Sfogliatella Pastry
Flaky pastry filled with sweetened ricotta and candied orange? The only thing harder than resisting the urge to eat the whole box is spelling the darn thing.
Available at Trader Joe's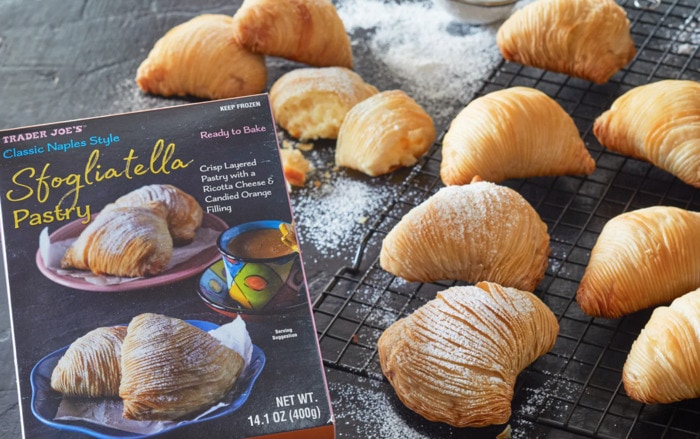 4. Mee Krob Snackers
The crunch heard round the world, these Thai rice noodle snacks are like if your dry Ramen had its glow-up and came back a total snack, in all senses of the word.
Described as "crispy, sweet, tart, and savory," these crunchy delights decided that they can, in fact, have it all. Mee krob? Me hungry.
Available at Trader Joe's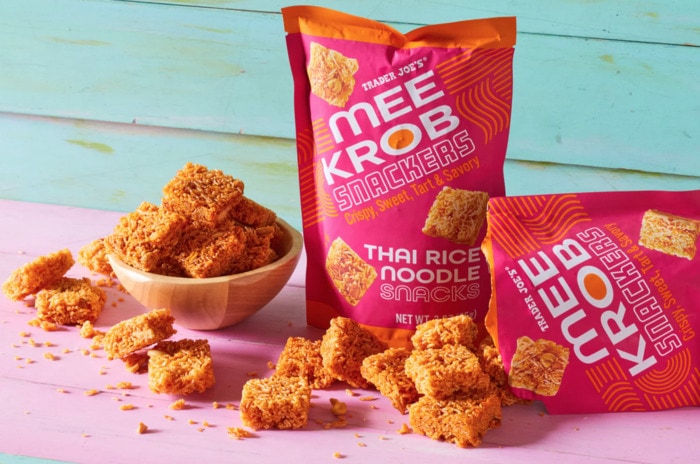 5. Flakes and Strawberries Cereal
Short of sounding a little bit like having breakfast after running out of Head and Shoulders, we're really into this Flakes and Strawberries Cereal.
Crispy wheat and rice cereal with bright, crunchy berry bits? It brings us right back to when we were kids, and we definitely didn't pick the freeze-dried strawberries out of our mom's Special K. We swear! Would we lie to you, Mom? The month of Mother's Day, no less?!
Available at Trader Joe's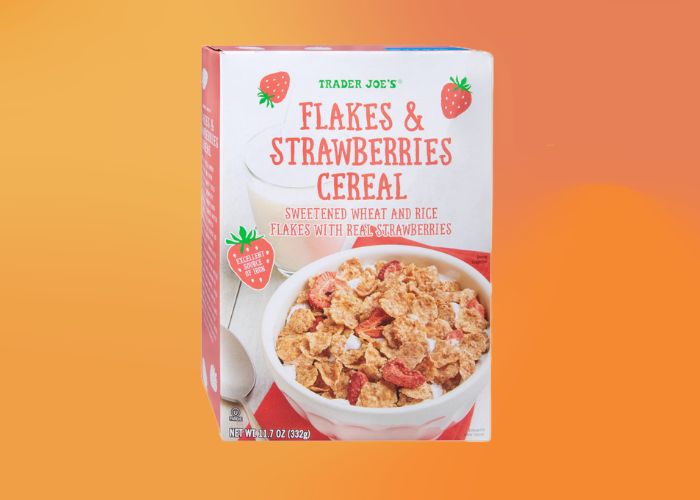 6. Lemon Ginger Sparkling Probiotic Beverage
Holy buzzwords, Batman! Lemon and ginger is a winning flavor combination. We love getting to enjoy anything "sparkling" without fear of randomly finding glitter behind our ears in 10 months. And we stan a healthy gut. Strong on all counts, Trader Joe's.
7. Coconut Cold Brew
We're drafting a letter to make the point that the official start of summer is not June 21st, but whenever coconut cold brew is back on the shelves. Who can we make this out to, Galileo? Are his DMs open?
Available at Trader Joe's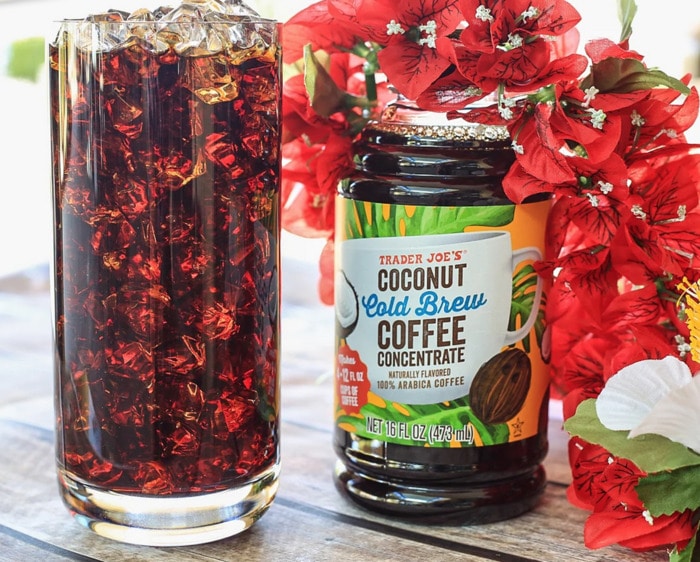 8. Brazil Nut Body Scrub
We've heard that beauty starts from the inside out, but this is an exception. It smells better than it tastes. We mean…what?
We'd be lying if we said we didn't think about being buried in a cocoon of cookie butter, but it's nice that TJ's gives us some craveable products that are meant for topical use.
Available at Trader Joe's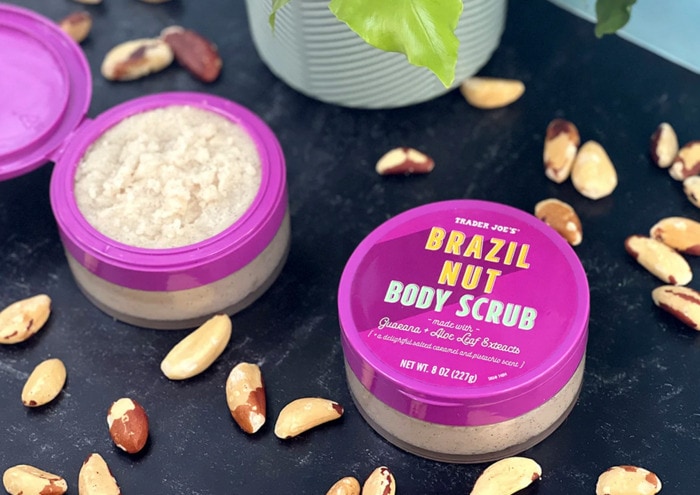 9. Mango Cream Bars
These ice cream bars are back, baby! And, although people do get really excited, "Man go cream" is low-hanging fruit as far as jokes go. So was that subtle connection between nads and hanging fruit.
Bet ya can't get it out of your head now, can you? Now go get yourself a box of these goodies.
10. PB & C Snack Duo
Romeo and Juliet. Jack and Rose. Peanut butter and chocolate. All famous pairings, but only one has survived the test of time. Just saying.
11. Garlicky Pasta
We don't know if it's because we're trying to counteract having read Twilight 50 times in middle school, but we love garlic. We also love pasta, but we do know why that is – because pasta's delicious.
So when Trader Joe's gave us this ready to heat pasta with creamy, umami, garlic sauce, we were all for it. And, more importantly, it was all for us. Sharing is not caring, sharing is weakness.
12. Buttermilk Ranch Dressing
Move aside, Yellowstone. This ranch is about to top our list. And yeah, we have a list – we tasted and ranked 9 different ranch dressings.
Snag a bottle of this new TJ's dressing for your Memorial Day crudité platter, pair it with chicken and bacon, slather it on your pizza to implode a friendship you used to think was unshakeable. What you do is your call, just as long as you leave some for us.
Available at Trader Joe's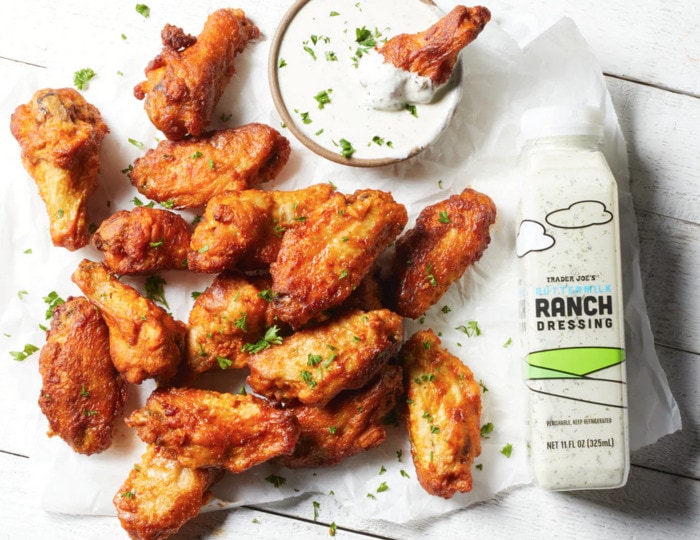 13. Belgian Cookie Assortment
This assortment has lemon flavored waffle cookies, and two types of almond butter thins – one with strawberry bits and one without.
If we weren't already sold by combining "waffle" and "cookie," we think it'll be harder for Grandma to keep her sewing supplies here than in the Danish Butter Cookie tin. These cookies are the first step to us learning to trust again.
14. Unsweetened Vanilla Non-dairy Oat Beverage
Listen, Marty McFly. We don't really have flying cars but hear us out…we drink oats now. Vanilla-flavored oats without any sugar, at that. Crazy, right?! Don't knock it 'till you try it.
15. Cheesecake-Inspired Truffles
Like these truffles, we, too, are inspired by cheesecake and largely made up of chocolate. With flavors of lemon, salted caramel, raspberry, vanilla, and assorted chocolates, these little slices have something to offer everyone. TJ's is really doing the work to bring people together.
16. Spicy Tempura Seaweed Snack
While you might be disappointed if you're looking for something super spicy in this snack, you won't be left wanting if you're craving something spiced, salty, or crunchy. You're a grown-up, go grab a bottle of hot sauce or something.
17. Ube Joe-Joe's
We've yet to meet a Joe-Joe we haven't liked, and this one is no exception. The vanilla cookie covered in an ube yogurt coating has those spring flavors giving bold and unapologetically here. Like that one mansplainer in your class, except you enjoy these cookies and taking a chomp won't get you "expelled."
18. Ube Tea Cookies
One of our favorite things about ube is that it's a yam. Tea is made from leaves, so wouldn't tea and yam cookies basically be a salad? We see no faults here.
Available at Trader Joe's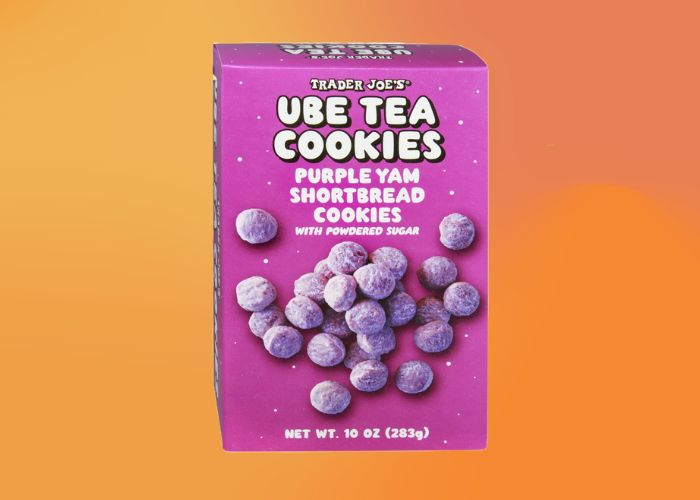 19. Jalapeño Limeade
Spicy. Sour. Great with a pitcher of margaritas. We knew we had a soul mate out there somewhere.
Available at Trader Joe's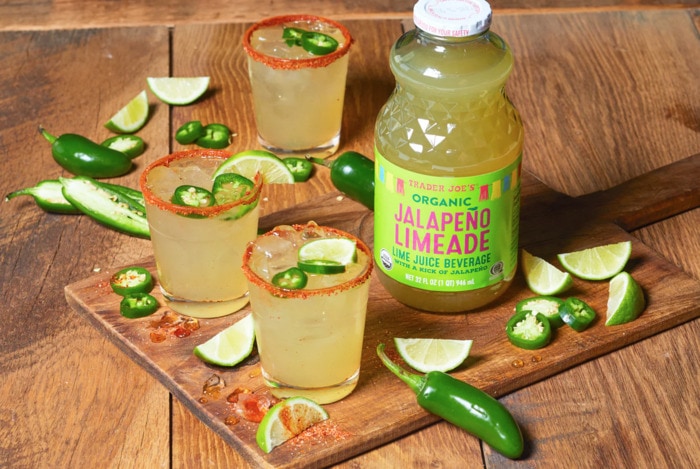 20. Sweet and Salty Umami Crunchies
The name might be ambiguous, but we don't have a problem with that. Delivering on all promises, the only problem with these crunchies is that they're so crunchy it's hard to hear our TV shows as we snack. But hey, that's what subtitles are for.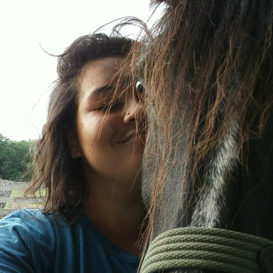 Latest posts by Hebba Gouda
(see all)