Ranch is more than just a dressing. For some, it's a way of life. (Lookin' at you, Midwest.) The best ranch dressing is an all-American concoction that contains buttermilk, garlic, onion, and herbs. It's a dip, a seasoning, and one of the most delicious ways we know to make no one want to kiss us.
But of course, not all ranch brands are equally tasty. So, to help you out, we decided to taste test and rank all of the best ranch dressing options our grocery store offered.
Because you wouldn't want to show up to a good old fashioned Ohio cookout with the wrong kind of ranch dressing in your crudité platter, would you? Well, as long as it's not on a blue and yellow tray.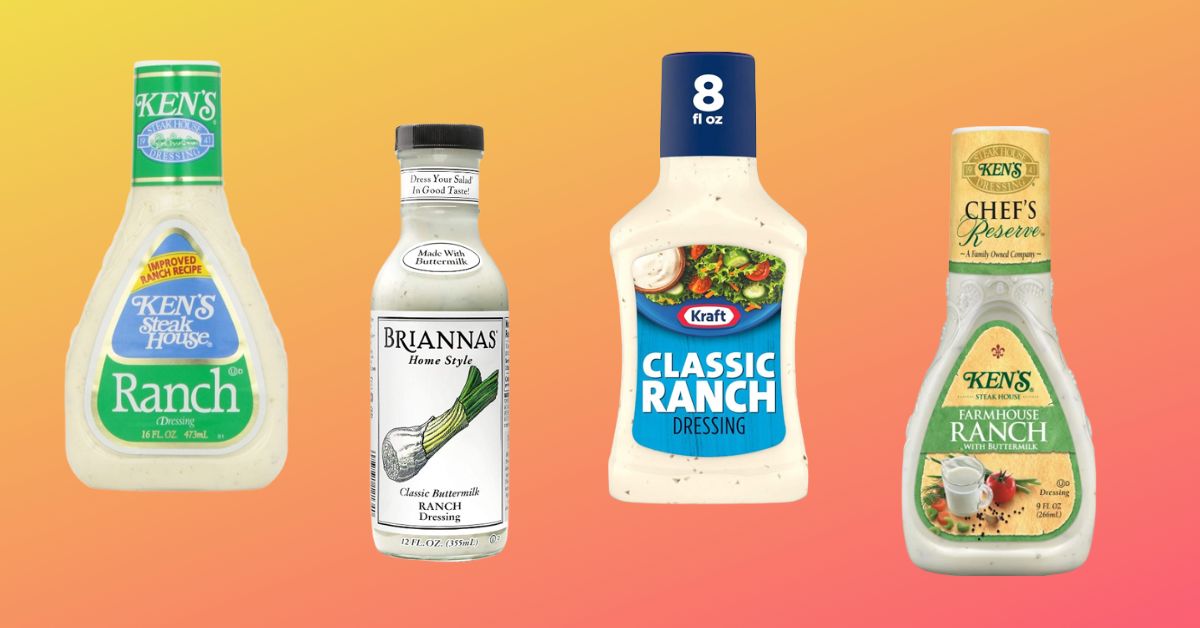 So grab your carrot sticks, your salads, or your pizza, because we're diving deep into this ranch review. We'll find out which brand of this herb-flecked creaminess does the best job of making raw vegetables somewhat acceptable, and finger foods like buffalo wings and pigs in blankets that much better.
And if you don't understand why pizza would be involved in this, congratulations. You grew up on a coast.
9 Ranch Dressings Ranked From Worst to Best
9. Walden Farms Ranch
Customer review: "Serving size is 2 tablespoons, enough product to adequately dress a cup of chopped salad. The taste is familiar and passes as ranch dressing. A reasonably flavored zero calorie dressing."
Our review: We applaud the customer's diplomatic answer, and we assume they grew up hearing, "if you don't have anything nice to say, don't say anything at all."
The Walden Farms Ranch dressing is fine. It is vegan. It is advertised as zero calories and fat free, so we were skeptical.
Upon tasting, we determined that our skepticism was well-founded. It was bland at first, but followed by an odd, lingering taste. It's tangy in a way that's not salty, and not particularly enjoyable.
It tastes too much like the vegetables we're trying to cover up. So, nice try, but no thanks.
Available on Amazon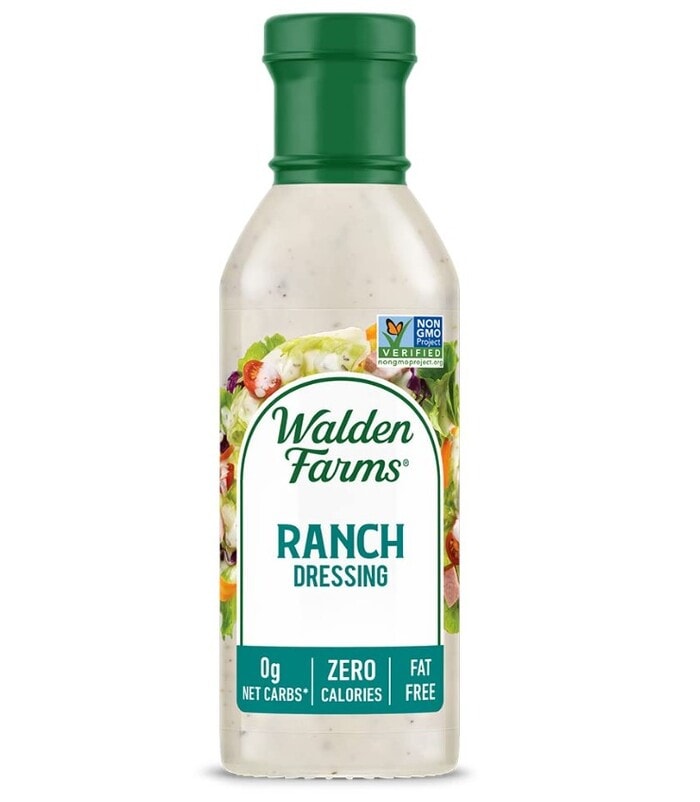 8. Brianna's Classic Buttermilk Ranch
Customer review: "This stuff has the texture of gelatin. I literally couldn't get it out of the bottle. It tasted nothing like ranch, just vinegar and salt."
Our review: We were so excited about this one because of the cute lil' illustration on the front. But we were disappointed by the interior. What's that about books and covers?
Brianna's Classic Buttermilk Ranch is dark and speckled like Caesar (the dressing, not the person) and the thickest of the dressings. "Gloop" is the word that comes to mind. And it was only slightly less off-putting than that Augustus Gloop chocolate cake scene.
The taste was…complex, if we're being nice. Confusing, if we're not. And let's face it, we're not nice. All's fair in love and ranch.
Available on Amazon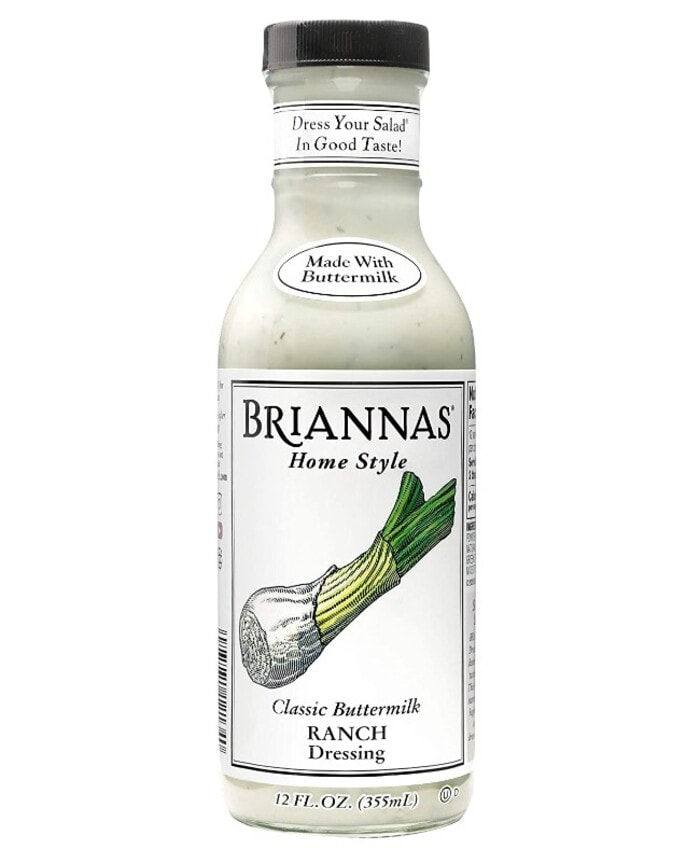 7. Kraft Classic Ranch
Customer review: "It's ranch."
Our review: Yes. Yes, it is ranch! Kraft is a mega company, so it's not surprising that this tasted mass-produced. It was the blandest of the bunch, and kind of like salty mayonnaise.
For those that like subtle ranch, take this and run with it. Or rather, walk at a reasonable pace to the register and pay for your product. And be nice to the cashiers. This option won't knock your socks off, but it shouldn't offend anyone.
Available on Amazon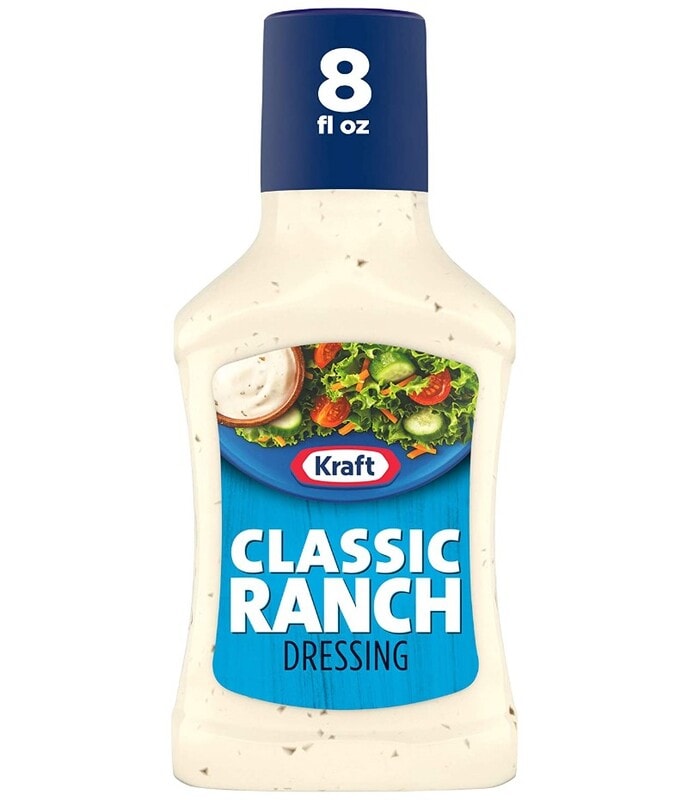 6. Organicville Non-Dairy Ranch
Customer review: "It wasn't as creamy as regular milk-based dressings, but still had a good flavor and texture. It had a seemingly oil-based texture instead of dairy."
Our review: We had spent this entire ranch taste test experience waiting for a distinct dill flavor, and Organicville delivered. And reminded us to be careful what we wish for.
This vinegar-forward option was oddly and somewhat unpleasantly reminiscent of pickles. Its flavor was still more complex than a few of the brands that smacked just us with onion, and it did taste sophisticated. We're (probably) not just saying that because it's organic.
It was also a bit more liquidy than the other options, but not a terrible pick overall. If we loved ranch but couldn't have dairy, we'd be pretty okay with this.
Available on Organicville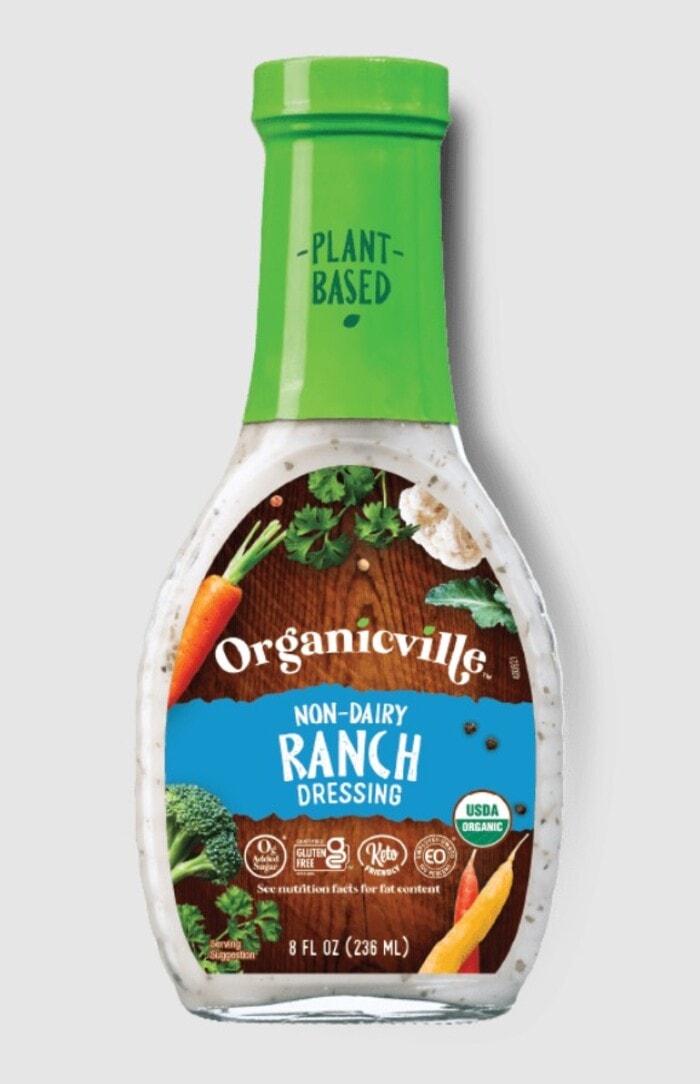 5. Hidden Valley Ranch Dips Mix
Customer review: "I use this for a lot of different things in cooking. I'm happy I can just have the seasoning on hand. Once you have it, you start discovering all the different ways you can use it."
Our review:If you love salt and ranch, buy 50 packs of this. It is very salty, it tastes like sour cream and onion potato chips, and we are here for it. And it is salty. Did we mention that yet?
We made it into a dip according to packet instructions, which makes us sound more culinarily advanced than, "we dumped it into sour cream." But the mix in powder form is a glorious hack for adding the ranch flavor to pretty much whatever you want.
We would have ranked it higher if we weren't distracted by the gallon of water we had to drink. We did talk about the saltiness, right?
Available on Amazon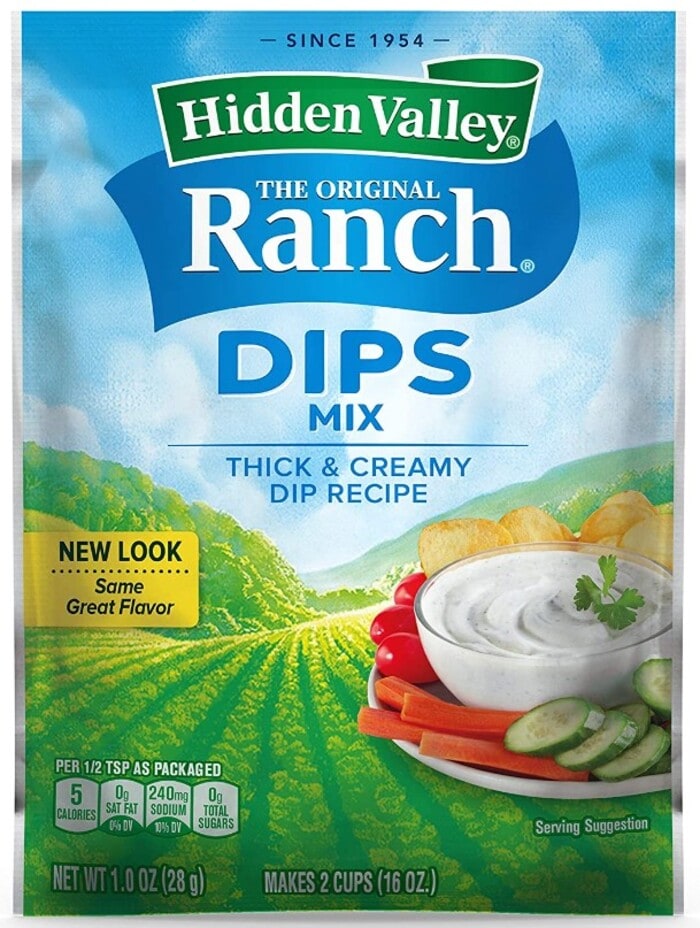 4. Hidden Valley Original Ranch
Customer review: "[There's] something about the brand. This is the best ranch dressing on the market…add some buffalo wings [amd] it will have you looking at your lover side eye."
Our review: We don't fully understand the nature of the customer's love life, but we do agree that Hidden Valley Original Ranch is some pretty good dressing. It's heavy on the onion, creamy, and not overwhelmingly tangy.
We gave bonus points for the easy squeeze spout. Is that supposed to be a euphemism for that customer's lover? We may never know.
Available on Amazon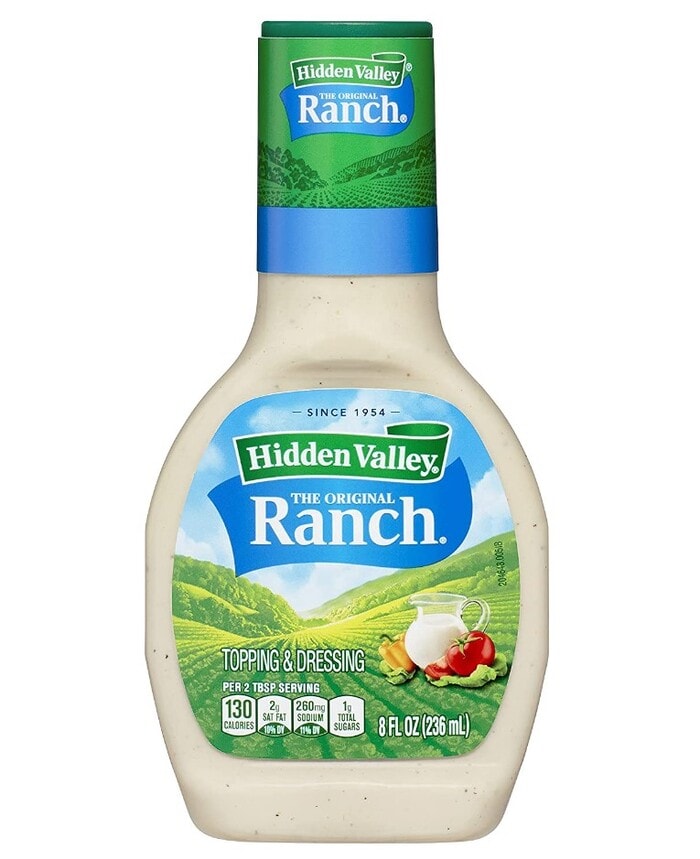 3. Ken's Chef's Reserve Farmhouse Ranch
Customer review: "I am not big on dressings, but I will choose this over and over again. It's perfect on salads, to use as a dip, or to add to a dinner recipe."
Our review: Ken's Chef's Reserve Farmhouse Ranch was the most "gung-ho" on flavor out of this list. From the first whiff, it was like the force with the Skywalkers: strong. There was a lot of flavor without being overly salty. But the wallop of vinegar made it pungent and tart.
We like big flavors so we like this one. Just prepare yourself.
Available on Amazon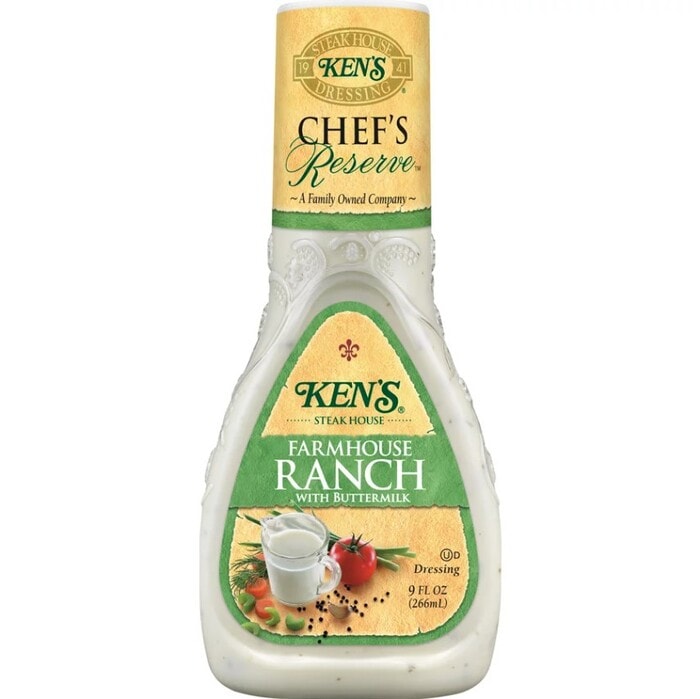 2. Wish-Bone Ranch
Customer review: "I am very picky when it comes to ranch dressings. I like it to be a fresh, cool taste of yummy ranch goodness. I do not like buttermilk, sour ones […] it truly hits the spot."
Our review: Much less intense than Ken's Chef's Reserve, the Wish-Bone Ranch dressing still had the flavors we love and expect from ranch without the punch of vinegar.
It didn't have the little herb flecks that make it look so pretty. But we guess we already learned something about judging appearance over what's on the inside.
Available on Amazon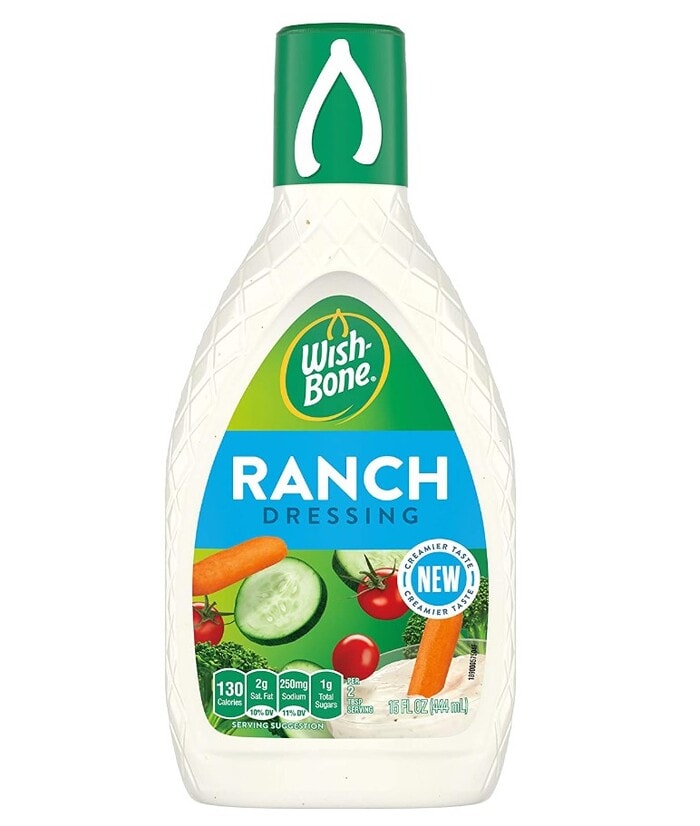 1. Ken's Steak House Ranch
Customer review: "I consider myself a ranch expert at this point in my life and Ken's Steakhouse Ranch Dressing is probably my favorite without question."
Our review: We're not ranch experts, and we do have some questions. How was your day? What are your hopes and dreams? Is it raining out?
What? We didn't say they were ranch-relevant questions.
And we may not be ranch experts, but we have working mouths and don't care how weird that sounds. While this one was a little on the salty side, it hit that "sour cream and onion" note that we love.
This one is a great pick for those that want an excuse to eat the dip as a dressing. So, us. Cheers!
Available on Amazon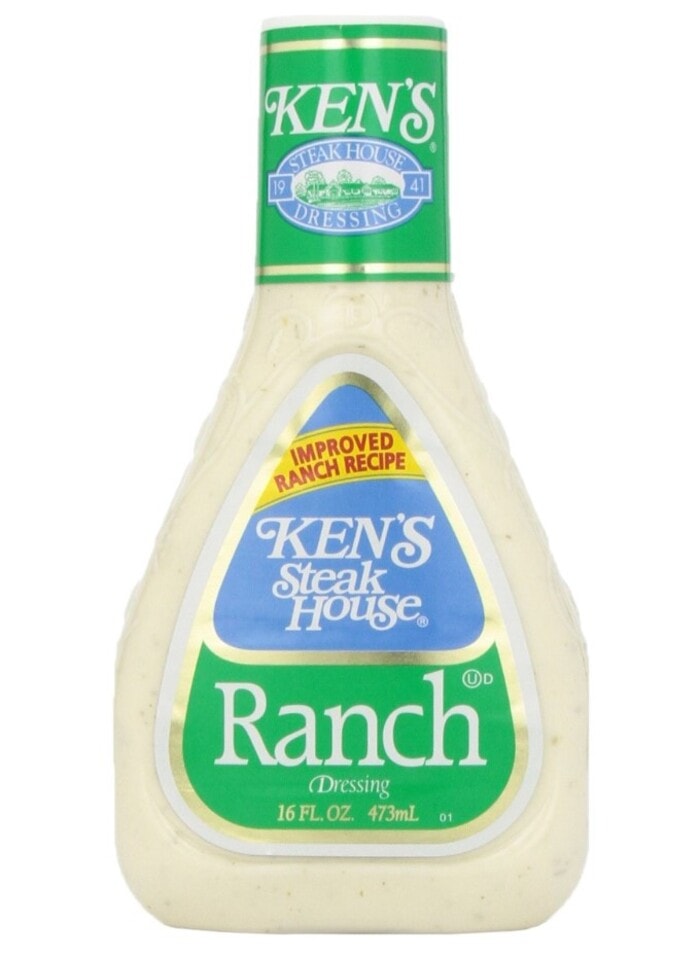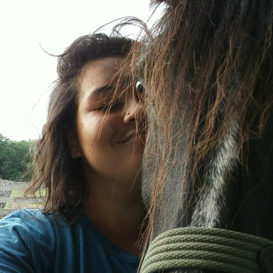 Latest posts by Hebba Gouda
(see all)