April showers bring May flowers. And allergies. And occasionally Easter. But it also brings us a bunch of new Trader Joe's April products. And we'll gladly deal with some irritated eyes for that.
We're grabbing our umbrellas for the trek through the Trader Joe's parking lot (reusable bags in hand, of course), and stocking up on all of these goodies before the month passes. And double stocking up on the TJ's sprinkle sandwich cookies.
Our favorite trader has brought back some classics, and has made some serious additions, too. From candy to candles, savory to sweet, and edible to…maybe still edible depending on how sick you're willing to get. The world is your oyster! (We gave up doling out good advice for Lent.)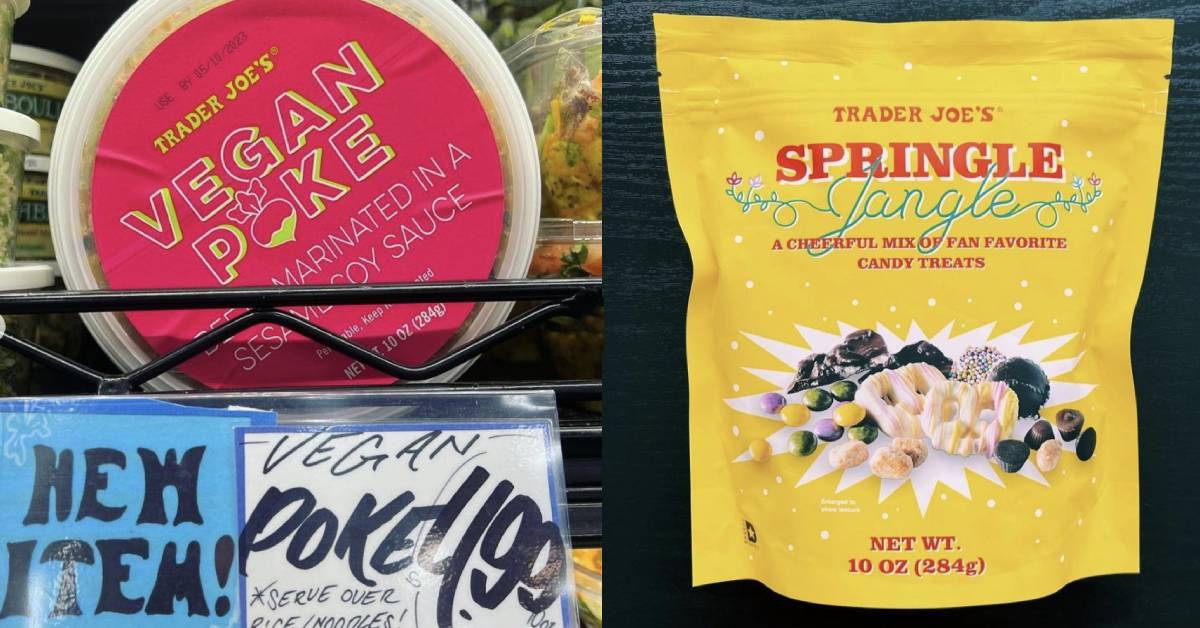 The Best New Trader Joe's April Items 2023
1. Candy Coated Dark Chocolate Covered Almonds
These are a lot like we are: sweet on the outside, dark on the inside, nutty at their core.
A returning favorite, these conveniently egg-esque shaped treats are meant to be in your Easter basket and your shopping basket. Alright, who are we kidding? You're gonna need a cart.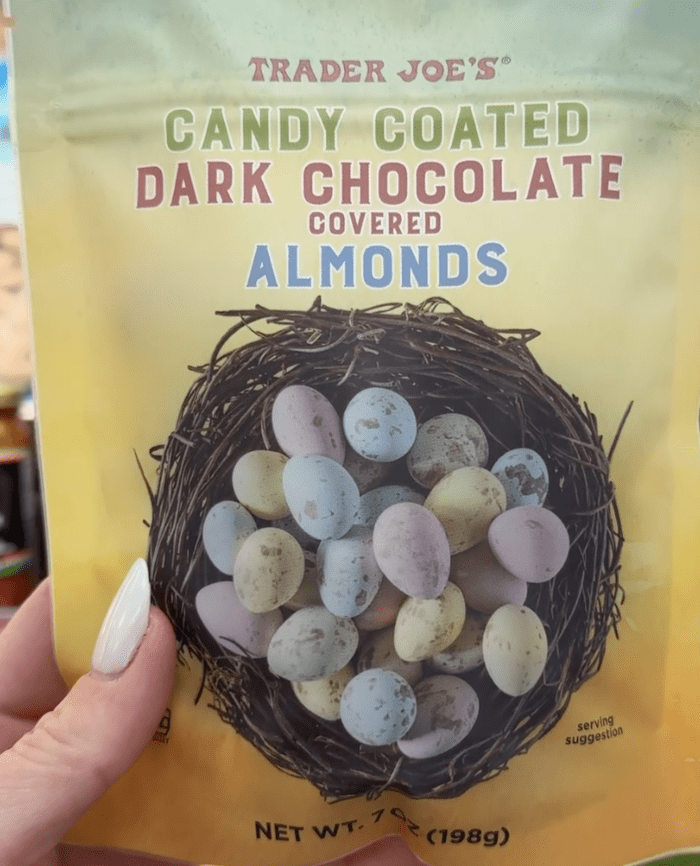 2. Coffee and Dark Chocolate Joe Joe's
You know when you see a little kid trying to hang with the big kids and you say "aw, that's cute"? That's how we feel about Oreos trying to hang with Joe Joe's.
Flavors like coffee and dark chocolate let us enjoy the sunshine of Spring without having to sacrifice our brooding, artsy aesthetic. We can have it all!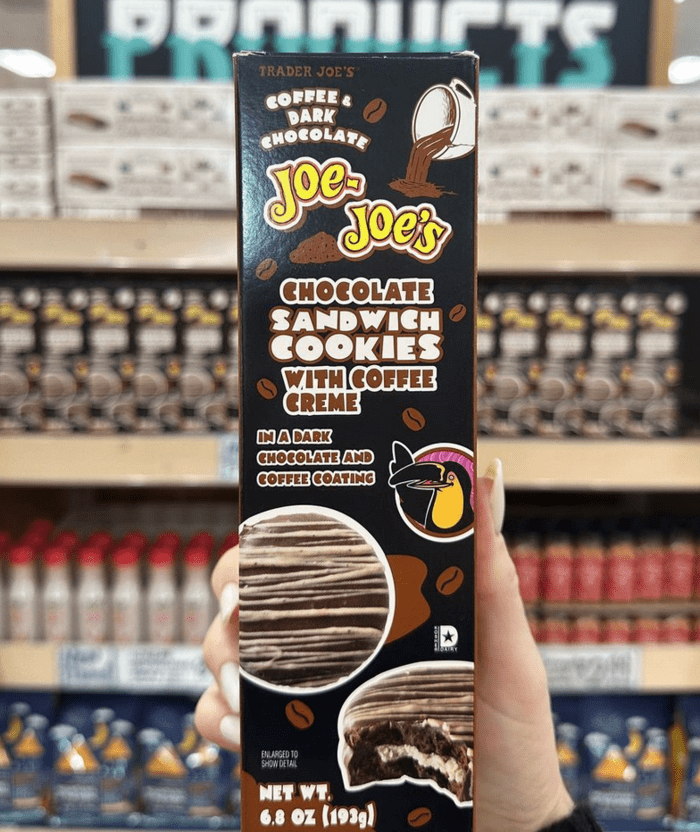 3. Cookies and Creme Pretzel Slims
If you've ever put pretzels into your cookies and cream ice cream, you know what's up. If you haven't, go get yourself a bag of these now!
Sweet, salty, crunchy, these slims prove that we really can put aside our differences and work together as something greater than the sum of our parts. Hear that, America? And all the sports teams that hate Tom Brady?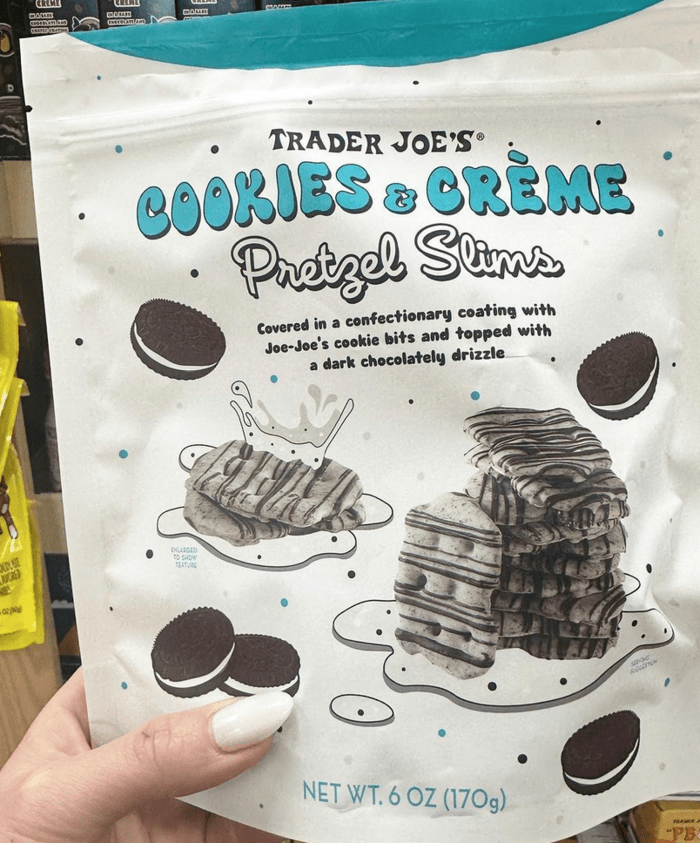 4. Korean Gochujang Sauce
Fermentation is really having a moment these days, and fermented pepper-based condiment of gochujang is no exception. That's more than we can say for that container of cantaloupe we forgot about during New Year's Eve.
Available on Amazon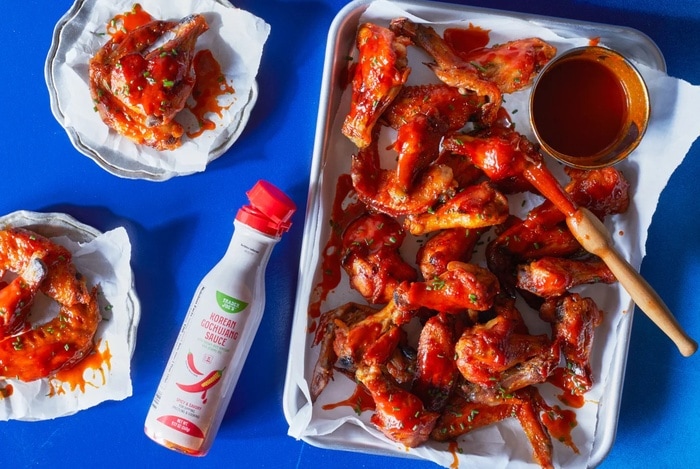 5. Bananas Bananas! Candy
Rabbits may dominate April, but are those chocolate bunnies filled with banana cream and cocoa nibs? Oh no? They're just solid chocolate? Alright, that's good too.
These banana shaped treats are the perfect thing to cry over while singing Hollaback Girl and remembering simpler times when Gwen Stefani was the best spelling teacher we could ever ask for.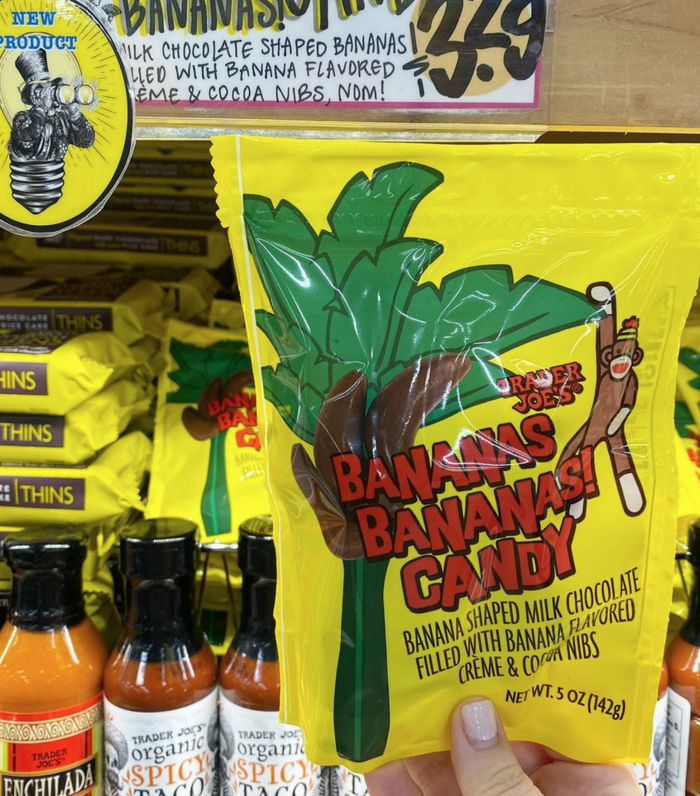 6. Olive and Basil Pesto
Tapenade, meet pesto. Pesto, meet tapenade. We think this is the beginning of something really beautiful. And a really confusing wedding when the couple is the one being served for dinner.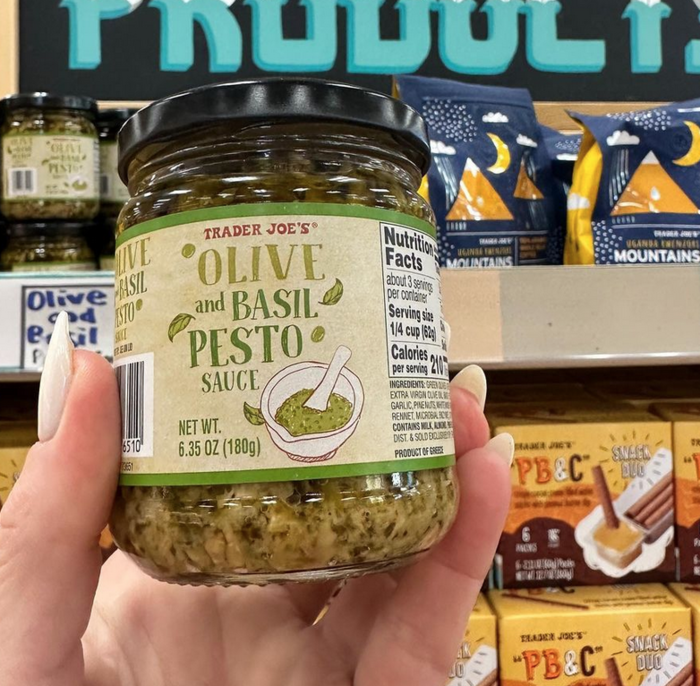 7. Egg Omelets
How many times have you tried to make an omelet and ended up with scrambled eggs? Oh, never? Okay, Gordon Ramsey.
For the rest of us kitchen plebs, Trader Joe's is coming in clutch with these already made, fully cooked, not broken omelets. Flying cars? Who needs 'em. This is the future.
8. Chromatic Celebration Cake Mix
This is like a "where are they now" exclusive on Funfetti cake where we learn that it went to art school and got all grown up and sure, a little bougie, but are still fundamentally the same. How beautiful.
9. Italian Bigonda Cheese with Herbs
Did you know that the name "Bigonda" came about as an abbreviated version of the true name? "It'll BE GONE soon, DUH." No need to run a check on our linguistics PHD. We function on trust here.
10. These Sprinkles Walk Into a Sandwich Cookie
Sticking two cookies together and being able to call them one? Genius. It combines our three favorite things: Cookies, loopholes, and more cookies.
11. Glazed Sweet Lemon Scones
Our humor is like scones: dry. Our personalities are like lemons: sour. These lemon scones are us, and we are them. However, no one seems to be the walrus.
12. Chai Tea Mints
Move aside green tea mints, there's a new sheriff in town. These are so good that they can justify forcing themselves into a cowboy narrative, even though nobody really associates the Wild West with delicate chai tea. Sneaky!
13. Syrah Soaked Toscano Cheese Spread and Dip
Trader Joe's has been saving us the trouble of drinking our wine and eating our cheese separately with syrah-soaked toscano. And now they've given it to us in easily spreadable form. You don't even need to put this on a charcuterie board – you can present it as the charcuterie board!
Your guests can spend the time they've saved by showering you with praise.
Available at Trader Joe's.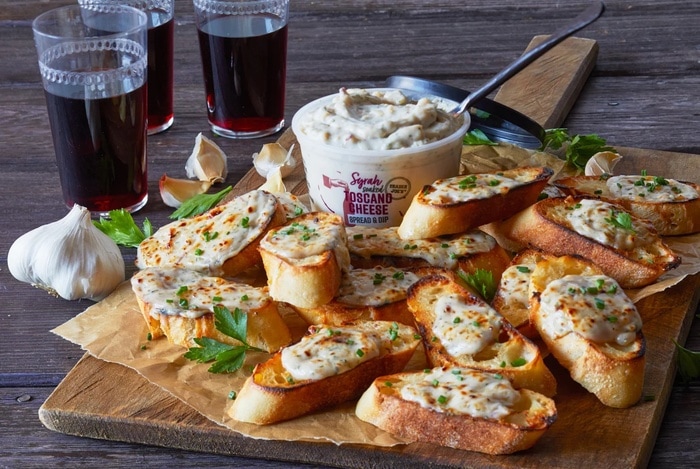 14. Tomato Leaf Scented Candle
This isn't the candle scent we may have wanted, but Trader Joe's knows it's what we needed. Especially since our dreams of a tomato garden died along with all of our succulents that were supposed to be easy to take care of.
15. Chocolate Mousse Eggs
Cadbury Creme eggs cower in fear when these babies hit the shelf. They know they can't hold a candle to rich cake, creamy mousse, and smooth ganache. Mostly because the ganache would melt. And creme eggs don't have arms.
16. Lemon Zest Madeleine Cookies
We don't always have a zest for life but when we do, it's usually lemon. And in the form of these cookies.
Available at Trader Joe's.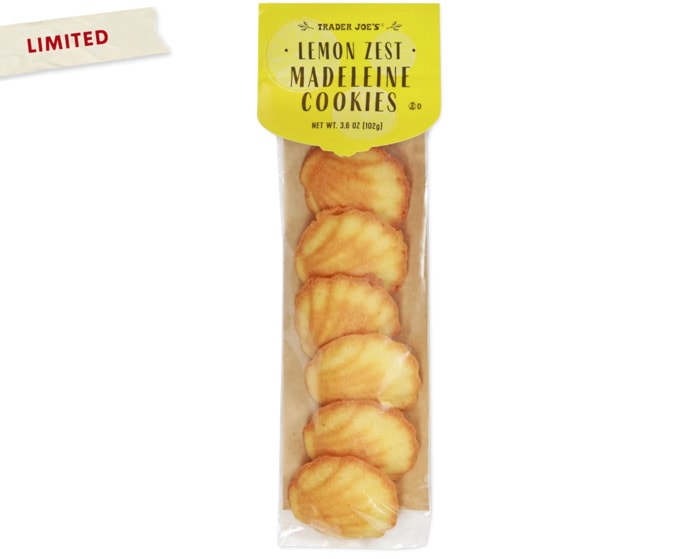 17. Sweet Basil Foaming Hand Soap
This has come in really clutch for when washing your hands with pizza "doesn't count" and "is a healthcode violation."
18. Roasted Vegetable Tamale Pie
Just because the weather is warming up doesn't mean you shouldn't have warm, melty, gooey cheese with your roasted veggies. Nothing means that. You're welcome for all the business, Lactaid.
19. Vegan Poke
Beets marinated in sesame soy sauce is a clever, delicious, and fresh workaround for vegans who have felt left out of the poke bowl trend.
We're wondering when TJ's will have a workaround for those that felt left out of elementary school gym class. Vegan kickball, maybe? Or maybe just regular therapy.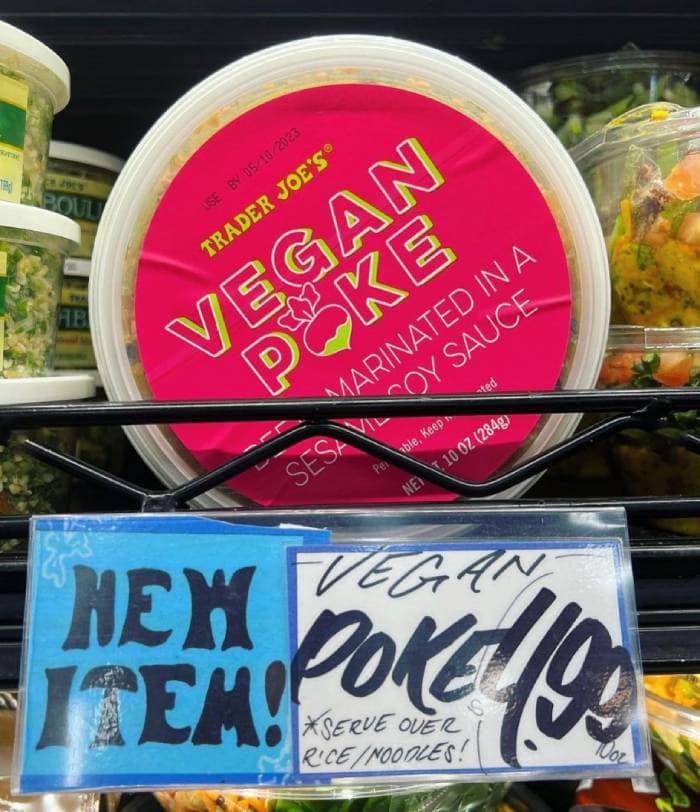 20. Pineapple Probiotic Juice Shot
We hear it all the time: Trust your gut. Now after confiding in your gut and revealing your darkest secrets and swearing it to secrecy, thank your gut for all of that great advice with a delicious probiotic beverage!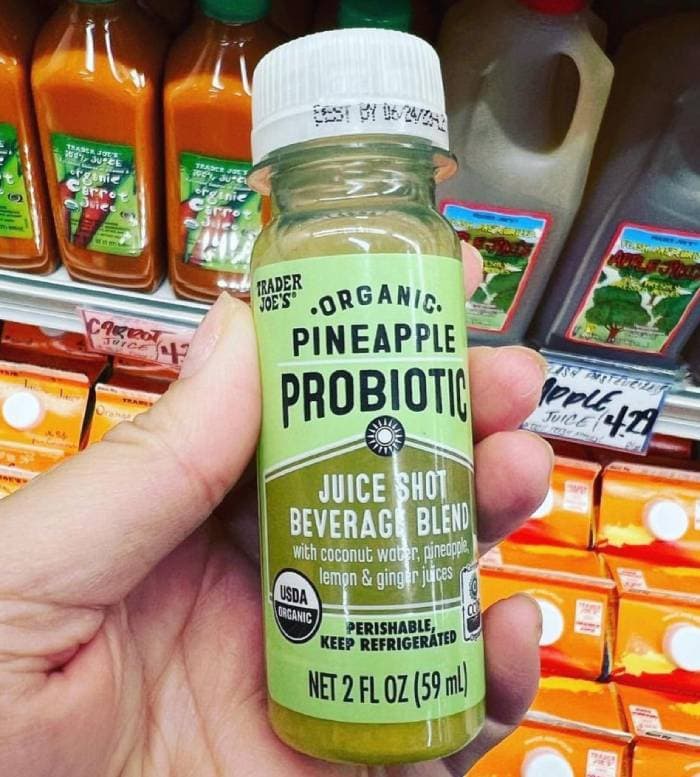 21. Springle Jangle
Springle Jangle is the bright, spring-y take on the well-loved Jingle Jangle from the holidays! With a colorful, vicarious makeover in looks and taste, it's like Dr. Jekyll and Mr. Hyde but with less murder. And more pretzels!
22. Spring Gummies
Scandinavian Swimmers rule the gummy seas. But the land and air are represented by the flowers, birds, and butterflies in these spring gummies. The flavors of pineapple, green apple, and strawberry bring all the taste of spring, and none of the pollen allergies.
23. Lemon-Flavored Mini Sheet Cake
Lemon cake. With lemon cream cheese frosting. Sprinkled with lemon zest. Why are all these car dealers trying to make it seem like driving a lemon is a bad thing?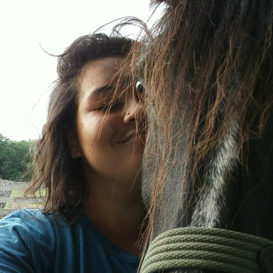 Latest posts by Hebba Gouda
(see all)