It's summertime and the living is easy. Forget having to jet off to a tropical location. Starbucks launched three new Frozen Lemonade Refreshers on June 27, so here's our review of their new summer drink.
The Lemonade Refreshers are available in three flavors: Strawberry Açai, Pineapple Passionfruit, and Mango Dragonfruit. And, according to Starbucks, the drinks will join the menu's permanent lineup. Who says December is for Peppermint Mochas? We'll be sipping on these mocktails all year long.
On our way to work this morning we stopped by to taste test the frozen treat. It was truly welcome on an especially humid day, so here's all the tea (read: lemonade) on the exciting new beverages.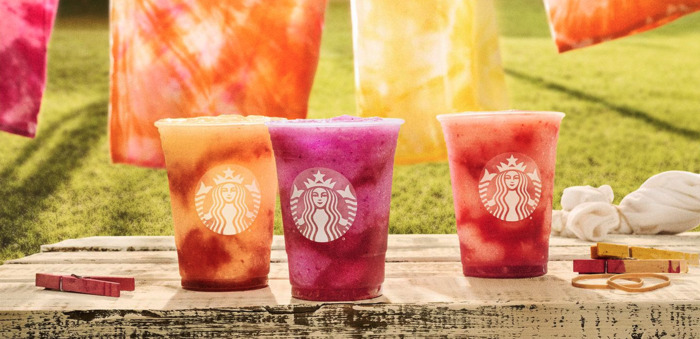 What Are Starbucks Frozen Lemonade Refreshers?
According to Starbucks, these are essentially blended versions of the classic Refreshers that have taken their menu by storm. These drinks are "vibrant Starbucks Refreshers beverages blended with real fruit pieces and lemonade and a swirl of strawberry puree for a refreshingly frozen, escape in a cup."
We'll save the magic escape cup for the next time our boss calls on us in a meeting.
As certified Strawberry Acai Refresher stans (seriously, we order one at least weekly during the summer), this checks out. We'll get deeper into the review, but it's clear that the flavor of this comes from Refresher + ice.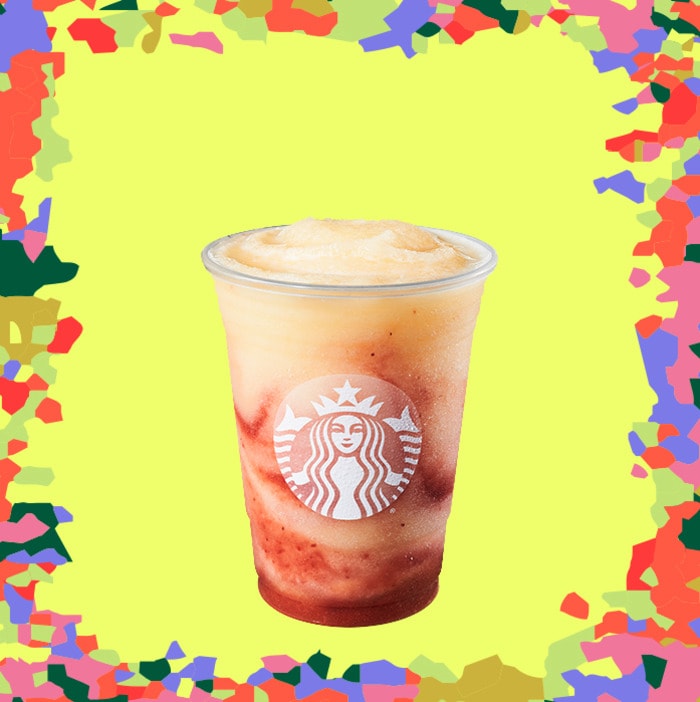 How much caffeine and sugar are in the new Refreshers?
Each of these has between 45mg and 50mg of caffeine in a Grande size. In comparison, a Grande iced coffee has about 165mg of caffeine and a Grande cold brew has about 205mg. So it's not going to give you the jitters from a caffeine rush.
The Strawberry Açai flavor has about 35g of sugar, while the other two flavors have 33g each. They're definitely sweeter than their Refresher counterparts – the Strawberry Açai Refresher only has about 21g of sugar, but the one with lemonade instead of water clocks in at about 32g.
After tax, these cost $6.37 for a Grande size, with about 160 calories. On a scale of black coffee to Frappuccino, this drink falls solidly toward the middle of the caloric and sugar pack. Mmm, a sugar pack. Can we have one?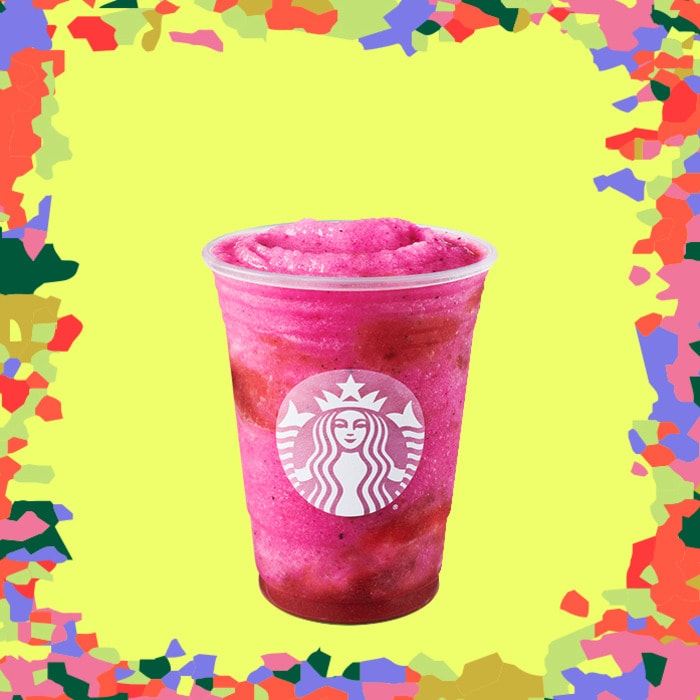 Our Honest Starbucks Frozen Lemonade Refresher Review
We tried the Strawberry Açai flavor because, as we've already established, we're stans of the OG version of the drink. The first sip was very frosty. Keep in mind, it was humid out today, but this baby started melting fast, and the ice migrated toward the top of the cup with the liquid at the bottom. It reminded us of what happens to those frozen push pops your parents used to stock in the freezer. The last sip is pure liquid.
So, the first sip didn't end up being terribly flavorful because it was mostly just ice. We tried stirring the liquid into the ice, but that made the whole drink melt faster. We got the Venti size for…science…but honestly, after this experience, we wouldn't recommend going above a Grande because this drink needs to be consumed quickly. And brain freezes are no bueno when you're on your way to work. We need that thing.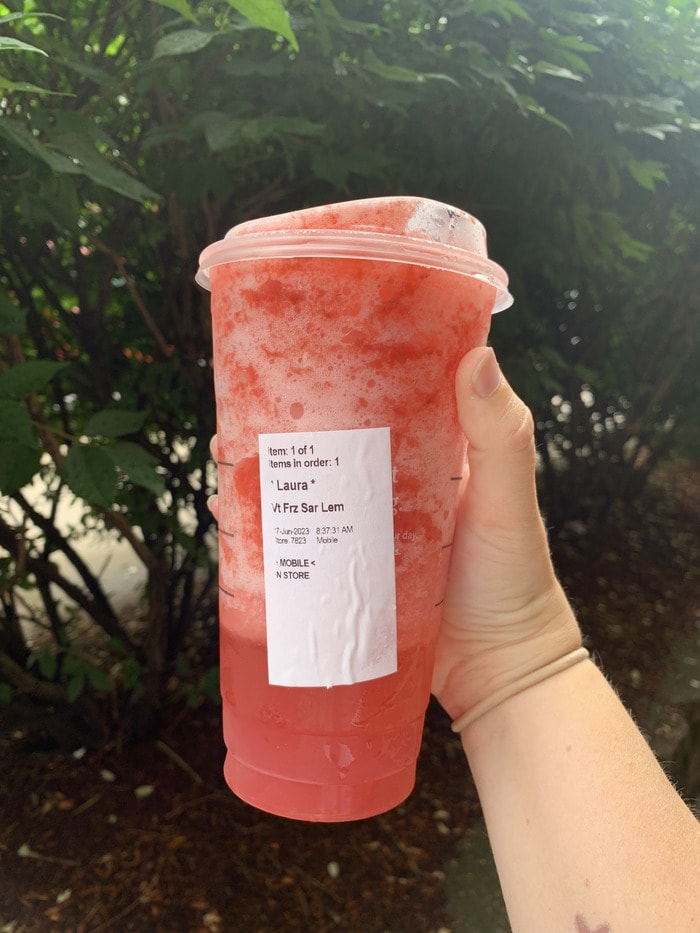 Once we were able to successfully get the ingredients back together, this tasted exactly like we expected. It's a Strawberry Açai Lemonade Refresher, but blended. It's tangy, and not overwhelmingly sweet. You can see visual evidence of the blended-in strawberries and puree, because there are seeds abound. Not in a gross way, but they're… there.
It's got a smoothie-esque consistency, or the consistency of a blended cocktail. You'll get the occasional icy chunk, but for the most part it goes down smooth. Oh, and did we mention the drink is pretty? Because it is. Certifiably Instagrammable.
Overall, this is a very tasty beverage that we could definitely see ourselves ordering again. It's perfect for cooling down on a hot day, but note that you will have to drink it fast. Although, if you don't, it goes back to its original form as a Strawberry Açai Lemonade Refresher, and we're not complaining about that. Transformers, assemble!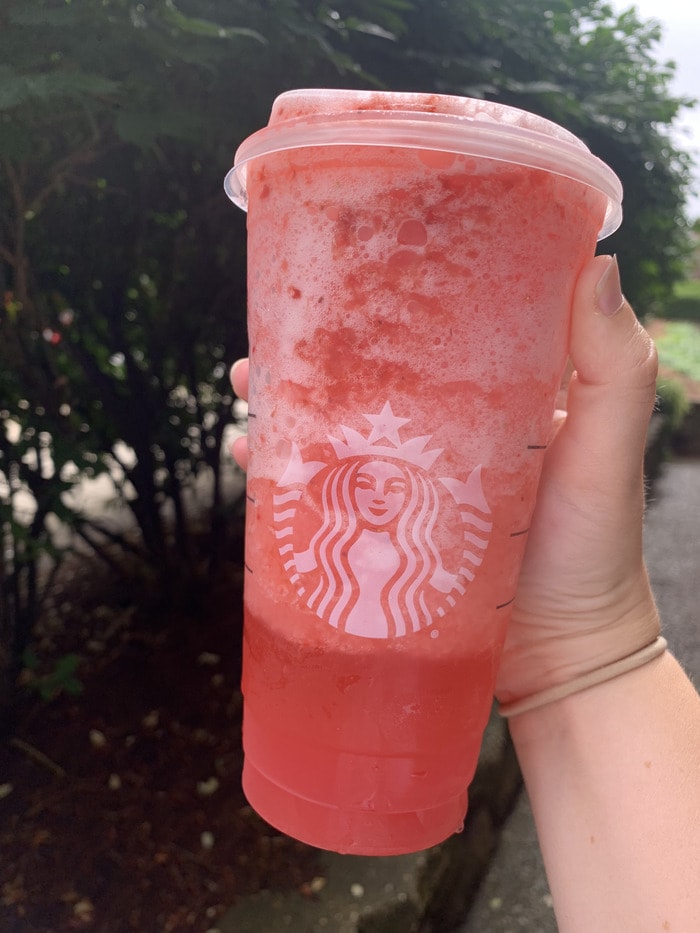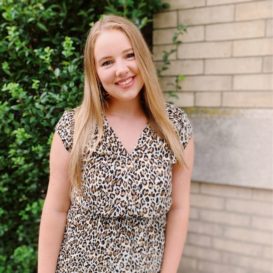 Latest posts by Laura Davis
(see all)