The first pumpkin products have hit the shelves, which means it's officially spooky season. And while Halloween shirts are great, Halloween sweaters are better.
First of all, we've waited all summer for this chilly season and we're not about to waste it. Secondly, it's a lot easier to justify wearing a sweater more than once without washing it.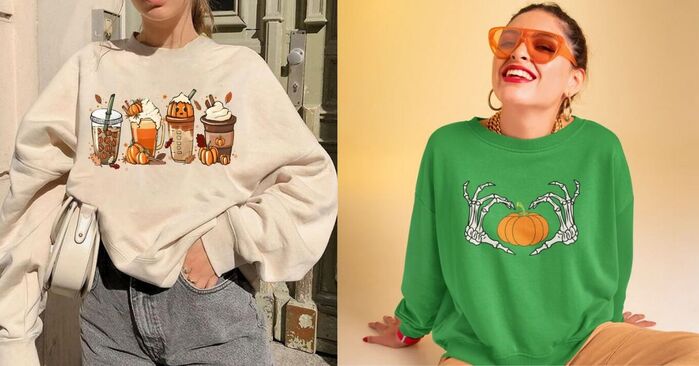 There is a short but sweet moment when these festive bundles of joy really shine. It's right after the time of year when wearing long sleeves is masochistic, and just before they'll be covered by puffy coats.
So use this as an excuse to snag a new Halloween sweatshirt or sweater before it's too late! Or wear them year round. We love a fashion rule breaker.
The Best Halloween Sweaters and Sweatshirts
1. Pumpkin Sweater, $20
These pumpkins look so angry that they're stuck on this sweater instead of out in the field with their friends. Or maybe they just need more coffee.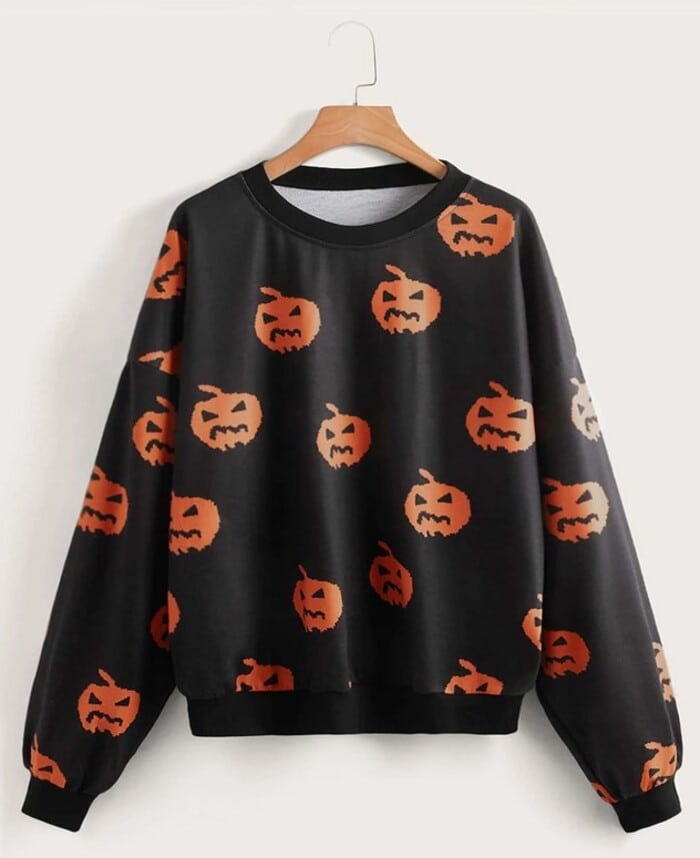 Available at Shein.
2. Scaredy Cat Sweater, $128
How many cats is too many? The limit does not exist when they each have their own Jack-O-Lantern friend! But also, 73.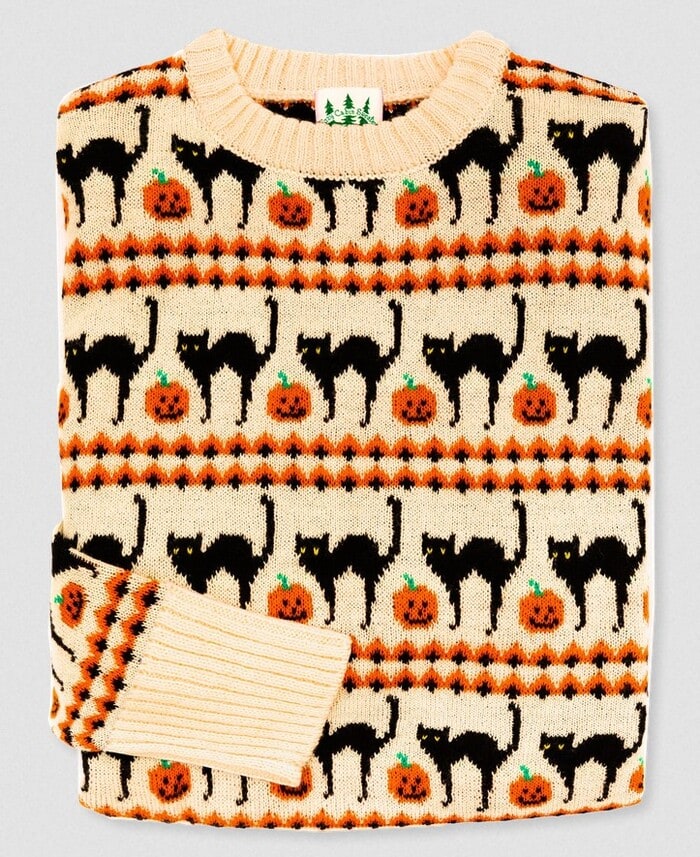 Available at Kiel James Patrick.
3. Cat and Moon Sweater, $39.99
There's a lot going on in this Halloween sweater. Between the goth creamsicle color scheme, a Pinocchio-inspired moon, cats, bats, and the stars reminding you of a job well done on an elementary school math test, we're overwhelmed. And that's just the way we like it.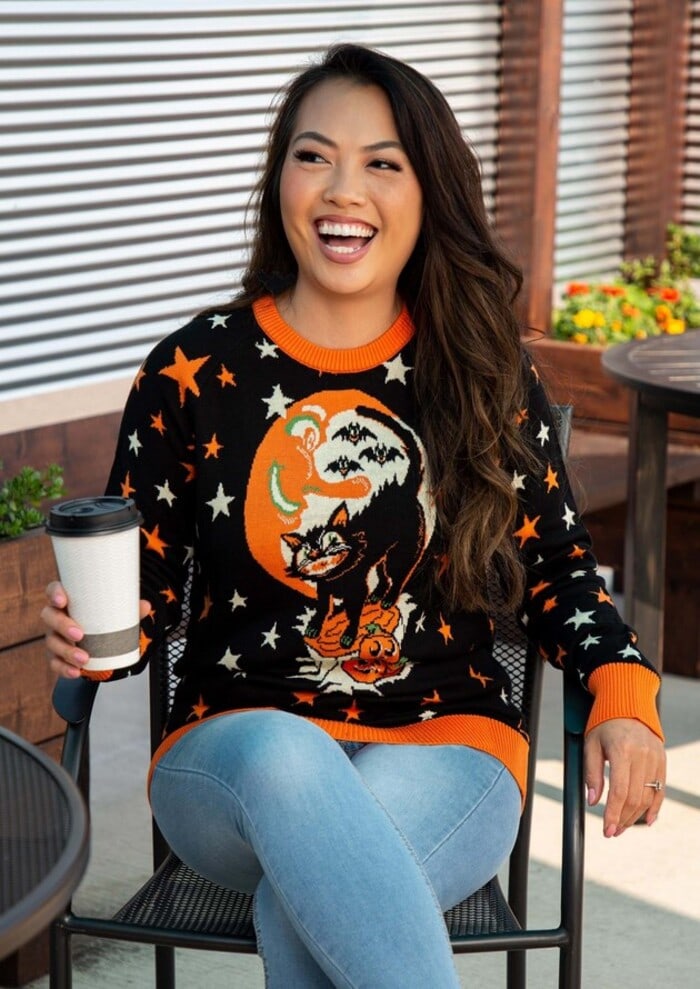 Available at Fun.
4. Cauldron Sweater, $39.99
What better way to honor soup season?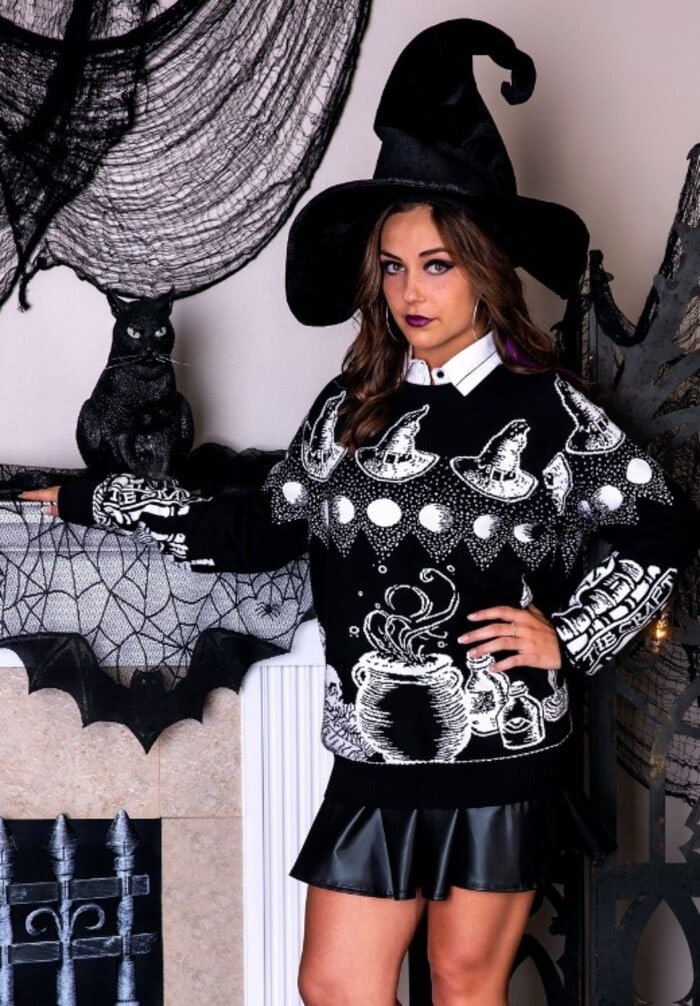 Available at Halloween Costumes.
5. Spooky Windows Sweater, $72
These windows may have bats and ghosts and ghouls lurking behind them, but at least they don't have the scariest thing of all…smudges!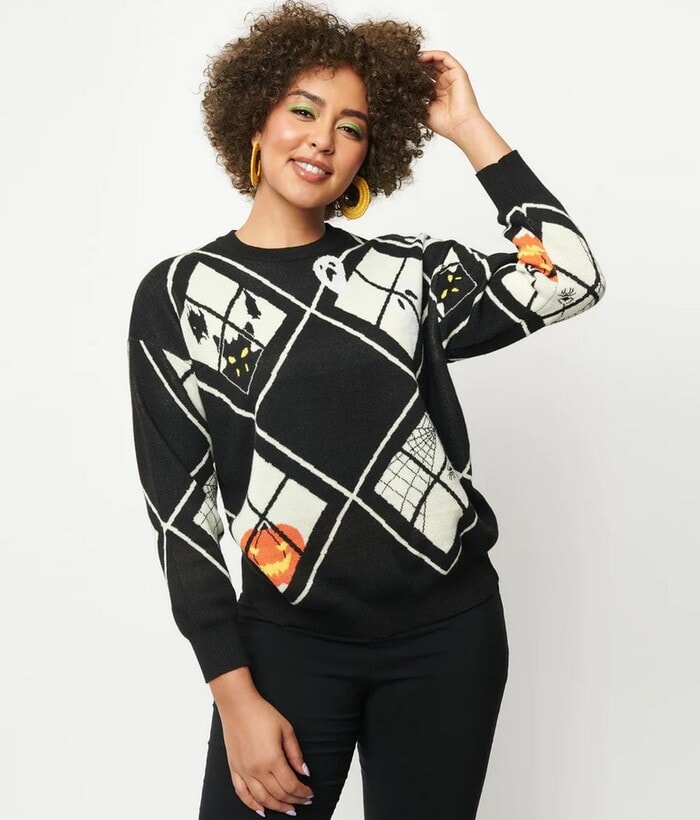 Available at Unique Vintage.
6. Oversized Skeleton Sweater, $58
This one is perfect for when you want to be warm and also cheat on your anatomy final.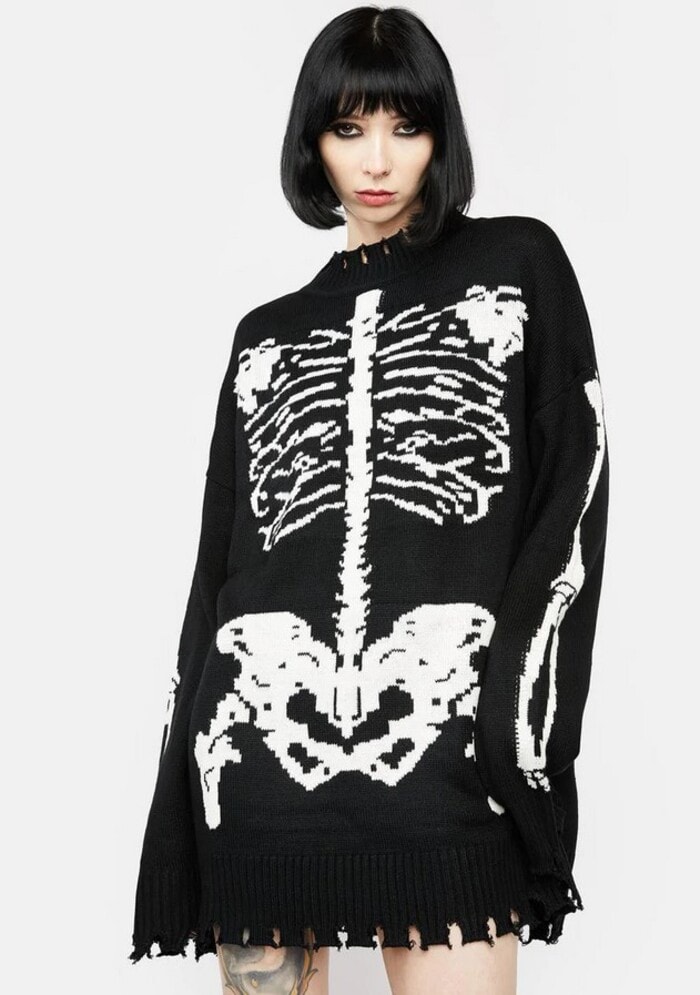 Available at Dolls Kill.
7. Striped Pooh Bear Sweater, $69.50
Parents of young Pooh fans everywhere must appreciate that strategically placed Jack-O-Lantern.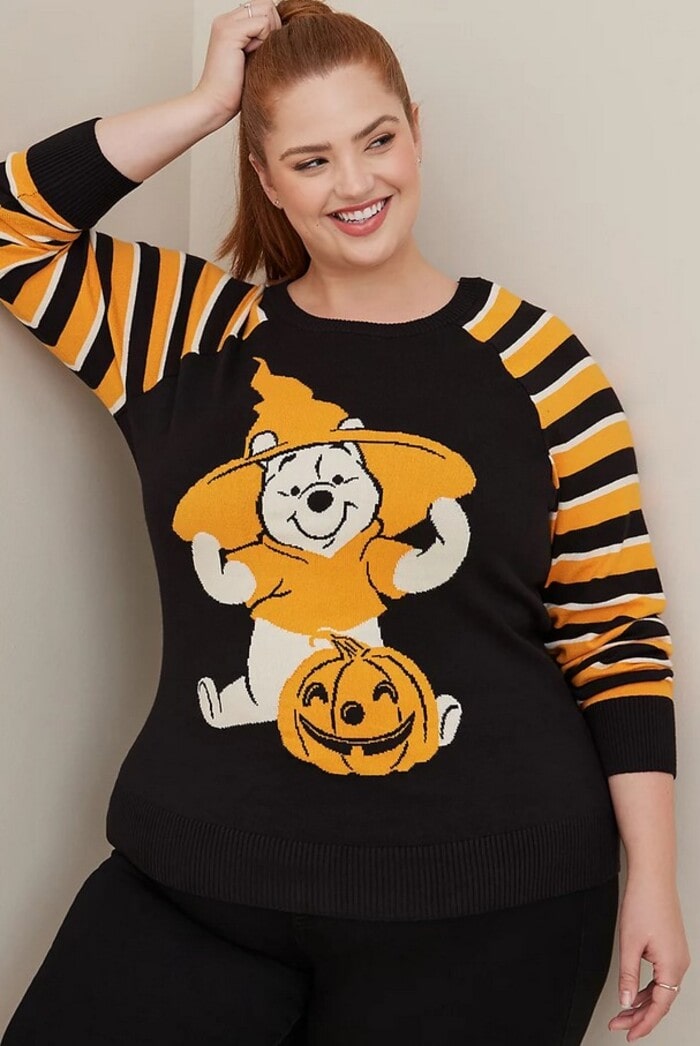 Available at Torrid.
8. Skull Cardigan
Halloween sweater? Casual. Halloween cardigan? Classy. And it comes in tons of colors, so you can get them all and you really won't have to do laundry for a while.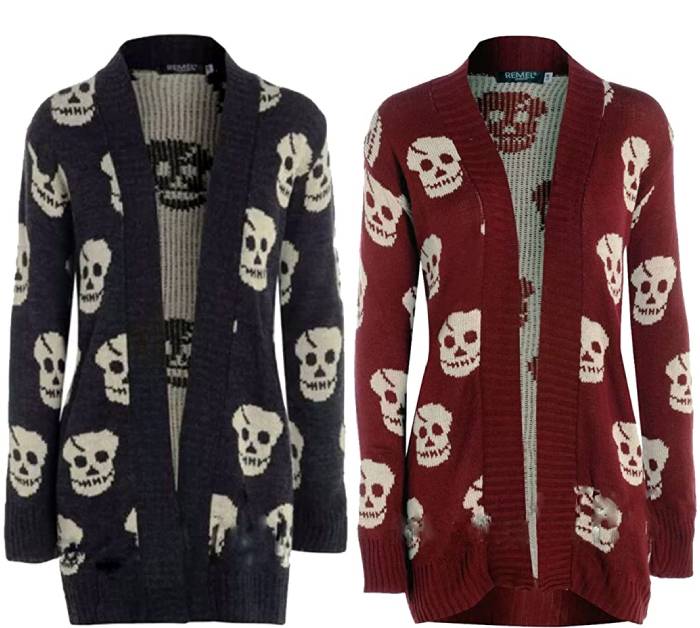 Available on Amazon.
9. Nightmare on Elm Street Sweater
If you don't get why this is a Halloween sweater, please write to us and let us know what it's like to sleep soundly.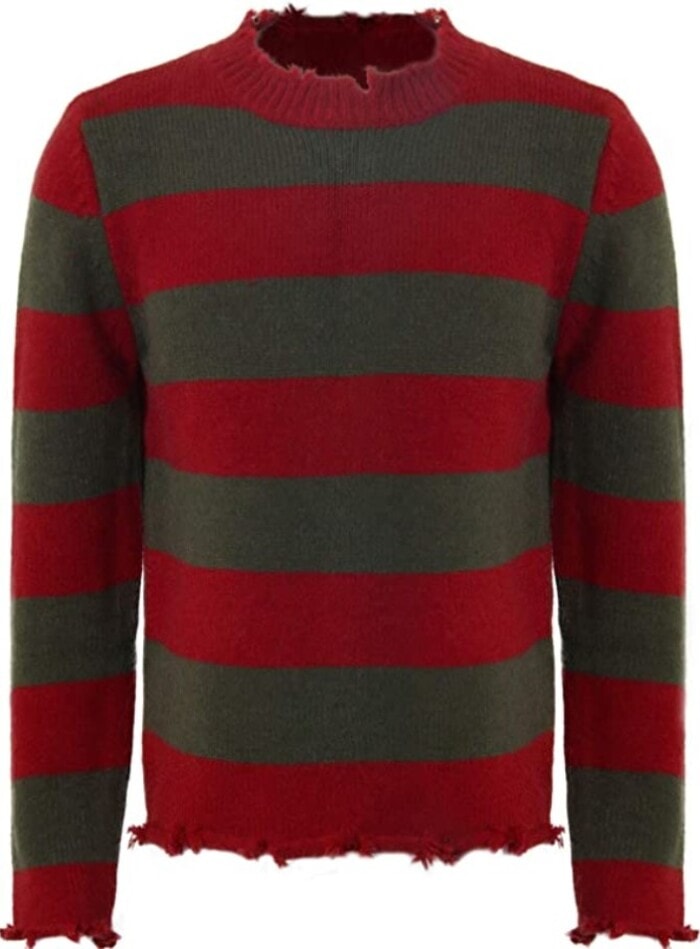 Available on Amazon.
10. Neon Halloween Sweater, $39.99
We can't tell if these ghosts are excited or concerned that the skeleton is coming up for air. On one hand, they might all be friends! On the other hand…well, maybe he now only has one hand.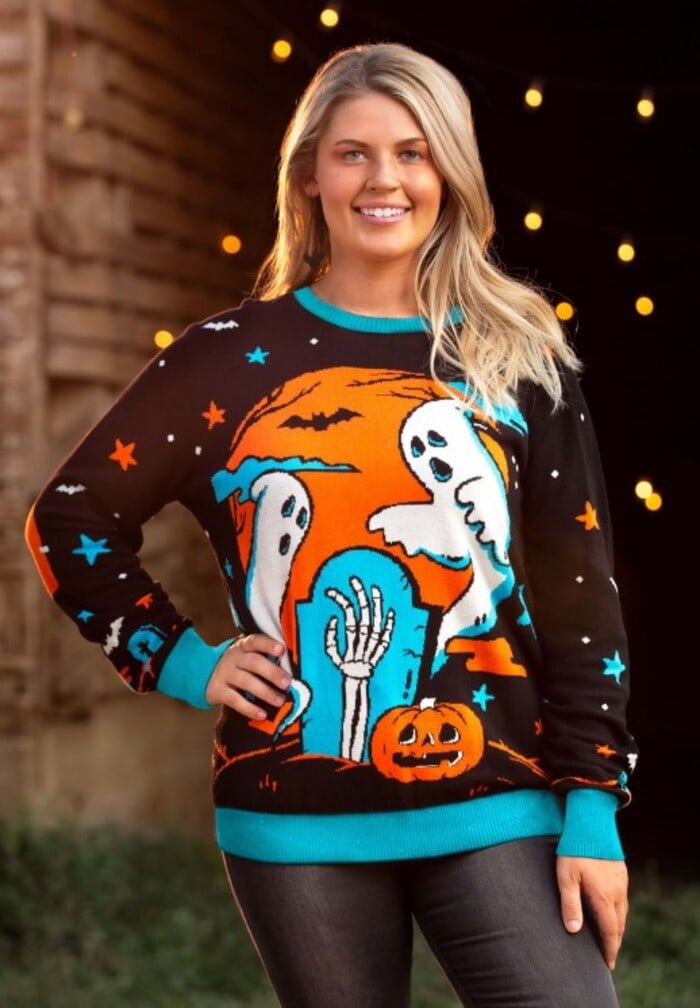 Available at Fun.
11. Headless Horseman Sweater, $44.98 ​​
Either the Headless Horseman didn't design this, or he's more considerate than we thought. Thanks for the neck hole!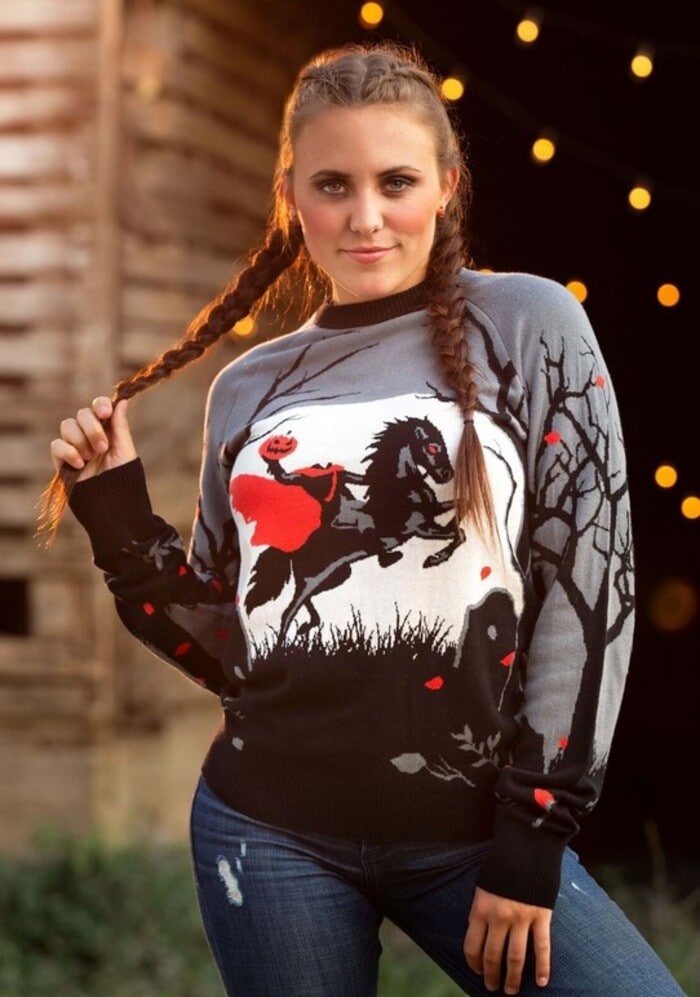 Available on Ebay.
12. Halloween Coffee Sweatshirt, $32.99+
This sweater also doubles as a handy shopping list for any time you leave the house in the fall.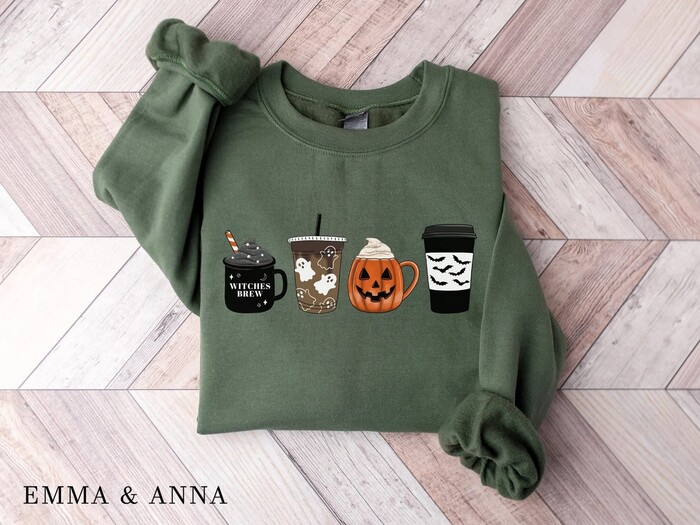 Available on Etsy.
13. Fall Drinks Sweater, $9.99+
And for a more chaotic version, we have this option. But we prefer the term "caffeinated."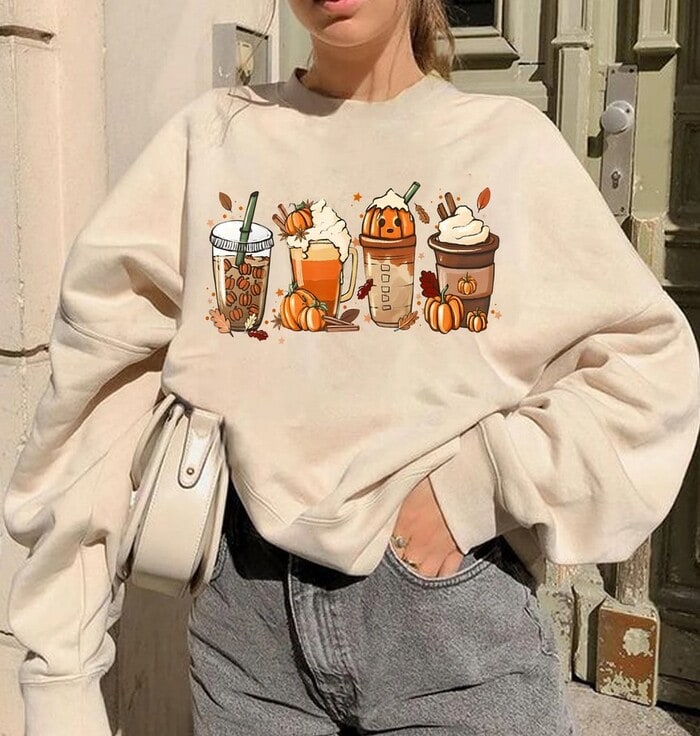 Available on Etsy.
14. Halloween Gnome Sweatshirt, $21.11
Imagine if that scary campfire story wasn't actually talking about "no man's land," but was actually a depiction of the very wholesome "gnome man's land?"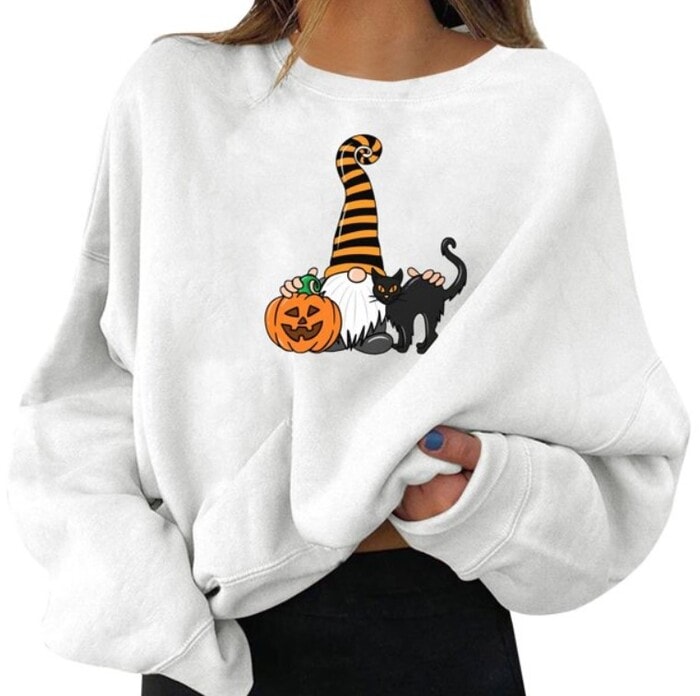 Available at Walmart.
15. Skeleton Heart Sweatshirt, $77.06
We'll love pumpkin until after our death, too.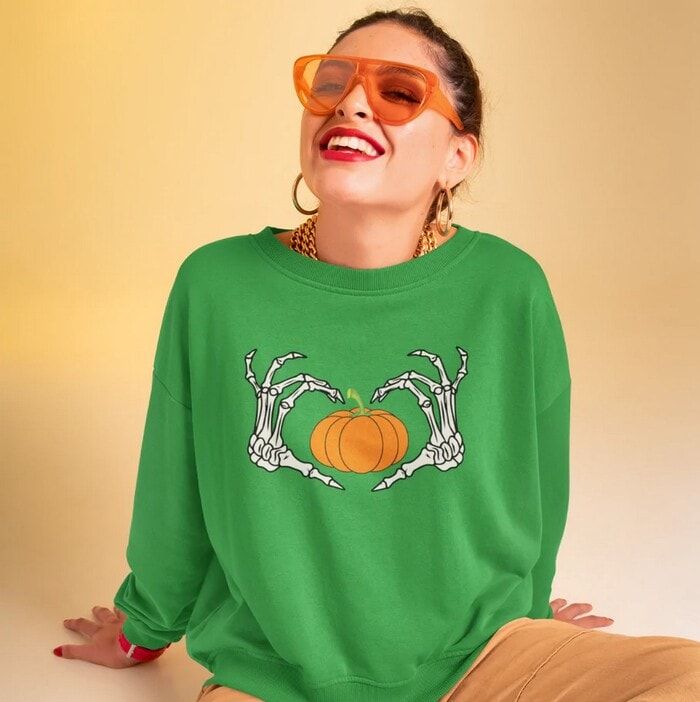 Available at Kinda Young.
16. Ghost Adventure Sweatshirt, $34.25
So cute to see that the Three Musketeers are still adventuring!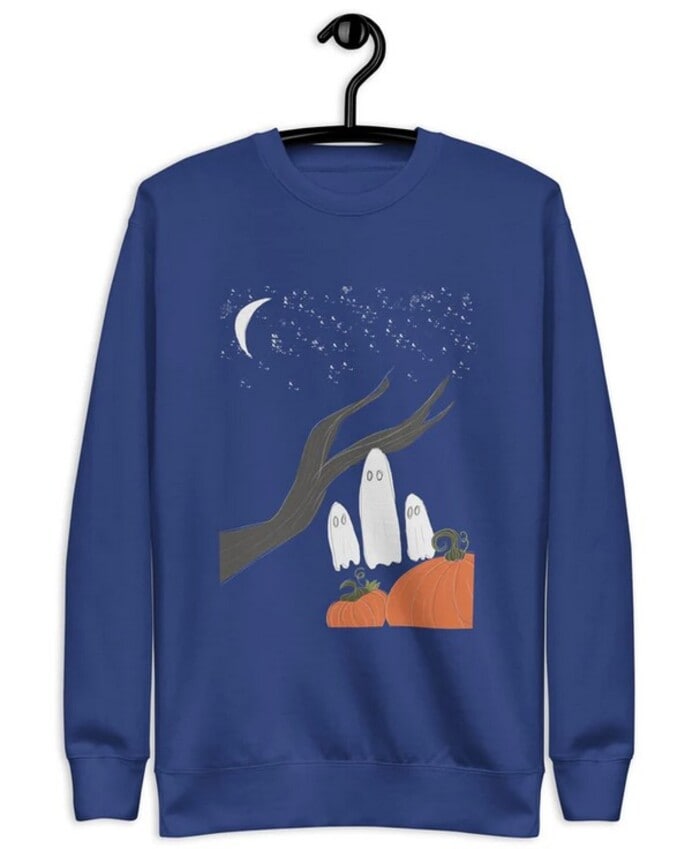 Available at When in Bliss.
17. Murder Goose Sweatshirt, $68.50
So it's not explicitly Halloween, but look us in the eye and tell us that geese aren't terrifying. We'd take Dracula over this guy any day.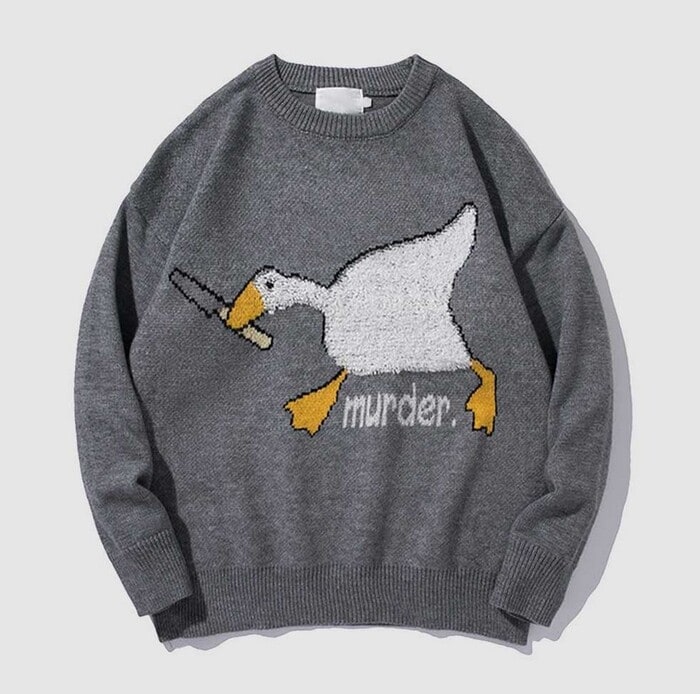 Available at Oluolin.
18. Jack O'Lantern House Sweatshirt, $38
"Honey, I know the Zillow listing said there was a porch with a view, but this is good, too!"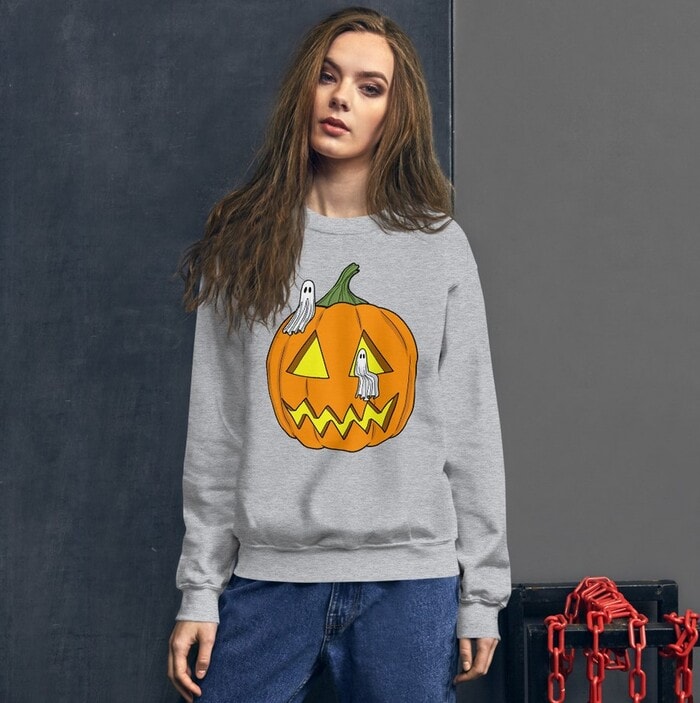 Available at Flukelady.
19. Pumpkin Spice Latte Sweatshirt, $19.59
When everything – and everyone – starts turning into pumpkins, we know the PSL craze has gone too far. Or…finally far enough?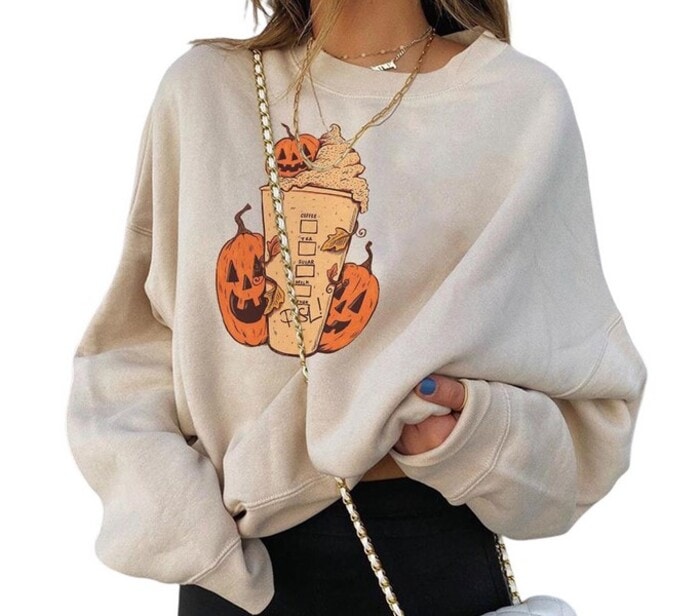 Available at Walmart.
20. Running Skeleton Sweater, $69
This skeleton looks pretty happy. Sometimes we say running makes us want to die, but now we wonder if dying will make us want to run?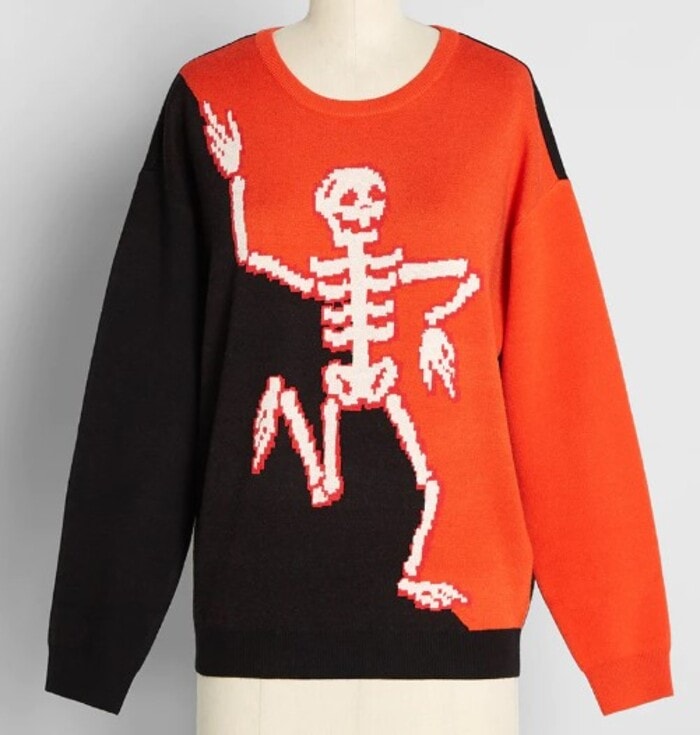 Available at ModCloth.
21. Watering Skeleton Sweater, $21.10
"But doctor, how can he have died of dehydration? He went through water like crazy!"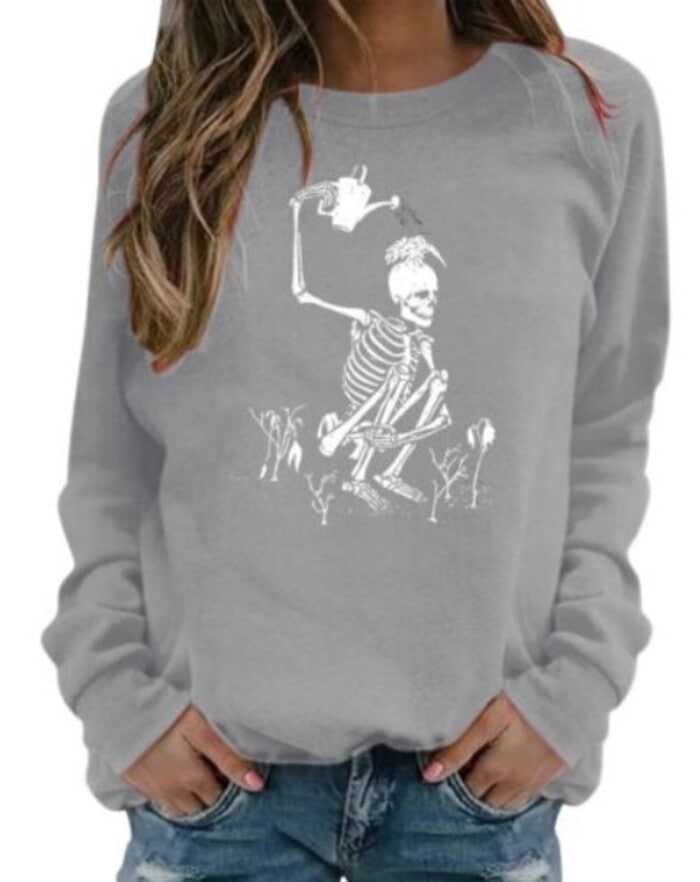 Available on Ebay.
22. Retro Cat TV Sweatshirt, $47.49
This is giving us major Bewitched vibes. Or WandaVison vibes.Or maybe those are the same? What universe are we in again?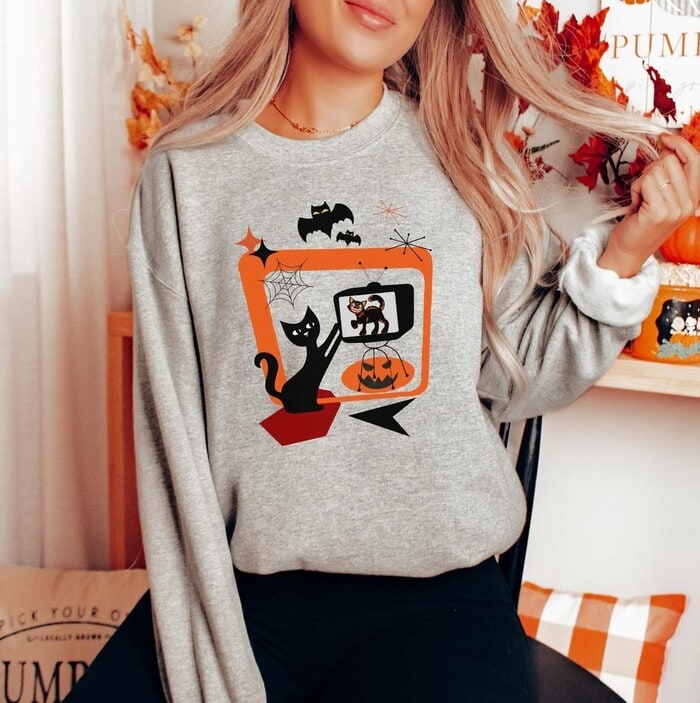 Available on Etsy.
23. I Just Want To Eat Pizza Zip-Up Sweatshirt, $39.95
This one makes a statement. Literally.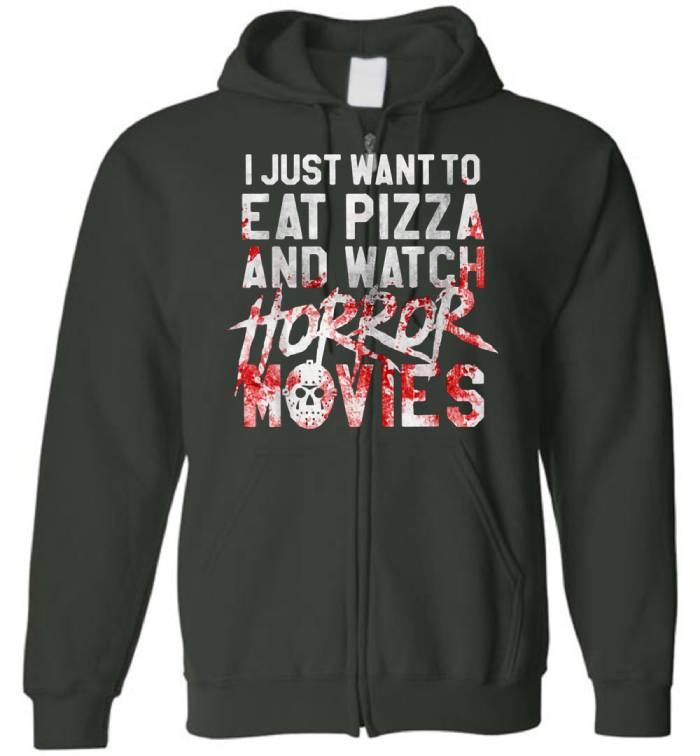 Available on The Wholesale T-Shirts.
24. Pumpkin Sweater, $19.99-$34.99
This sweater is the gateway between wearing a pumpkin sweater and wearing a pumpkin as a sweater. But in October, either is acceptable.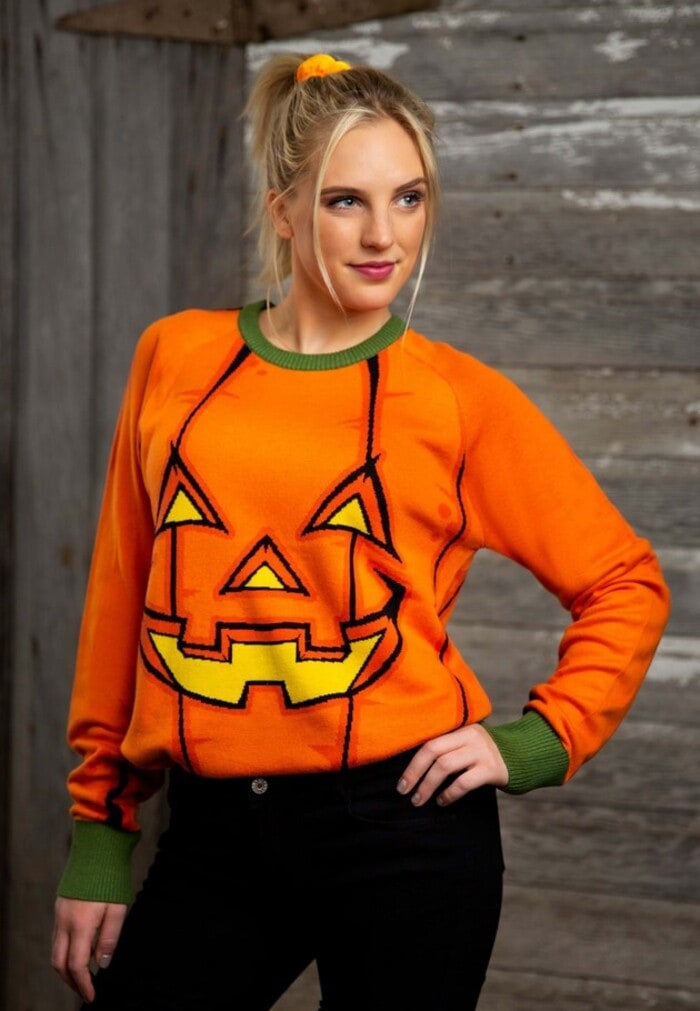 Available at Halloween Costumes.
25. Haunted House Sweater, $39.99
This just in: Realtors are trying a new strategy to advertise their listings.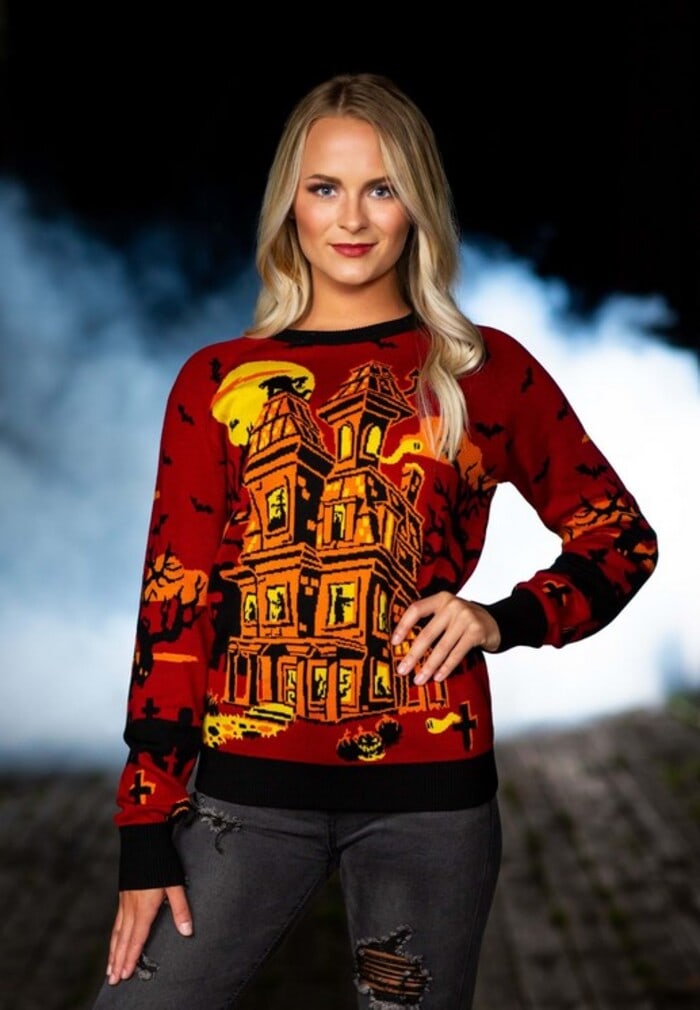 Available at Halloween Costumes.
26. Let's Dance Skeleton Sweater
There's something so wholesome about dancing animated skeletons. Are we sure this isn't a Valentine's Day sweater?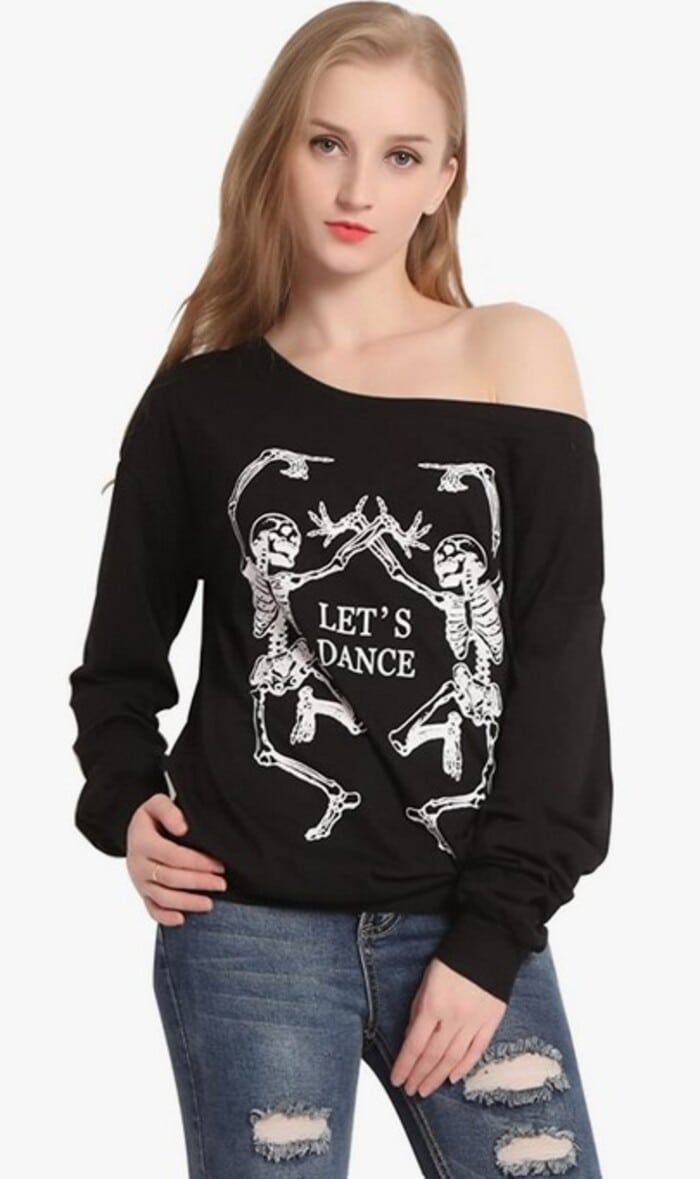 Available on Amazon.
27. Grim Reaper Hang Up Sweatshirt, $26.99
What? Are you going to argue with the Grim Reaper?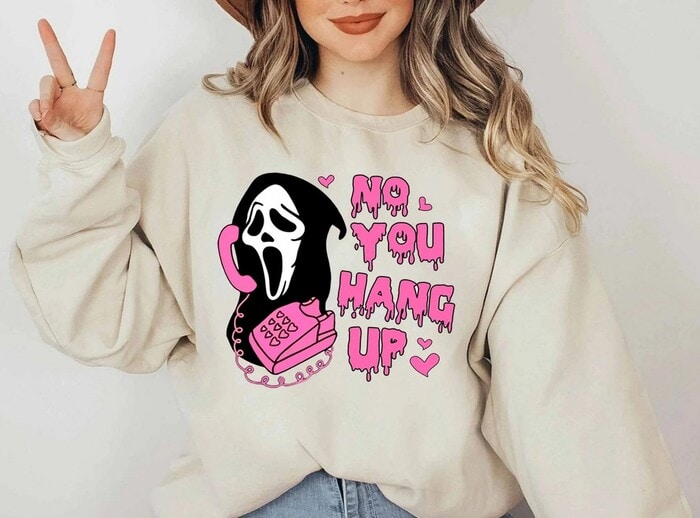 Available on Etsy.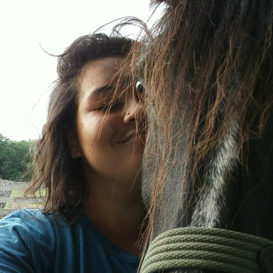 Latest posts by Hebba Gouda
(see all)