It's spring! Things are warming up and your fingers can't hide behind those Bernie mittens any longer. Most likely, it's been a minute since you've gotten a proper manicure, but with nail salons starting to slowly open up, it might be time to brighten things up with some of these spring nail ideas.
From traditional pastels and bright rainbows to bunnies and flowers that'll have you frolicking through the fields, we've found spring nail art ideas for everybody. Everybody with nails at least. Sorry, Nemo.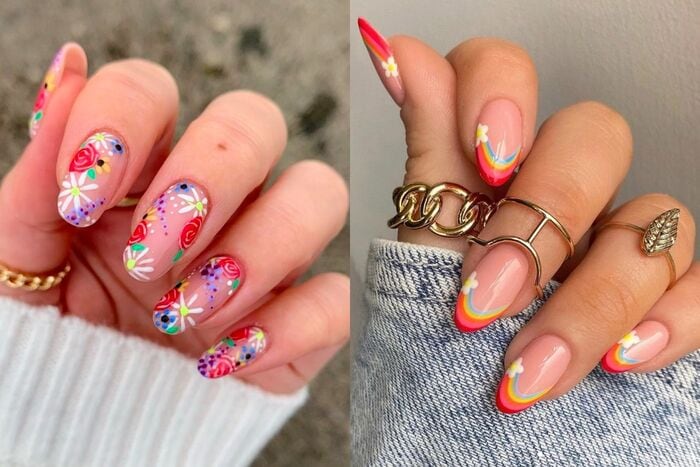 23 Spring Nail Art Ideas
1. Daisy Nails
If you can't go to Bonnaroo, bring Bonnaroo to you with these pastel daisy nails. Nail artist Charlotte created these flower power spring nails using The GelBottle Inc in June, Pastel V005, Caipirinha, Peach Daiquiri, Queen Bee + Sealight.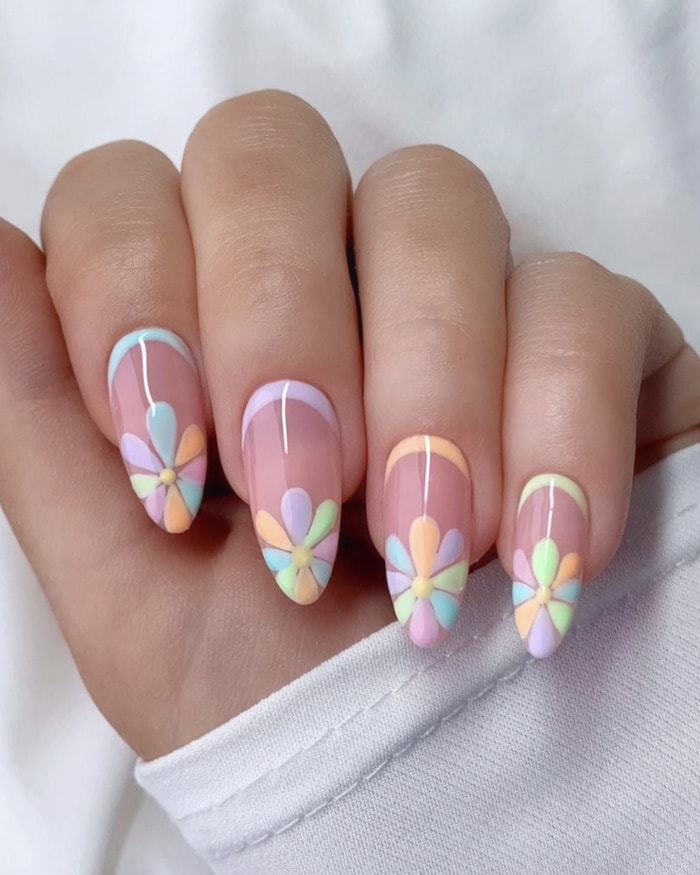 2. Easter Bunny Nails
Dee designed these Easter nails using Duri Cosmetics in Cotton Candy Sky and Speck-tacular Me. Which reminds us, we need to make those Cotton Candy Peeps Rice Krispie Treats again.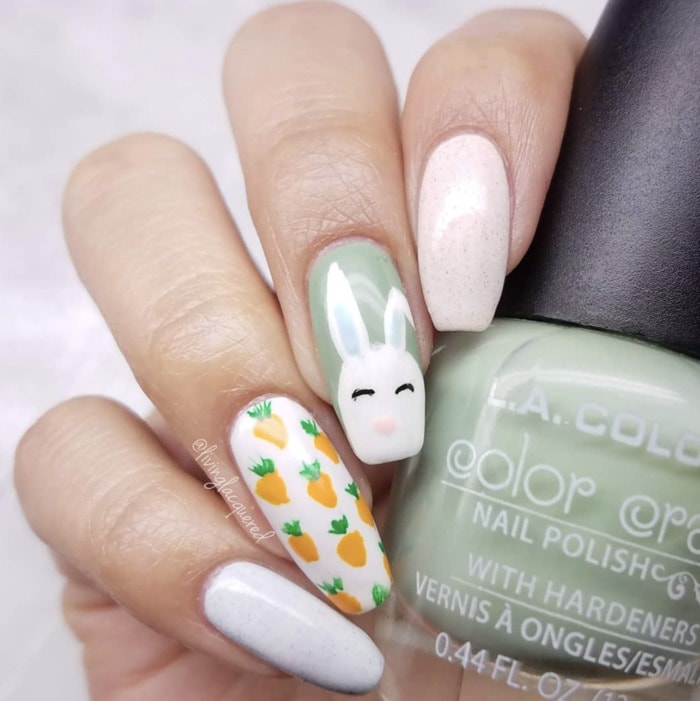 3. Robin Egg Manicure
You too can turn your nails into mini eggs like nail artist Abi. Now, your fingers will have their own camouflage when they dip into that candy bowl again.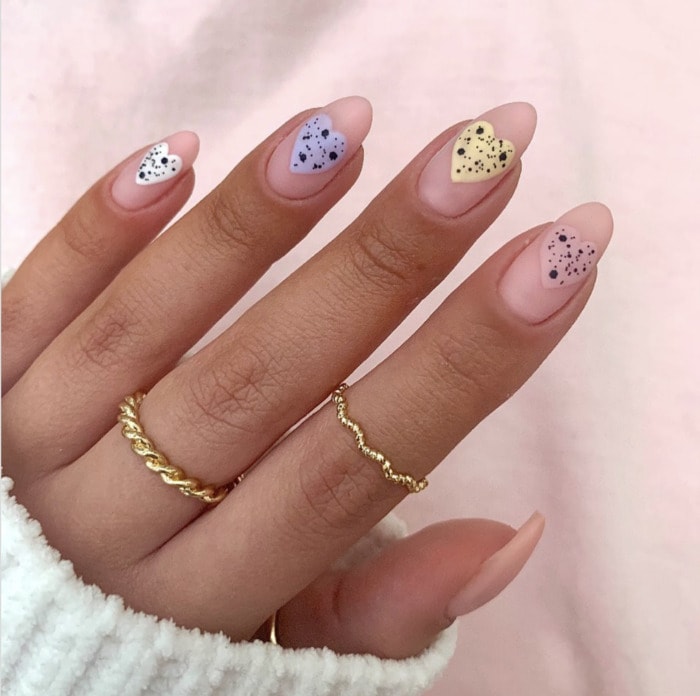 4. Pastel Matte Press-On Nails
If painting on simple nail polish is more coordination than you can handle, honestly same. These multi-colored matte pastel press-on nails by EchoTangoNails are perfect. Order us a set while you're at it, will ya?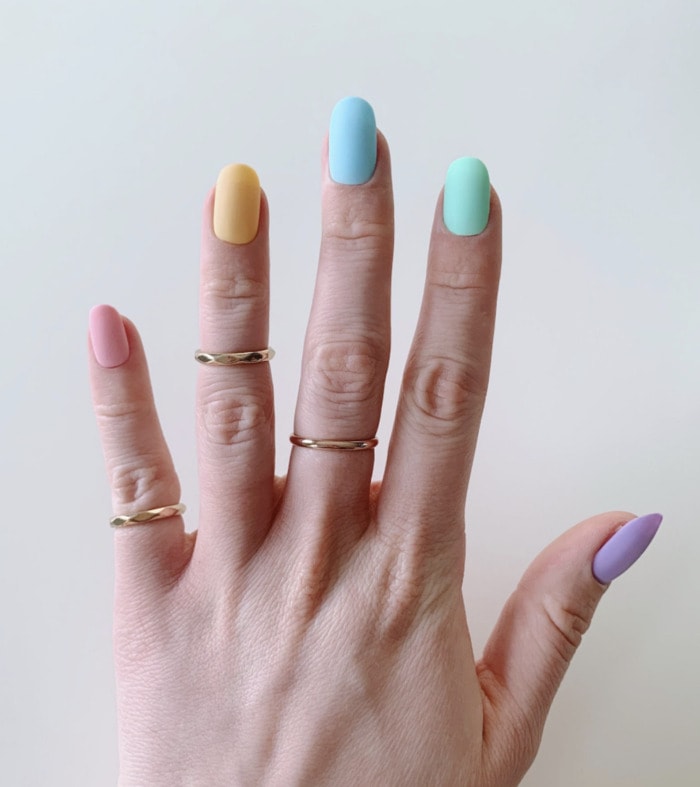 5. Over the Rainbow Nails
Nail artist Natalie Holt created these rainbow nails that are perfect for St. Patrick's Day, Pride, or just saying scram to winter. Yes, we also yell at clouds in our off time. What of it?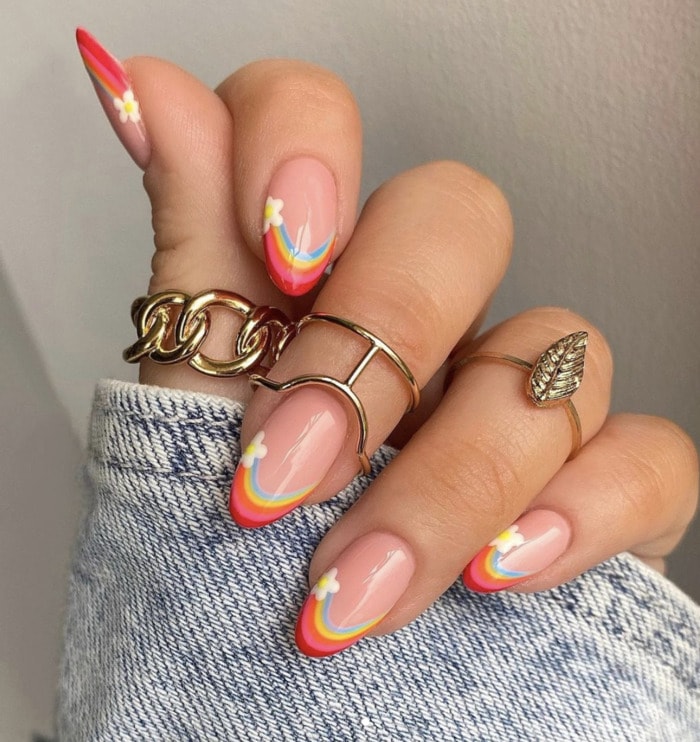 6. Flowery Press-on Nails
Remember when you used to smash flowers in a book and leave them there to rot? This is pretty much the same idea, but way prettier. Pick up these babies on Etsy and meet us at the pool.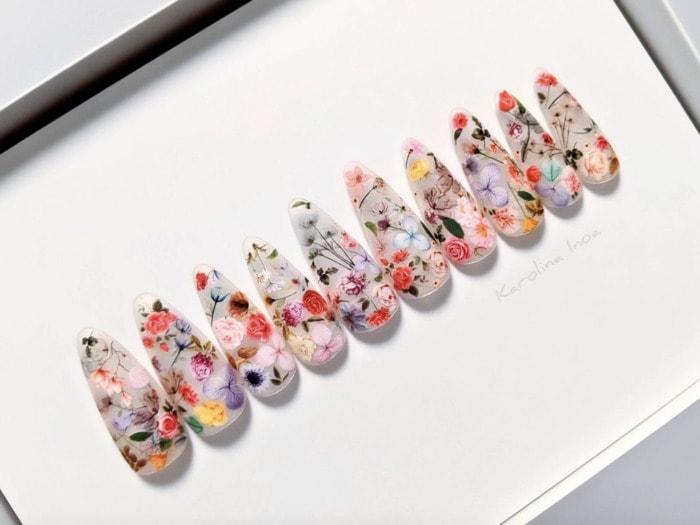 7. Cherry Nails
These pastel cherries are created by Danni and remind us how pitted fruit are the pits.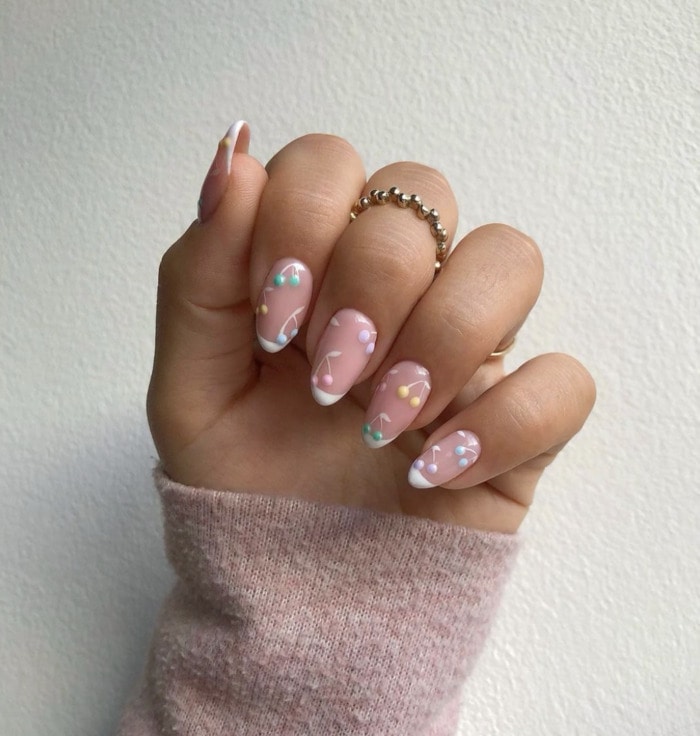 8. Spring Mountain Nails
Don't ever let anyone tell you can't hike and have perfect nails. Coincidentally this look by The Nail Lady Lincoln is what we saw when we last went on a hike and forgot to bring snacks and water. So what if it was just a mile long!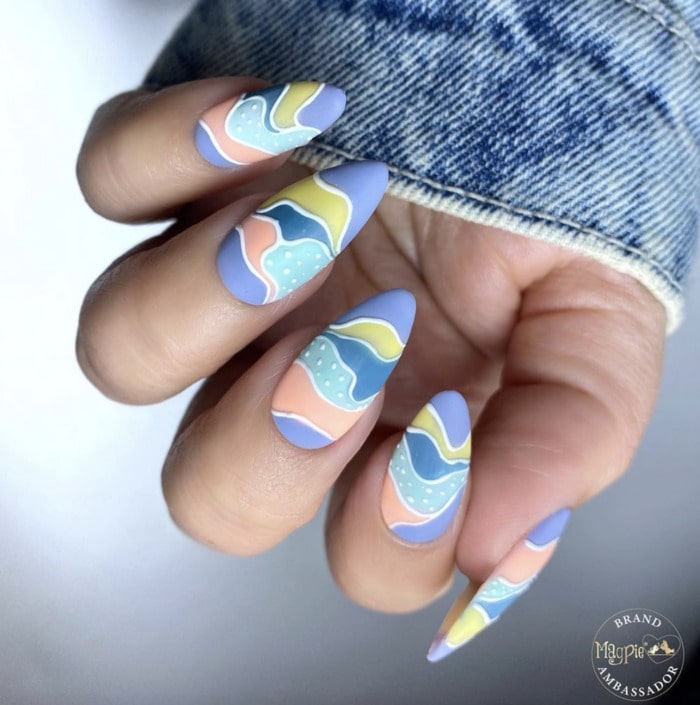 9. Bunny Nail Tips
If you're nervous about trying nail art, just avoid faces like Danni did. And, if the bunny heads don't turn out, just paint the whole nail white.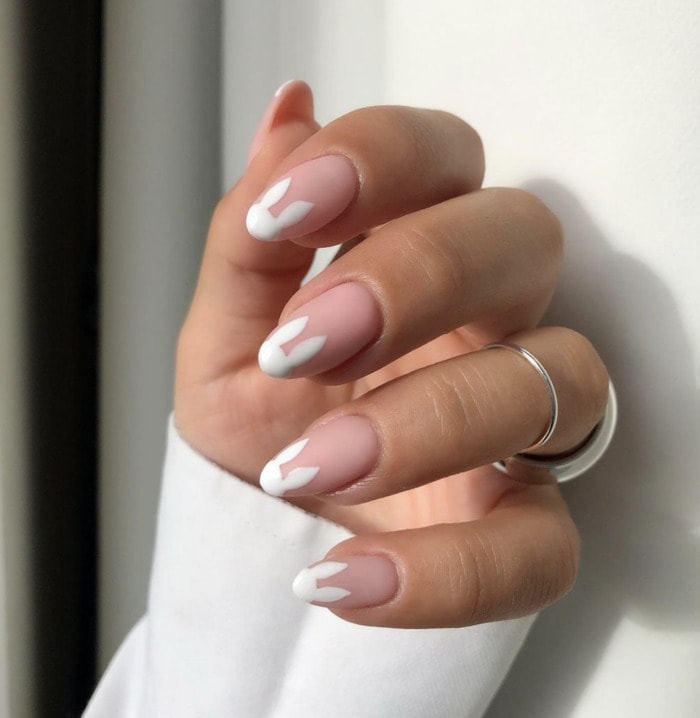 10. Floral Nails
Sure these nails by Ewa might make you look like a University of Michigan fan who really loves Vera Bradley. But, are we wrong?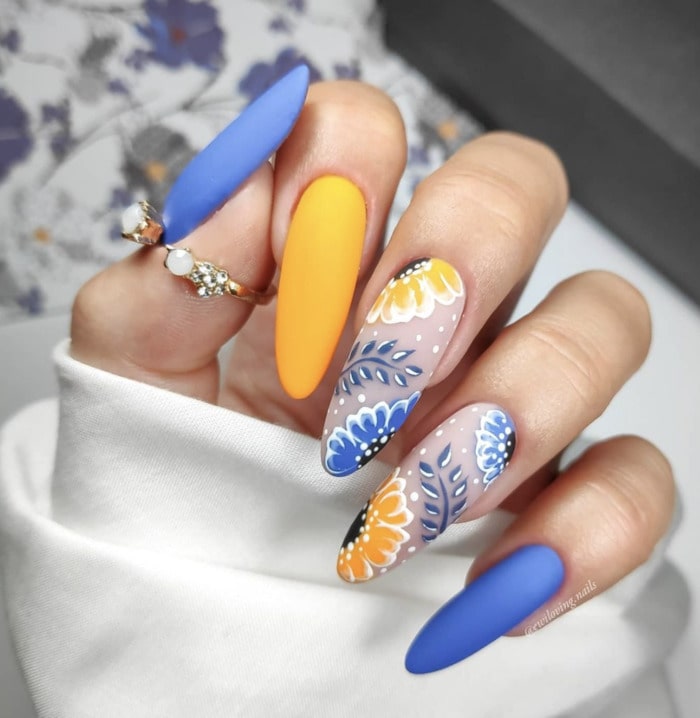 11. 90s Nails
These teal and hot pink 90s nails were made for snacking on Dunkaroos while you organize your Caboodle.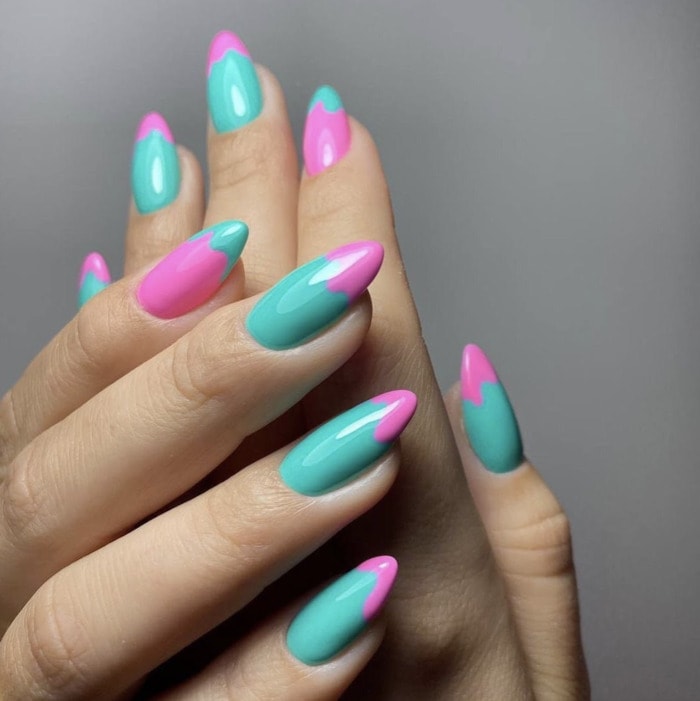 12. Fruity French tips
Who needs a traditional French manicure when you can have this fruity one? These delicious nails by Letz Gel with Meg are perfect for summer. Or if you live in Australia, also summer.
13. Tie-Dye Nails
Letz Gel with Meg does it again with this tie-dye design or what we like to call hippie camouflage.
14. Dotted Rainbow Nails
Created by The Beauty Pod by Charlotte using nail colors that sound like a really expensive cocktail drink.
15. Watermelon Manicure
These fun watermelon nails by Jen The Nail Lady are perfect for spring. And if you really need to take some vitamins, they might last until summer!
16. Cloud Nails
This shifting design by nail artist AISTĖ are cloudy with a chance of flowers. Better than meatballs, we guess?
17. Mint French Tips
Jo Shann created these minty fresh tips which you could say are a breath of fresh air from traditional French tips. You should probably stop eating them, though.
18. Polka Dot Nails
Look closely and you'll see these are not just polka dots but also in the shape of flowers. Look too closely and you're going to have nail polish on your face.
19. Delicate Daisy Manicure
These green daisy nails are dainty, delicate, and another d-word adjective that isn't coming to us right now. No, not that one. Nails by Hannah Ross.
20. Rainbow Tips
Look we know white is technically all the colors, but we need some Roy G. Biv in our life too. And, these pastel rainbow tips by Nailed It! By Liv are perfect for springtime.
21. Pastel Daisies
There are daisy nails, there are pastel tips, and then there are pastel daisy tips. If you're a flower overachiever too, you can try your hand at these nails inspired by Sophie.
22. 90s Waves
If these nails don't scream the 90s then clearly you've never drank out of a Jazz paper cup and for that we really feel sorry for you. We also feel very sorry that your nails don't scream to you. We might need to put down the coffee. Nails via Magic Gloss.
23. Flower Nails
These beautiful floral nails by Rachel's Beauty will pair well with your antihistamines.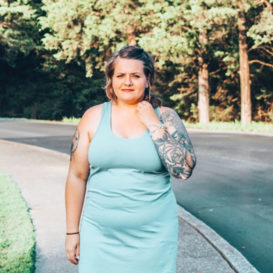 Latest posts by Ashley Hubbard
(see all)