Anyone who's spent time in the hallowed halls of TikTok has probably come across the "she's a 10, but" trend. So…everyone except your old landlord and your crunchy friend who hates technology. Well, the trend has now made it to Twitter, with plenty of "she's a 10 but" memes.
For those not in the know, the trend starts by saying "she/he is a 10, but…," and then providing a quirky quality that would either decrease or increase their number.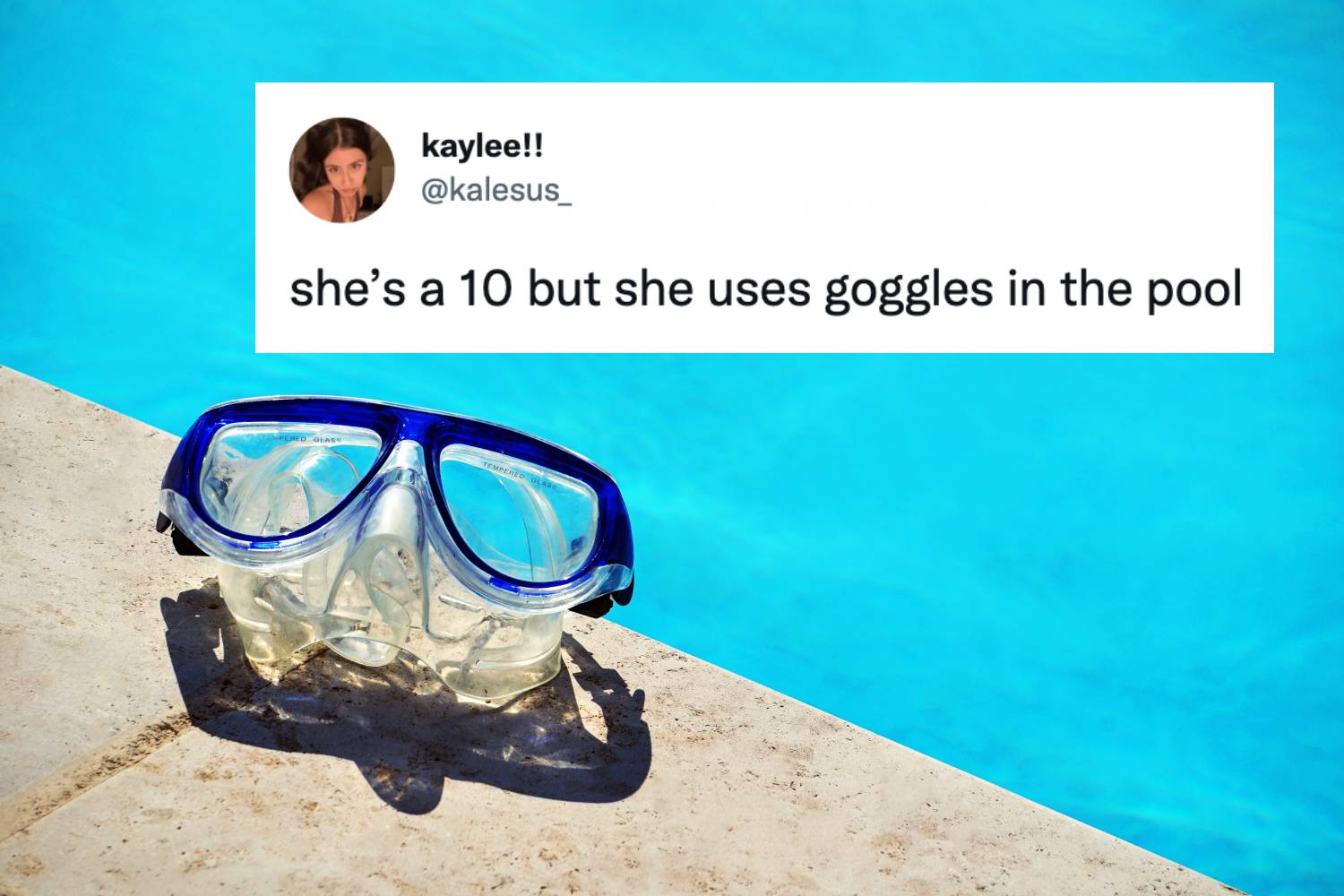 And we know what you're thinking. Giving people a number rating to designate their worth? Big yikes. Like, Mark Zuckerberg's Facemash, yikes.
But the Internet is full of some pretty creative people, and not all of the memes are as misogynistic as you might think. "She's a 10, but she uses goggles in the pool." You know you're about to lose a handstand contest, so who's really coming out on top here?
Of course, plenty of trolls have already ruined this trend, using it to demean women for simply "being." As one TikTok user mocked some of the responses: "She's a 10, but…she's a girl." The standards. They are so high these days!
So, help you enjoy these memes without having to suffer through all the lame, whiney rants, here are the best "she's a 10 but" memes and tweets that are actually funny.
The Best "She's A 10, But" Memes and Tweets
1. She also has red hair and was arrested for murder and should honestly leave her crime ridden hometown ASAP.

2. The Wordle addiction has taken another victim.

3. Are they even awake at that time?

4. *JEALOUSY*

5. The real ones know.

6. Not *quite* the kink we we're looking for.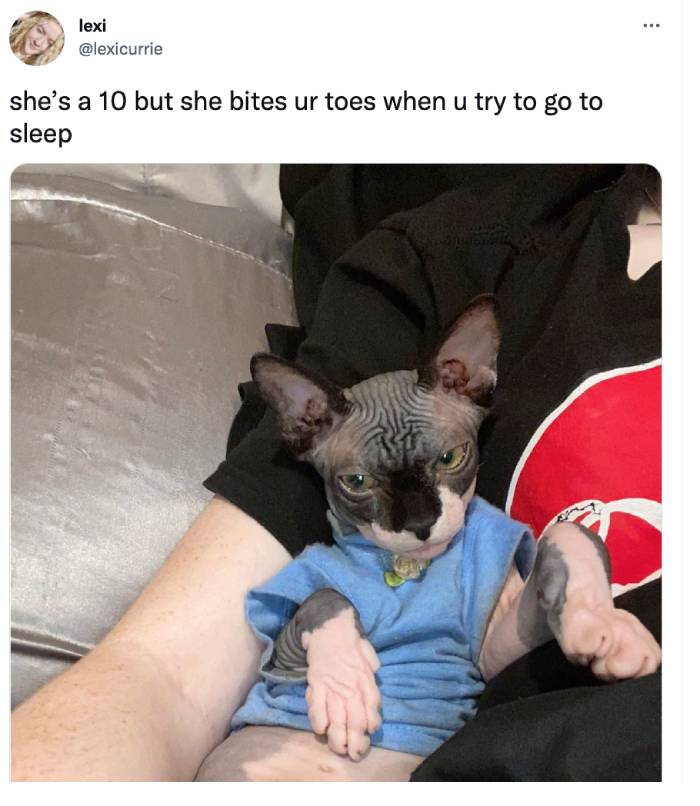 7. Look, there are certain rules in this world.

8. She's also two ferrets who are just trying to get some snacks.


10. Carmen Sandiego, is that you?

11. But you'll never stop trying.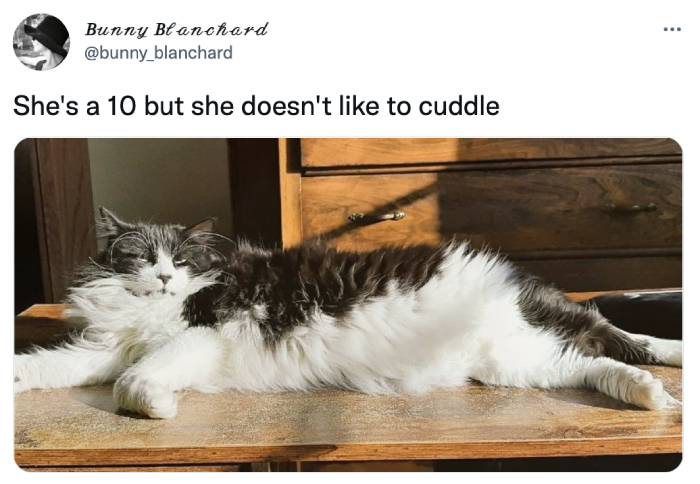 12. Once again, there's nothing new under the sun.

13. But was it dial up?
shes a 10 but had unrestricted internet access as a child

— daphne (@cosmicitgirl) June 19, 2022
14. Hot girls, unite!
shes a 10 but has IBS

— lucy (@lucerosxnchez) June 21, 2022
15. Her vocabulary is astonishing.
shes a 10 but she started listening to lana del rey at the ripe age of 13

— asia (@theshespirit) June 20, 2022
16. True Crime podcast listeners are amateurs.
shes a 10 but she puts horror movies on to help her fall asleep at night

— dani (@gloombugg) June 20, 2022
17. Some sacrifices are worth it. See you soon, Taylor!
she's a 10 but is willing to go into financial ruin for taylor swift concert tickets

— annie//lost in the memory (@annieswifts) June 22, 2022
he's a 10 but he's chris evans so he's actually an 11 pic.twitter.com/voof76fhAJ

— dottie ⍟ 🚀 (@celestialhalos) June 23, 2022
19. Reg flag meme, meet she's a 10 but meme.
She's a 10 but she likes to see how red the flag can get

— Kandon (@KandonDortch) June 22, 2022
20. Cue "Chasing Cars" by Snow Patrol.
She's a 10 but she cut his LVAD wire to bump him up the transplant list

— pat regan (@poregan) June 23, 2022
21. Ok, but did he ask for them nicely?
He's a 10 but he eats all the shrimp pic.twitter.com/wTgozLI1BF

— Oregon Zoo (@OregonZoo) June 23, 2022
22. Say that again, but softer and closer.
She's a 10, but she's the bane of your existence and the object of all your desires. 😉

— Abby McDonald (@abbymcdonald) June 22, 2022
23. At least Joey liked it?
She's a 10 but puts beef in her English trifle

— FRIENDS (@FriendsTV) June 22, 2022
24. But no one liked this.
He's a 10 but he thought we were on a break

— FRIENDS (@FriendsTV) June 22, 2022
He's a 10 but he can't swim, he can't dance and he doesn't know karate

— Ambar*🏴‍☠️ (@Arod_a_) June 22, 2022
26. Ahhh the early days of GPS.
he's a 10 but he drove his car into a lake

— The Office Memes (@OfficeMemes_) June 23, 2022
27. The only thing we love more than a good meme is a good pun. 11/10.
She's a 10 but her name is Eleven

— Netflix Philippines (@Netflix_PH) June 23, 2022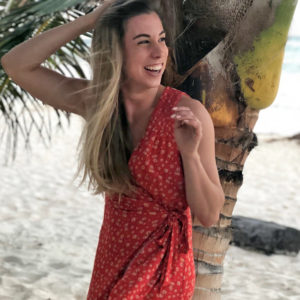 Latest posts by Hannah Rex
(see all)