Stranger Things Season 4 dropped on Netflix on Friday, May 27 after a grueling three-year wait since the last season came out in July 2019. And, people on Twitter are losing their collective minds already as they furiously binge-watch the new season and catching up on what's happened to Steve, Eleven, and the demogorgons.
We rounded up the best memes and tweets for Stranger Things 4 that we've seen so far.
There are some spoilers ahead. You've been warned. Into the Upside Down we go! Anyone got any Vegemite?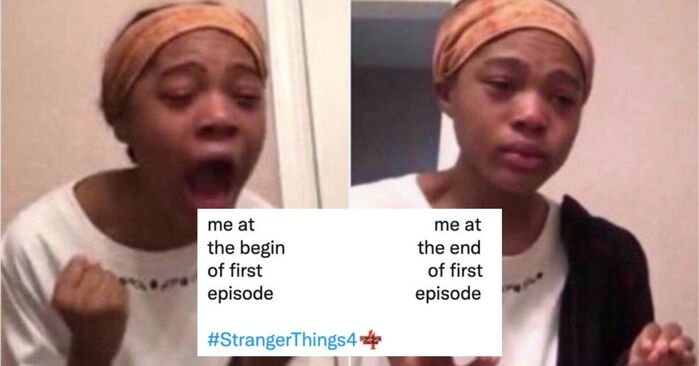 The Best Stranger Things 4 Memes and Tweets So Far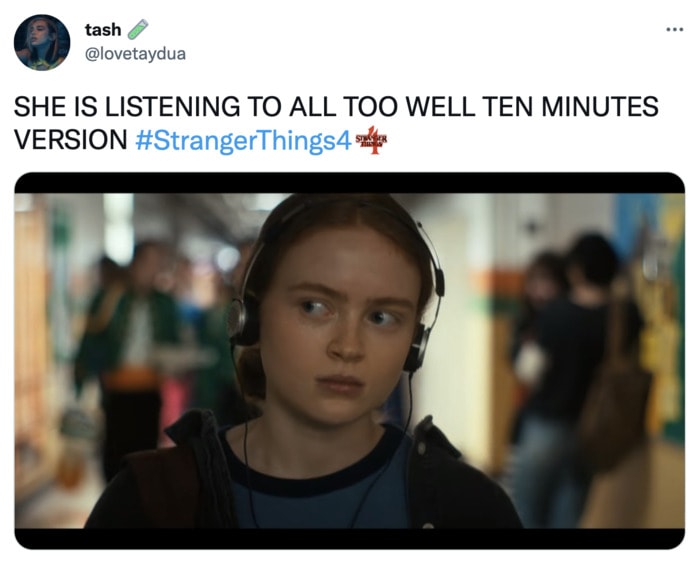 2. The wait was worth it. We hope.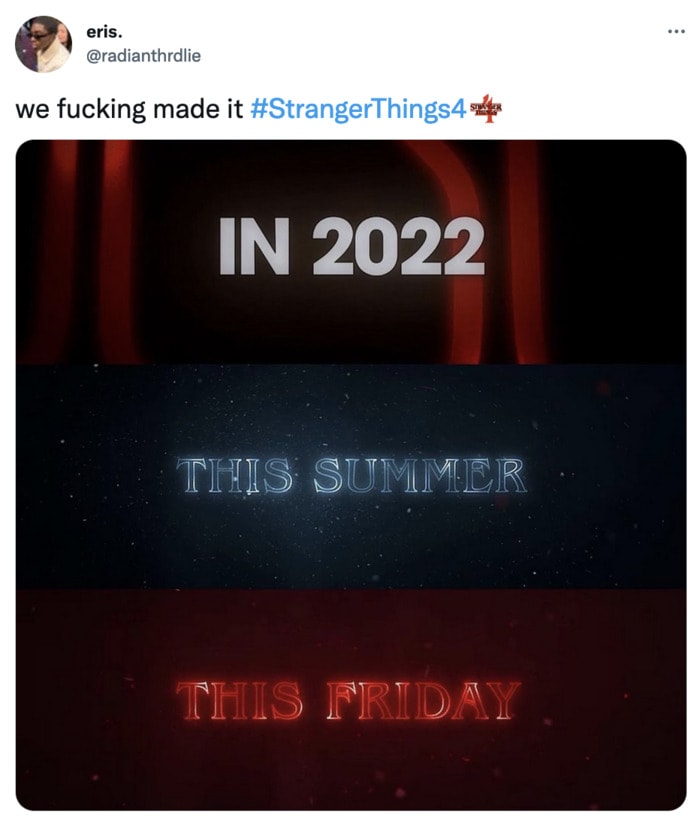 3. We're older, we're wiser, and we're still superfans.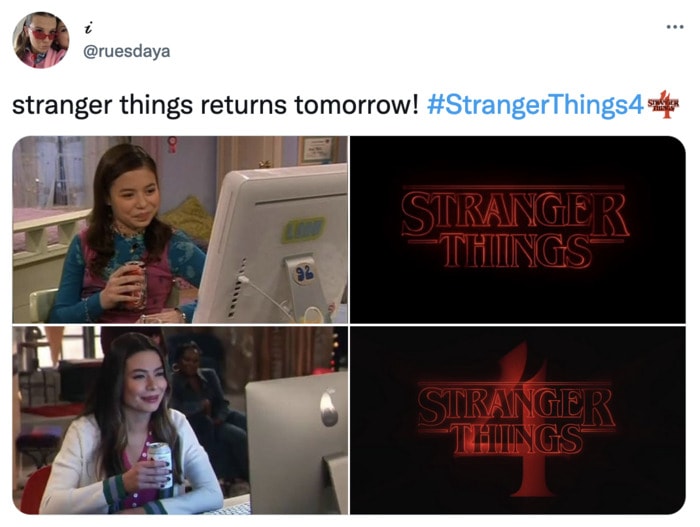 4. *Cringe*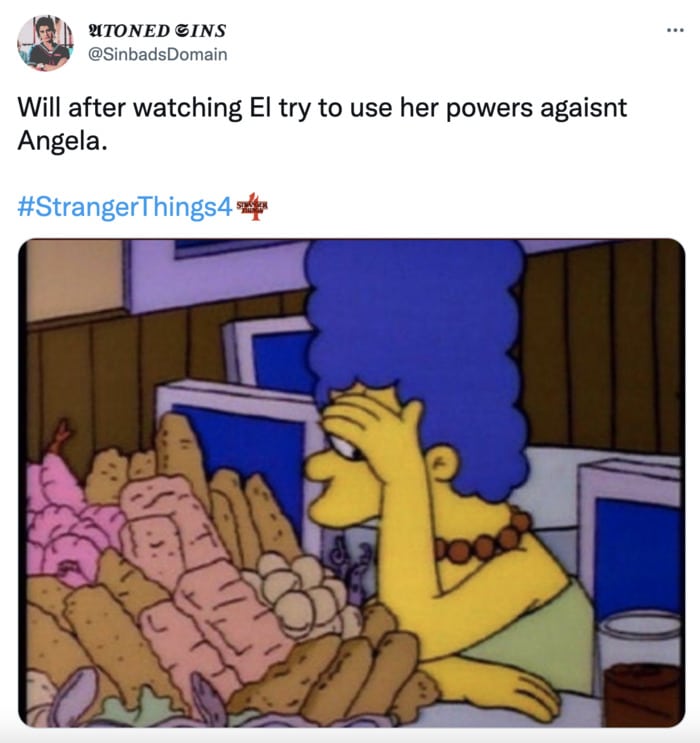 5. Every day we stray further from God's light.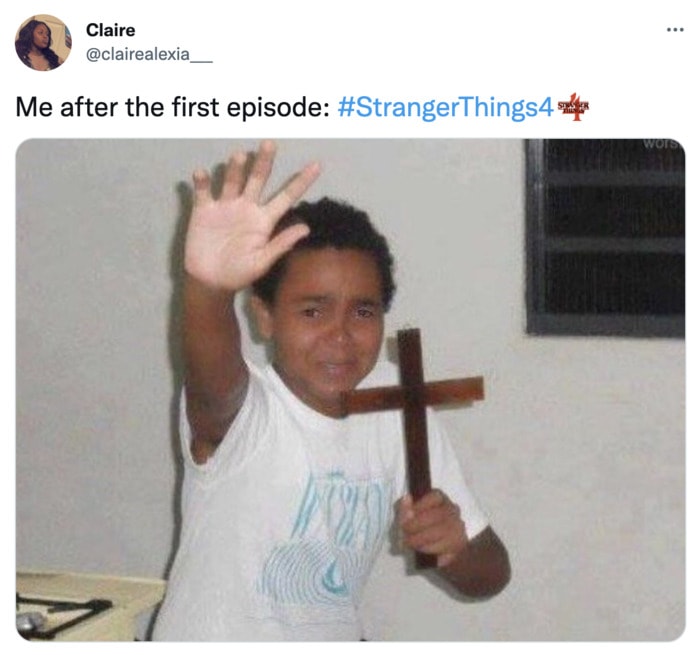 6. We're in love and we don't care who knows it.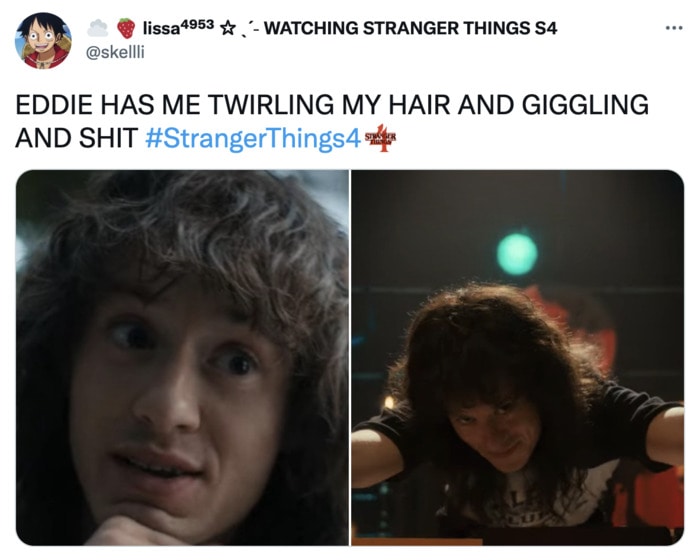 7. Also us every Monday morning.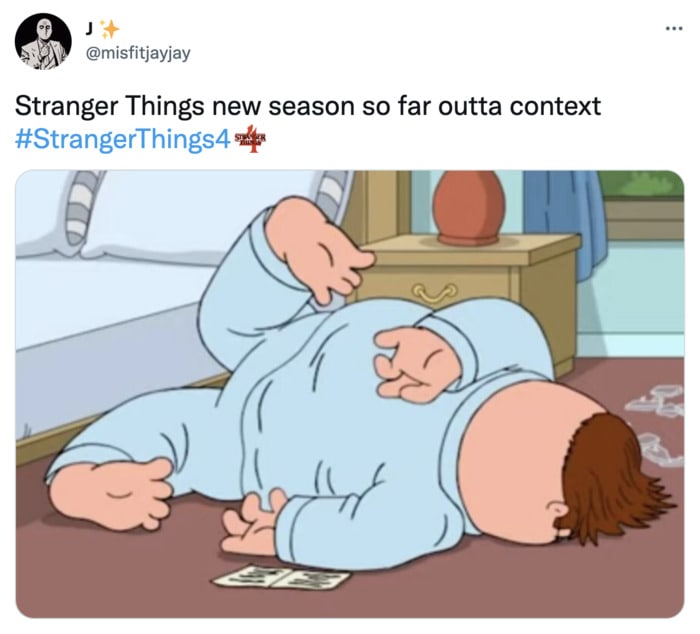 8. Neglecting all other earthly duties like…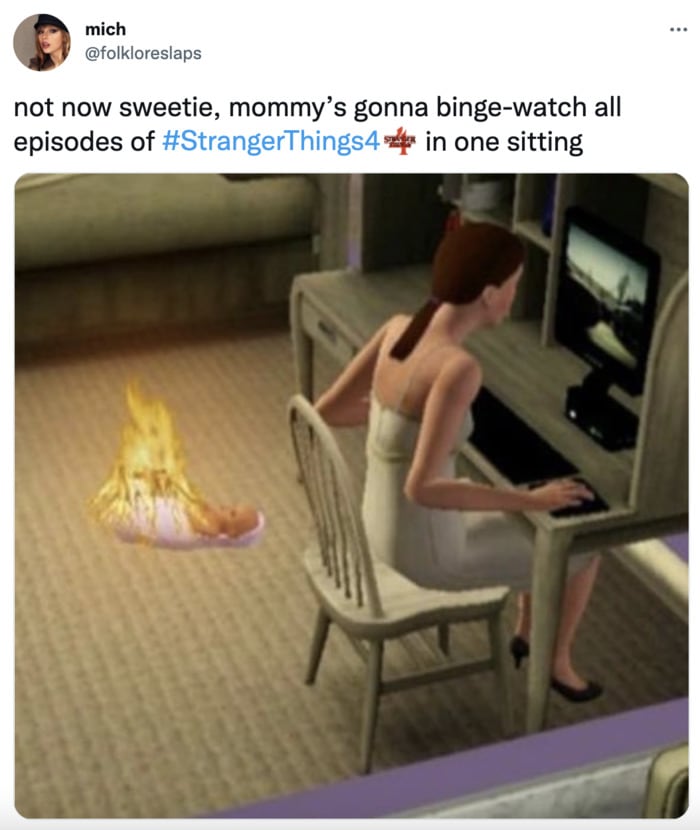 9. Apology not accepted.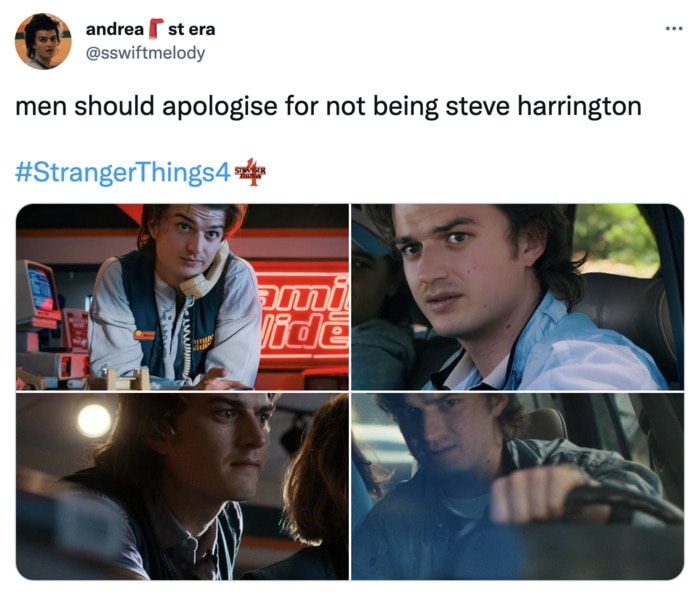 10. What's happening?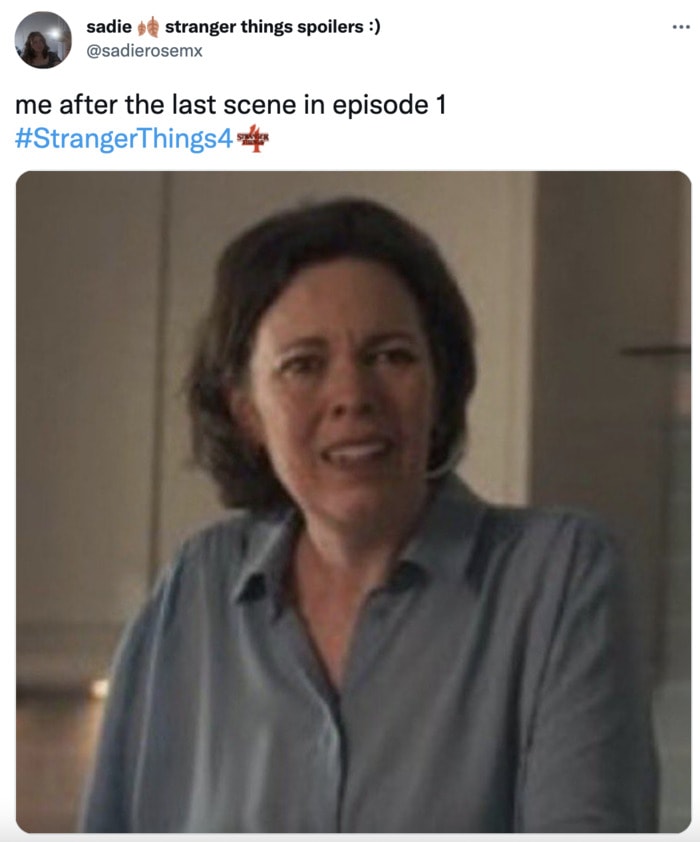 11. The theme song will be on repeat all weekend. Surely you understand.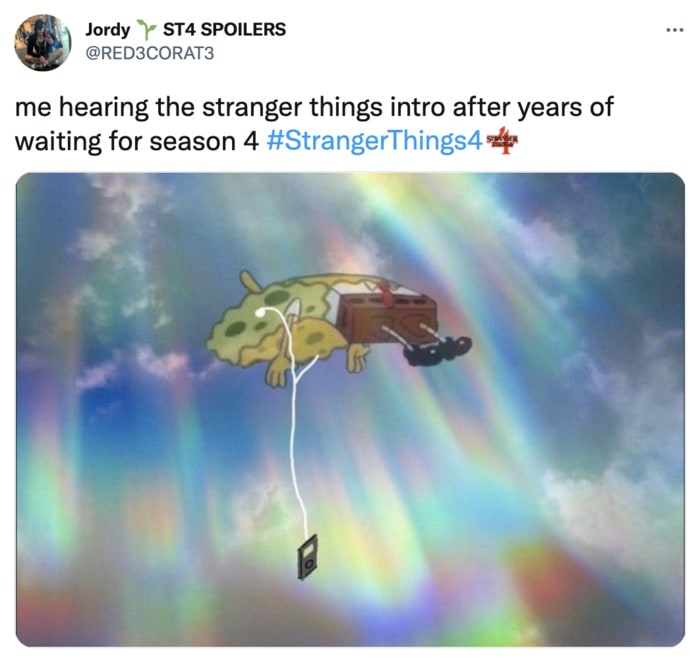 12. In that case, better keep watching!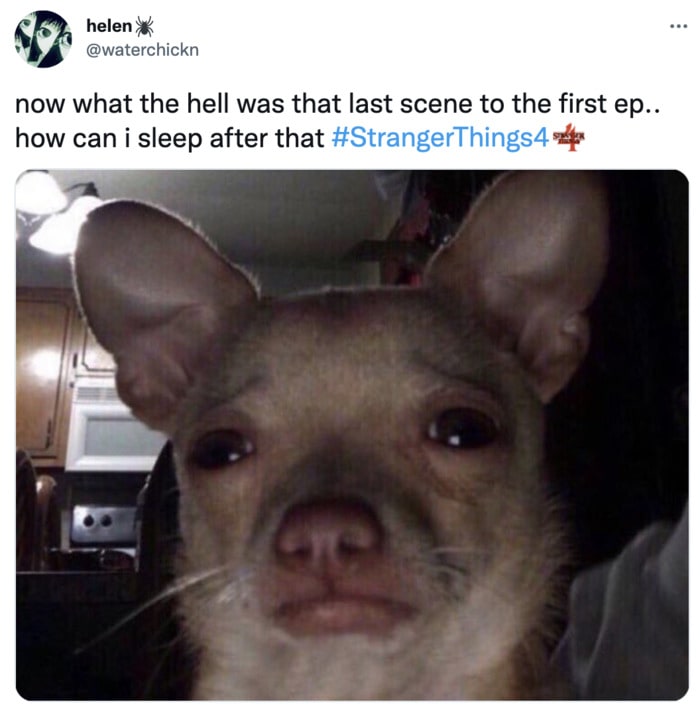 13. Looks like someone inhaled too much helium.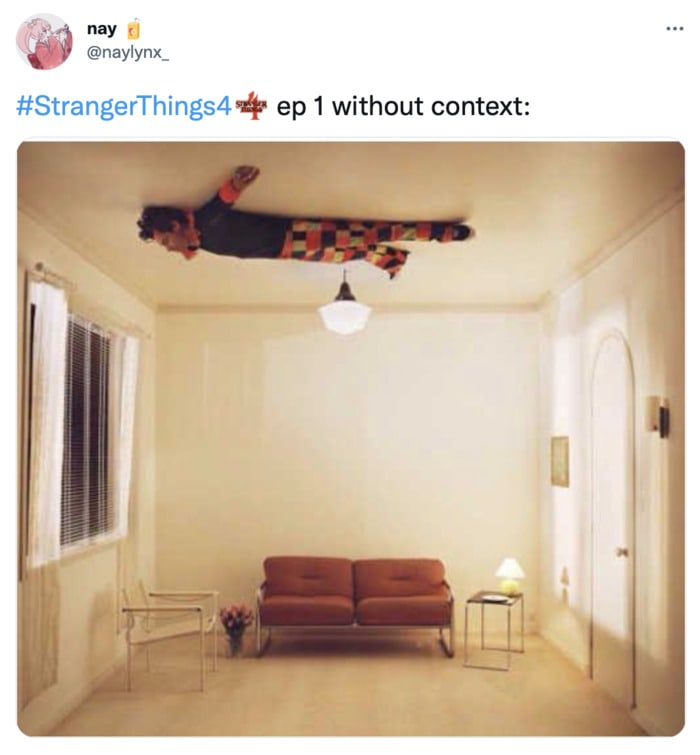 14. Protect Eddie at all costs.

15. Please respect our space and privacy at this time.
16. Should we make up the guest bedroom? Just in case?
IF STEVE DIES I SWEAR I WILL GO TO LA AND PERSONALLY FIGHT NETFLIX AND EVERYONE IN CHARGE #StrangerThings4 pic.twitter.com/Qaa1kiDdjy

— vik ST4 SPOILERS (@ticklshdckrstar) May 27, 2022
17. This is a Steve stan site now.
its okay daddy steve 😂#StrangerThings4 pic.twitter.com/gSSicooInz

— red 🥩 (@thorns__crown) May 27, 2022
18. Miss Minutes, we didn't like you the first time and we don't like you now.
#StrangerThings4 Spoilers without context pic.twitter.com/MeepUIP0ix

— Milouse (@Portgas_D_MLS) May 27, 2022
19. Honestly, this one was on our 2022 bingo card.
Me when miss Chrissy start floating#StrangerThings4 pic.twitter.com/1OHLAYCwD4

— Park (@Park10678998) May 27, 2022
20. What's uh, going on with Steve's neck?
Love these people…❤️📸📺 #StrangerThings4 pic.twitter.com/E2koAscj4n

— Stranger Things 4 (@StrangerNews11) May 27, 2022
21. Seems suspect.
"Will is painting a lot, maybe it is for a girl." #StrangerThings4 pic.twitter.com/5o2pEhlsaK

— Black Lives Still Matter (@m1ch4311) May 27, 2022
Here's the runtimes for Stranger Things season 4. Plan accordingly.
Runtimes for #StrangerThings4 episodes 📺 pic.twitter.com/6YsdOP2ECn

— Culture Crave 🍿 (@CultureCrave) May 25, 2022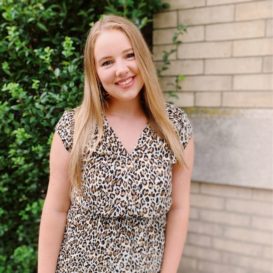 Latest posts by Laura Davis
(see all)