When NASA shared the stunning first images from the James Webb telescope, we weren't only gifted with photos of stars that are billions of light years away. We were also blessed with plenty of Webb telescope memes and tweets.
Or cursed. Depending on your point of view and the fullness of your glass of oat milk.
Because while NASA did what they do best – sending chunks of metal into the infinite space – Twitter leaned into its specialty. No, not making fun of Bachelorette contestants. But finding obscure and creative ways to comment on current events.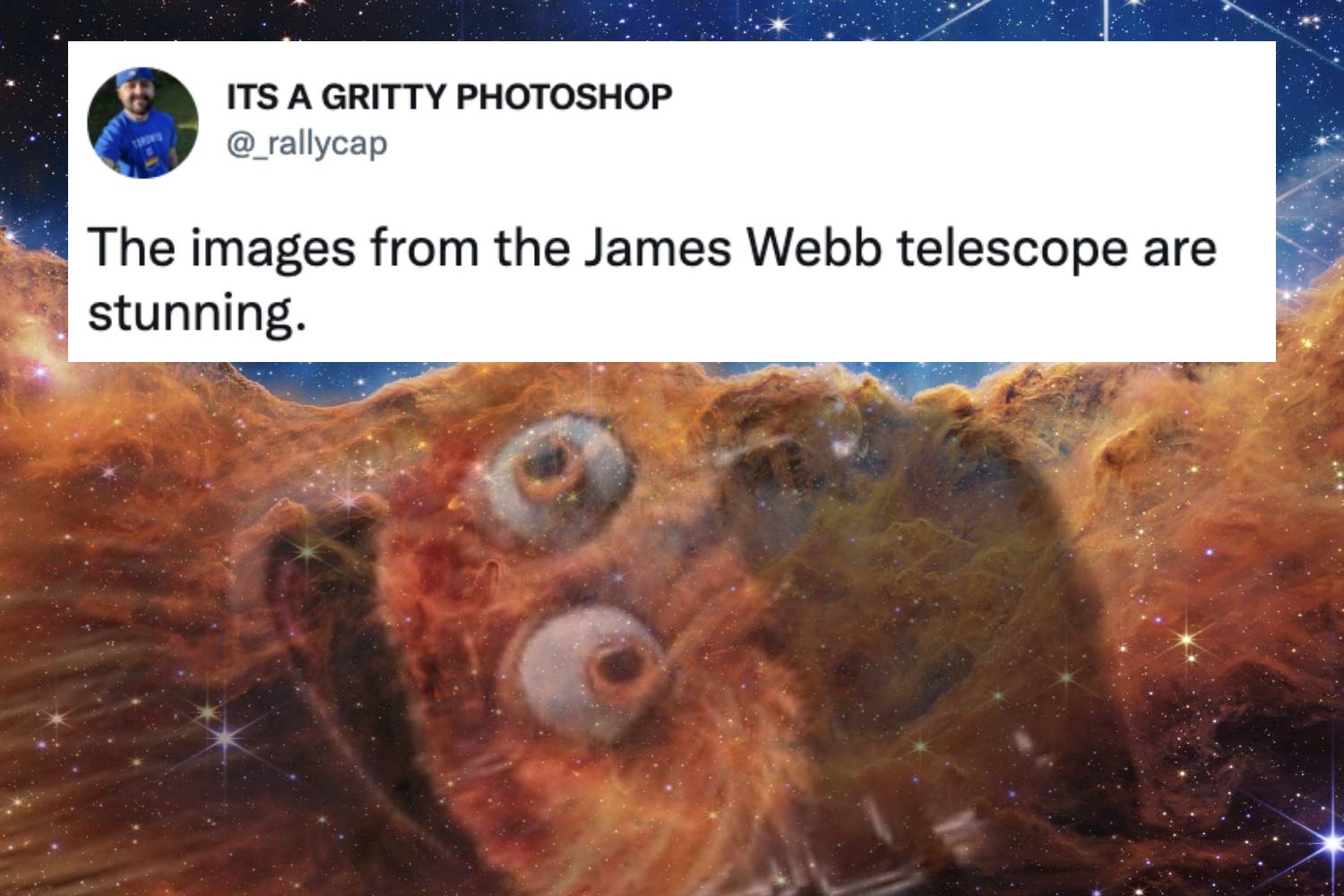 Do we wish that specialty was solving world peace? Sure. But we'll take a laugh where we can get it.
Between comparisons to bowling alley carpet to absolutely neglecting the Hubble telescope, these Webb telescope memes are an easy way to make people think that you keep up with science news. Just don't let them ask you too many questions.
The 15 Funniest James Webb Telescope Memes In This Universe
1. Where do you get that kind of patience? Amazon?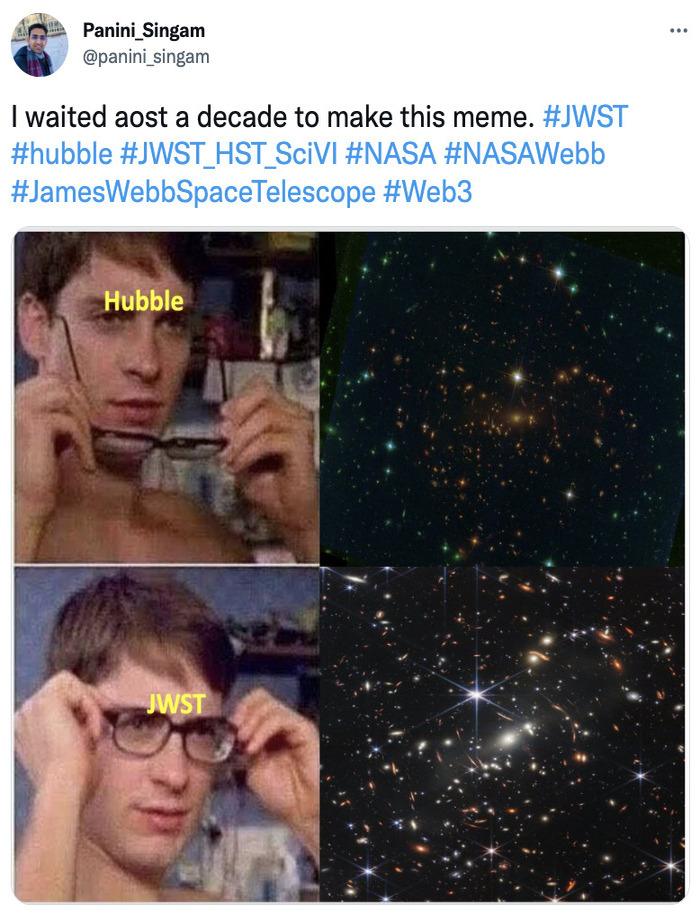 2. Honestly, it checks out that these seats are billions of years old.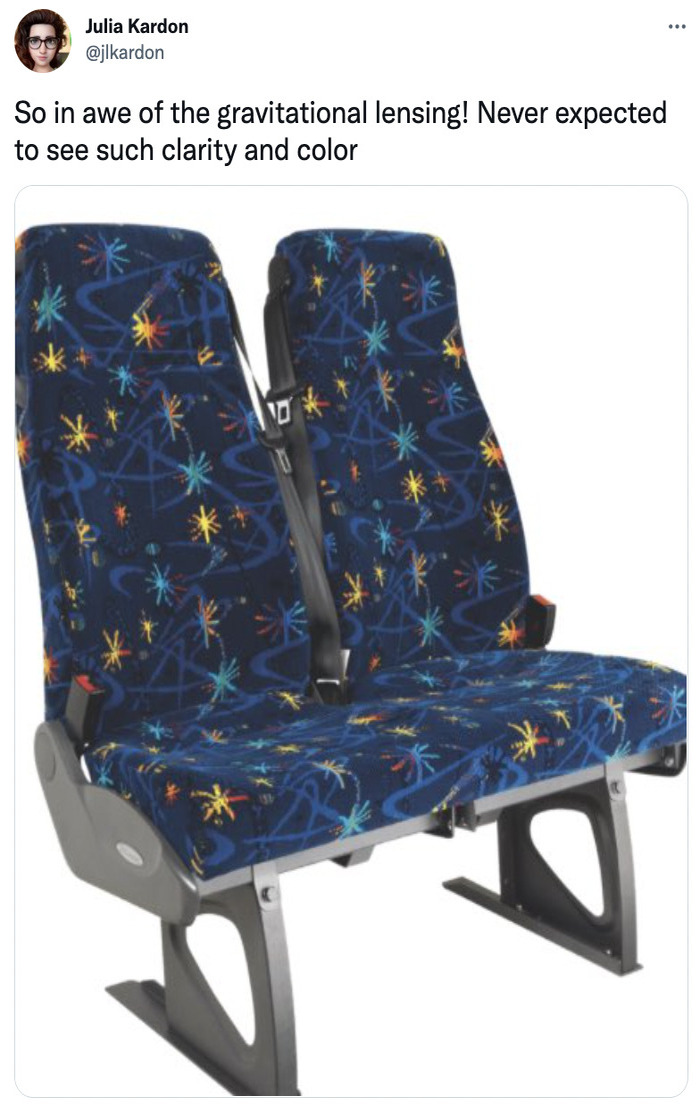 3. The moment is taken, appreciated, and…hey what's that shiny new thing?
4. Ok but we're still working on that 100 piece puzzle we started at the beginning of quarantine…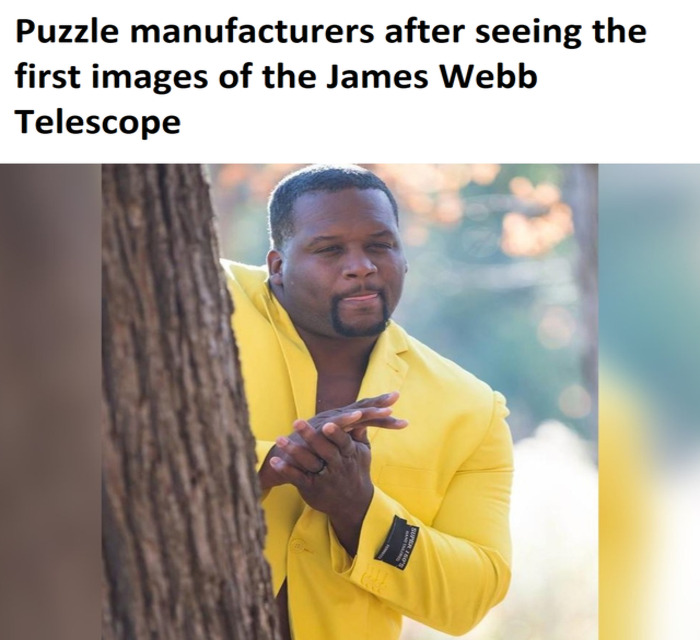 5. "What, like it's hard?" – NASA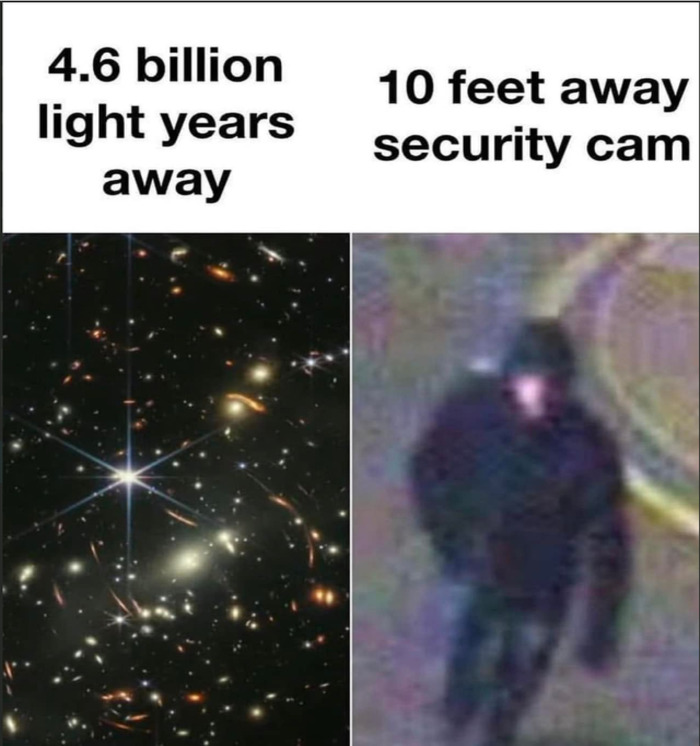 6. A billion years ago looks like a real jam!
it's here–the deepest, sharpest infrared view of the universe to date pic.twitter.com/3rqzmReK6f

— Jill Krajewski (@JillKrajewski) July 11, 2022
7. But don't worry Hubble, we can still be friends!
you vs the guy she told you not to worry about: pic.twitter.com/Liv0iNFc3F

— Jasmine 🌌🔭 (@astro_jaz) July 12, 2022
8. Is anyone else tearing up at this beauty? Err…terror?
The images from the James Webb telescope are stunning. pic.twitter.com/ZyB6XtcIAe

— Andy (@_rallycap) July 12, 2022
9. It might be time for us to go to the eye doctor…
theres something strangely beautiful about that nasa picture that i just cant put my finger on pic.twitter.com/QHOZfnS9O2

— Ben Rosen (@ben_rosen) July 12, 2022
10. We really are living in the future. A weird future. But the future nonetheless.
WOW. The first images from the Webb Space Telescope just leaked early. This is incredible. pic.twitter.com/hD7cxJ0N6C

— Chad Concelmo (@Chad_Concelmo) July 12, 2022
11. The Big Lebowski must have known something we didn't.
whoever designed the carpet for bowling alleys got deep space exactly right https://t.co/W4ISgJRUMu

— Seth Rubin (@setherubin) July 12, 2022
12. Is this all just an issue of Highlights Magazine?
i zoomed out and guess what pic.twitter.com/aIWKcCY7ND

— The Birdist (@TheBirdist) July 11, 2022
13. See also: Us, during the months of July and August.
Same energy. pic.twitter.com/DBNIPyQFx5

— Andy Howell (@d_a_howell) July 12, 2022
14. Your boss can't yell at you for slacking off at work if it's for science, right?
What opening the Internet looks like today… and it's amazing 🤩 🌌#UnfoldTheUniverse pic.twitter.com/7vMVBatdPO

— Kate 💫 (@katebomb) July 12, 2022
15. Infinite existence really hits different.
— slate (@PleaseBeGneiss) July 12, 2022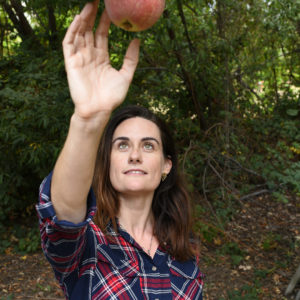 Latest posts by Rebecca Swanner
(see all)