The new Marvel and Box Lunch "Eat the Universe" collection is almost too cute to actually use in the kitchen. But, when you're waiting for Thor to make you eggs, what better for him to cook on than something that features his own face?
With these items, Chris Hemsworth — er, Thor — can make you waffles with the Avengers logo all while wearing a superhero apron (and nothing else). Ok, before we your imagination runs too far… here a look at what's available.
Our Look at What's in the Marvel Eat the Universe Collection
1. Apron, $24.90
This apron will make you feel like a superhero even if you can't boil water. Because who needs skills when you've got confidence!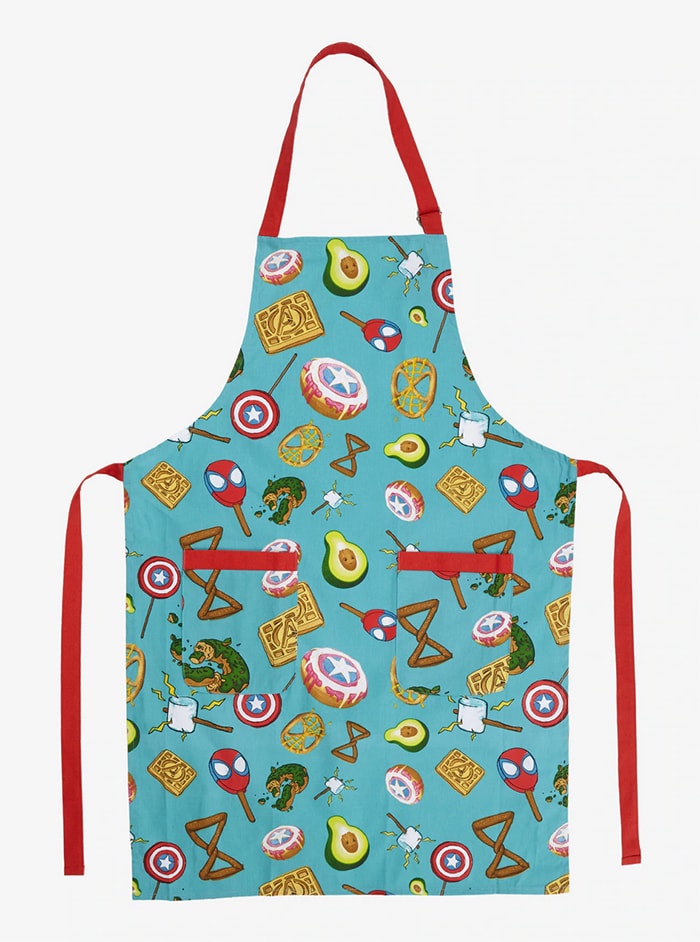 Ramen is the key to superhero strength, so slurp your way to a victory against the bad guys with this ramen bowl and chopsticks set. Yes, we're also confused why there's a donut on the side. Is there a secret ramen menu we don't know about gals? Gals?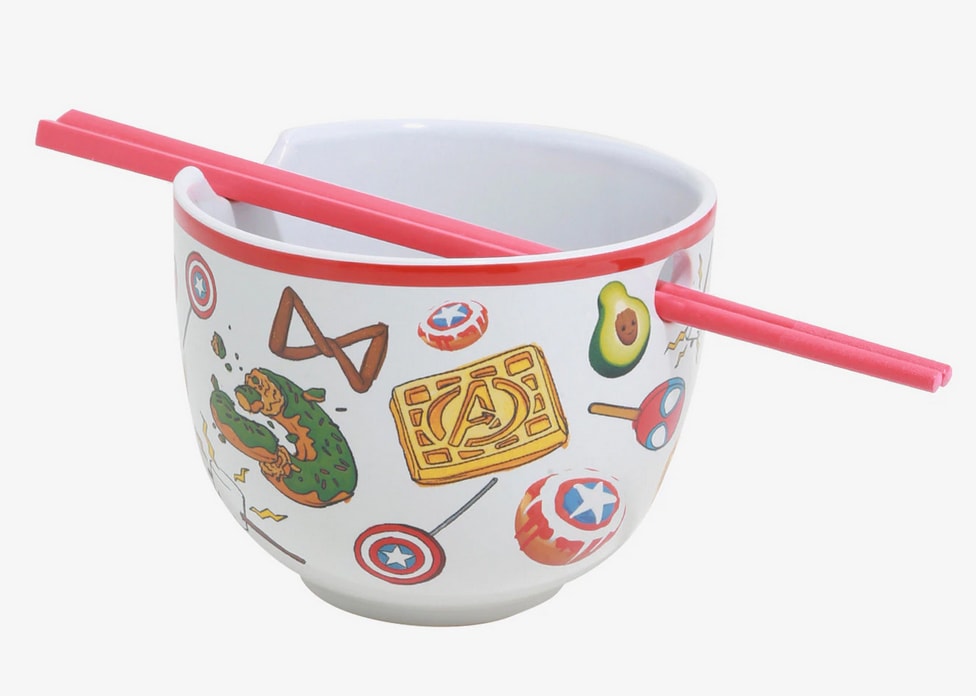 This smaller slow cooker is perfect for parties of one. Perfect for all you single ladies or those of you who simply aren't sharing your slow-cooked ribs. Nope, not even with Iron Man.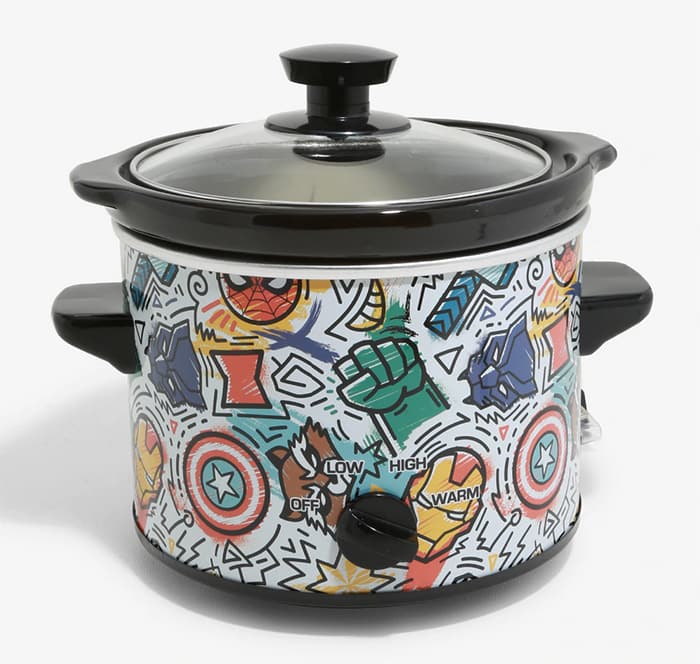 If you have the forethought to meal prep, the Eat the Universe collection also includes a seven-quart option. Yeah…. we'll be getting the two-quart one.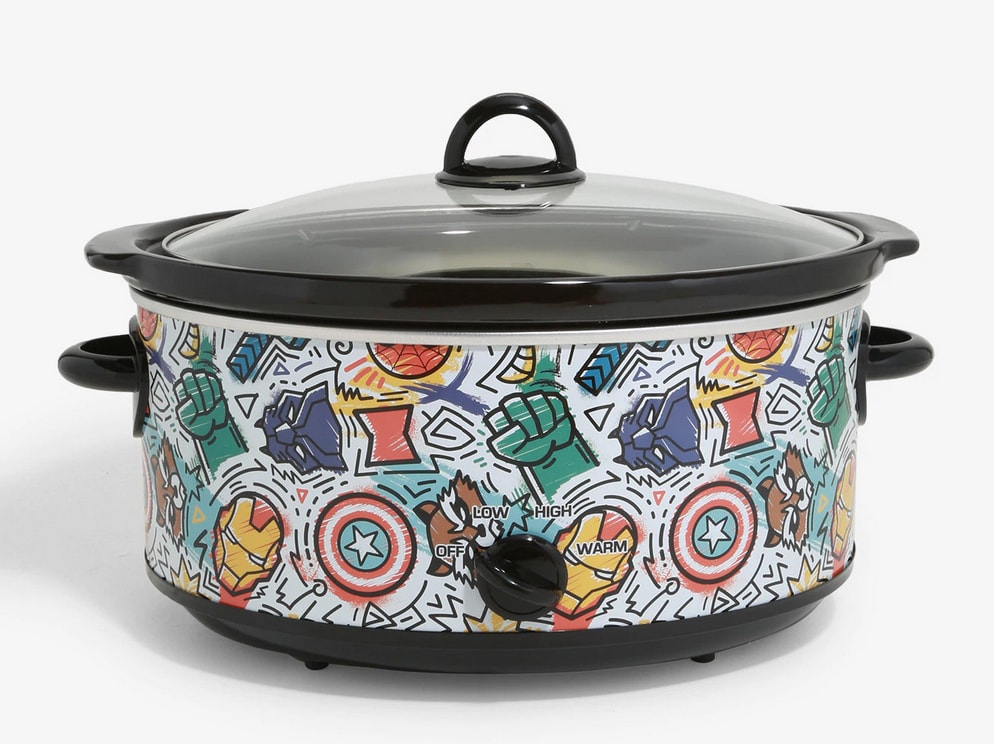 One of the towels in this set says, "You wouldn't like me when I'm hangry." We're sure the other says something too. Something about waffles and avocados and weird flavor combinations? Maybe you can make it out. We give up.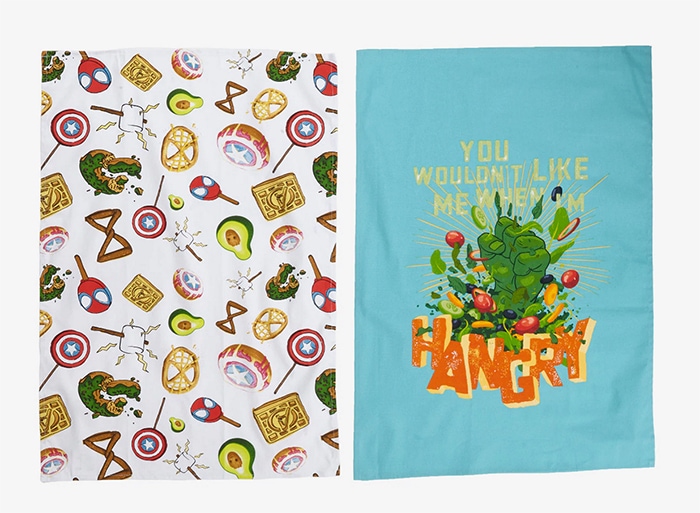 This oven mitt may not protect you from everything (:cough: Thanos :cough:) but it will probably prevent you from scalding yourself.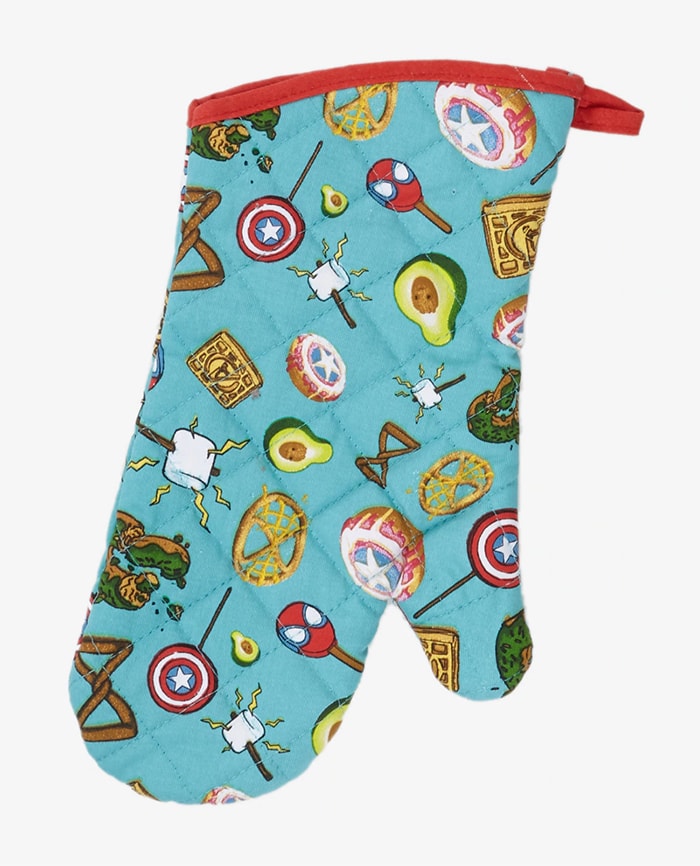 Even superheroes need to be organized. Otherwise, you're gonna get to Wakanda without that oh-so-important drive you needed and have to go all the way back to HQ. This one's mostly for groceries and planning meals, but you can use it for saving the world too.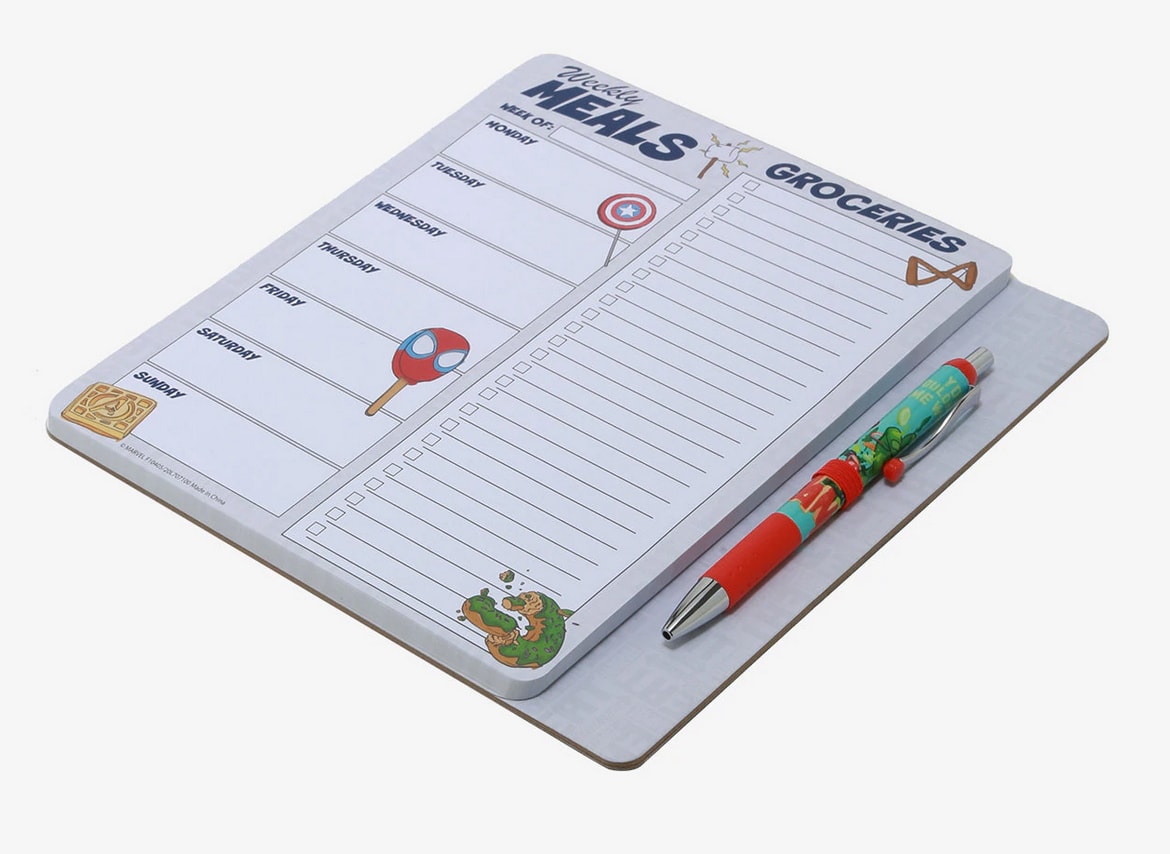 This one feels a little… flat? Great if your name is Marvel and you ever want to introduce yourself to a breakfast guest in your trademark quirky pixie superhero style.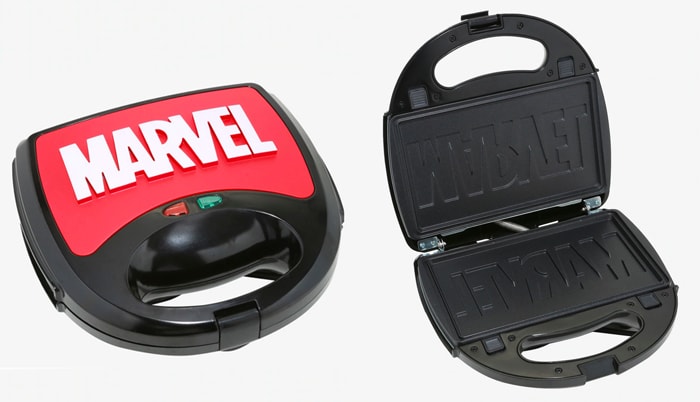 These coasters are perfect for holding your soda, your cocktails, and your beer. And, if Doctor Doom comes to your house, they're suddenly magic, not-terribly-effective projectiles!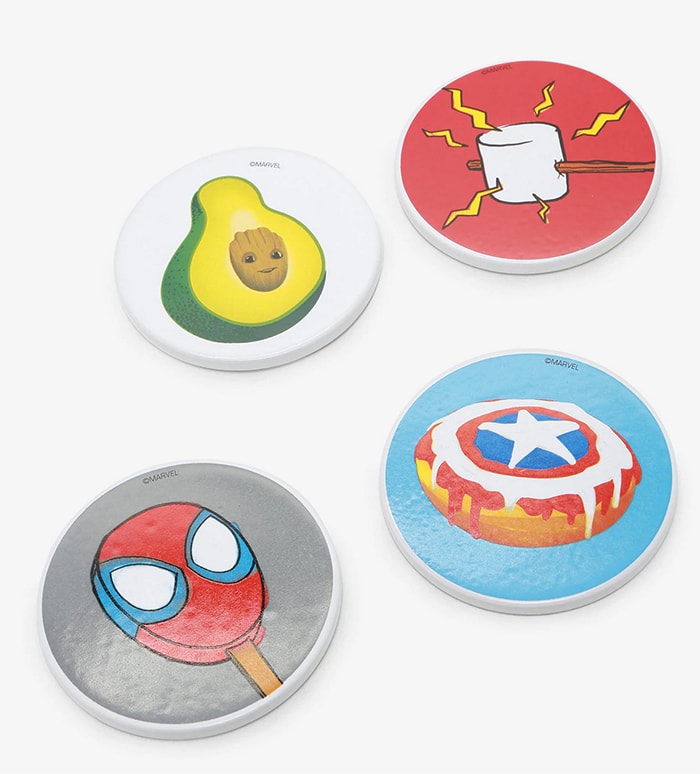 If you're dining with Tony Stark, don't break out this Iron Man waffle maker. Stick with your normal one (or, we guess, that Marvel one) or risk inflating his ego beyond the point of no return.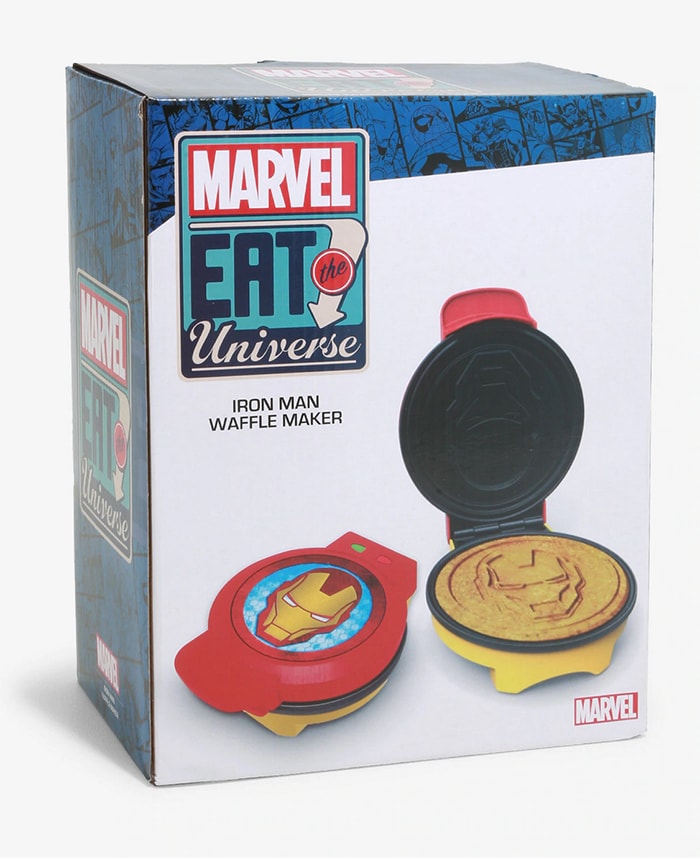 If you just learned how to cook or know someone who needs to learn, this cookbook is stuffed with bad puns and more than 60 recipes from Celebrity Chef (and fellow geek) Justin Warner., like Green Goblin Pumpkin Bombs. Crossing fingers they don't have actual Green Goblin in them.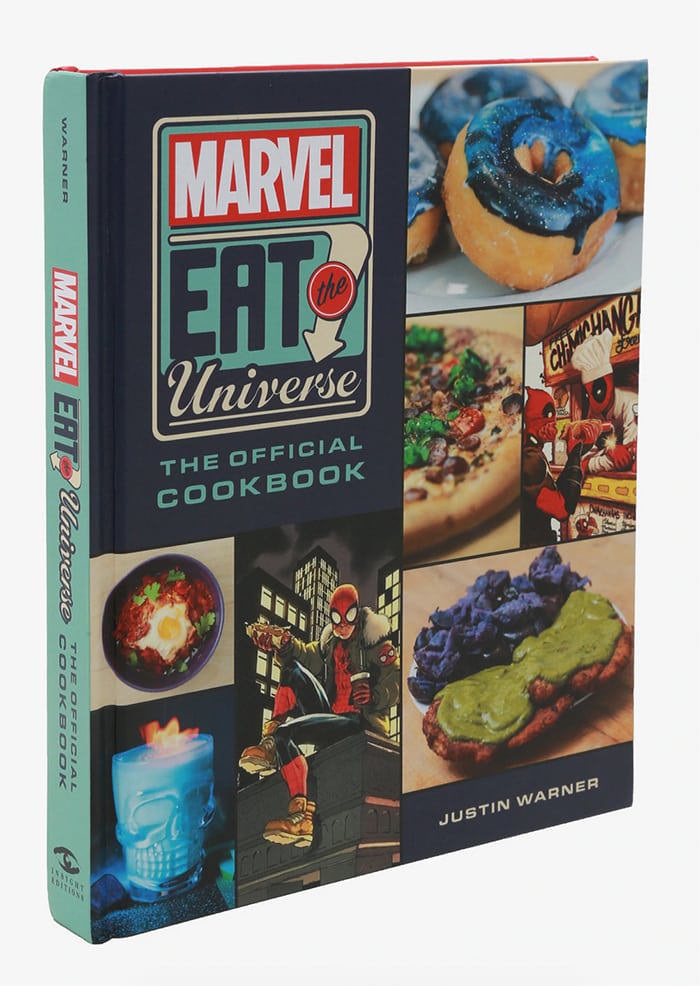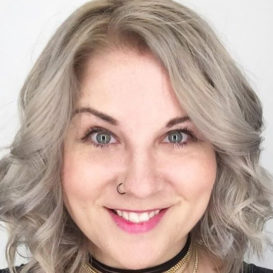 Latest posts by Hedy Phillips
(see all)