The Aviation Cocktail is a floral, slightly sweet, slightly sour cocktail made with gin, maraschino cherry liqueur, lemon juice, and crème de violette, and served straight up.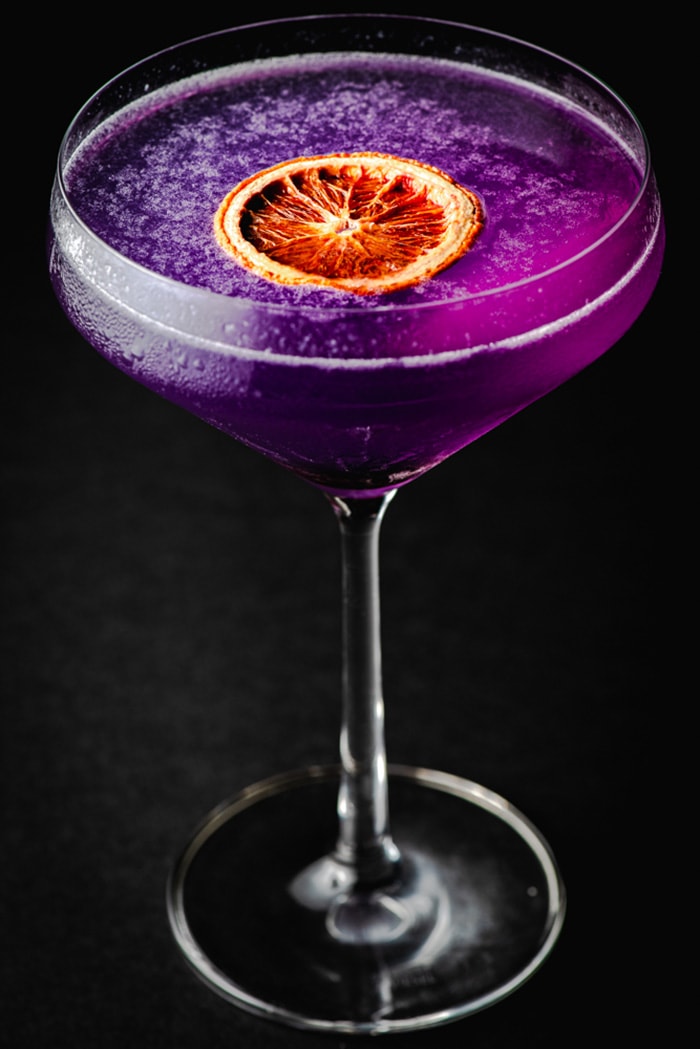 Oh, and in case you can't tell, this cocktail is usually very very purple. That's thanks to the Crème de Violette (or Crème de Yvette), or a purple-hued gin like Empress 1908. There's no beating around the bush. It's fancy. Even fancier than… dare we say it… rosé?
What Is an Aviation Cocktail?
The Aviation Cocktail is a sweet, tart, and just slightly floral gin-based cocktail made by shaking together gin, Luxardo (maraschino cherry) liqueur, fresh squeezed lemon juice, and Crème de Violette.
I first came upon it at Chicago's Free Rein when I was trying to find a drink made with Beefeater's millennial pink strawberry gin. (I'm determined to try every millennial pink product out there – and these ruby chocolates are next on the list.) But, alas, no luck.
I asked the bartender if he could make me a gin drink that wasn't too sweet but also not a dry martini. I was deeply hoping for something beautiful, refreshing and unforgettable… and the gin gods answered my prayers.
[Editor's Note: Gin gods are not to be confused with gin demons, which convince you that chasing shots of gin with Nantucket Nectars Grapeade is a good idea, and not the kind of idea that will give you a two-day hangover and scare you off the spirit for a decade. Oh, college. Pinkies up!]
Just How Strong Is an Aviation Cocktail?
The Aviation lands around 27% ABV (or 54 proof). Since three of four of the main ingredients are alcohol —and Luxardo alone is 64 proof — it's stronger than a Cosmo or a Bloody Mary, but not quite as intense as a Martini or Negroni.
Feel like figuring out the strength of another cocktail? Use this handy ABV calculator.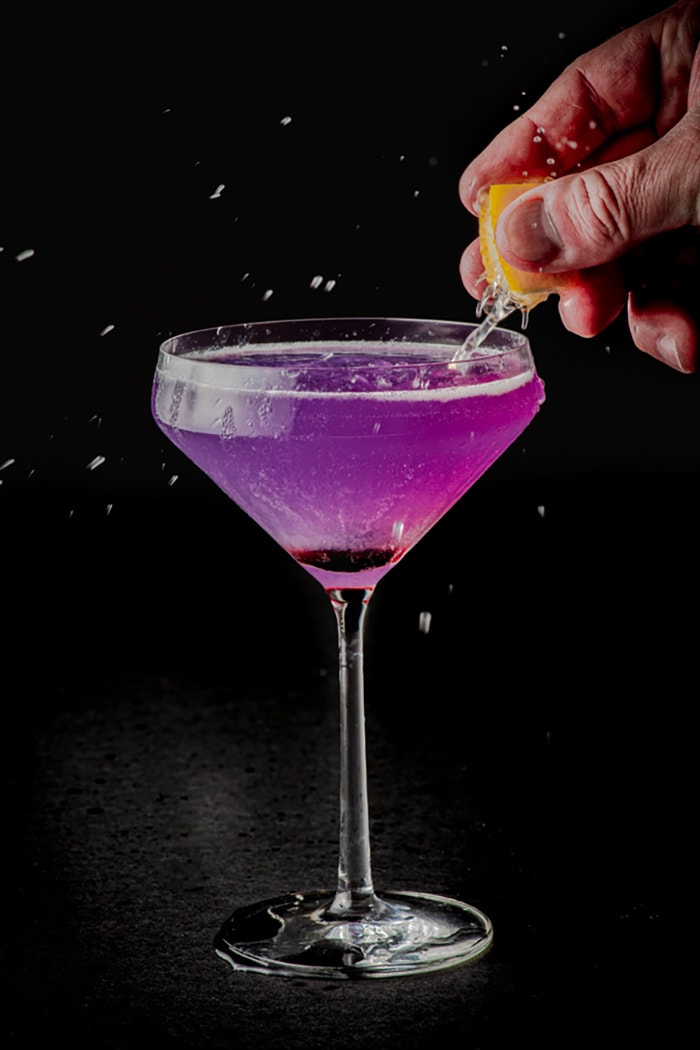 Why Is It Purple?
Historically, Crème de Violette is what causes this nearly-forgotten classic cocktail to be violet in color. This may be where the drink got its name — perhaps the inventor imagined this deep-indigo hue was what pilots saw when flying at night. Or at least that explanation made total sense to us when we were three deep.
If you want to make the color really pop, use Empress 1908 gin. It's infused with butterfly pea blossom, and it's naturally blue. But when you add citrus to it (in this case, the lemon juice), you affect the pH balance of the spirit and it magically changes to purple. (Or maybe it's a chemical reaction — we probably should have paid more attention in science class.)
If you already have a gin you love — we're also partial to Aviation Gin — it's fairly easy to make your own color-changing gin. Simply watch the video below to find out how (You can get the butterfly pea tea blossoms here.)
Who Invented the Aviation Cocktail?
The inventor of this drink is presumed to be Hugo Ensslin. Hugo was the head bartender at a New York City's Hotel Wallick, and in 1916, he published Recipes for Mixed Drinks. The original recipe and the aviation cocktail's ingredients can be found inside.
Ensslin's Aviation Cocktail Recipe and Ingredients:
1/3 Lemon Juice
2/3 El Bart Gin
2 dashes maraschino
2 dashes Crème de Violette
Shake well in a mixing glass with cracked ice, strain, and serve.
The Aviation's History
The Aviation was popular throughout the early 1900s but disappeared during the Prohibition, only to make a first comeback in the 90s, but only with three of the four original ingredients. Well, technically two out of four, as El Bart Gin no longer exists. But you really can't get the band back together without all the members… even if one is Joey Fatone.
At first, bartenders followed the recipe from the Savoy Cocktail Book (1930) which omitted Crème de Violette from the recipe altogether. It wasn't until Ted Haigh came upon Ensslin's recipe and published Vintage Spirits and Forgotten Cocktails in 2004 that the Crème de Violette was invited back to the party.
One problem: Crème de Violette was really hard to find in the States. So, Haus Alpenz worked with Austrian liqueur producers Purkhart to create one specifically for the Aviation — and the Rothman & Winter Crème de Violette took flight. You can now find Crème de Violette at most large-scale liquor stores, like Total Wine or BevMo!
Also, since El Bart Gin went the way of the dodo by 1955, you can either try and find a vintage bottle or use a time machine to get back there. Or you can substitute any dry gin in its place, if you want to take the easy way out.
Should I Use Crème de Violette or Crème de Yvette?
The original Aviation recipe uses Crème de Violette, and for those of you who skimmed the whole story just to get to the recipe, that's what gives the cocktail its distinct deep bluish-purple color. However, some bartenders prefer Crème de Yvette.
Crème de Yvette was adapted from Crème de Violette, but it's more floral. How floral you want to go is really up to you.
Aviation Cocktail
Print Recipe
This classic aviation cocktail combines gin, maraschino liqueur, lemon juice, and Creme de Violette to create a slightly sweet, floral drink.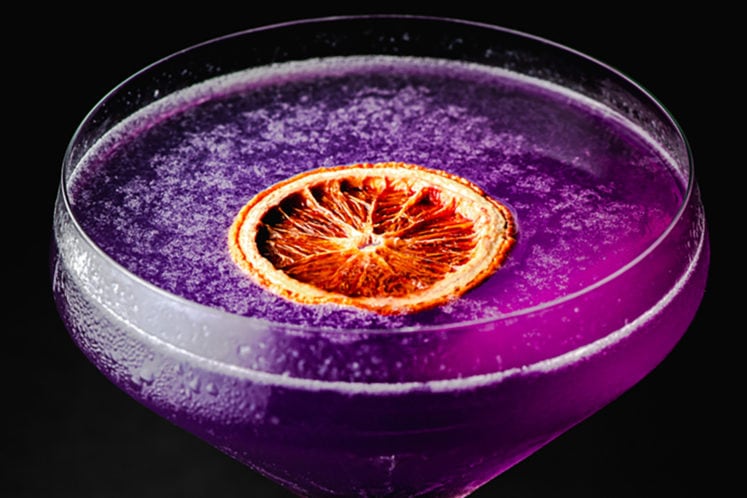 Servings: 1 cocktail
Ingredients
2½ oz. dry gin
¾ oz. lemon juice (fresh squeezed)
½ oz. maraschino cherry liqueur (such as Luxardo)
½ oz. Crème de Violette (or Crème de Yvette)
1 Luxardo marschino cherry (optional)
1 wheel lemon (for garnish; optional)
Instructions
Place the gin, lemon juice, maraschino liqueur, and Crème de Violette in a cocktail shaker filled with ice.

Shake the cocktail shaker until the shaker is cold and the ingredients are thoroughly mixed.

Place a Luxardo cherry in the bottom of a chilled coupe glass.

Pour the cocktail on top.

Garnish with a wheel of lemon.
Nutrition Facts
Aviation Cocktail
Amount Per Serving (1 cocktail)
Calories 321
% Daily Value*
Potassium 24mg1%
Carbohydrates 18g6%
Sugar 8g9%
Vitamin C 12.4mg15%
* Percent Daily Values are based on a 2000 calorie diet.
Did you make this recipe?
Leave a review below, then take a photo and tag @letseatcakeblog on Instagram so we can see it!
For more great cocktail content, make sure to check out Angela and Mark's blog Cooking with Wine!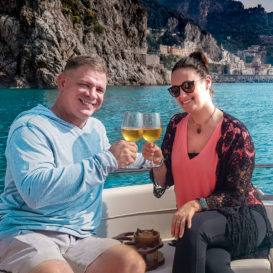 Latest posts by Angela Persicke
(see all)