In a fashion world that's increasingly obsessed with neutrals and minimalism, Edna Mode, er Iris Apfel, is a breath of fresh maximalist air. She's all about bold colors and vibrant patterns, and her new collaboration, Iris Apfel x H&M, is no exception.
The H&M collection was announced back in September as part of Apfel's 100th birthday celebration, and it's been highly anticipated ever since. Which also means that, in what comes as a surprise to absolutely no one, Iris is a Virgo. No wonder she's still working harder than anyone we know at age 100.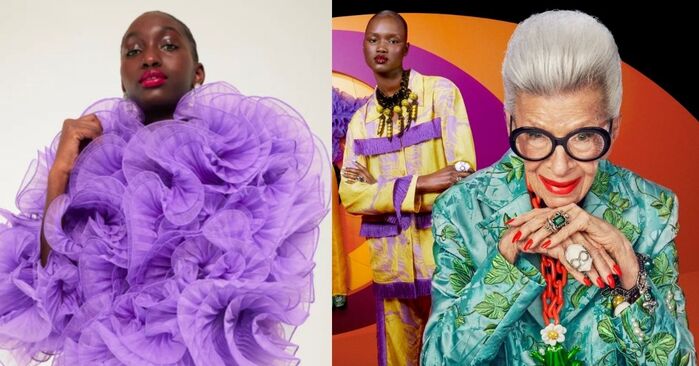 The new line ranges in price from $30 to a whopping $400, but many of the selections are "conscious" choices, meaning they were made with more sustainable materials than typical fast fashion. There's also an accompanying short film, where Iris appears as a life guru, telling us "The key to great style is knowing who you are."
We thought it was not wearing capes, so we obviously have a lot to learn.
In just a few hours, the collection sold out online, but you might still be able to snag some pieces in stores. According to the website, Iris Apfel x H&M will appear in stores in Chicago, Los Angeles, Miami, and New York City. If you live in one of those cities, we recommend running, not walking. Unless you're wearing stilettos, of course.
Even if you can't get your hands on this iconic collection, you can at least admire it from afar. And eBay, get your engines ready.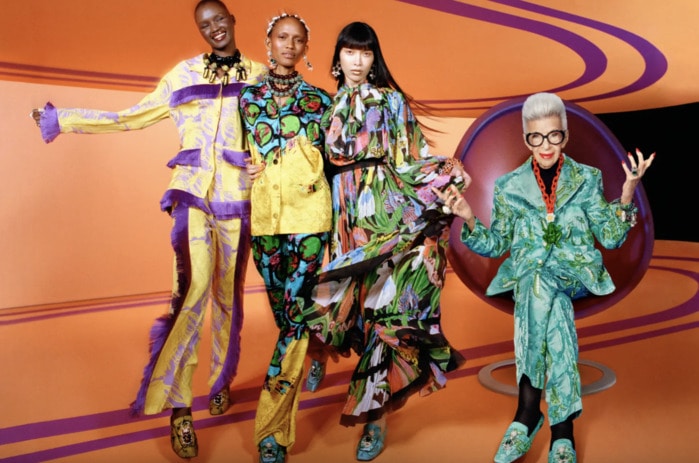 The Best of the Iris Apfel x H&M Collection
1. Purple Flounced Jacket, $399
Embrace your inner loofah with this purple ruffle jacket. We bet you didn't even know you had an inner loofah. That reminds us to replace our outer loofah.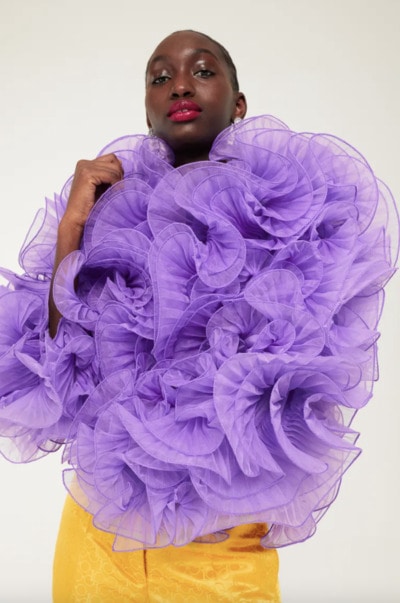 Available at H&M.
2. 100 Printed Swimsuit, $29.99
Adorned with Apfel's signature round glasses, this simple swimsuit is also somehow extra AF. And the best part is that you'll never lose your glasses at the beach again. Bad news for Warby Parker.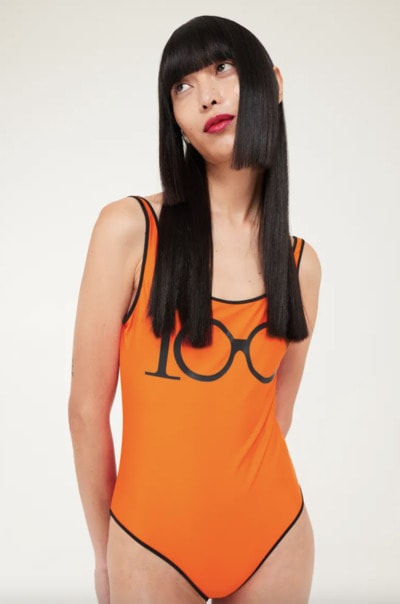 Available at H&M.
3. Oversized Fringe Shacket, $99
This yellow printed jacket comes complete with bright purple fringe and a matching pair of pants. Apologies to anyone who realized that after the collection sold out.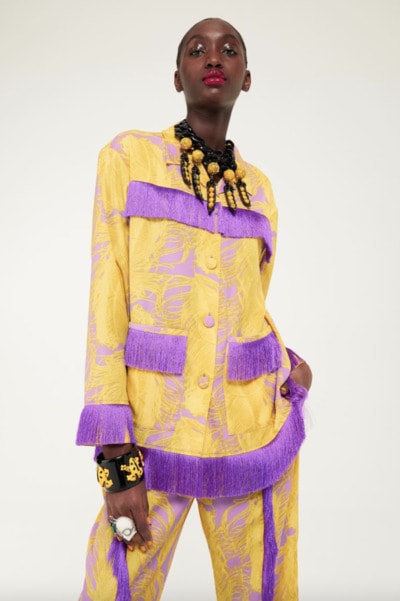 Available at H&M.
4. Fringe-Trimmed Pants, $99
In case you want to add said pants to your work from home wardrobe. Your neighbors will be so pleased.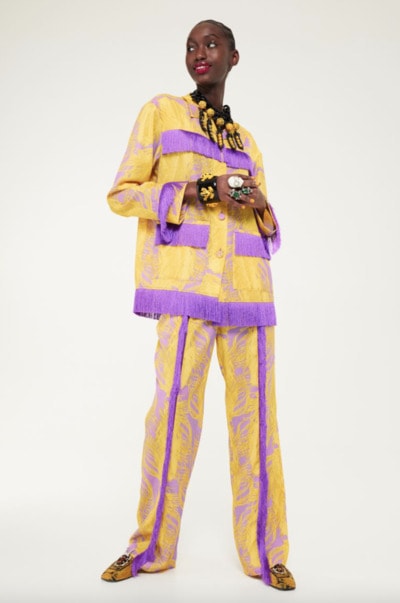 Available at H&M.
5. Green Flounced Dress, $99
We're green with envy at whoever managed to snag this dress before it sold out. It definitely has nothing to do with that funky leftover fish we just ate.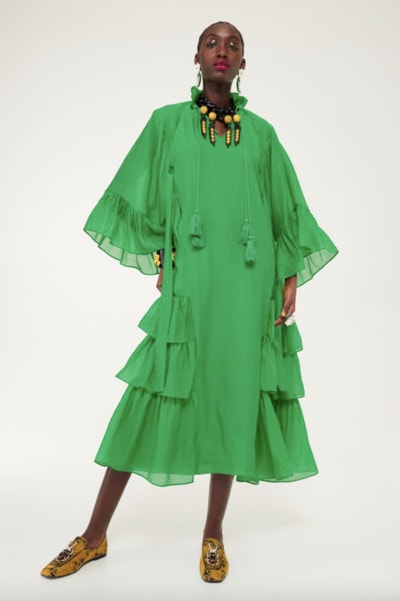 Available at H&M.
6. Patterned Tie-Bow Blouse, $59.99
Why pick one color when you can wear all the colors? We did it–we cracked the code to become Iris Apfel. See you in 70 years.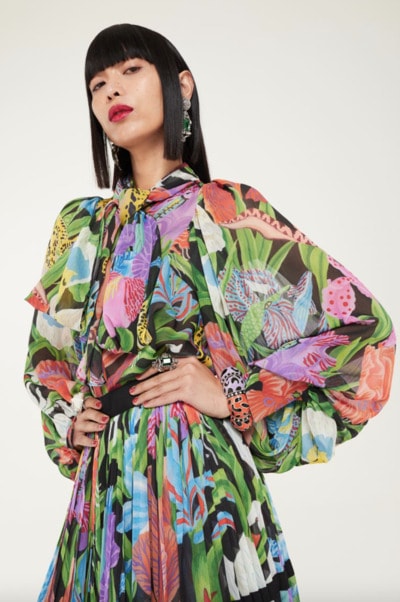 Available at H&M.
7. Statement Necklace, $129
The statement is, "we just harvested way too many snap peas from our garden and then realized we don't actually like snap peas."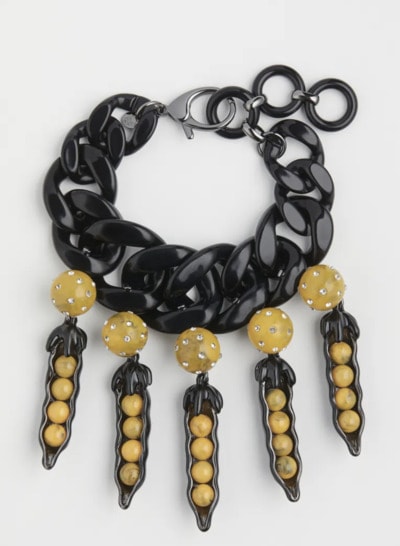 Available at H&M.
8. Rhinestone-embellished Clip Earrings, $49.99
We should probably try planting a different vegetable next year. At least we don't have to add "get ears pierced" to our to-do list.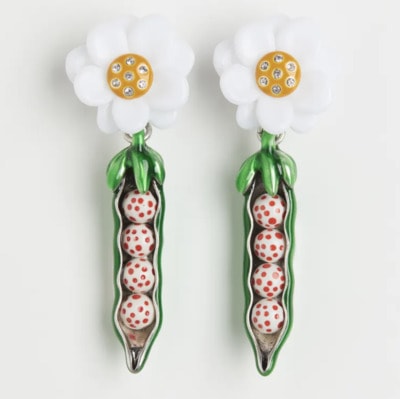 Available at H&M.
9. Iris Apfel Ring, $39.99
What, this? No, we didn't break our finger. Ever heard of fashion?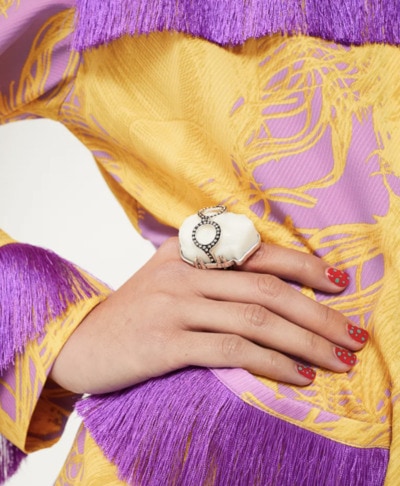 Available at H&M.
10. Rib-knit Shorts and Turtleneck Tank Top, $29.99 each
Iris Apfel can be low-key too. If all these colors and prints are way outside of your comfort zone, you can still celebrate the fashion icon with this rib-knit turtleneck tank and shorts. Just don't forget the loofah coat.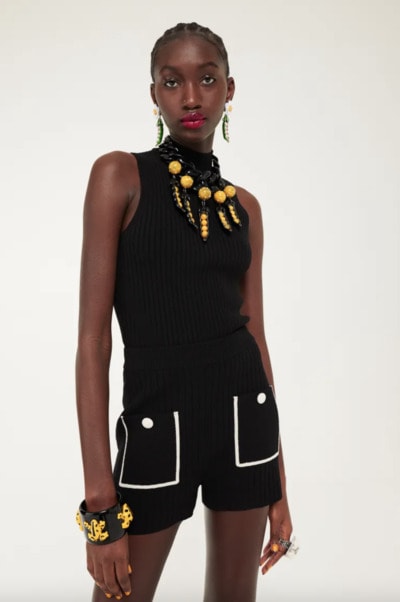 Available at H&M.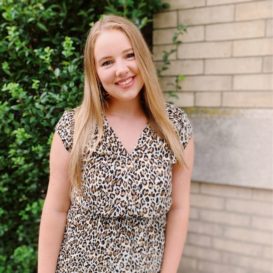 Latest posts by Laura Davis
(see all)