When there are 32 NFL teams, you need a good way to remember each of them. Names help, colors are fine, but the key to branding is sending someone in a full costume that's 60% head barrelling down the field. In other words, mascots!
We ranked all of the NFL mascots and learned along the way that nothing says "team spirit" like awkward proportions, and two-legged animals that look a witch got distracted mid-spell. (Look, it happens to the best of us.)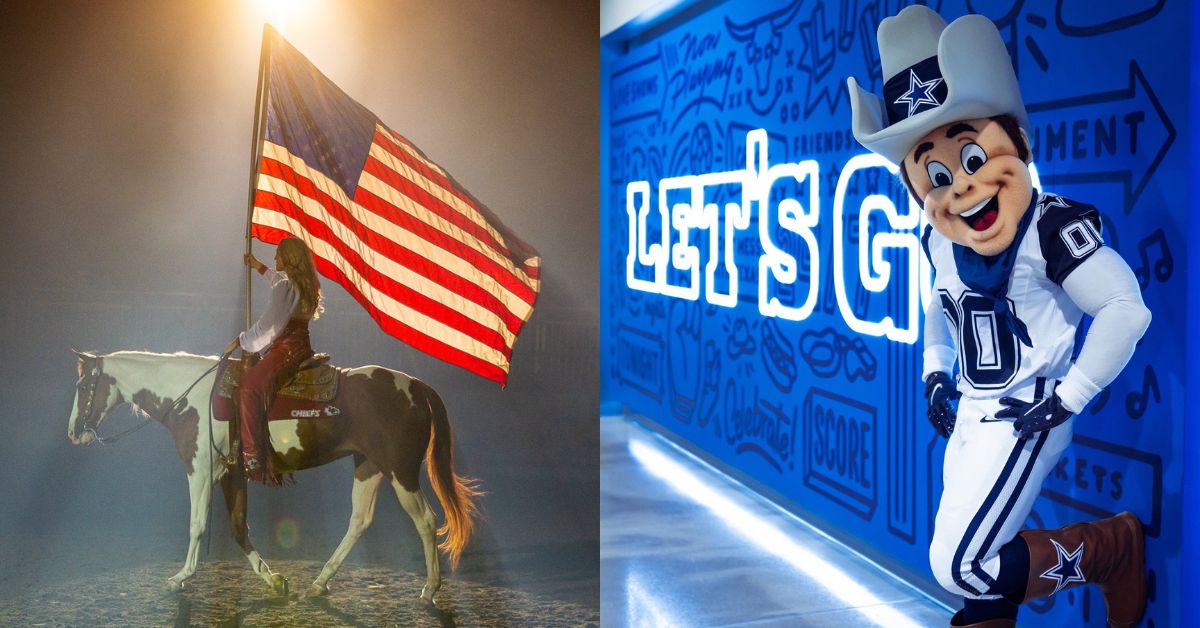 Once you see a dolphin-human hybrid tearing down the field, sleeping will be challenging, but at least you remember that Miami game you saw. And you still see it. Every time you close your eyes. Forever.
Some teams have no mascot, like The Chargers, though Boltman was their unofficial one until he retired. Other teams, like the Ravens, have more than one. Are they extra spirited? Are they trying to compensate? You decide.
The 36 NFL Mascots Ranked From Worst to Best
36. Washington Commanders: Major Tuddy
Major Tuddy is a pig inspired by The Hogs, a nickname for their offensive line in the 1980s and 1990s. They're automatically last because they used to be the Washington Redskins, but then changed their name to the Washington Team, and finally to the Commanders.
They could have literally picked any team name and mascot an this was the best they could do. What about a centaur? Just spitballing.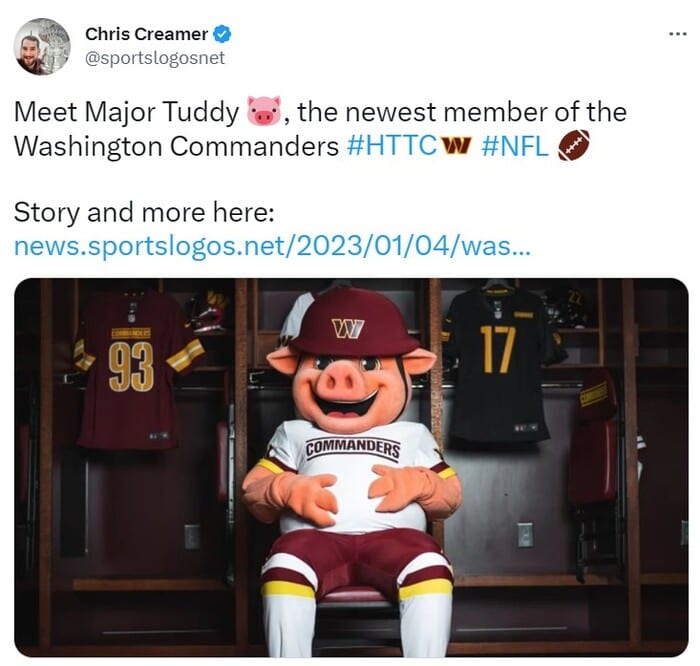 35. Tampa Bay Buccaneers: Captain Fear
We know pirates don't all look like they're always asking for rum before appearing in Tim Burton movies, but Captain Fear is aptly named. This football mascot looks at best like a zombie and at worst like Jigsaw from Saw.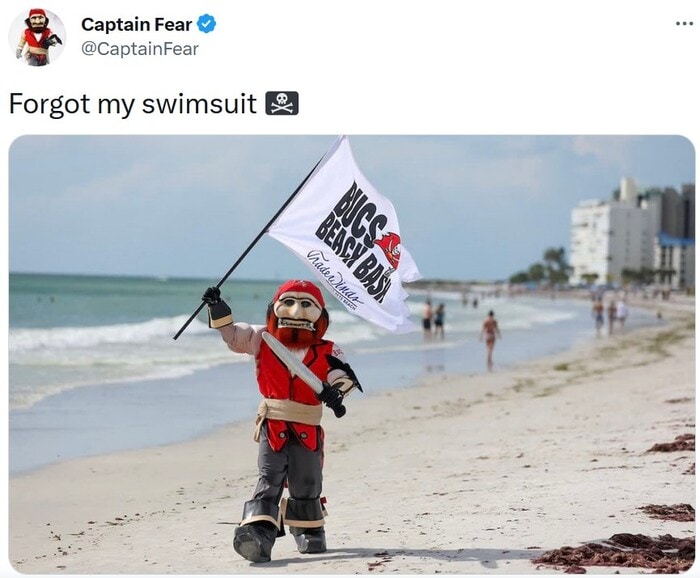 34. Las Vegas Raiders: Raider Rusher
The Raider Rusher is literally just a giant head with arms and legs. Where's the heart, Raiders?! No seriously, because there's no torso, and that's off-putting.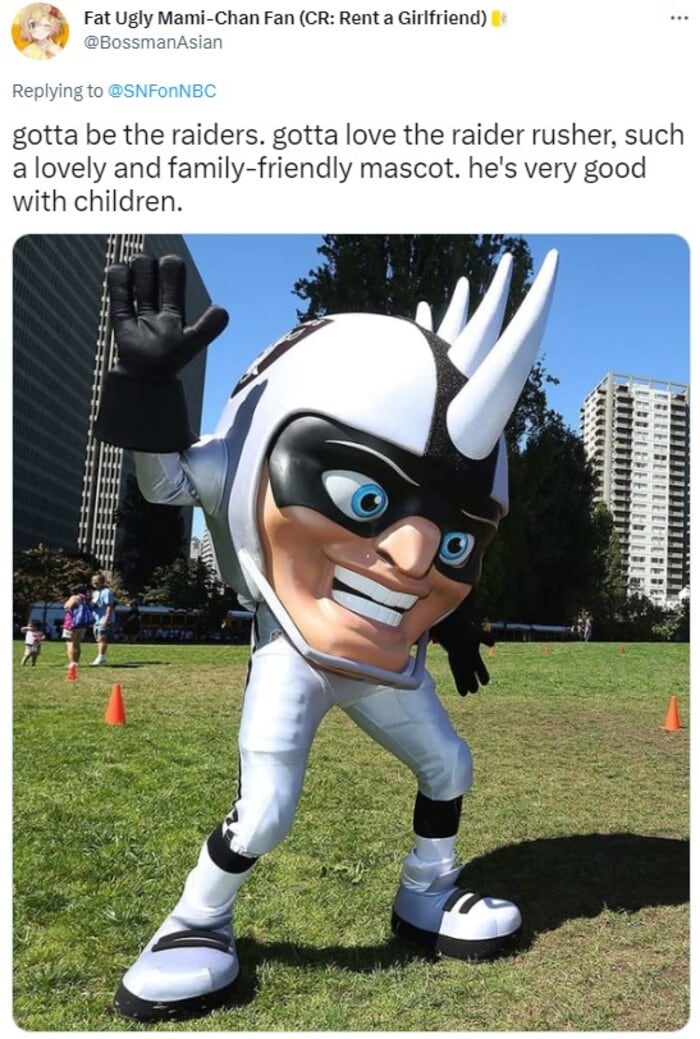 33. Chicago Bears: Staley Da Bear
Forgive us for holding bears to such a high standard. Da Bear's competition is Smokey and Paddington, who was voiced by Zelenskyy in the Ukranian dub. So we've got two life-savers and… then there's this Mike Ditka-inspired mammal.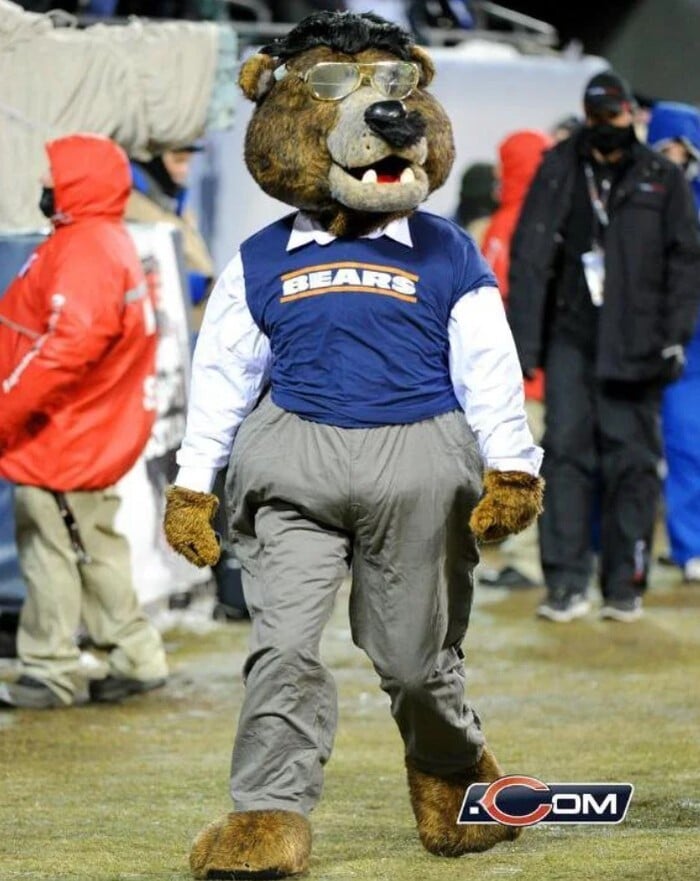 32. New England Patriots: Pat Patriot
Pat Patriot is a caricature of a patriot from the American revolution. He's like if Gaston from Beauty and the Beast channeled the Kool Aid Man's energy. And nobody asked for that.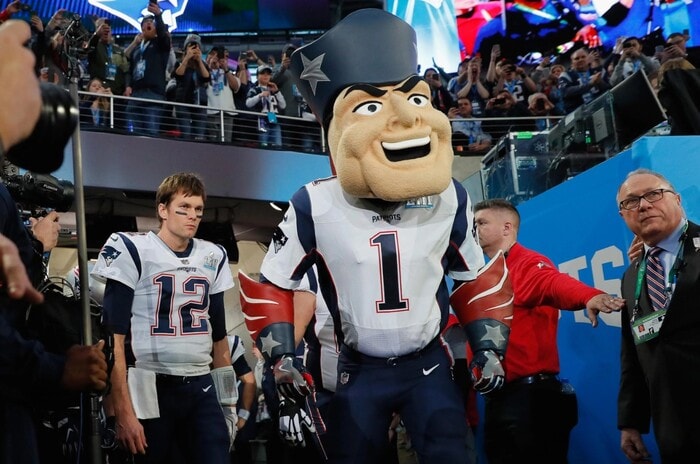 31. Denver Broncos: Thunder II
Horses are great, but broncos are untrained horses, and this living horse is decidedly well-trained. Pick a lane! If you're wondering what happened to the first Thunder, he joined the 27 Club during surgery.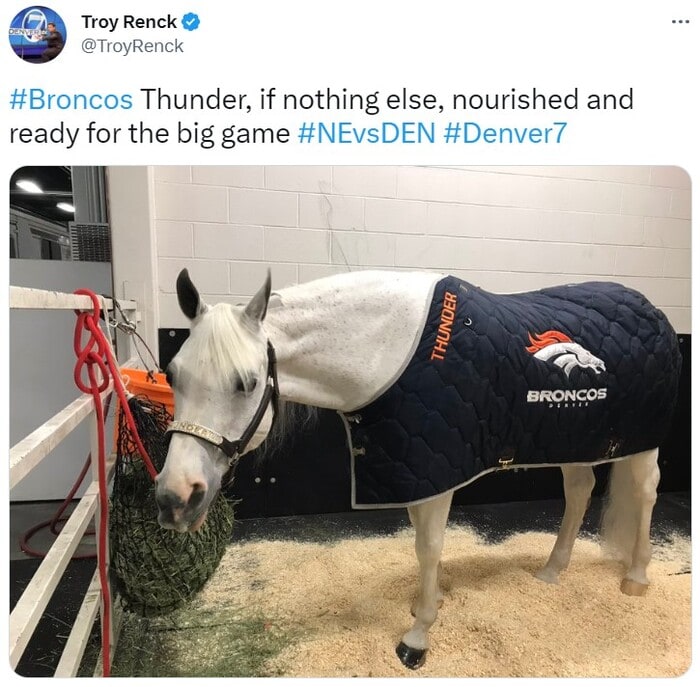 30. Cleveland Browns: Brownie the Elf
Brownie is an NFL mascot that looks like those Keebler dudes got a few too many compliments on their cookies and their heads swelled up. Also, why is he so hangry?
would you just look at it 🤩 pic.twitter.com/shcR27n0um

— Cleveland Browns (@Browns) September 13, 2022
29. Jacksonville Jaguars: Jaxson de Ville
Jaxson the jaguar looks like Chester Cheetah if he got blazed and stole Cruella's last name. Next time, steal some clothes too.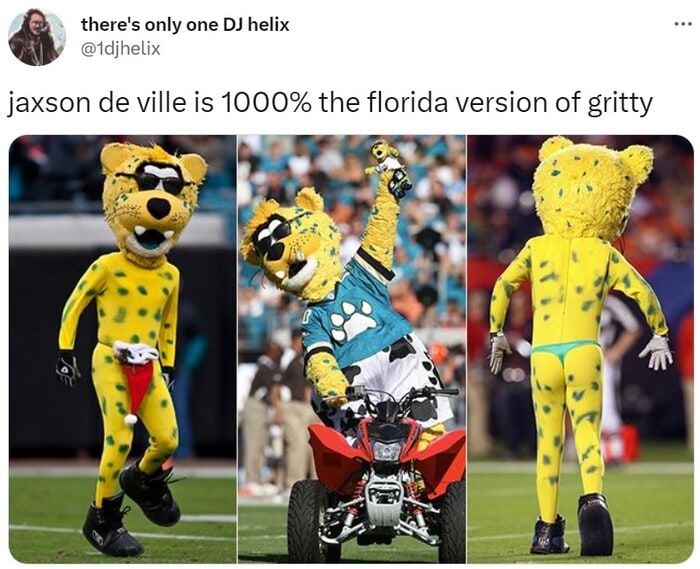 28. New Orleans Saints: Sir Saint
This guys is supposed to be a saint? The nutsack chin makes us more than question that.
27. Denver Broncos: Miles
Maybe it's the pale white flesh and glowing orange eyes, but we are getting Cullen vibes from this horse mascot, and we're happy to have moved on from our Twilight phase. Also, the breath on this guy. Woof.
Check out our Broncos Holiday Photo Pop Up! We are currently at Union Station until 4:30PM and then moving around town! pic.twitter.com/zDikvfZvlN

— Miles (@5280Miles) December 12, 2022
26. Cincinnati Bengals: Who Dey
Cute Bengal cat mascot. Terrible name. Have they been to Who's on First?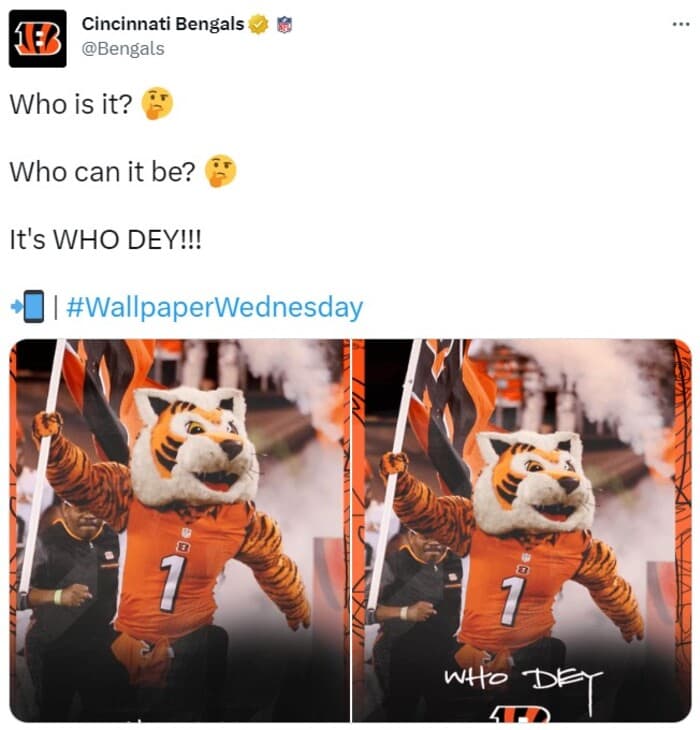 25. Minnesota Vikings: Viktor the Viking
Points for being in a Lizzo song, point deduction for pillaging villages all those years ago. We feel that's an acceptable grudge to hold.
@ haters:

sup. pic.twitter.com/KzYV0REKsb

— Viktor the Viking (@ViktorTheViking) November 6, 2022
24. Pittsburgh Steelers: Steely McBeam
This burly steelworker has a Bill Cowher-like chin and don't tell anyone, but we have always wondered what Bob the Builder would be like if he were hot.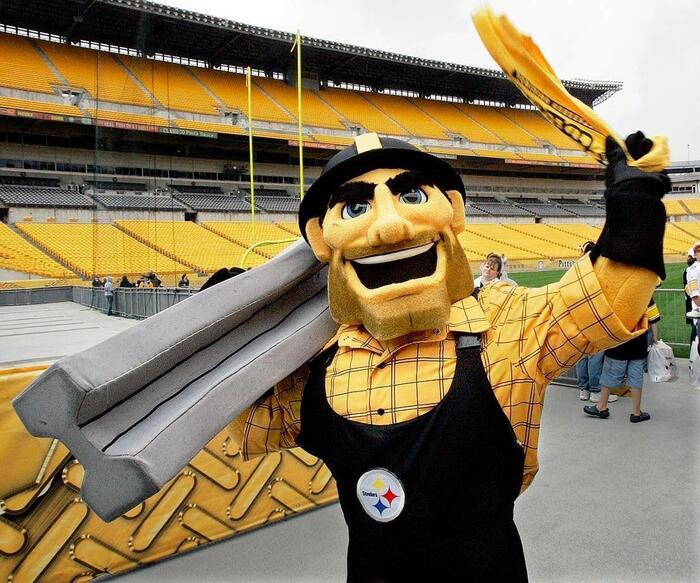 23. Detroit Lions: Roary
This lion's name immediately had us re-watching Gilmore Girls and we love nostalgia, but we were quick to remember that Rory was pretty annoying. Sorry, Detroit.
Students had a upROARious time Monday with Roary from the Detroit Lions at North Middle School. Roary helped students mix their own smoothies using our Smoothie Bike, a stationary bike that connects to a blender. 🍓 🍌 🍒 pic.twitter.com/Gh5wwvctUY

— Portage Public Schools (@portageschools) October 24, 2022
22. Tennessee Titans: T-Rac
Today we learned that the state animal of Tennessee is a raccoon. And that T-Rac's eyes will stare straight into your soul. We're not sure if he's possessed or has rabies. Possibly both.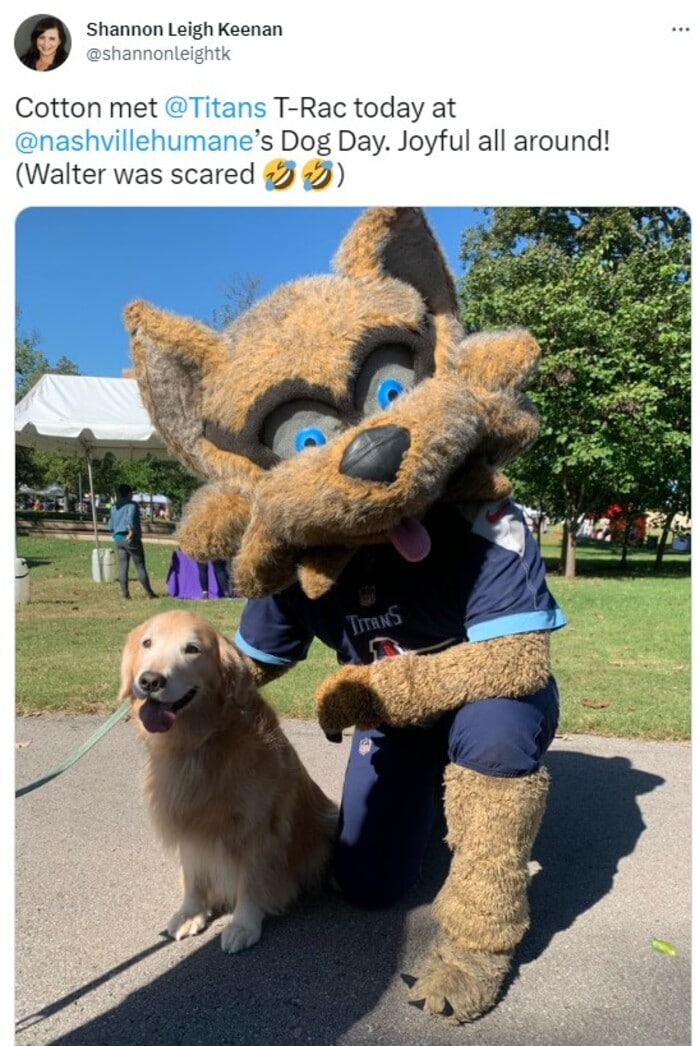 21. Dallas Cowboys: Rowdy
This mascot's permanent smile is creepy. We feel like he's a sleazy car salesman using a cowboy shtick to sell, which is ironic because shouldn't he be pushing horses instead of cars? Unsound logic, Rowdy. No commission for you.
Iced Out for Brrrsday Night Football ❄️❄️#TNF #tnfonprime #DallasCowboys pic.twitter.com/DLnWvyMH6s

— Rowdy (@RowdyCowboys) December 28, 2022
20. Indianapolis Colts: Blue
Is it Blue a horse? A dinosaur? Our boy? The Colts don't have to decide! But maybe they should.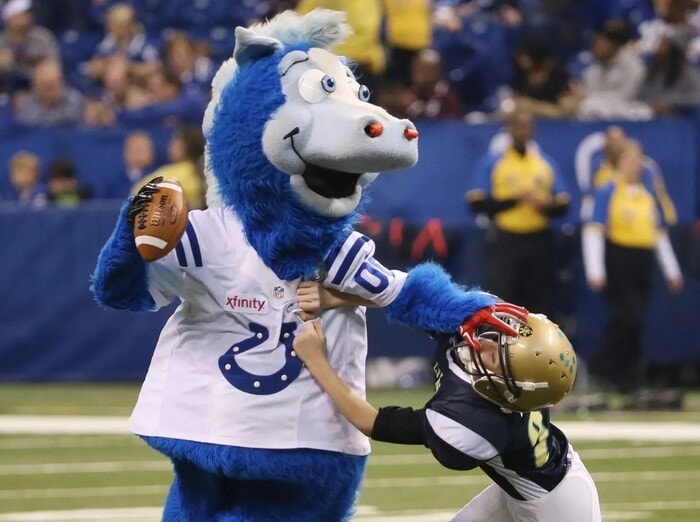 19. Los Angeles Rams: Rampage
We don't condone anger or violence, but this name is really clever. Aries, dear, you have a new nickname.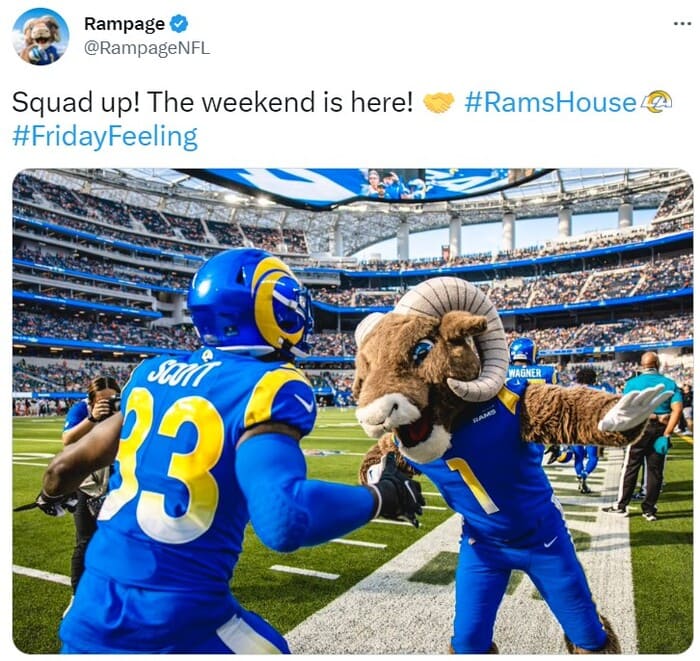 18. Miami Dolphins: T.D.
This half man-half dolphin is a solid surrealistic mascot, but we still think he made a bad deal with the sea witch.
Guess who's back… 😁#FinsUp pic.twitter.com/WLAfpmSmnY

— Miami Dolphins (@MiamiDolphins) November 7, 2021
17. New Orleans Saints: Gumbo
Not super special, but way better than the Saints's other mascot. (Looking at you, ball chin).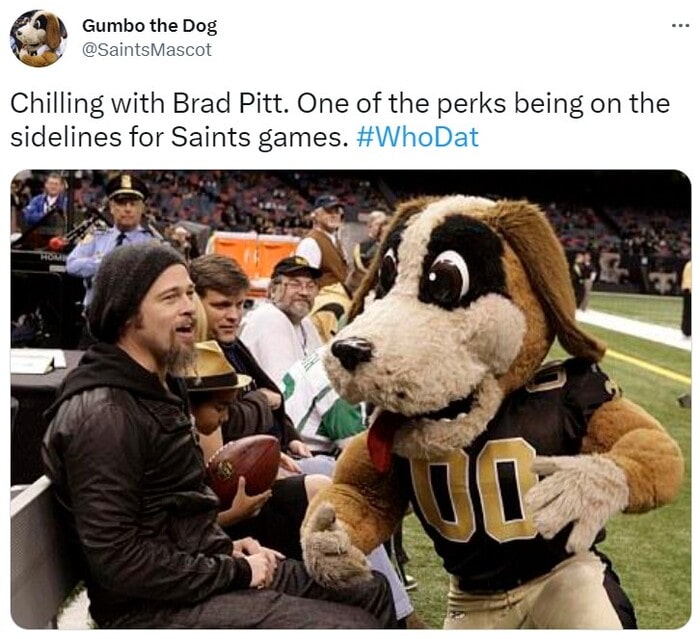 16. Arizona Cardinals: Big Red
Strong. Aerodynamic. Flighty. Slightly out of proportion. What's not to love?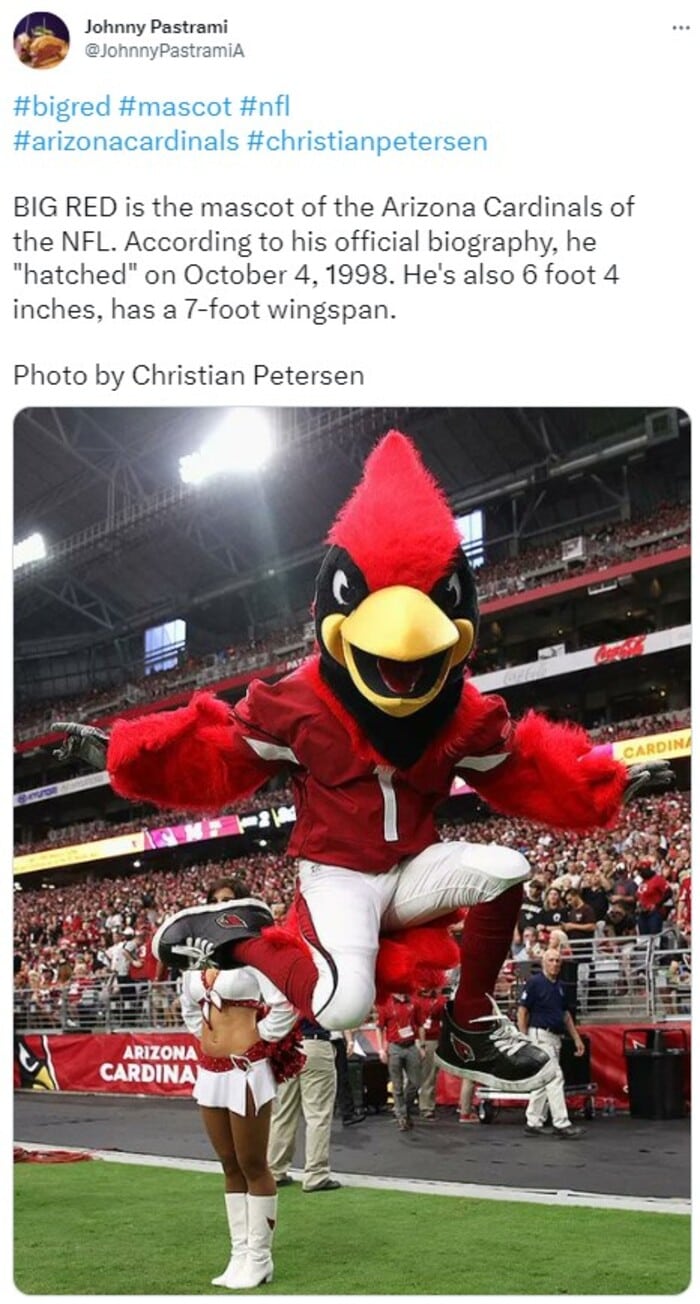 15. Baltimore Ravens: Rise and Conquer
Baltimore's mascot is two live ravens. How much more metal can you get? Also, one more and you can find Iceland on a map.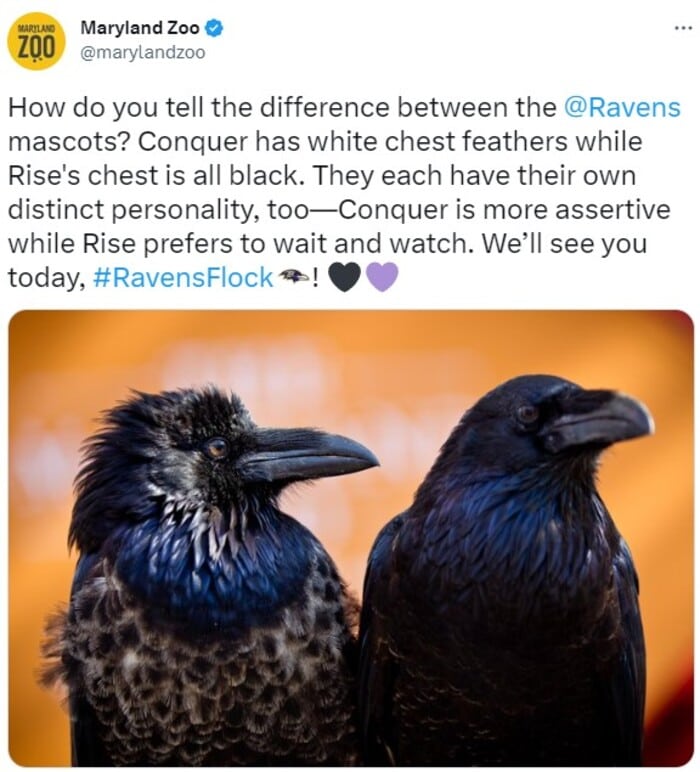 14. Atlanta Falcons: Freddie Falcon
Where Baltimore uses badass live ravens for some of their mascots, Atlanta chose to go the more traditional route with Freddie Falcon. He looks like a goober, but, like in a cute way. Sure, he won't peck out the eyes of the opposing team's mascot, but sometimes you catch more with honey than vinegar.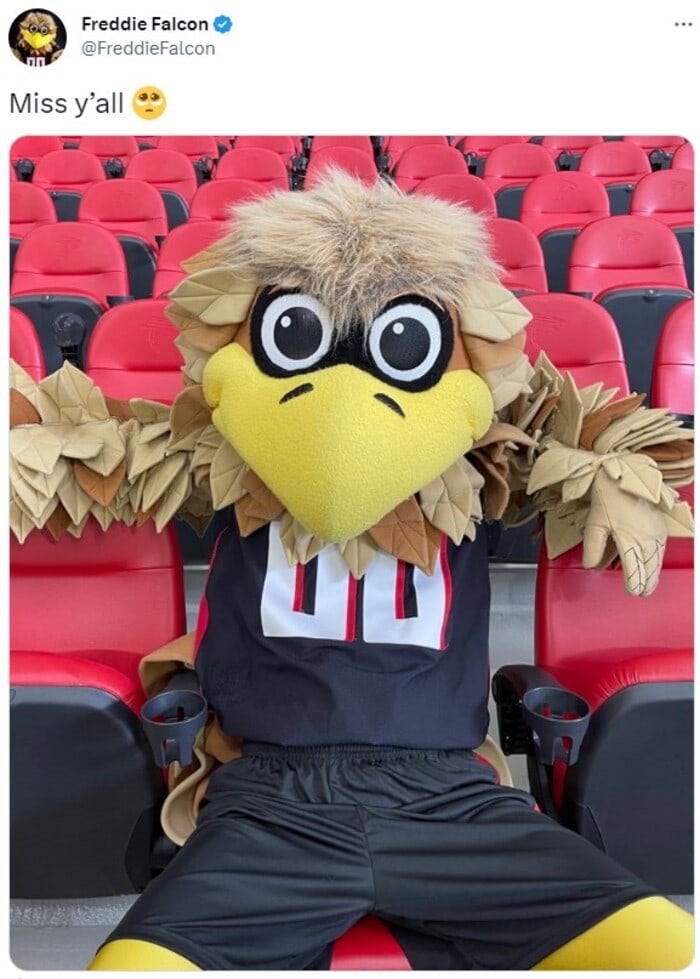 13. Cleveland Browns: Swagger Jr.
Who's a good boy? Swagger Jr. is! This Pitbull Mastiff terrier didn't made the top 10, but it's not for lack of being a very good doggo. We just prefer to not have to walk our mascots.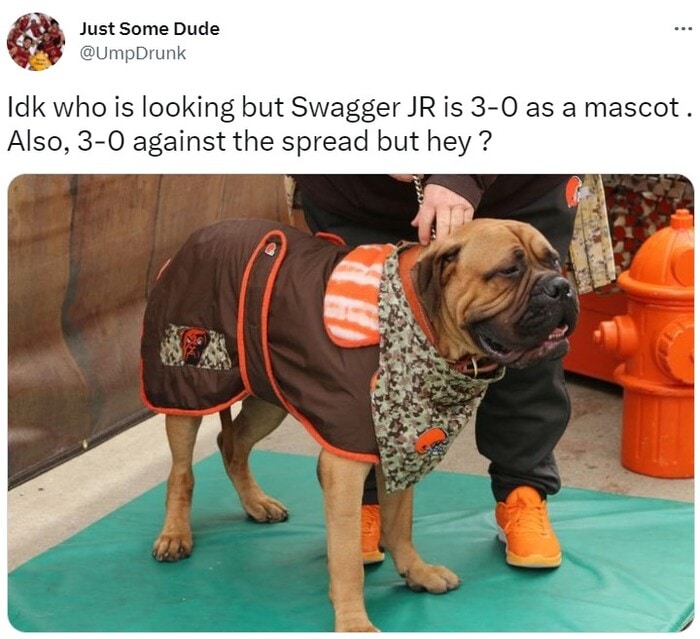 12. Baltimore Ravens: Poe
Maybe we're biased because we still haven't grown out of our My Chemical Romance phase, but we love this goth mascot. Nevermore you shall win, opposing team! Nevermore! Why do we have to give the mic back?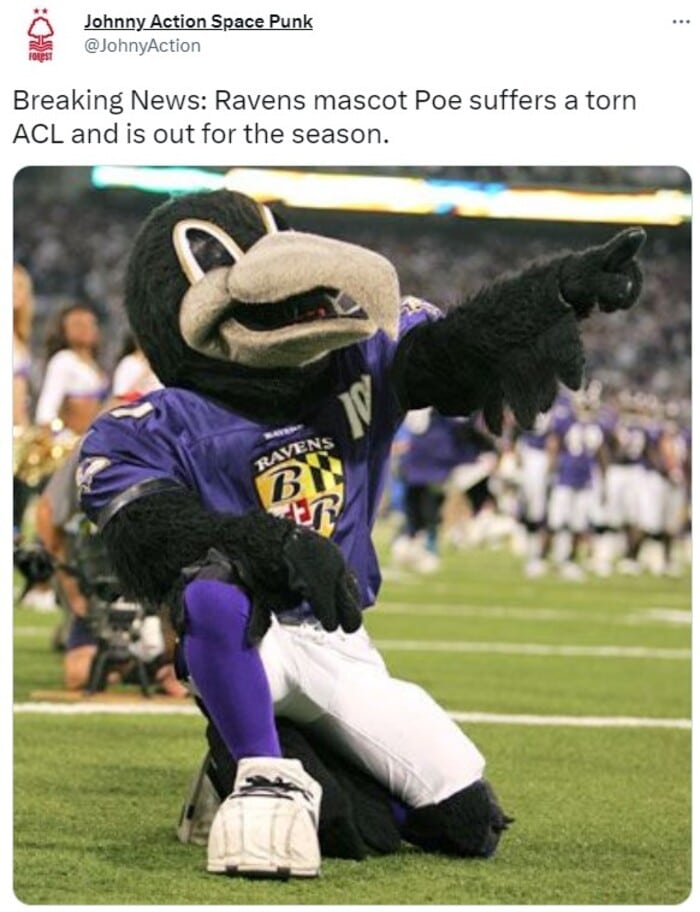 10. Philadelphia Eagles: Swoop
Swoop the Eagle is reliably good mascot. There's even an inflatable version of him. He's got middle of the road intimidation factor. He's not too scary and not too cute. Kind of like Eagles fans.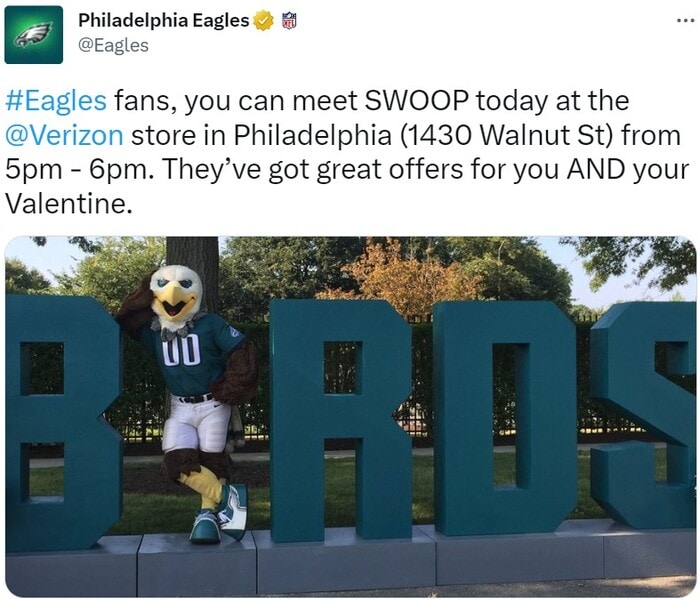 9. Buffalo Bills: Billy Buffalo
This 8-foot tall buffalo reminds of Sully from Monsters' Inc. Thank goodness the NFL isn't well-known because otherwise Disney might notice.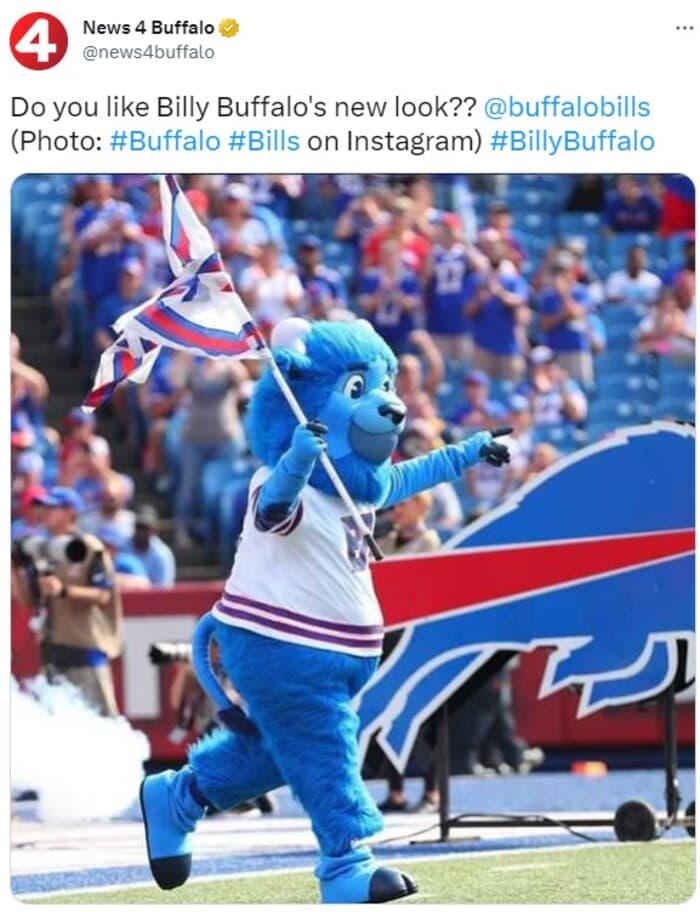 8. Carolina Panthers: Sir Purr
Good news: he loves boxes. Bad news: he loves boxes. Sir Purr! Go intimidate the other team already!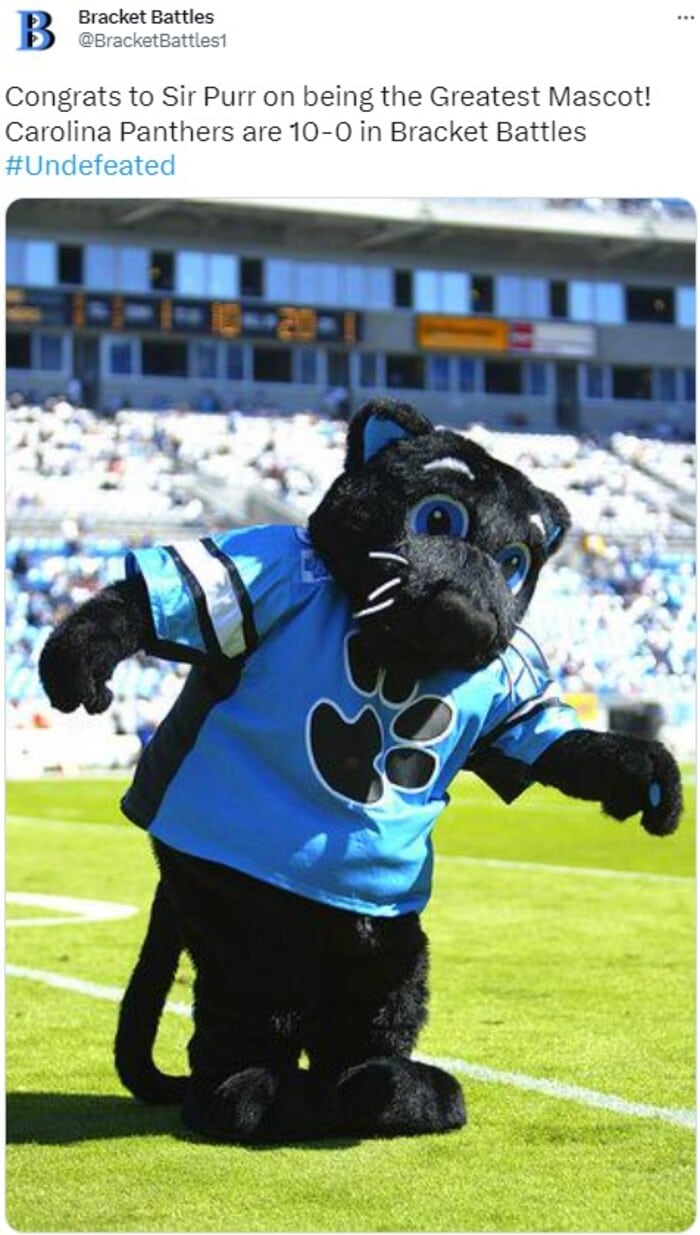 7. Seattle Seahawks: Blitz and Boom
We really like seeing that teamwork does, in fact, make the dream work. What does that have to do with mascots? Not much.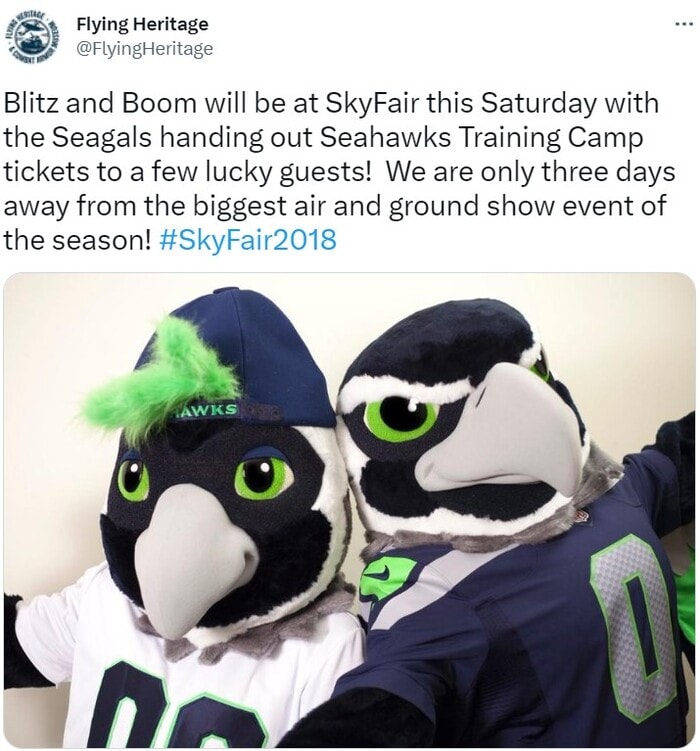 6. Seattle Seahawks: Taima
This live augur hawk really just puts the other birds to shame. Sorry, Big Red, but even your seven-foot wingspan can't compete with this bird of prey. Also, you left the toilet seat up again.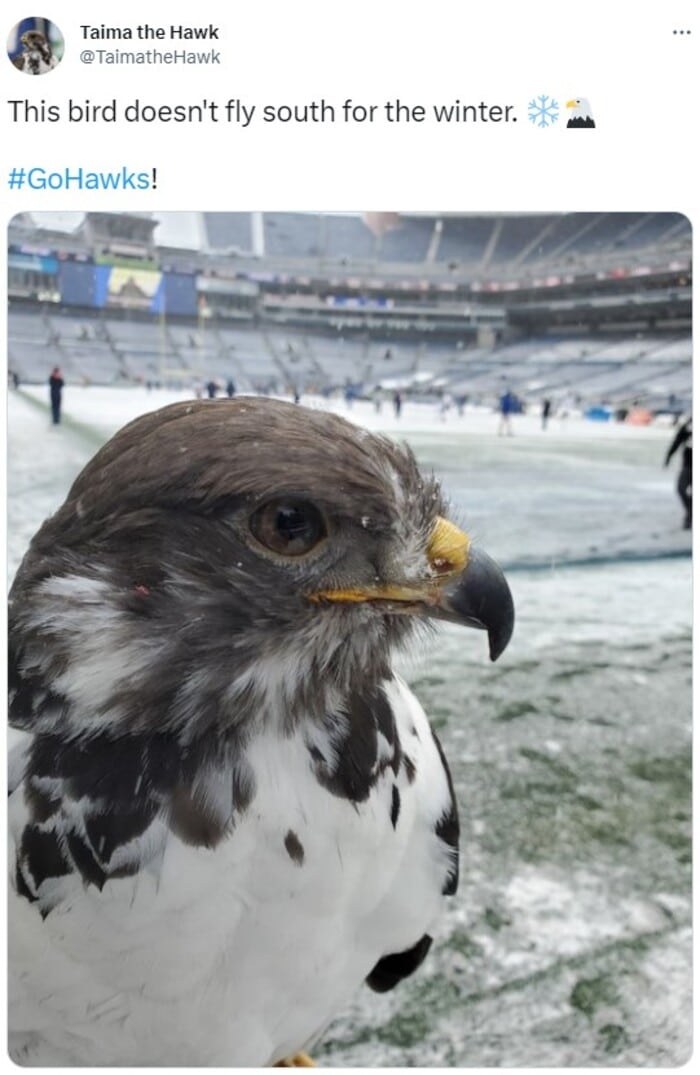 5. Cleveland Browns: Chomps
This pupper just looks really happy to be there. Or like he just ate our sock and is pretending he didn't.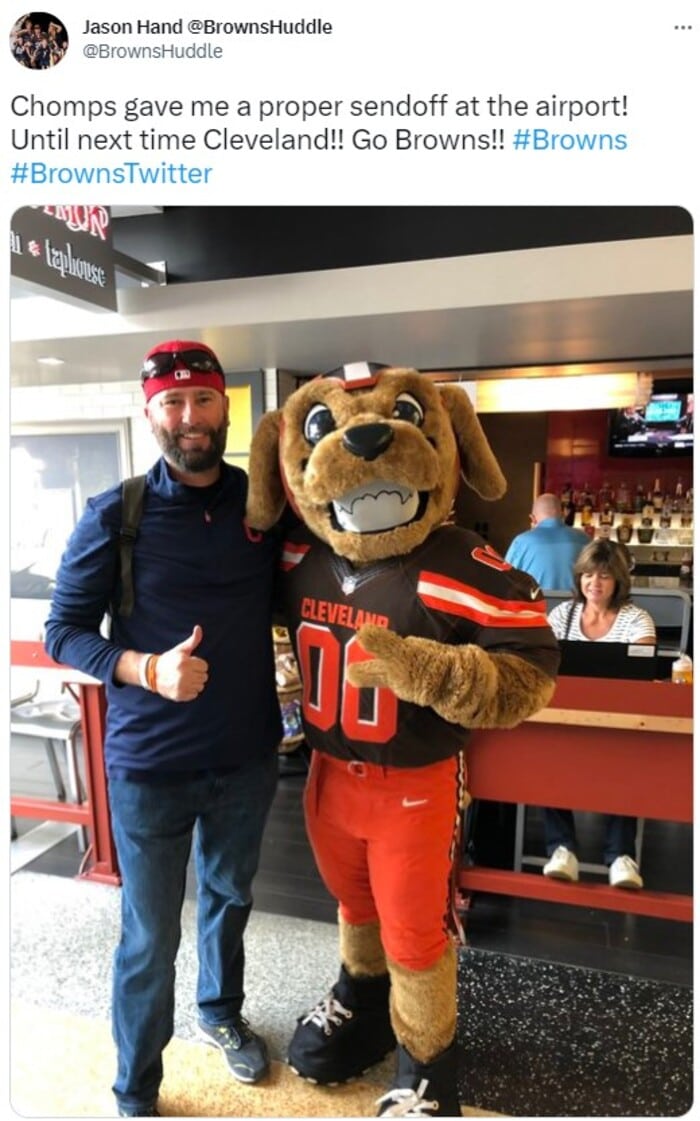 4. Houston Texans: Toro
This smiling bull is single-handedly redeeming the bulls' grumpy reputation. Just don't try and ride him. At least not until after the game.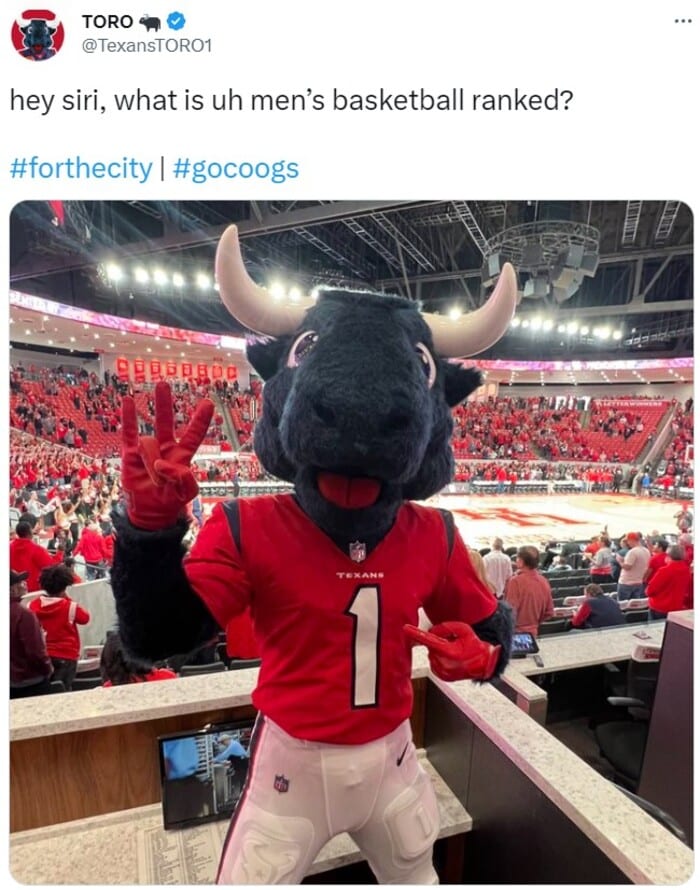 3. Kansas City Chiefs: K.C. Wolf
K.C. Wolf rocketed to the top three best mascots simply because he reminded us that we should pick up some Cookie Crisp from the store.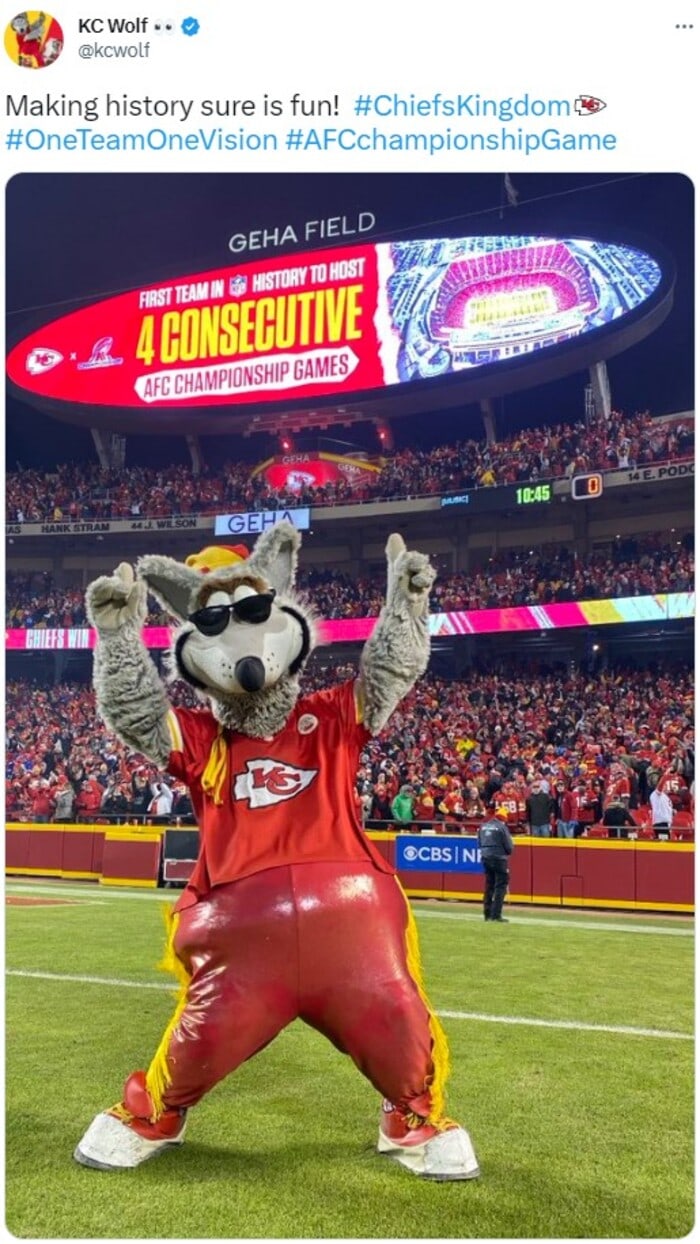 2. Kansas City Chiefs: Warpaint
Even cooler than Microsoft Paint, which is saying a lot.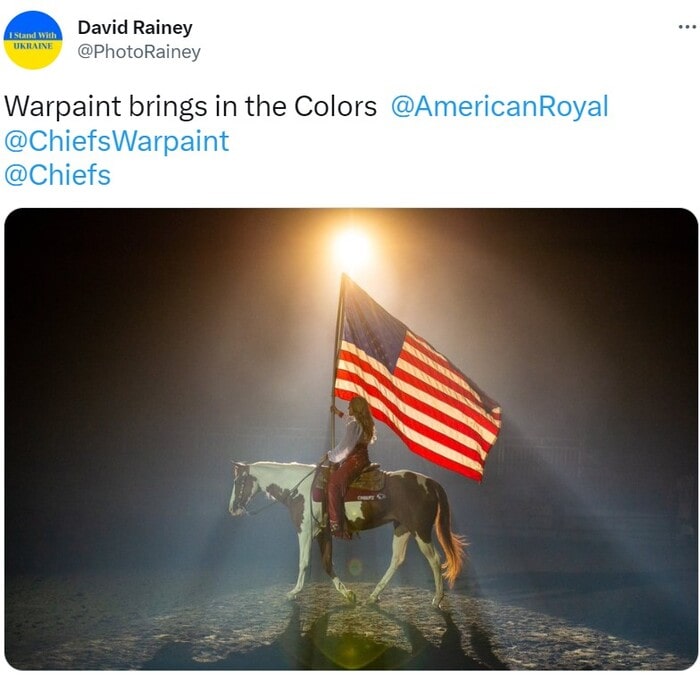 1. San Francisco 49ers: Sourdough Sam
Sam is the jolliest mascot in the house, and we would be too if we were baking bread all day. Or whatever it is this guy does.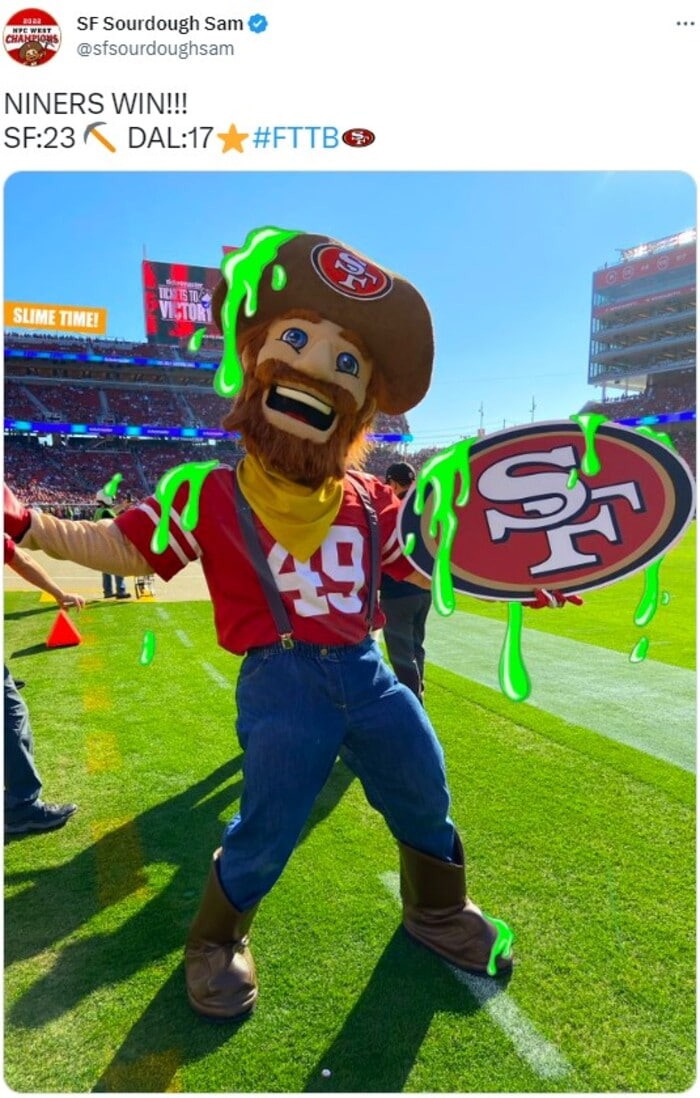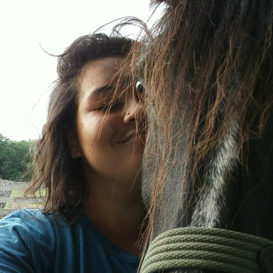 Latest posts by Hebba Gouda
(see all)