If your summer plans include lounging at the beach every weekend or finding a way to escape the sea without infuriating your local sea witch, these are the nail designs you'll need. These ocean-inspired nails and sea-themed manicures will match that vibe.
Even if that vibe is "I'd rather be at Sea World than at my cousin's underwater birthday party." Oh, look, another shell bikini!
These nautical nails include nail art featuring sharks, waves, and sand. Since that's likely to get everywhere anyway, you might as well lean into it.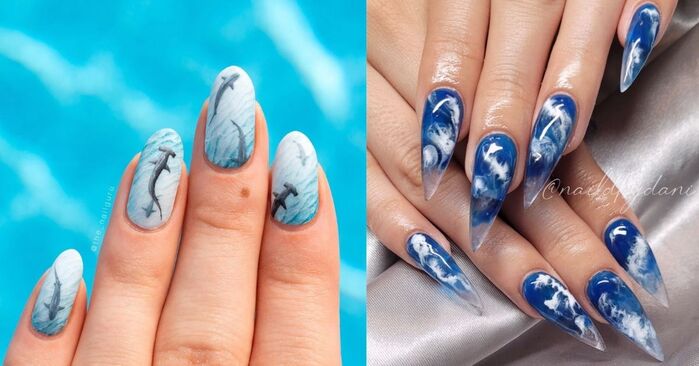 25 Ocean Nails For Aspiring Mermaids
1. Nautical Sea Nails
If Great White sharks looked like this little guy, we definitely would have tried cage diving. Maybe ours skipped breakfast.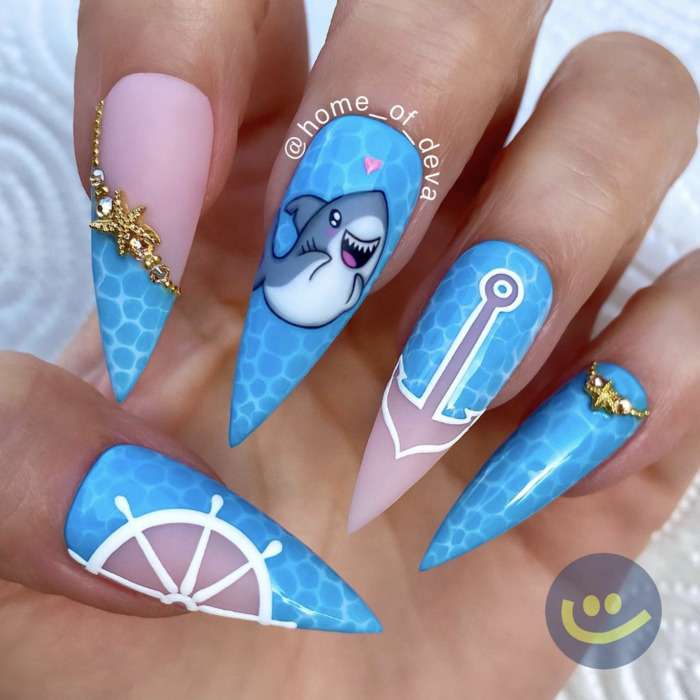 2. By the Ocean Press-On Nails
Not a wanna-be nail tech? Try these press-ons instead. Glue is way easier to come by than determination and skill.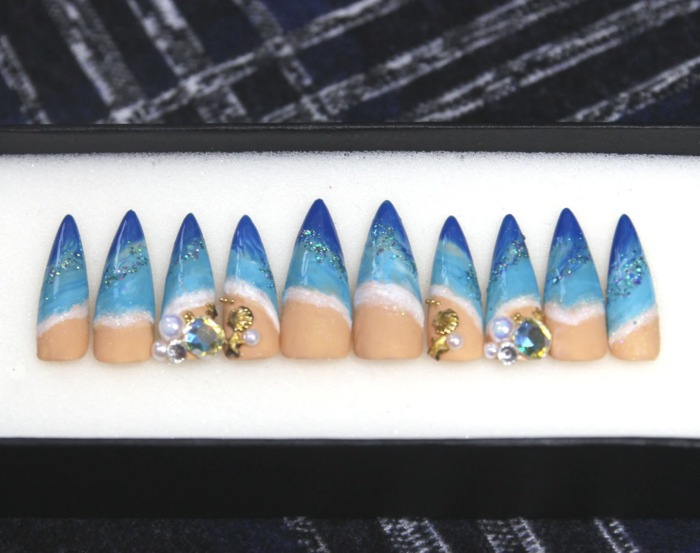 Available on Etsy.
3. Whale Tale Seascape Nails
Just get this manicure done before you go whale watching next time, and you just point to your nails when everyone says they didn't see anything.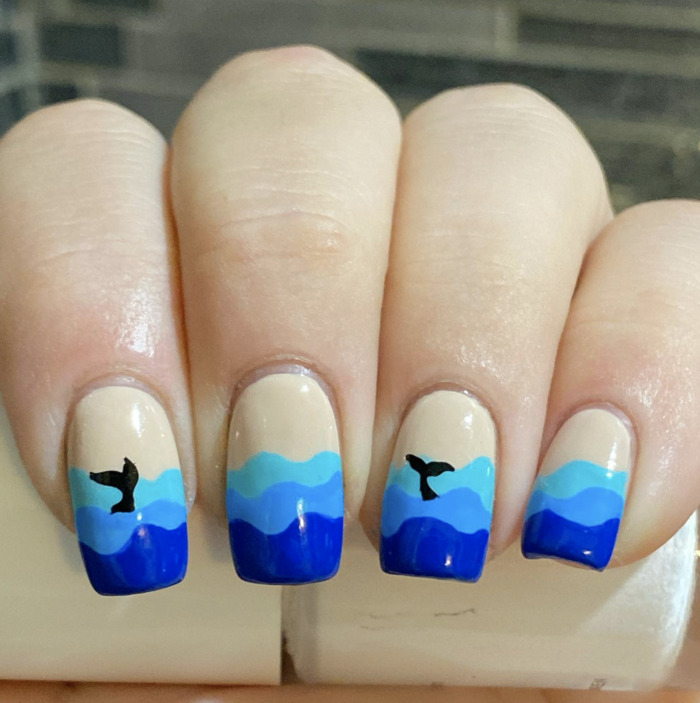 4. Jaws Press-On Nails
At the beach, the only thing scarier than blood in the water is forgetting the snacks.


Available on Etsy.
5. Realistic Ocean Nails
We would totally get these nails if we weren't deathly afraid of becoming shark bait. It's the same reason we don't wear seal costumes to the beach. Well, not in the water, anyway.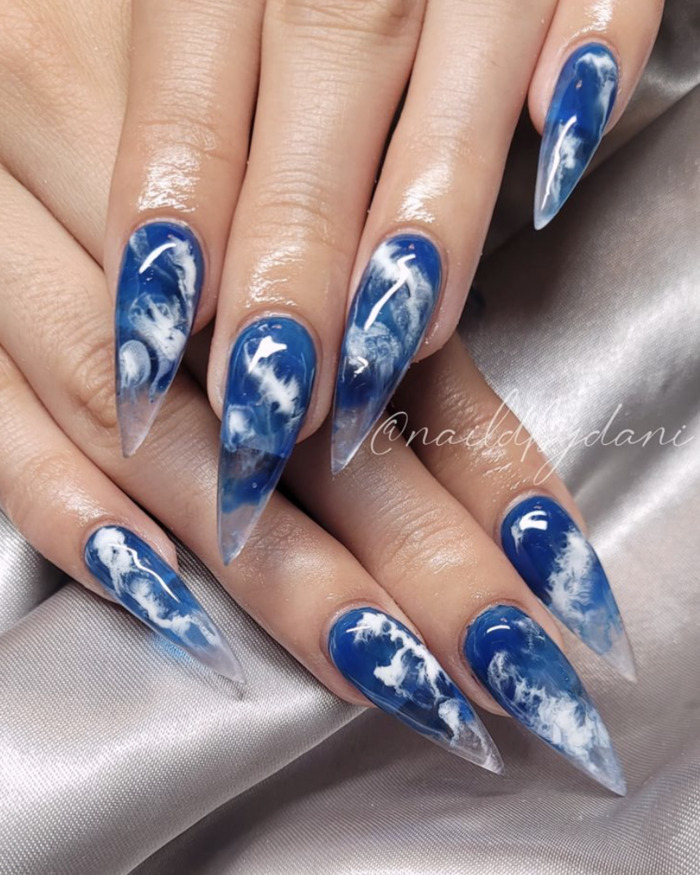 6. Press-On Ocean Nails in Marine Dream
Make it to the beach before noon by using press-on nails instead of spending four hours DIY.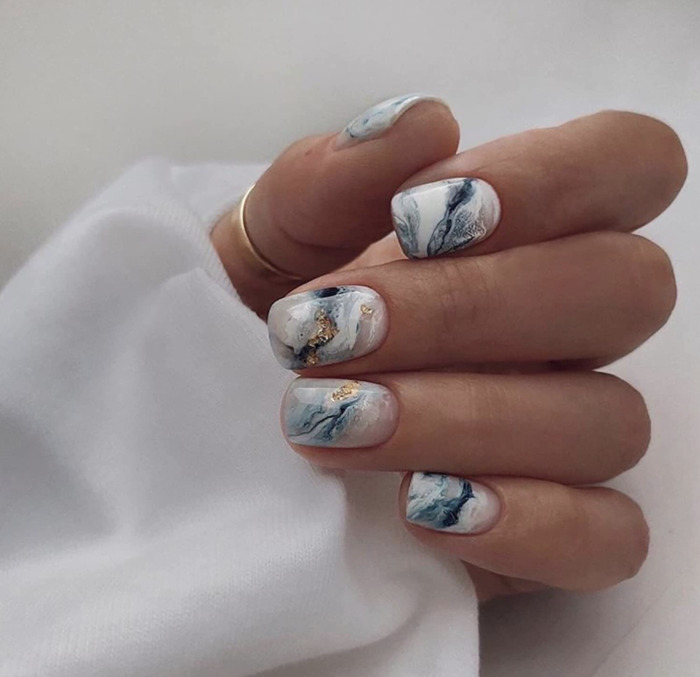 Available on Amazon.
7. Lighthouse Nails
Yo ho ho and a bottle of rum…that we would promptly throw up if we were on that boat.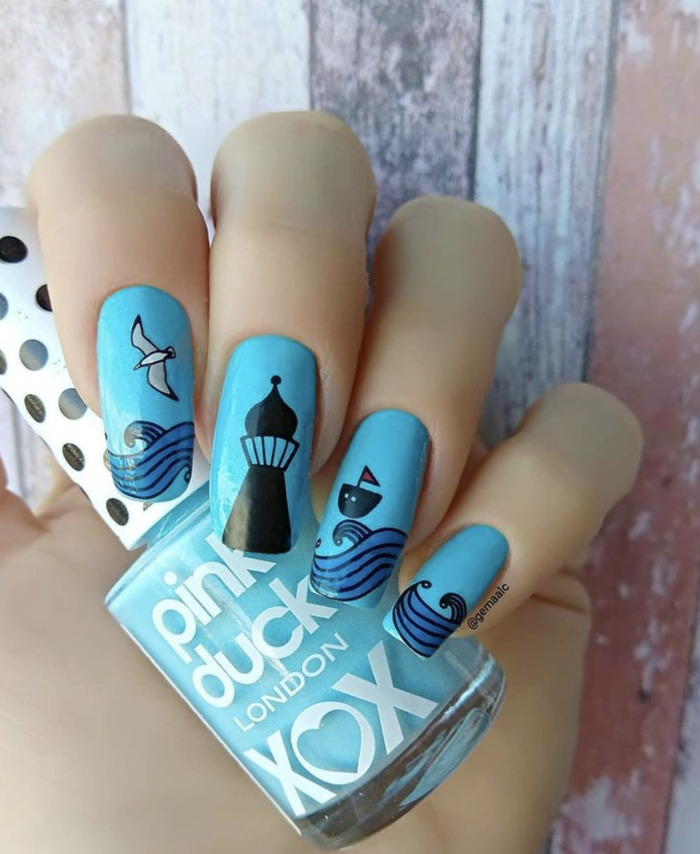 8. Abstract French Tip Wave Nails
Hop aboard the colorful french tip wave with these press-on nails. They're perfect for when you want the essence of ocean nails, without all the sand and salt in your hair.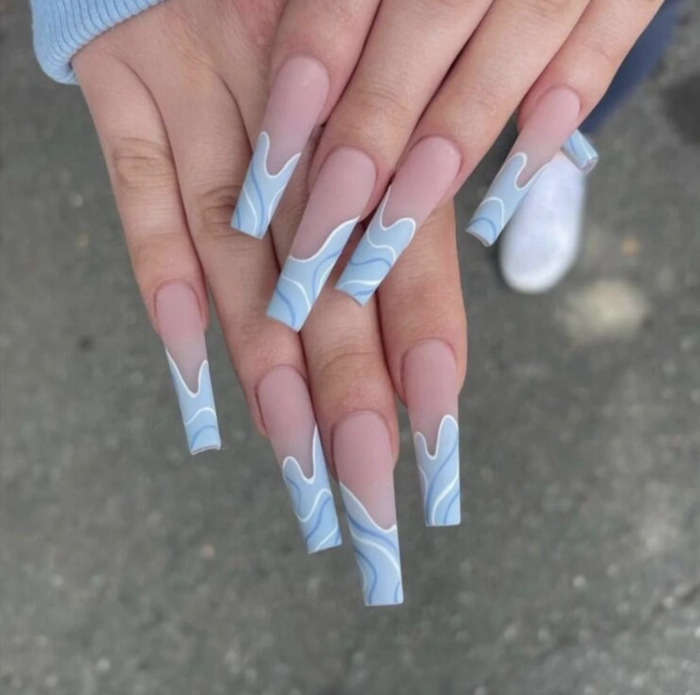 Available on Etsy.
9. 3D Ocean Nails
Weirdly, gluing seaweed to our nails didn't give quite the same effect as this 3D nail art. These smell better, too.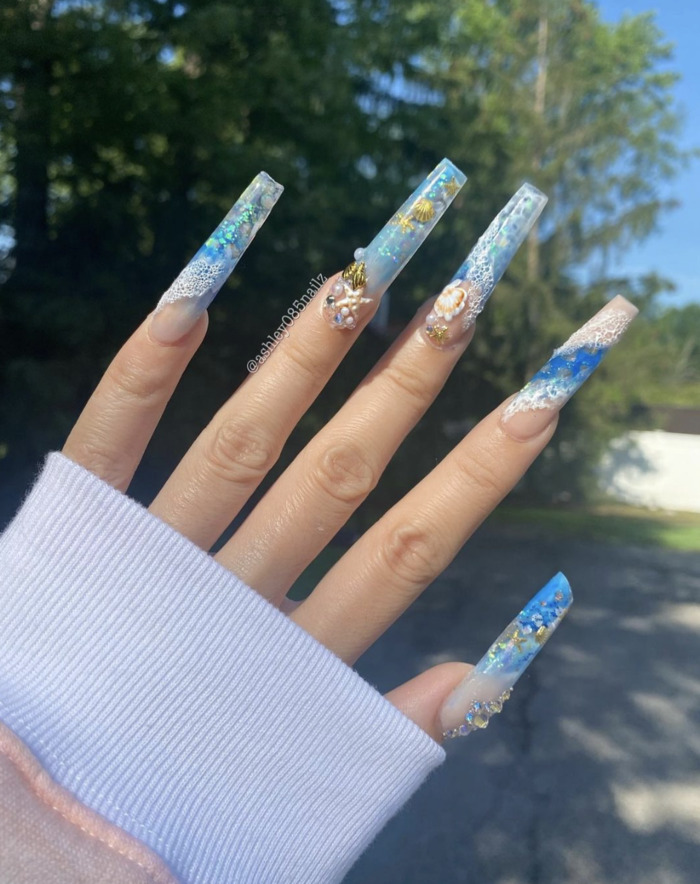 10. Aerial Shark Nails
Dangerous. Beautiful. Well, at least they meet our Tinder criteria.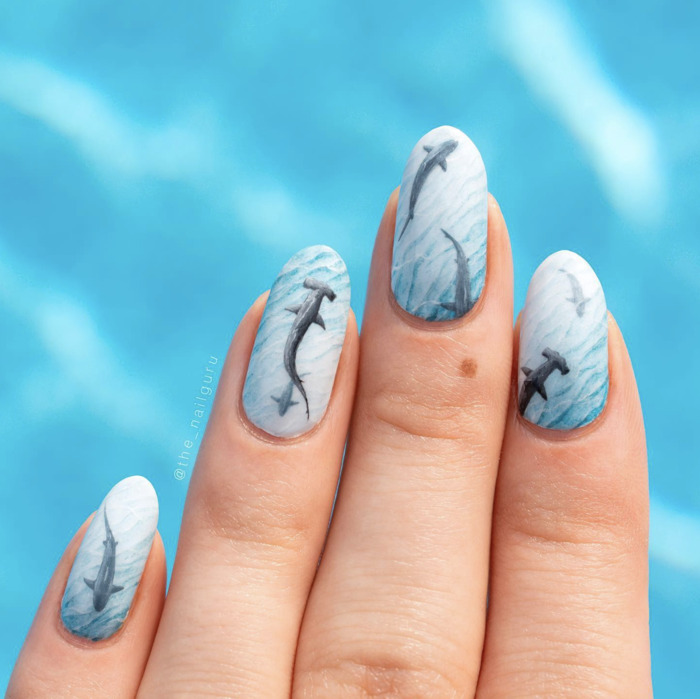 11. Ocean Nails
These nails remind us of when a wave pulls you under and we end up swirling around for a while unsure of which way is up. A flash of palm trees! More shells! Sand in the mouth!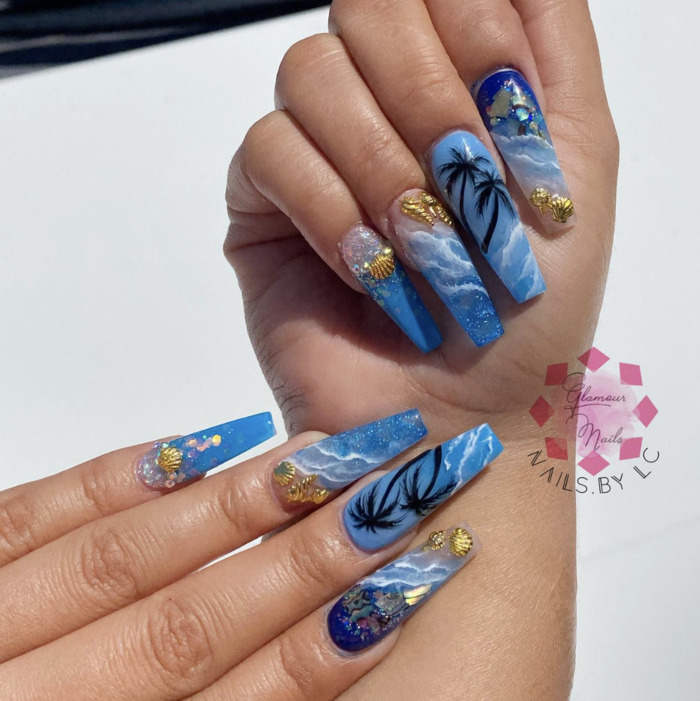 12. Minimalist Fish Nail Art
Don't be coy. No, really. They'll die in salt water.
13. Sunset Dolphin Nails
This dolphin looks like us doing jumping jacks at Barry's. Except they are way more graceful.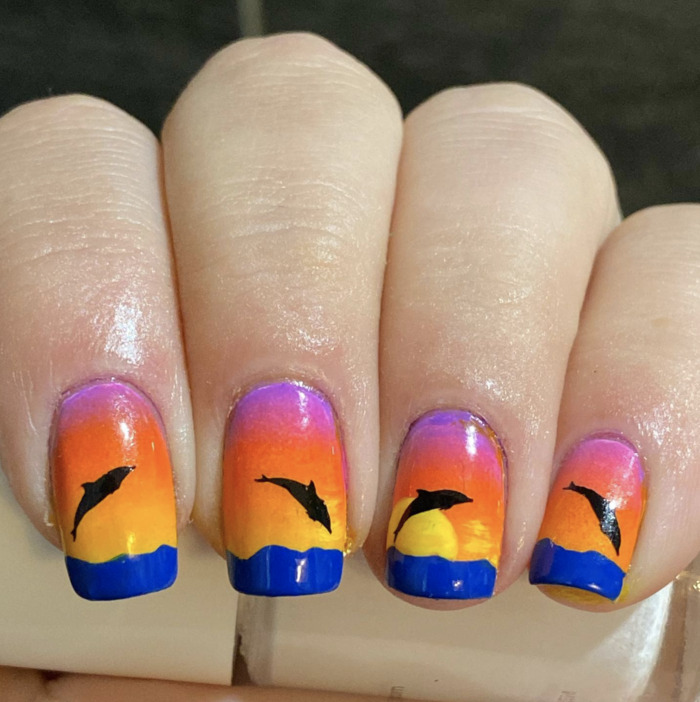 14. Colorful Jellyfish Nails
We usually just see the translucent blobby ones, but these are much cooler. And probably more painful. C'mere little guy!
15. Killer Whale Nails
These nails are killer. Come back after we've had our second cup of coffee for something more creative.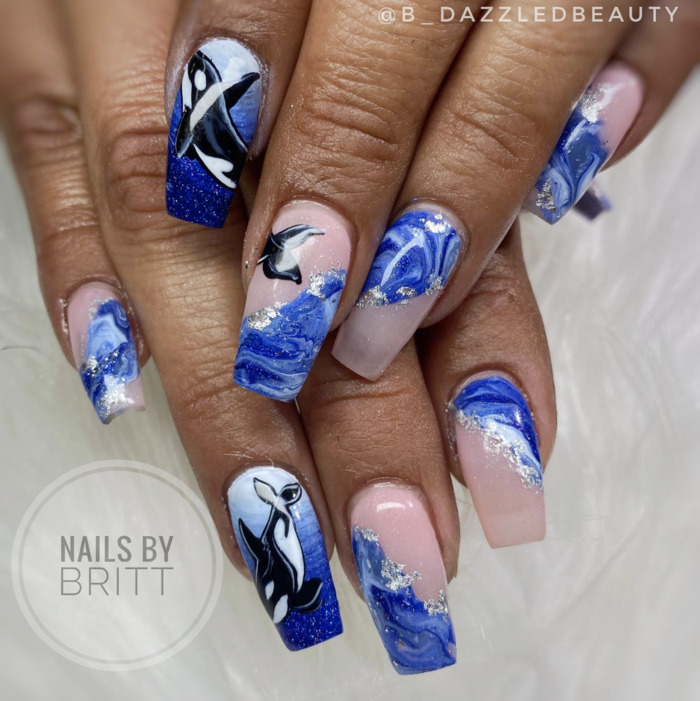 16. Shipwreck Manicure
If you're not superstitious, get this mani before a big cruise. Who cares if the boat is named the Titanic II?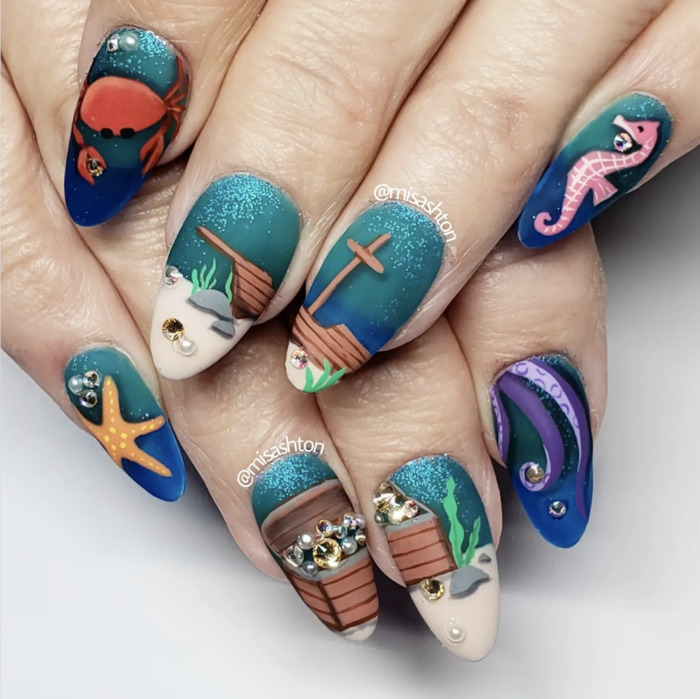 17. Save the Sharks Ocean Nails
The hefty bite taken out of the heart doesn't exactly inspire confidence, but we are friends, not food. Right? Right?!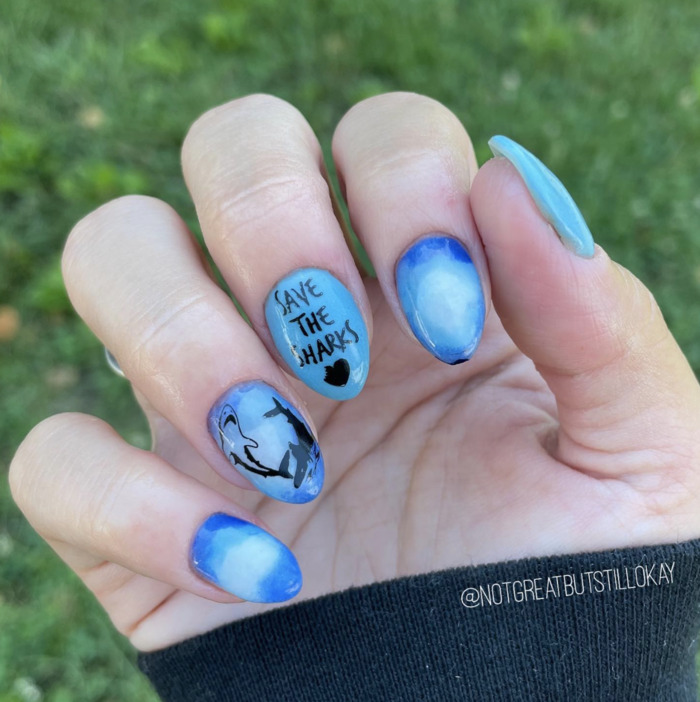 18. Ocean Wave Nails
We're losing our marbles over these ocean nails.
19. Speckled Sandy Nails
These nails are not ideal for putting in contacts. At least according to our cornea.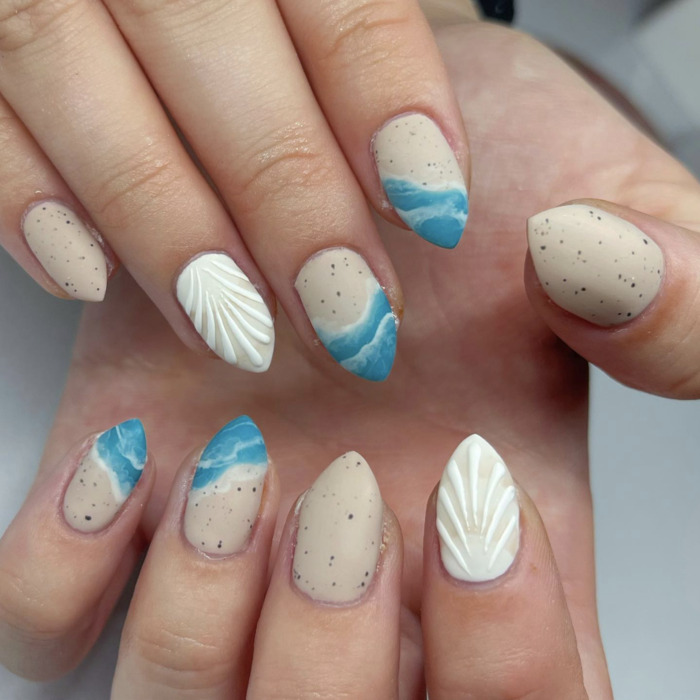 20. Ocean Floor Nails
That mermaid accent nail really makes a splash. Someone please tell her to stop doing cannonballs.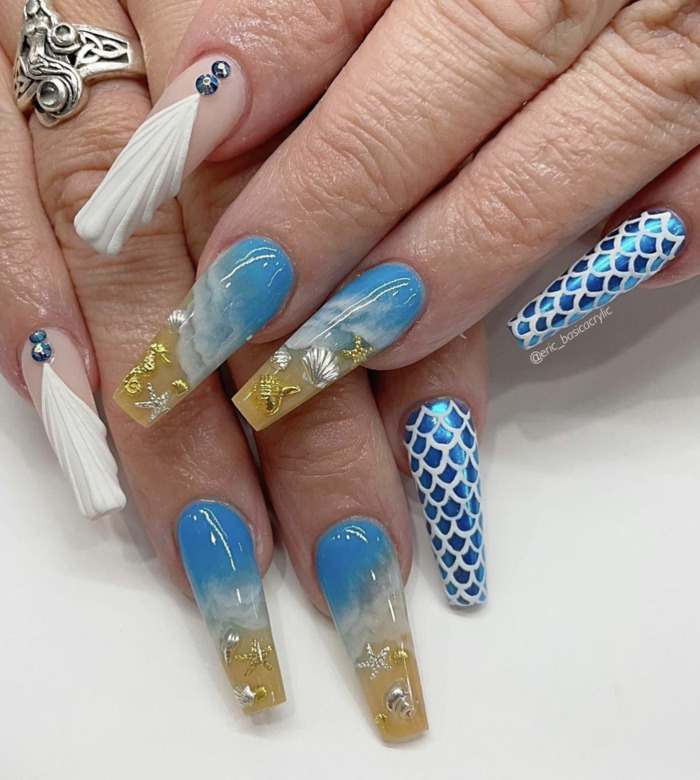 21. Finding Nemo Nails
Nobody nails dad jokes quite like Marlin. Too bad he gets a C- in childcare.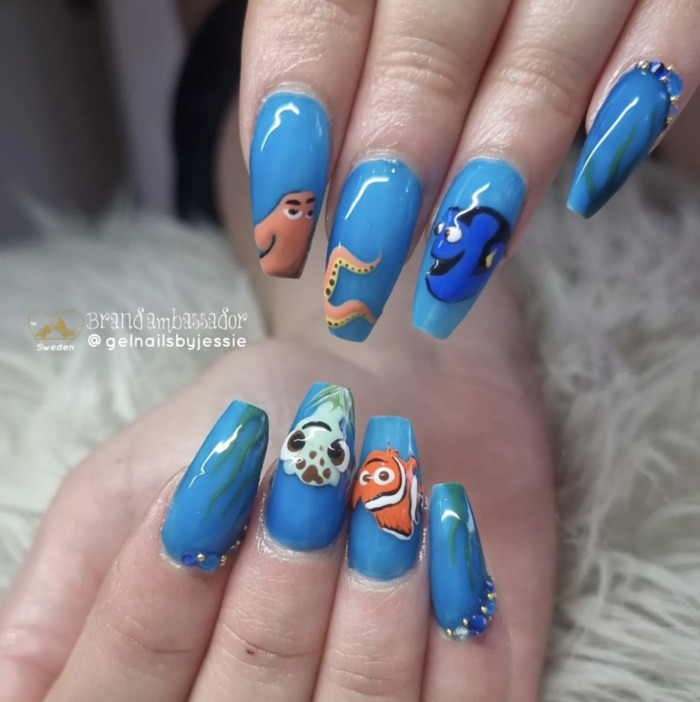 22. Scale Nails
If mermaids aren't real, why do we all know what their tails look like? Inquiring minds want to know.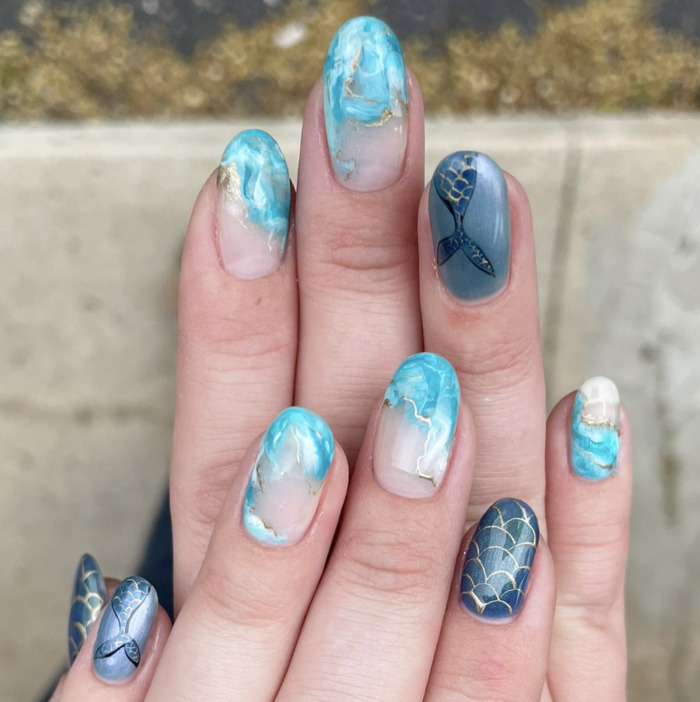 23. Ocean French Tip Nails
Have the ocean at your fingertips, without moving to California.
24. Glittery Bedazzled Beach Nails
Collecting seashells is so 2008. Gluing them onto your fingernails? Innovation.
25. Fish Nails
There's nothing fishy about these nails. Aside from the level of sheer skill that went into the design. We have a healthy level of distrust regarding talented people.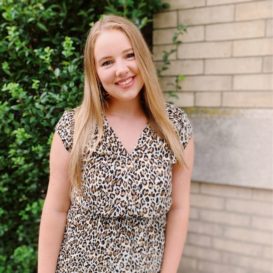 Latest posts by Laura Davis
(see all)