Do you have any traditional family recipes that you've tried to learn how to cook and you've been told to add ingredients to be "by feel?" When strategist and human rights campaigner Roj Amedi shared this tweet, she hit a nerve. Everyone, it seems, has one of those traditional recipes with vague ingredient lists and instructions.
tfw you ask your mum for a traditional recipe pic.twitter.com/xxWhIlegt7

— Roj Amedi (@Roj_Ame) September 3, 2020
And, as we learned reading the twitter reactions, many languages have a phrase for knowing how much of an ingredient to add. In Spanish, it's "lo que pida" (whatever is asks for) and in Croatian, it's "od oka" or by the eye. Which is not an official measurement.
But universally? It's just until it tastes good.
Family recipes are closely guarded secrets. Just like the fact that grandma doesn't have any real teeth left and your aunt has a secret husband in Wyoming. You don't want us running out to share these details with the world or on our food blog. (Sorry, Aunt Jane!)
But, if you want us to actually pass these recipes down to future generations – possibly by sharing them on our food blog – you have to get a little more precise with the details. Or, you have to let us actually hang out in the kitchen and take notes instead of sending us to fetch ingredients from the back every two minutes.
Everyone Is Struggling to Get Those Recipes
1.

2.
There is an Italian apple cake in my family that relies on you having a certain coffee cup as the guide for all the measurements. If you don't have the cup and ask what that cup equates to in grams you get, "the cup is the cup, you use the cup"

— Tali Aualiitia (@taliaualiitia) September 4, 2020
3.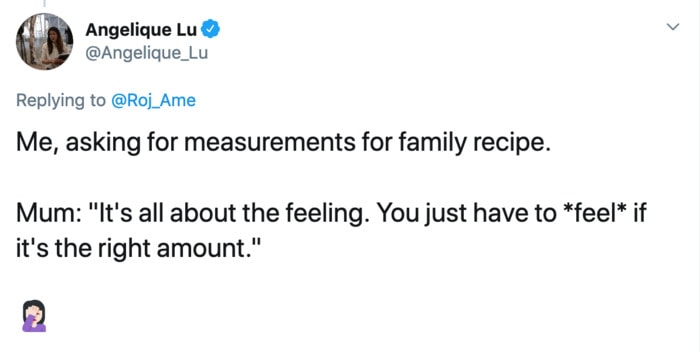 4.
My Korean mom cooks like this! "Then add some honey and a little vinegar."

Me: how much?

Her: a few spoonfuls of honey, and a little less vinegar.

Me: Teaspoons? Tablespoons?

Her: (now exasperated) Just watch me do it.

— Carol Kim (@carolkimSD) September 4, 2020
5.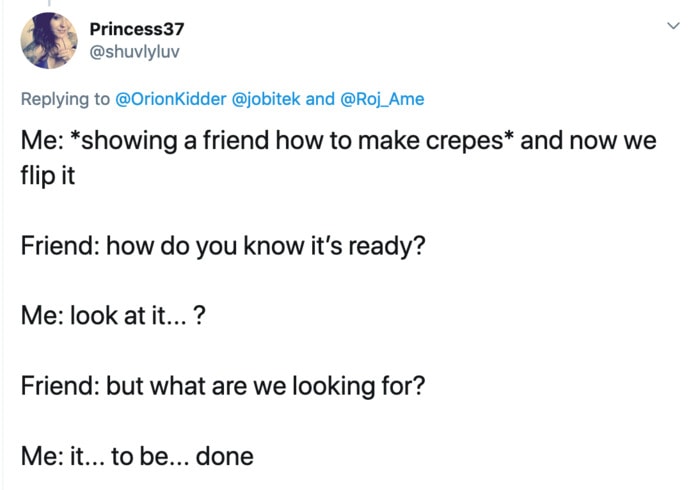 6.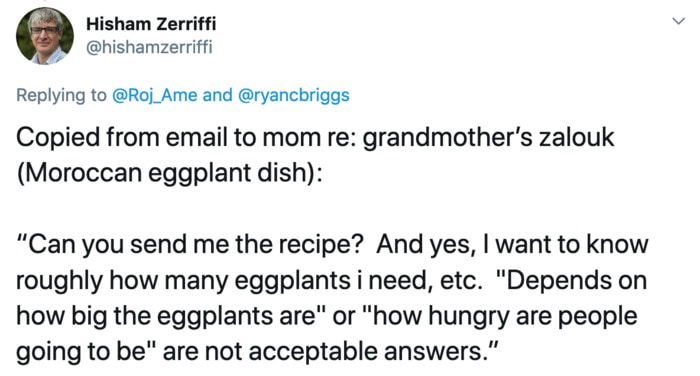 7.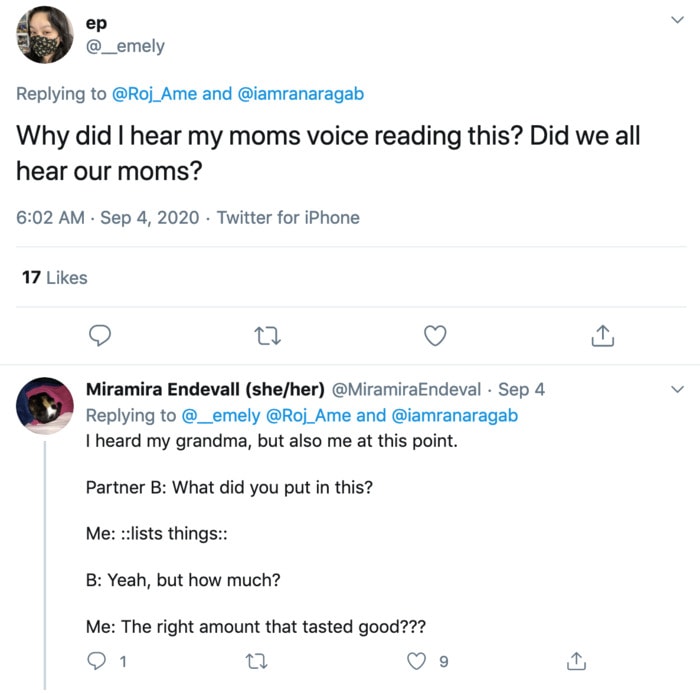 8.
9.

10.
omg I was shadowing mine making a goat curry and she was like 'you can tell when the spices are done by the smell' and I was like why are you like this while scribbling her random bits of advice in a notebook for future reference. I doubt mine will taste anywhere near hers 😂

— Adele Jayde (@hawkeye2_) September 5, 2020
11.
My grandma on making empanadas: https://t.co/FNTbFGm7Lc https://t.co/untOTjYtHz

— Alexander Hardy (@chrisalexander_) September 4, 2020
12.

13.
My gran's stuffing recipe. Really helpful measurements here pic.twitter.com/VhT5uXwHoM

— Em (@EmAppears) September 4, 2020
14.

15.

16.

17.

18.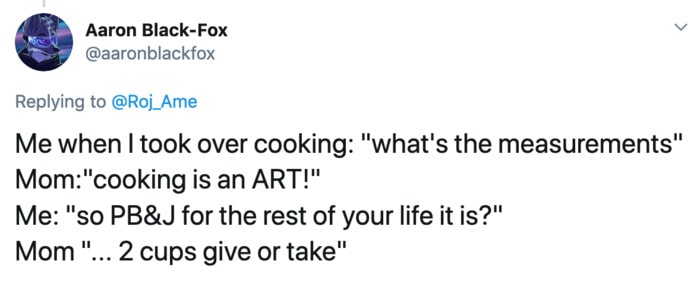 19.

20.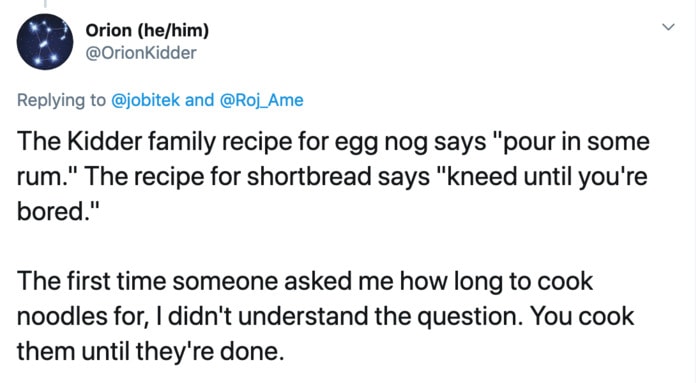 21.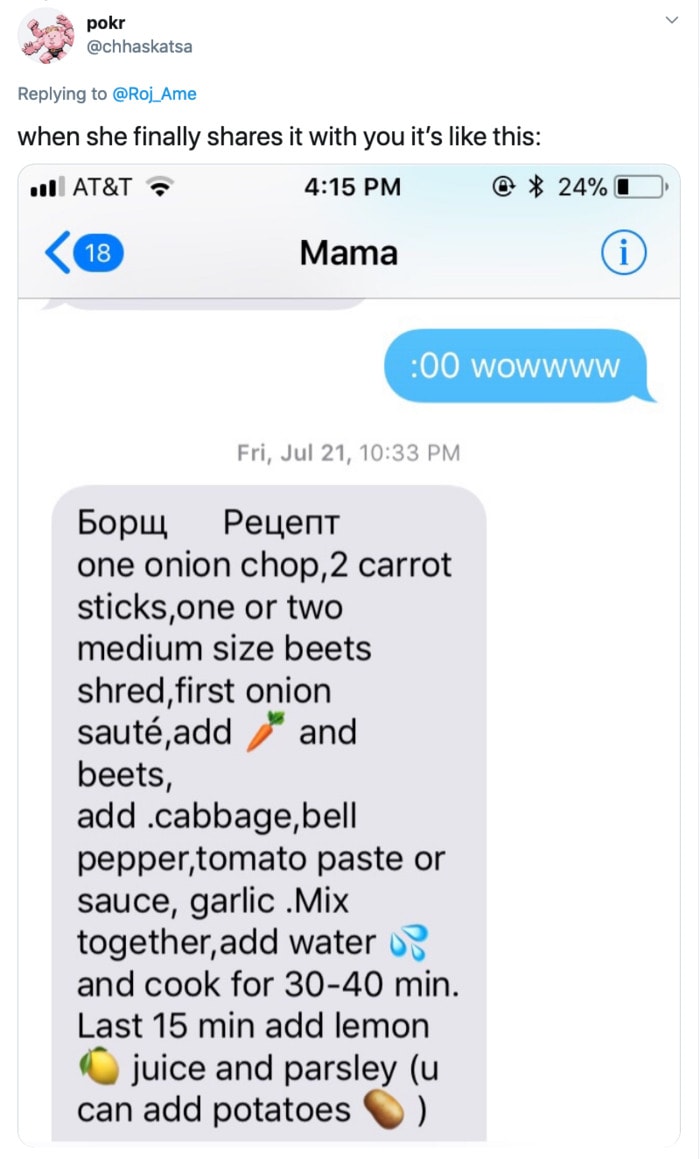 22.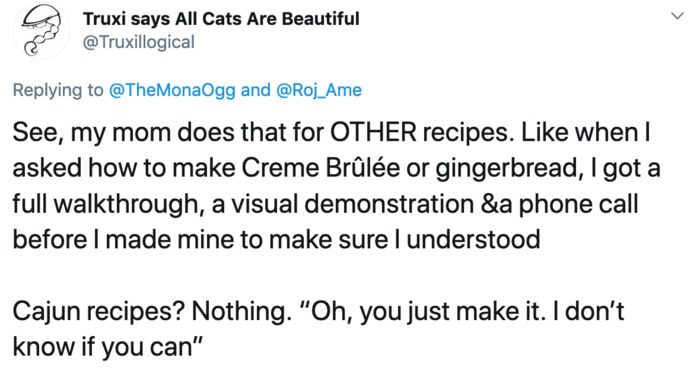 23.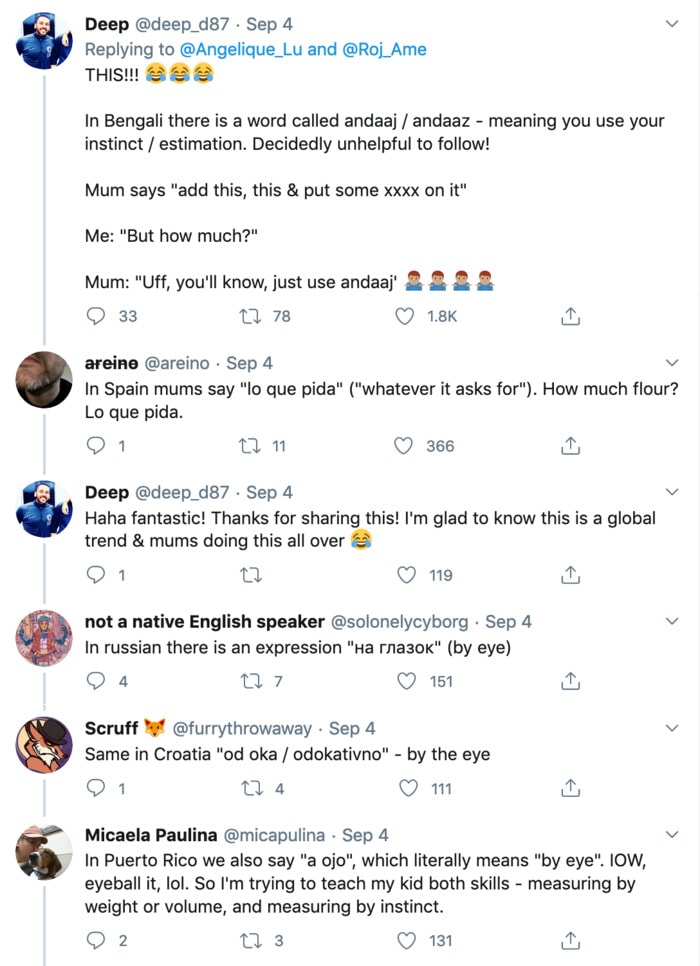 24.

25.
my friend asked my mother how much passionfruit she used to make the juice. she looked at him dead in the face and said: enough.

— Otoniya J Okot Bitek (@jobitek) September 4, 2020
26.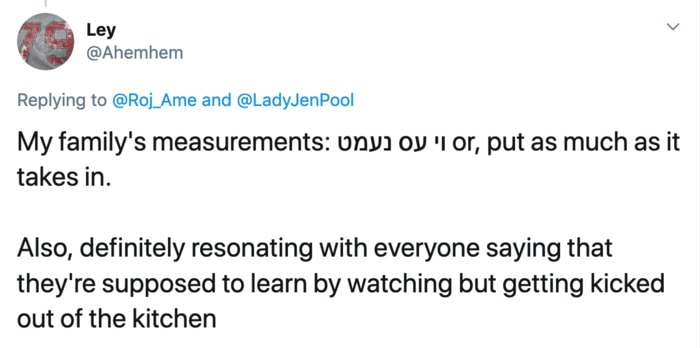 27.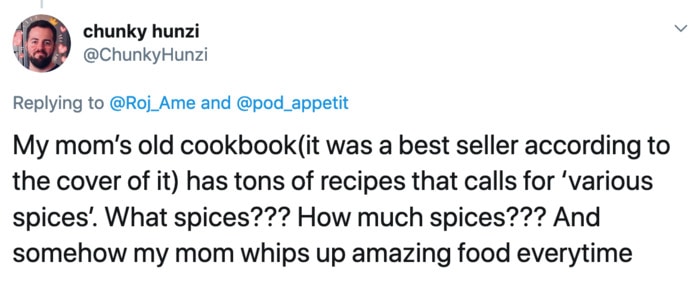 28.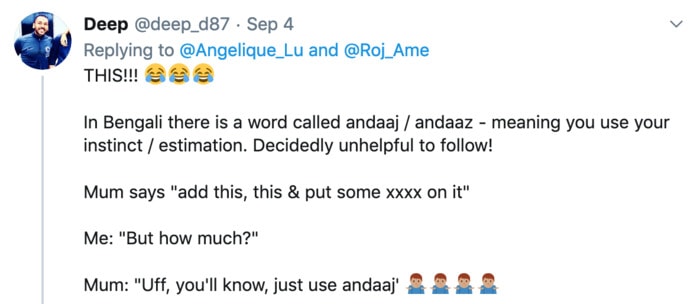 29.
My grandmother finally wrote her recipes out for us after years of refusal. Every. Single. One. Is. Wrong. No one is allowed to cook like her.

— Jemma C (@jemcw) September 4, 2020
30.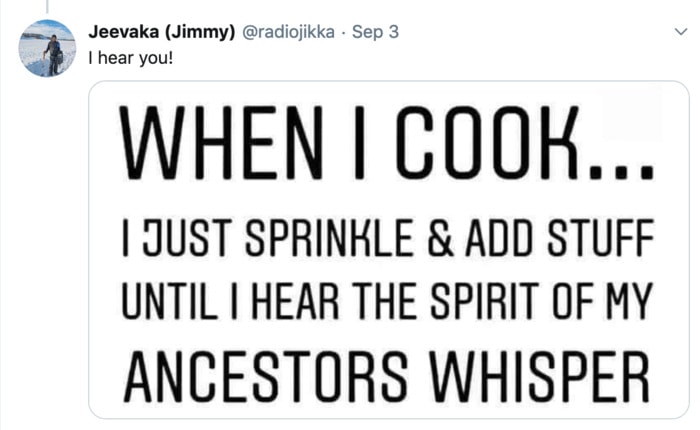 31.

32.
Me: "Amma how much of that should I put?"
Amma : "You just have to feel it. Go by your instincts"
"You'll know it when you smell it."

How the fuck am I supposed to know how much asafoetida is too much asafoetida 🙄

— Elina🌹 (@LawyerInBaking) September 4, 2020
33.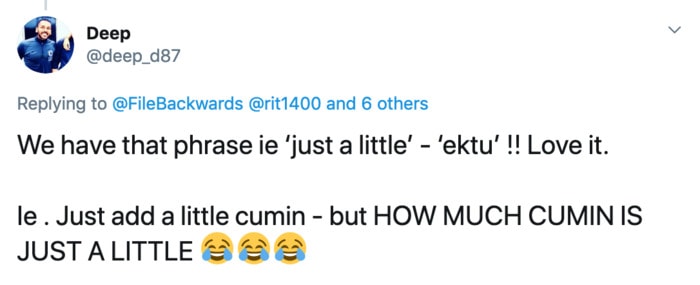 This is EXACTLY my entire conversation with my 80 year old grandmother about 15 years ago!! Never did get it

— Terry Chaytor (@LethalGravy) November 24, 2017
Can you relate?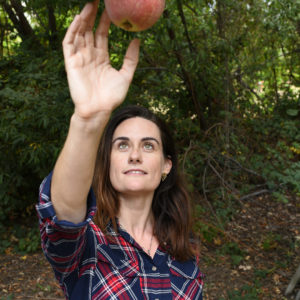 Latest posts by Rebecca Swanner
(see all)