Meghan McCain is coming under fire in the news recently for her comments regarding the vaccine rollout, and her inability to get one.
And, while some people on the Internet are calling her entitled, others are doing that and pointing out how delicious her hair looks.
Or at least, Geraldine DeRuiter, a self-described "Writer. Feminist. Snack-enthusiast" who runs the awesome blog The Everywhereist and who wrote the clever travel memoir All Over The Place Adventures in Travel, True Love, and Petty Theft, is in her viral Twitter thread. (Trust her when she talks about food — she won a James Beard award!)
Everyone's really upset at Meghan McCain for wanting to skip the vaccine line, but I want to talk about how her hair makes me hungry.

Ahem.

Meghan McCain's hairstyles as dessert. A thread.

The Sarah Bernhardt. pic.twitter.com/ZmeGeexp5i

— Geraldine (@everywhereist) February 22, 2021
13 Times Meghan McCain's Hair Looked Like Desserts
1. This pink pearl cupcake headband gives us serious Bridgerton vibes. And reminded us of the tub of icing in the back of our fridge…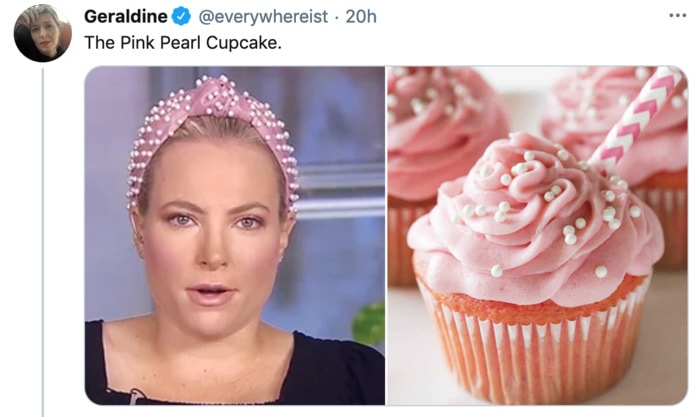 2. This knotted bun brings a whole new meaning to the phrase top knot.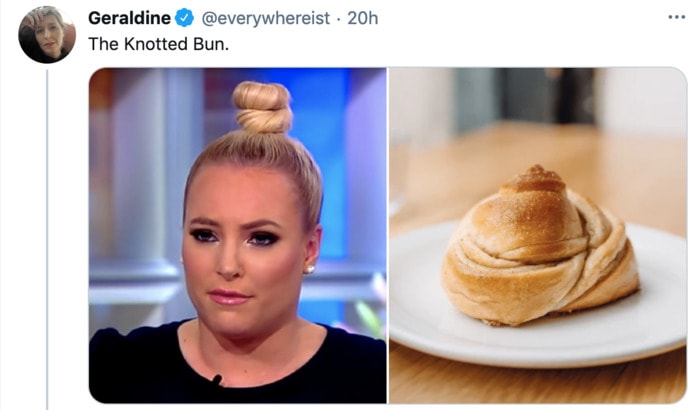 3. Palmier hair, don't care.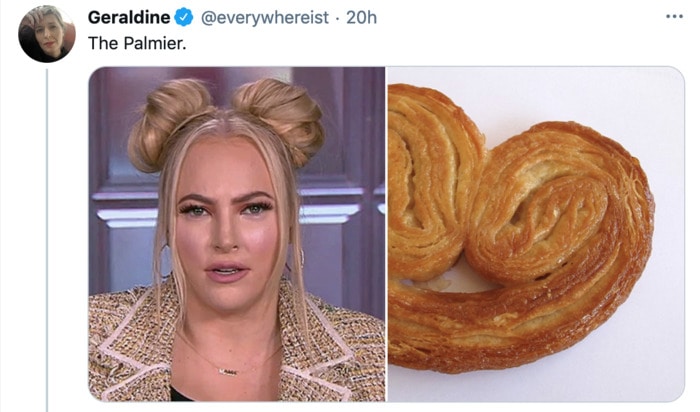 4. We're having some serious cookie cravings now.
5. All that glitters is gold, right?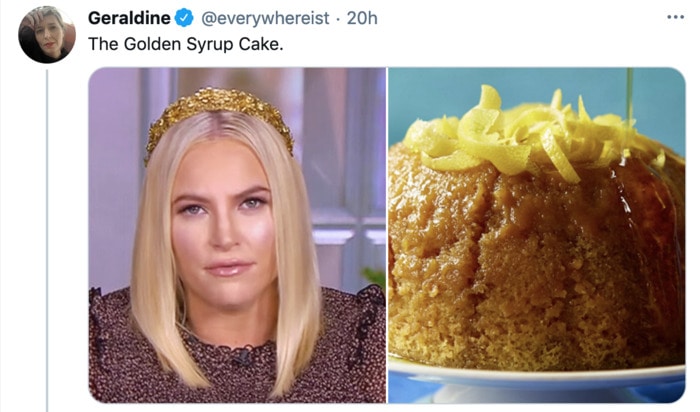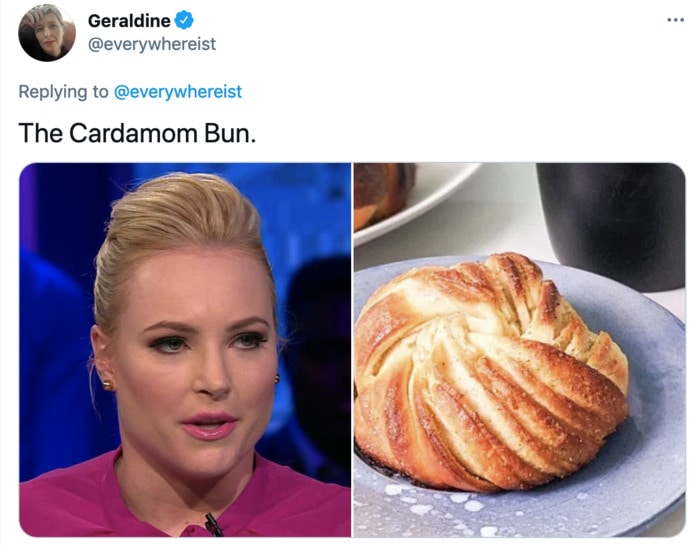 7. But really, though, how did she make such a tiny braid?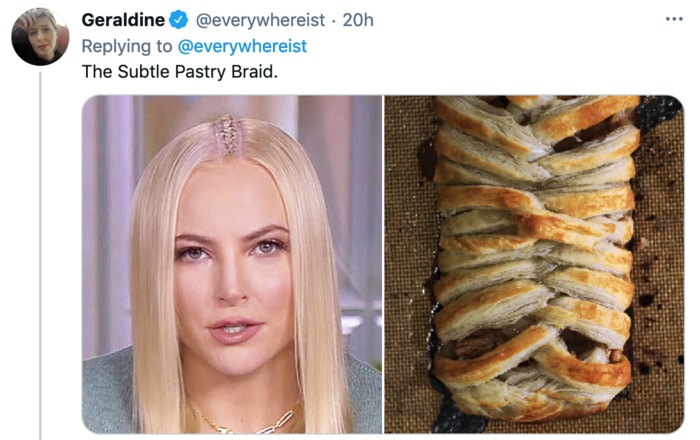 8. Sprinkle her hair with powdered sugar and weave in come chocolate and you've got a babka.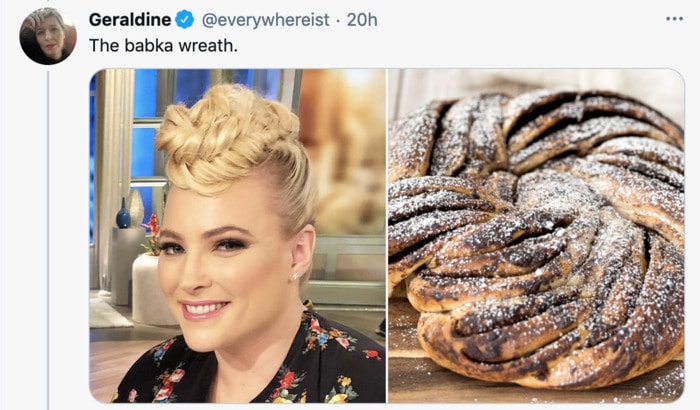 9. Challah at us whenever you get your vaccine!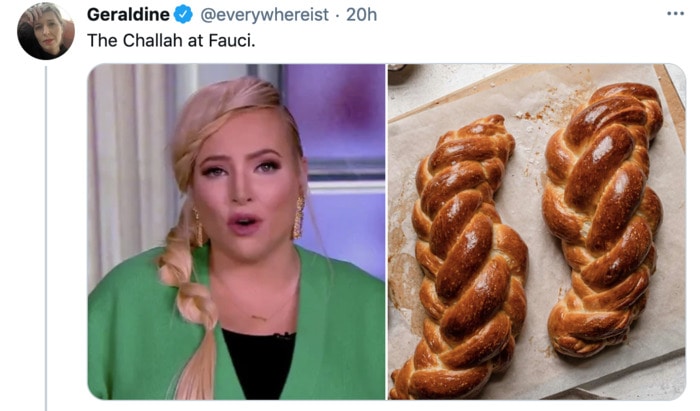 10. The kadaif coif.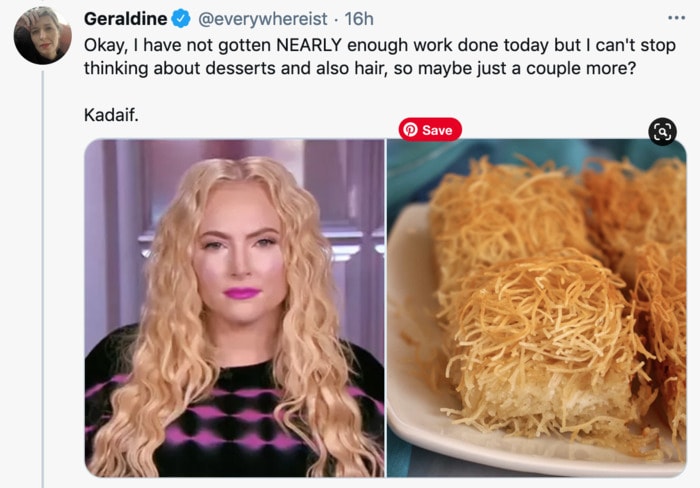 11. We've never seen hair look more like this classic Italian pastry.
12. Next time you need to do your hair for an event, just whip up some cinnamon buns and use a lot of bobby pins.

13. Was this on the Great British Baking Show? Can it be?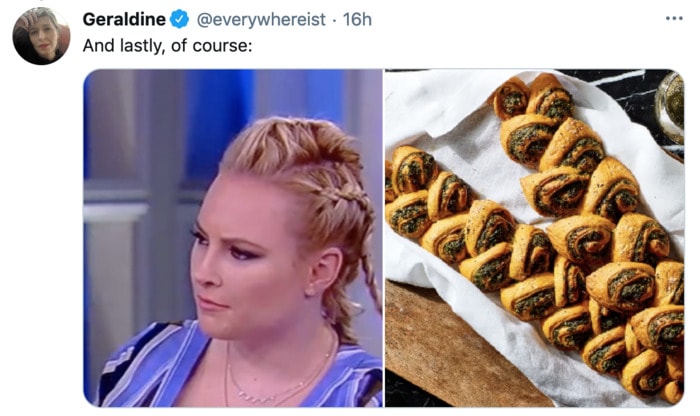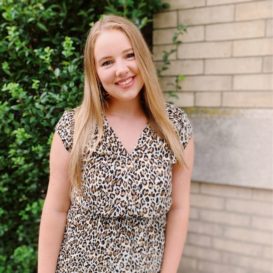 Latest posts by Laura Davis
(see all)