If the most you know about Yule is that you can watch Lil BUB's Yule log burn on YouTube, it's time to sit down, pour yourself a warm winter drink, and discover how the Yule log went from pagan tradition to cake to making TV history.
Yule's history is rooted in mystery. And the outside? Well, that's shrouded in rich, delicious chocolate frosting.
Dr. Bruce David Forbes, Professor Emeritus of Religious Studies at Morningside College and author of the book Christmas: A Candid History, helps set the record straight on Yule, one of the oldest holiday traditions.
What Is Yule?
The word Yule, or Jól, was first printed around 1475 but it dates back to pre-Christian Northern Europe. "The linguists can't even decide what it means," says Forbes. "Some think it means 'wheel' like the changing of seasons. Some think it means 'feast' which might refer to animal sacrifices. All we know is the term Yule clearly existed in languages prior to Christianity."
During Yuletide, the Germanic people gathered for the Winter Solstice to celebrate the return of the sun. The Solstice —which occurs between December 20 and 23rd — marks the darkest day of the year. Every day after it is a little bit brighter until the Summer Solstice. Then it starts to get darker again! (That's how seasons work.)
"During this time, approaching winter was like walking into death," says Forbes. "You hope you come out on the other side." In other words, it's like every blind date.
"What would people do to survive and cope with winter? Have a big mid-winter party." What's a party without light and warmth? And how are you going to get light and warmth without dragons? Burn a big log and party until it goes out!
And thus… the Yule log was born.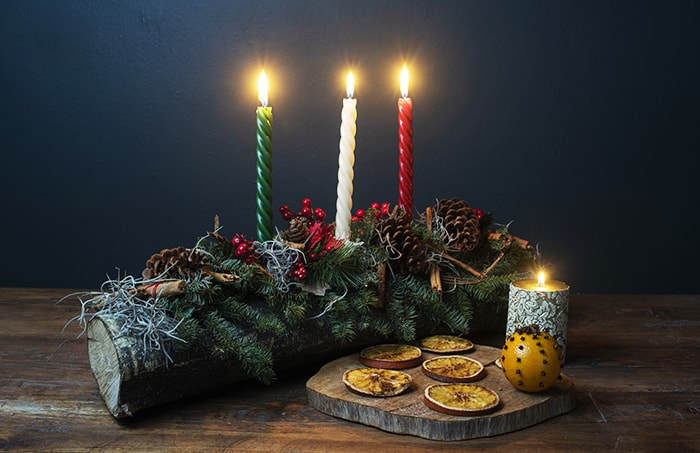 What Is a Yule Log?
In the days of the Vikings, the Yule log was an entire tree that they decorated with runes and other protective symbols.
The Yule Log was the symbol of the coming sun and eventual spring. In 1725 Henry Bourne wrote in Antiquities of the Common People, "Our Fore-Fathers, when the common Devices of Eve were over, and Night was come on, were wont to light up Candles of an uncommon Size, which were called Christmas-Candles, and to lay a Log of Wood upon the Fire, which they termed a Yule-Clog, or Christmas-Block… I am apt to believe, the Log has had the Name of the Yule-Log, from its being burnt as an Emblem of the returning Sun, and the Increase of its Light and Heat."
The Norse would place the large end of the log in the hearth and burn it for 12 days. During that joyous time, the rest of the log would take over the den and not make moving around difficult in any way at all.
Over time, since everyone likes a cozy fire (and since it's easier to not change the customs of a culture you're trying to get to join your religion), the pagan tradition became associated with the 12 days of Christmas. As did wreaths, mistletoe, and Krampus. And, it eventually made its way onto the TV!
Why Do You Keep Part of the Yule Log?
Traditionally, any remaining portions of the Yule log would be saved for Yule Tide next year when they'd be burned along with the new one. When it was integrated into Christian traditions around 1184, the unburnt portions were kept according to Gerry Bowler of Santa Claus: A Biography to "ward off lightning, mildew, toothaches, hail, housefires, and chillblains."
Or, you know, to have some dry wood on hand for next year.

The original video of the 1966 Yule Log. Don't miss the scary doll!
Why is the Yule Log on TV?
In 1966, when New York network WPIX was faced with 90 minutes of dead air on Christmas Eve they did what any network would do to fill the space between a news broadcast and roller derby: they tried "the television industry's first experiment in nonprogramming."
Billed by the WPIX President Frank Thrower as a "Christmas card to our viewers," the cozy fireplace, bedecked with Christmas stockings, a roaring fire, and Christmas music, was meant to warm the hearts of his New York viewers. Clearly this guy knew his audience.
The Yule log aired for commercial free for three hours and despite being less exciting than watching paint dry or the Kardashians get into a not-at-all-planned argument, was a smash hit. And so it returned. And returned. And returned. And now Nick Offerman's version has more than 3.6 million hits on YouTube.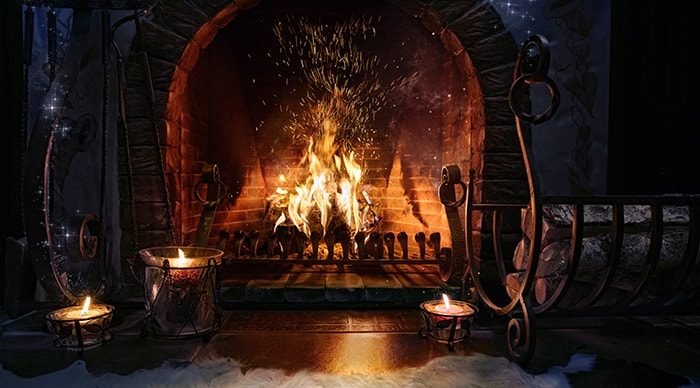 How to Make Your Own Yule Log
Whether you're pagan or Christian or just really like fire, here's how to make your own at home.
For pagans, author Patti Wigington recommends gathering the following items:
A log
Pine cones
Dried berries
Mistletoe, holly, pine, or other seasonal forest cuttings
Feathers and cinnamon
Festive ribbon made from natural fibers
Wrap the log with ribbon and then tuck the decorations underneath. Then, use it as a table centerpiece or burn it in your fireplace or a bonfire on the Winter Solstice.
To give your Yule Log a more Christian feel, gather the same items, but drill three holes into the log and insert a red, white, and green candle into each. Add a bit of glue to the bottom if needed to hold them in place. Light the candles at dusk on Christmas Eve.
Does It Matter What Wood I Use?
Plastic that looks like wood is frowned upon, but any type of real wood is fine. If you want to be historically accurate, here's what's traditional by country:
Northern Europe and England: Oak
Scotland: Birch
France: Cherry
Devon/Somerset: Ash twigs
Not feeling crafty? Celebrate Yule by purchasing a Yule log from Amazon. Keep it the closet for years until you sell it at a yard sale as a sacrifice to the Goddess of Clutter.
Did Someone Say Bûche de Noël?
The very best Yule log is one you can eat.
Which is why we need to take a moment and thank the French for popularizing the Yule log dessert or bûche de Noël in the 19th century. As delicious as it is pretty, these Swiss Roll cakes keep the Yule log tradition alive, but without the fire and the animal sacrifices.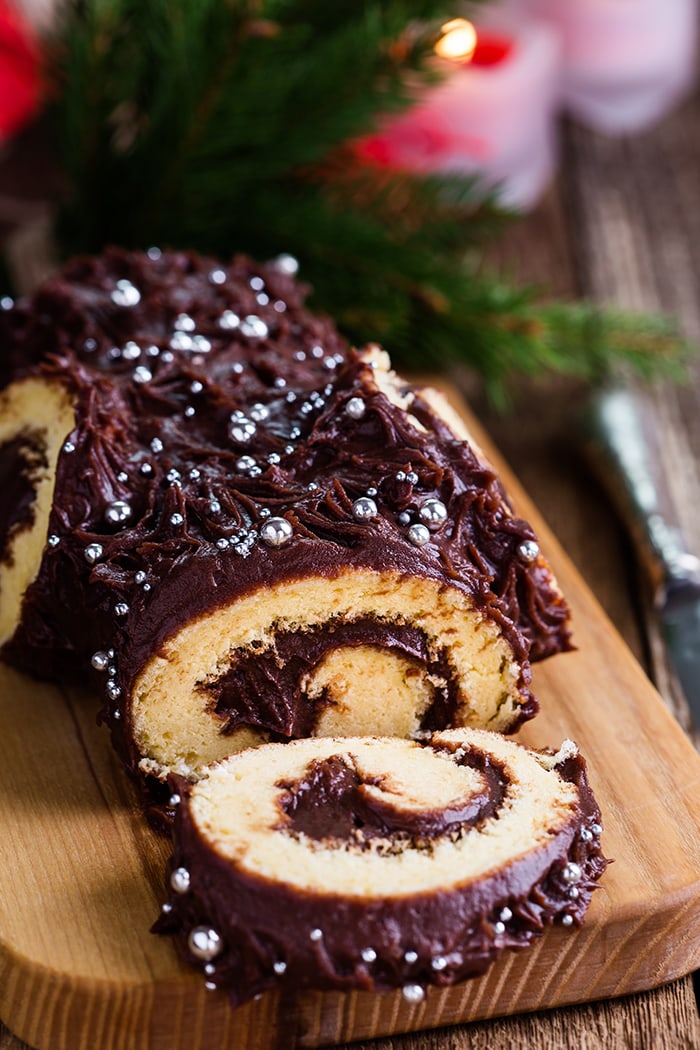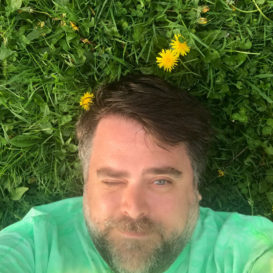 Latest posts by Dan Bergstein
(see all)