Peanut Butter Bread is one of the easiest loaves of quick bread you'll ever bake. Simply mix together a few ingredients in a bowl, transfer them to a loaf pan, and in about an hour you'll have a warm loaf of bread to enjoy! It's up to you if you want to share.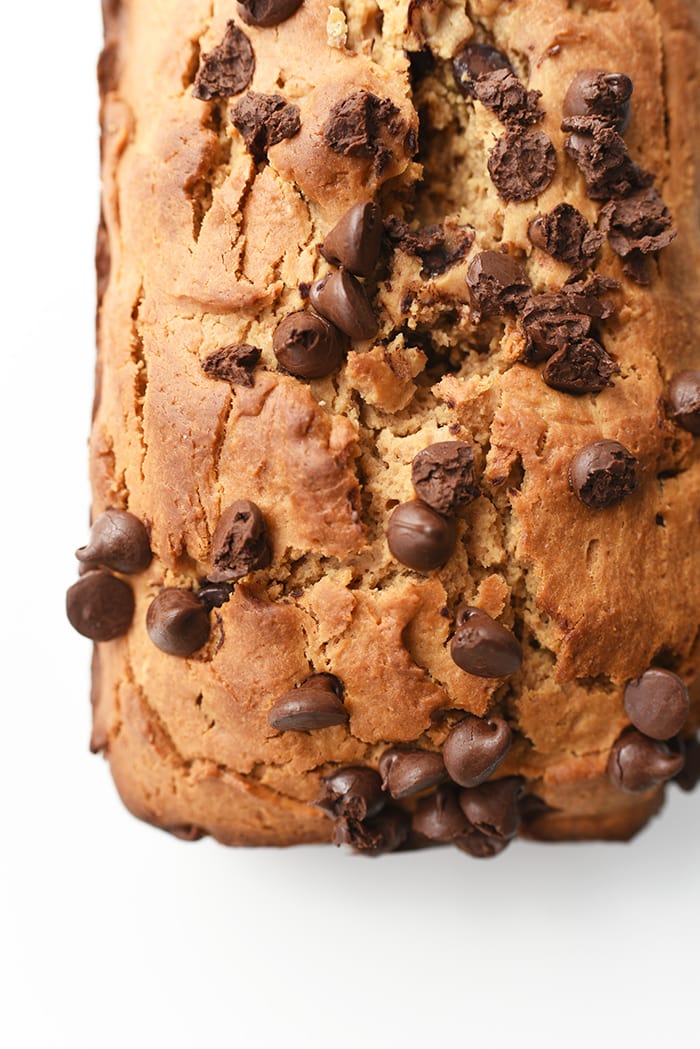 So, this whole staying at home thing has everyone baking bread. Because what else do you do with too much time on your hands? Dalgona coffee is great, but we can only drink so many cups of coffee a day. Bread on the other hand… keep the slices coming!
Banana bread and sourdough led the first wave of baking, but now, with the help of Reddit, the hot new thing to come out of the oven is a peanut butter bread recipe from 1932.
The original recipe came from Elizabeth Driver's 1932 cookbook Five Roses: A Guide to Good Cooking and was revived by Glen and Friends Cooking before it eventually made its way onto the r/Old Recipes subreddit in early April.
Since the quick bread doesn't require yeast, and, since peanut butter is one of our favorite food groups, we thought we'd give it a go.
How to Make Peanut Butter Bread
So we started with an almond butter loaf. (We're bad at following directions, even when they're our own.) That flourless bread didn't rise at all, had the consistency of a brick, and went directly in the trash. Along with our 2020 planner.
The second quick bread we made was the peanut butter bread. And, we've got to say, this this is easy. Like E-A-S-Y. All you have to do is mix the eggs, milk, peanut butter, sugar, baking powder, salt, and flour together in a bowl, transfer them to a nonstick loaf pan, and bake. Toss in some chocolate chips or butterscotch ones if that's your thing.
Now, you'd think peanut butter bread would be sweet and peanut buttery. You might be surprised to find out this is not the case. In fact, it's a pretty dense, not very sugary bread that doesn't have an overwhelmingly nutty flavor, even though we used 1 cup of peanut butter.
Why would you make it then? Well, sliced thin, it would be delicious with jam or butter on top. Or maybe a little honey and bacon. Or, if you're just trying to figure out how to get more carbs in your diet, it can help!
But really, if you are looking for a quick bread to serve thinly sliced (not how it's pictured in the photos before we knew better), bake this up.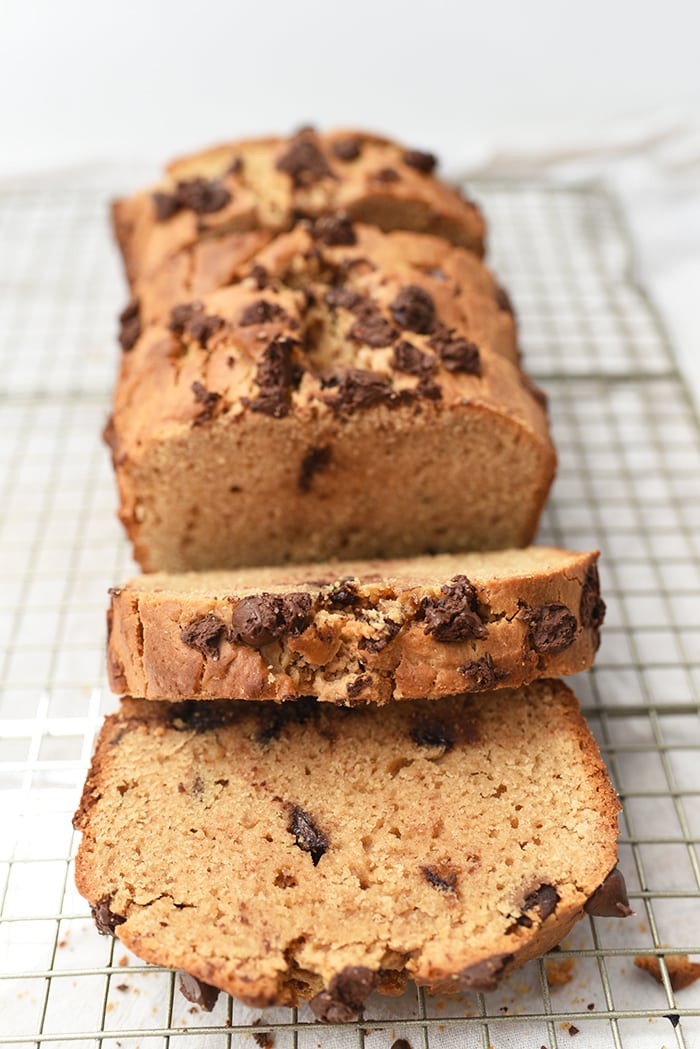 How to Bake the Best Peanut Butter Bread
Use peanut butter spread. Look, we love all-natural peanut butter too, but that stuff is gonna be really hard to blend evenly into the recipe. So, unless you have forearms of steel (in which case, we have some jars we need you to open), use the premixed stuff.
Mix everything but the flour together first. This will prevent you from working the flour too much and overdeveloping the gluten. Too much gluten leads to chewier, tougher bread.
Make sure your oven is actually at 350. Ovens are rarely calibrated properly. An in-oven thermometer will tell you the real temp. And it'll promise to call you tomorrow.
Bake until the center and bottom of the loaf reads 205-215. We love this instant read thermometer for this. If you use a knife to test, you might remove the bread before it's done and end up with a soggy loaf.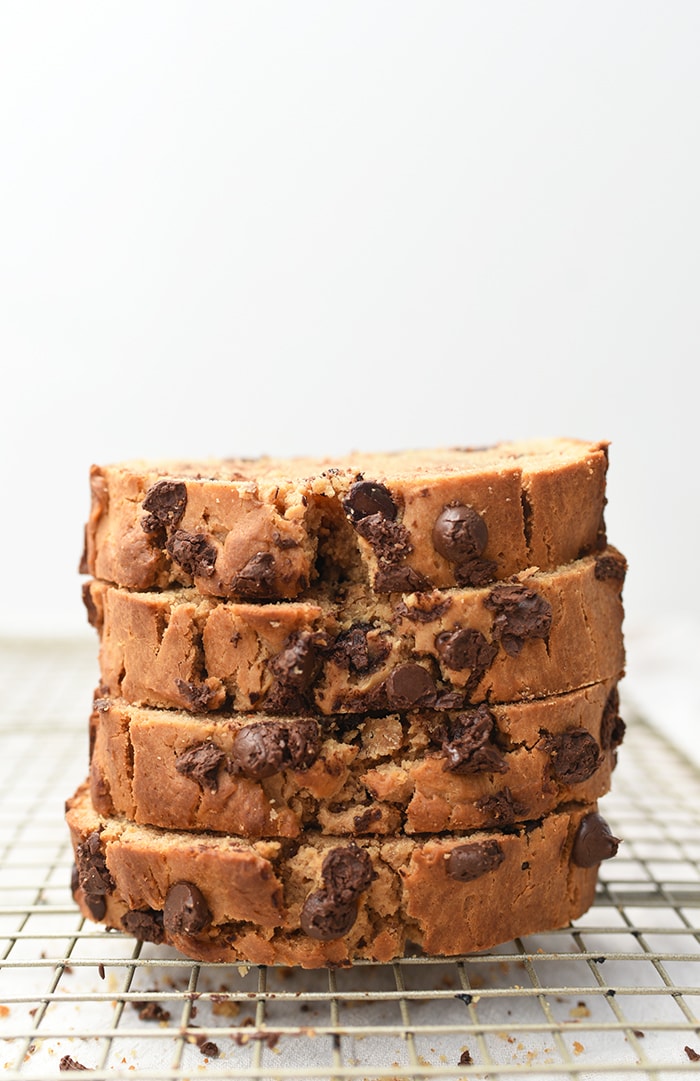 Peanut Butter Bread
Print Recipe
Peanut Butter Bread is one of the easiest loaves of quick bread you'll ever bake.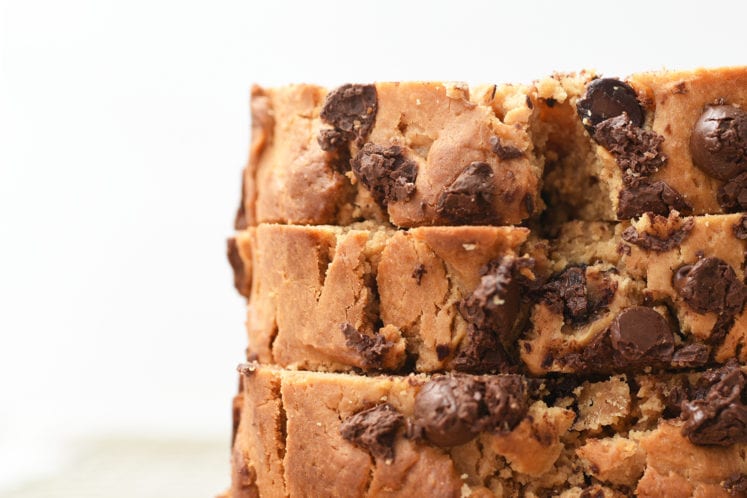 Servings: 12 slices
Ingredients
½ cup sugar
1 Tbsp. baking powder
1 tsp. salt
2 large eggs
1 cup whole milk
1 cup peanut butter
½ cup chocolate chips (optional)
2 cups flour
Instructions
Preheat oven to 350° F. 

Place sugar, baking powder, salt, eggs, milk, and peanut butter in a large bowl. Mix ingredients together until fully combined.

Add chocolate chips if desired, and mix into batter.

Add flour and mix in until fully combined.

Transfer batter to a greased 9x5" loaf pan.

Bake for 50 minutes or until internal thermometer reads 205 or a knife inserted in the middle comes out clean. Do not over bake.

Transfer to a cooling rack and let cool for 10 minutes.

Remove and let cool completely before slicing.
Nutrition Facts
Peanut Butter Bread
Amount Per Serving (1 slice)
Calories 294 Calories from Fat 126
% Daily Value*
Fat 14g22%
Carbohydrates 35g12%
Protein 9g18%
* Percent Daily Values are based on a 2000 calorie diet.
Did you make this recipe?
Leave a review below, then take a photo and tag @letseatcakeblog on Instagram so we can see it!
If you're interested in discovering how to make the original recipe, watch the video below! (It's a little different from our version.)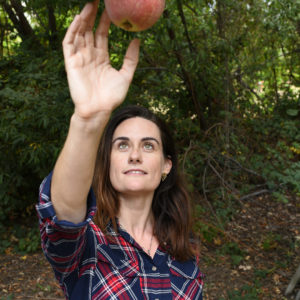 Latest posts by Rebecca Swanner
(see all)