If you're like us, you've also been baking a ton. Why? Because, thanks to the pandemic, almost everyone is stuck inside. And what are we doing while we're stuck inside? Stress baking of course and writing some funny quarantine-inspire baking tweets.
Need a bread recipe? Our two favorites are this banana bread recipe and this apple bread recipe that basically shoves an entire apple pie into a loaf of bread. What are you baking? Also, anyone got some yeast?
The Best Quarantine Baking Tweets We've Seen
1. At least he didn't challenge you to do push-ups?
Please, God, someone do a sport so my boyfriend will stop talking about his sourdough starter

— Olga Khazan (@olgakhazan) March 26, 2020
2. Finally, a tweet that aged well.
if someone you know is getting deeply into making bread from scratch they are deeply depressed I promise you

— ellory smith (@ellorysmith) November 26, 2019
3. Sometimes you just don't want to share.
Baking in the age of having your entire family home during a pandemic. pic.twitter.com/lHsjgPwz5W

— Amanda Jetté Knox (@MavenOfMayhem) April 7, 2020
4. It's fine. Everything is fine.
Us baking banana bread and sharing recipes in the middle of a major pandemic https://t.co/3fT4Mxp0Dd

— (falafel 🥙) (@sabeeha_ad) April 5, 2020
5. Wait, there's something after the banana bread stage? Is it babka?
The isolation stages of grief: denial, anger, bargaining, depression, banana bread, and acceptance

— Kat Dennings (@OfficialKat) April 7, 2020
6. Gotta do it right.
if u haven't made banana bread or done some sort of tie dye activity are u even social distancing

— Brooke Miccio (@brookemiccio) April 2, 2020
7. Better get on it, Brett.
I'm so worried once this is over I won't be welcomed back into society if I don't learn how to make bread

— Brett S. Vergara (@BrettSVergara) April 6, 2020
8. Us in a nutshell. Sorry, neighbors!
I don't want to bake bread I want to go outside and have sex

— mary beth (@marybethbarone) April 1, 2020
9. Next time we're gonna manifest a little less intensely.
i am a woman seeking:

⚪️ men
⚪️ women
🔘 a moss covered cottage deep in the forest surrounded by fae folk and botanical gardens where i can bake bread in bliss

— ellie (@kniqhtley) April 5, 2020
10. This isn't what we meant.
Our society took "let's get this bread" TOO FAR.

— Nick Lehmann (@NickStopTalking) April 5, 2020
11. Good question.
What is it about a global pandemic that signals to people it's time to make some fucking banana bread?

— aleen (@aleenkup) March 31, 2020
12. At least they too had Google.


Source: @momtruthbomb
13. Put it back.
I think someone found a monkey's paw and said "I wish I had time to learn to bake bread."

— Kumail Nanjiani (@kumailn) April 1, 2020
14. Things didn't go right for this blackbird at all.
While I'm sure the "pie bird" is a useful baking tool, it mostly just looks like a bird that's being punished by god pic.twitter.com/67aFO4cR2l

— *big novelty "Gone Fishin'" sign* (@ItsDanSheehan) February 18, 2019
15. When one quarantine activity meets another.
My friend's mum baked this super cute #AnimalCrossingNewHorizons swiss role for her daughter~! 😍 You can follow her awesome baking at IG keempossible: https://t.co/wwNU4M99sG pic.twitter.com/U2cGxDaxMb

— yyng7 🌸 (@yyng7) March 31, 2020
16. Procrastibaking? Ah, this explains some things.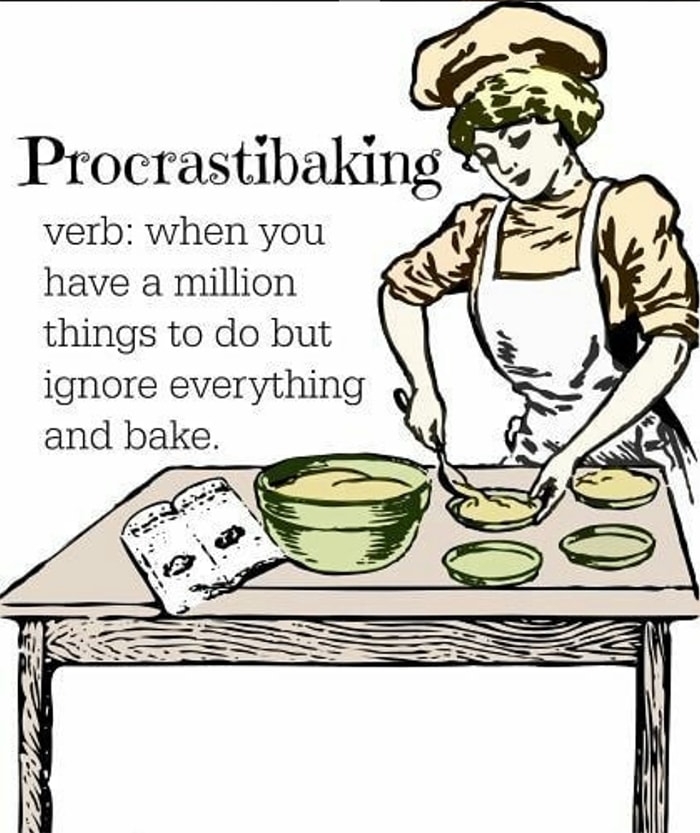 17. Oh no. Oh no.
imagine baking fucked up bread ONCE when you're in a huge rush and centuries later your descendants are still gathering once a year to discuss how fucked that bread was

— Sarah Lazarus (@sarahclazarus) April 20, 2019
18. Wait, is this why everyone is baking?
your thirties are all about finding a satisfying niche interest and channeling your whole personality into it. baking, knitting, craft coffee, composting, homebrew – anything you like that keeps you distracted from your own mortality

— Lauren L Walker (@LLW902) January 27, 2020
19. So about that volunteering as tribute.
Seeing all of us baking right now makes me realize that Peeta was the most realistic part of the Hunger Games

— Tracy B (@tracybwrites) March 29, 2020
20. We're gonna try and not kill ours this time.
sourdough starters are just Tamagotchi for early middle-age

— Eric Lach (@ericlach) March 28, 2020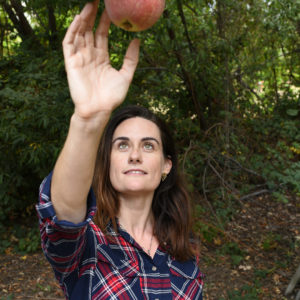 Latest posts by Rebecca Swanner
(see all)