What do waiting lists, wedding ceremonies, and nails all have in common? They're usually better when they're short. At least, that's what we decided when we saw all of these cool short nail ideas.
When it comes to these creative nail designs for the short nail crew, we couldn't be more obsessed. From solid colors to French tips to intricate art that we definitely can't do ourselves, these prove that you can do a lot with a little space.
Because sure, those long coffin or stiletto nails look amazing! But some of us have a hard enough time putting our contacts in as it is.
Whether you're looking for something subtle or a totally unique manicure that'll stand out in a crowd, we have something for you on this list. After looking through all these short nail ideas, your clippers may just become your new best friend.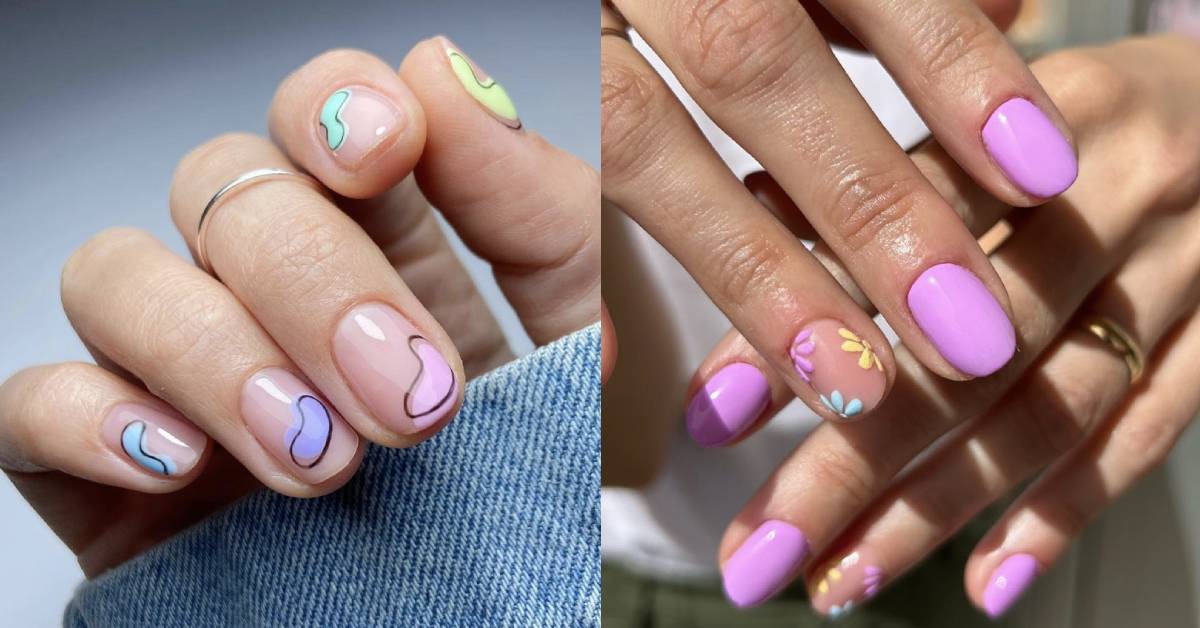 40 Short Nail Design Ideas
1. Short Neutral Polish Nails
Starting off this list, we're keeping things clean and timeless. There's literally no situation that these neutral nails don't work for. Unless it's a neon-only rave. In that case…hop on down to number 30.
2. Barbiecore Pink Nails
The Barbiecore trend is alive and well, and slapping this Margot Robbie-approved color on to short nails is an excellent way to make your manicure pop. Just like those giant bubblegum bubbles we used to make with Dubble Bubble. At least, for the 4.3 seconds that it had flavor.
3. Green Short Nails
Although green may not be the first thing that comes to your mind when picking out a polish, it works for so many occasions? St. Patrick's Day? Go for green. Christmas? Go for a slightly darker green. Springtime? You need all the help you can get to have a green thumb.
4. Pastel Polish
Keep your vibe nice and soft with a pastel hue. And dryer sheets. Those really help, too.
5. Short Chrome Nails
Take part in the glazed donut trend without having to get nail extensions. Celebs may be mostly like us. But we bet they don't have to type on a computer all day, annoying every coworker that's earshot with a constant tap-tap-tap-tap-tap.
6. Ombré Nails
You don't need a lot of space to get this subtle fade. But you do need some nail polish that isn't 23 years old. It's time. Let it go.
7. Neutral Nail Design
Classy, with a touch of sassy. That describes these nails, and our approach for writing emails to someone who clearly didn't read anything we sent the first time.
8. White and Black Nail Design
Black and white may be neutral, but that doesn't mean they're boring. Just look at these lovely starry nails! Or Oreos. Or tuxedo cats. You can't deny that they have a special kind of flair that orange cats only wish they had.
9. Marble Short Nails
We like to call this look "marble." Which is really just a rebranding of "we accidentally spilled the light pink polish onto our dark pink nails but we figured out how to make it work anyway." Call us for any of your PR needs.
10. Short French Tip Nails
Did you study abroad in Paris and want everyone to know? Use these French tips – in a classic white or a fun color – as a way to start that conversation! Not that you needed an excuse to bring it up the previous 83 times.
11. Side Tip Nail Design
Side eye? Kinda rude. Side tip stripes? Kinda iconic. Giving a side eye while you have a side tip manicure? We're not sure what that is, but we're honestly a little afraid to find out.
12. Wavy Lines Design
Let your groovy side out with this fun, easy, minimalist short nail design. Pick the colors to match the season, or just do whatever your heart tells you. Especially if that involves cookies.
13. Side Stripe Accent Nails
No one has to know that you got tired of doing this design after just two nails, and then figured a solid color would be way easier. Unless you tell them. then That's on you.
14. White Lines With Negative Space
Sometimes less is more. Especially when you're running out of nail polish. This short nail idea is perfect if you don't have a ton of time to do your manicure, or if you can't draw a straight line if your life depended on it.
15. Multi-Colored Daisy Nails
Bring spring straight to your manicure with these fun, colorful daisies. Just leave the allergies out of it, okay?
16. Short Sunflower Nails
Are daisies not your thing? Then try out this sunflower manicure! You paint the flowers on one hand, both hands, your neighbor's hand, or your cat's paws. The only limit is your imagination. And any restraining orders you have.
17. Flower Accent Nail
Who needs a green thumb when you can have a flower finger? Luckily, these flowers don't require any effort to keep alive. As long as you stay away from the acetone.
18. 3D Flower Nails
Take your flower power to the max with this 3D design. Warning: they may confuse bees. But if you're lucky, it'll be the cute little bumblebees.
19. Abstract Shape Design
Coloring inside the lines is so overrated. However, we do recommend coloring inside the nails. But you do you!
20. Body Outline Nails
Hey buddy, our eyes are up here! But thanks, we like our nails, too.
21. Artsy Nails With Color
Tell us you're an art major without telling us you're an art major. And then tell us the meaning behind this design, because all we see are pretty colors and lines.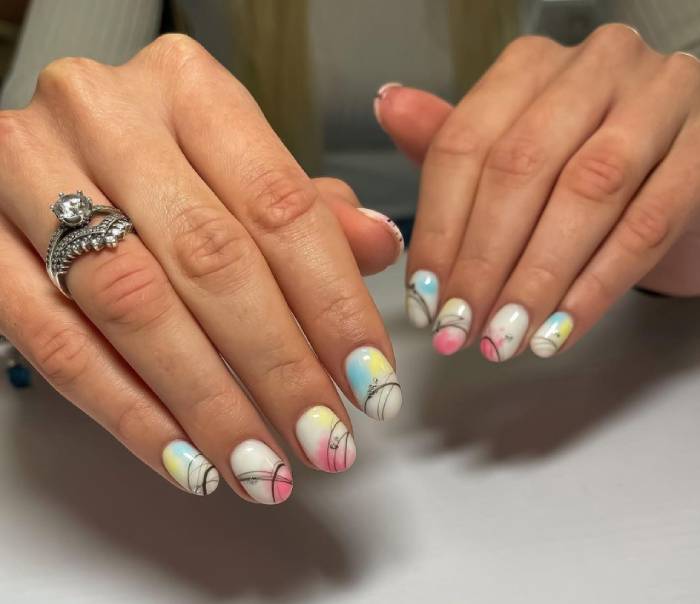 22. Neon Nail Design
Whether it's summer or you're practicing safety measures, this short neon nail design is sure to stand out anywhere you are. Well, unless you're standing on the sun. But it's really hard to get on a flight up there these days.
23. Nature Accent Nail
Show off your love of the great outdoors by adding an accent design to your short nails. This idea features a mountain, but you could also paint on a tree, ocean wave, or couch. What? We like to watch a lot of nature documentaries!
24. Short Butterfly Nails
Have your girly spring moment with this stunning manicure idea. Pair it with an iced coffee and a little sweet treat, and it's clinically proven that you'll have a good day.
25. Painted Butterfly Nails
We love the painted aesthetic of these blue butterfly nails. And the fact that they feature butterflies, and not caterpillars. Same animal, very different vibe.
26. Mismatched Short Nail Designs
If you can't decide what you want on your nails…then don't! You have 10 digits to work with, so you can paint on 10 different designs, doodles, and donuts. Don't forget about the donuts.
27. Short Checkered Nails
Pro: looks great. Con: not great for actual checkers. Hey, you can't win 'em all.
28. Black Nail Design
Black nails are so diverse. They can be mysterious and witchy, or bold and beautiful. And more importantly, they can cover up the fact that your yellow polish stained your nails a really unsettling color.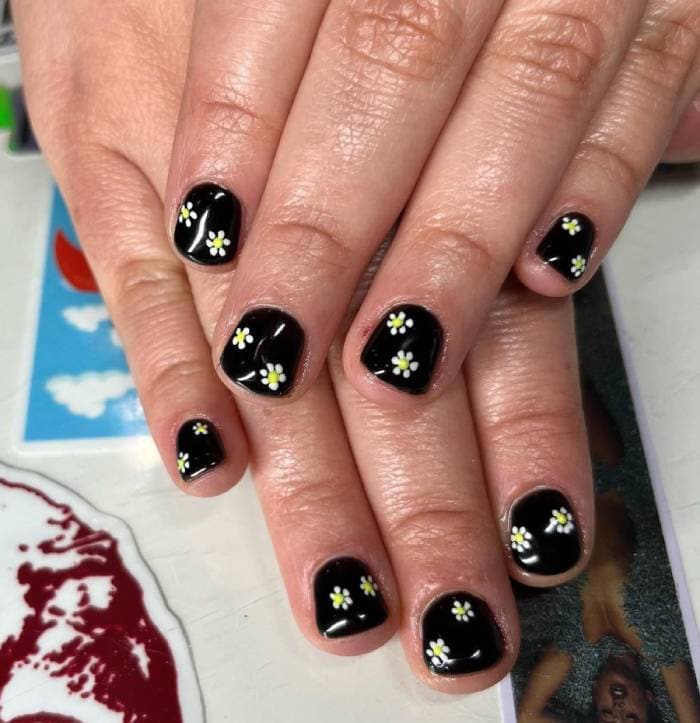 29. Neon Flower Nails
If Barbie has taught us anything, it's that more neon is always better. Unless you add flowers to it. Then it's perfection.
30. Neon Ombre Nails
Set your nails on fire with this stunning neon design. Metaphorically, of course. We learned the hard way that candlelight manicures aren't the best idea. Who knew.
31. Tie-Dye Short Nails
If you do this right, these nails will look way cooler than any shirt you dyed at summer camp. So…yeah, you should probably book that salon appointment.
32. Eye Design With Glitter Nails
You can choose whatever color combo you want for this simple short nail design, just don't forget the glitter. Or the blinking eyes. If you forget those, then it's just a totally different design. But we support your creativity!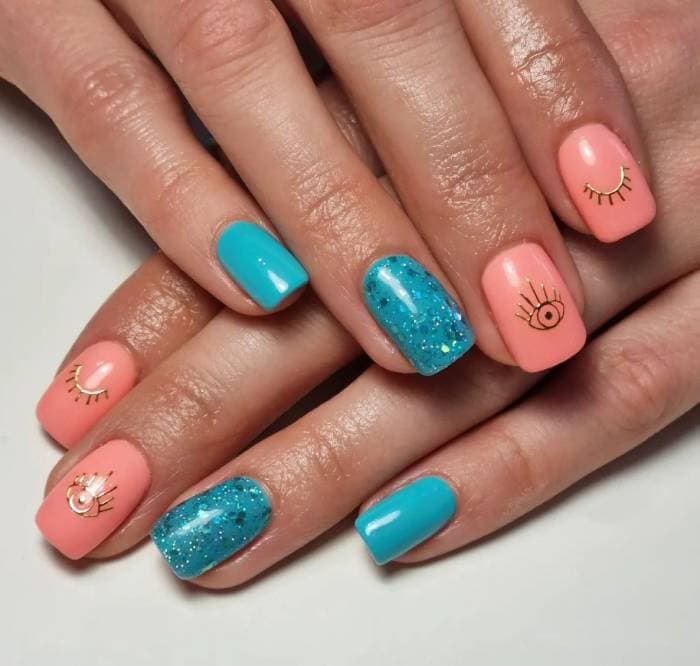 33. Short Mermaid Nails
Live out your mermaid life fantasies with this nail design. Underwater breathing skills not included.
34. Shimmery 3D Nails
Are these seashells? Is it glittery lava? Or is it whatever our five-year-old niece found in her pocket? Sometimes it's better not to ask questions.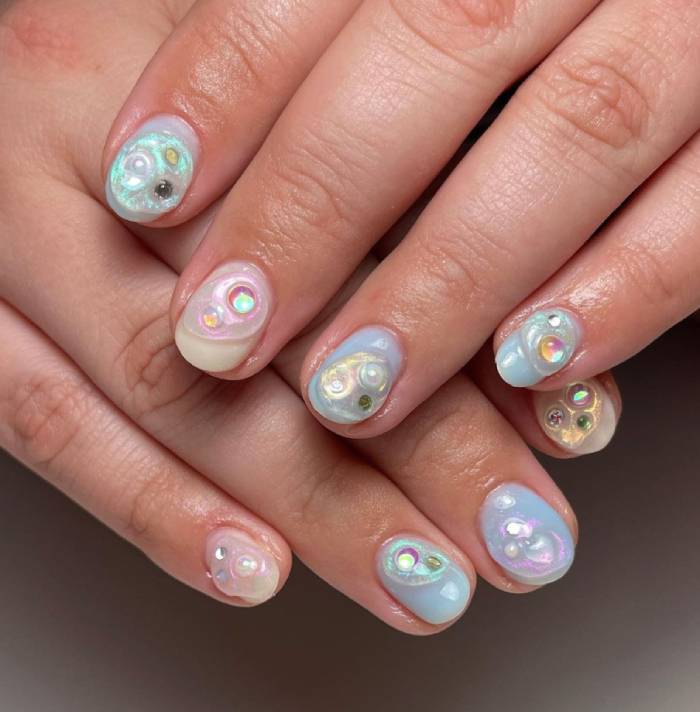 35. Cute Animal Nail Art
We want to get this manicure done just as much as we want to know what that frog's workout routine is.
36. Groovy Mushroom Nails
Who needs foraging when you can just get mushrooms painted onto your nails! Okay, you can't eat these mushrooms. But that's what Whole Foods is for.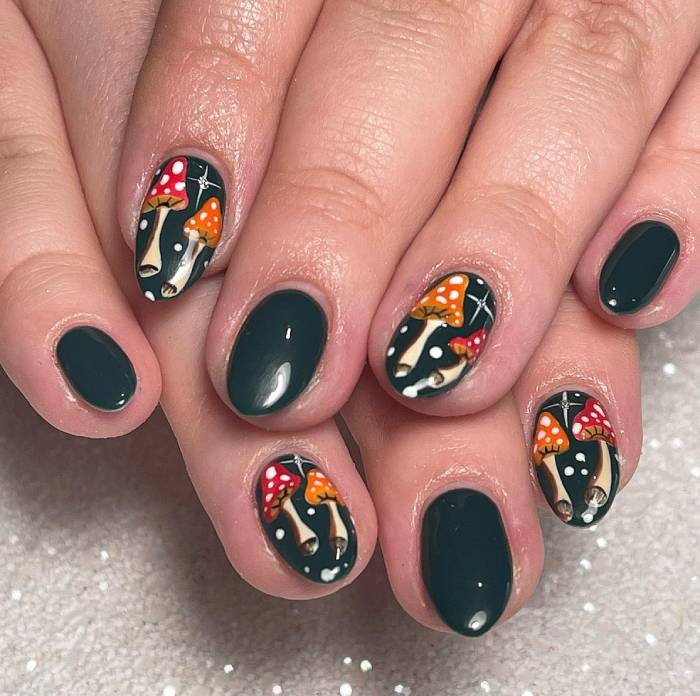 37. Cartoon Mushroom Nails
When these lines start moving, it may be a sign that you ate the wrong mushrooms. Or inhaled too much nail polish fumes.
38. Planet Nails
See, we told you that the universe revolves around our dog.
39. Short Alien Nails
As long as the aliens bring us coffee, they're welcome any time.
40. Outer Space Nail Design
Shoot for the stars, and even if you miss, you'll get a cool manicure. That's how the saying goes, right?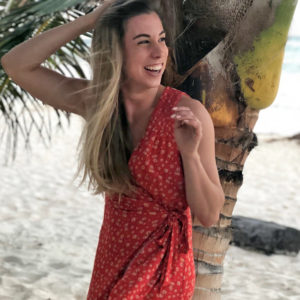 Latest posts by Hannah Rex
(see all)