A bubbly drink is like drinking glitter. Thankfully, it tastes way better and doesn't require a trip to the crafts store. If you're in search of a tasty, sparkly beverage, we found the best champagne cocktails for you here.
Sure, we've got the classics, like a French 75 and Kir Royale. But we also ventured deep into the craft cocktail world to find creative creations like a Champagne Margarita and Caramel Apple Mimosa. We even ran into a hipster bartender while we were digging around, and he gave the highest recommendations for these.
He also tried to give us one of those old bikes with a big front wheel, but that's besides the point. (The wheel was flat anyway.)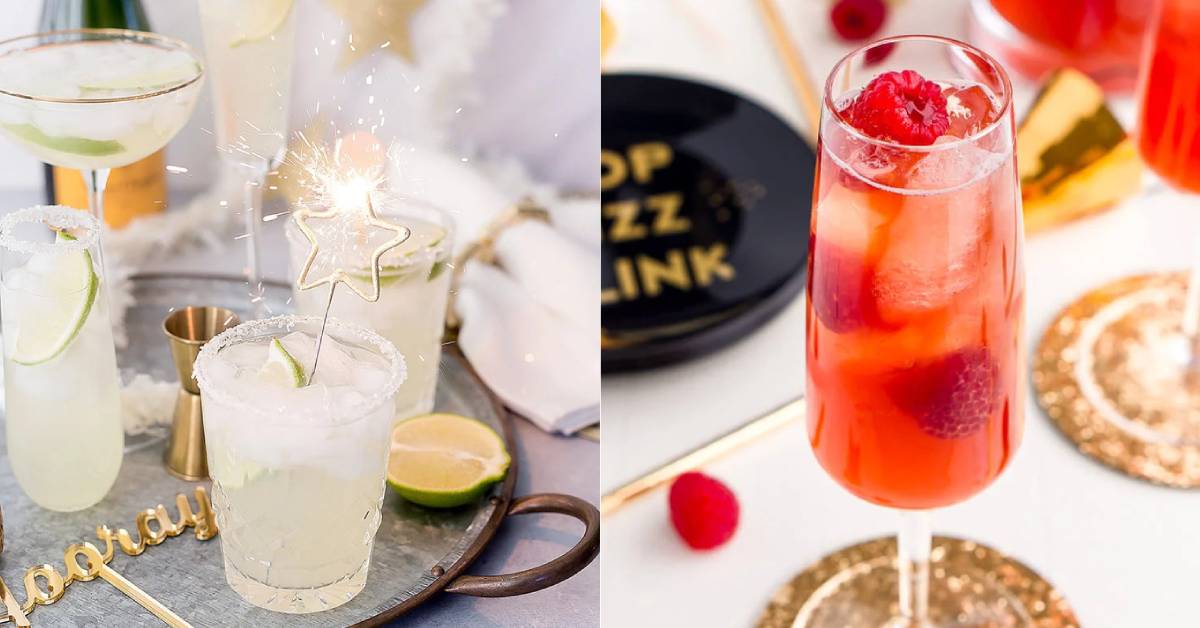 Many of these champagne cocktails are made with just that – champagne. You'll also see them mixed with some kind of simple syrup and juice or fruit, and often served up in a fancy champagne flute.
If you only have Prosecco or sparkling wine on hand, we're pretty confident that you can use them instead of the stuff from France. That is, unless you're serving these up at a party with a bunch of sommeliers. They might notice. And then ask for an obscure bottle of wine, anyway.
So, whether it's Christmas, New Year's Eve, a brunch celebration, or 2pm on a Tuesday, these champagne cocktail recipes will add some extra festivity into life.
21 Champagne Cocktails For Any Celebration
1. French 75
Born in Paris in the early 1900s, the French 75 is a simple, elegant, champagne cocktail. Made with Champagne, gin, lemon juice, and sugar, it'll have you saying oui, oui, oui, all the way home.
And who's home that is, is entirely up to you.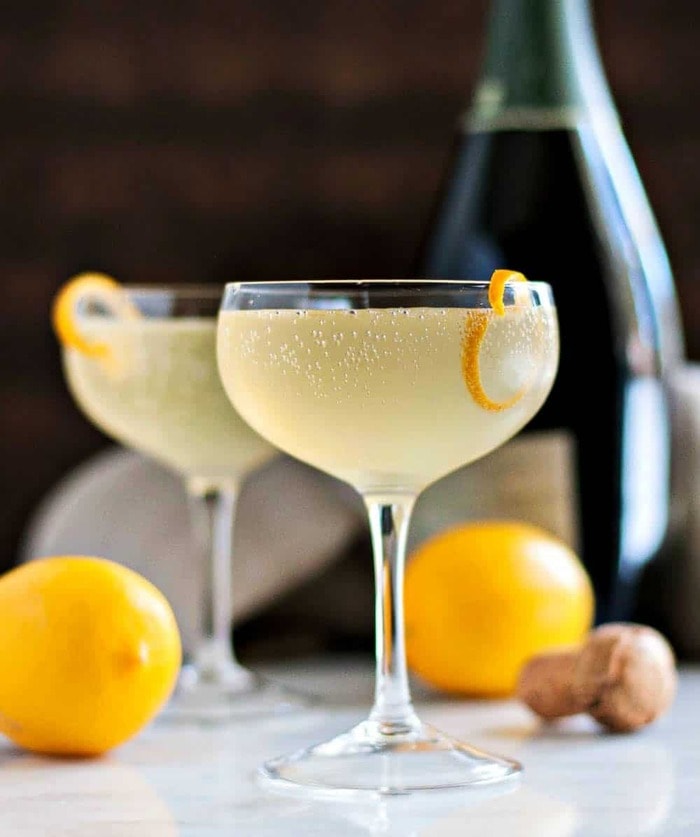 2. Rose Syrup French 75
For a fun variation, opt for Empress 1908 gin and rose syrup. This will give the classic champagne cocktail a purple hue (thanks to the butterfly pea flower in the gin), and add a delightful floral flavor.
If you can say "delightful floral flavor" five times fast without any issue, then you definitely haven't had enough of these.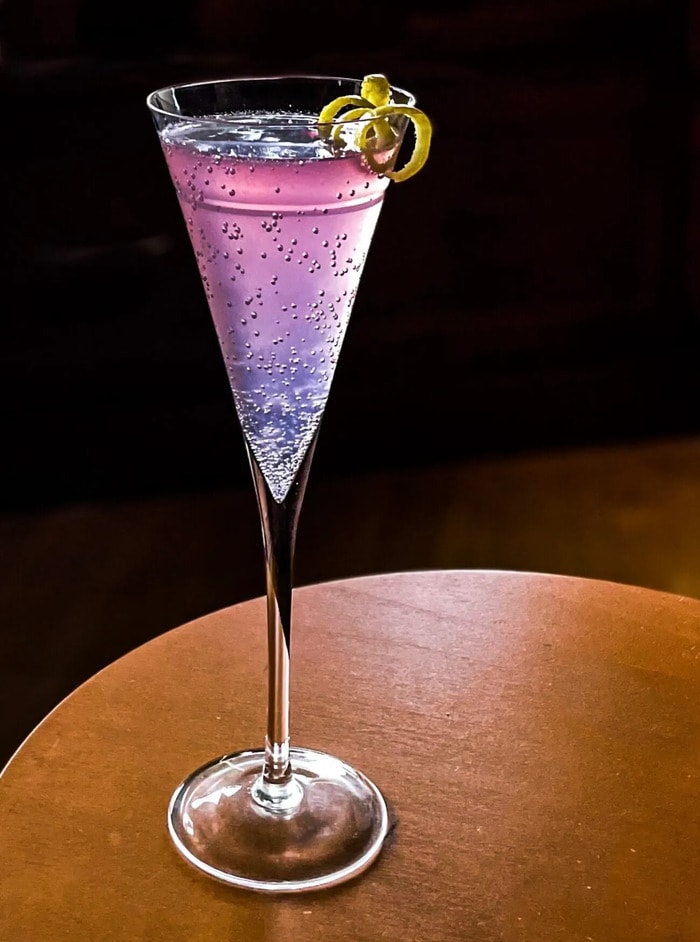 3. Skinny Kir Royale with Blueberries
Another popular French drink, the kir royale is traditionally made with crème de cassis (sweet liqueur made from blackcurrant.) This recipe knocks down the sweetness a few notches by using blackcurrant syrup and blueberries. If it's good enough for Emily in Paris, then it's good enough for us!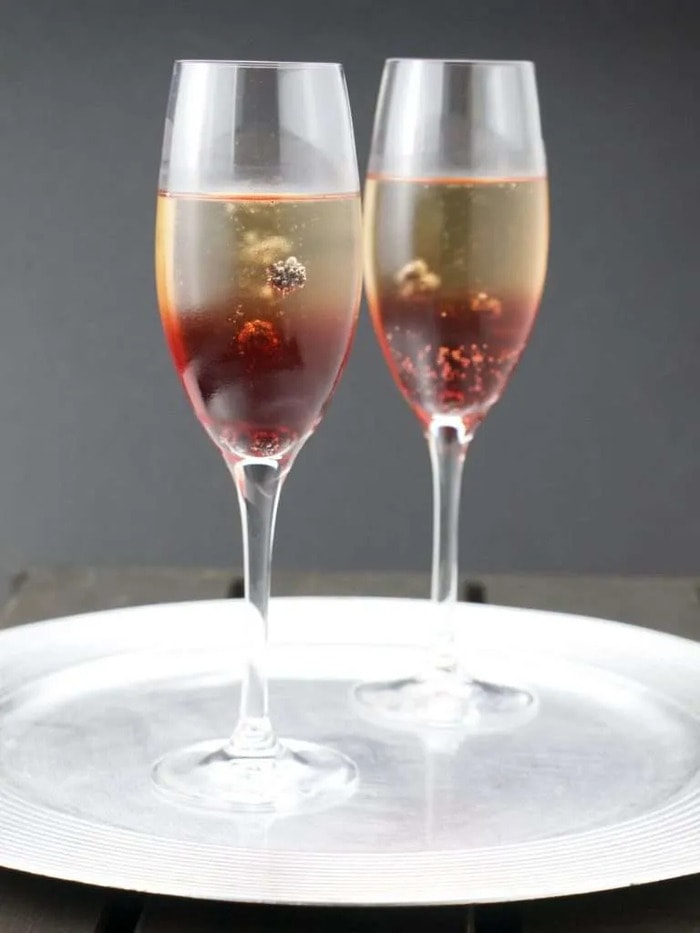 4. Bourbon Spiked Apple Cider Mimosa
Oh, you like to drink your champagne by itself? That's cute. But we'll take it with a side of bourbon. And apple cider. Because if we're going to be tipsy at Thanksgiving, it better be from something festive. And we got yelled at for bringing Fireball last year.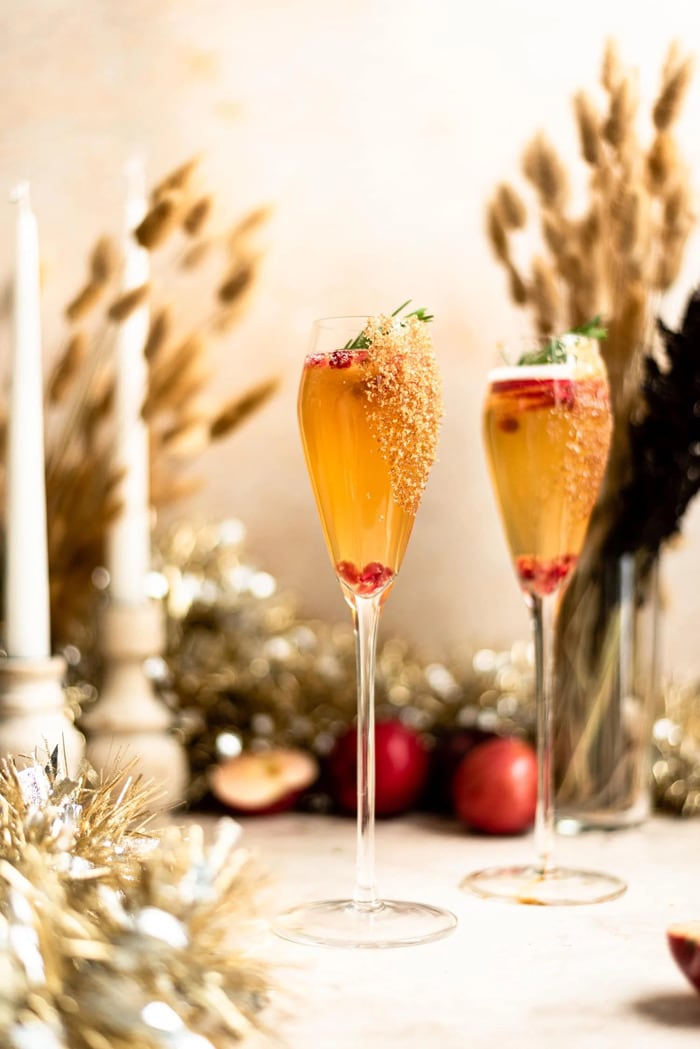 5. Champagne Floats
Our preferences are always changing, but we know we'll always love two things: easy recipes, and dessert. Mixing champagne with sherbet fits perfectly into both those categories, so pass us the ice cream scoop and watch us live our best lives. We have nine!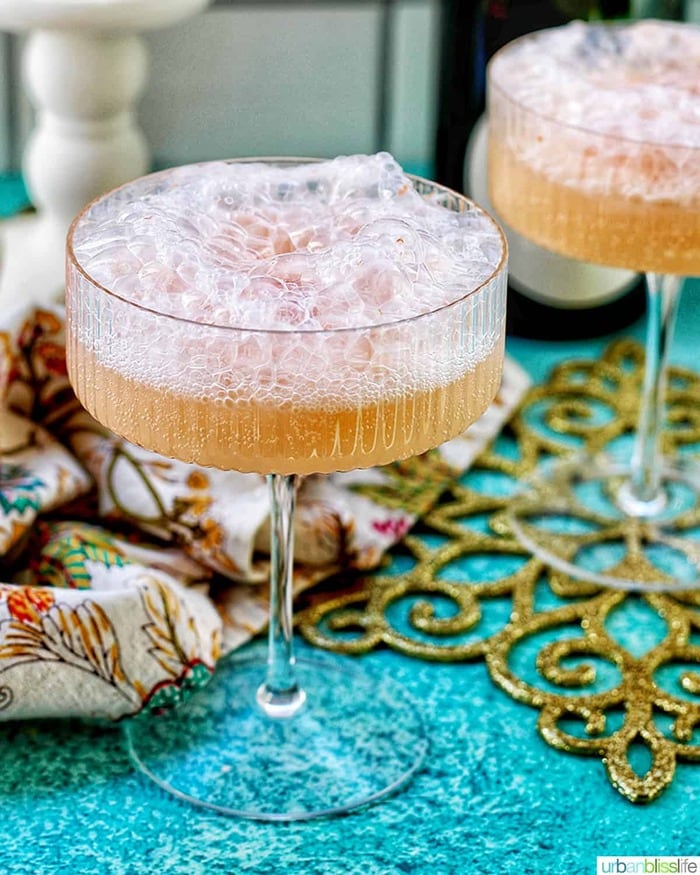 6. Cranberry Mimosa
Cranberries? For the holidays? Groundbreaking. We don't care how basic this take on a mimosa may be, it's a foolproof way to bring some extra holiday cheer to the table. Just don't use canned cranberries. Trust us.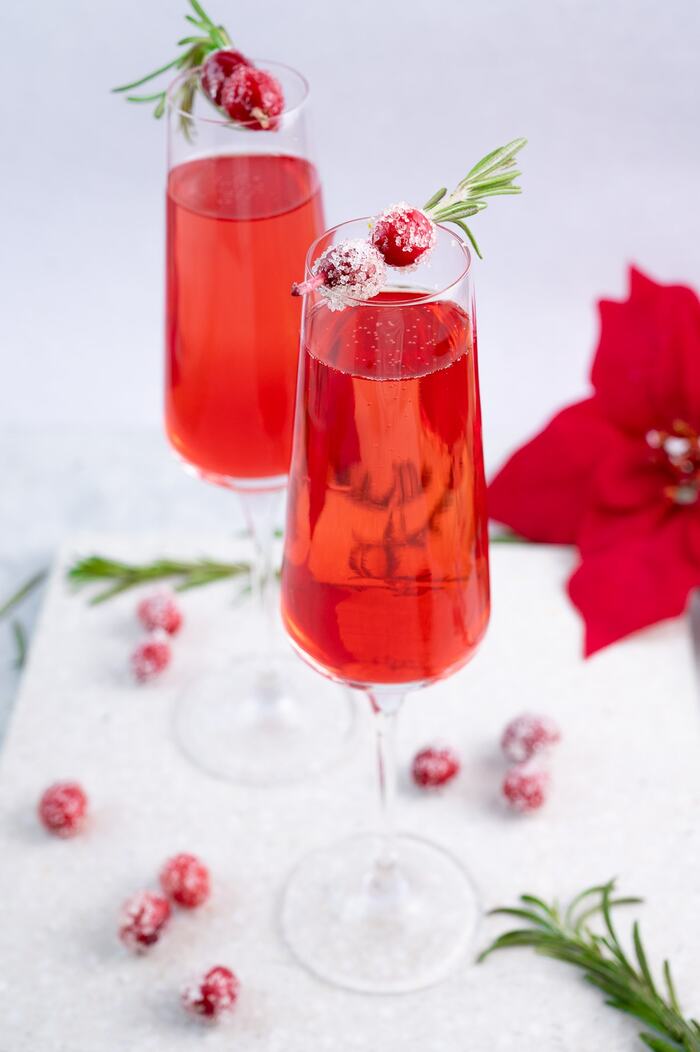 7. French Kiss
Now when you ask your crush if they want a French kiss, you can either get lucky or get them a drink. We've seen worse odds!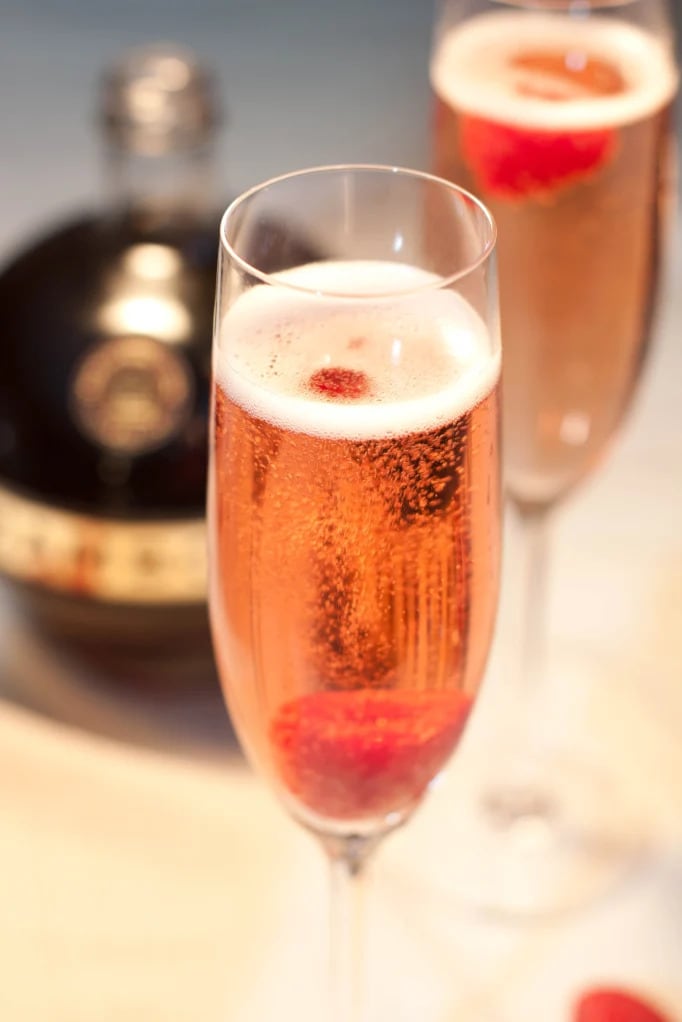 8. Christmas Champagne Cocktail
The weather outside may be frightful, but this cranberry, orange, champagne cocktail is delightful! Fun fact: it tastes great in July, too.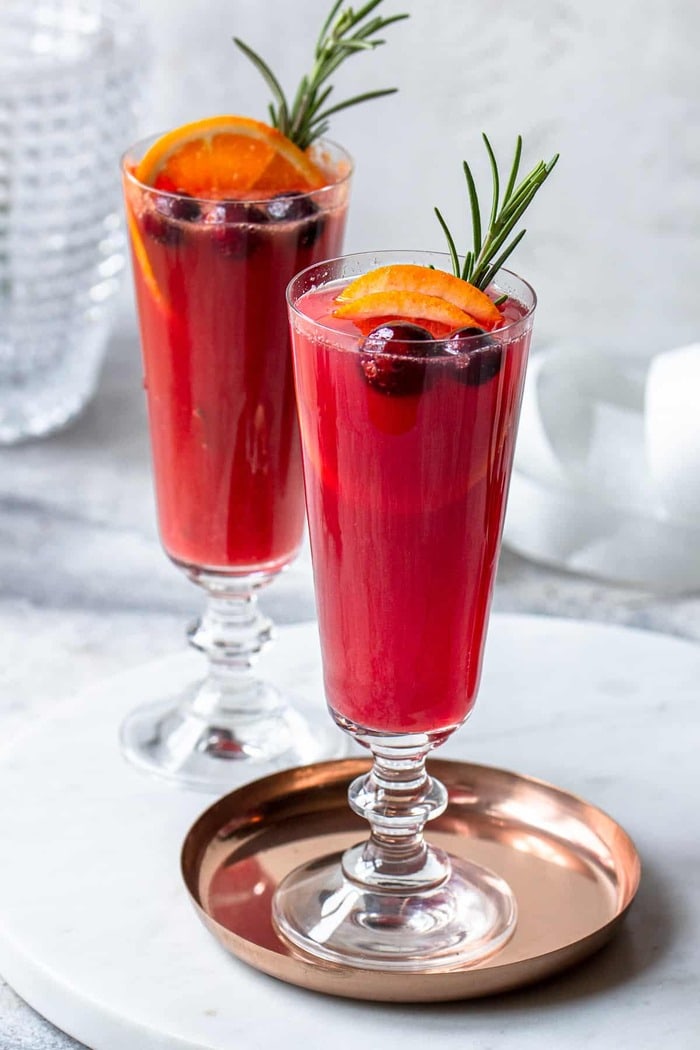 9. Blood Orange Champagne Sangria
Our doctor told us to eat more citrus. We assume that drinking it counts just the same?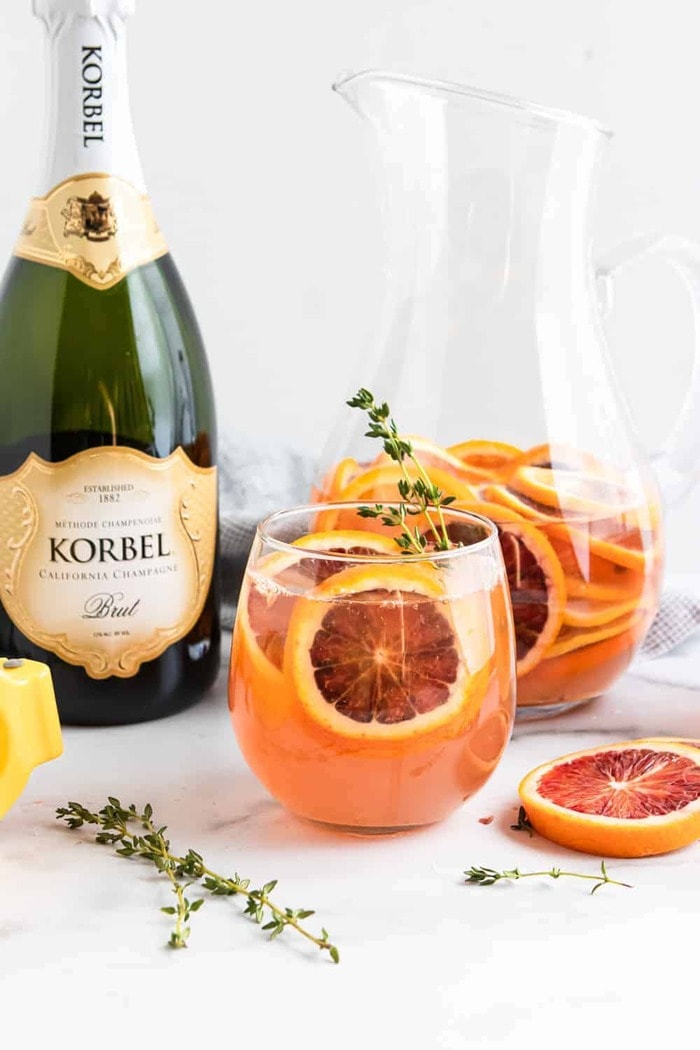 10. Aperol Spritz
We know someone is going to yell at us saying, "Aperol spritzes are made with Prosecco, not champagne!" But we've had one too many Aperol spritzes made with champagne, not Prosecco, to care. Rules are meant to be broken. And we found a really great deal on Korbel last week.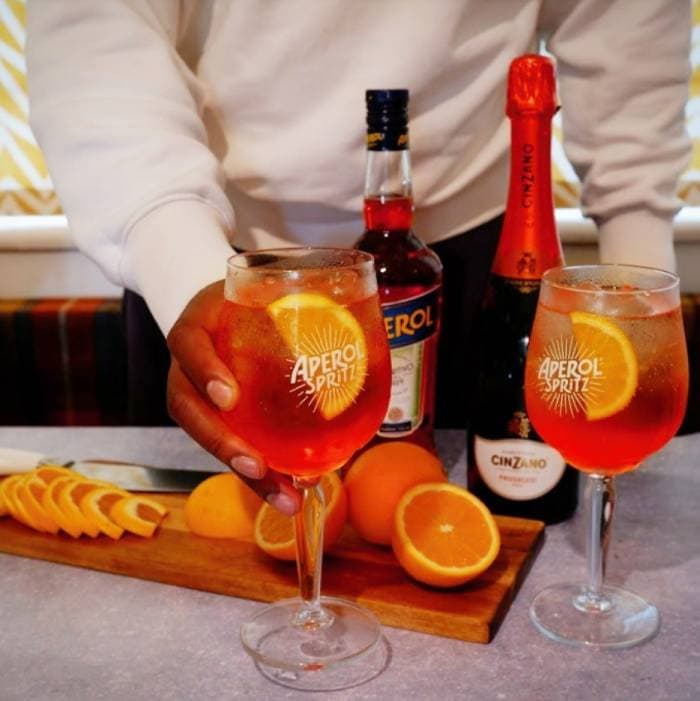 11. Zesty Vodka Champagne Cocktail
Listen up, brunchers. This zesty vodka recipe made with fresh mint and lemon is about to become your new favorite summertime drink. Sorry, Lana, but the sadness is long gone.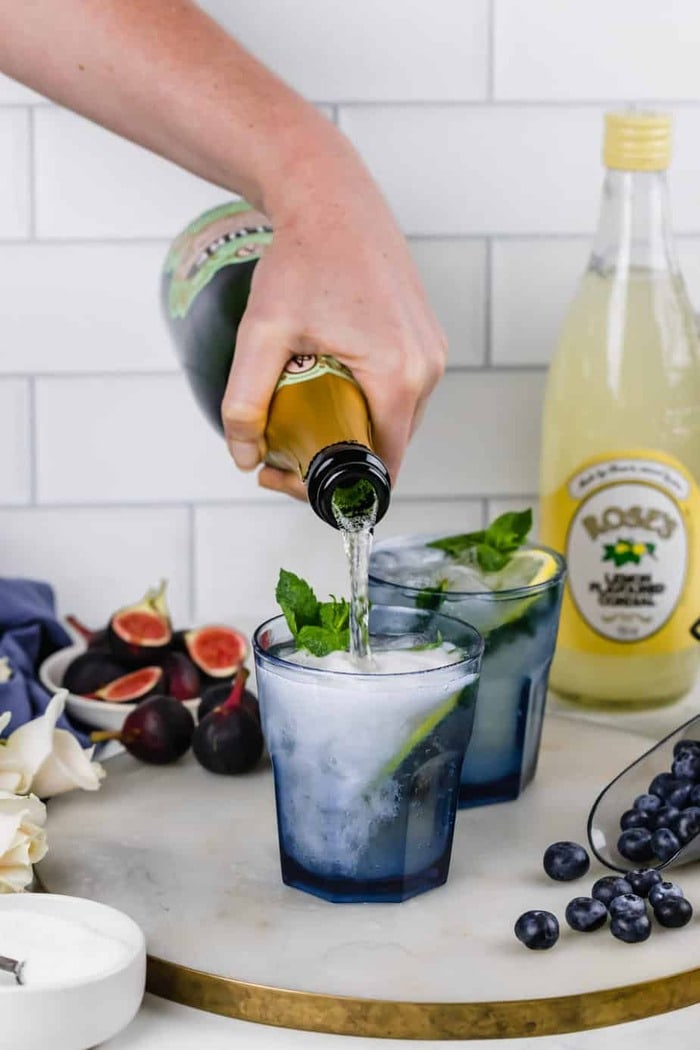 12. Rossini Cocktail
We'll bring the strawberry puree if you bring the sparkling wine. Then you'll ros-see-ni how easy this drink is to make! Yes we've already had one, why do you ask?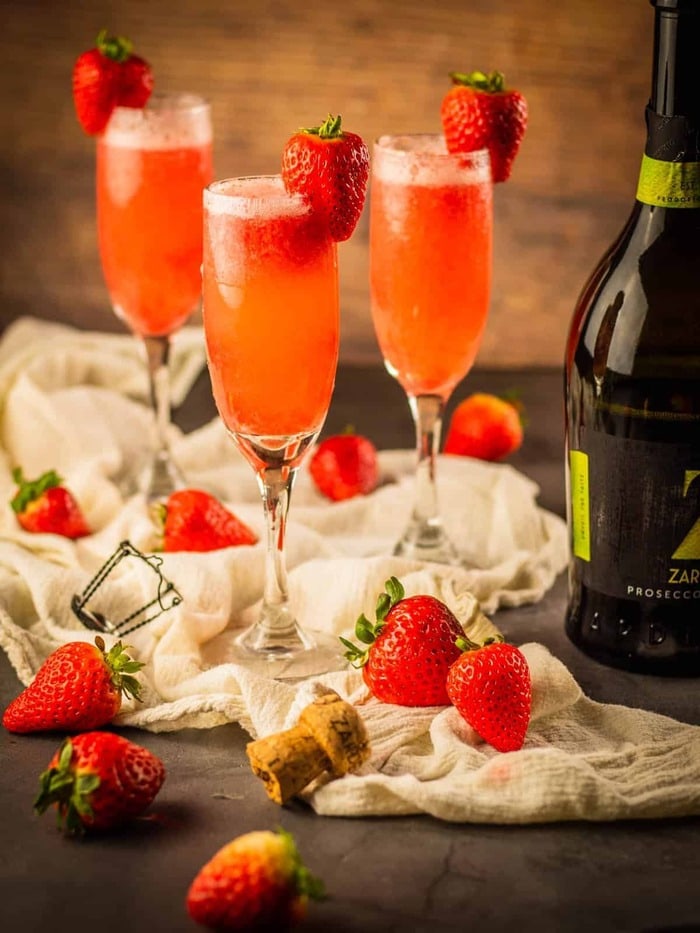 13. Sparkling Champagne Margaritas
If your last trip to Cabo wasn't exactly your classiest moment, redeem yourself with this champagne margarita recipe. It's made with the same base as your favorite tequila drink, but adds some bubbly on top for extra flair. Fun, but sophisticated! At least for the first round.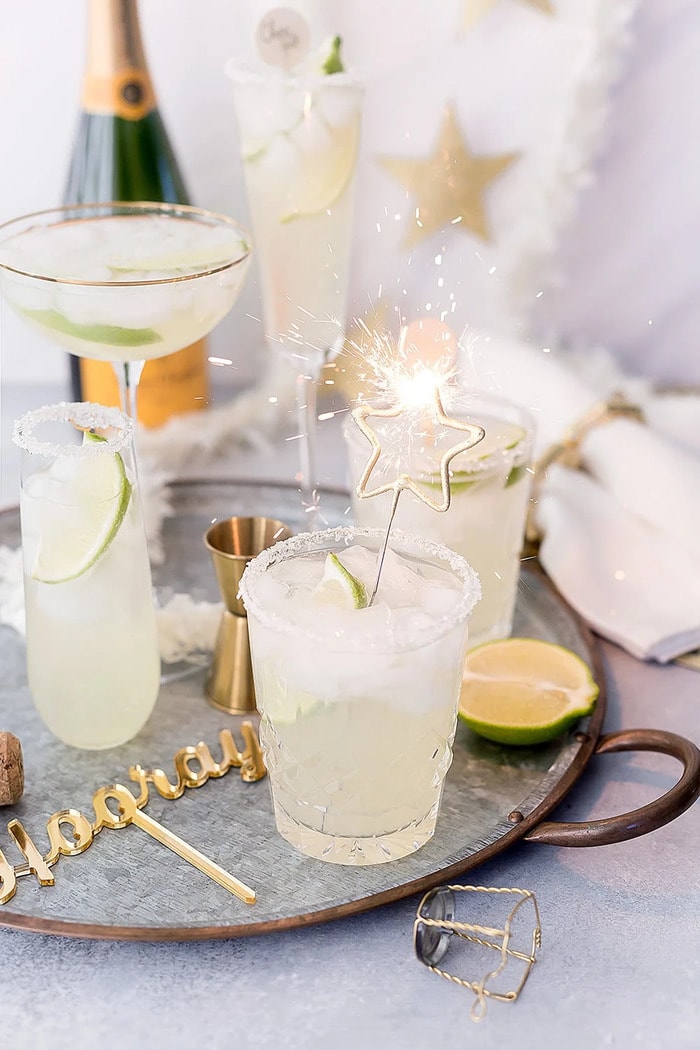 14. Grinch Mimosa
We never thought we'd use UV Blue after our college days, but it turns out that it's perfect for this Christmas cocktail! After a few sips of this vibrant drink, your heart will surely grow a few sizes. And your confidence that you can pull off bangs. (You might want to sleep on that thought.)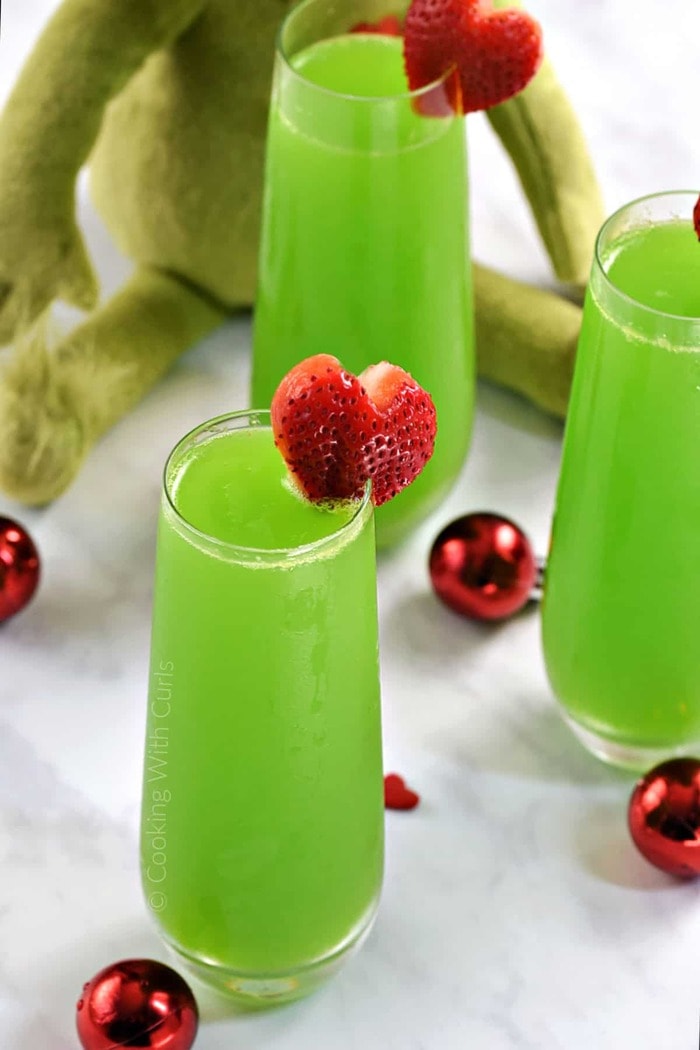 15. Caramel Apple Mimosa
Bobbing for apples? Or drinking caramel apple mimosas? We'll skip the waterboarding and opt for the latter.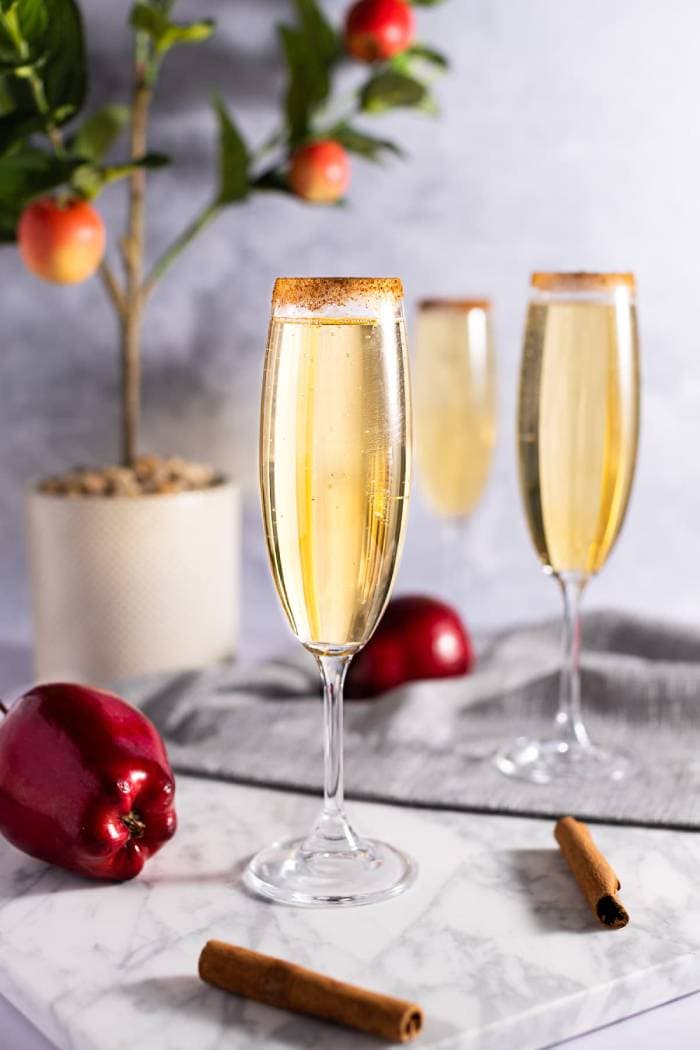 16. Gold Royal Cocktail
Is it really a New Year's Eve party if you don't have something covered in gold glitter? Save your cat the embarrassment and whip up this festive champagne cocktail instead.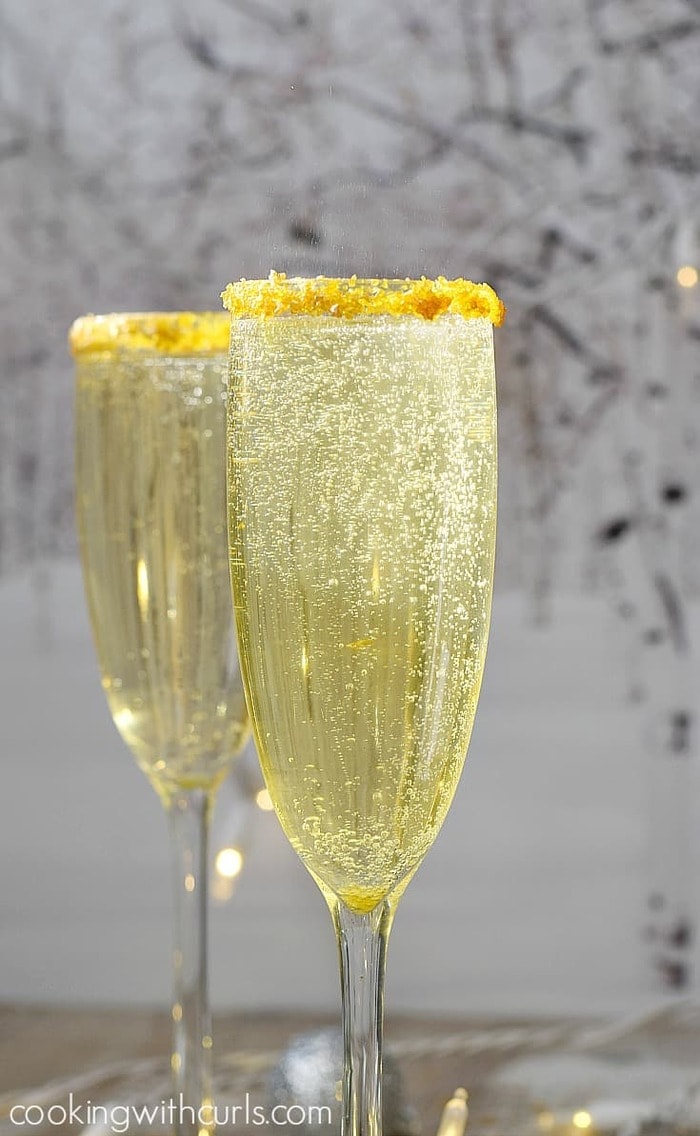 17. Cotton Candy Champagne
"Elevated State Fair" may sound like an oxymoron, but this cotton candy recipe is anything but confusing. How to get out of a fun house, on the other hand, will have us bewildered for days. Can someone come help us?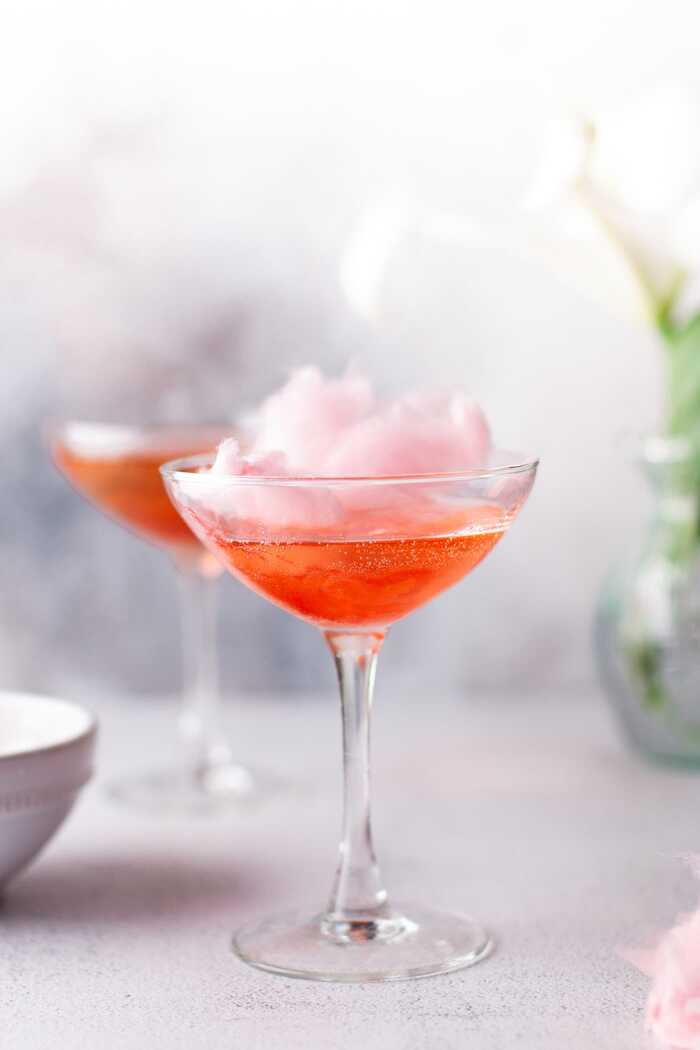 18. Grapefruit Mimosa with Rosemary
This refreshing take on a mimosa is giving us major vacation vibes. Just what we needed to get through this Tuesday work meeting!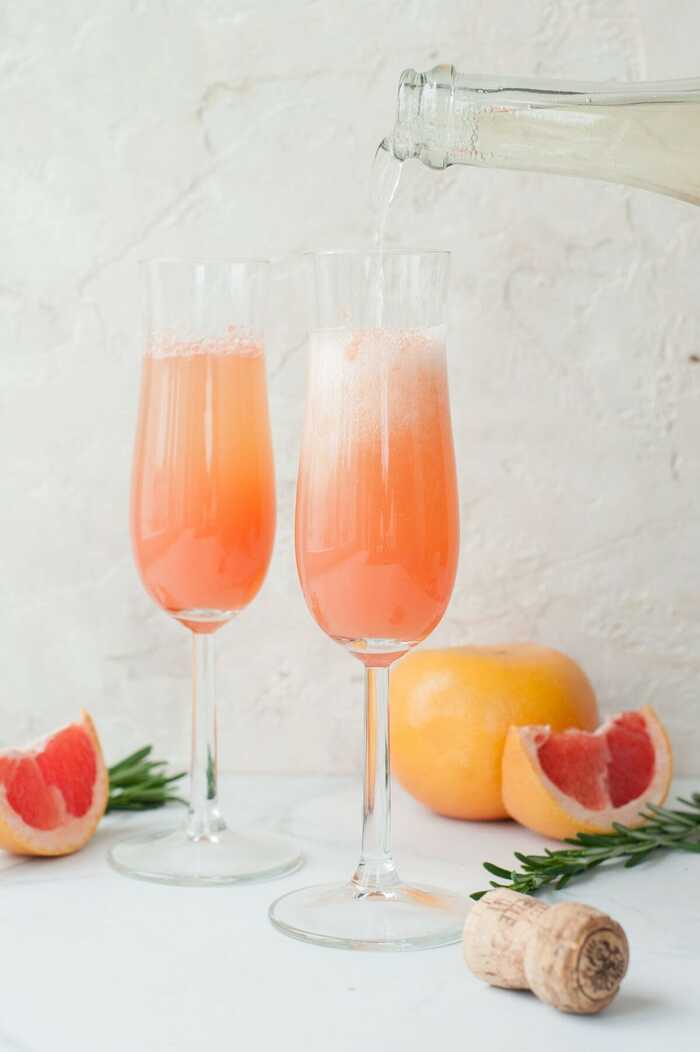 19. New Year's Eve Champagne Punch
Instead of slaving away at making craft cocktails all night, serve up this batch punch recipe at your next New Year's Eve party. Then you'll have so much extra time to play fun games, like "how do we get these numbered glasses onto the dog?"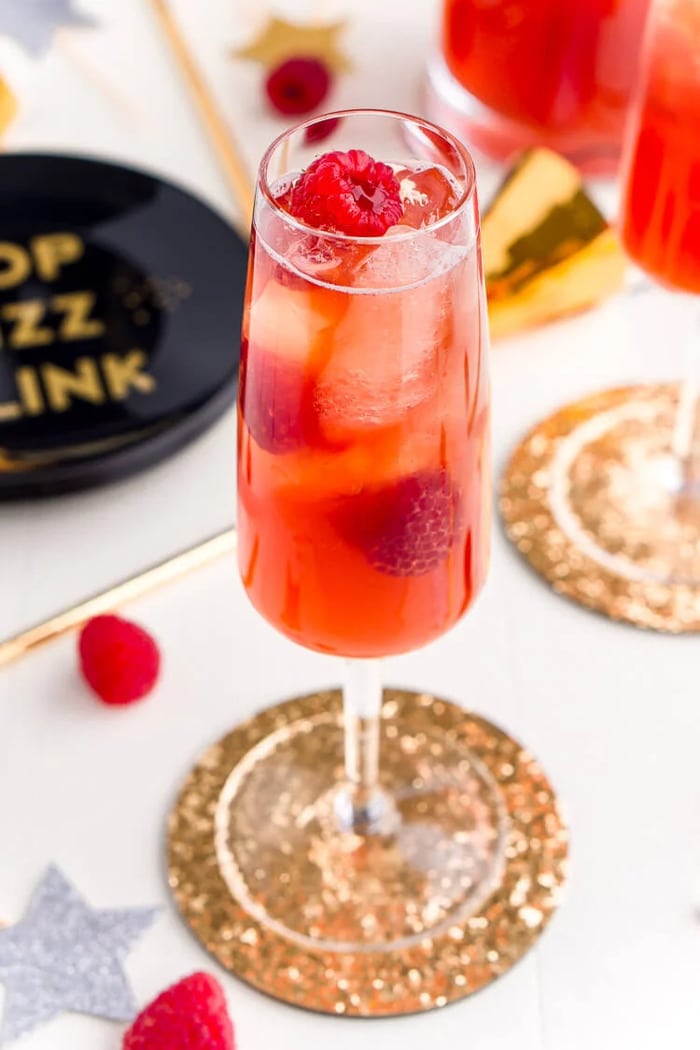 20. Raspberry Sorbet Bellini
A bellini is usually made with peach puree, but this genius recipe uses raspberry sorbet instead. Watch out, Elon. You've got nothing on this kind of innovation.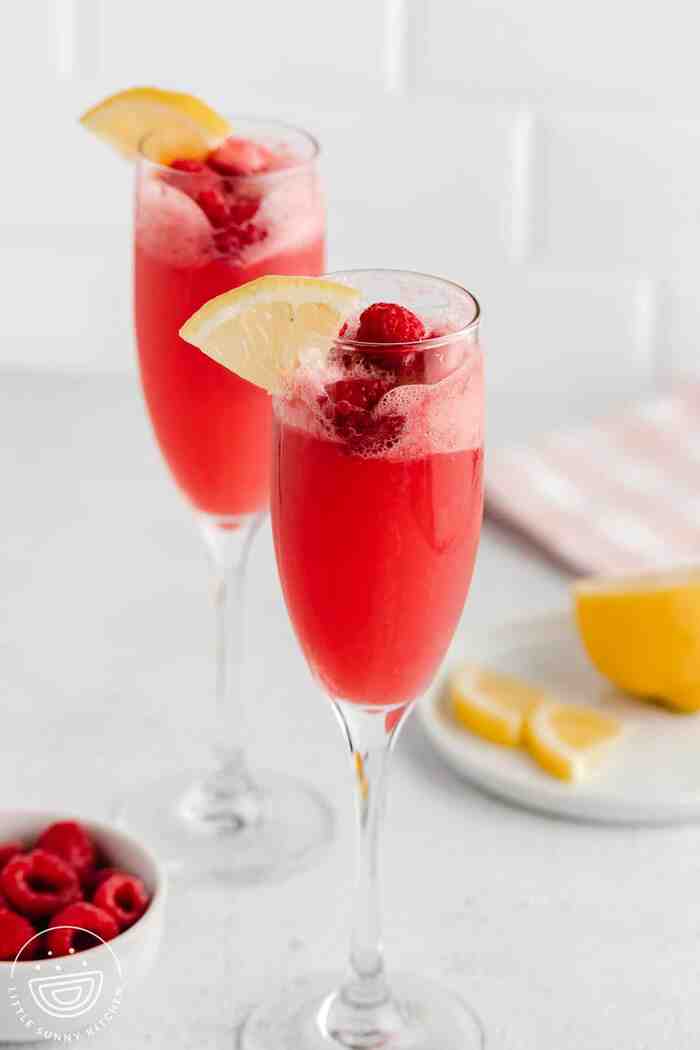 21. Negroni Sbagliato
Come on. You really thought we'd have a list of champagne cocktails without the negroni sbagliato? We know Emma D'Arcy prefers theirs with Prosecco, but in the spirit of sparkling wine, we'd like to hope they'd be okay with a champagne substitution. Stunning!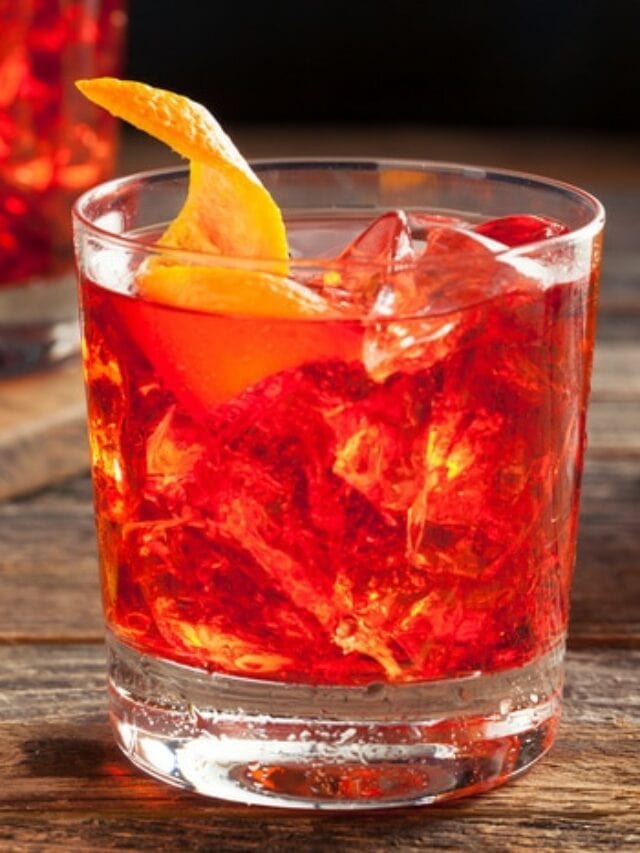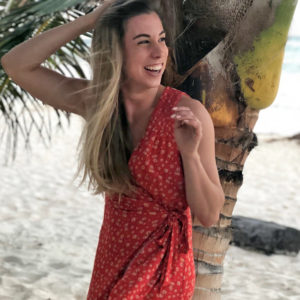 Latest posts by Hannah Rex
(see all)