There's so much more to the world's most popular cocktails than just the alcohol. You also need the perfect vessel to drink them out of. Different drinks call for different types of cocktail glasses to enhance their unique flavors and qualities. As opposed to red solo cups, which have a subtle taste of regret and sadness.
And despite what the 20+ James Bond movies will have you believe, martini glasses aren't the only option. There's a whole world of drinkware to explore and to be used to impress your bartender crush. They're just so good at listening.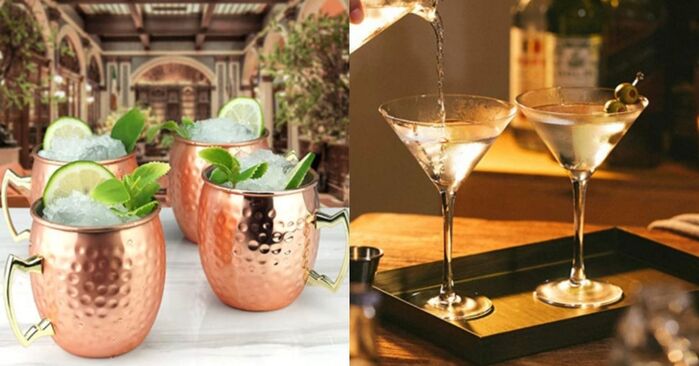 15 Types of Cocktail Glasses
1. Margarita
A typical Margarita glass features a double bowl with a wide mouth at the top, and then it tapers off to a long, thin stem. The size of the bowl allows for the drinker to enjoy a balance of flavors in every sip along the salt- or sugar-coated rim. Or Tajin, for the spicy gals.
The rumor is that Marie Antoinette had this glass modeled after her breasts. If that's what her breasts look like, we can only imagine what her bras looked like.
Perfect for:
Tommy's Margarita
Daiquiri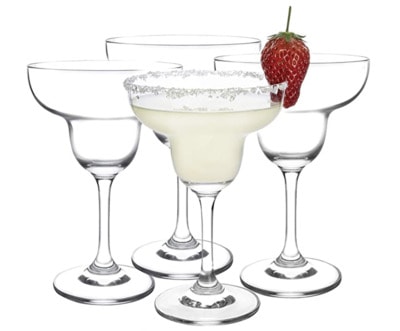 Available on Amazon.
2. Coupe
Coupe glasses have a shallow and rounded bowl and were originally created for champagne. However, their shape actually causes the bubbles to dissipate, leaving the drink as flat as the open soda you forgot in your car two weeks ago.
Coupe's are much better suited for cocktails that need to be strained and served without ice. Additionally, the curved edge help to prevent spillage, which is great news for klutzes everywhere.
Perfect for:
Manhattan
Bees Knees
Gimlet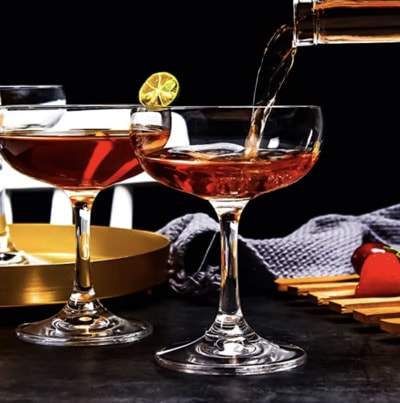 Available on Amazon.
3. Highball
We know that a highball glass just looks like your run of the mill tumbler. And, well…you'd be right.
It's meant to be filled with ice so it keeps the cold of the drink in and the sweat of your palms out. This is the easiest glass to make a mixed drink in, besides just swirling a bunch of juice and liquor in your mouth. Worth trying once, but not recommended in public.
Perfect for: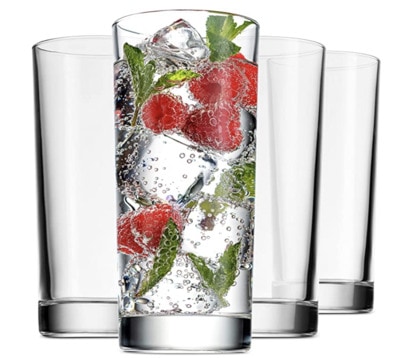 Available on Amazon.
4. Martini
When people think of a cocktail glass, most minds go straight to the v-shaped Martini glass. It's the glass of James Bond and fancy business people who constantly tell you that they're traveling for work.
The cone shape and long stem make it perfect for strained cocktails. This is referred to as "up" in cocktail speak. In case you were wondering, a "down" cocktail is what happens at the end of the night.
Perfect for: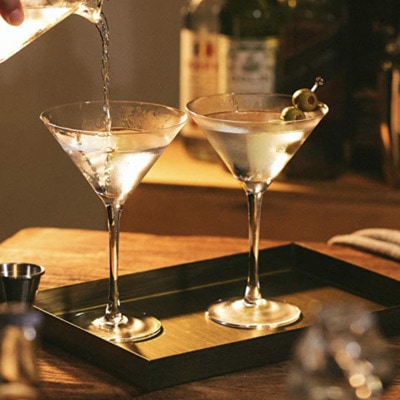 Available on Amazon.
5. Copper Mug
This mug is best known for being the vessel for the popular Moscow Mule. The metal of the copper holds in the cold so efficiently, it's nearly impossible to carry one of these without the handle. Unless you're Jon Snow. He's pretty tough like that.
The copper has been noted to enhance the flavors of the ginger and citrus in a mule. However, these mugs are typically lined on the inside with stainless steel to prevent copper leaching. The FDA really takes the fun out of everything.
Perfect for:
Dark n' Stormy
Mint Julep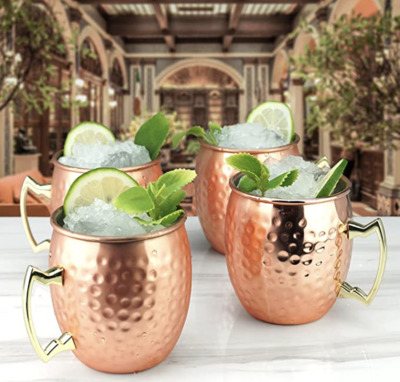 Available on Amazon.
6. Nick and Nora
Nick and Nora glasses are named for the famous fictional detective couple from Dashiell Hammett's The Thin Man. It's something of a cross between a Martini glass and a coupe, with a bell shape that's ideal for drinks served up.
The stem prevents the drink from getting too warm, and the name makes the drinker seem well read. No one has to know your yearly book list is filled with comics!
Perfect for:
Bamboo Cocktail
Nick and Nora Martini
Last Word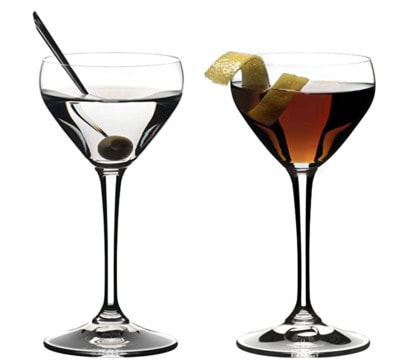 Available on Amazon.
7. Hurricane
This is another very recognizable cocktail glass, thanks to the delightfully tropical Piña Colada that every vacationer has to order at least once. Until they realize that sugar, cream, and liquor is a truly lethal combination.
The class has a curvy tulip shape, reminiscent of a hurricane lamp, and a short stem that is great for larger quantities of alcohol. The flared lip of the glass brings out fruity aromas and almost demands a garnish of pineapple. Or, if you prefer, Watermelon Hubba Bubba.
Perfect For: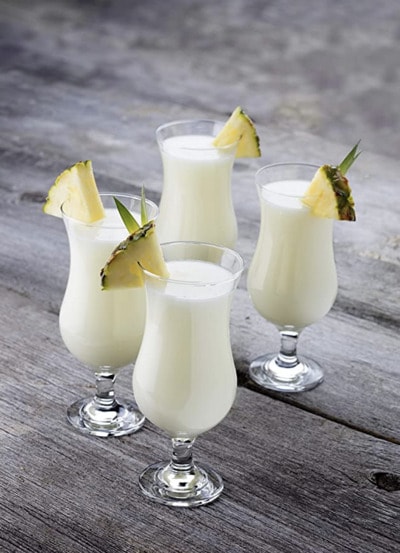 Available on Amazon.
8. Rocks
More familiarly called an Old Fashioned glass, the rocks glass is just begging for those artisanal ice shapes. It's also meant for drinks that have mostly spirits in them. You know, the ones that burn the hair out of your nostrils. Which is only slightly preferred over plucking.
The width of the glass allows for drinks to be mixed directly in them. Because who really wants to do a bunch of dishes after a night of imbibing?
Perfect for:
Old Fashioned
Sazerac
Boulevardier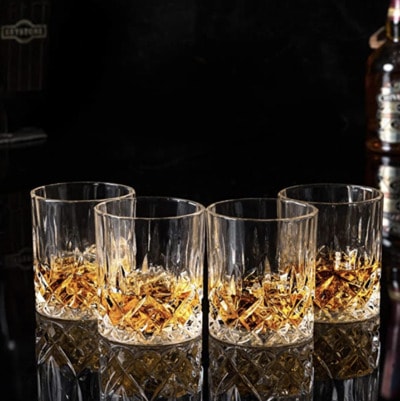 Available on Amazon.
9. Champagne Flute
Champagne flutes are of course used for champagne, and also any cocktail that features champagne. Or Prosecco. Or that store brand "sparkling wine" you buy for your least favorite coworker's birthday.
A flute's long and narrow shape is perfect for these drinks because it helps to keep the bubbles bubbling. Hey, it's hard work sometimes.
Perfect for: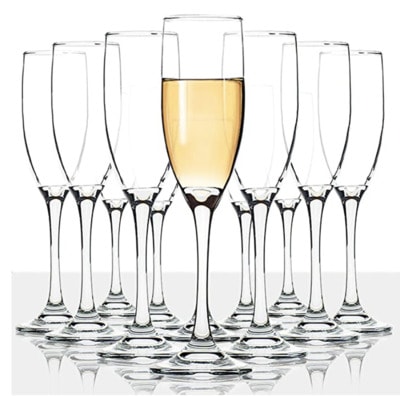 Available on Amazon.
10. Shot
Shot glasses are essential to any proper cocktail mixing. Because what's a formula without measurements?
These are also the perfect vessel for specialty shots, which are the star of every bachelorette party. We have yet to figure out a shot that prevents hangovers, but we think the secret ingredient might be water.
Perfect for:
Blow Job Shot
Lemon Drop
Scooby Snack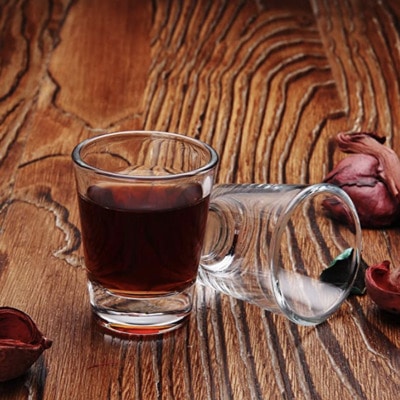 Available on Amazon.
11. Glencairn Whiskey Glass
Some people just like to sip their whiskey without any flourishes, and we respect that. The Glencairn is short tulip-shaped glass that channels all the scents of the whiskey into its narrow rim.
It's also helpful if you're trying to learn how to swirl whiskey to enhance its aromas…without splashing it all over yourself and enhancing your aromas.
Perfect for:
Single Malt Whisky
Irish Whiskey
Single Barrel Bourbon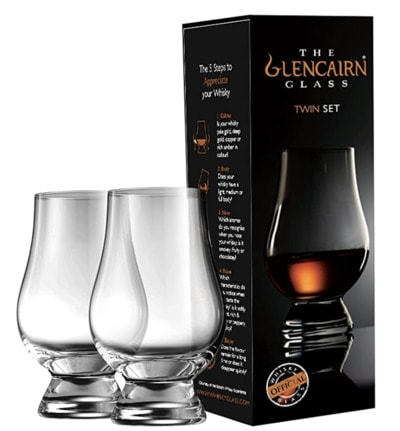 Available on Amazon.
12. Snifter
The snifter is often compared to (and confused with) the Glencairn. But its shape differs dramatically. Not quite as dramatic as season two of Euphoria, but that's definitely for the best.
This cocktail glass has a bulbous bowl that leads to a slightly more narrow top. The wider base allows you to hold it and warm the liquor inside, before the liquor warms your insides.
Perfect for: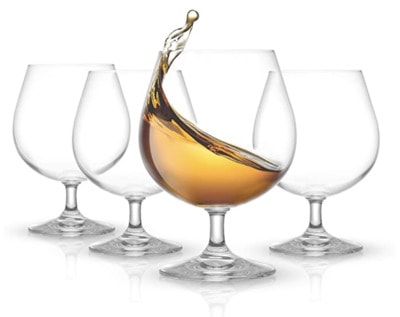 Available on Amazon.
13. Wine
Wine glasses come in two basic shapes: white and red. There are slight variations within those categories, but the general shape is the same.
White wine glasses have a smaller bowl, and red wine glasses have a longer stem. The wider bowl of a red glass allows the wine to aerate. Which is a fact you can throw out at your next dinner party if you want people to think you've been drinking more than Franzia.
Perfect for:
Wine
Aperol Spritz
Sangria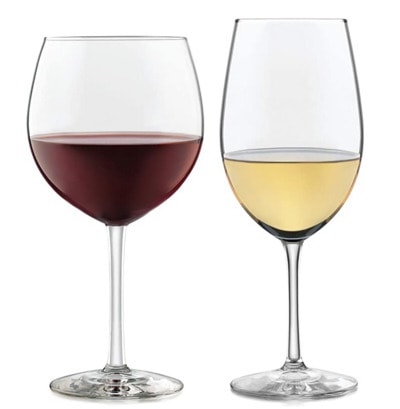 Available on Amazon.
14. Sour Glass
Sour glasses kind of look like miniature white wine glasses, but are used for cocktails made with liquor. Some versions of the glass have a lip that curves outwards to help enjoy the smoothness of the drink.
Sour glasses are specifically for sours, which is the third rule of Fight Club. Shoot, we don't think we were supposed to share that.
Perfect for:
Whiskey Sour
Aperol Sour
Sidecar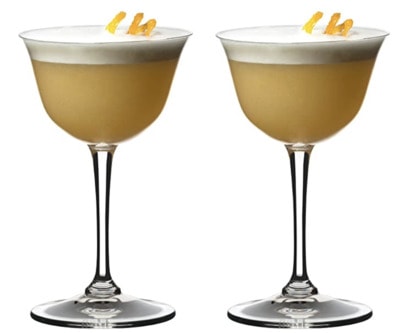 Available on Amazon.
15. Collins
A close cousin to the highball, the Collins glass is much narrower and slightly taller, allowing for a bit more liquid. The shape also allows for more ice to keep the drinks cool.
It's named after the famous gin drink, the Tom Collins. We're currently waiting for the Hanks, which is shaped like a volleyball.
Perfect for: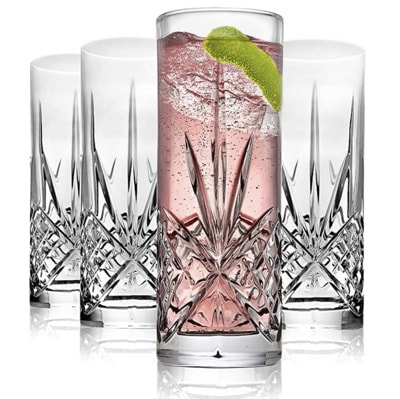 Available on Amazon.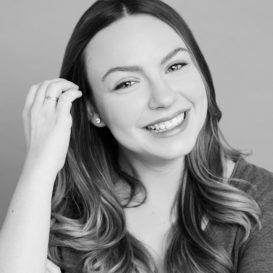 Latest posts by Katie Schindelheim
(see all)