You thought it was safe to venture out from the rock and explore some of the new hard seltzer flavors. But, we have some bad news. That's a hard no. Because Budweiser is coming out with the Bud Light Seltzer Ugly Sweater Pack.
We're down for a bit of wassailing after adding some Christmas spirit to our mug, but that usually comes in the form of bourbon. Or, if we're feeling fancy, a hot toddy. Not so much in the flavor of the beer that's been languishing in the back of the fridge for four months because it tastes like… egg nog.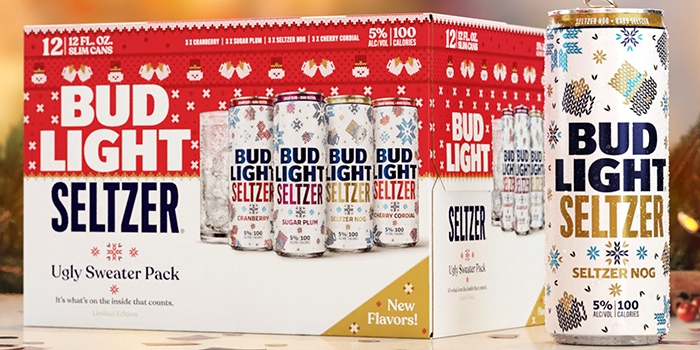 The Budweiser Ugly Sweater Pack Returns
Budweiser first launched the Ugly Sweater Pack in 2020 — which somehow was only last year — with four flavors, with only Cranberry returning this year. Ostensibly because you need something to mix into your Stoli.
Each of the Bud Light Seltzer cans is 100 calories, has less than 1 gram of sugar, and is 5% ABV, the same as White Claw.
The heavyweight beer brand isn't the first company to make intentionally weird tasting beverages. Jones Soda has been producing wacky flavored drinks for years, like their Turkey and Gravy soda that's making a comeback this year.
But… egg nog? We don't even want to drink regular egg nog. We definitely don't want to drink egg nog that tastes vaguely of cream soda and itchy sweaters.
Budweiser 2020 Ugly Sweater Pack Flavors
Apple Crisp
Peppermint Pattie
Gingersnap
Cranberry
Budweiser Ugly Sweater Pack Flavors for 2021
Sugar Plum
Cherry Cordial
Seltzer Nog
Cranberry
If you're truly inclined to try it (or don't know what else to bring to that ugly sweater party), most places will start carrying the 12-pack of the Bud Light Seltzer on November 1st.
features 12-ounce slim cans that feature an ugly sweater design. You can pick up a 12-pack of the Bud Light Seltzer, which includes three cans of each of the four varieties, nationwide beginning on Nov. 1. The Sugar Plum, Cherry Cordial, Seltzer Nog, and Cranberry beverages each have 100 calories, less than 1 gram of sugar, and 5% ABV, so let the holly jolly sipping begin!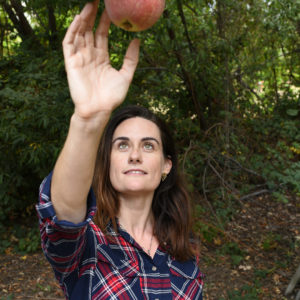 Latest posts by Rebecca Swanner
(see all)