Halloween is without a doubt one of the most creative holidays out there. So, that makes getting a manicure for this time of year especially fun. There are tons many directions you can go in when it comes to Halloween nails for 2022. And although it's possible, sideways is not advisable.
Whether you're looking for nails that will scare your cat the next time you go to pet her, or a mani that embraces the pumpkin spice element of the season, we found a cool, creative, and spooky set to inspire you.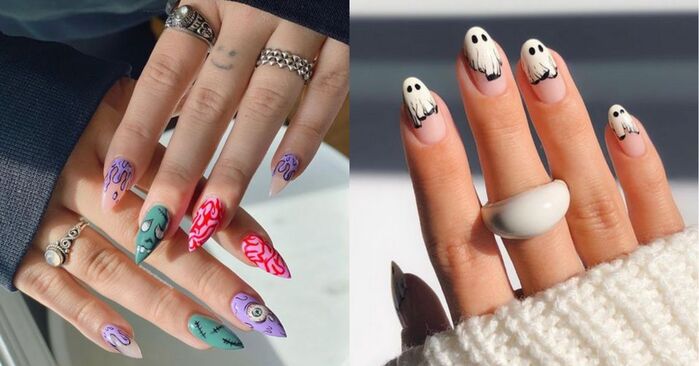 Dip into your orange bottle of polish and get to painting! Don't worry about who may or may not be…watching.
(It's probably your cat.)
25 Halloween Nails for 2022
1. White Halloween Press On Nails
Dark and spooky, meet light, airy, and spooky. Because we love an open floor plan. More room for haunting!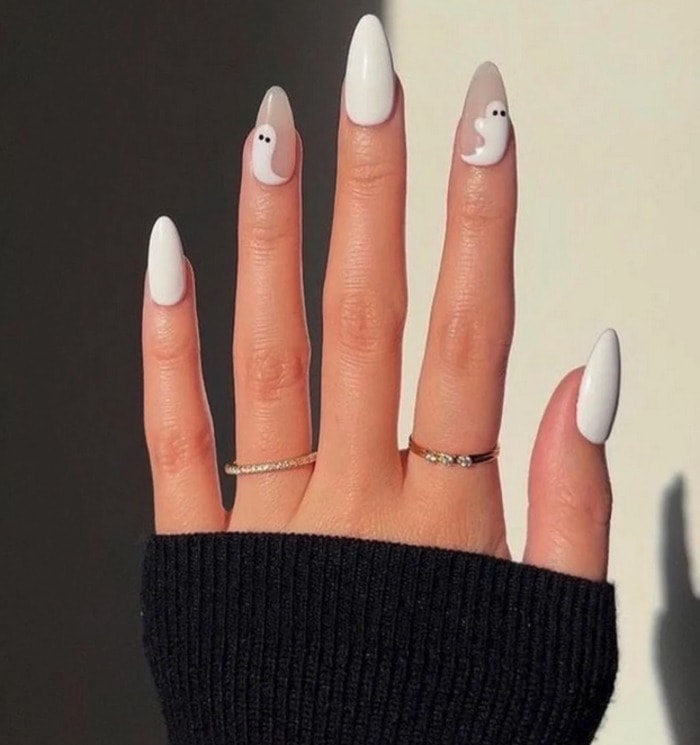 Available on Etsy
2. Monster Mash Nails
These Halloween nails take the "monster mash" literally. Pureed monster guts, anyone? We prefer ours liquified.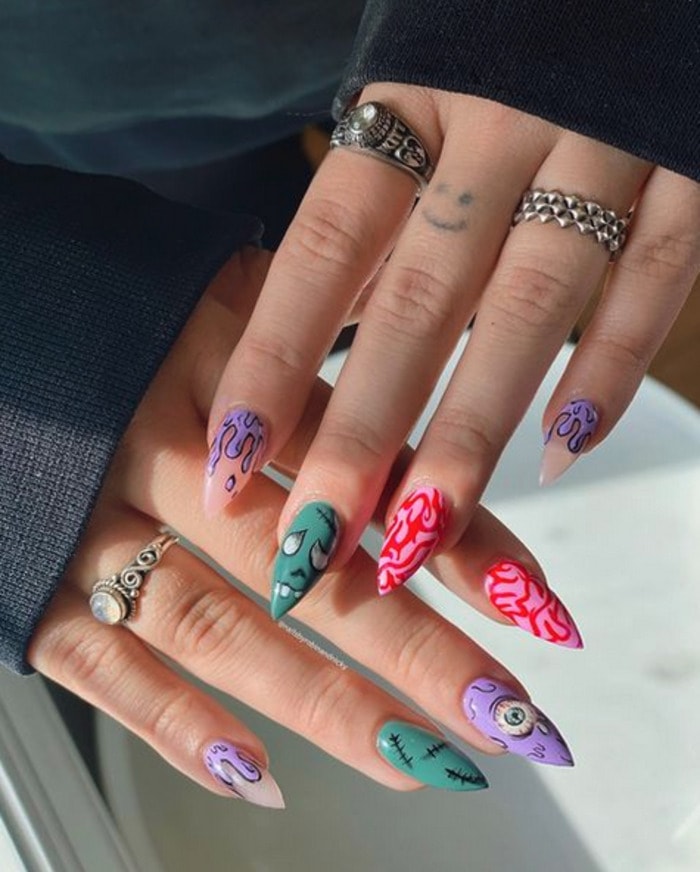 3. Candy Corn Press On Nails
If you end up buying this press on set, make sure you don't mix them up with the real candy corns. Not that you'll notice a huge difference in flavor.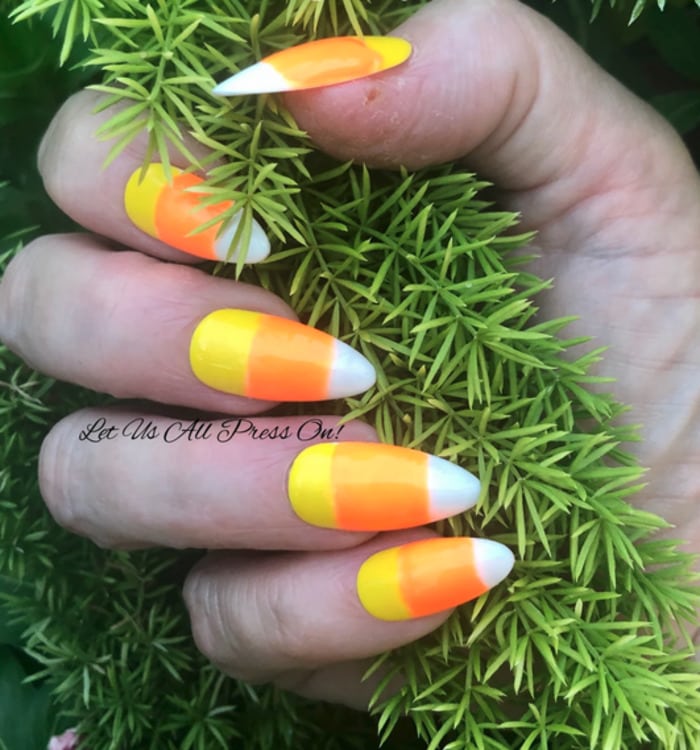 Available on Etsy
4. Purple Witchy Nails
Nails that match your potions? How aesthetic.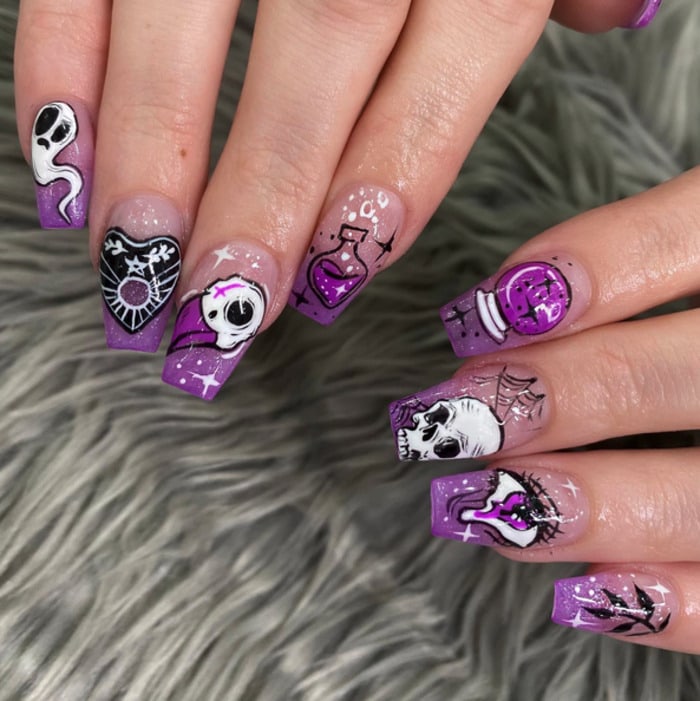 5. Pink Halloween Nails
If you're the kind of person that gets spooked by everything, these pretty pink Halloween nails are the perfect set for you. Unless your biggest fear is accidentally throwing a red top into the laundry with the whites.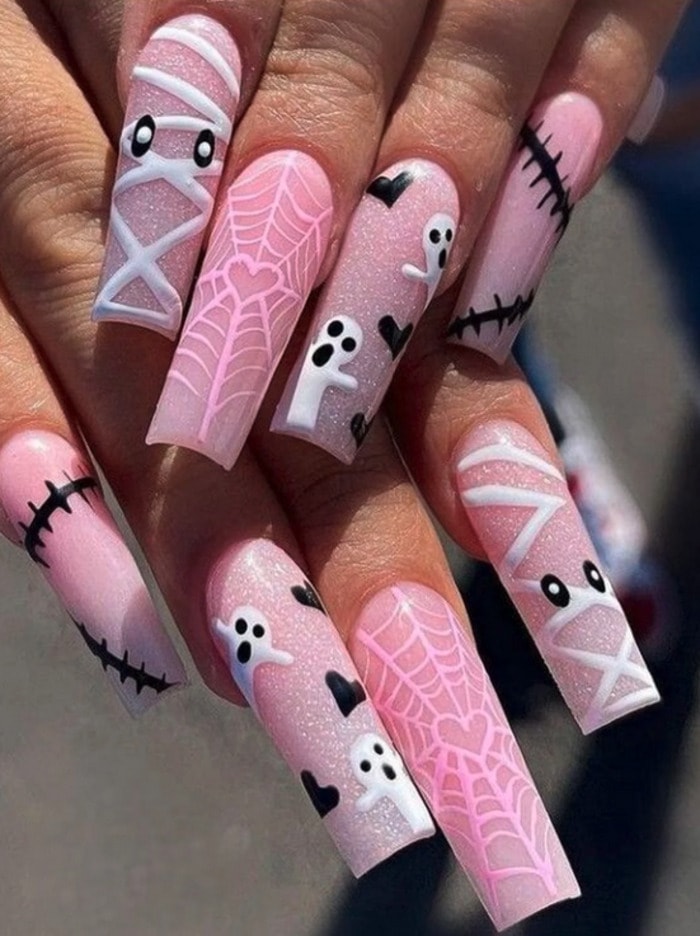 Available on Etsy
6. Skeleton Nails
We're obsessed with the fact that these skeleton nails glow in the dark. You know, like real bones. Haven't you ever been to a cemetery at night?
7. Moon and Stars Nude Press On Set
Halloween is known as spooky season for a reason. But you don't have to be scared silly to enjoy it. Just take these subtle by festive star and moon nails for example. Because we know not to go with another Chucky manicure this year…


Available on Amazon
8. Scream Nails
These nails might not make you Drew Barrymore. But if you spend enough time out in the rain, you have a chance. IYKYK.
9. Mismatched Halloween Nails
Combine the best parts of several of the above Halloween nail designs for this amalgamation of Halloween nail art. Maybe save the blood and guts for the next set?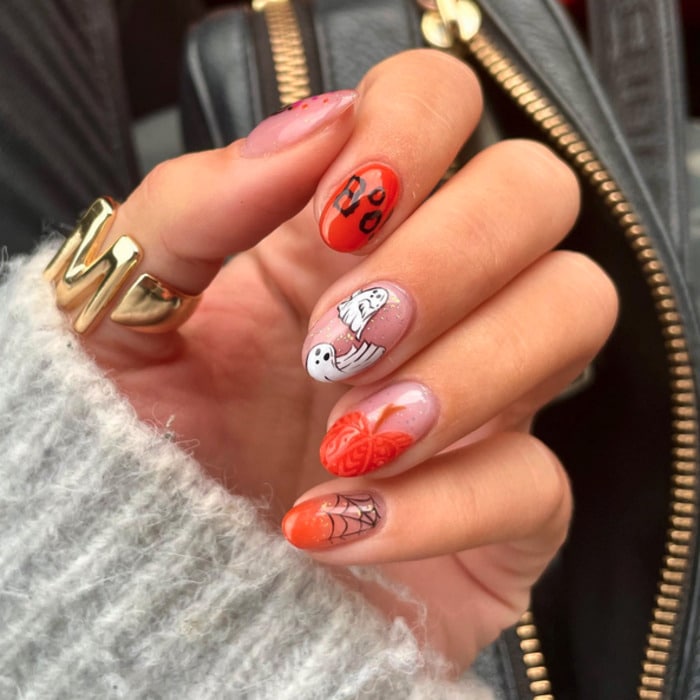 10. Beetlejuice Press On Nails
We'll take beetle juice over ladybug juice any day. Less…crunchy.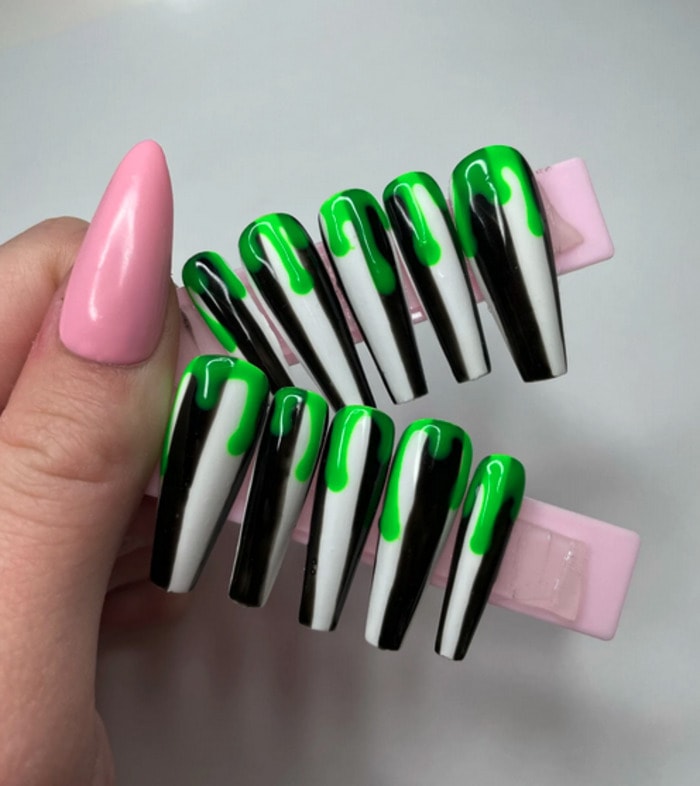 Available on Etsy
11. Horror Villain Nails
They always say that if you're being attacked by a killer, make sure you get some of their skin under your fingernails for identification purposes. You can see where this joke is going.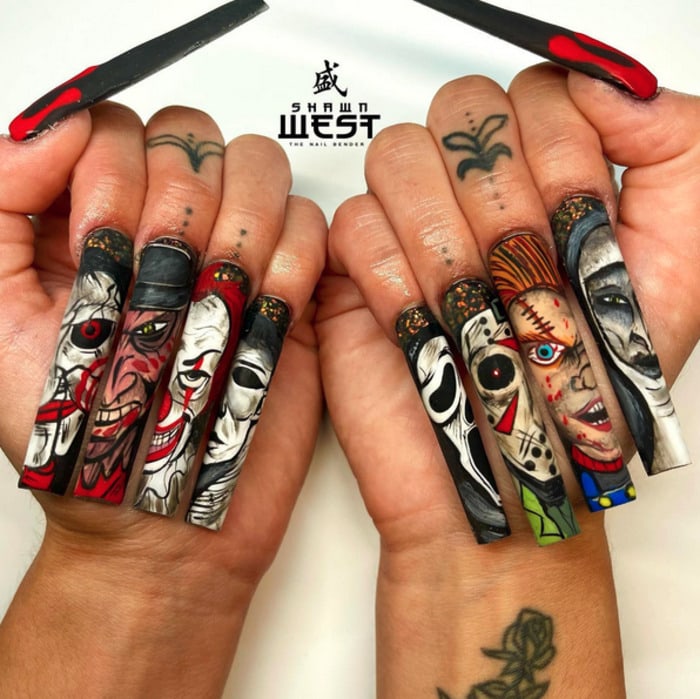 12. Trick or Treat Nails
Whose feet do we have to smell to get a set of these nails?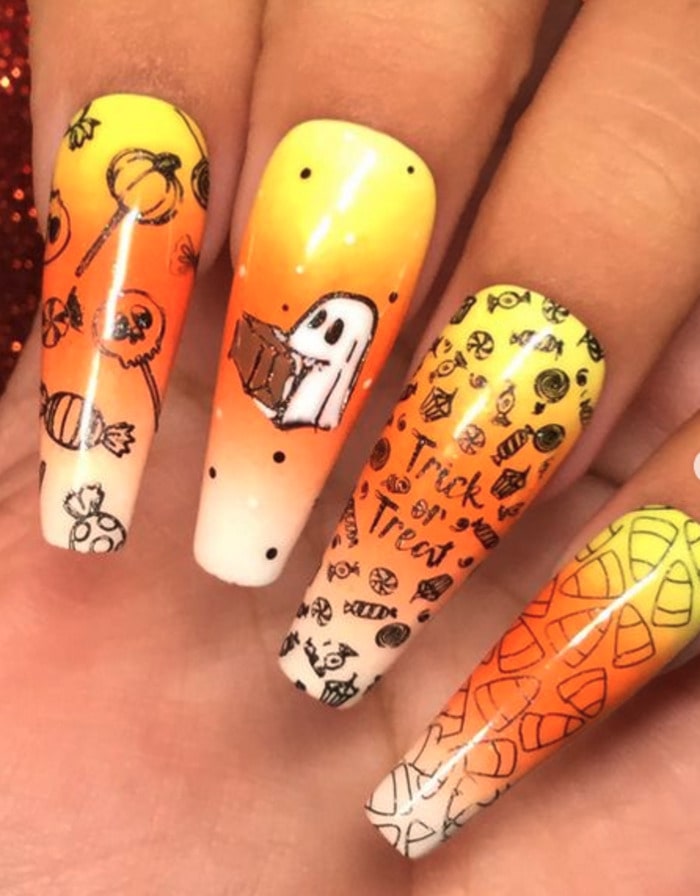 13. Spider Nails
A black widow doesn't usually show its hand so easily. But that's mostly just because its nails aren't this cool. And it ate a big breakfast.
14. Halloween French Tips
As a society, we've moved away from boring French tips. Now, we have these cool Halloween French tips. Let's tackle traffic next!
15. Green Chrome Snake Nails
Mismatched nails are a huge trend right now. And apparently, mismatched lengths are coming into style, too. Good news for nail biters!
16. Black French Tip Ghost Nails
Ghosts and graphs: the perfect set of nails for architects and anyone looking to be haunted by failed calculus tests past.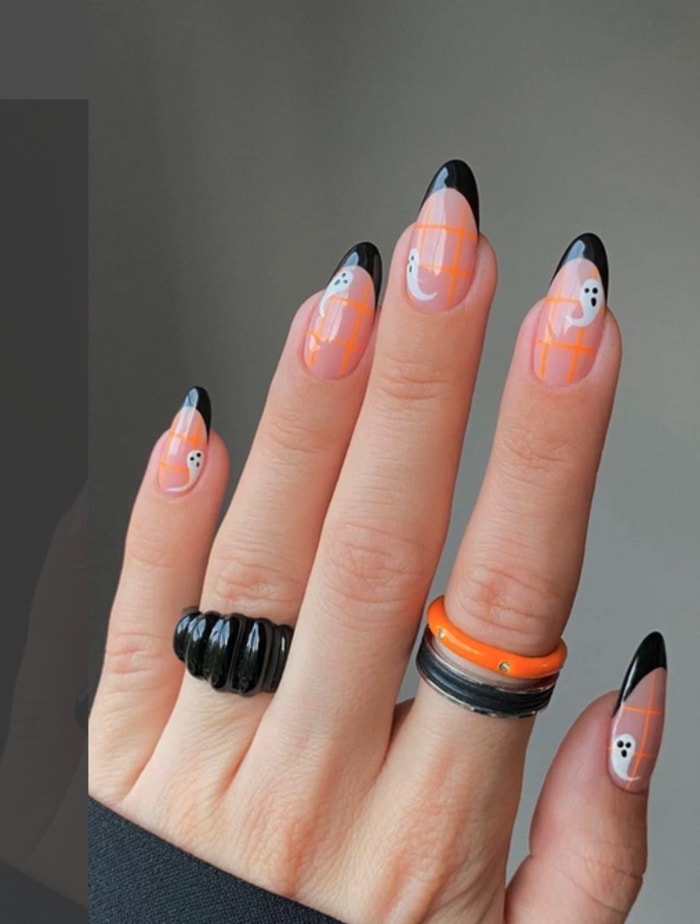 Available on Etsy
17. Spooky 3D Halloween Nails
These 3D nails are too realistic, you say? We say not realistic enough! Our eyes won't look this sparkly no matter how many unicorns we steal eye cream from.
18. Vampire Fang Nails
For a creative spin on Halloween nails that anyone can DIY, these fang nails will have everyone saying, "aww your nails broke!" right before you attack. Never let them know your next move.
19. Pink Pumpkin French Tips
Our local pumpkin patch only carries orange pumpkins. You can imagine how basic our pies look.
20. Haunted House Nails
Our theory is that nail techs don't drink coffee, because our jittery hands could never.
21. Ghost French Tips
We're learning that basically anything can be a French tip now. We'll be using donut frosting for our next set.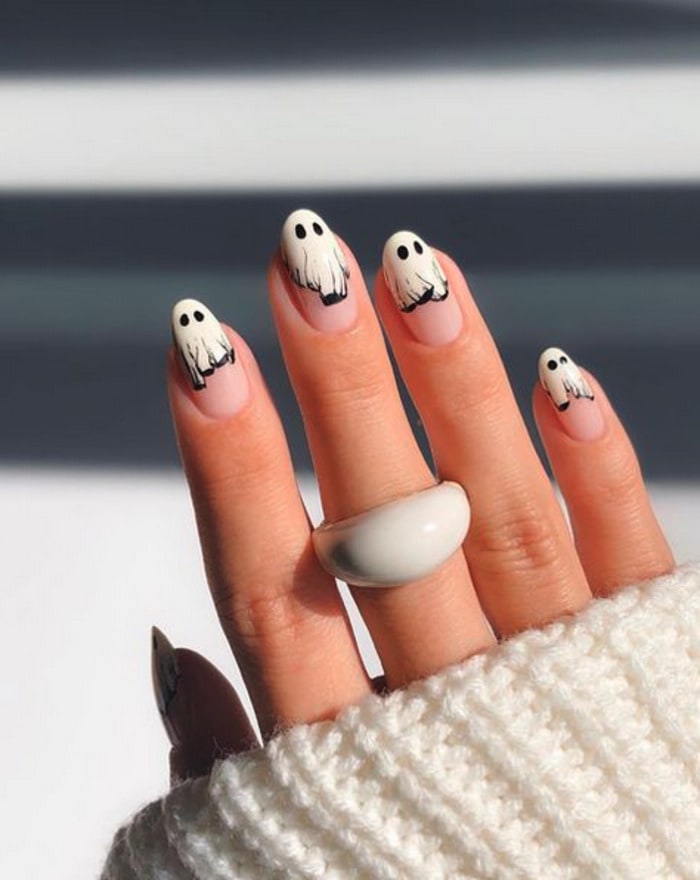 22. Powerpuff Girls Halloween Nails
Powerpuff girl nails, but put them in costume for a Halloween theme? Yes, yes, and no. Buttercup always has to be difficult.
23. Hocus Pocus Nails
Someone get us the number of whoever does the Sanderson sisters' lip injections, because they've lasted over 300 years and still look plump AF.
24. Creatures of the Night Nails
Bats, cats, and no rats. So, it's definitely not NYC.
25. American Horror Story Nails
We'll take Evan Peters any way we can get him, and that includes painted onto our hands. Okay, but not as Jeffrey Dahmer, though.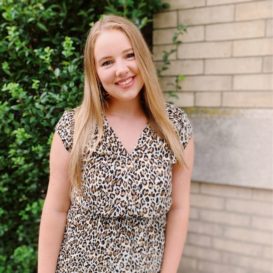 Latest posts by Laura Davis
(see all)