You know you love Starbucks when your morning ritual extends all the way to your fingertips. And not just because you didn't secure the lid of your coffee cup properly.
These inventive Starbucks nail art ideas that feature everything from the mermaid logo to the PSL are perfect for any fan of the coffee chain. They're also a great way to signal to someone want another coffee. Just give them the finger! Er, not that one.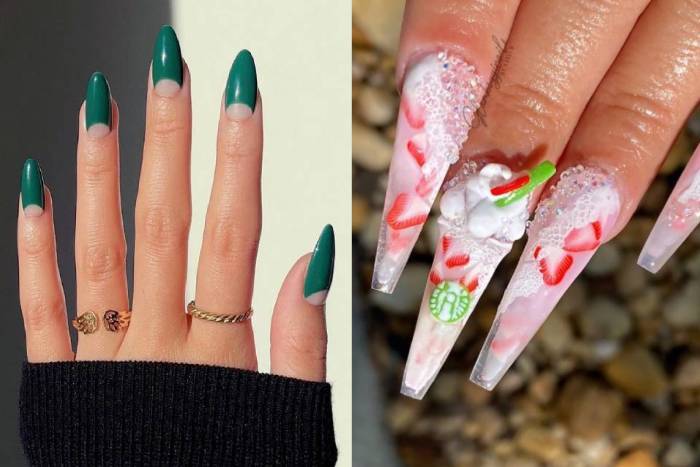 Starbucks Nail Art Ideas to Sport On Your Next Coffee Run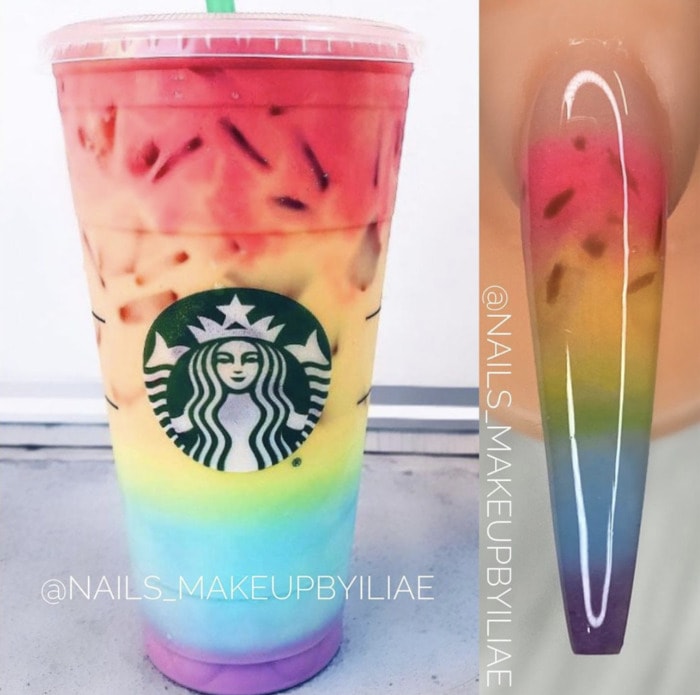 2. These Starbucks nails have everything. Coffee beans. The mermaid. The beautiful image of the coffee blending into the milk before our very eyes… uh, yes, we'd like to order, thanks.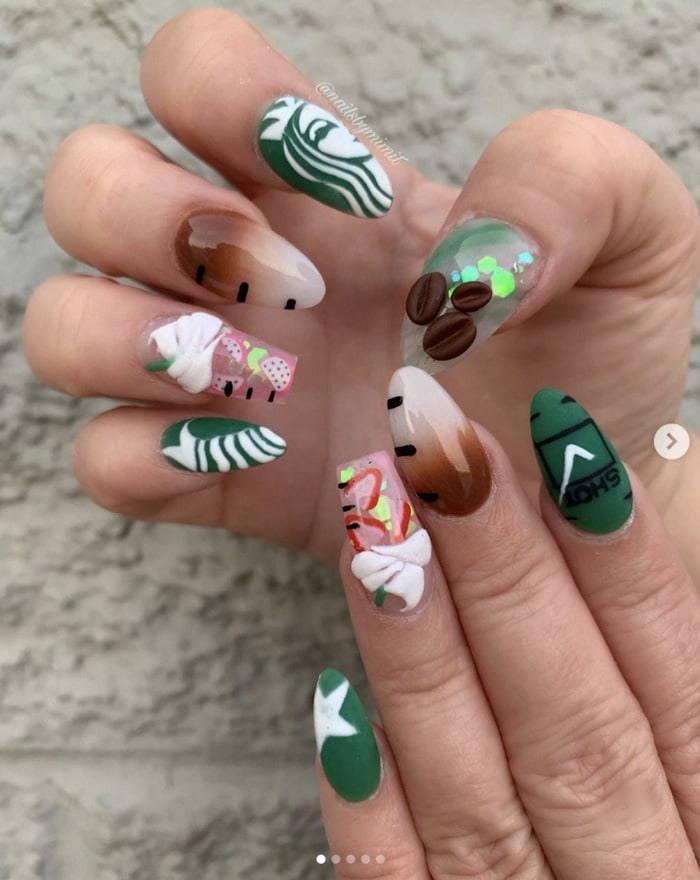 3. Are you even a Pink Drink fan if you don't have Pink Drink nails complete with strawberries and bubbles? Ok, we guess you can save the bubbles for your bath tonight.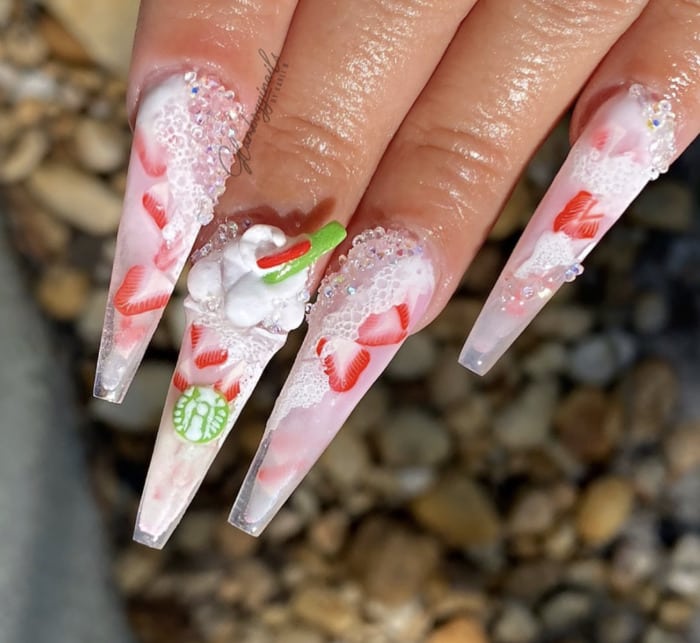 4. We didn't squeal that loudly when we saw the miniature coffee cups on these Starbucks nails. But they did ask us to leave the library.
5. The swirls, the straw, the nostalgia for summer. We're working on our haikus.
6. These stiletto nails weren't messing around when it came to getting the Starbucks holiday cups. Neither was the person they're attached to.
7. For a manicure that says, "I am the present." And also, "I need more coffee."
8. These pretty Starbucks nails blend old school lacy designs with new world consumerism. Delicious!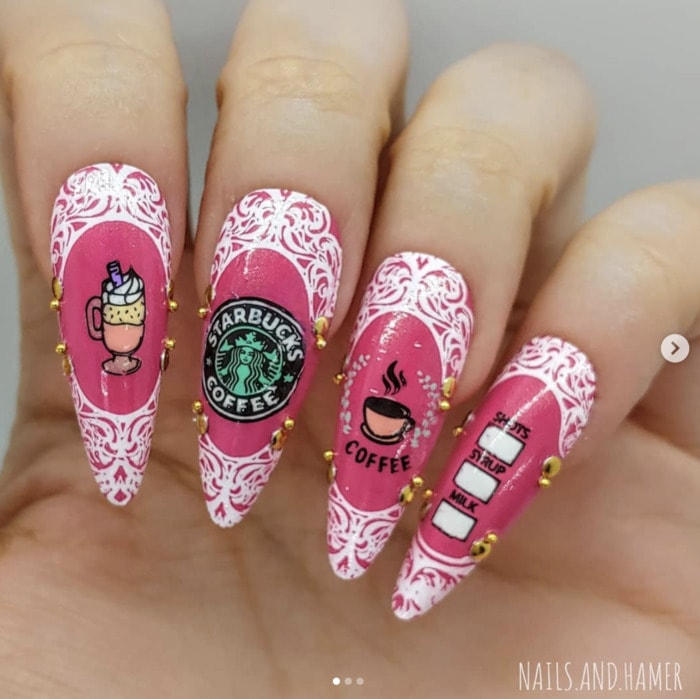 9. It's no surprise that these press-on nails are sold out for now. Mostly because we bought all of them. Luckily you're good at free-hand, right?
10. Starbucks 'n Sunshine doesn't just know what seasonal cups are coming next, she also has her nail game on point. Or, in this case, almond-shaped.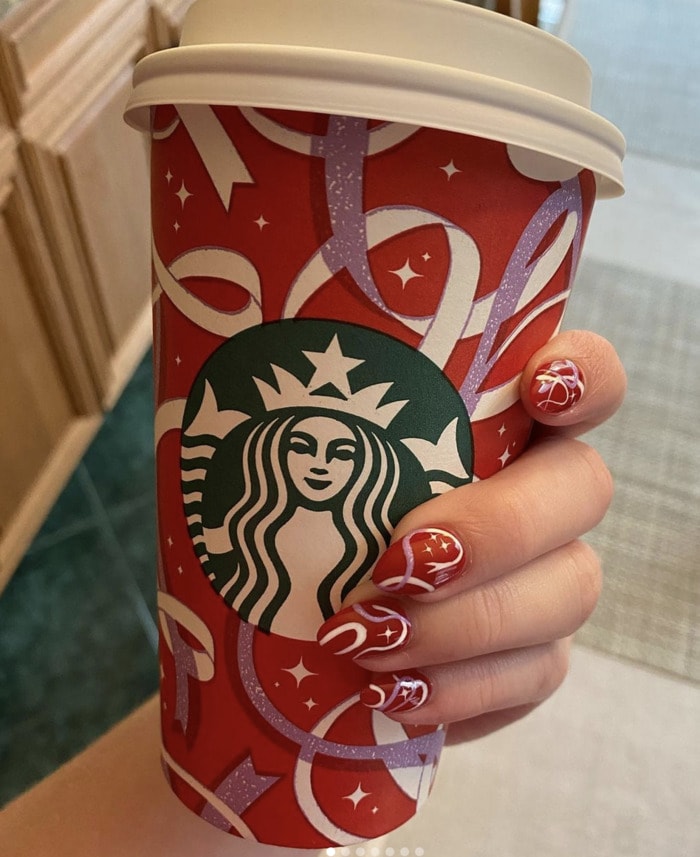 11. Just a live shot of us before coffee.
12. For a more subtle and minimal nod to the coffee giant, we love these dark green French tips. Yes, the negative half moon is intentional. No, we didn't run out of polish.
13. Showcase your favorite Starbucks coffee order with this classic-looking nail art design. And by favorite, we mean the whole menu.
14. Pay homage to your favorite Starbucks holiday cup design of yesteryear with a decorative manicure. You should probably toss that latte by now.
15. You know you're a fan when your holiday nails match your holiday coffee cup.
16. Embrace your basic with this pretty pink and gold glitter manicure, complete with Frappuccino.
17. Finally, if you must have your coffee with you at all times, there's this drinkable manicure.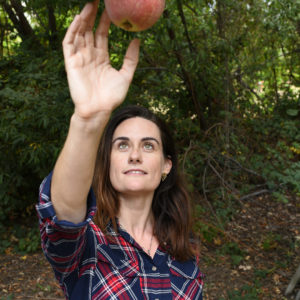 Latest posts by Rebecca Swanner
(see all)