By the time the seventh month of the year rolls around, summer is in full swing. School is out. Beach days are the norm. Ice cream is a food group. But if none of those things are doing it for you, we suggest trying out some (or all!) of these July nail design ideas.
Your nail tech will love the extra cash rolling in for her lake house downpayment.
We've got red, white, blue nail art for the 4th of July and ice cream cones for National Ice Cream Month. This year we're also seeing tons of Barbie-inspired manicures, and of course plenty of bright, summery colors and tropical designs.
So start your screenshotting now, because there's a lot to cover this month! We'll get started right after another scoop of mint chocolate chip…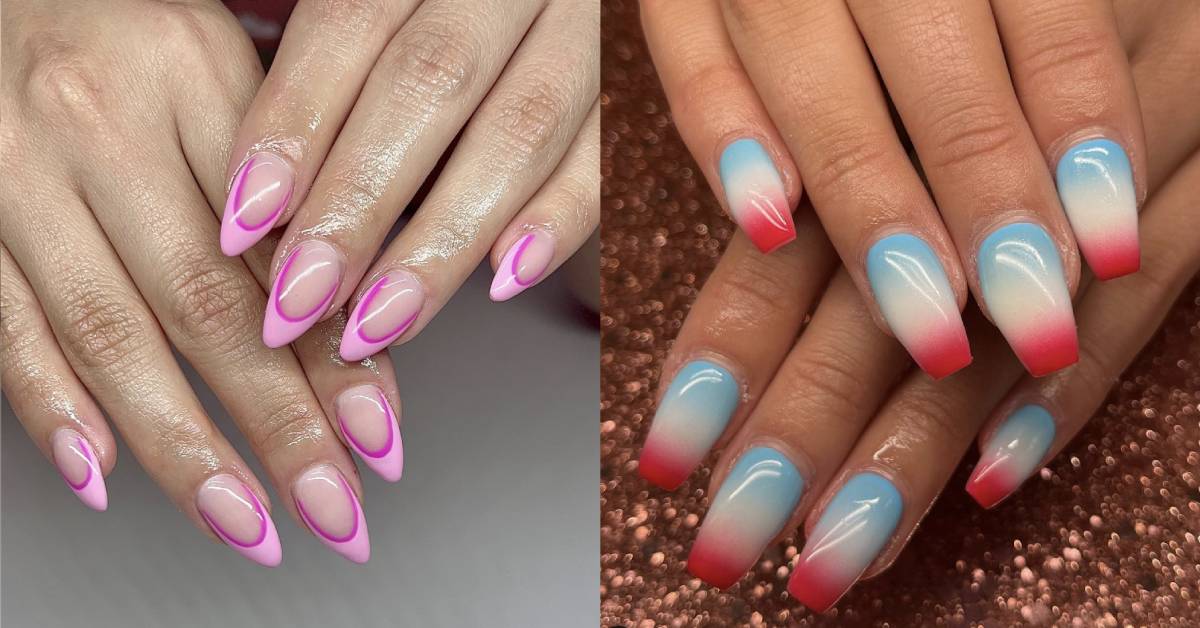 July Nail Design Ideas
1. Stars, Strawberries, and Gingham Nails
If this isn't the blueprint for your 4th of July outfits, then we don't know what is. Well, other than those Old Navy shirts.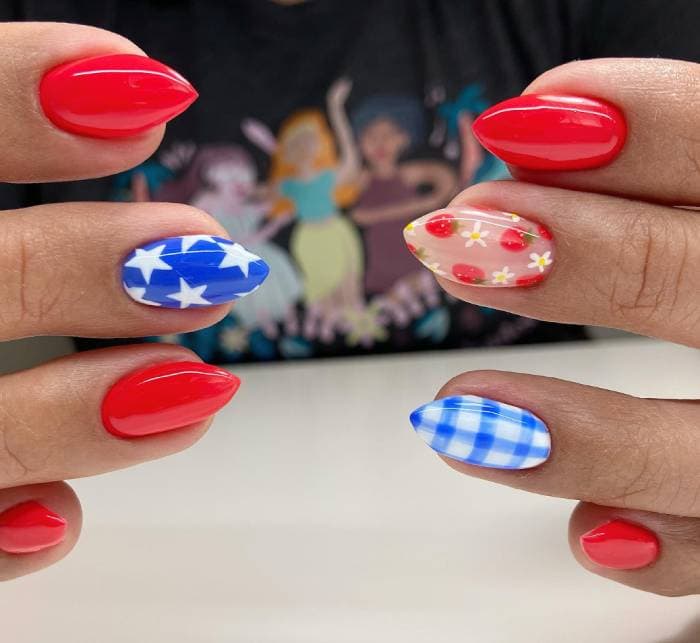 2. Neon Reverse French Tips
Toucans everywhere are jealous. And Skittles. And the rainbow at a neon rave. Man, these nails are popular!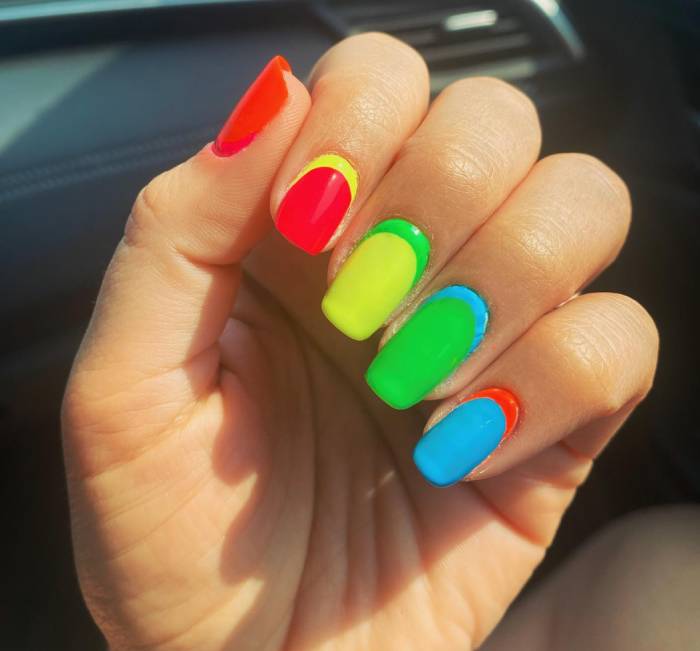 3. Cherry Nail Art
It's a lot more acceptable to tie a knot in a cherry stem when you're drawing it on your nails, not making weird faces at that person across the party who totally does not understand what you're doing.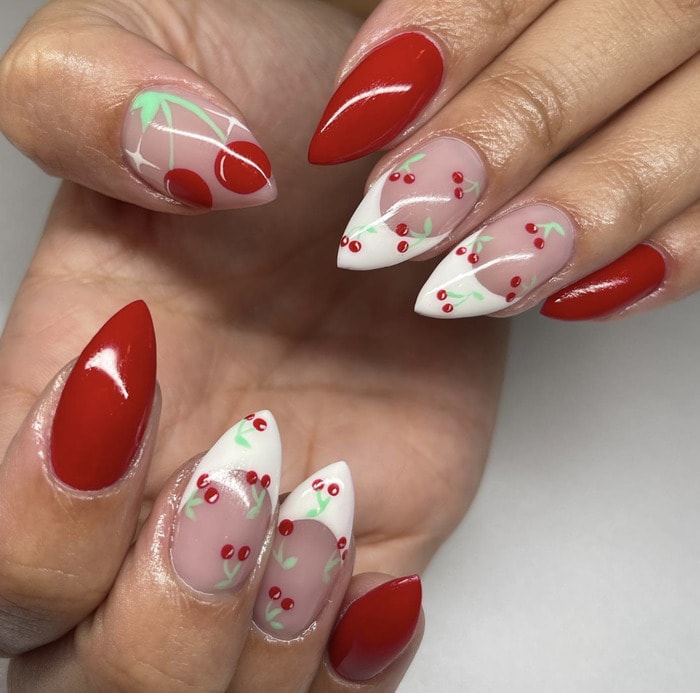 4. Two-Toned Pink French Tips
We can't prove it, but we're pretty sure this is where Dubble Bubble got their inspiration from.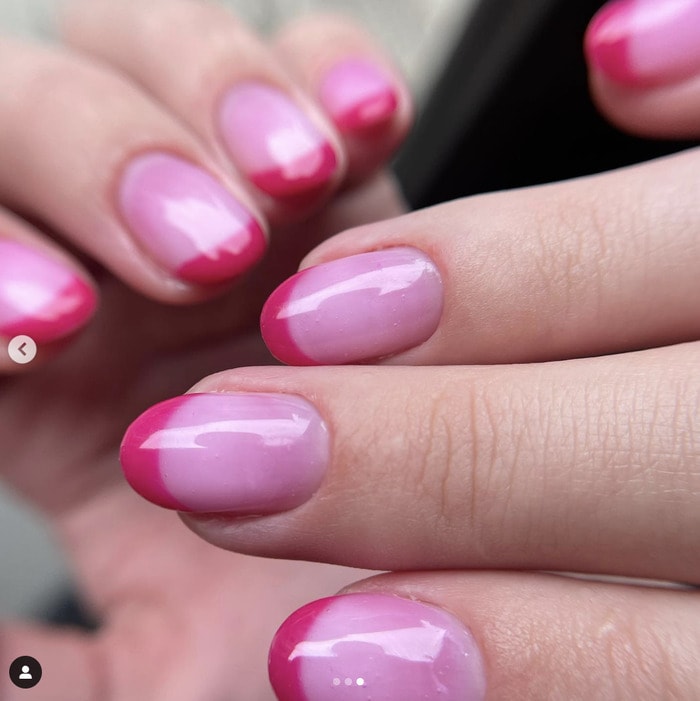 5. Simple Cancer Zodiac Nails
This year, go simple and understated with your zodiac nail design…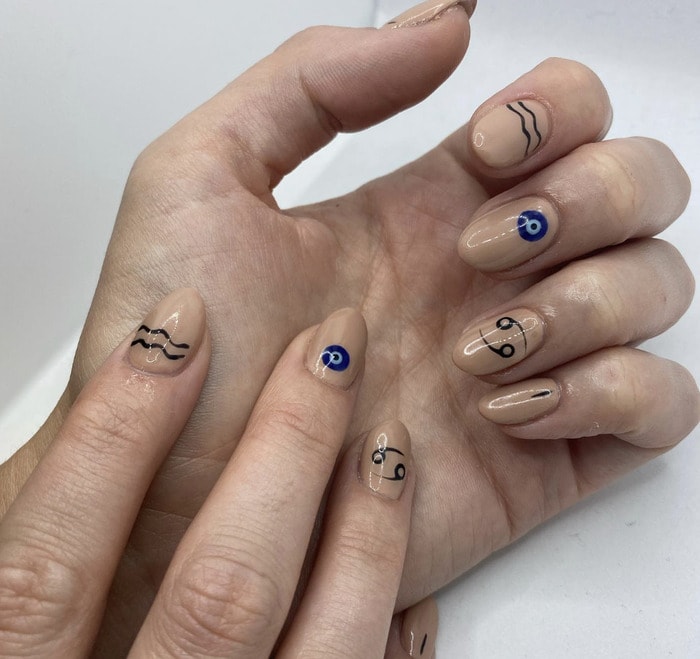 6. Extravagant Cancer Zodiac Nails
…or do the complete opposite. You're the boss! Well, actually this crab is. But you're the assistant to the boss!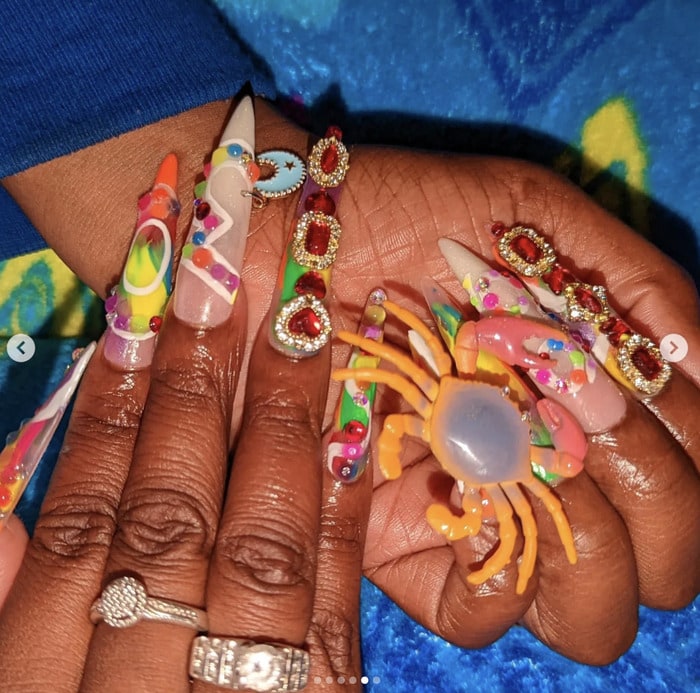 7. Leo Zodiac Nail Art
Don't worry Leos, we didn't forget about you. Not that you'd ever let us do that.
8. Leo Print Nail Design
If you're feline literal, this Leo nail art is rawrsome. (We tried, okay?)
9. Mix and Match Pink Nail Designs
It's the nail necklace that really makes us love this design. Oh, is that not what that's called?
10. Summer Ombré Nails
Bring the sunset to your fingertips with this look. And then put it back so everyone can enjoy it.
11. Red and Blue Bandana Nails
Add a little yee and haw into your July nails with this design. Cowboy hat not included.
12. Fourth Of July Stripes
This is what it looks like when your 4th of July popsicle melts down your hands. It shows that beauty really can be found in anything! And that sparkles are impossible to get rid of.
13. Red, White, and Blue Ombré
Are you now craving those Firecracker popsicles that were the pinnacle of desserts in elementary school? Or do you need therapy?
14. Barbie French Tips
Paris Barbie says oui oui to these nails! We heard something about a baguette, too?
15. Purple Ice Cream Nails
These nails look so good we could eat them! But we wouldn't, of course. We haven't chewed our nails in three whole minutes.
16. Spooky Ice Cream Cones
Summer season, meet spooky season.
17. 3D Ice Cream Nails
Show these to the right people and you could walk onto any Nickelodeon set. (Watch out for the slime.)
18. Superhero 4th of July Nails
Even if you don't care about hot dogs and fireworks and celebrating a country that does questionable things at times, we can all get behind one thing: Captain America. (And Captain America's behind.)
19. Subtle Blue Star Nails
Patriotic, but make it subtle. Who needs that bottle of red nail polish that your sister stole, anyway?
20. Blue and White Flower Nail Design
Another patriotic off-shoot, this look can work in the spring or summer. Or the winter or fall. There are no rules and everything is made up.
21. Fireworks Nails
You won't feel anything like a plastic bag with this nail design.
22. Abstract Firework Nail Art
And here's the more chaotic version for anyone who has less patience. Hey, it still works!
23. Picnic French Tips
This idea is great, but anyone knows that a true picnic involves some ants. And aunts. They can smell a sandwich in the sun from a mile away.
24. Tropical Vacation Nail Art
Even if you can't go on a tropical vacation this year, at least you can send your nails on one. If you're lucky, they'll send a postcard.
25. Gummy Bear Nails
Are these nails inherently summery? No. But do we love gummy bears? Yes. We rest our case.
26. Retro Flower Nails
Groovy, baby! Err..Barbie?
27. Purple Barbie Nails
Is pink not your thing? Don't worry. Barbie looks great in any color. And any color looks great when you add glitter and gems. Follow us for more life hacks.
28. Wavy Pink French Tips
Make like Bob Ross and embrace your happy accidents. No of course you meant to make this wavy!
29. Half Moon Pink Nails
Life hack: turn your grown out nails into an intentional design.
30. Ocean Blue Ombré
Skip the sand and bring the ocean to your nails. Leave the jellyfish, please.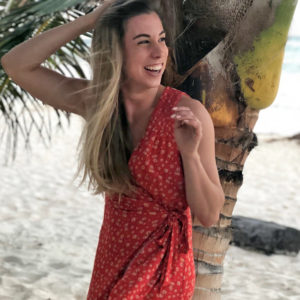 Latest posts by Hannah Rex
(see all)